This Salted Caramel Ice Cream is a deliciously creamy combination! There is nothing like a spoonful of rich, sweet, and refreshing ice cream on a hot day. You'll be making homemade ice cream all summer.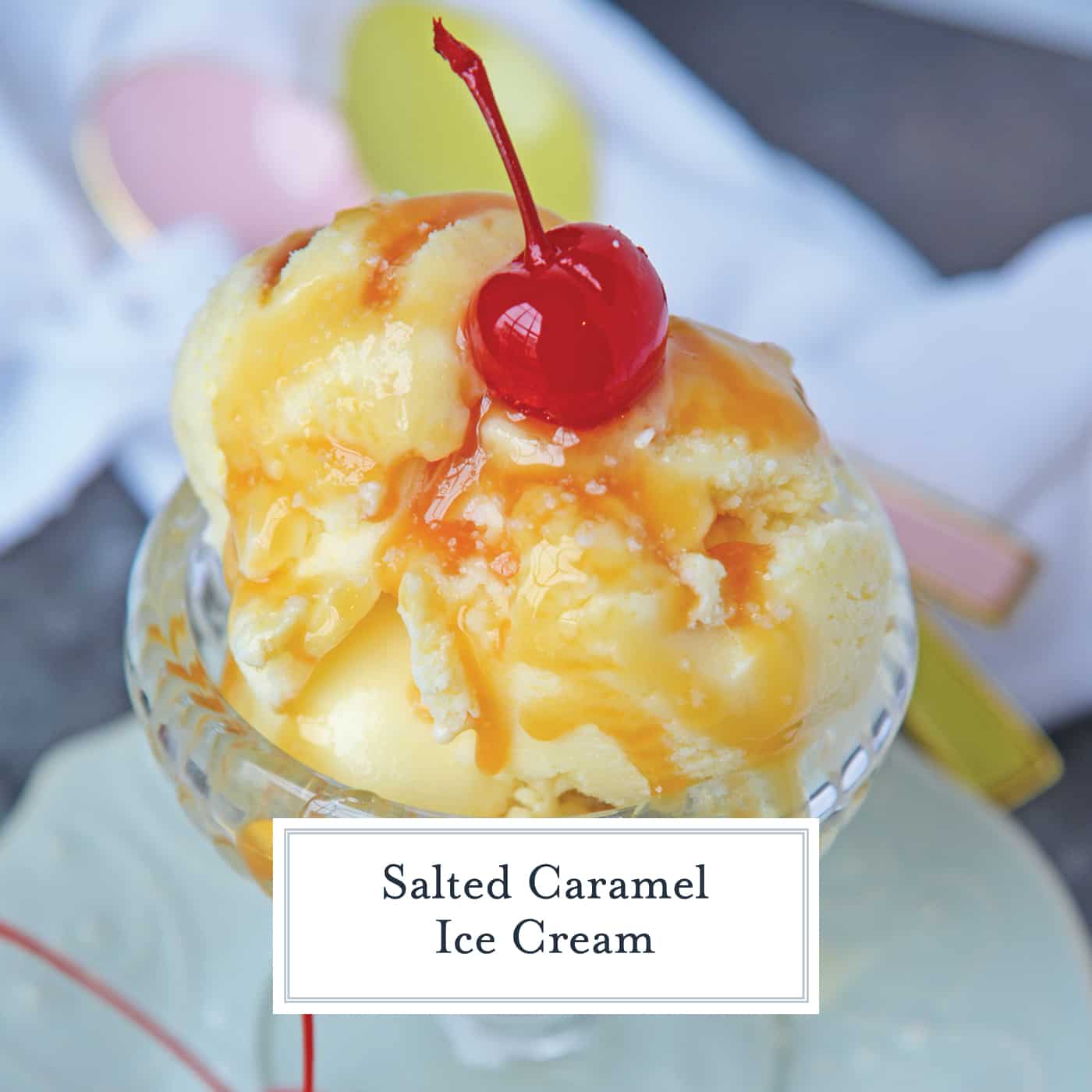 Salted Caramel Ice Cream is what salty sweet goodness dreams are made of! In just 35 minutes you can make your own homemade ice cream at home!
My favorite flavor combination is certainly sweet and salty. I crave it night and day. I'm obsessed.
It should come as no surprise that when I got my fancy new ice cream machine, the second flavor I wanted to try after perfecting Butter Ice Cream, was Salted Caramel Ice Cream.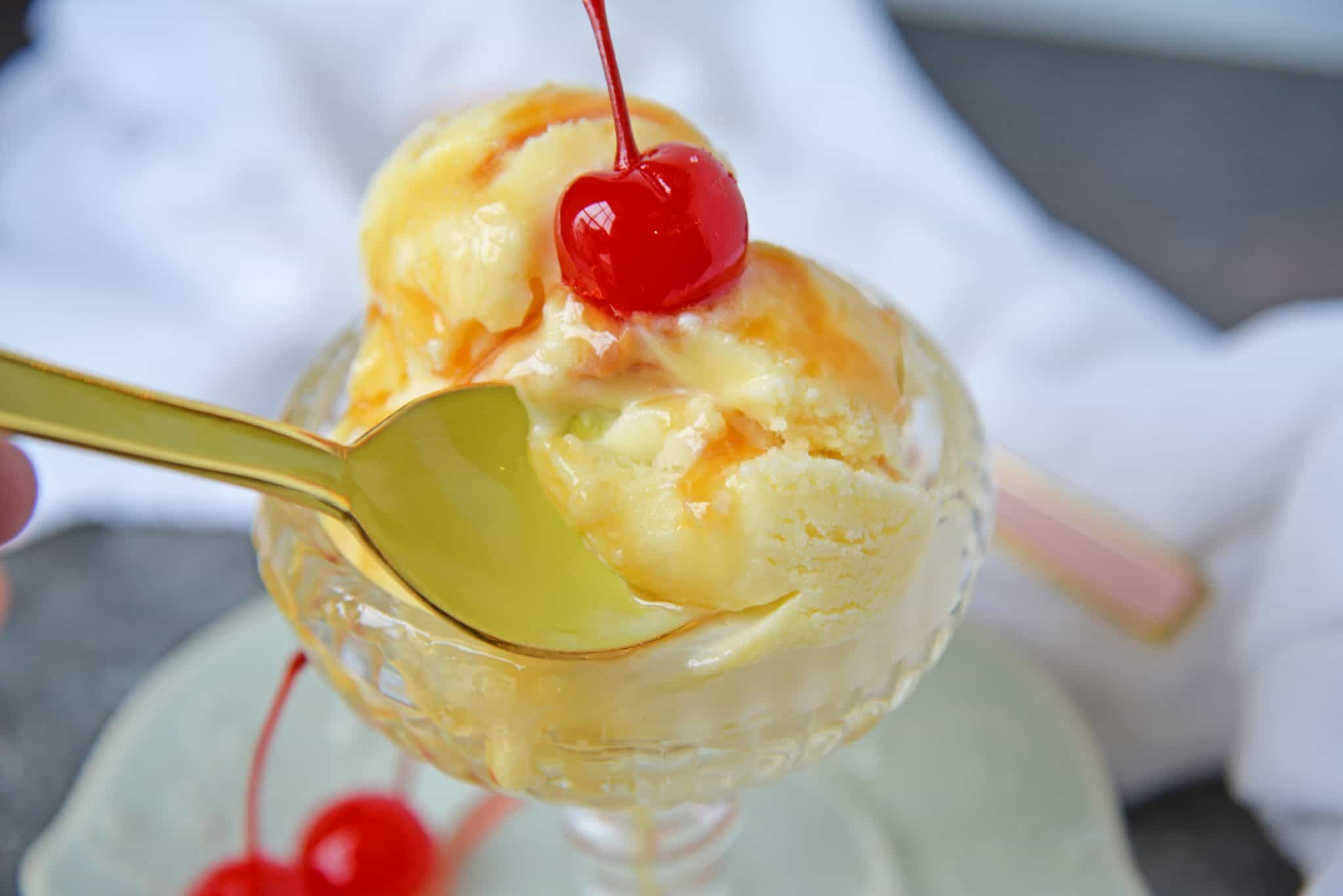 After my first bite, I quickly named myself the SALTED CARAMEL ICE CREAM queen! On first try, I concocted a phenomenal creamy heaven with the perfect amount of salt and caramel.
It wasn't just me either, my neighbors came over to confirm that this was quite possibly the BEST Salted Caramel Ice Cream they had ever tasted. Hubby even liked it and he doesn't like sweet treats!
I will say that the consistency isn't super tight or hard, so it melts a little faster than mass produced ice cream, but that is the price you pay for no added preservatives, right? Or it could have been that it was 100 degrees that day…who knows?
If this is your first time and you're wondering how to make ice cream, the answer is that there are two main ways: no churn with no ice cream maker needed or using an ice cream maker
.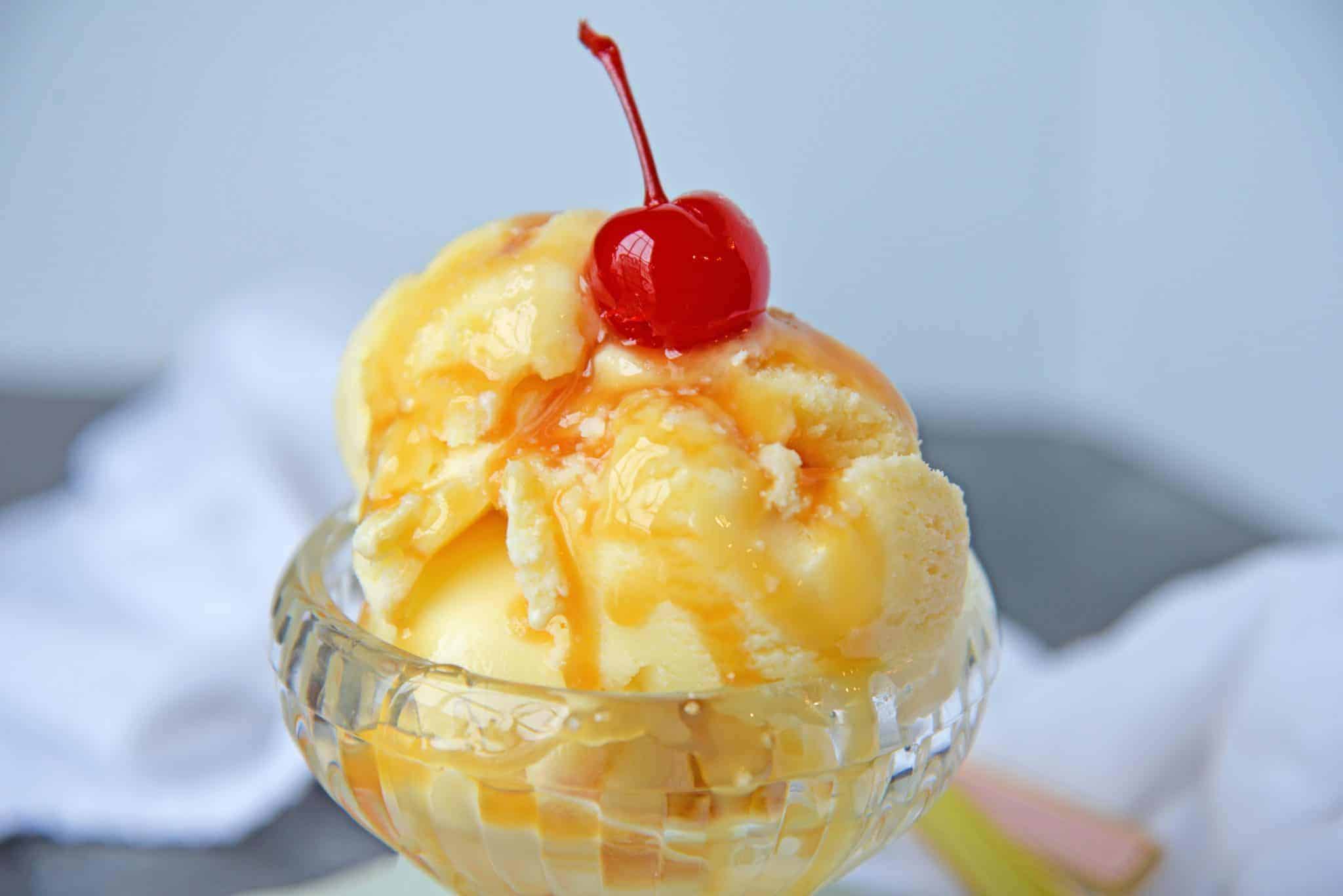 No churn ice cream typically uses condensed milk instead of a base of cream or eggs, like a custard. The texture is a little different, but it is super easy and doesn't take and forethought.
For ice cream maker recipes, you need to freeze the inner barrel for at least 24 hours, so you need to be prepared. Personally, I prefer churned ice cream, so I go the extra mile and plan in advance.
In this recipe you make your salted caramel sauce and vanilla bean ice cream base ahead of time on the stove top before it goes into the ice cream maker, so it takes even more planning.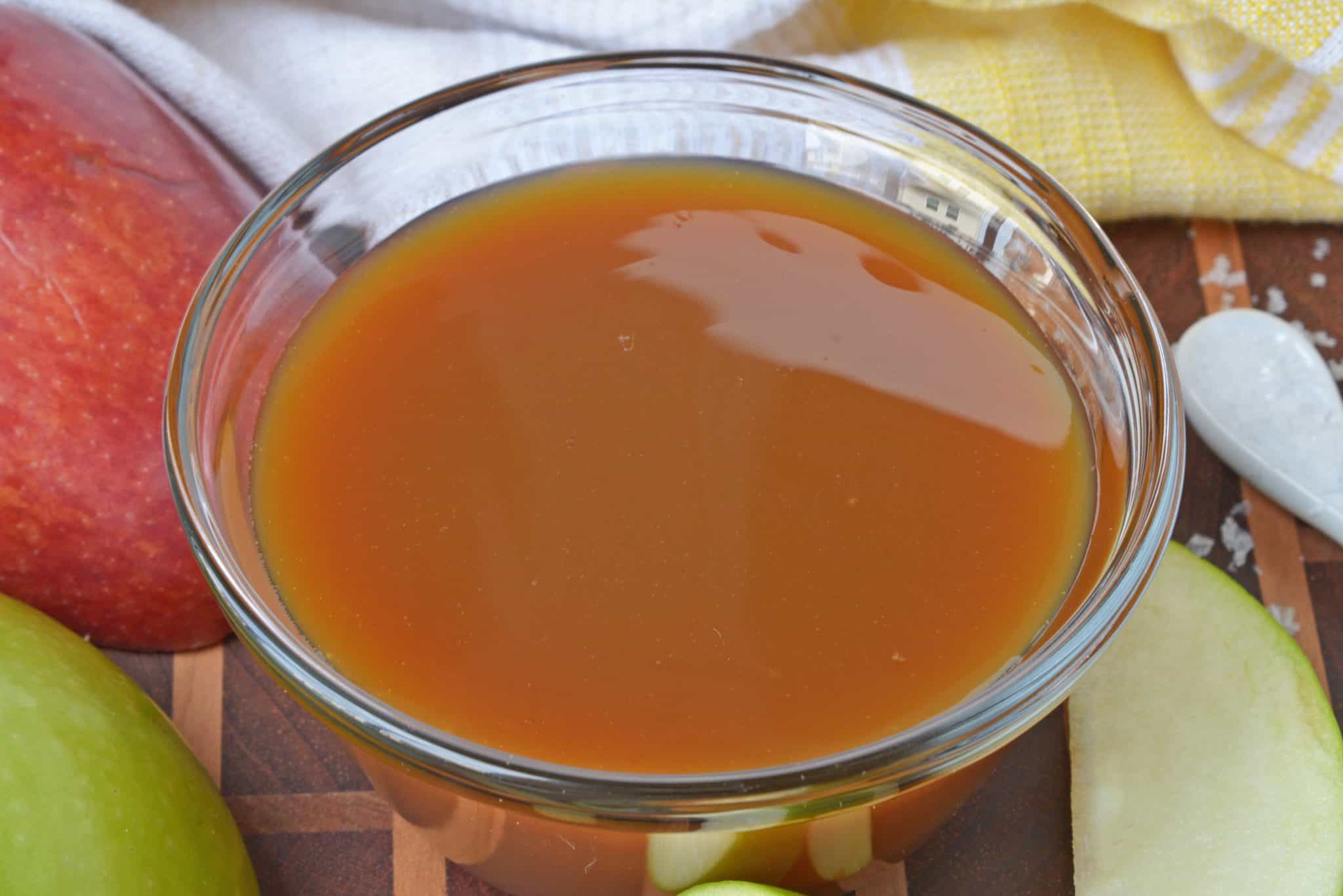 Once your ice cream mixture has cooled, you combine your cream mixture with your sauce and put it into the ice cream maker to churn. Follow your ice cream makers directions for how long it needs to churn before it's done.
Freeze overnight if you want a harder consistency.
I tried to make the remaining Salted Caramel Ice Cream into a lady finger crusted ice cream cake, but I couldn't get it to set up right. So words of wisdom here are: just eat it plain, savor the flavor and allow yourself to smile while it melts in your mouth. Enjoy!
If you loved this ice cream maker recipe, check out these other easy ice cream recipes: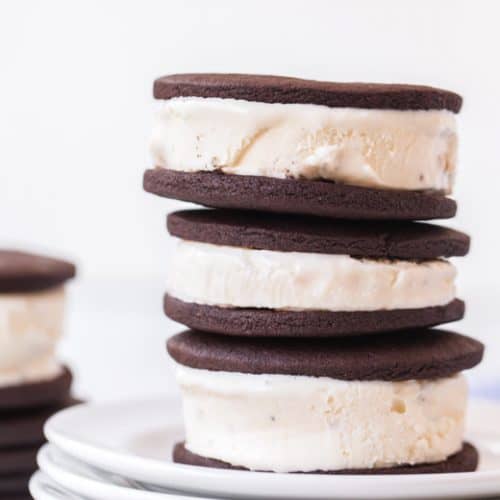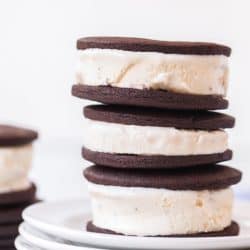 Ice Cream Sandwiches
Ice Cream Sandwiches are a frozen delight everyone in the family will love. Make them for your next cookout or have them on standby in the freezer for when you want a delicious dessert.
See The Recipe!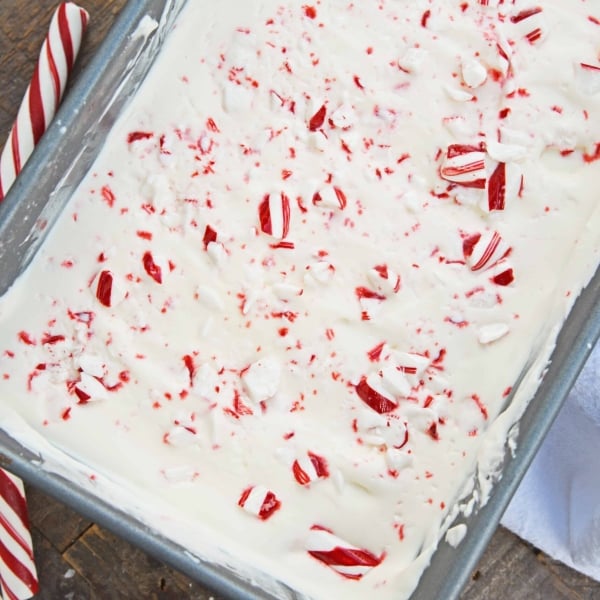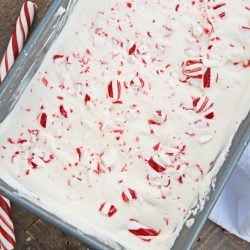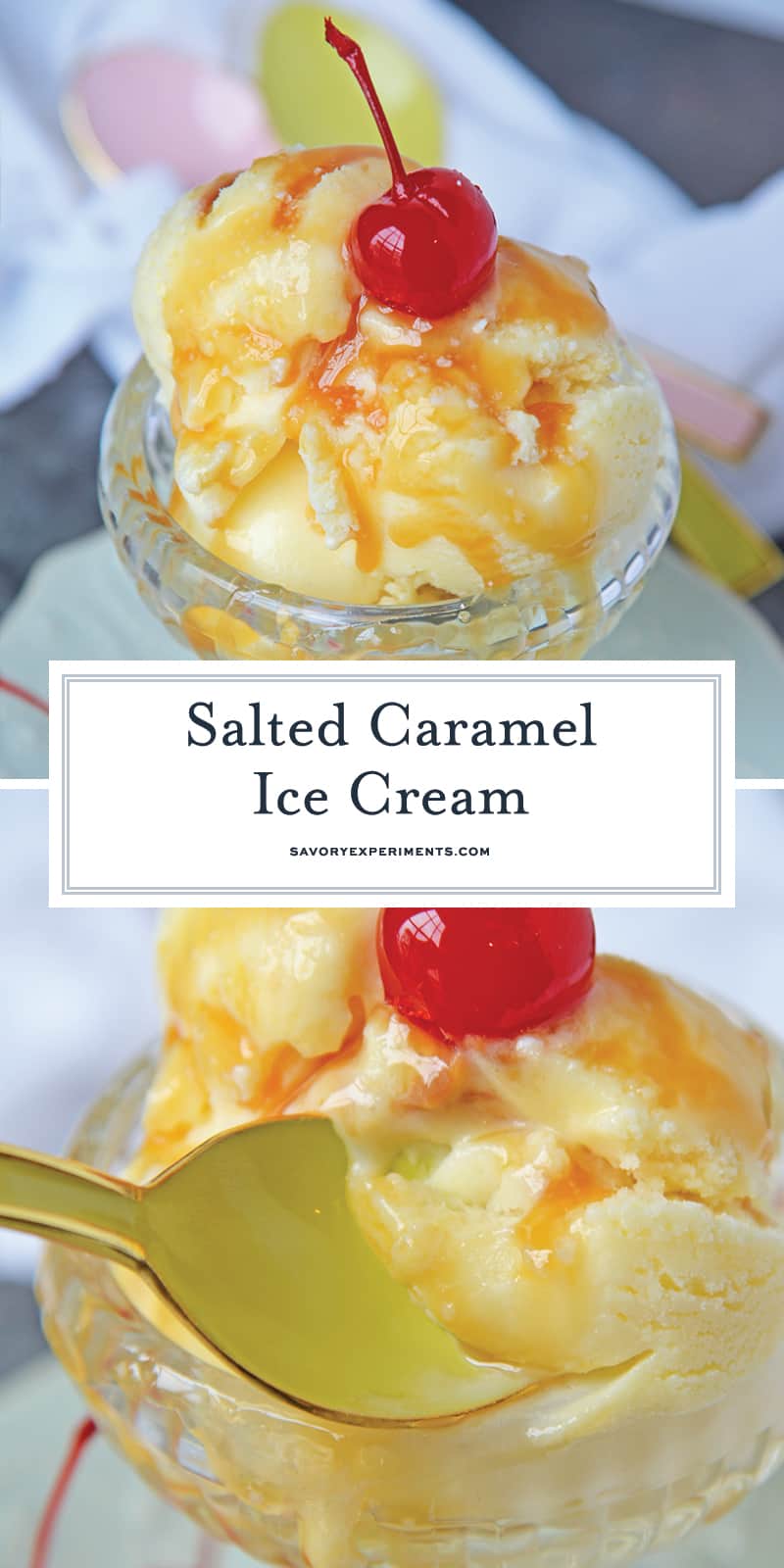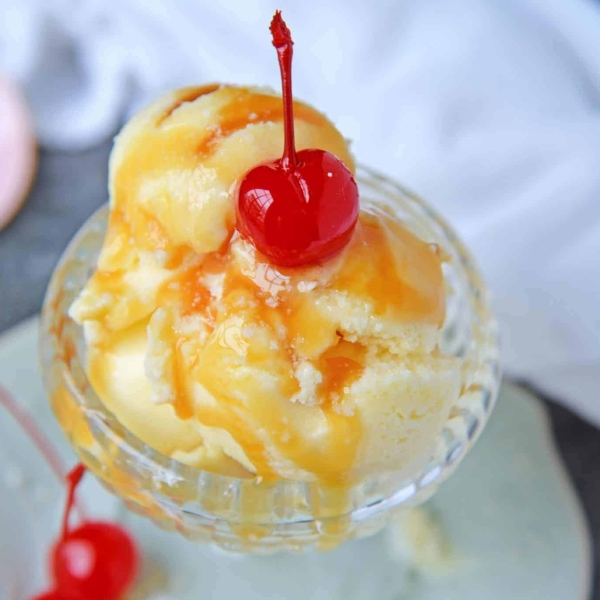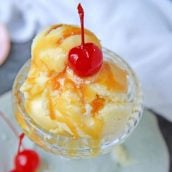 Salted Caramel Ice Cream Recipe
Salted Caramel Ice Cream is the salty sweet goodness dreams are made of and now you can make your own at home!
Instructions
Prepare vanilla bean ice cream base by combining 1 cup heavy cream, whole milk and sugar in a heavy medium saucepan. Cut vanilla bean in half lengthwise. Scrape out seeds, adding to the cream mixture and then place empty vanilla pods directly into the mixture.

Meanwhile, whisk together egg yolk and remaining one cup cream. Ladle a small amount, approximately 1/2 cup hot cream mixture to egg yolk, whisking constantly until blended. Then pour egg yolk mixture back into the sauce pot, continuing a vigorous whisk.

Continue whisking to prevent the egg yolk from setting up and cooking. Cook for 5 additional minutes, or until mixture has come to a low simmer. Remove from heat and run through a fine sieve to remove any large bits that would result in your ice cream being less than smooth. Place cream mixture into a large plastic container. Add vanilla bean pods to add additional flavor while the mixture cools. Remove before adding to the ice cream maker.

Combine cream mixture with salted caramel sauce. Cover tightly and refrigerate overnight.

Make ice cream according to the manufacturers directions and then freeze overnight to reach a harder consistency.

If you've tried this recipe, come back and let us know how you liked it!
Notes
If you don't have fleur de sel, use Kosher salt.
Nutrition
Calories:
376
kcal
,
Carbohydrates:
40
g
,
Protein:
2
g
,
Fat:
23
g
,
Saturated Fat:
14
g
,
Cholesterol:
109
mg
,
Sodium:
280
mg
,
Potassium:
108
mg
,
Sugar:
20
g
,
Vitamin A:
980
IU
,
Vitamin C:
0.3
mg
,
Calcium:
91
mg
,
Iron:
0.1
mg