Summertime is finally here and that means fruity, refreshing cocktails for happy hour. My go-to is a frozen BBC and a Shirley Temple drink for the kiddos, but I think I found my new favorite summer drink… the vodka watermelon cocktail.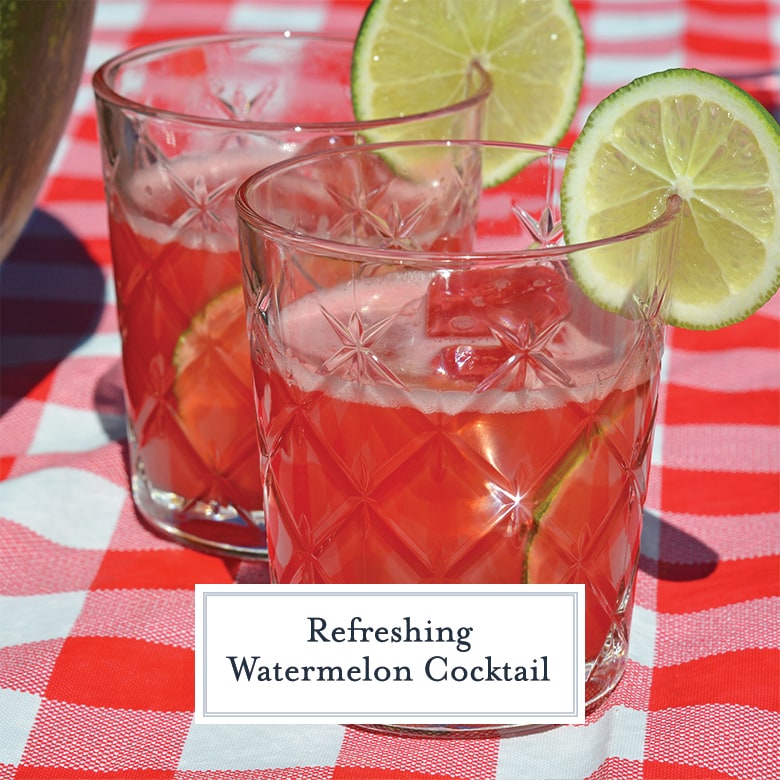 Vodka Watermelon Cocktail
Nope, it doesn't have an official name, although it should be called Pure Awesomeness. A blissful and cheery shade of pink, it is sweet and tart and totally refreshing.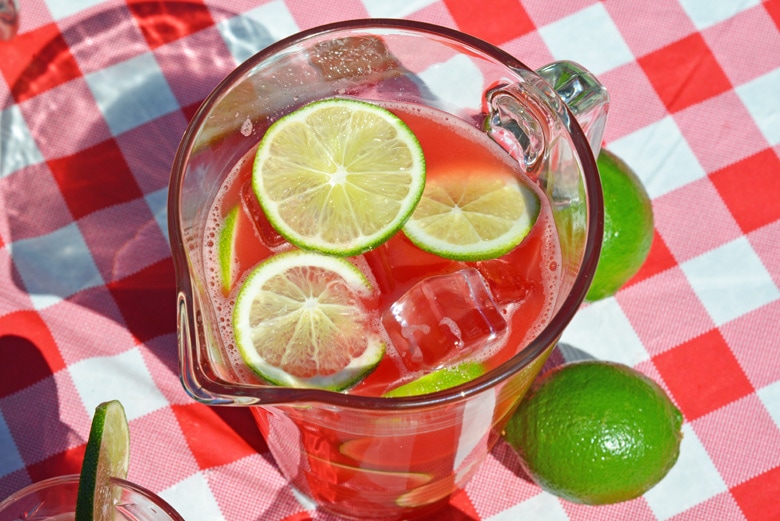 I also like to convince myself it is healthy because watermelon has so many health benefits like…
Vitamin A
Vitamin B6
Vitamin C
Lycopene
Antioxidants
Amino acids
Potassium
Ingredients
You also don't have to be a master mixologist to make this cocktail. No cocktail shaker, egg whites or lighting things on fire. Simply blend, strain and stir. I'm a lazy bartender, so this fits right into my alley.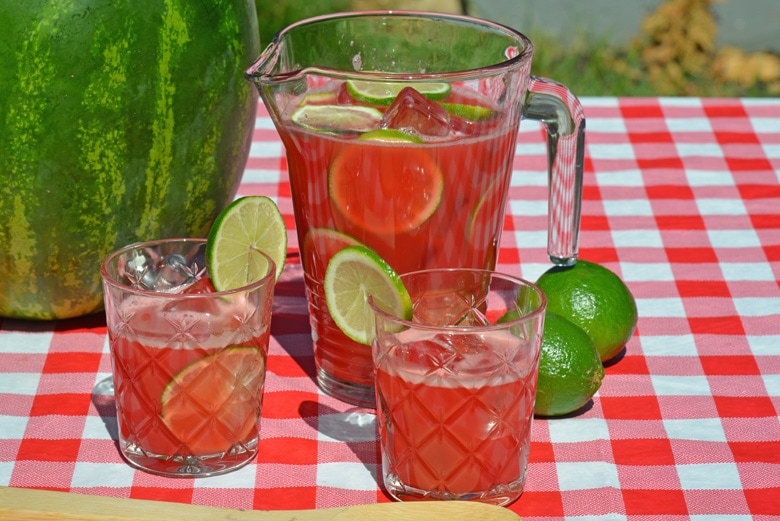 You'll need:
Watermelon Juice– this is by far the most complicated part of this drink because it is rare to find watermelon juice. You'll likely have to make it. See below.
Lime Juice- I highly suggest using fresh lime juice. Citrus juices start to lose potency the moment they are juiced so bottled juices are often muted. But… if you are making huge batches, then go ahead and get the bottle to save time.
Agave Nectar– You can also use honey or omit this altogether. I like my drinks with a hint of sweetness to complement the tart.
Water– Use plain old water or sparkling water here. Some people enjoy bubbles, others don't.
Vodka– Vodka is always my alcohol of choice and it happens to pair well with fruity bases. Use a plain vodka or flavored, there is actually a lime and watermelon infused vodka if you want to amp up those flavors even more.
Triple Sec- It is a dry, sweet orange flavored liqueur. It can also be omitted, but helps in balancing.
PRO TIP: You can also freeze your watermelon chunks and blend all the ingredients together for a frozen watermelon cooler.
I like to garnish mine with fresh lime slices or wedges, watermelon wedges or even fresh mint sprigs.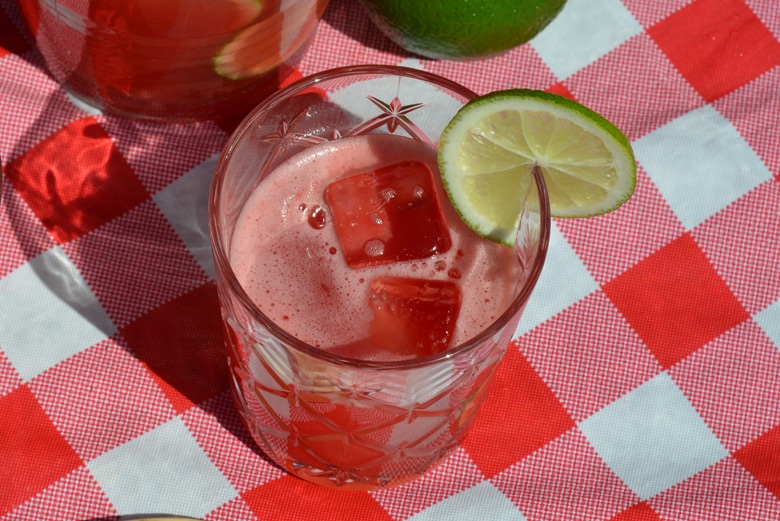 Watermelon Juice
How do you make watermelon juice? Well, you don't need a juicer, although feel free to use one if you have one.
I just use my blender on high speed to pulverize fresh watermelon. Then I run it through a fine mesh sieve to strain out any big bits.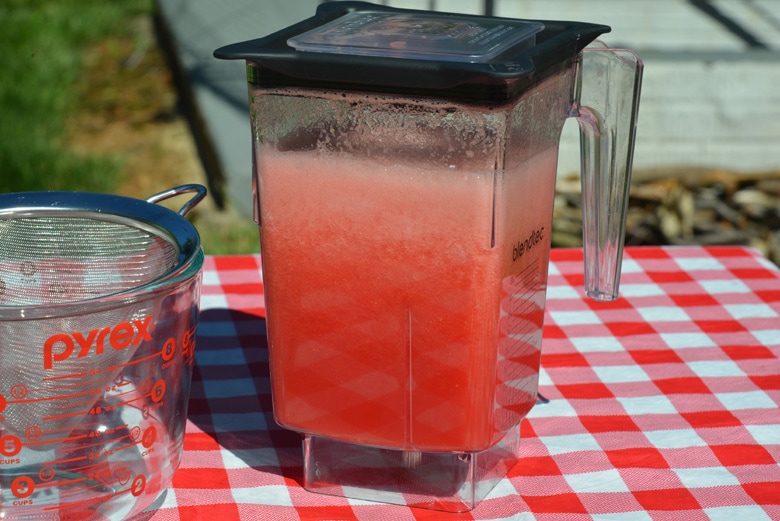 You can make it ahead of time, but make sure you stir to recombine, as there are still some solids that tend to seperate while sitting.
How to Pick a Watermelon
Of course, you can just buy cut watermelon, but you can save lots of money by buying them whole. You can even make one into a watermelon keg for the hostess with the mostess presentation!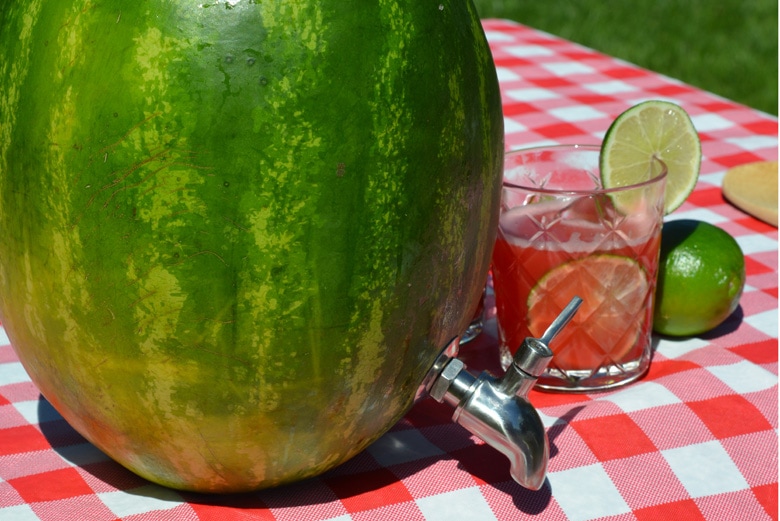 In general, you'd look for large watermelon with few blemishes and the spot where the watermelon was lying on the ground is yellow (opposed to cream or white). It should feel heavy and sound a hollow when thumped.
I also prefer to use a seedless watermelon, so I'm not spending all day picking out large black seeds. Seedless will still have smaller, tan seeds.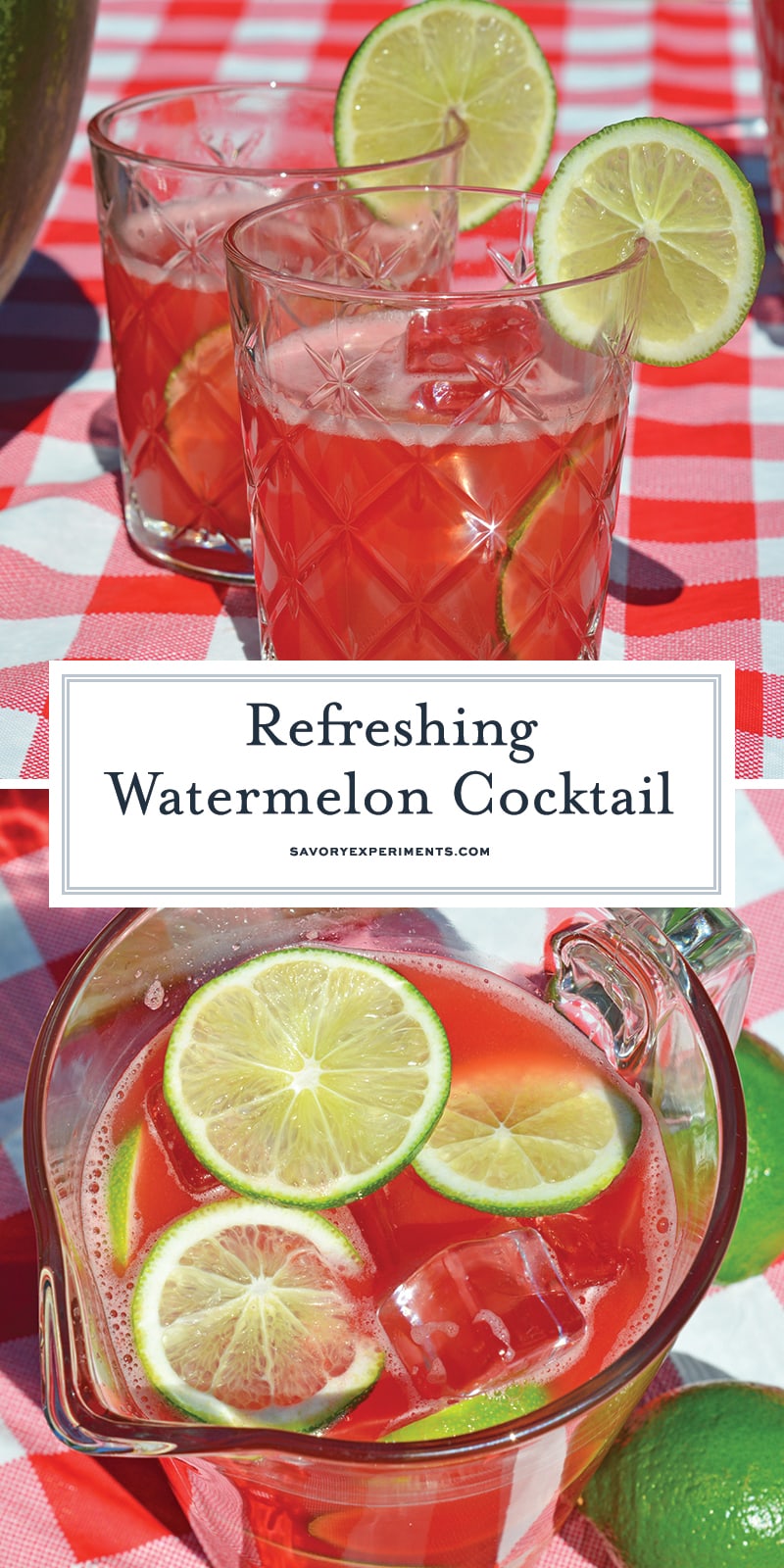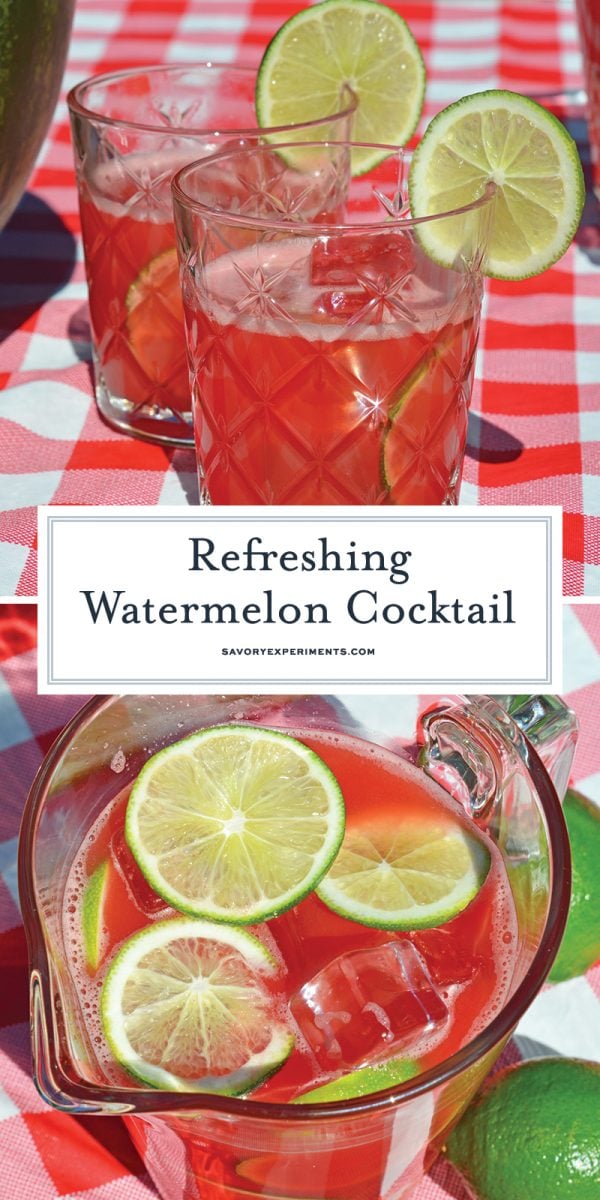 More refreshing drinks: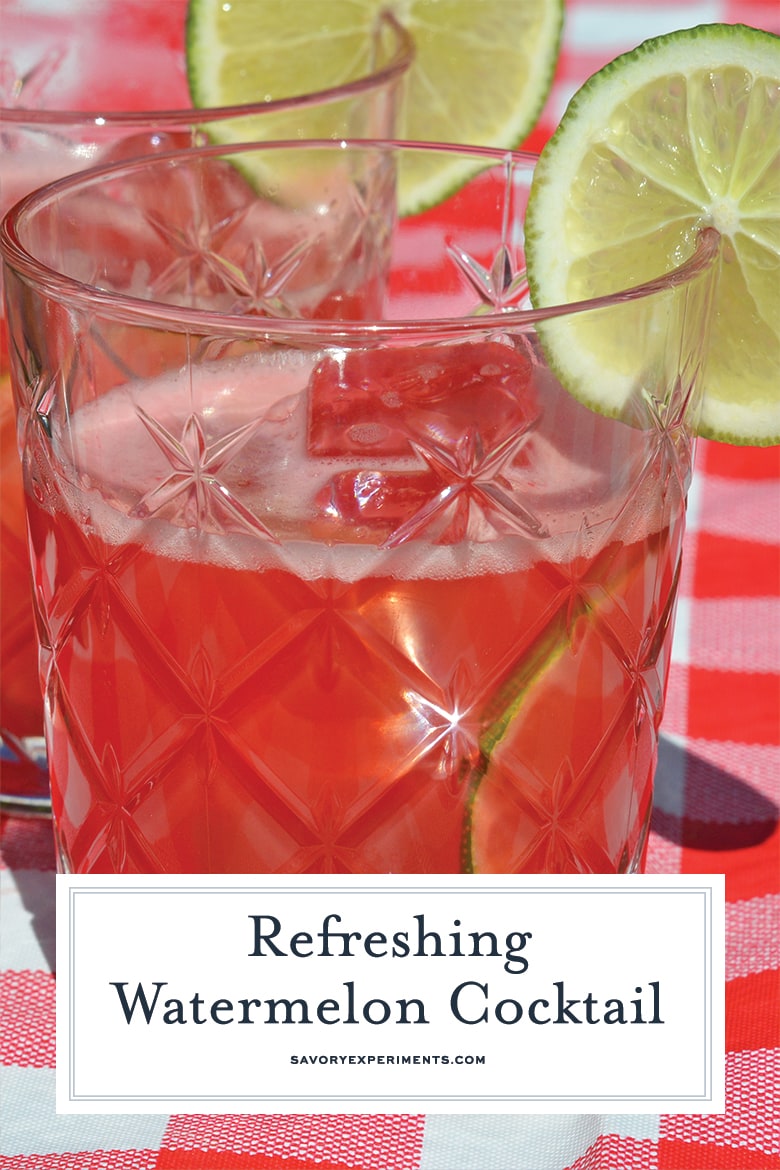 CONNECT WITH SAVORY EXPERIMENTS!

Be sure to follow me on social media, so you never miss a post!

Facebook | Twitter | Youtube
Pinterest | Instagram

Get our FREE 8 Day E-Course on How to Be a Better Home Cook. Sign up HERE!