There are a few of you reading this wondering why someone needs a recipe for Lemon Cucumber Water, yet here you are reading! No judgement.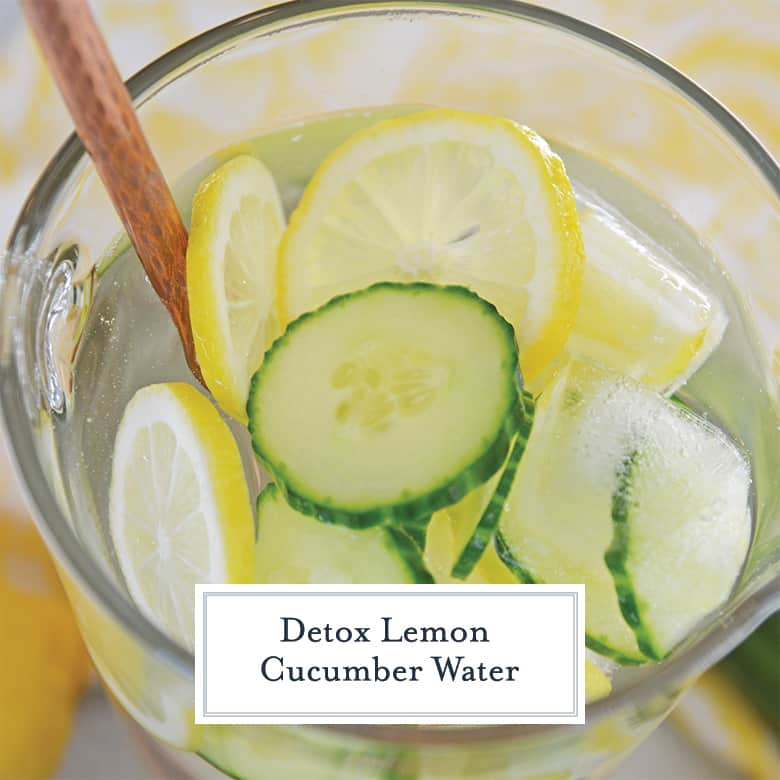 Detox Water
I tend to overthink simple things and flavored water is one of them. Believe it or not, there are better ways to make it and tricks for getting the most out of your cucumber water.
Lemon cucumber water is commonly referred to as detox water because of the nutritional elements of both lemon and cucumber. And of course, water, which is essential to, well, life .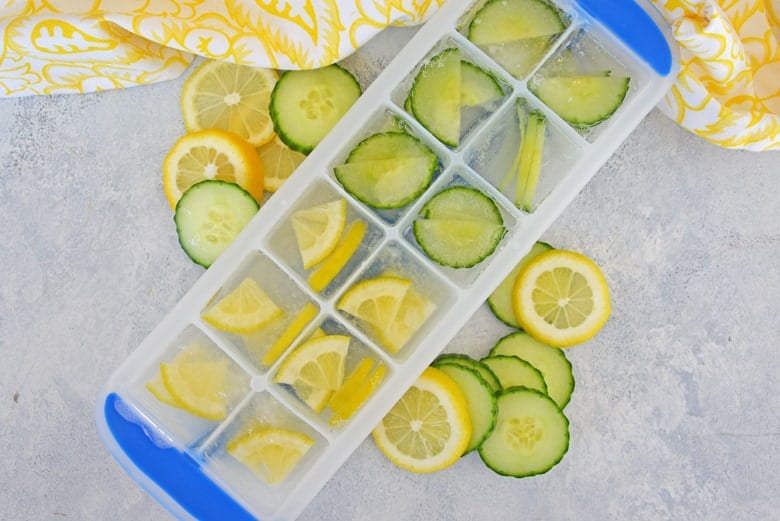 Benefits of lemon water
Support heart health
High vitamin C
Supports healthy weight
Soluble pectin fiber helps you feel fuller longer
Prevents kidney stones
Aids in iron absorption
Improves digestive health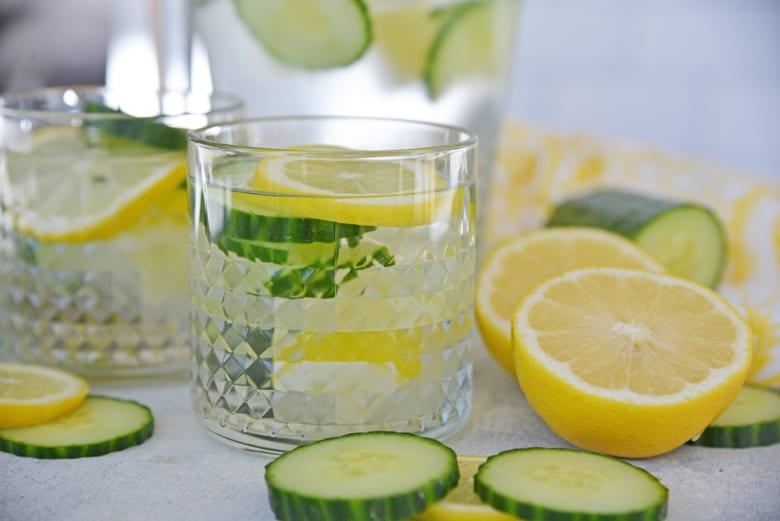 Benefits of cucumber water
Linked to lower blood sugar
Low in calories while satisfying
High in antioxidants
Potentially anticarcinogenic
Linked to weight loss
Linked to being anti inflammatory
Flushes out toxins
Considering it is so simple to add these elements to your daily water intake, the real question it, why not?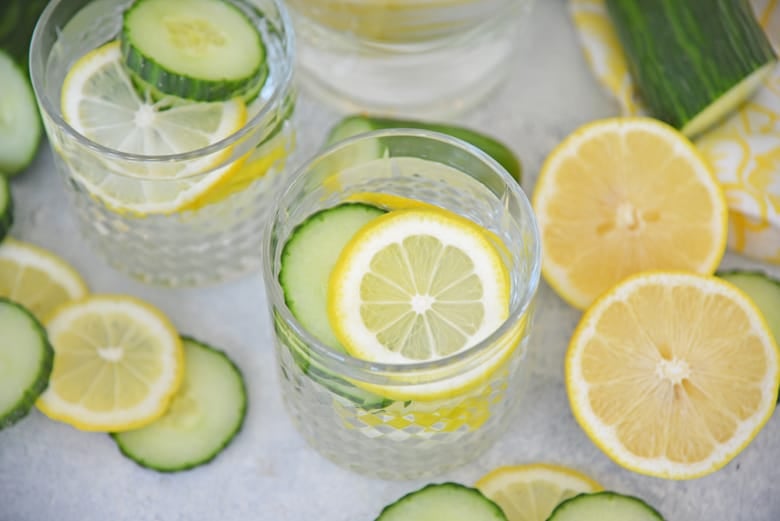 Fancy Water & Ice Cubes
Flavored water is also a fabulous way to elevate your usual spread for a ladies lunch, brunch, luncheon or other party. An added element that elevates the regular to spectacular, like being at a 5-star spa.
Take your Lemon Cucumber water up even further by making it into ice cubes!
Use a good old fashioned ice cube tray and freeze small chunks of lemon and cucumber slices in the tray.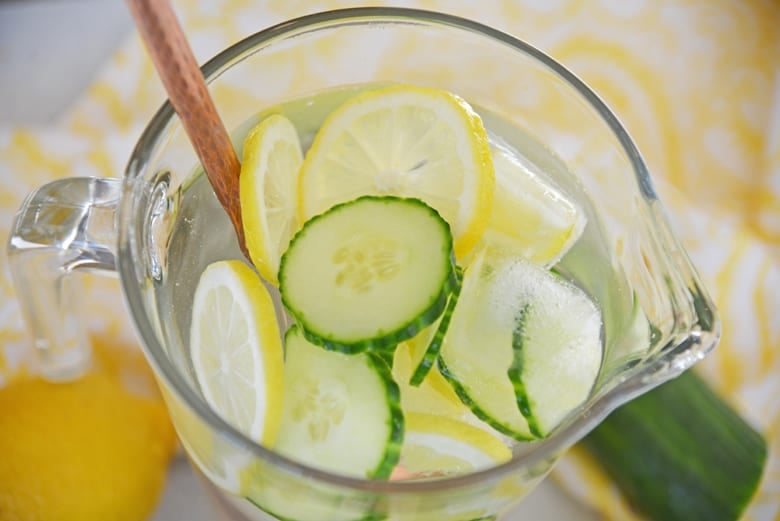 Add this to plain tap water or pre-made Lemon Cucumber Water. It will look pretty, but the actual ice cubes won't melt in time to have value added to the actual water you are drinking.
PRO TIP: Letting your water sit for too long before serving will result in cloudy looking water with a muted flavor.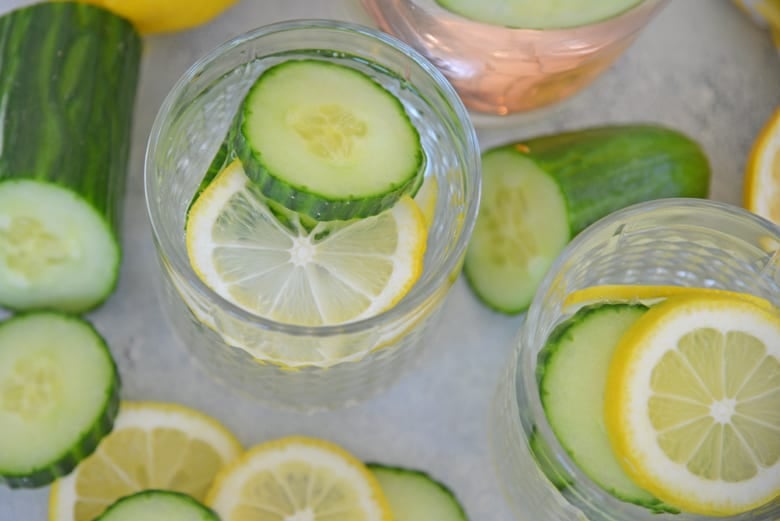 Tips
ONE. I suggest using a seedless cucumber, but don't be surprised if your seedless still has a few seeds. They won't hurt.
TWO: I like to add a little mint- it breaks up the flavors and makes it taste more like a refreshing beverage and less like a face mask. I will forever associate the smell of cucumbers with a peel-off face mask we used at every teenage sleepover.
Other flavor add-ins :
Grated ginger or ginger slices
Kiwi
Raspberries
Mint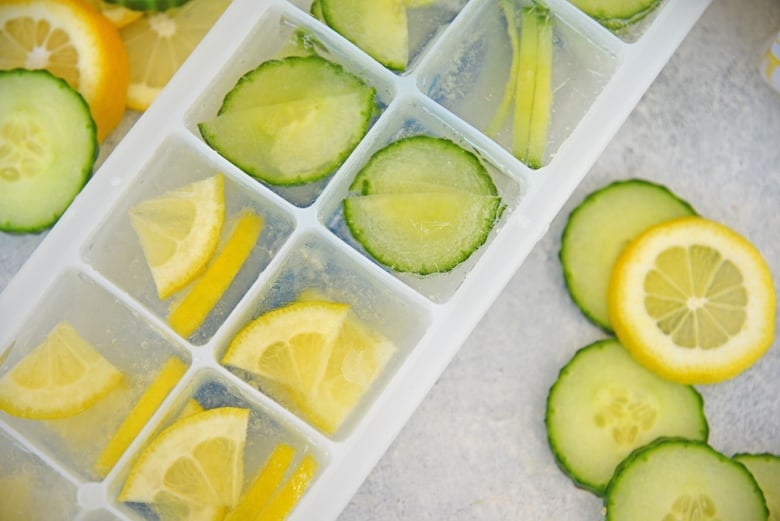 THREE. The longer your water sits, the more time it has to allow particles from the lemon and cucumber to release. To have clear water, don't allow it to sit for more than 2 hours.
You can also run it through a fine mesh sieve, discard the original lemon and cucumber and add fresh slices before serving. Then you get the flavor and the beauty. This is also why I don't recommend muddling.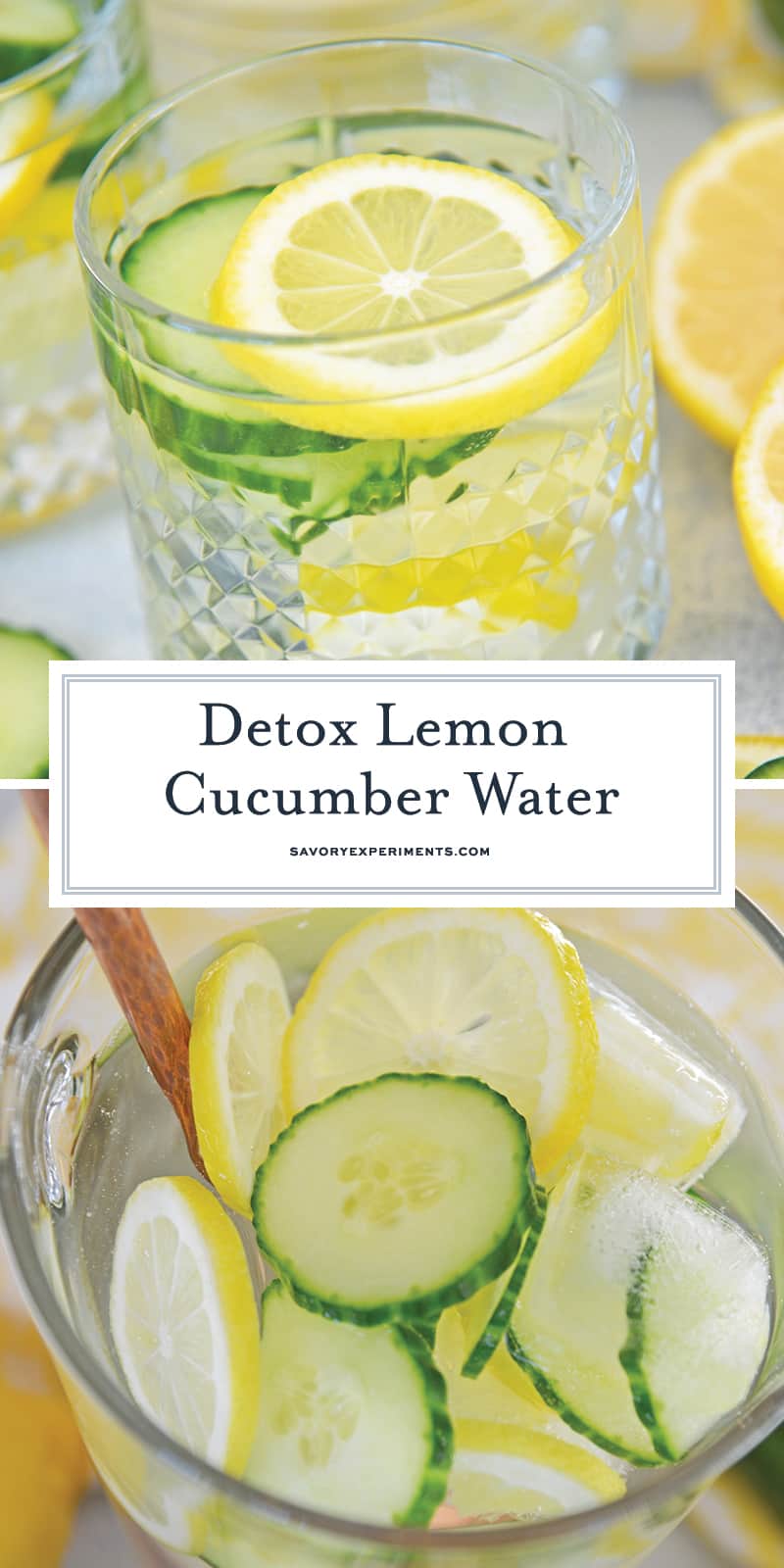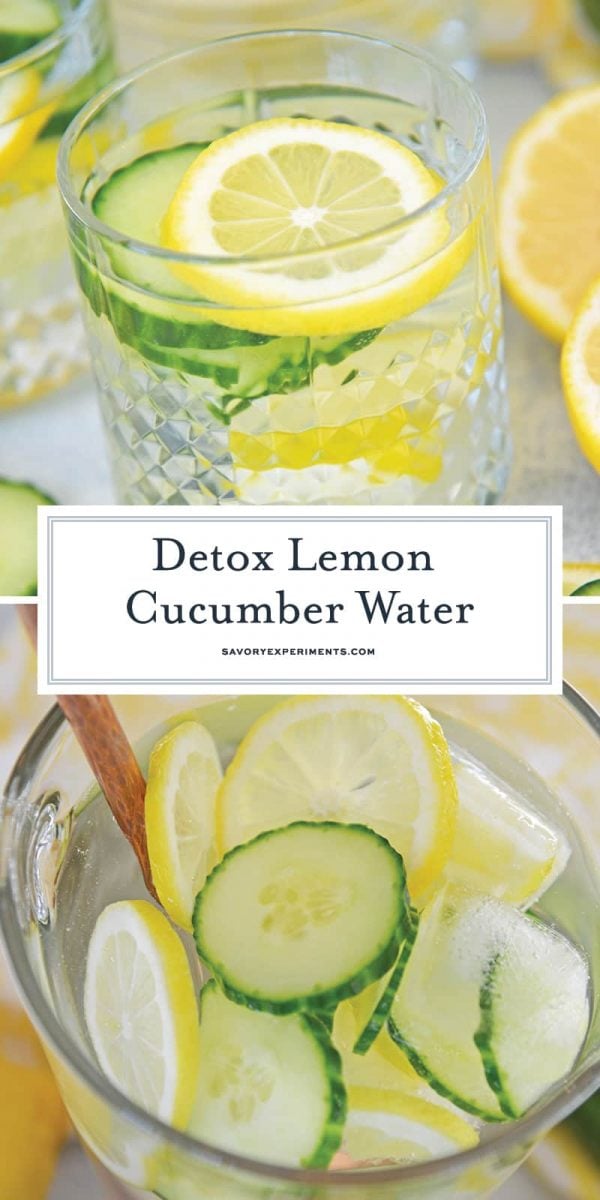 More Favorite Beverages:
Questions you might have about how to make Lemon Cucumber Water:
Can I use carbonated water? Sure! I love bubbles! Keep in mind that carbonated water will go flat, so you are best off adding your fruit closer to the time of serving.
Can I put it in a fancy infused water bottle? Sure- just put the fruit in the center thing and go.
What is infused water? Infused water is just plain old water with flavor added.
Can I use bottled lemon juice? I don't suggest it, but you totally can. Any type of citrus starts to lose its flavor potency the moment it is juiced. Therefore, freshly sliced lemon is best.
Bottled lemon juice will also give you a cloudy look from the start.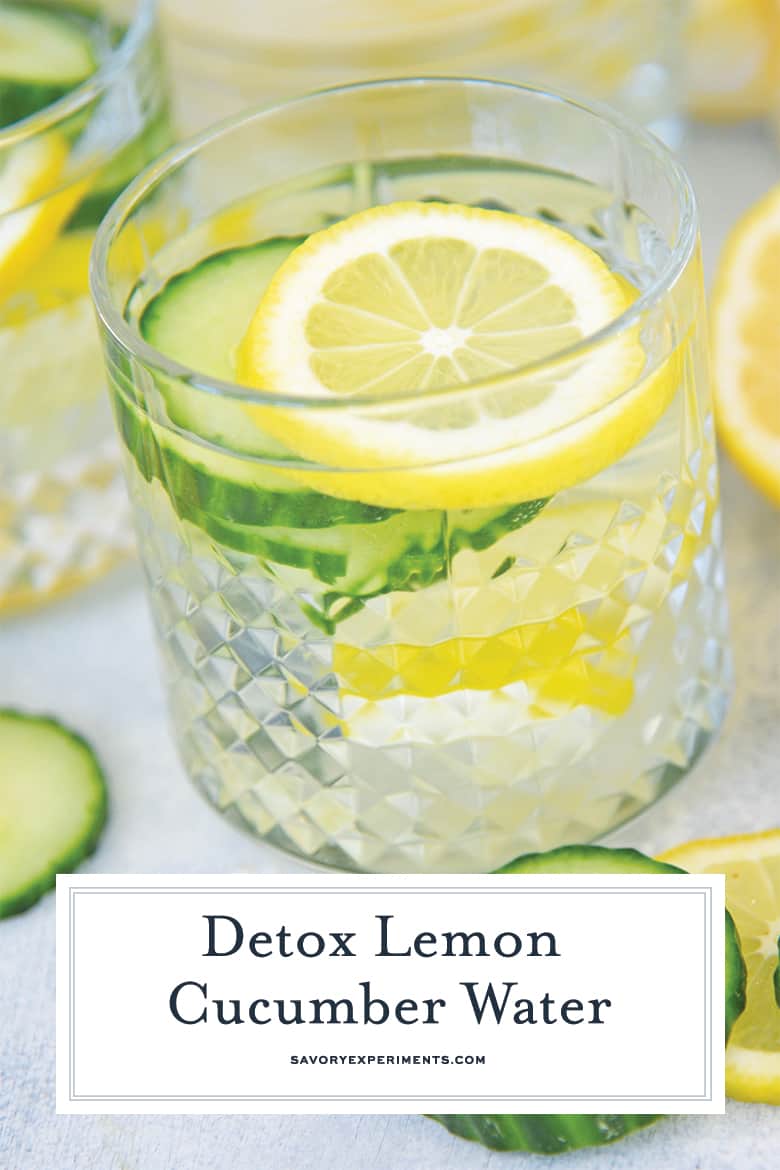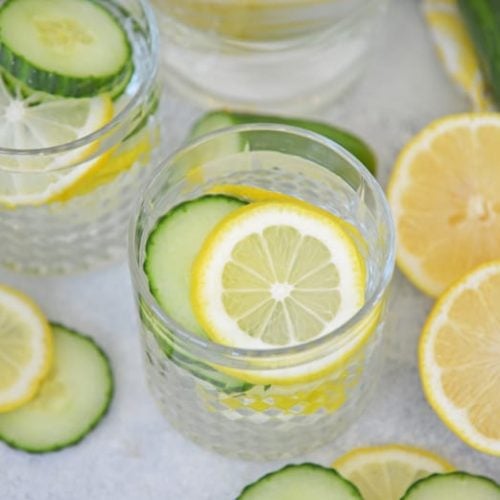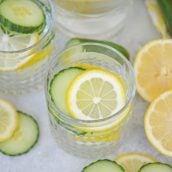 Lemon Cucumber Water (Detox Water)
Add a little something extra to your drinking water with this Lemon Cucumber Water! It's one of the best detox water recipes.
Instructions
Add lemon and cucumber slices to a large pitcher.

Add the cold water. Refrigerate for at least 1 hour or up to 24 hours.

If you've tried this recipe, come back and let us know how it was!
Nutrition
Calories:
13
kcal
,
Carbohydrates:
4
g
,
Protein:
1
g
,
Fat:
1
g
,
Saturated Fat:
1
g
,
Sodium:
26
mg
,
Potassium:
92
mg
,
Fiber:
1
g
,
Sugar:
1
g
,
Vitamin A:
39
IU
,
Vitamin C:
15
mg
,
Calcium:
28
mg
,
Iron:
1
mg