Sparkling Blue Hawaiian Cocktail has been compensated by the Bonefish Grill and its advertiser. All opinions are mine alone.
This Sparking Blue Hawaiian Cocktail is a current specialty cocktail being offered at the Bonefish Grill, one of my favorite restaurants (more Bang Bang Shrimp®, please!).
Sparkling Blue Hawaiian Cocktail is a refreshing tropical cocktail recipe perfect for luau theme parties or a lazy Sunday afternoon.
And now they have released the proprietary recipe so you can make your own Bonefish Grill Blue Hawaiian at home! It makes for the perfect luau drink and it sometimes known as blue Hawaiian punch.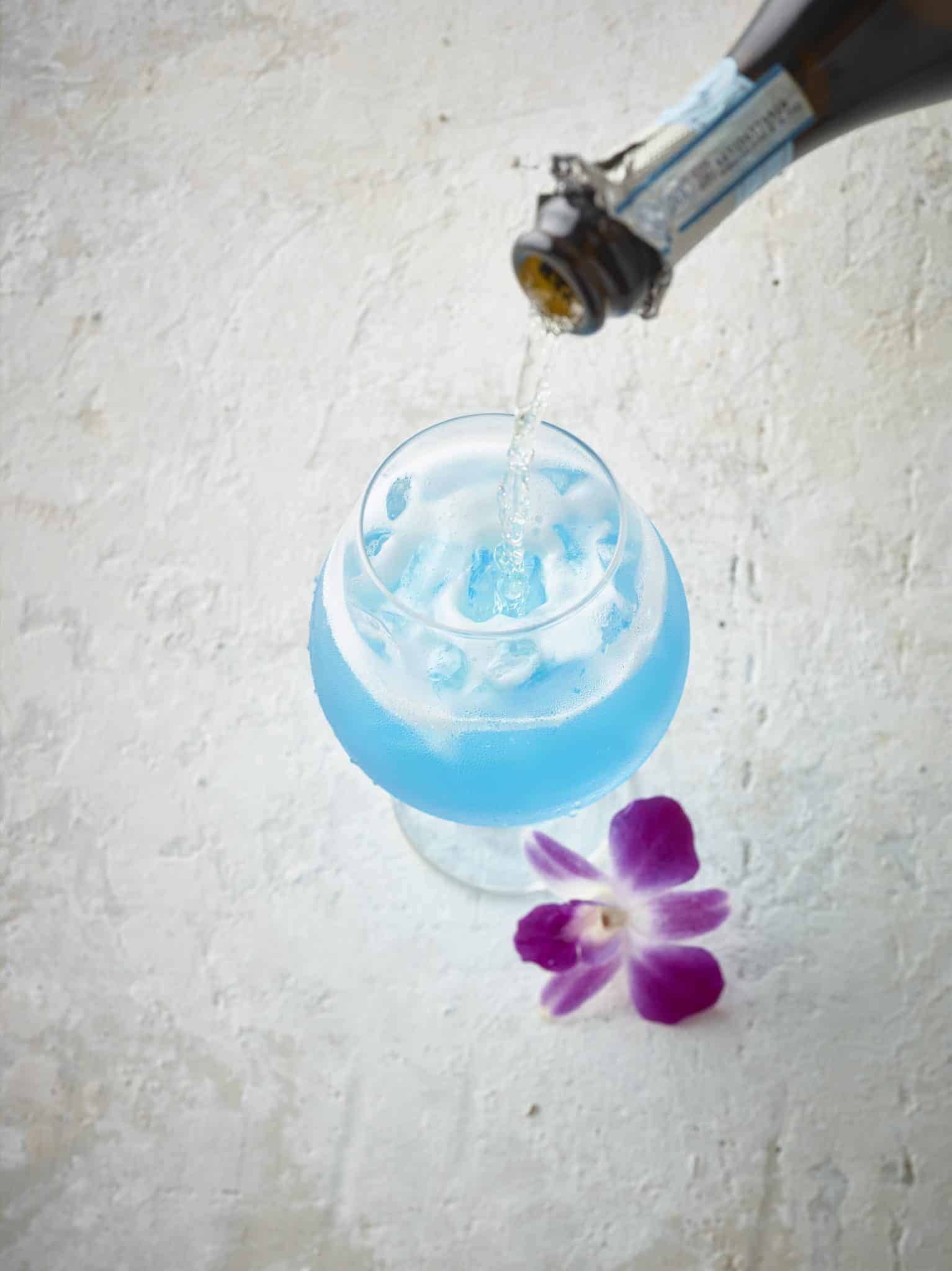 Really, anytime I have a Blue Hawaiian in my hand I'm transported to a sandy beach on Maui or the top of Haleakalā at sunrise. Magical moments that all spring back when I see and sip my blue Curacao cocktail.
What is blue curaçao? It is a blue hued liquor that gets its flavor from the peel of the dried Laraha citrus fruit, grown on the island of Curaçao, hence the name.
Before you get started on your own hawaiian luau, Bonefish grill has some tips and tricks to make sure your Sparkling Blue Hawaiian Cocktail is just a delicious and festive as the one at the restaurant.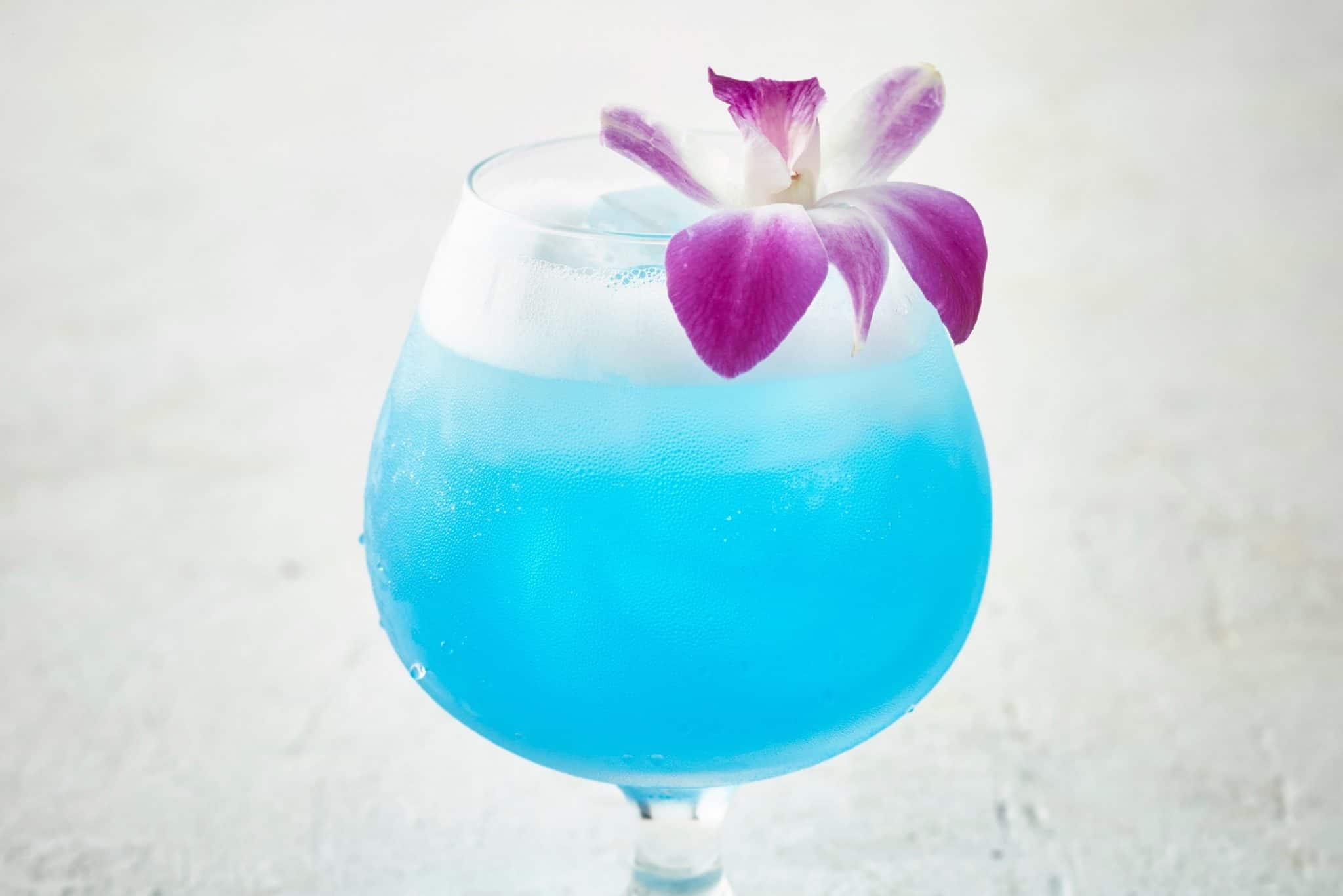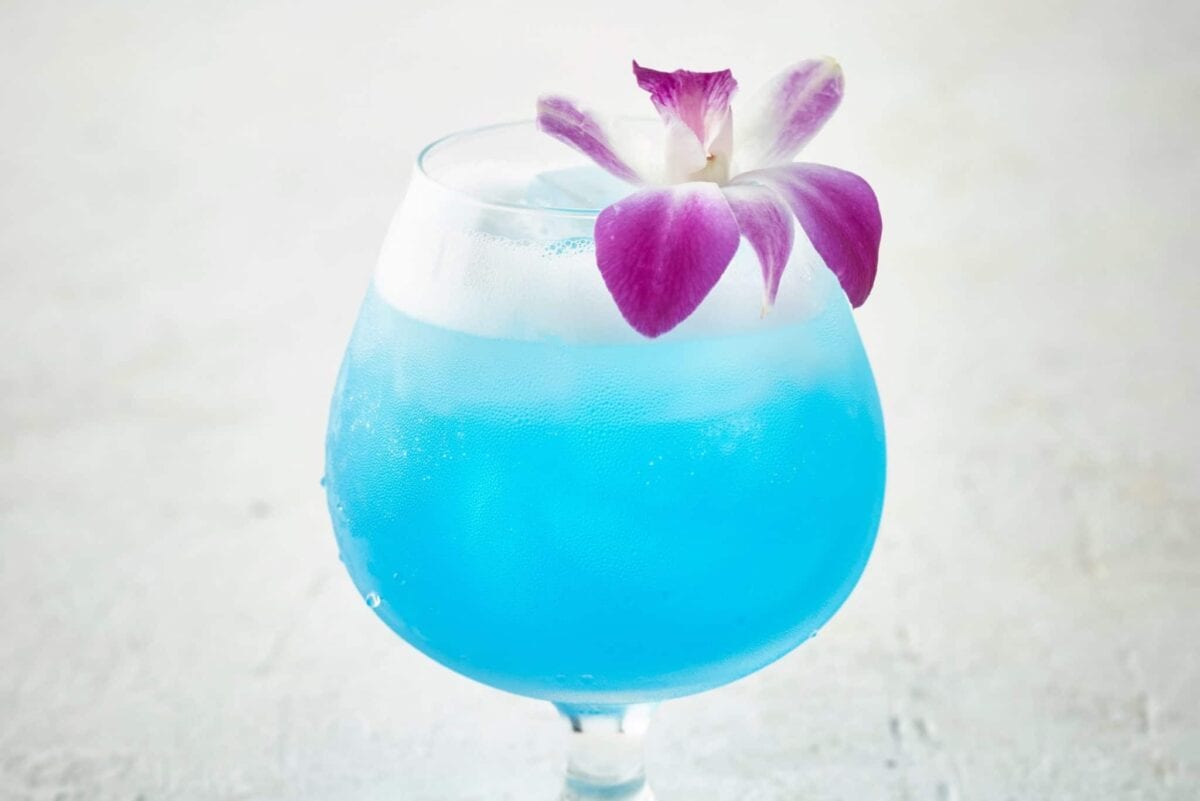 Tips for making the perfect Sparkling Blue Hawaiian:
Coco Lopez: Blend your crème of coconut in a blender to achieve smooth consistency. If too strong, you may want to blend with a bit of pineapple juice. It is sometimes labeled coconut cream, too. If you have extra or want to make a frozen drink bar, check out my BBC recipe!
Rums to Buy or Infuse: Bonefish Grill uses a guava rum that is not easy to find in liquor stores. That being said, try these fun variations to make your "Blue Hawaiian" a home-made original.
For extra pineapple and sweetness, use Malibu Rum.
From stronger rum flavor, use amber rum like Appleton or Mount Gay Eclipse.
Rum Infusions: Make your own infusion with one of the below tropical fruits. Allow to infuse in a bottle of a rum for 48-72 hours.
Fresh-cut mango
Fresh pineapple
Fresh papaya
Fresh kiwi or starfruit for the more exotic
Pineapple Juice: You may buy canned pineapple juice or feel free to blend fresh pineapple with pineapple juice and then strain pulp out for an extra fresh indulgence. Get a pineapple corer and thank me later.If you do use fresh pineapple, garnish your hurricane glass with a pineapple wedge.
You can also try using orange juice, but it does change the color slightly.
Prosecco or Champagne: We prefer to use a Prosecco as it is a touchy more creamy, and slightly sweet in mouthfeel but feel free to use a drier champagne if that's what you prefer.
Fun Garnish Ideas: Edible flowers, such as pansies, roses, violets, zucchini blossoms, lavender and borage blossoms, are available in many gourmet grocery stores.
Or you can go traditional using some other fun pieces like cocktail umbrellas, tiki swizzle sticks or even Polynesian tiki glasses will take this cocktail over the top. Use pineapple leaves from your fresh pineapple as desired.
Poolside Idea: Instead of serving this on ice, feel free to blend this and serve it frozen. It's a perfect complement to a summer pool party!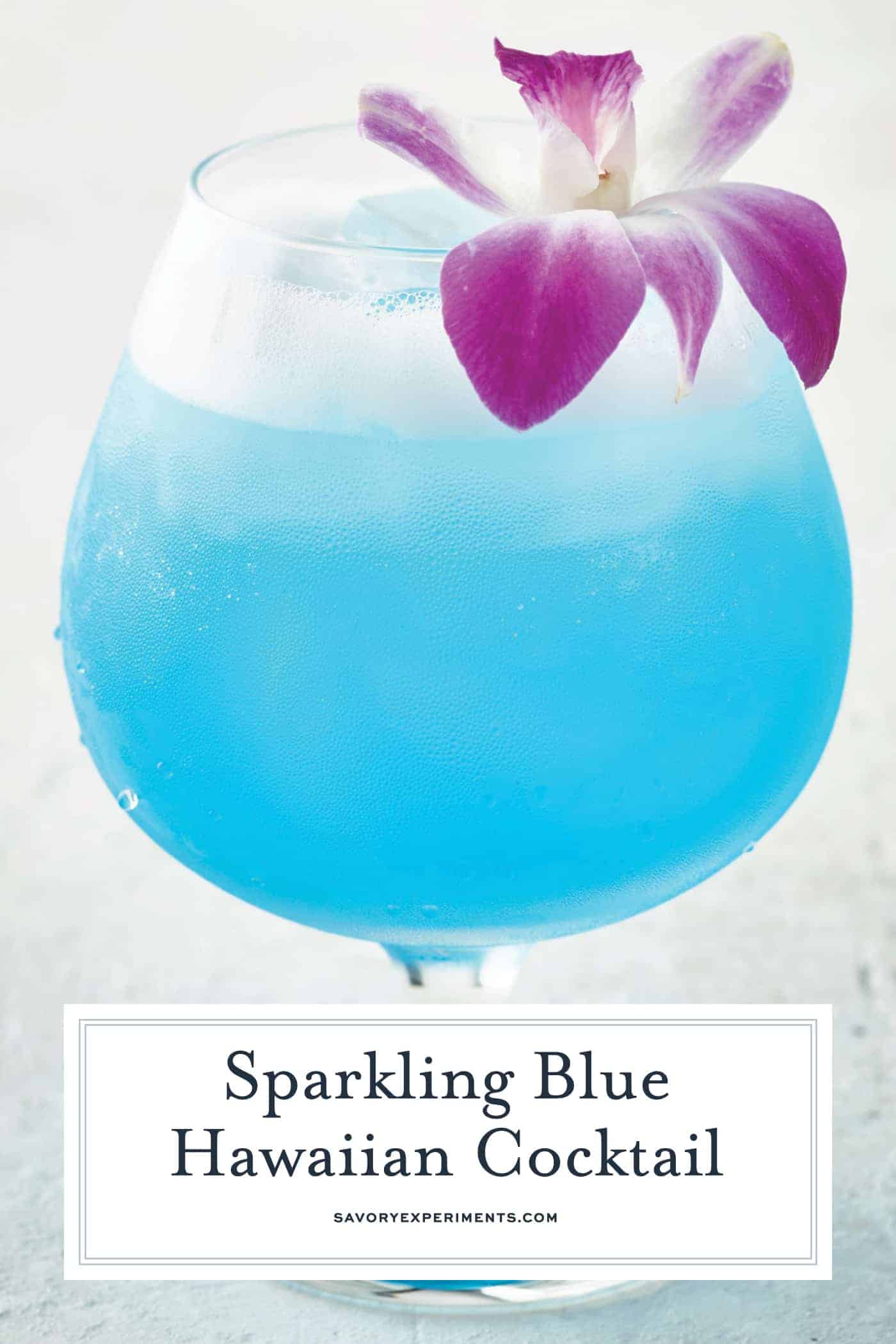 Here are a few more drink recipes you might enjoy:
Tools for making a Blue Hawaiian at home:
Cocktail Shaker– If you plan on making cocktails at home, make yourself look like a pro by using a shaker.
When ice is put in the shaker this allows for a quicker cooling of the drink before serving. The strainer top ensures no ice gets into the drink, watering it down.
This set comes with a measuring cup and few other cocktail making pieces to get your Tom Cruise on.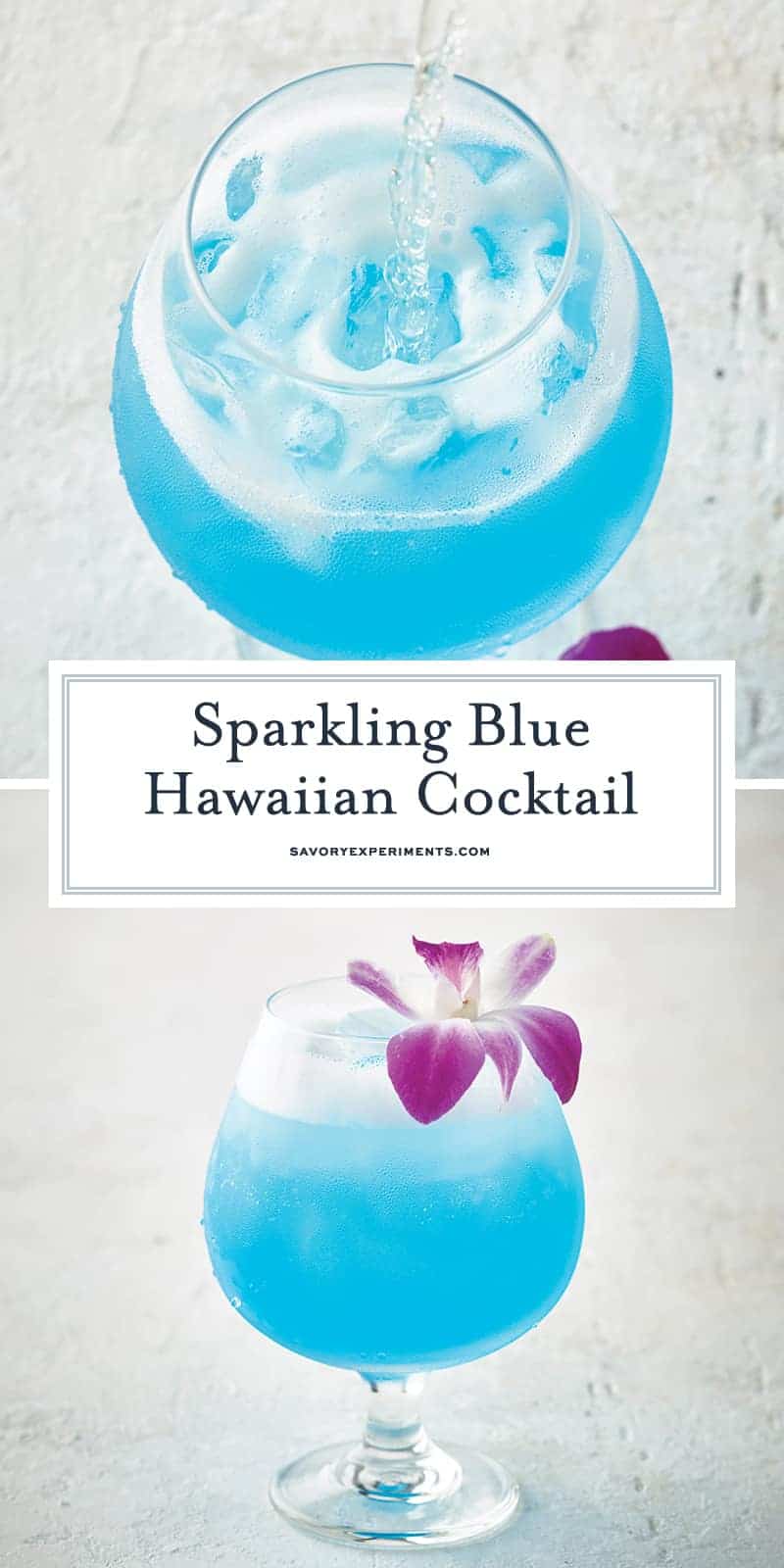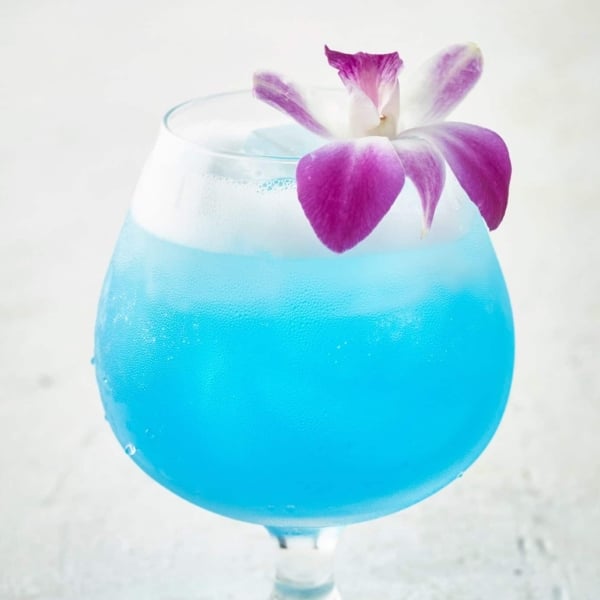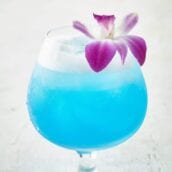 Sparkling Blue Hawaiian Cocktail
Sparkling Blue Hawaiian Cocktail is a refreshing tropical cocktail recipe perfect for luau themed parties or a lazy Sunday afternoon. See how to make your own Curacao cocktail in just minutes!
Ingredients
1.5

ounces

Your Favorite Rum

.75

ounces

Blue Curacao liqueur

.50

ounces

Cream de coconut

1

ounce

Fresh Pineapple Juice

Top with Champagne or Prosecco Top with

Garnish with flowers or other props
Instructions
In a large shaking tin or mixing glass, combine all ingredients EXCEPT Prosecco.

Add ice and then shake vigorously.

Pour all ingredients into your final glass for presentation.

Add ice to glass to top.

Garnish and serve!

If you've tried this recipe, come back and let us know how it was!
Nutrition
Calories:
214
kcal
,
Carbohydrates:
9
g
,
Fat:
4
g
,
Saturated Fat:
4
g
,
Sodium:
1
mg
,
Potassium:
82
mg
,
Sugar:
6
g
,
Vitamin C:
2.8
mg
,
Iron:
0.3
mg
Find a Bonefish Grill location near you HERE!
*I received permission from Bonefish Grill and advertisers to use these images on their behalf.