There is no better classic rum cocktail than this easy Rum Punch recipe! Full of fresh fruity flavors like pineapple, orange and lime, it's not to be missed!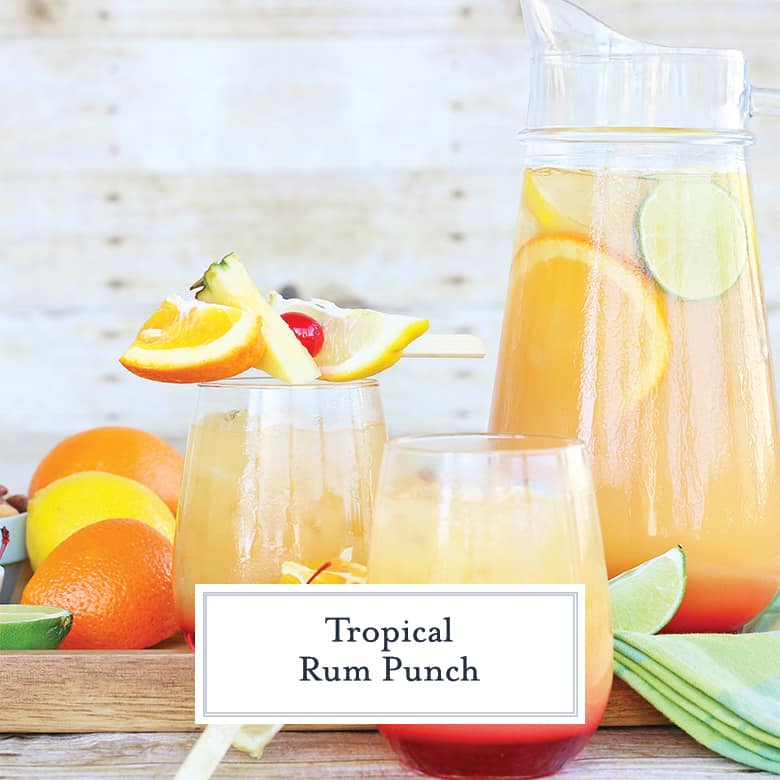 If you've ever wondered how to make rum punch, look no further than this fruity Rum Punch recipe! The perfect cocktail for any occasion!
Everyone needs a go to drink that they make right at home. It's nice to go out and have a drink every once in a while, but sometimes I prefer my PJs and watching the Housewives with a beverage on the couch.
Make sure you PIN this delicious Party Punch!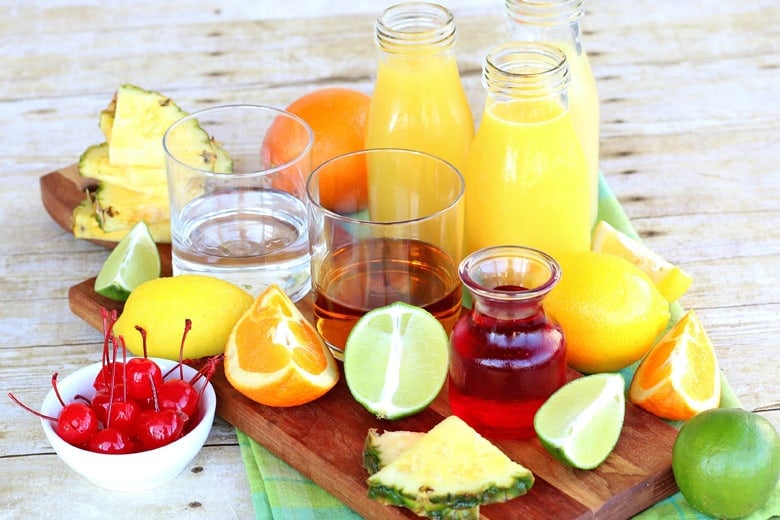 When I don't feel like breaking out the blender for a BBC, my go to drink is this Rum Punch Recipe.
Who knows, this Rum Punch Recipe could even make you feel like you're on a tropical vacation, almost like a pina colada does. When you're drinking rum, nothing is too out of reach. Close your eyes and hear the crashing waves at your toes.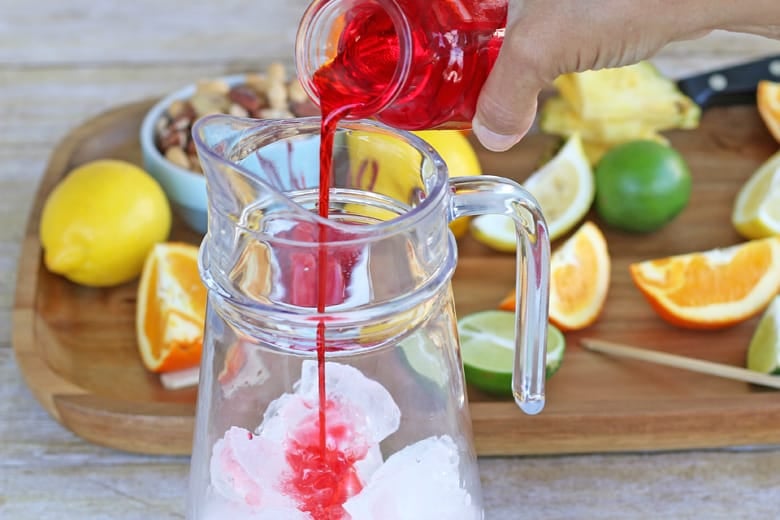 The absolute best part of rum punch cocktails are that they are so simple to make. You won't be spending hours in the kitchen trying to make the perfect punch recipe.
All rum punch recipes come with a sort of "idea" of how they should be made. If you ever come up with your own recipe for rum punch, here is something to remember.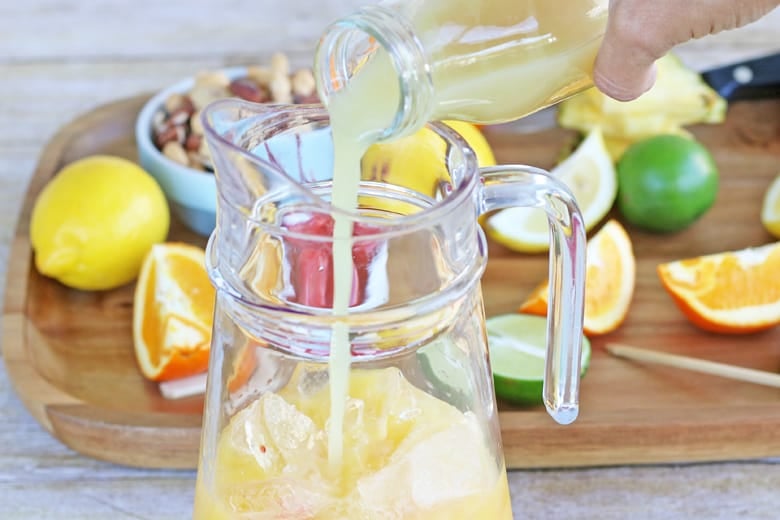 You'll want to use one part lime juice, two parts sweetener…and then you'll go on to add three parts rum and then four parts water. Simple enough, right? One. Two. Three Four.
If you don't have time to make it the day of, then you can make Rum Punch up to 24 hours before serving it.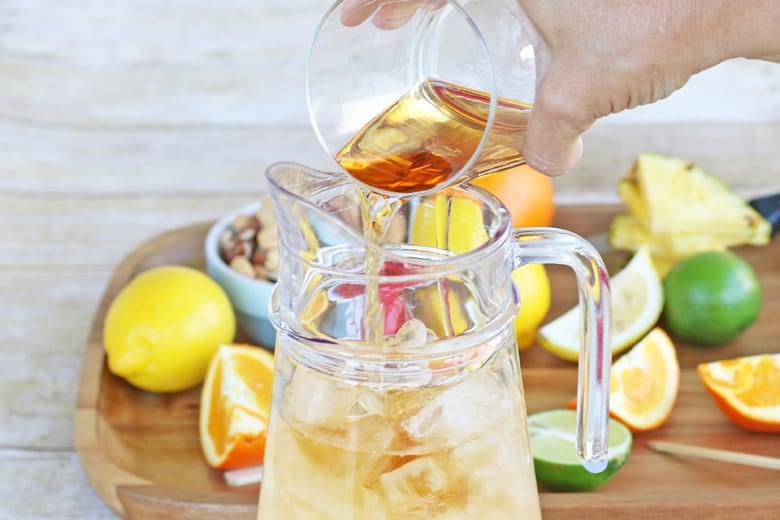 What's in this Rum Punch recipe? My favorite part of sharing a yummy drink with you is telling you all what is in it. With my Rum Punch recipe, you're looking at fruit juice (specifically pineapple juice and orange juice,) White Rum, Spice or Dark Rum, Lime Juice, and grenadine.
PRO TIP: Don't add fruit until you are ready to serve! The garnish won't last, so wait until you're serving it to add the fruit that you want. I personally think that the fruit (like pineapple or orange slices) makes this alcoholic recipe worth while. Having fresh fruit in a drink is always delicious!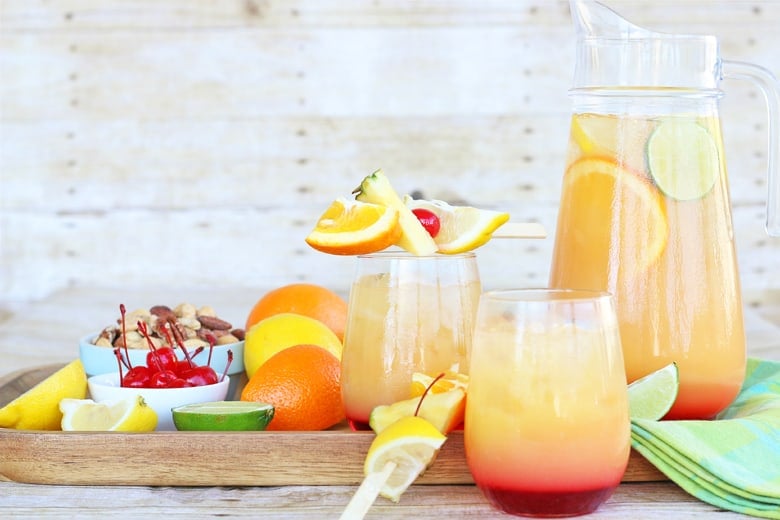 Adding both light and dark run adds to the flavor sophistication. There are several kinds of rum, here they are:
Light Rum- Also known as silver or white rum, it is aged for less time than other varieties.
Dark Rum- This has the addition of molasses, burnt sugar or caramel to a tradition light rum.
Golden Rum- This is aged slightly longer than light rum.
Coconut Rum- Hints of coconut flavor added to light rum.
Spiced Rum- Addition of vanilla, caramel and other propitiatory spices.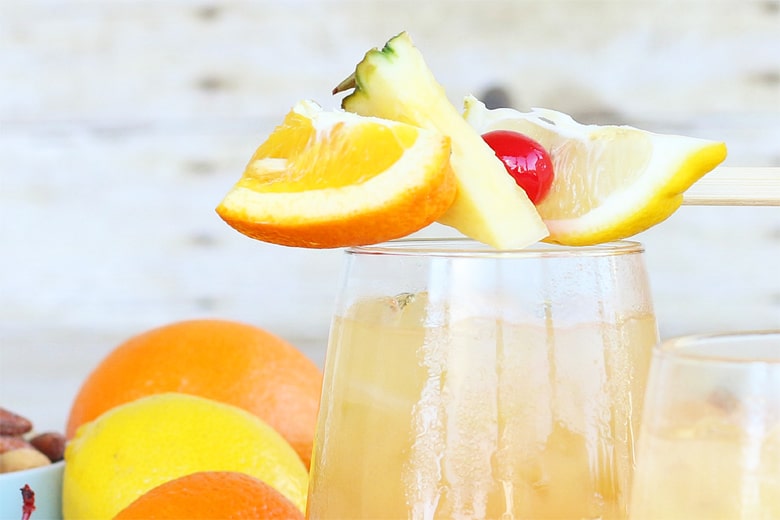 Questions you might have about how to make rum punch:
How long does rum punch last? Rum Punch is only going to last as long as the fruit lasts. Once the punch is kept too long, it may start getting a little sour, which is never any fun!
I hardly doubt that any of this Rum Punch will be left behind.
What occasion is rum punch for? Is there an occasion in which Rum Punch isn't appropriate? I will tell you that I think this is an appropriate drink for any gathering, as long as alcohol is being served.
Rum Punch is very budget friendly to make. Which means you can make it for all kinds of parties. Birthday parties, weddings, engagement parties, BBQs, and whatever other kinds of party you want to throw.
This is a low maintenance drink that can serve a lot of people. When you want a crowd pleaser alcoholic drink, this is it!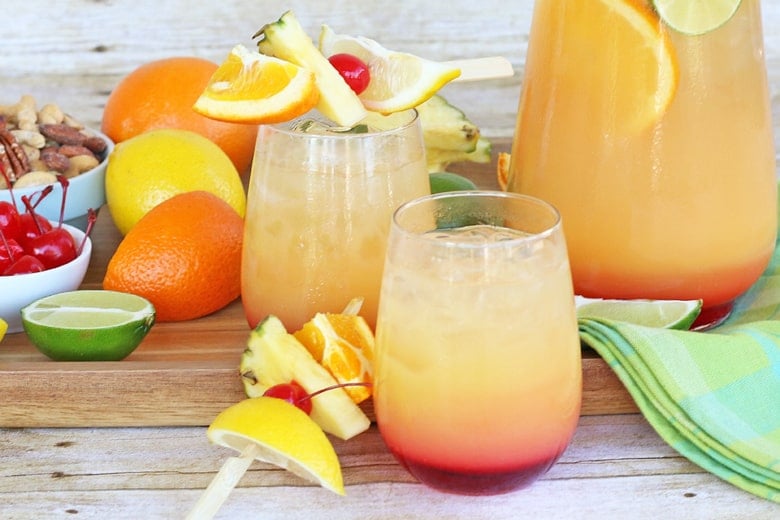 Where can I drink this recipe? Uh… any place you'd like? Maybe not in public, as people frown up taking a roadie.
I personally think that Rum Punch is that Island type of drink. The kind of drink that you want to order when you are by the beach, kid free. This is the kind of drink you want to drink poolside and forget that you have to go to work the next day.
Of course, it also makes a perfect drink for parties, as I mentioned. Add it to a punch bowl and let people serve themselves!
So, all in all, I'd say this drink can be consumed anywhere. Don't ever feel bad for serving something like Rum Punch. You'll be the hero of the party!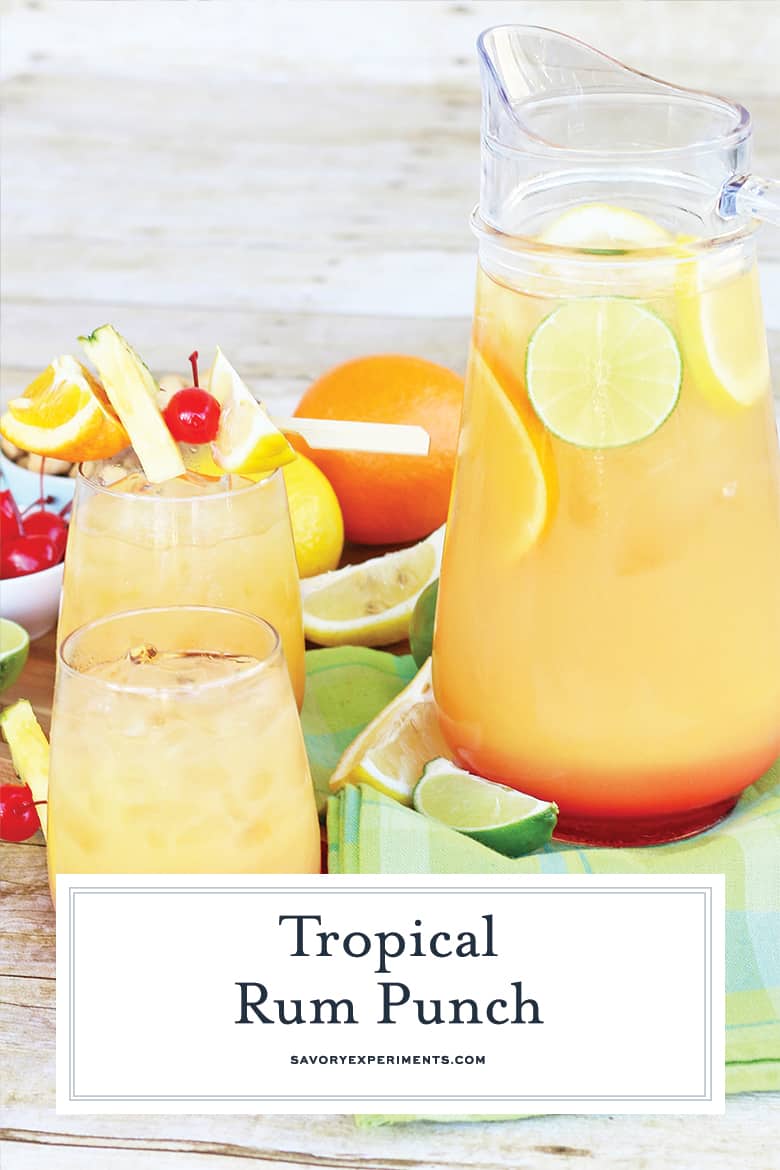 Do I have to use two types of rum? Adding both a dark and light adds to the sophistication of the flavor profile, but no, you can just use one if you wish. Also feel free to use flavored rum!
How is rum made? According to Wikipedia… Rum is a distilled alcoholic drink made from sugarcane byproducts, such as molasses, or directly from sugarcane juice, through a process of fermentation and distillation. The distillate, a clear liquid, is then usually aged in oak barrels.
Is rum punch the same thing as planters punch? Although similar, there seems to be one key difference between these punches. Most of the recipes that I've seen for Planters Punch call for bitters.
I don't use bitters in my rum punch recipe, but if you like the flavor, feel free to use it!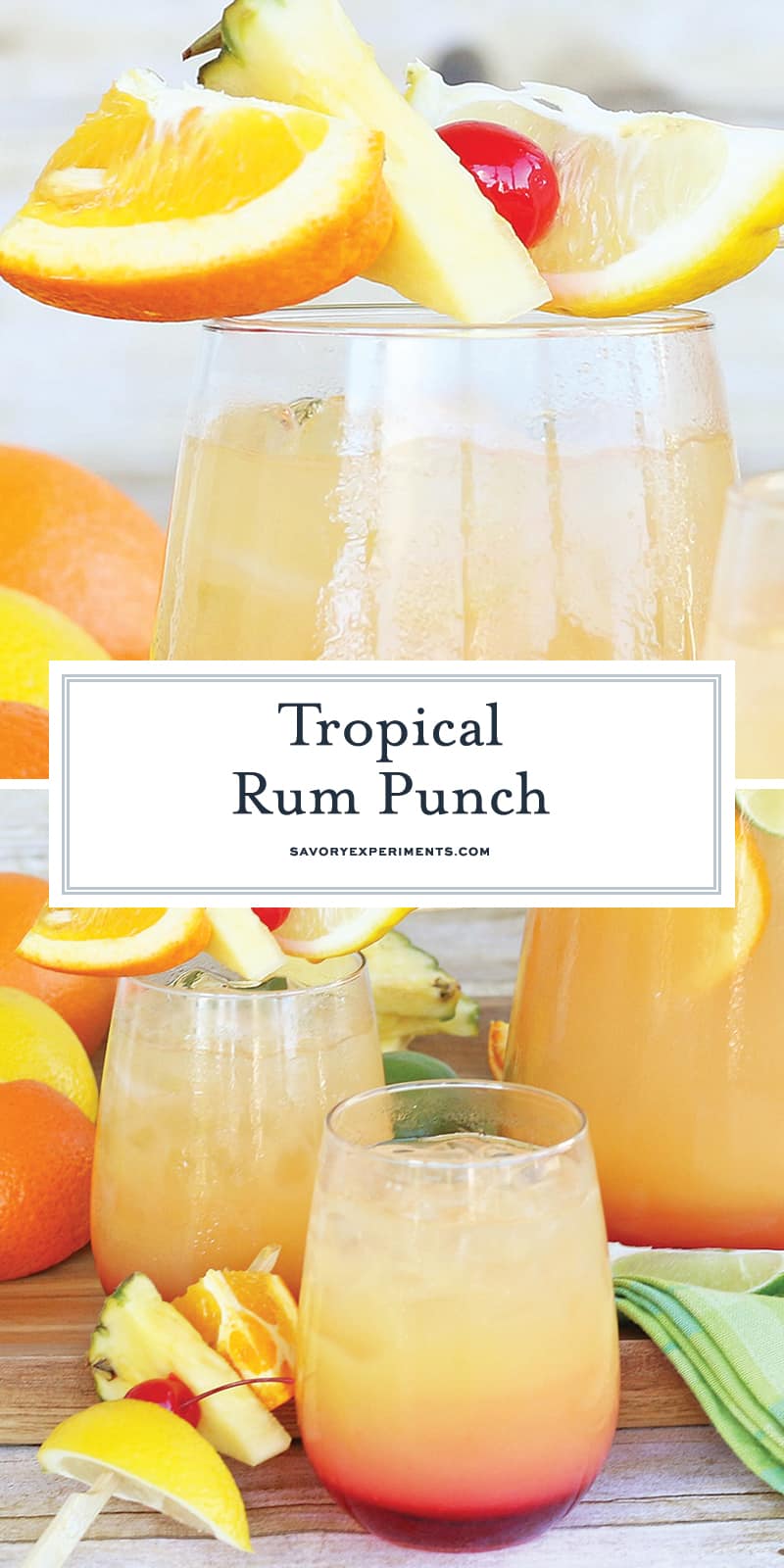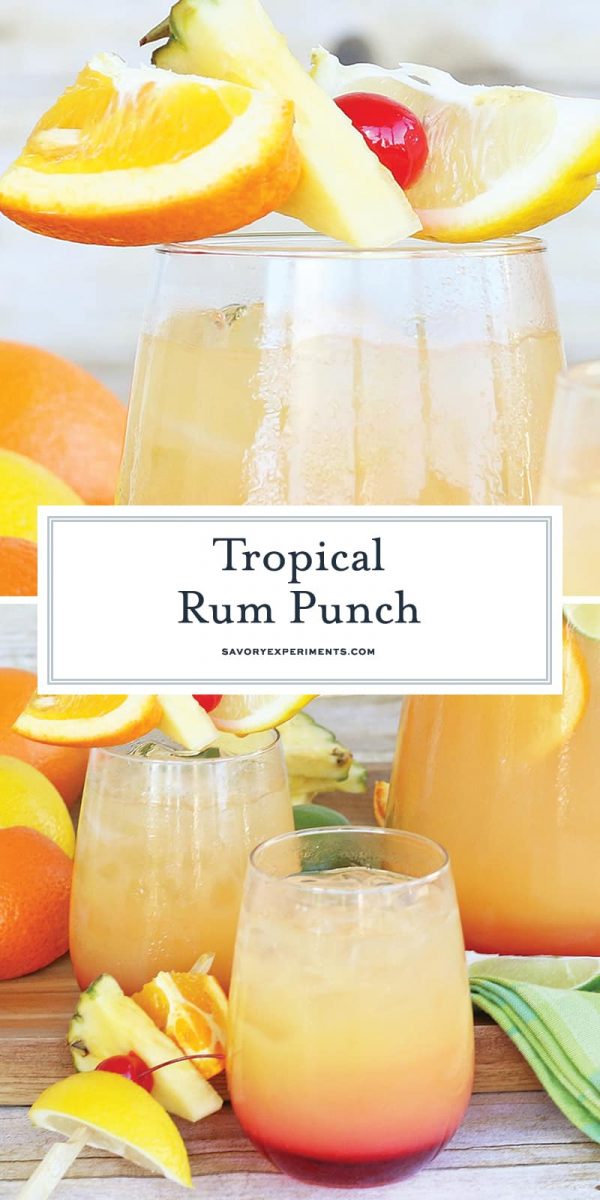 If you liked this Rum Punch mixed drink, check out these other fruity cocktails:
Orange Crush Cocktail
Easy instructions for the best Orange Crush Cocktail recipe using fresh oranges, vodka and special liquor to make yours the bomb!
Frozen Limeade Sherbet Floats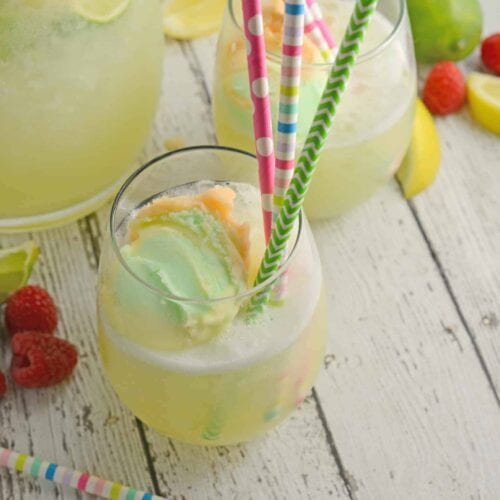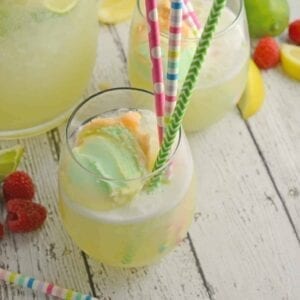 A refreshing summer drink perfect for parties and BBQs! Cool limeade blended with ice and topped with a heaping scoop of rainbow sherbet!
CONNECT WITH SAVORY EXPERIMENTS!

Be sure to follow me on social media, so you never miss a post!

Facebook | Twitter | Youtube
Pinterest | Instagram

Get our FREE 8 Day E-Course on How to Be a Better Home Cook. Sign up HERE!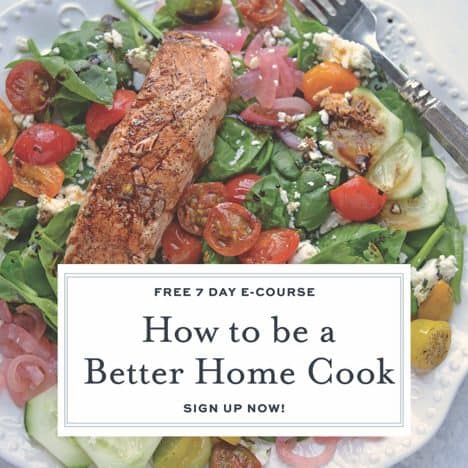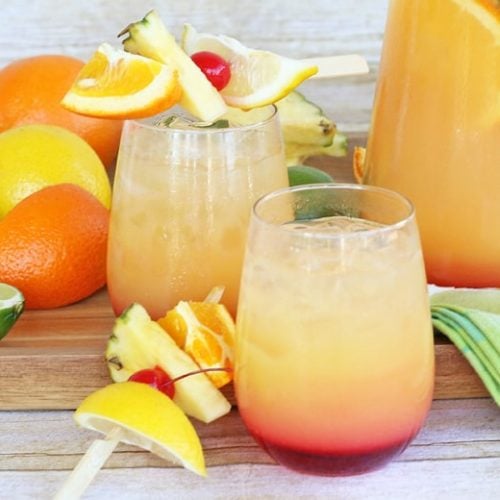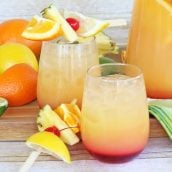 Print Recipe
Tropical Rum Punch
If you've ever wondered how to make rum punch, look no further than this fruity Rum Punch recipe! The perfect cocktail for any occasion!
Instructions
Mix together all ingredients in a pitcher or individual glass (if making one drink).

Chill in refrigerator for at least 1 hour before serving.

Garnish with pineapple slices, lime wedge and maraschino cherry, if desired.

Pour over ice in individual glasses to serve.

If you've tried this recipe, come back and let us know how it was!
Nutrition
Calories:
164
kcal
|
Carbohydrates:
15
g
|
Protein:
1
g
|
Fat:
1
g
|
Saturated Fat:
1
g
|
Sodium:
4
mg
|
Potassium:
118
mg
|
Fiber:
1
g
|
Sugar:
10
g
|
Vitamin A:
70
IU
|
Vitamin C:
23
mg
|
Calcium:
9
mg
|
Iron:
1
mg