These Quick Portabella Pizzas make a quick, easy and light lunch or dinner. They're ready in just 15 minutes and are a great way to enjoy pizza without the carbs.
Your own little personal pizza.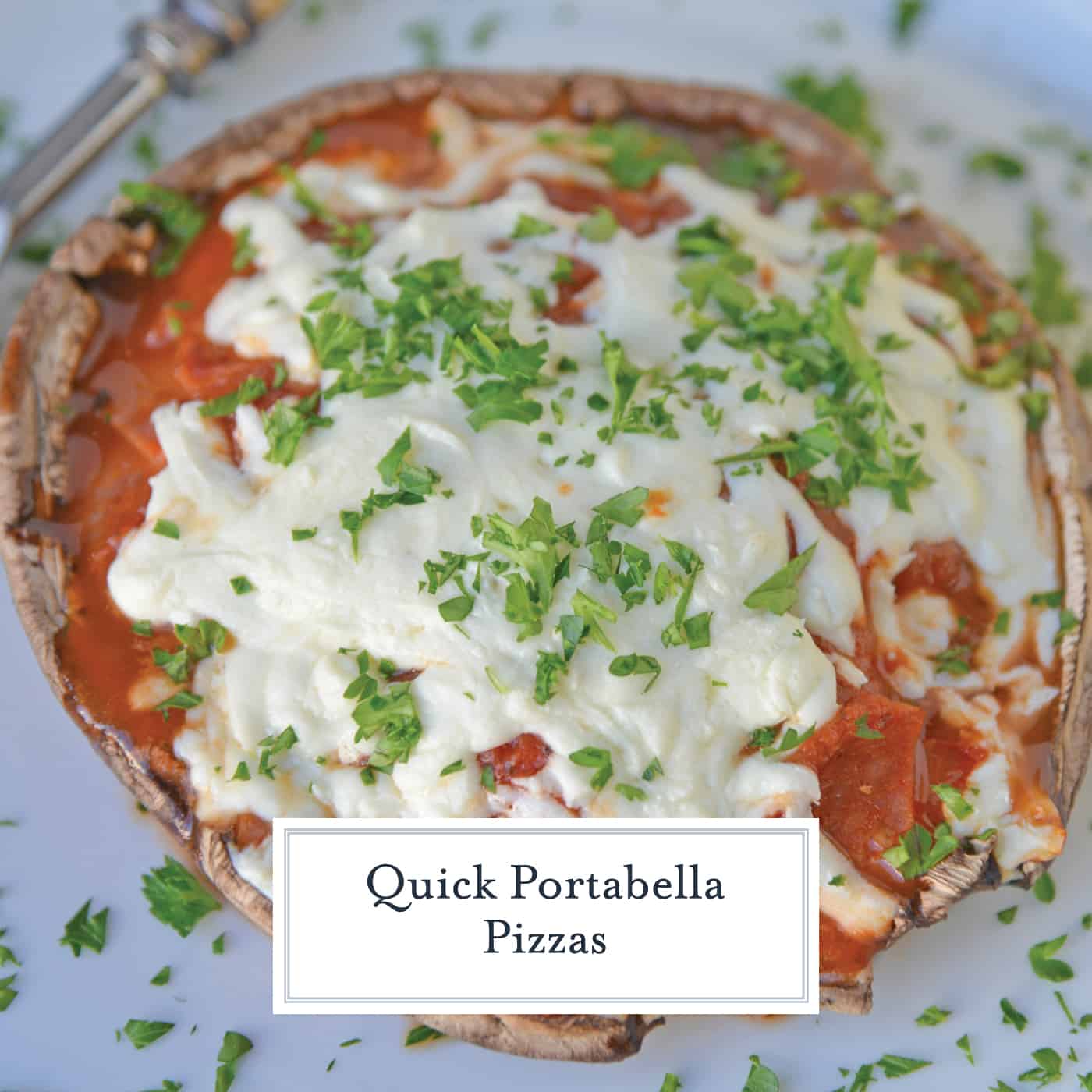 These Quick Portabella Pizzas are the ultimate low carb pizza. The stuffed portabella mushrooms are quick and dinner.
Quick and easy dinners are my favorite. This Portabella Mushroom Pizza definitely fall into that category, with only four ingredients and 20 minutes of prep and cook time.
Quick Portabella Pizzas are part low carb pizza, part stuffed portabella mushrooms. They're great for when the pizza craving hits and can be made in less time than it'll take the delivery man to show up at your door.
Is it portObello or portAbella? The answer is that both are correct.
Portabella mushroom caps stay firm enough to easily hold heavy ingredients, but have the rich, velvety texture you just want to sink your teeth into.
For that reason, they make a great meat replacement, even for diehard meat lovers. While this recipe is not vegetarian because I love to top it with pepperoni, you could easily turn it into a vegetarian portabella mushroom recipe by omitting the pepperoni.
I think the texture and versatility of the portabella mushroom also surprise a lot of people who claim they don't like mushrooms.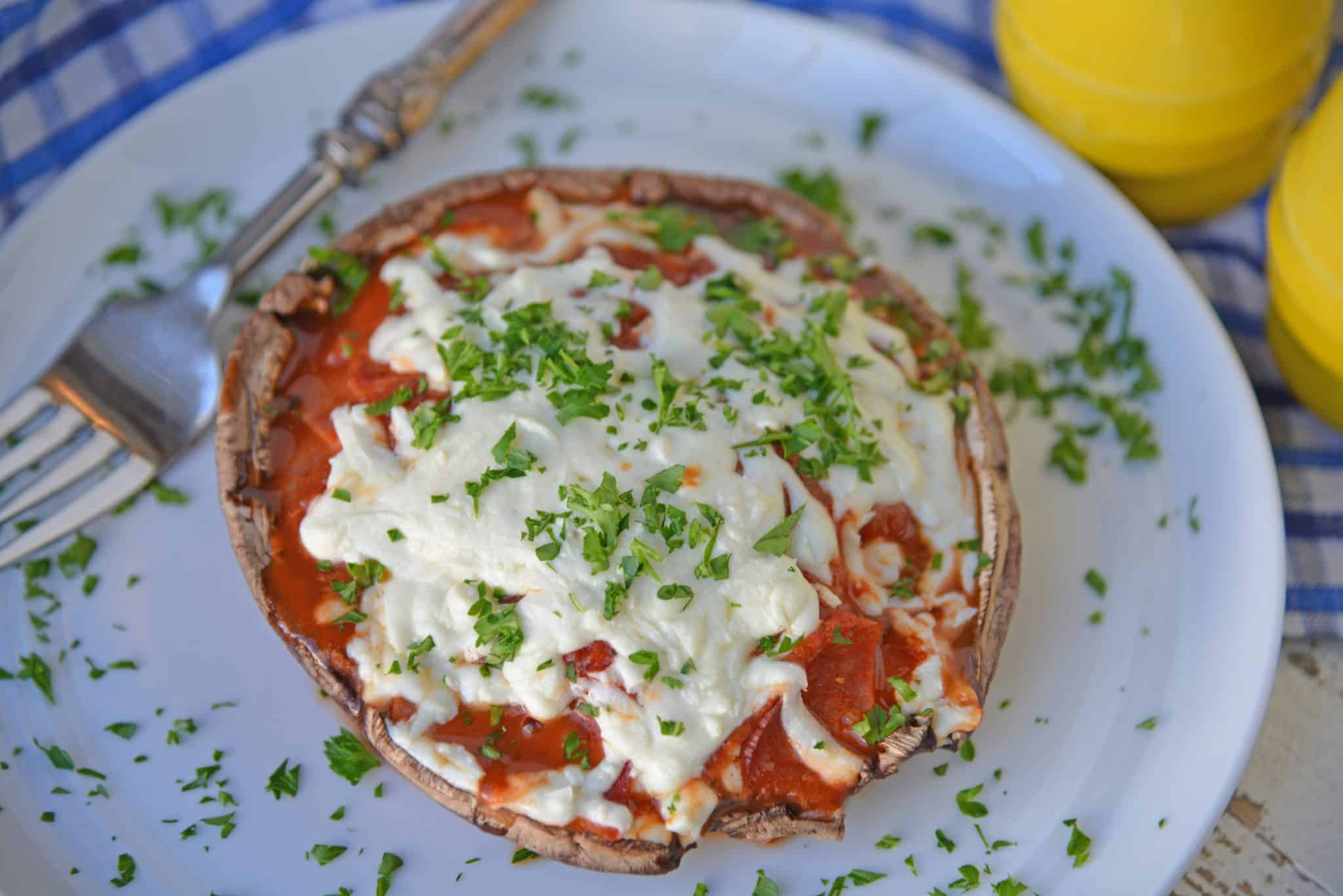 I've made these for a few friends who scrunch up their nose at the idea of eating mushrooms and, surprise, they loved them! I bet this will be the first of many portabella mushroom recipes they make!
FACT: Portabella mushrooms are simply fully mature cremini mushrooms. They have the same taste and texture.
I like to make this portabella pizzas when I'm in a rush or want something filling but not heavy for dinner. If I'm making these for my husband or friends, I'll make a quick side salad to serve with them.
If you don't want to heat up your kitchen, you can also make grilled portabella mushrooms! Follow the same instructions as baked, but preheat the grill to medium-high heat and place on indirect grates. Close the cover for 3-4 minutes, or until cheese is melted.
PRO TIP: Freshly shredded cheese is always better than pre shredded. Look for a part skim, low moisture mozzarella cheese and shred it yourself. It will have less liquid, leaving it nice and cheesy!
In the summertime, making these as grilled portabella mushrooms is actually my preference. They are ready just as quickly and I just love having a few moments outside to grill.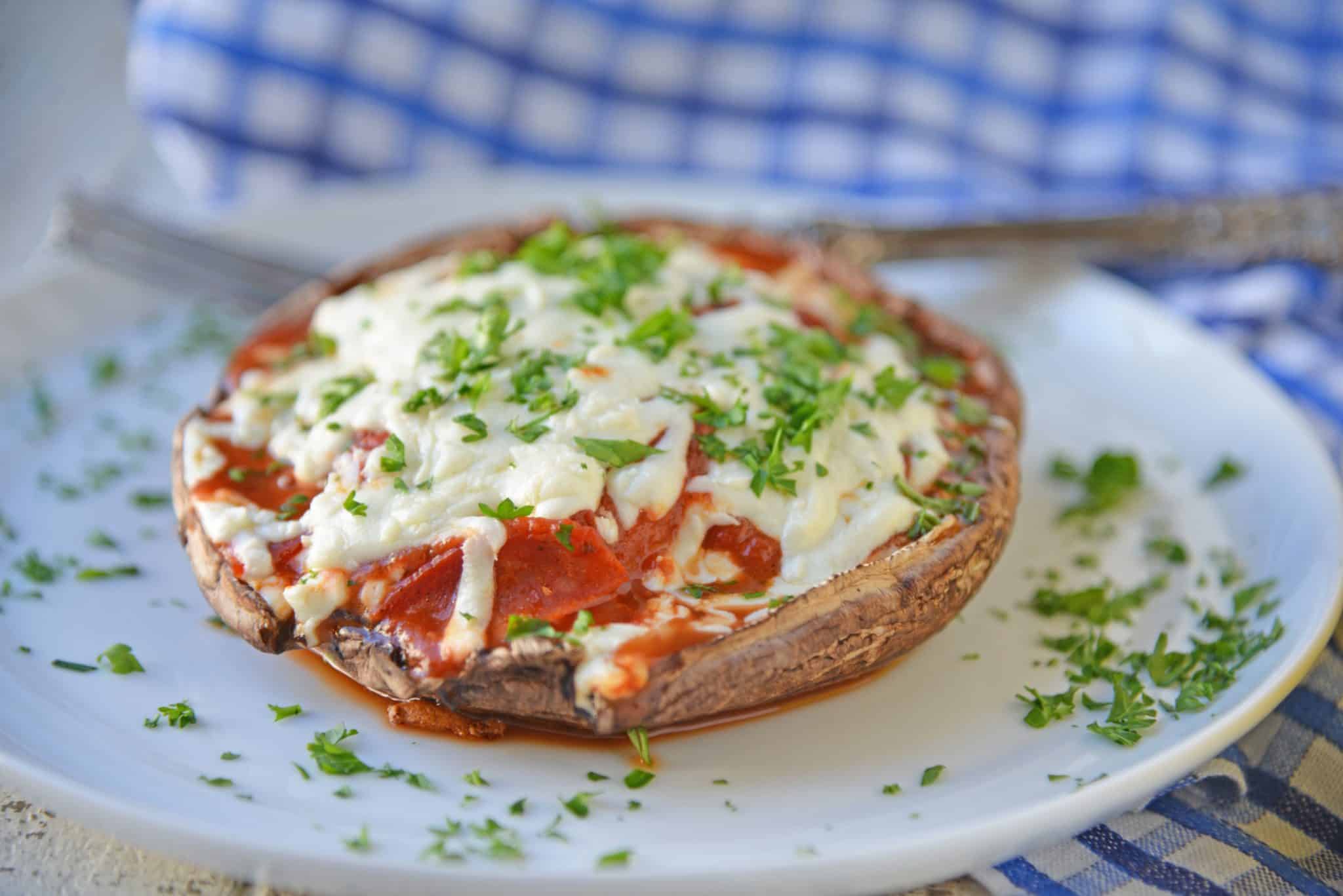 If you've never made stuffed portabella mushrooms before, I recommend starting with these easy Quick Portabella Pizzas!
PRO TIP: To make these into party appetizers, you can use smaller cremini mushroom caps. Chop pepperoni into smaller pieces and follow the same instructions.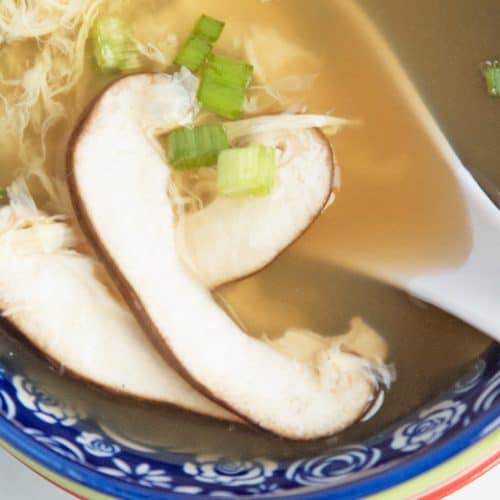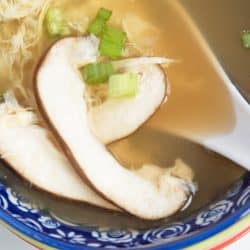 Egg Drop Soup
This Chinese Egg Drop Soup is the BEST! It's quick and easy to make, making it perfect for a quick lunch or starter for dinner. It's made in only 15 minutes!
See The Recipe!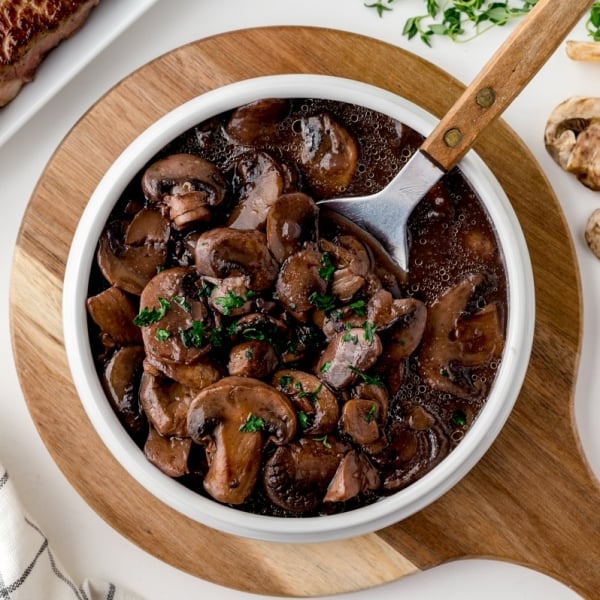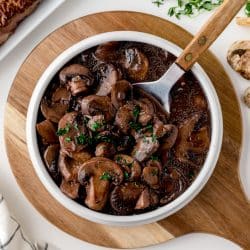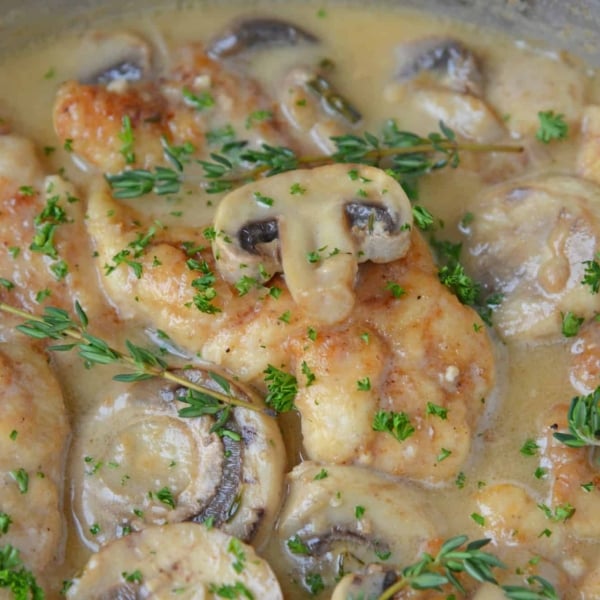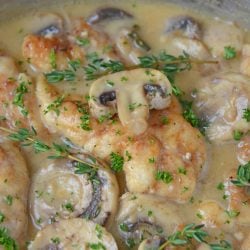 Creamy Asiago Chicken
Creamy Asiago Chicken is a tasty and easy chicken recipe that is perfect for a weeknight meal. Mushrooms, shallots and thyme flavor this delicious dish.
See The Recipe!
Tools for making low carb Portabella Pizza:
Rimmed Baking Sheet– another kitchen staple! You'll use this for prep work, roasting and much more. I have 7 at my house.
Grapefruit spoon
– I find this to be the easiest way to remove the ribs from a portabella mushroom cap.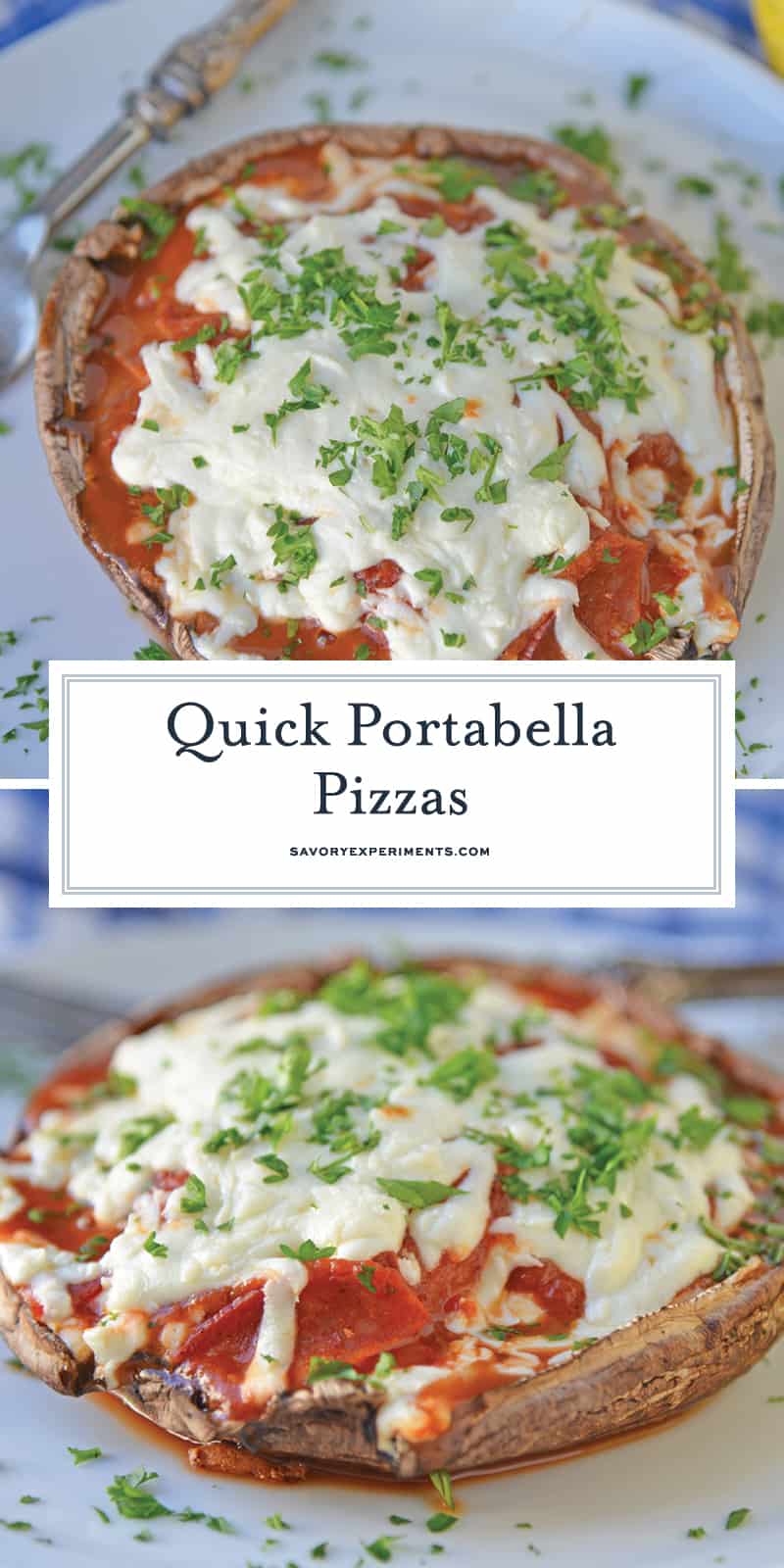 Questions you might have about how to make portabella pizza:
Can I add other toppings? You can add whatever pizza toppings you can dream up. Mushroom cap pizzas are an easy way to make your favorite topping low(er) carb and add a little more veggie (actually fungus) into your diet. Some of my favorite pizza toppings are:
Bell peppers
Onion
Olives
Crumbled sausage
Caramelized onions
Roasted red pepper
Jalapeno
Pineapple
Salt and pepper
Can I make these pizzas ahead of time? You can build the pizzas, store them in the fridge and then bake them. Or bake them and reheat them when you are ready, but since it takes just as long to bake them as it does to reheat them, there really isn't much of a point to doing that.
Can I freeze mushroom cap pizza? Mushrooms, in general, don't freeze well, so I don't recommend it.
Is this recipe gluten free? Yes! As long as the pizza sauce you choose is gluten free, the other ingredients are as well.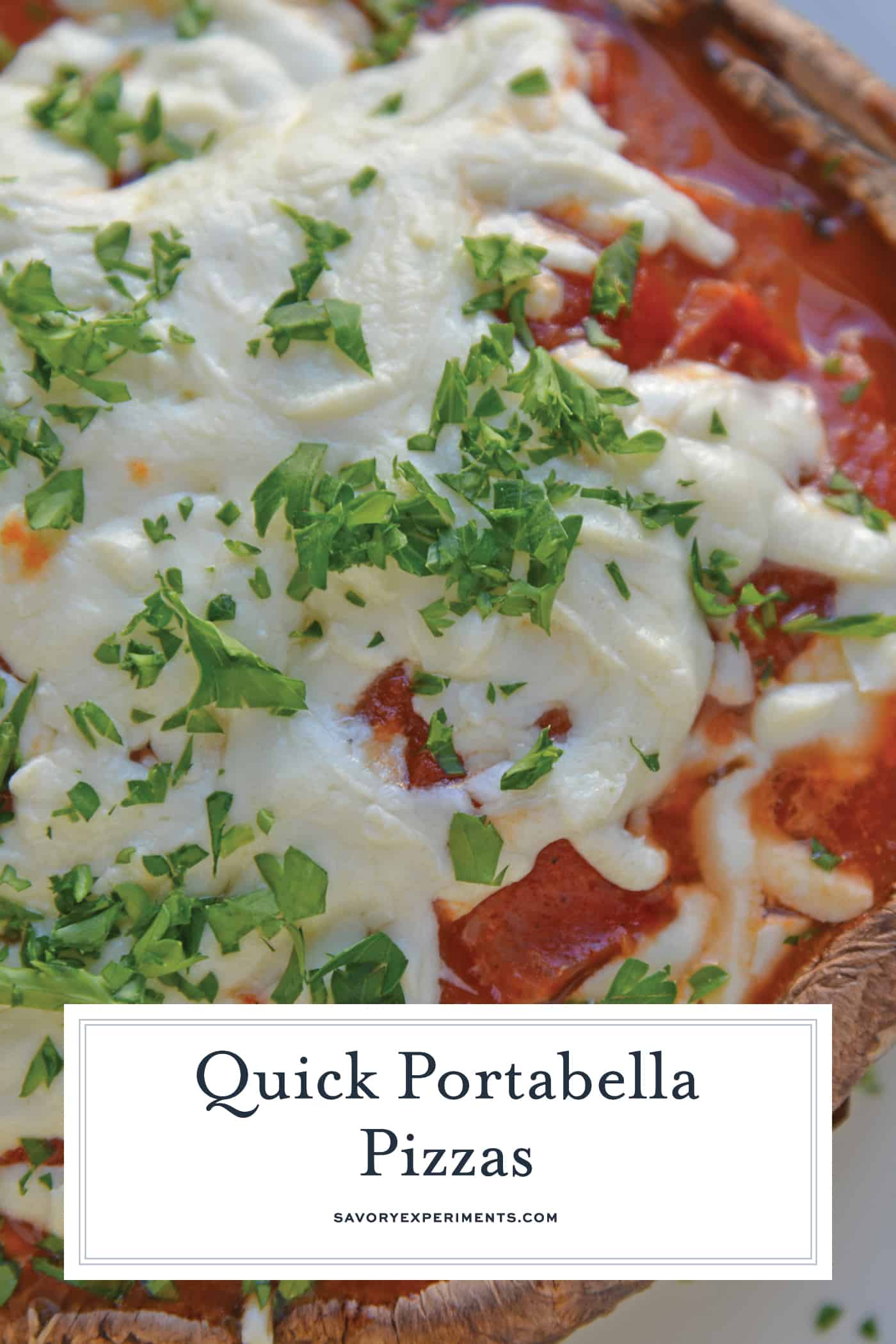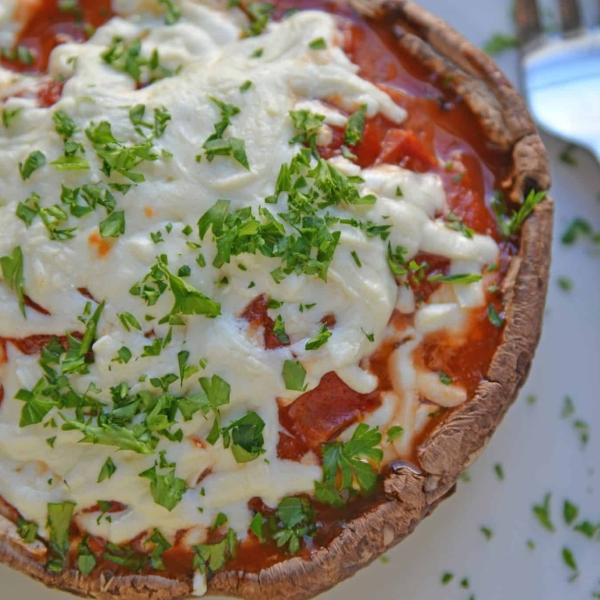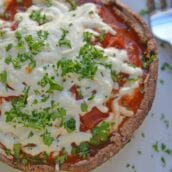 Quick Portabella Pizzas
This Quick Portabella Pizza is the ultimate low carb pizza and easiest stuffed portabella recipe with only 4 ingredients and ready in 20 minutes!
Instructions
Preheat oven to 350 degrees and line a rimmed baking sheet with parchment paper or aluminum foil.

Spread 1 tablespoon of marinara in each mushroom cap, top with a sprinkling of mozzarella cheese and a healthy dose of pepperoni. Top with more marinara and mozzarella.

Bake for 10-12 minutes or until cheese is melted and bubbly.

Remove and top with parsley. Serve hot.

If you've tried this recipe, come back and let us know!
Notes
To make these into party appetizers, you can use smaller cremini mushroom caps. Chop pepperoni into smaller pieces and follow the same instructions.
Nutrition
Calories:
110
kcal
,
Carbohydrates:
6
g
,
Protein:
7
g
,
Fat:
6
g
,
Saturated Fat:
2
g
,
Cholesterol:
18
mg
,
Sodium:
540
mg
,
Potassium:
538
mg
,
Fiber:
2
g
,
Sugar:
4
g
,
Vitamin A:
360
IU
,
Vitamin C:
4.3
mg
,
Calcium:
81
mg
,
Iron:
1.1
mg