A southern favorite, this EASY Pimento Cheese Ball recipe is the perfect appetizer! Grab your crackers and pretzels, this will be your new favorite snack!
Pimento Cheese is most commonly seen as an appetizer, lathered onto celery sticks or even on crackers, but in the deep south, it is also formed into a party cheese ball!
Whether you slather it on crackers or scoop it up with pretzels, it's always a crowd pleaser. And so easy to make!
Pimento Cheese Ball Recipe
Pimento cheese is a blend of cheddar cheese, pimento peppers, mayo and cream cheese. When forming it into a ball, you typically use less mayo and more cream cheese to get some structure. The ball is then finished by rolling it in chopped nuts and parsley.
Pimento is just a fancy word for roasted red peppers, if you aren't familiar. It originated and is still most popular in the South and sometimes listed as "pâté du Sud," or Southern pâté or the caviar of the south.
If you happen to find it in the midwest, primarily made with Wisconsin cheese, it might be palmetto pimento cheese or simply palemetto.
Southerners are very particular to how their pimento cheese is prepared and like many regional cheeses there are several "right ways". There are also many fun variations.
One thing is for sure, it is a chunky mix. It is best made in a food processor with a few pulses (do not just let the machine run, this is not a smooth mix). You can hand mix it in the mixing bowl too, but the cream cheese is hard to blend super smooth.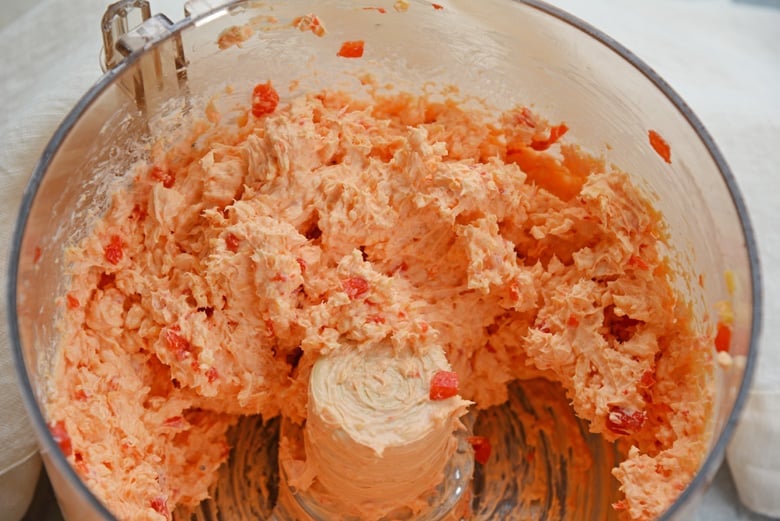 Pimento Cheese Ball Ingredients
This pimento cheese ball is basic, from there you can customize to your liking. Spicy, garlicky, more towards the cheesy side or even switch up the cheese.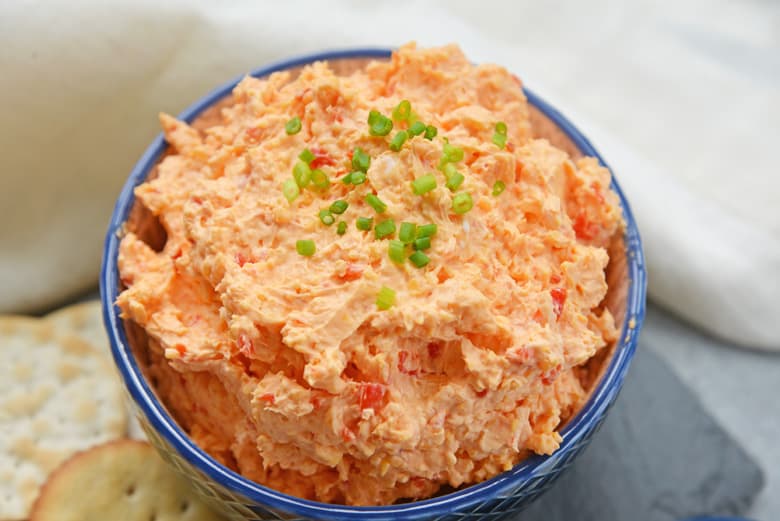 Cheddar Cheese– we like to use a sharp cheddar cheese for flavor and texture. You can switch it up and use a combination of sharp and regular cheddar or even white cheddar. We do strongly recommend shredding your own right off the block. Pre shredded cheese has a light coating of starch to prevent sticking which can impact the texture of your spread.
Cream Cheese– Gives the ball structure and makes it into a spreadable dip.
Pimento Peppers– What is a pimento? Pimento is just a fancy word for roasted red peppers. You can roast them yourself or save some time and buy them in a bottle, most commonly found in the International food aisle near Italian foods or by sandwich condiments and pickles.
Mayonnaise– Southerners typically have very strong feelings over what brand of mayo to use. Duke's seems to be the most preferred brand, but whatever you do, use a good quality brand since it is the base of the spread. You won't be using as much in a ball as you would in a dip, so it isn't too much to worry about.
Nuts- You can use pecans or walnuts. This helps hold the ball together and give texture. You can also go sans nuts.
Add-Ins– from here you can customize for flavor. Garlic powder, onion powder, crushed red pepper flakes, chopped parsley or chives and salt and pepper are the most common.
Spicy Pimento Cheese Ball
If you want to make your pimento cheese ball spicy, add 1-2 teaspoons of seeded and diced jalapenos. If you don't want to mess around with chopping peppers, add 1 teaspoon of crushed red pepper flakes.
For best results, allow your cheese ball to sit and the spicy flavors to marry and sink into the cream cheese and mayonnaise before assembling the sandwich.
Cheeses
Traditional pimento spread uses a sharp cheddar cheese, but you can use a combination of any mildly soft cheese. Some use a medium sharp cheddar with sharp.
Others prefer smoked gouda or white American cheese. I've even used pepper jack. Totally your call!
As for the nuts for rolling, I used chopped pecans with parsley, but you can also use walnuts. Some folks don't like nuts at all and opt for just a plain cheese ball.
I do find that it helps to protect the cheese from drying out and getting yucky.
Storage
Pimento cheese balls, any party cheese ball really, has the tendency to dry out. After forming your ball, I highly recommend wrapping them in plastic wrap tightly to seal in the moisture.
I do not recommend freezing cheese balls, they don't tend to thaw at the same texture.
According to the CDC, cheese balls can be left out at room temperature for about 2 hours and be safe to eat and handle.
More recipes that use Pimento Cheese: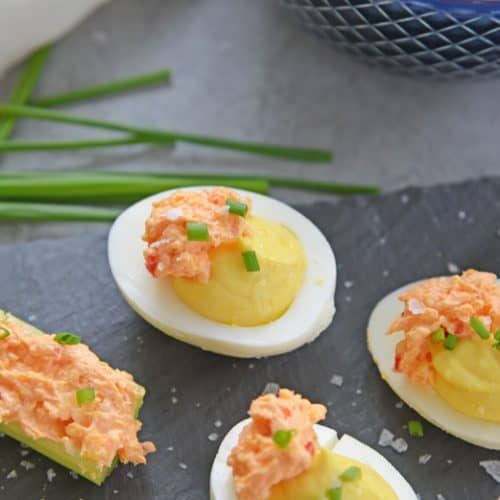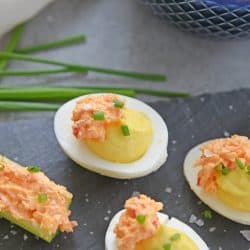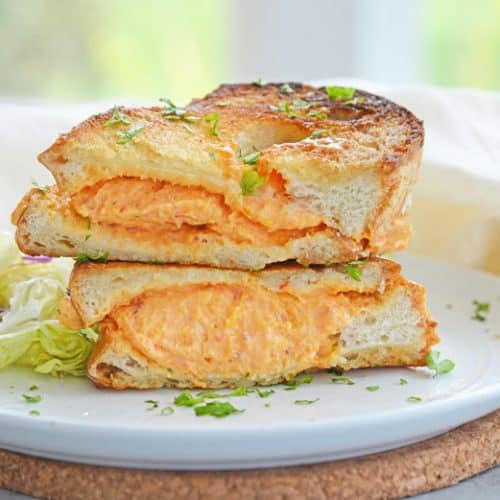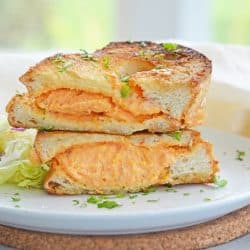 Pimento Cheese Ball
A southern favorite, this EASY Pimento Cheese Ball recipe is the perfect appetizer! Grab your crackers and pretzels, this will be your new favorite snack!
Instructions
Combine cheddar cheese, cream cheese, mayo, pimento peppers, garlic powder and Kosher salt in a food processor and pulse it several times until a pale pink and fully combined but still chunky.

Form into a ball, mixture will be sticky.

Place chopped pecans and parsley into a shallow pie plate or bowl. Roll cheese ball in nuts, gently pressing into it to stick.

Wrap tightly in plastic wrap until ready to serve.

If you've tried this recipe, come back and let us know how it was!
Nutrition
Calories:
202
kcal
,
Carbohydrates:
2
g
,
Protein:
6
g
,
Fat:
19
g
,
Saturated Fat:
8
g
,
Cholesterol:
43
mg
,
Sodium:
344
mg
,
Potassium:
66
mg
,
Fiber:
1
g
,
Sugar:
1
g
,
Vitamin A:
486
IU
,
Vitamin C:
2
mg
,
Calcium:
158
mg
,
Iron:
1
mg