It is amazing how fast Thanksgiving seems to roll around each year. In the midst of trying to make all of the traditional dishes and pies, this year I wanted to make something cute and most importantly, easy.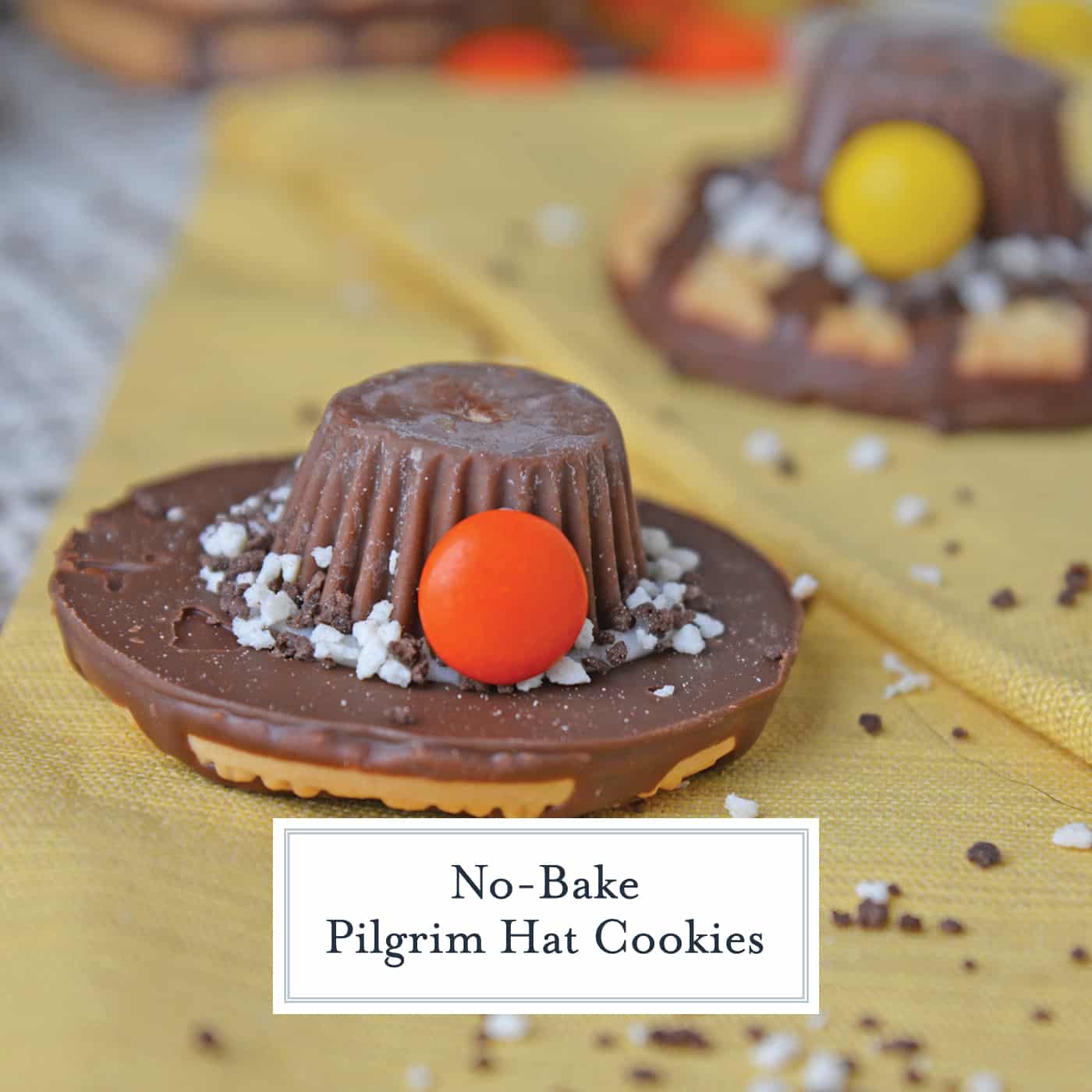 No-bake Pilgrim Hat Cookies are a simple, yet cute activity for kids and a wonderful decoration for a dessert tray on Thanksgiving. They require no baking and only 4 ingredients.
Pilgrim Hat Cookies
If you follow Savory Experiments, you'll know that I am the worst dessert decorator ever.
Like horrible. So bad, you'd think a baby got ahold of the frosting tube.
To compensate for my lack of artistic ability, I have to come up with other clever ways of making cute desserts. And as you might expect, for a food blogger, the pressure is on. I had to get a little creative.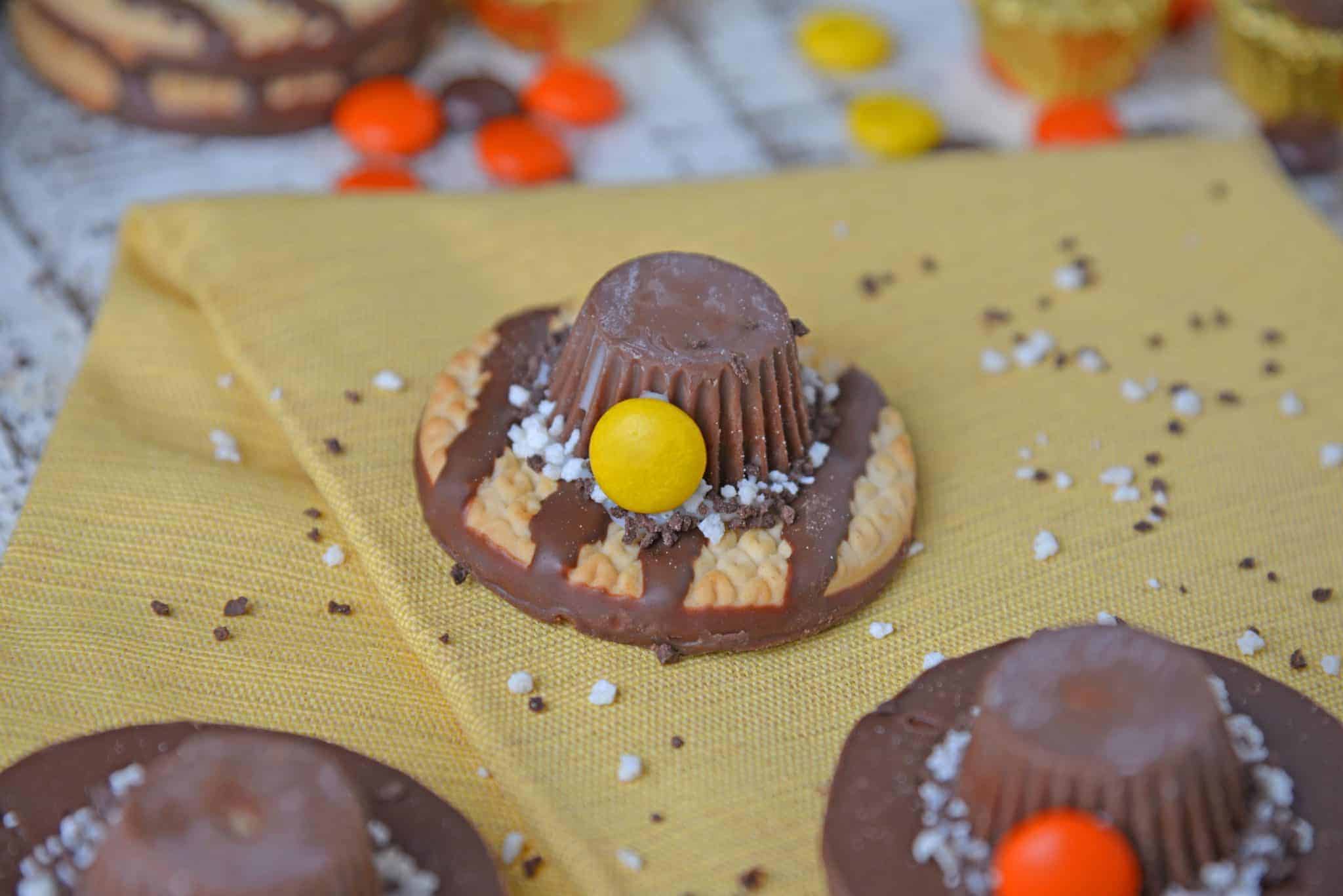 The cute little turkey cupcakes with candy corn feathers were super fun, but I have seen them everywhere and I was on the hunt for something new and different.
What was fun, easy, and super festive? No-Bake Pilgrim Hats of course! These cookies were just the ticket. Plus, all of these ingredients are super easy to find at the store.
When you are strapped for time, for oven space, for counter space for that matter and you need to pul something together, a no-bake cookie is a dream. I mean, who doesn't love a no-bake cookie? (Exactly.)
How to Make
Fudge Stripe cookies and Reese's Peanut Butter Cups make the brim of the hat and the top of the "hat." of the cookie and the "hat". A bit of frosting, cookies n' creme sprinkles, and Reese's Pieces help bring everything together.
These are the cutest pilgrim hats you ever did see! And while I'm sure our original settlers were just as colorful and festive in their headwear, I think these take the cake (or cookie in this case.)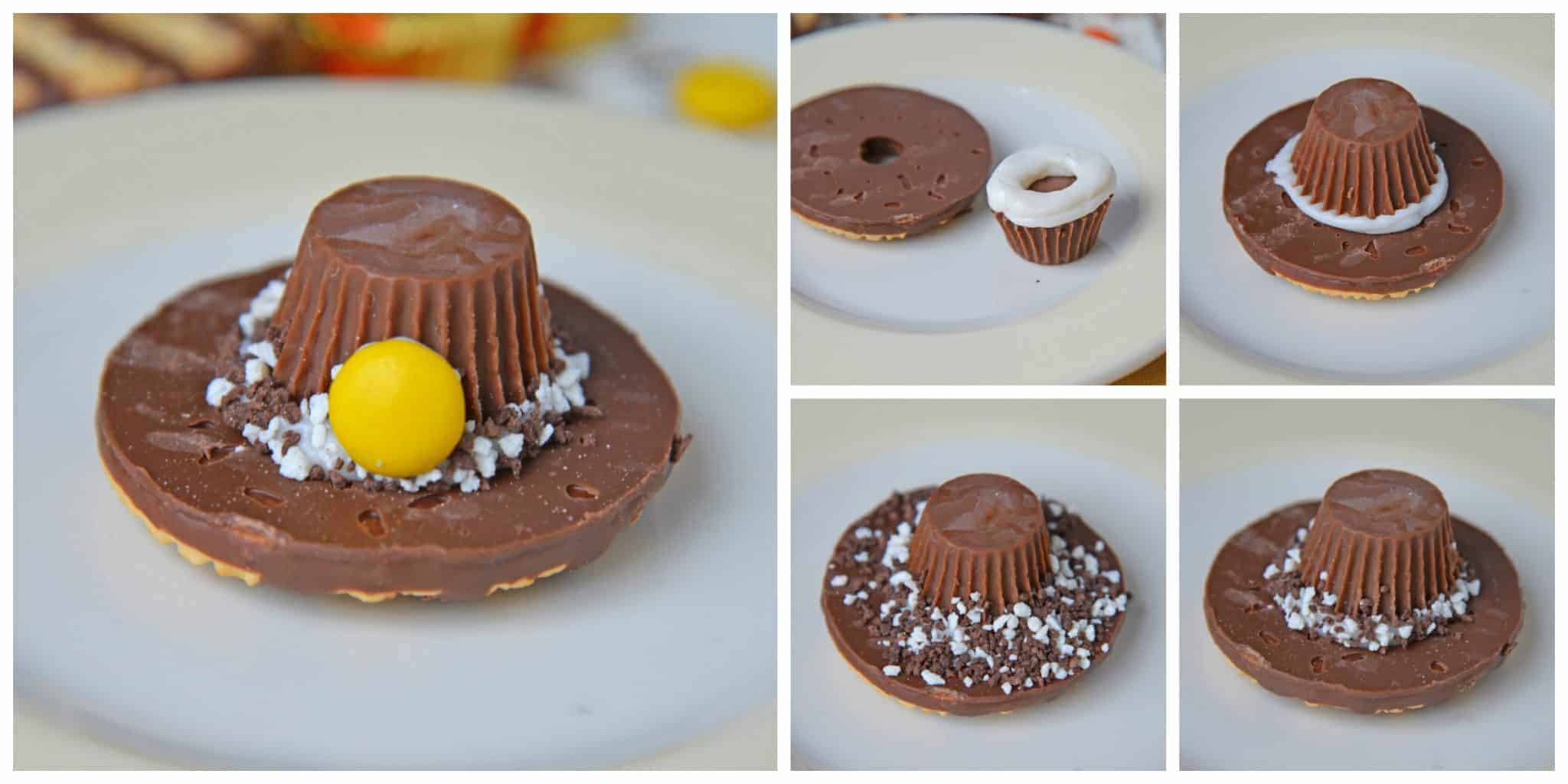 I like using Reese's Pieces because the chocolate and peanut butter flavors just meld so well with one another, but you can get as creative as you want to.
Some decorative ideas that crossed my mind were candy corn, cinnamon imperials, or mini chocolate-coated candies for super chocolatey-ness.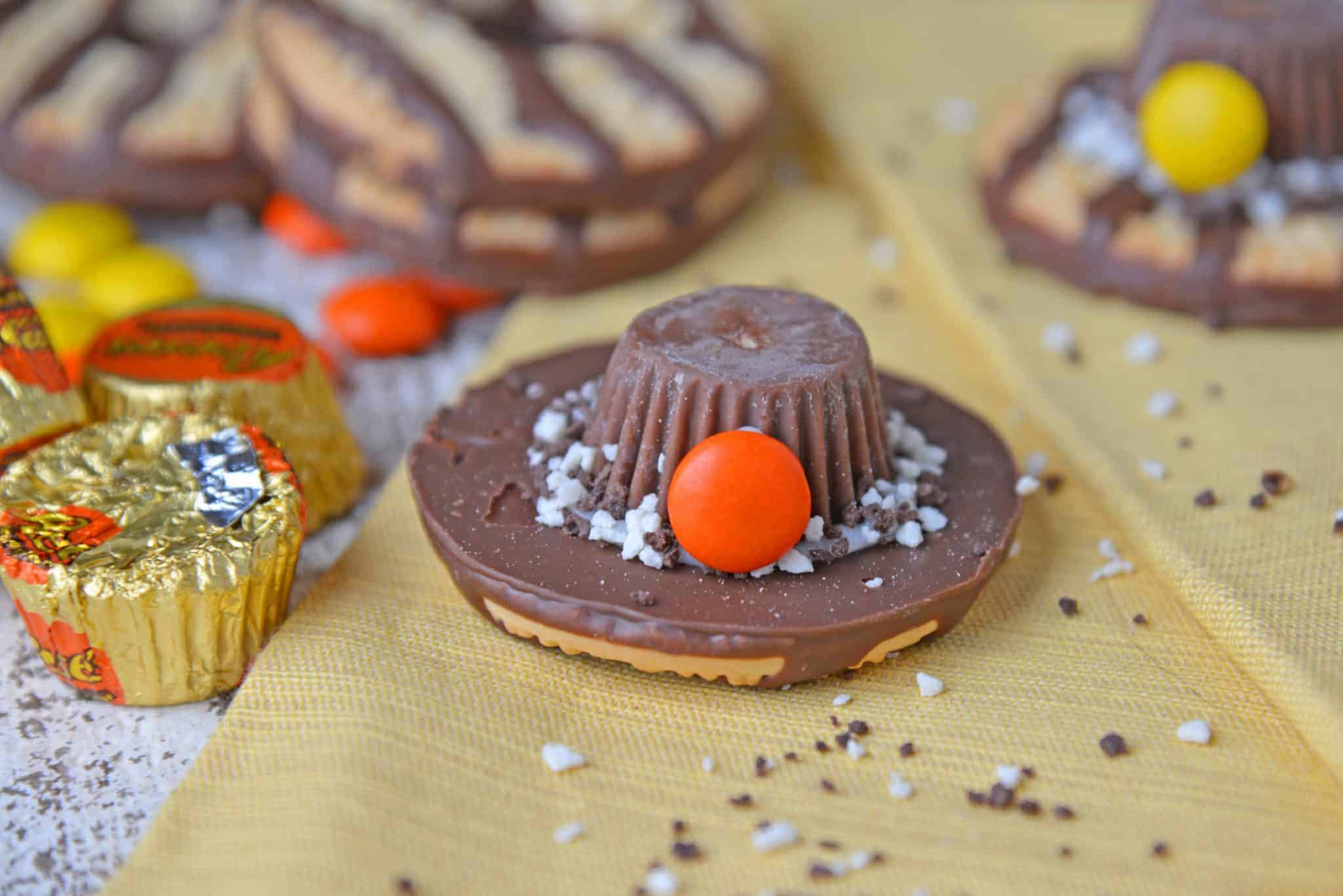 You will be sure to use whatever you buy. For example, I use leftover Reese's Pieces to make another festive and easy Thanksgiving cookie, my Corn Cookies.
Make both no-bake Bake Pilgrim Hats and Corn Cookies for a beautifully plated dessert platter or use them as part of your centerpiece or decoration for a cake.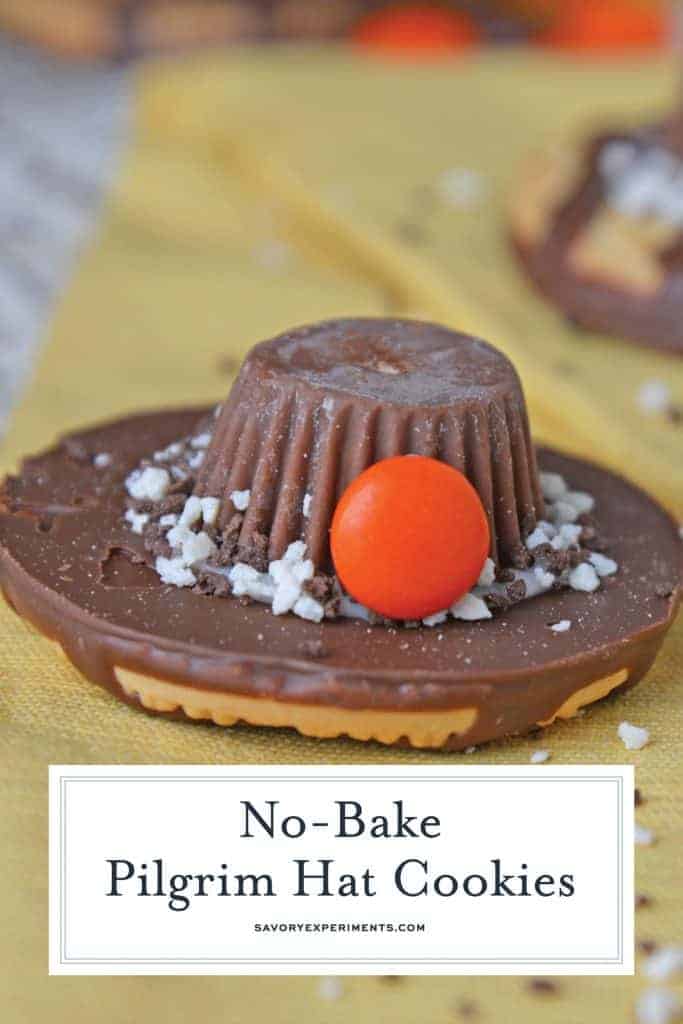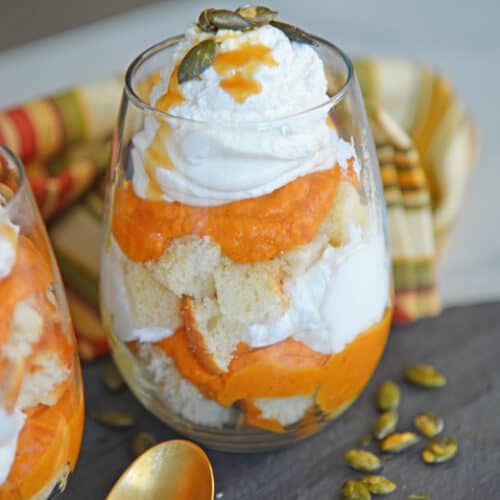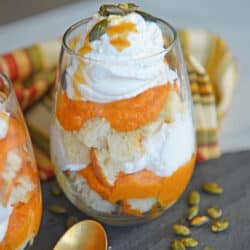 No Bake Pumpkin Pie Parfaits
Pumpkin Pie Parfaits are an easy, no bake and make ahead dessert that everyone will love and you won't beleive what we use for the "crust"!
View this recipe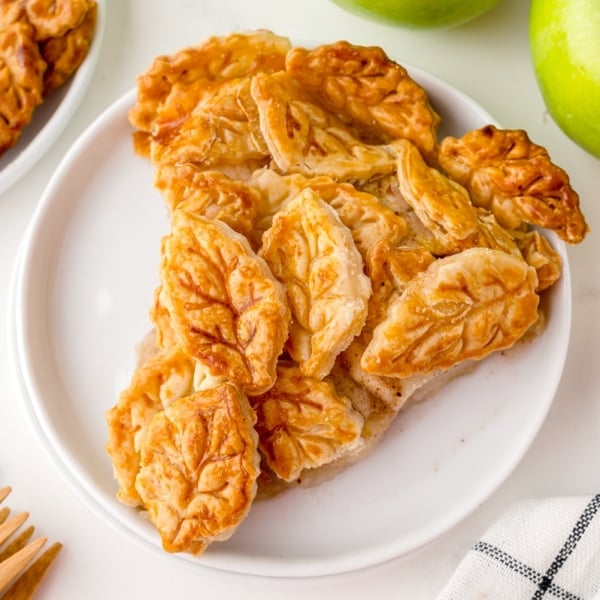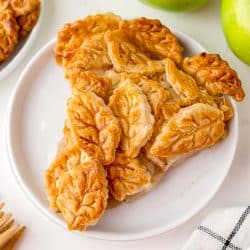 The Best Apple Pie
The Best Apple Pie Recipe is an all-American dessert recipe that pairs tart apples with the perfect amount of sugar and spice.
View this recipe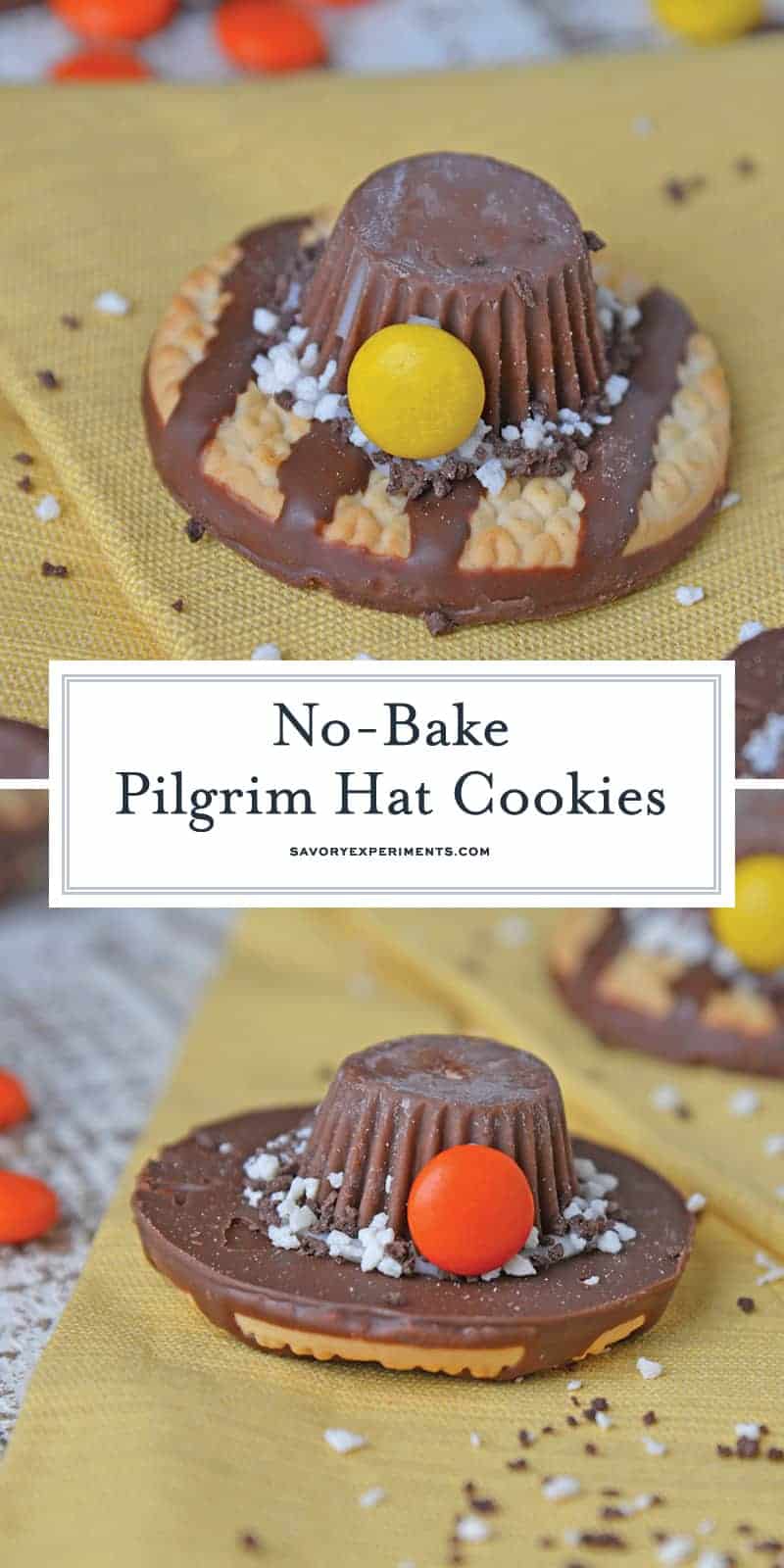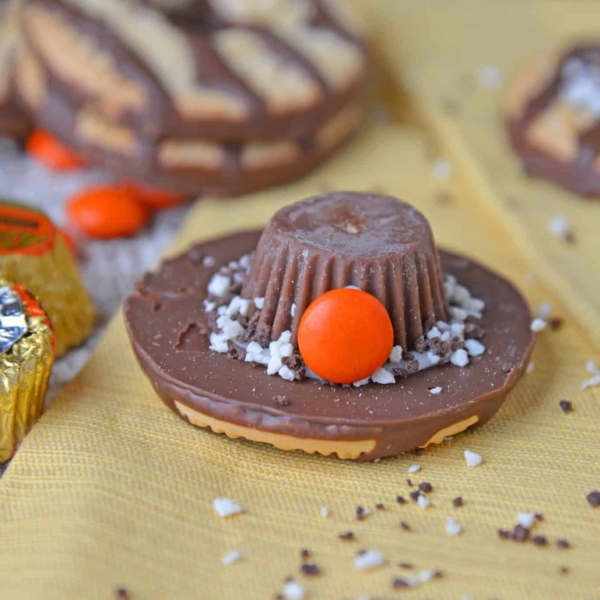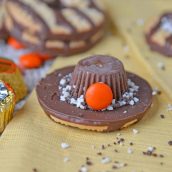 No-Bake Pilgrim Hat Cookie Recipe
No-bake Pilgrim Hat Cookies a simple, yet cute activity for kids and a wonderful decoration for a dessert tray on Thanksgiving. They require no baking and only 4 ingredients.
Ingredients
Instructions
Unwrap all of the Reese's Peanut Butter Cups and count out your cookies.

Using a fine writing tip on your tube of frosting, pipe out three circles around the edges of the Reese's Peanut Butter cup. The goal is for excess to squeeze out slightly to resemble a ribbon around the hat. Don't put any in the middle because it will drip out through the hole of the cookie.

Press Reese's Peanut Butter Cup down on the bottom (chocolate covered side) of the fudge stripe cookie. Allow frosting to seep out slightly.

Shake sprinkles or sparkling sugar on wet frosting, tapping off excess.

Dab a bit of frosting on one side of a Reese's Pieces and attach to the brim to make a buckle.

If you've tried this recipe, please come back and let us know!
Notes
*Freezing the Reese's Peanut Butter cups for 15 minutes before handling helps the wrapping come off easier.
Nutrition
Calories:
176
kcal
,
Carbohydrates:
18
g
,
Protein:
2
g
,
Fat:
7
g
,
Saturated Fat:
2
g
,
Cholesterol:
1
mg
,
Sodium:
145
mg
,
Potassium:
83
mg
,
Fiber:
1
g
,
Sugar:
12
g
,
Vitamin A:
10
IU
,
Calcium:
17
mg
,
Iron:
0.7
mg