I don't claim to be a mind reader, but for most, the first question is going to be: " what is fattoush salad?"
Fattoush Salad is of Arabic descent consisting of marinated vegetables, usually tomatoes and radishes, and tossed with grilled flatbread.
Okay, the name sounds funny and not really appetizing. What is it? The easy answer: marinated vegetables served as a side dish or on top of other items, such as chicken shawarma or my Middle Eastern Pork and Potato Stew.
Traditionally speaking, fattoush is tossed with grilled pita or flatbread. Tossing the bread in extra virgin olive oil prior to adding to the salad creates a barrier, preventing it from getting soggy. Or you can be like me and omit the pita bread altogether.
You can serve your fattoush over a bed of mixed greens or just use the marinated vegetables. I use this recipe as a side dish for BBQs, potlucks and even on top of grilled chicken in the summer months.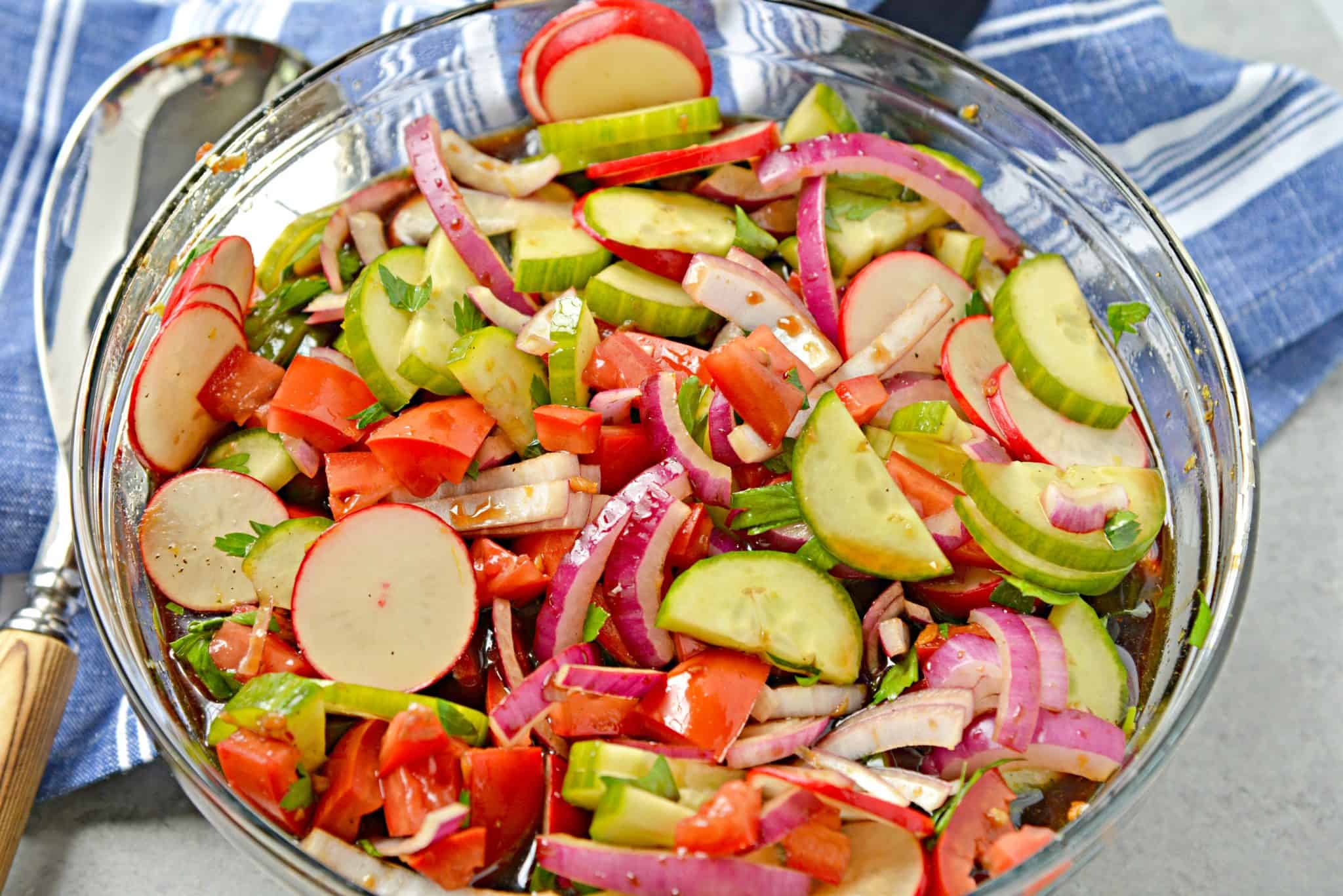 It is bright, tasty and fairly healthy. I generally just call it a marinated vegetable salad since the name tends to scare people off. I think it is the "fat" part of fattoush.
Traditional fattoush has two ingredients no readily available in the states: pomegranate molasses
and sumac
. Instead of ordering and having these items shipped, I substituted.
Balsamic vinegar reduced with honey served as a sweet syrup instead of pomegranate molasses. Lemon zest was the tart and sour substitute for sumac. If you have the actual of either, feel free to omit the substitutions.
 In the instructions, I warn against using a metallic mixing bowl for this recipe. Make sure to check out my article on using the right mixing bowl to find out why.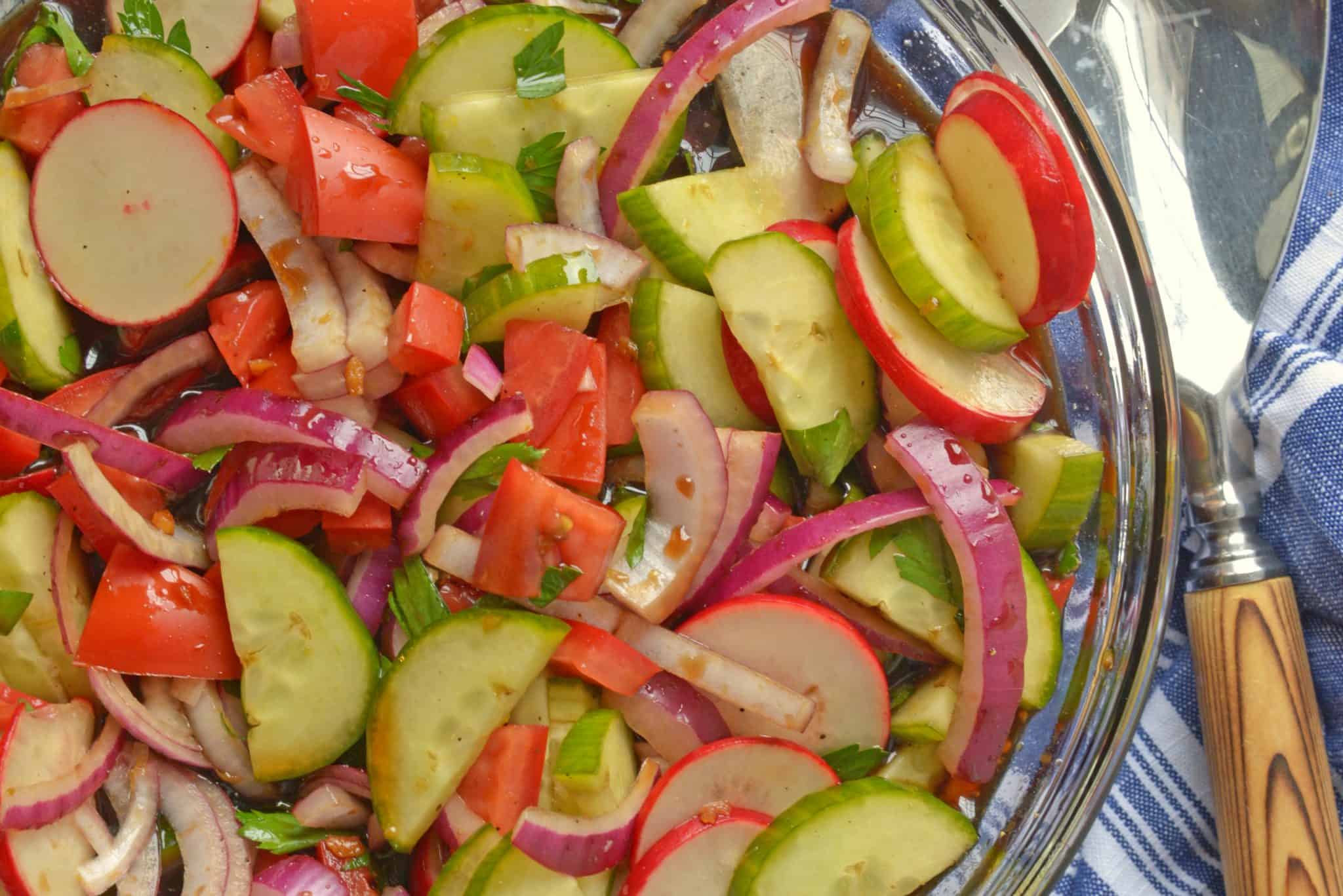 If you liked this recipe, check out these other easy salad recipes: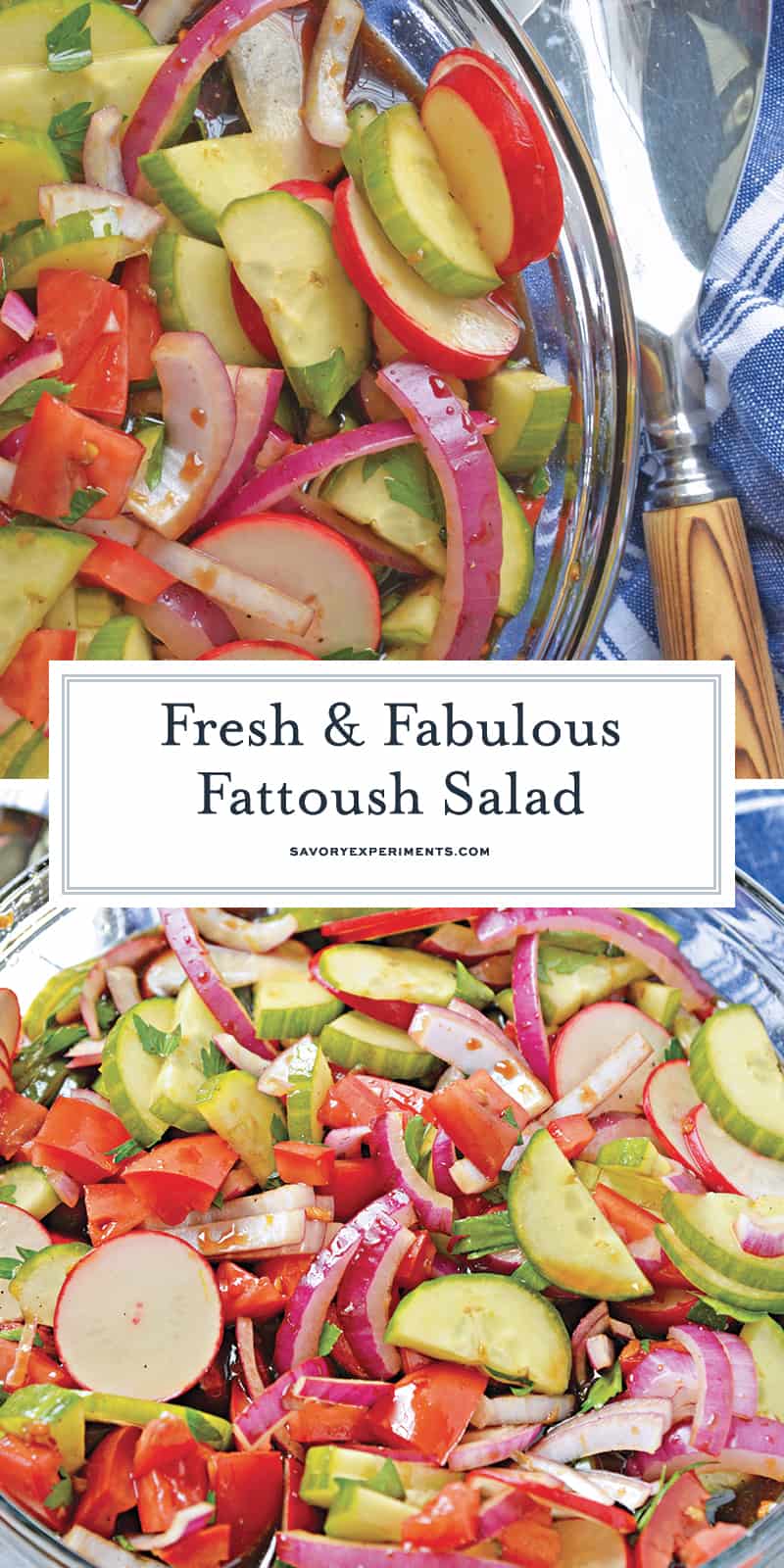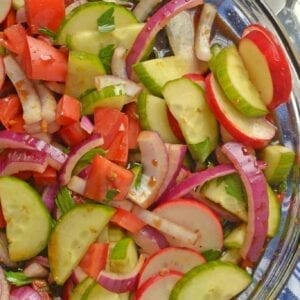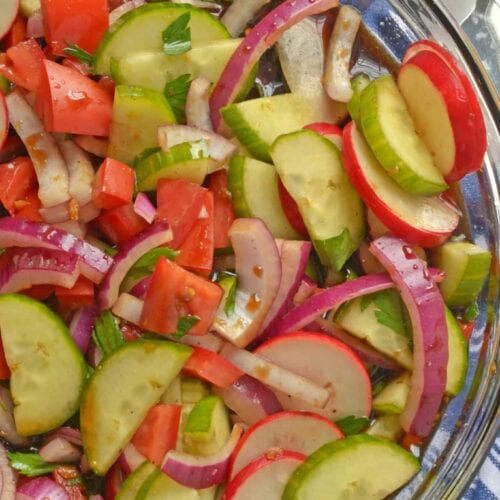 Fattoush Salad
Fattoush Salad is of Arabic descent consisting of marinated vegetables, usually tomatoes and radishes, and tossed with grilled flatbread.
Cuisine:
Mediterranean, Middle Eastern
Ingredients
1/3

cup

balsamic vinegar

1/3

cup

honey

1/2

teaspoon

sugar

Juice of one lemon

1

teaspoon

lemon zest

2

garlic cloves

, crushed

1

teaspoon

fine sea salt

1/4

teaspoon

black pepper

1/2

cucumber

, sliced into medallions, then quartered

2

plum tomatoes

, seeded and chopped

2

large radishes

, thinly sliced

1/3

cup

red onion

, thinly sliced

1/3

cup

parsley

, coarsely chopped

1

tablespoon

extra virgin olive oil
Instructions
In a small saucepan, combine balsamic vinegar, honey and sugar. Heat over low heat. Stir occasionally for 10 minutes or until mixture reduces and start get sticky. Remove from heat and set aside.

Combine balsamic mixture, lemon juice, lemon zest, crushed garlic cloves, sea salt and black pepper, whisking well.

In a large, non-metallic mixing bowl, combine all chopped vegetables including cucumber, plum tomatoes, radishes, red onion and parsley. Toss with prepared dressing.

Cover and refrigerate for a minimum of 1 hour, but up to 24 hours.

Gently tear pita pieces into bite-sized sections. Toss with extra virgin olive oil.

Carefully tilt mixing bowl with vegetables or place in a fine mesh colander to discard remaining marinade. Add torn pita bread.
Nutrition Facts
Fattoush Salad
Amount Per Serving
Calories 229
Calories from Fat 36
% Daily Value*
Total Fat 4g 6%
Sodium 743mg 31%
Potassium 224mg 6%
Total Carbohydrates 46g 15%
Protein 3g 6%
* Percent Daily Values are based on a 2000 calorie diet.