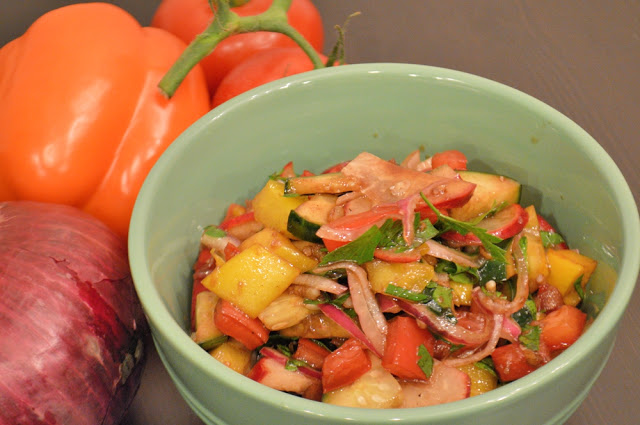 Okay, the name sounds funny and not really appetizing. What is it? The easy answer: marinated vegetables served as a side dish or on top of other items, such as chicken shawarma or Middle Eastern Pork Stew. I also ate the left overs last night on a grilled hamburger with avocado. Needless to say, it is very versatile.
Traditional fattoush has two ingredients no readily available in the states: pomegranate molasses and sumac. Instead of ordering and having these items shipped, I substituted. Balsamic vinegar reduced with honey served as a sweet syrup instead of pomegranate molasses. Lemon zest was the tart and sour substitute for sumac. If you have the actual of either, feel free to omit the substitutions.
Time: 1 hour 15 minutes
Yields: 2 cups
Ingredients for Fattoush
1/3 cup balsamic vinegar
1/3 cup honey
1/2 teaspoon sugar
Juice of one lemon
1 teaspoon lemon zest
2 large garlic cloves, crushed
1 teaspoon fine sea salt
1/4 teaspoon black pepper
1/2 cucumber, sliced into medallions, then quartered
2 plum tomatoes, seeded, chopped
2 large radishes, thinly sliced
1/3 cup red onion, thinly sliced
1/3 cup parsley, coarsely chopped

1. In a small saucepan, combine balsamic vinegar, honey and sugar. Heat over low-medium heat. Stir occasionally for 10 minutes or until mixture reduces and start get sticky. Remove from heat.
2. Combine balsamic mixture, lemon juice, lemon zest, crushed garlic cloves, sea salt and black pepper. Whisk together.
3. Combine all ingredients in a medium bowl and toss. Refrigerate for at least 1 hour.
4. Serve using a slotted spoon. Enjoy your fattoush!
Now you want more, don't ya? Join me on
Facebook
for daily recipes and discussion, follow me on
Twitter
or see where I get some of my inspiration on
Pinterest
!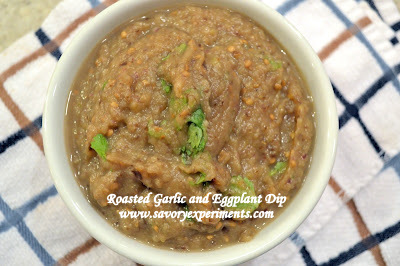 If you like this recipe, make sure to follow me on Pinterest for even more! 
Visit Savory Experiments's profile on Pinterest.