This simple berry smoothie is a healthy combination of fruit, a little Greek yogurt, protein powder, and milk (or a dairy-free alternative). The natural sweetness of the berries perfectly complements the slight tanginess of the yogurt, and the protein powder gives the smoothie an extra boost of healthy goodness.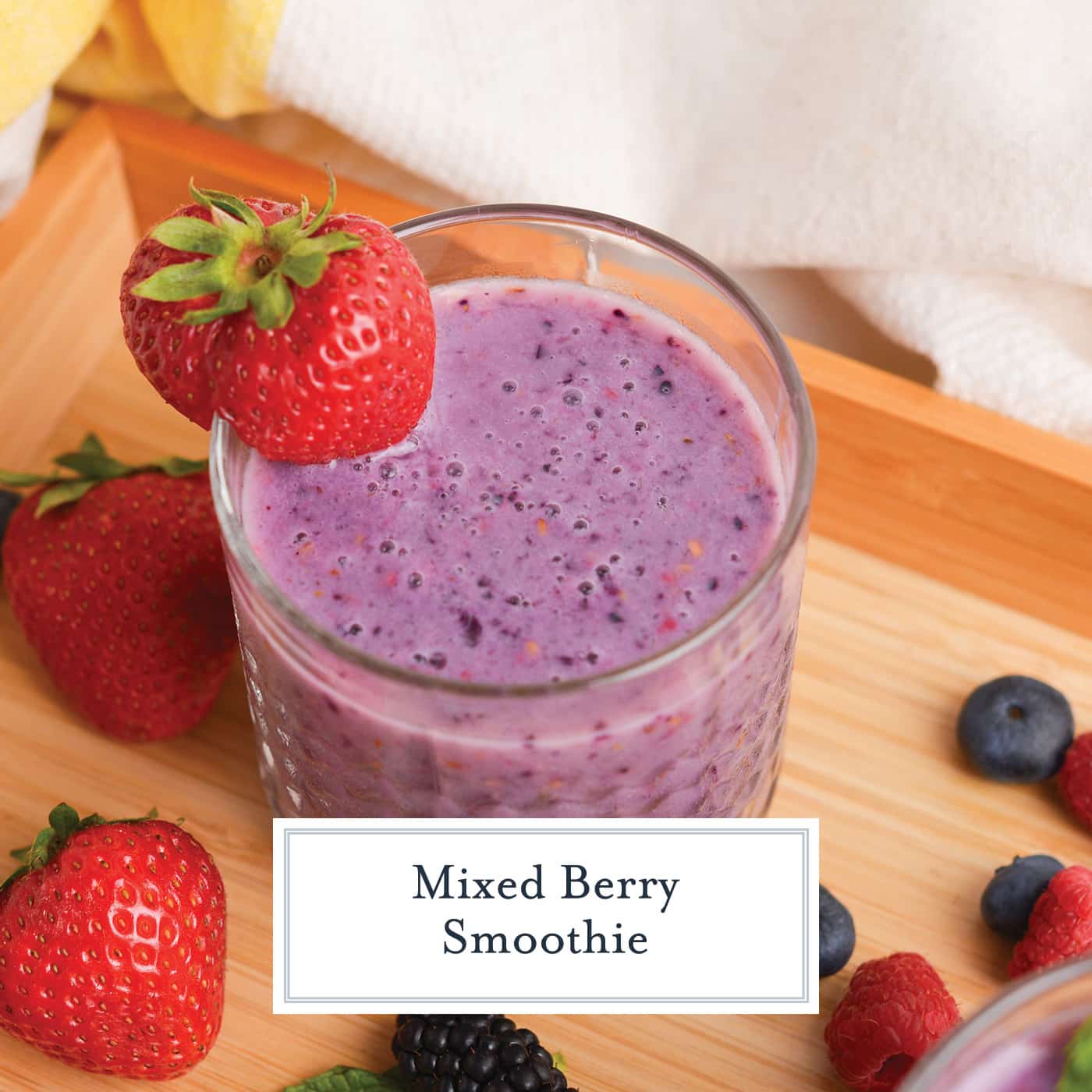 Morning fruit smoothies are definitely my jam — it's an easy way to get a good dose of nutrients in first thing in the morning. But this smoothie is also the perfect healthy snack after a workout or to help get over that afternoon slump.
If you're a fan of easy smoothies, you're going to love this super-quick recipe for one of the most satisfying smoothies you'll ever have.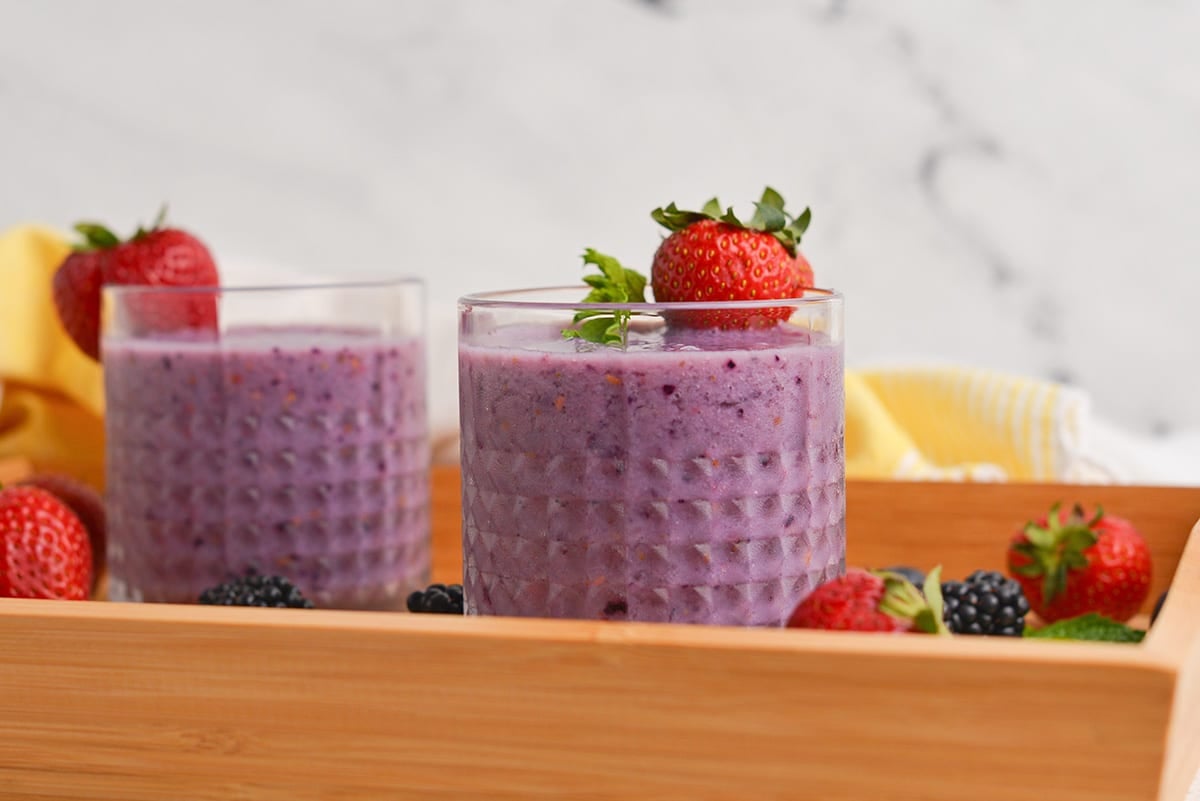 Why You'll Love This Berry Smoothie
Berry-lovers are bound to like this simple and flavorful smoothie.
​Customizable – You can easily switch this smoothie up with different fruits, milks, or sweeteners.
Easy – Just toss the ingredients in the blender and let it do all the work.
Versatile – You can make this for and filling breakfast, a mid-day snack, a post-workout drink, or a sweet and nutritious evening treat.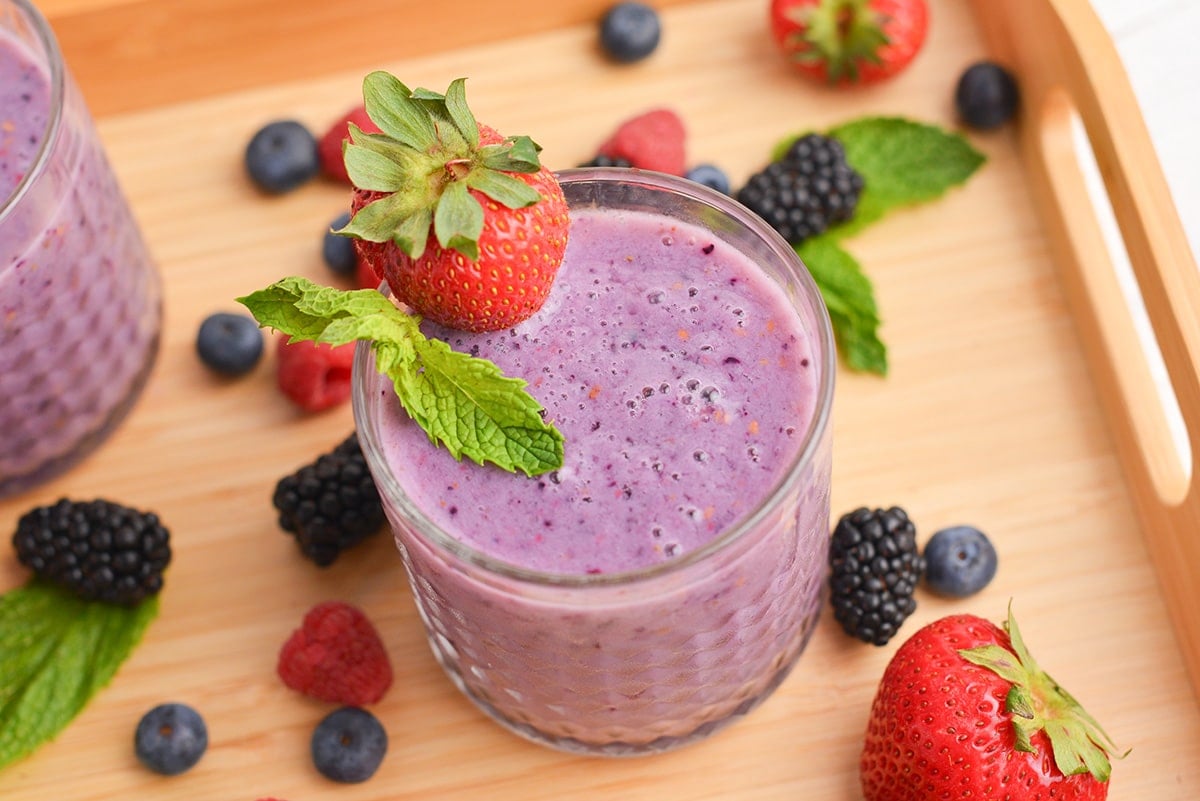 How Important is a Good Blender?
If you make berry smoothies (or frozen cocktails) on the regular, you know that having a good, high-powered blender is paramount. It is the difference between chewing on ice chips and unblended fruit bits and being able to sip through a straw.
KitchenAid – Yes, this one is expensive, but you'll never buy another blender again. Use it for more than just smoothies, like smoothing soup, making sauces, emulsifying things, and more. This one also comes with a smaller smoothie attachment.
Vitamix– Sounds like it should be a friend with Vegemite, right? Welp, this is probably the biggest, best commercial-grade blender on the market, and if you make a lot of smoothies or make them in bulk, it's worth the investment.
Magic Bullet– Small and mighty, this is what I use every morning to make a single smoothie. It is cheaper, but the blades dull, and you'll have to replace it every year or two, depending on how frequently you use it. I sip right out of the canister with a straw so I have less of a mess.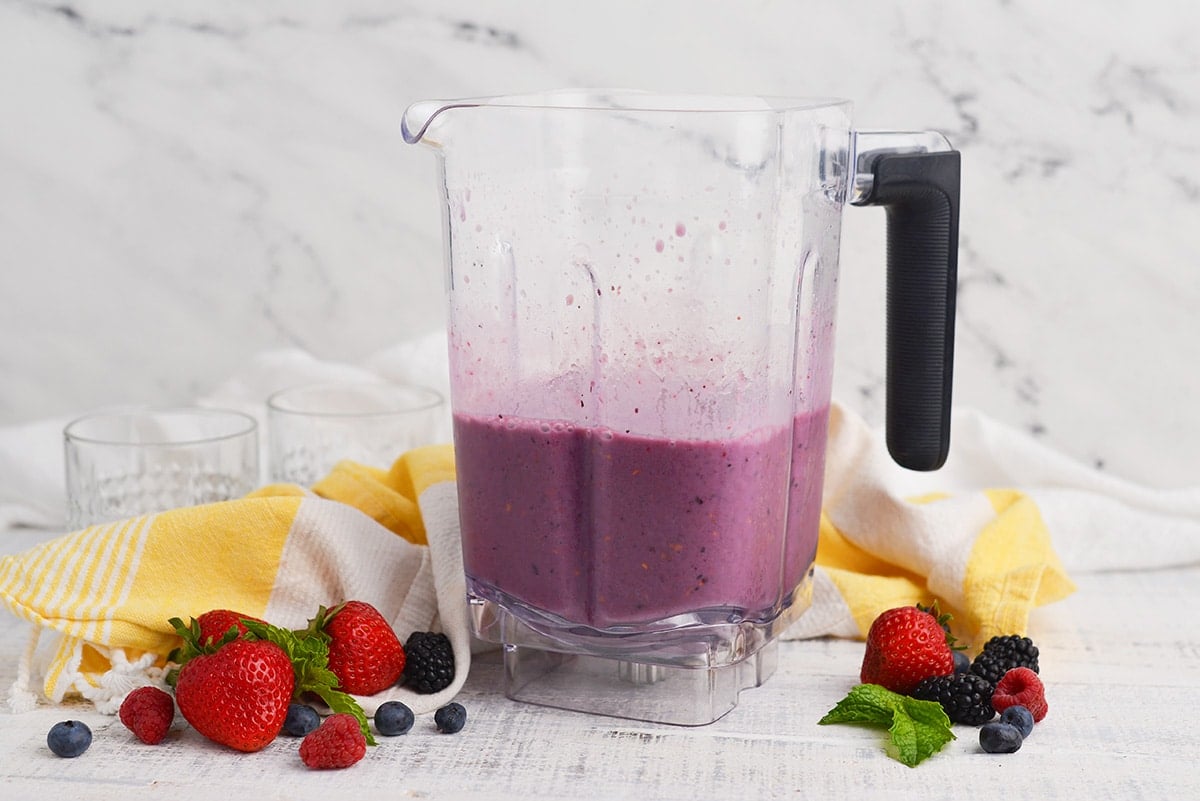 Berry Smoothie Ingredients
These are the basic, simple ingredients you need to make the smoothie, but you can make any additions that you want to customize this simple smoothie.
Fresh berries – You can also use a frozen variety if you prefer. You can use one variety or you can use mixed berries.
Unsweetened milk – Use dairy milk or a plant-based milk like almond milk, soy milk, or oat milk. You can also use a sweetened or flavored version.
Vanilla Greek yogurt – Use whichever brand you prefer; you can also use a fruity yogurt or plain Greek yogurt.
Vanilla protein powder – This will add vanilla flavor as well as provide plenty of high-quality protein.
Honey or agave nectar (optional) – These sweeteners balance the smoothie.
Ice – Remember that you can omit this if you choose to use frozen berries.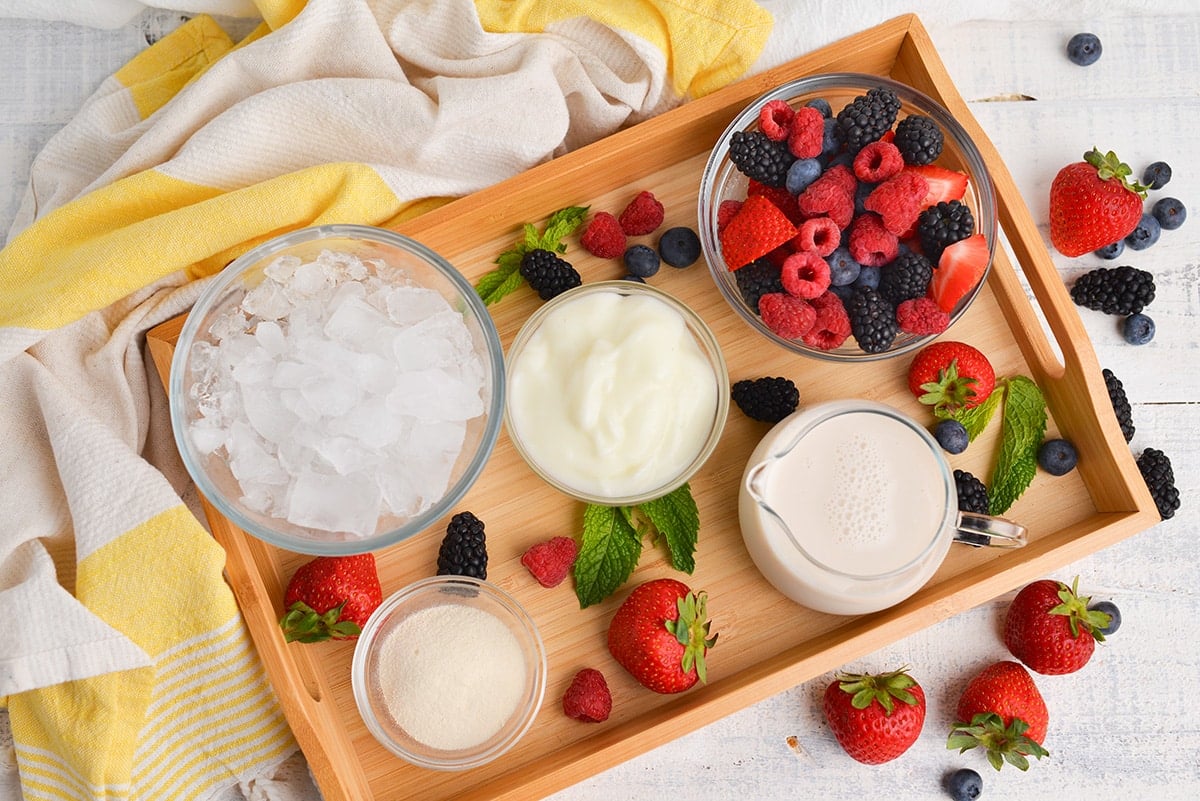 How to Make a Berry Smoothie
It takes less than a minute to blend up this healthy smoothie.
Fill. Fill a high powered blender with all of the ingredients.
Blend. Blend until all ingredients are combined and the mixture is smooth.
Serve. Transfer to cups. Garnish with a fresh strawberry, if desired.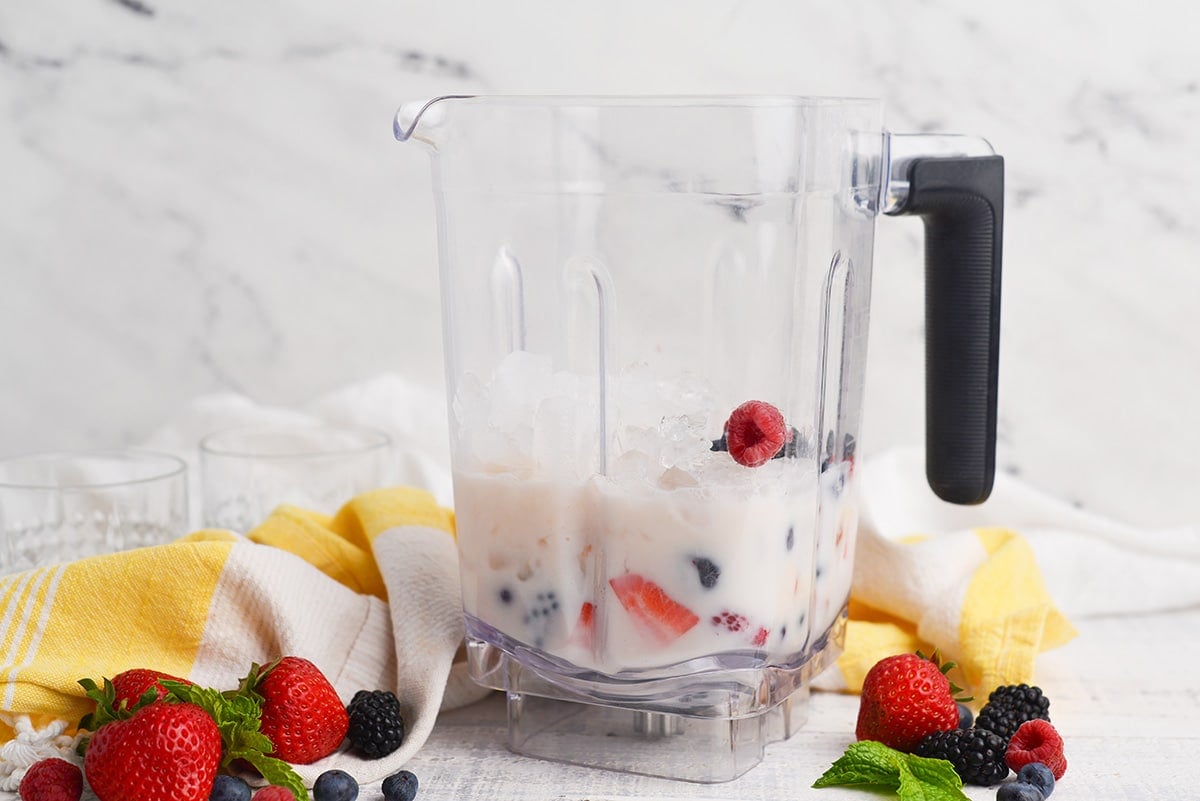 Smoothie Additions
This is just the base for a great berry smoothie; feel free to add in some of these other items for a well-balanced and delicious treat.
Fresh spinach or frozen spinach
Fresh kale or frozen kale
Fresh bananas or frozen bananas
Avocado
Chia seeds
Orange juice
Vanilla Extract
Grape juice
Apple juice
Apple slices
Mango
Kiwi
Peanut butter
Hemp Seeds
Flax seeds
Pineapple
Almond butter
Your favorite fruit juice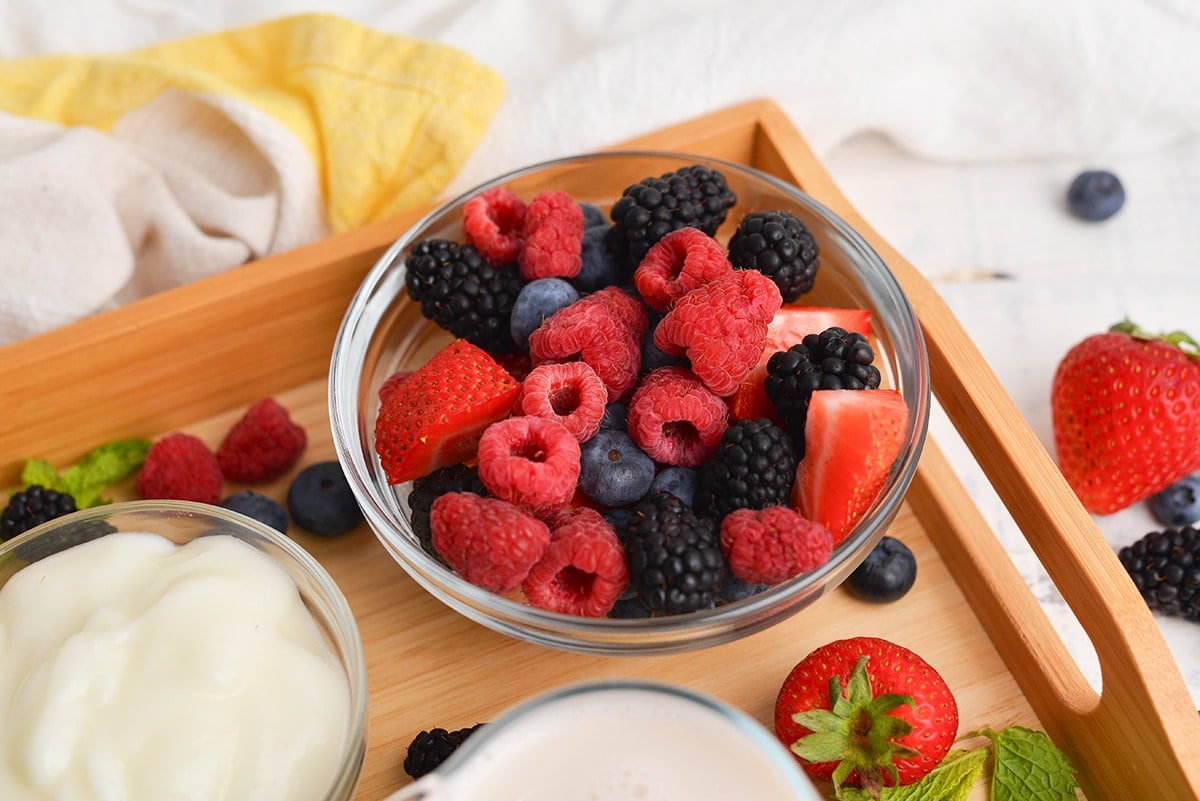 Favorite Protein Powders
Adding protein powder is optional, but I like to add a scoop or two for a well-rounded and filling smoothie. I also add collagen powder because, well, I'm no spring chicken, and I need a little extra care for those joints and my skin.
These are the brands that I use; please talk to your doctor or a nutritionist about the best type of protein for you. There are many kinds, like pea protein, whey protein, and more.
Vega Protein Chocolate– If you want a chocolate berry smoothie, this one is my favorite because it also has greens mixed in and is sweetened with Stevia so that you can omit the additional sweetener.
Vital Performance– This is a vanilla protein plus collagen.
Vital Proteins Collagen– This one is just collagen and unflavored so that you can add it to just about anything, even soups or baked goods. It helps to support healthy skin, hair, nails, and joints.
What to Serve With a Berry Smoothie
This smoothie is chock-full of nutrients but if you're looking for something to serve on the side, you can whip up some scrambled eggs, dig into a yogurt, or make a fresh fruit salad. If you want some healthy fats, serve the smoothie with homemade granola.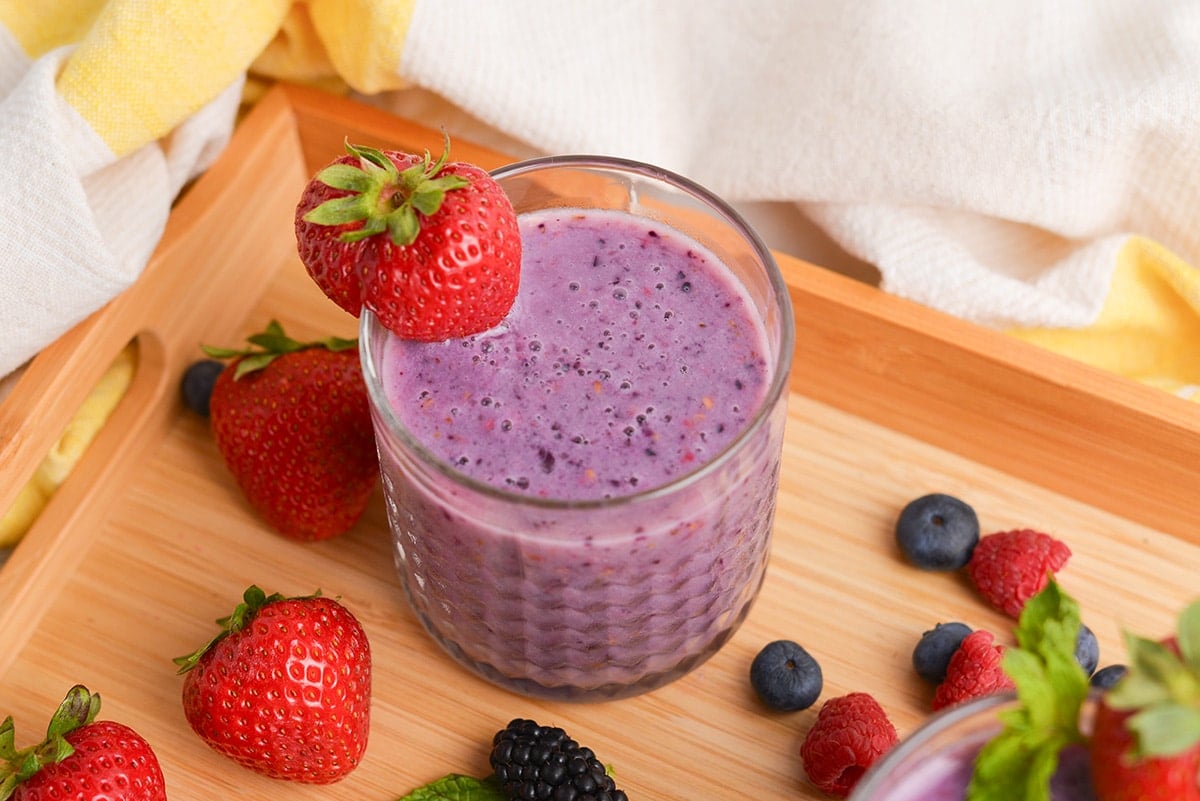 Berry Smoothie Variations
While this is usually enough, here are some other ways to make your smoothie your own!
Sweetener – Instead of honey or agave nectar, maple syrup is a great option. You can also use your favorite alternative sweetener.
Coconut – Instead of the other milk options, try coconut milk. Or, substitute some or all of the milk for coconut water for a thinner smoothie.
Ice cream – To turn this into a decadent, dreamy dessert add a little bit of vanilla ice cream.
Storage and Freezing
If you have leftover berry smoothie or you want to make it ahead of time you can store it until you're ready to drink it.
Make-Ahead: Make your smoothie ahead of time and keep it in the fridge for up to 24 hours. Or, for meal prep, just combine the whole ingredients in containers and store in the fridge until ready to blend.
Refrigerator: Refrigerate the prepared smoothie by placing it in an airtight jar or lid in the refrigerator to drink the next day.
Freezer: Pour the smoothie into a resealable plastic freezer bag and store for up to 3 months. You can also freeze it in an ice cube tray — just cover with plastic wrap to avoid it taking on any of the scents of the other food you have stored in the freezer.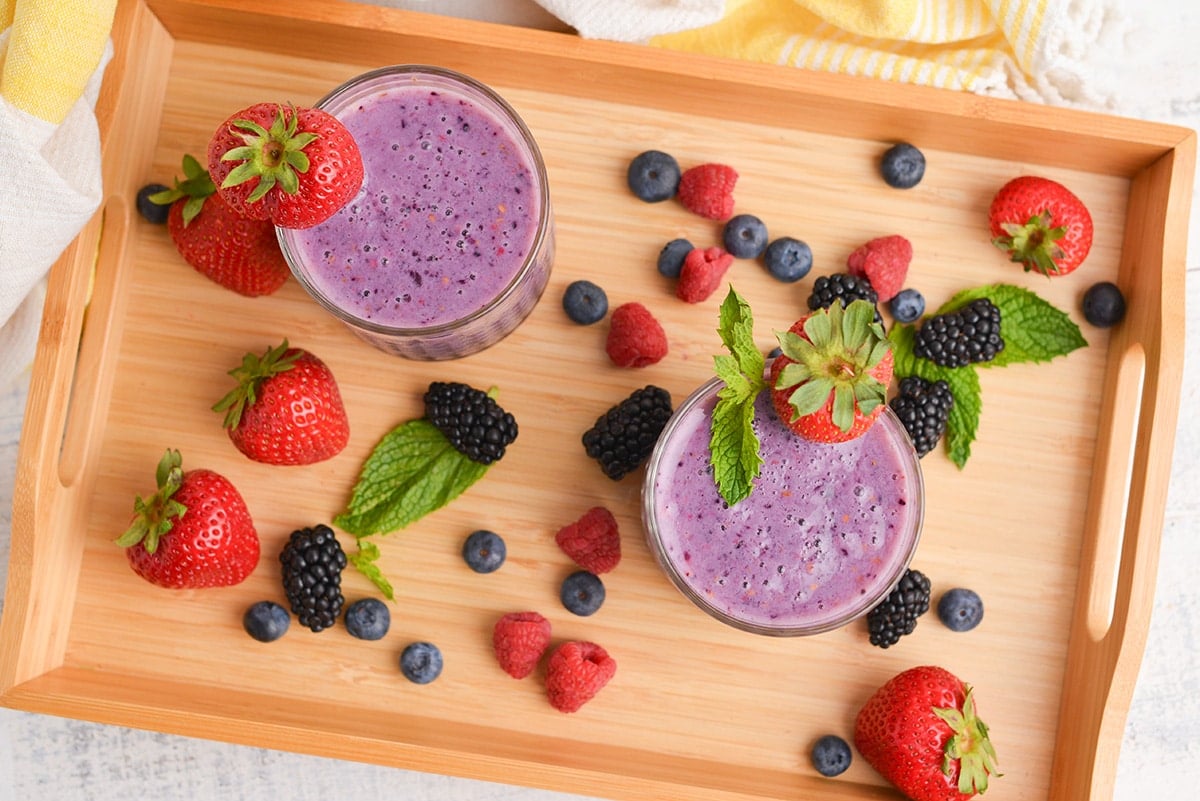 Commonly Asked Smoothie Questions
Can I use Frozen Berries?
Yes! In fact, I freeze all the leftover berries from my kids in an airtight plastic bag. If you use frozen berries, you can omit the ice — it serves both purposes. Frozen berries sometimes aren't as sweet, which may be why you need to add additional sweetener.
Do I have to use protein powder?
Nope- I like adding protein and collagen to my berry smoothie for a well-rounded meal replacement, but it is totally optional.
Do I have to use honey or agave nectar?
Nope, you do not have to use either of these sweeteners. I find my smoothies to be the perfect sweetness without them.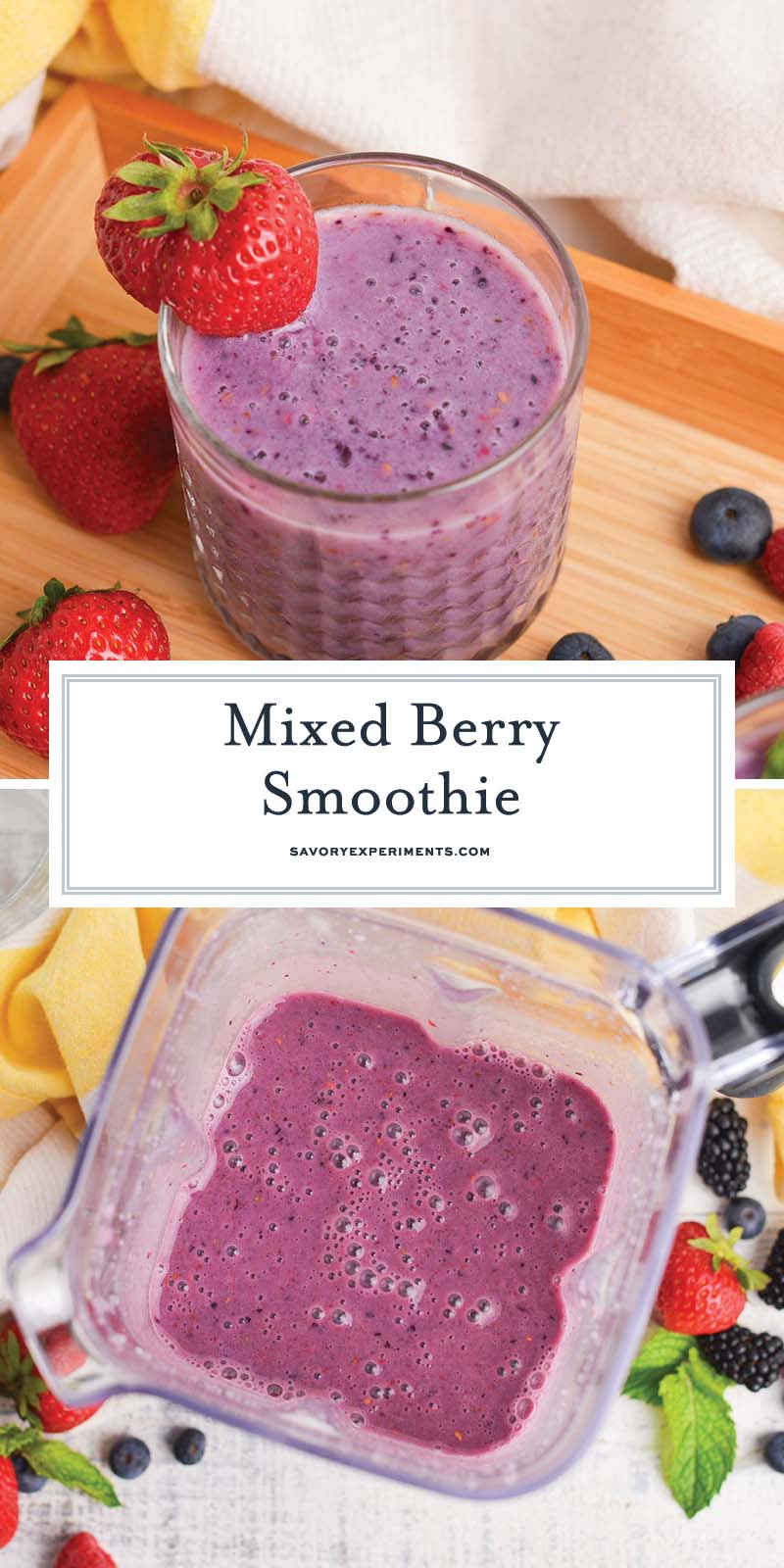 More Healthy Smoothies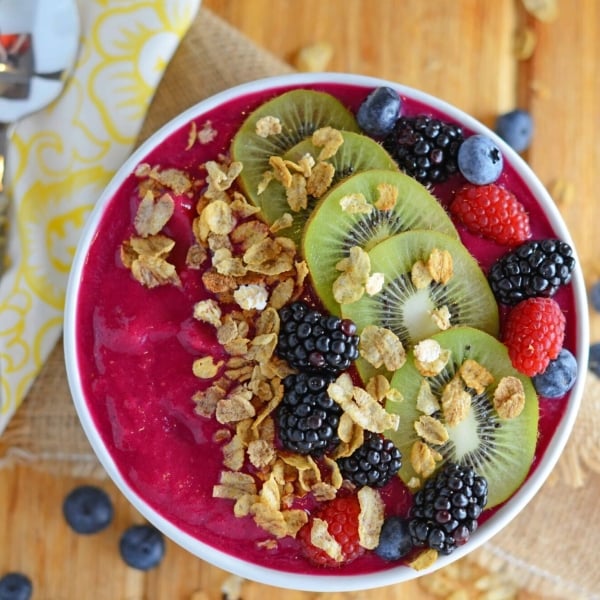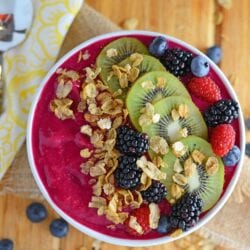 Acai Bowls Recipe
This Acai Bowl recipe is a great way to start your day on the colorful side with beets, acai, fruit, crunchy granola cereal and a dab of honey for sweetness.
See The Recipe!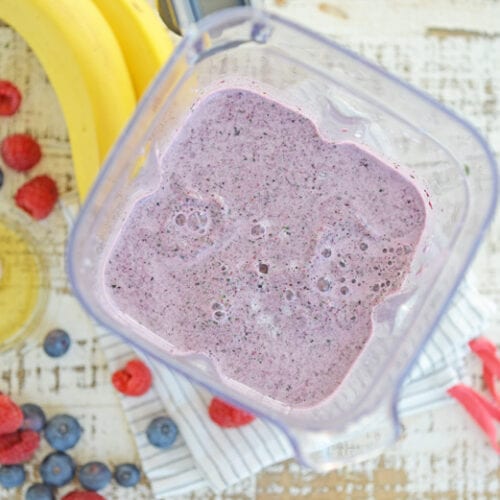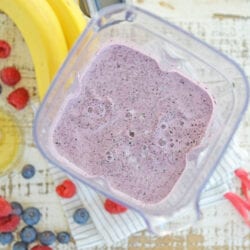 Purple Power Smoothie
Purple Power Smoothie Recipe- Healthy smoothie recipe to help you stay full and lose weight. With loads of fresh fruit, this protein shake also uses Greek yogurt and milk!
See The Recipe!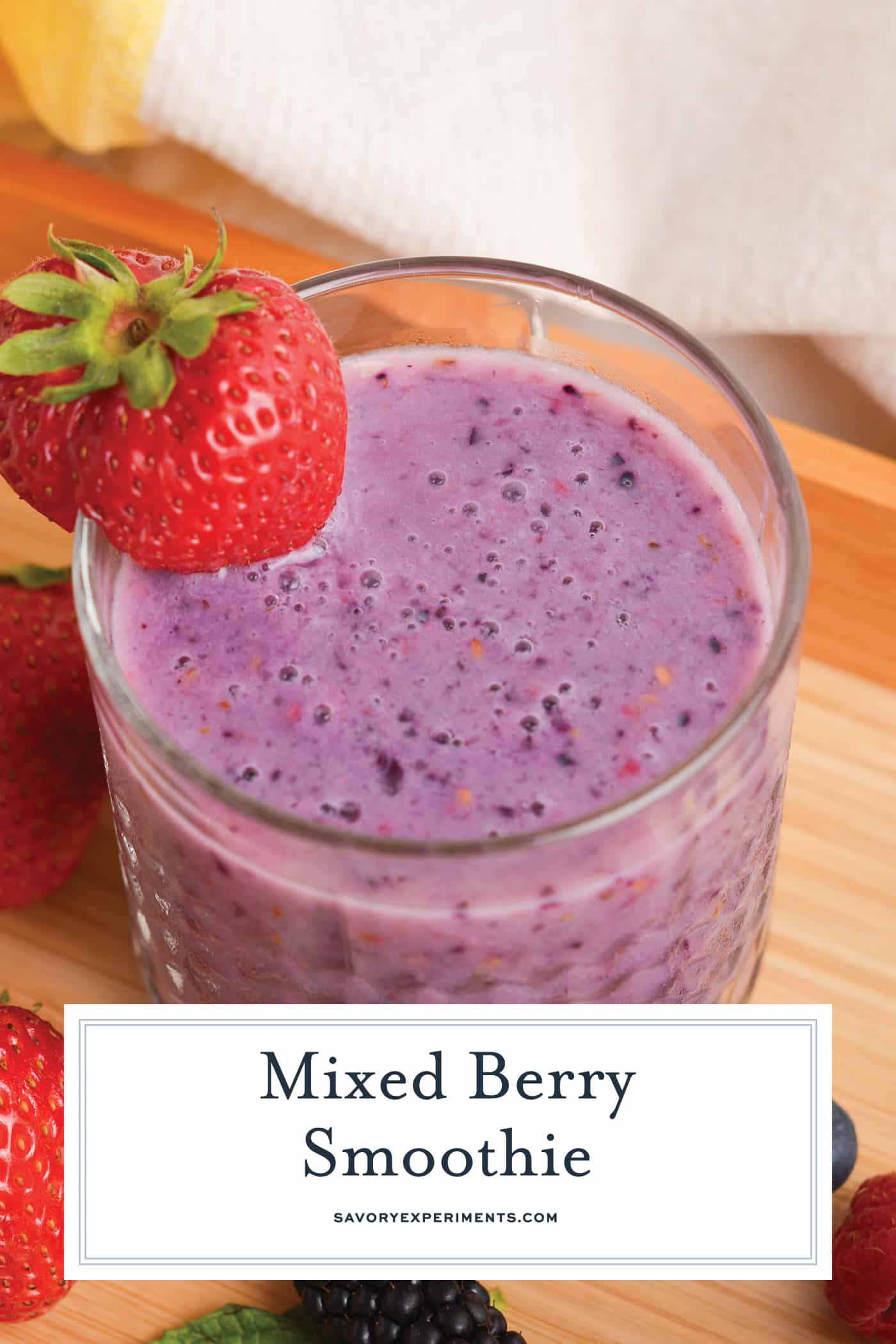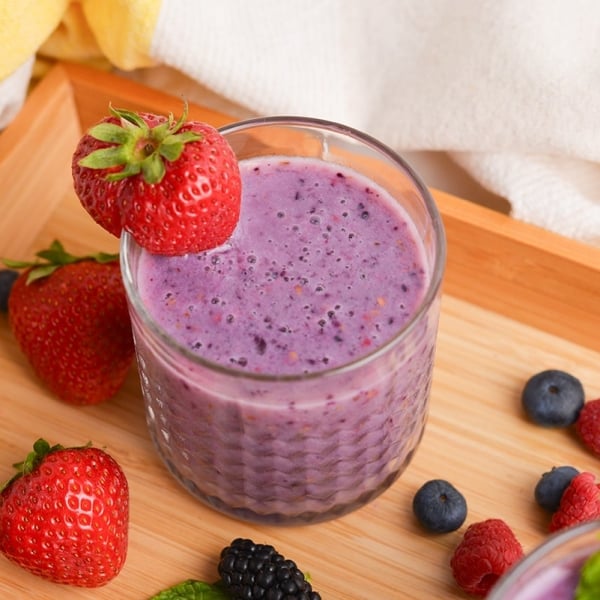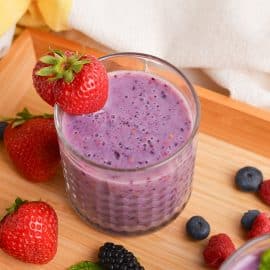 Berry Smoothie
This quick and EASY Berry Smoothie combines protein powder with the natural sweetness of berries and the slight tanginess of yogurt!
Instructions
Place the berries, milk of choice, yogurt, protein powder (optional), honey (optional) and ice in a high powered blender. Blend for 30-60 seconds until smooth.

Pour into cups and garnish with a fresh strawberry.

If you've tried this recipe, come back and let us know what you think in the comments or star ratings.