I don't know about you, but I just can't get enough of fruit smoothies. They fill you up with zero guilt.
Ready in a jiffy, they can be a breakfast, lunch or even snack. I'd be lying if I said I didn't have one for dinner on-the-go every once and while.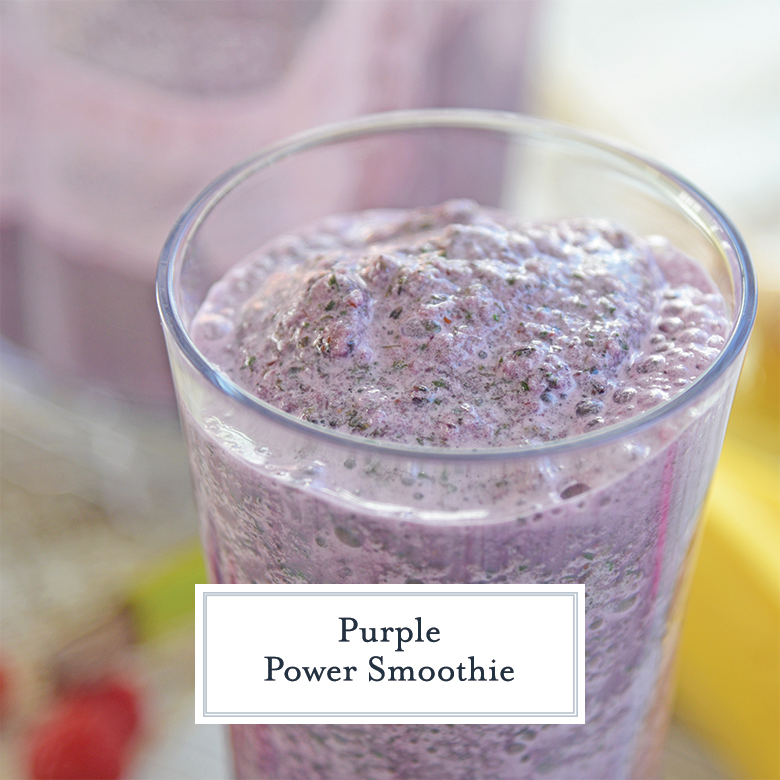 Fruit Smoothie Recipe
This delicious fruit smoothie is packed full of fresh fruit – blueberries, strawberries, grapes, and bananas. And also protein shake since it uses Greek yogurt and milk.
A little squeeze of honey brings it all together with natural sugar.
While I love indulging in calorie ridden food, I also balance my diet by eating healthy for at least two meals a day. At least I try…
My morning starts super early and I don't eat lunch until around 1, so my breakfast needs to keep me full and give me loads of energy. This base smoothie is my go-to.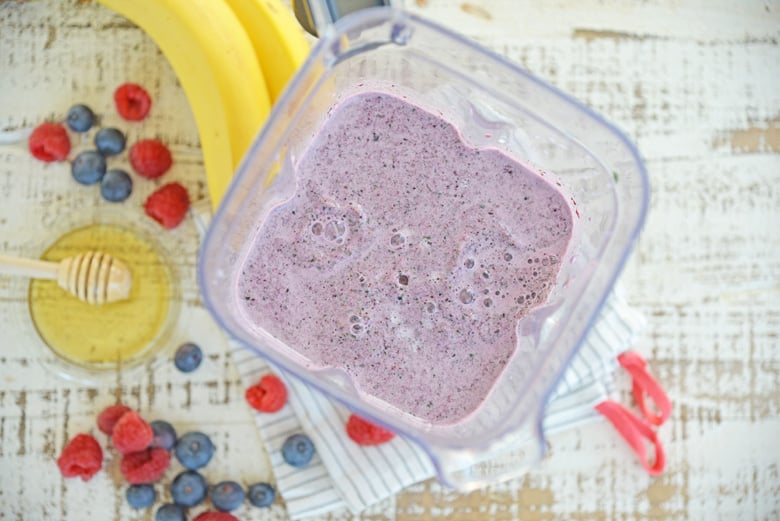 Purple Smoothie
Smooth to drink and smooth to look at because it is a pretty purple! I happen to live in Baltimore, home of the Ravens. Even though I am an avid Broncos fan, I still respect and even cheer for the Ravens on occasion.
This purple drink makes its rounds at early morning tailgate parties as well as the gym. Go figure…
I'd be lying if I said it hadn't been mixed with vodka before. A vodka floater is the perfect hangover helper! (Yes, I just said that, don't judge me.)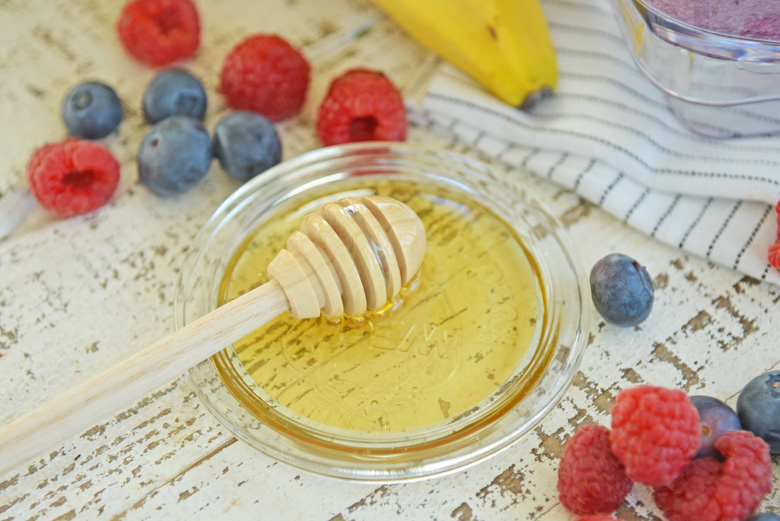 Protein Smoothie
The Power Fruit Smoothie has it all. Although milk and yogurt has plenty of protein, you can add a scoop of protein powder for even more volume.
Vanilla is my favorite, but I've seen other use banana or even chocolate.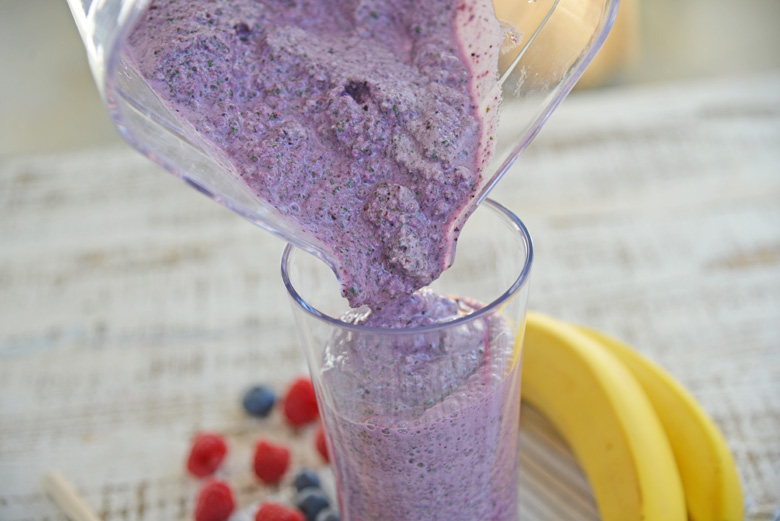 Smoothie Meal Prep
Meal Prep is all the rage these days and while most people think of it in reference to their solid food, you can also do it for liquid meals like power smoothies.
I like to put all of the ingredients (except ice) into an airtight container at the beginning of the week and then I have enough to make 3 big smoothies.
To make the best smoothie you possible can, make sure you use a quality blender!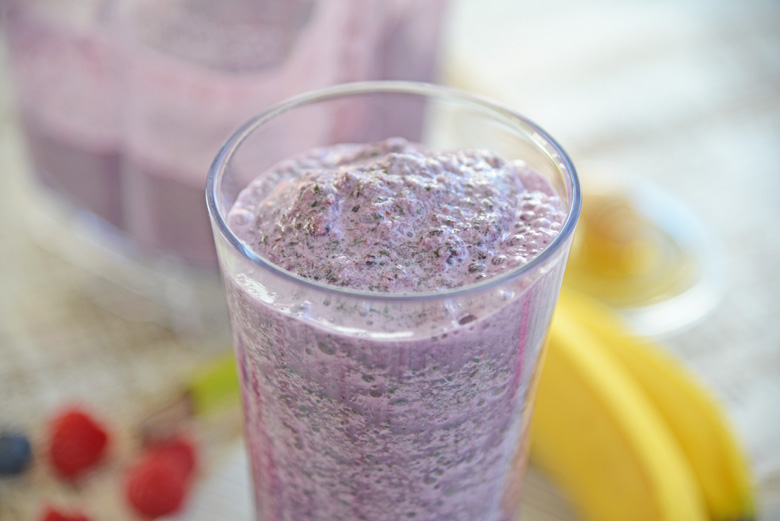 Power Smoothie Ingredients
As for how to make a smoothie, it's really quite easy! All you need is your blender and your main base ingredients:
milk
ice
yogurt
bananas
blueberries
strawberries
grapes
Don't get too bent on making sure you have the exact amounts of each fruit, this recipe is fairly forgiving. However, the yogurt, ice and milk are pretty important.
PRO TIP: Wait until bananas are fairly ripe, they will be sweeter. Peel and freeze in 2-3 inch pieces. You'll need less ice because you essentially have a banana ice cube.
I like vanilla yogurt, but you can use any flavor you'd like. Greek yogurt works best because it is the thickest. You can even try your hand at making your own!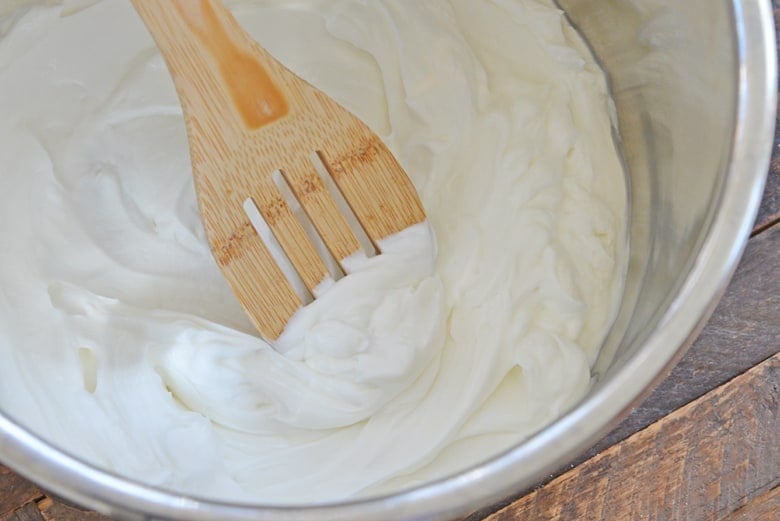 As far as smoothie add-ins, protein powder, like previously discussed, but you can also add superfoods.
Superfood Smoothie
What is a superfood? These days is means nothing more than a food that has exceptional nutrient density.
But let's be honest, that definition changes depending on what diet you are following.
But some are undeniably good for you, like kale, chia seeds or beans. Since the base of this smoothie is so robust with flavor, you can add virtually anything and the flavor will be disguised.
Except fish oil. I do not recommend fish oil. LOL.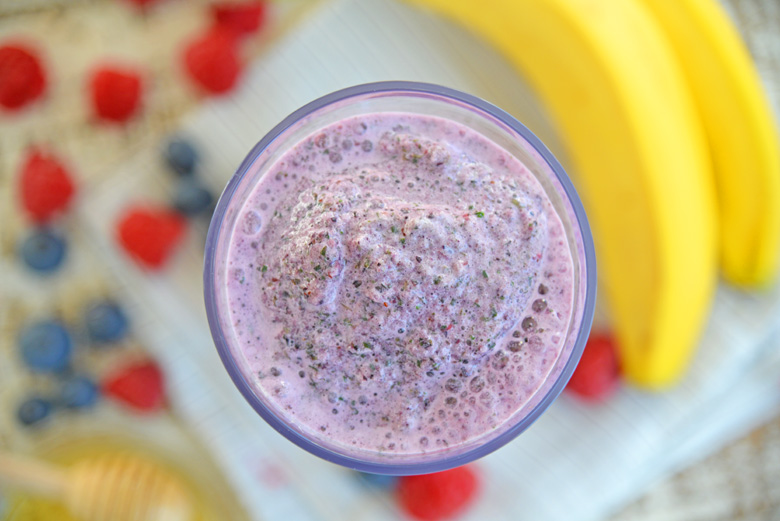 How to make a smoothie
Everything goes into the blender and you just blend until it's the consistency you want. Then, just enjoy!
Add more or less ice depending on if you like it smooth and thin or more if you want it icy and crunchy.
You'll need less ice if you use frozen fruit or frozen yogurt.
Smoothies are best consumed right after blending, as the flavors tend to mute and fade as the smoothie melts.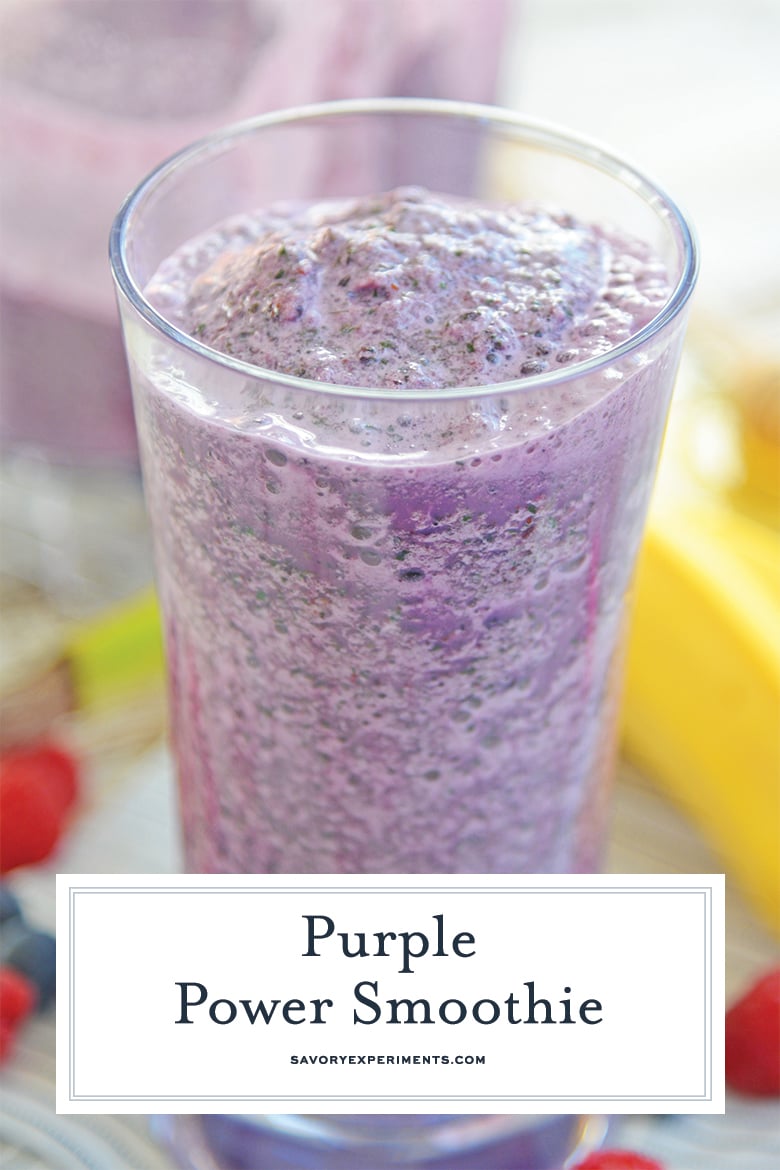 More smoothie recipes: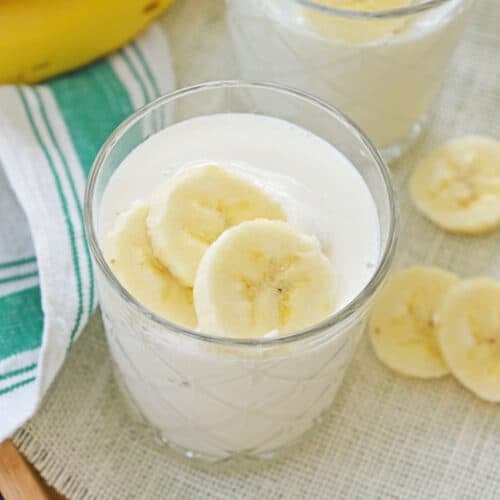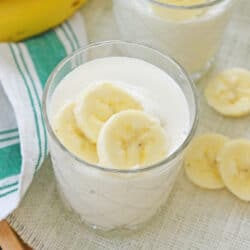 Banana Smoothie
Add protein powder, peanut butter, chocolate, pineapple, strawberries or other delicious fruit to make yourself a custom Banana Smoothie! You can also switch up the yogurt flavor or go plain.
See The Recipe!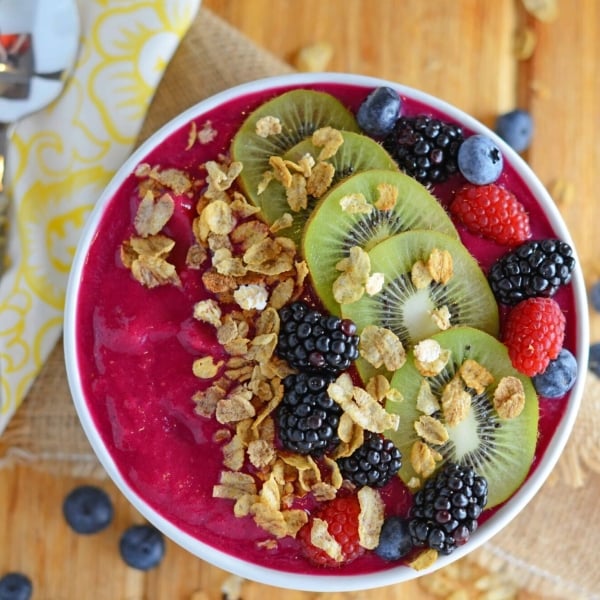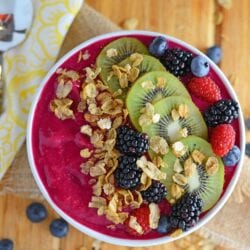 Acai Bowls Recipe
This Acai Bowl recipe is a great way to start your day on the colorful side with beets, acai, fruit, crunchy granola cereal and a dab of honey for sweetness.
See The Recipe!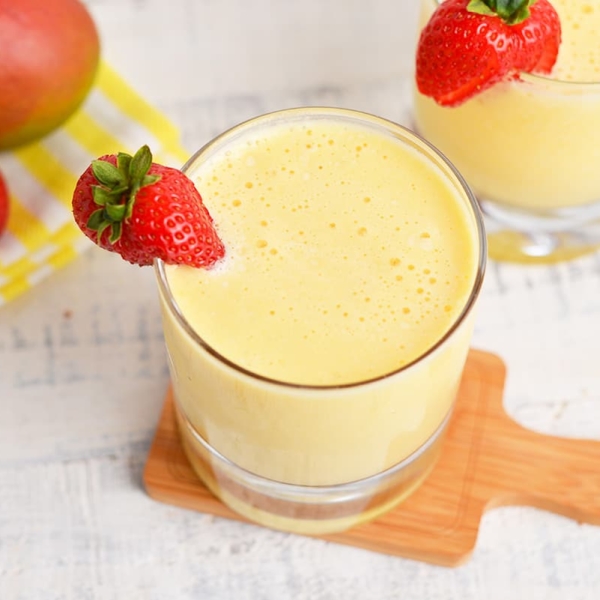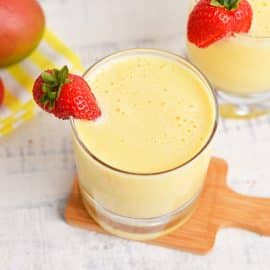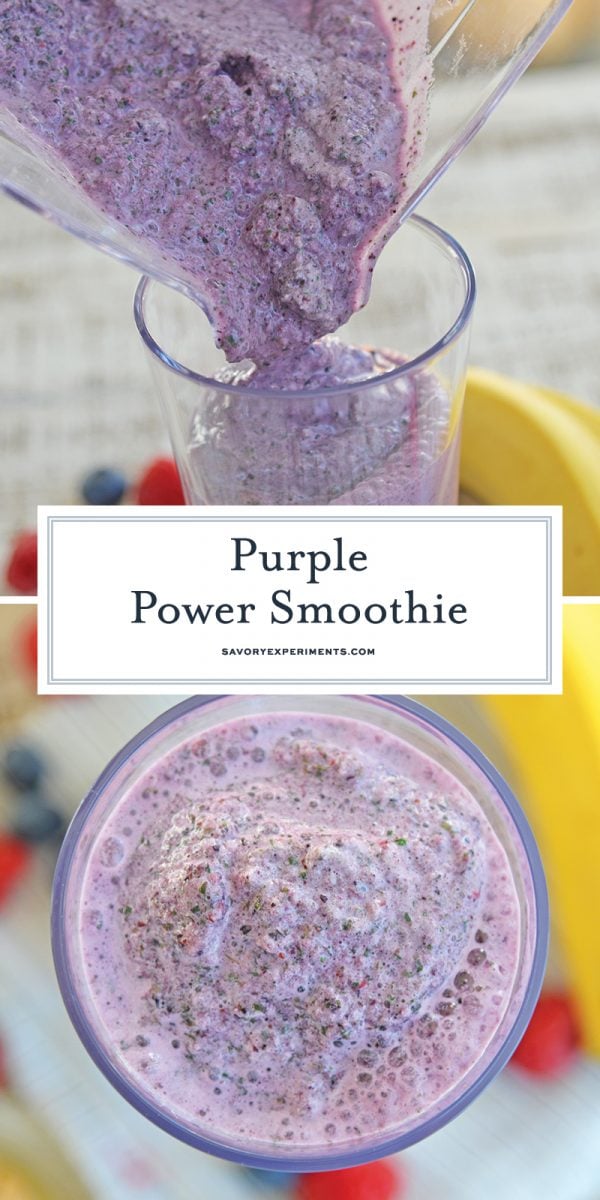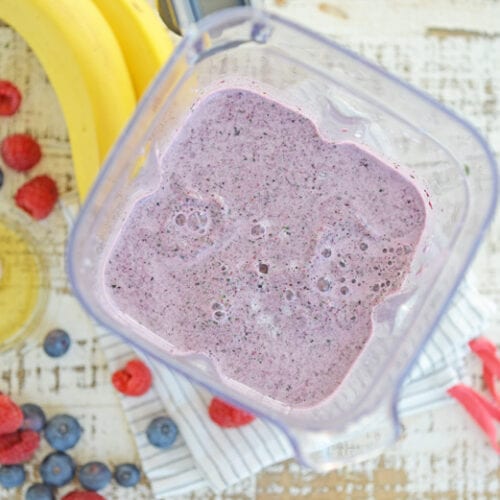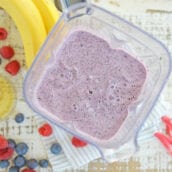 Purple Power Smoothie
Purple Power Smoothie Recipe- Healthy smoothie recipe to help you stay full and lose weight. With loads of fresh fruit, this protein shake also uses Greek yogurt and milk!
Servings:
large smoothies
Ingredients
1

pint

frozen blueberries

1

cup

purple seedless grapes

8

strawberries

whole

1

aged banana

1 4-

ounce

low fat vanilla yogurt

1

cup

skim milk

2

tablespoons

honey

Ice

will vary depending on how thick you like your smoothie
Instructions
Place all ingredients into a blender and puree until the ideal consistency for you.
Nutrition
Calories:
280
kcal
,
Carbohydrates:
65
g
,
Protein:
7
g
,
Fat:
1
g
,
Cholesterol:
3
mg
,
Sodium:
69
mg
,
Potassium:
638
mg
,
Fiber:
5
g
,
Sugar:
52
g
,
Vitamin A:
330
IU
,
Vitamin C:
39.5
mg
,
Calcium:
200
mg
,
Iron:
0.9
mg