Best Yogurt Topping Ideas
This post is sponsored by FAGE; however all thoughts and opinions are my own.
Have you found your perfect match? You might not be thinking about the same perfect match I am…
Looking for yogurt breakfast ideas? I've got 50+ yogurt toppings for any time of day, including frozen yogurt!
It is Valentine's Day, but I am talking about your perfect YOGURT match. FAGE Total 2% Plain Greek Yogurt!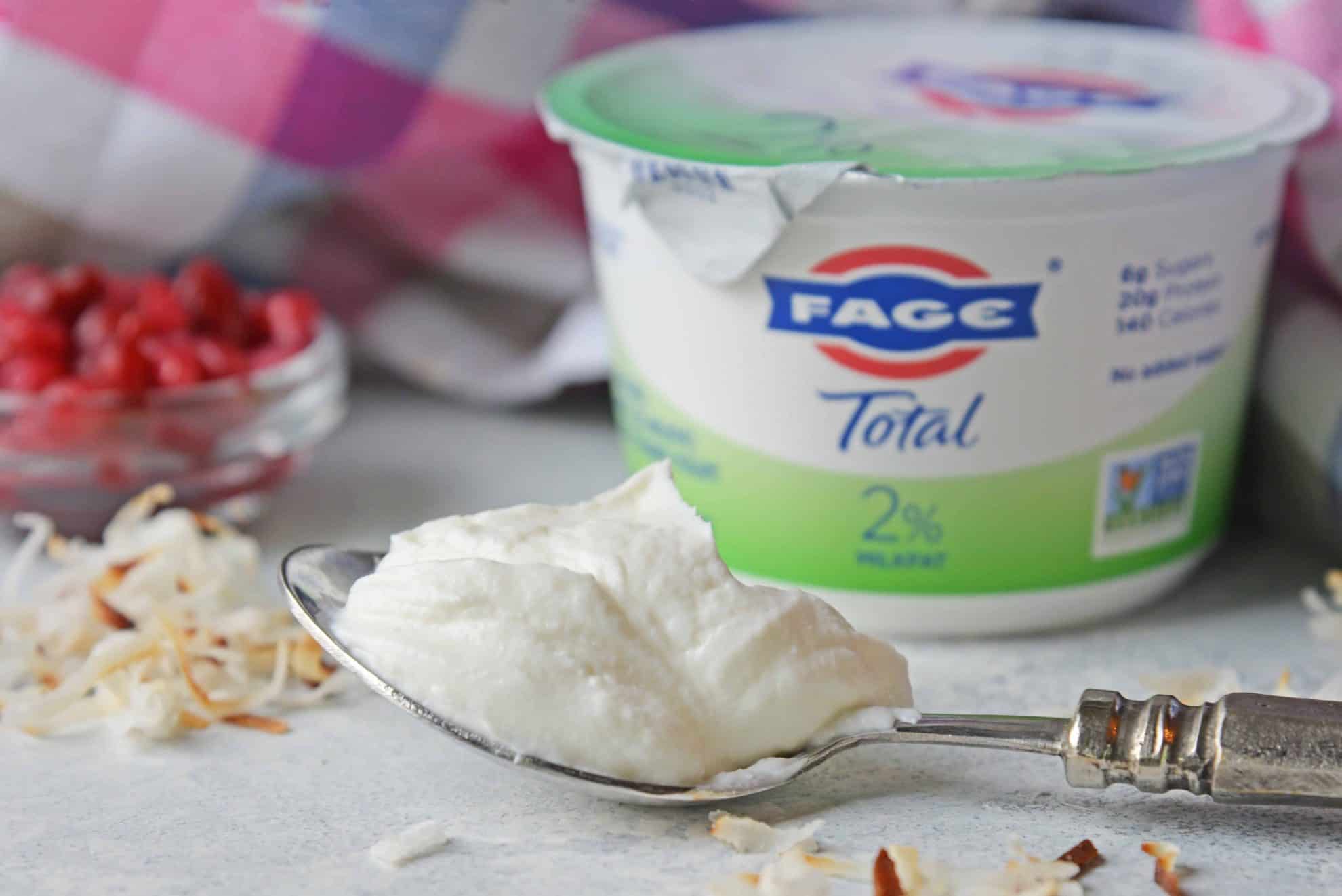 It is no secret I am obsessed with yogurt. It is not only nutritious, decadently creamy and super tasty, it is also versatile.
Versatility is the name of the game in my kitchen. I strive for quality ingredients that have more than one purpose.
Plain Greek Yogurt is the perfect base for a breakfast or a base marinade for chicken, pork and seafood, salad dressing, substitute for sour cream or mayonnaise, spread for sandwiches and burgers and even for baking!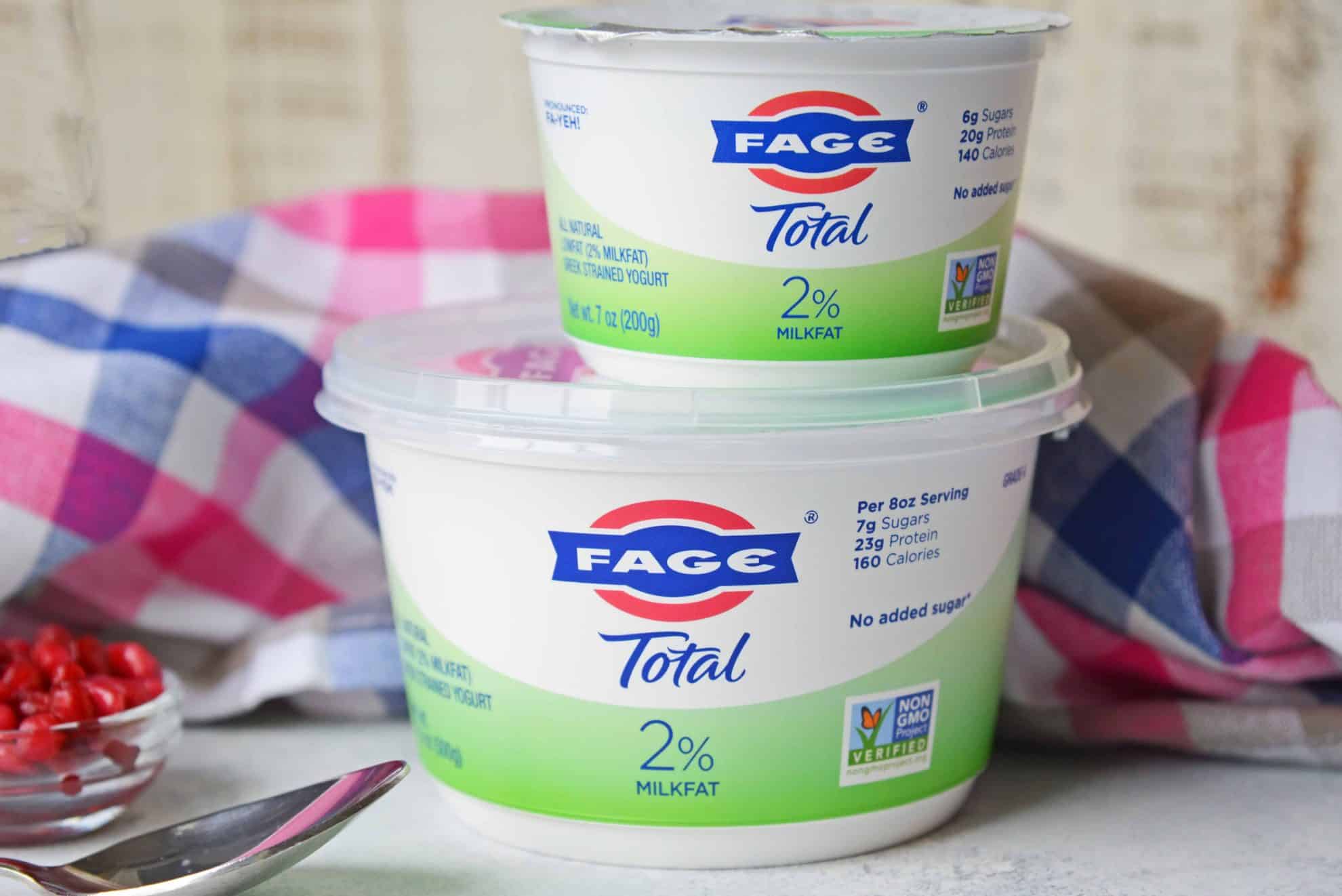 But that isn't what you are here for. You are here to get fresh ideas on how to top your yogurt. Whether you just have a cup that needs a like pick-me-up or you are making a delicious yogurt bowl creation, all of these yogurt toppings are perfect for mixing and matching.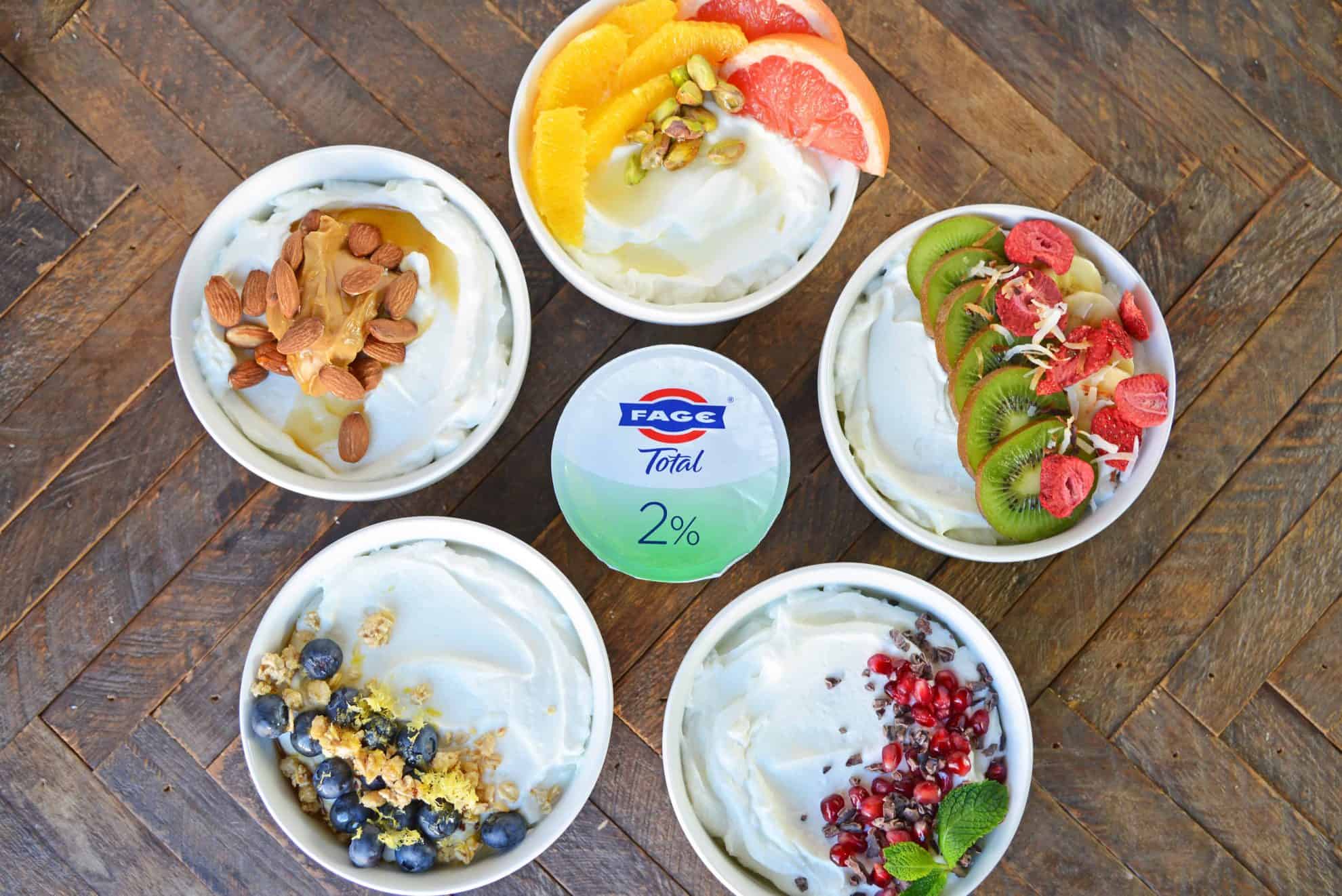 What can I put in my yogurt? Nearly anything! Vanilla and plain yogurt lends itself to nearly any flavor combo.
And don't limit yourself to making breakfast bowls… also consider layering your ingredients and making yogurt parfaits. Simple, healthy and delicious! Get even more creative by switching up the yogurt flavor to complement the toppings.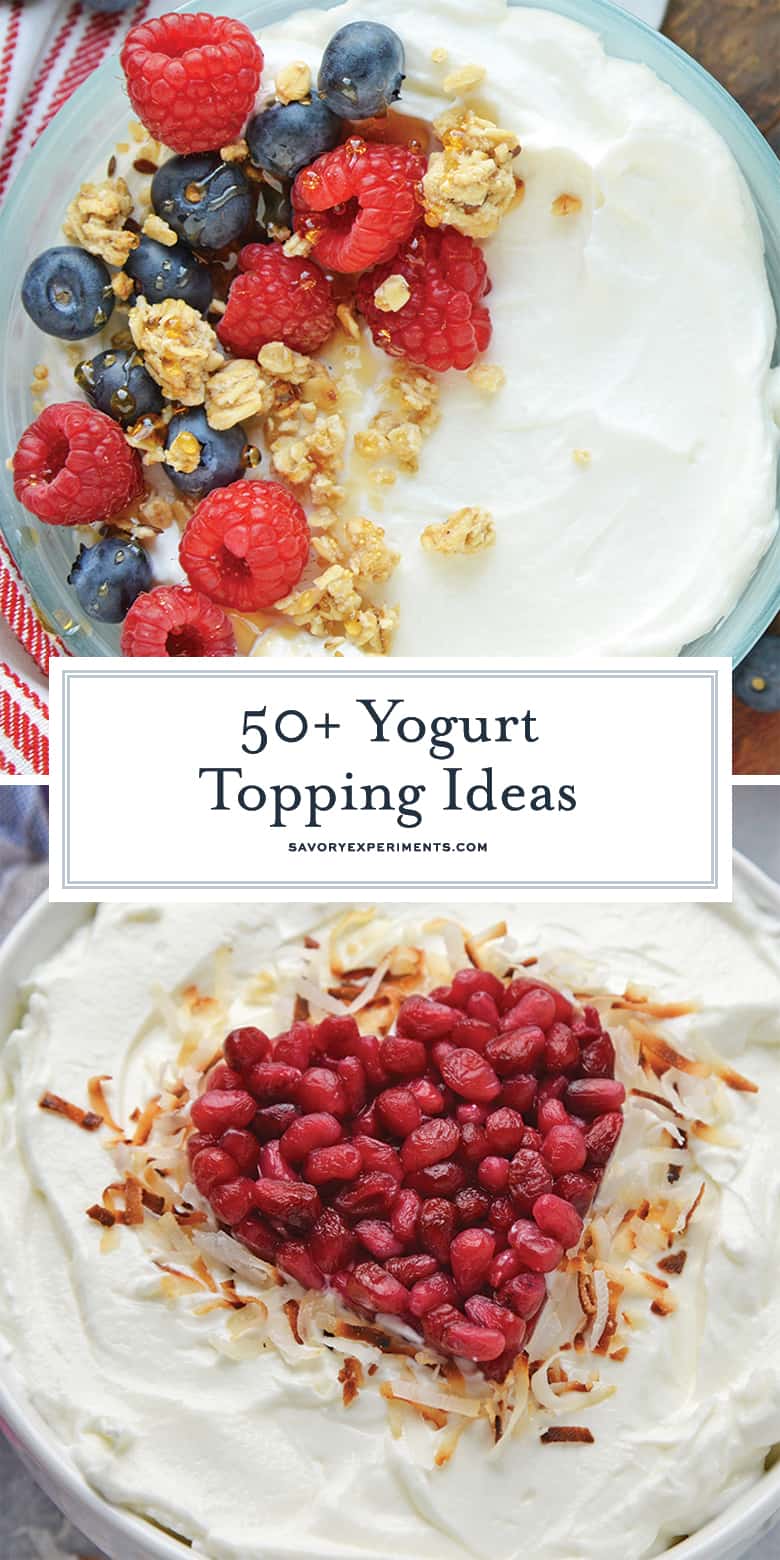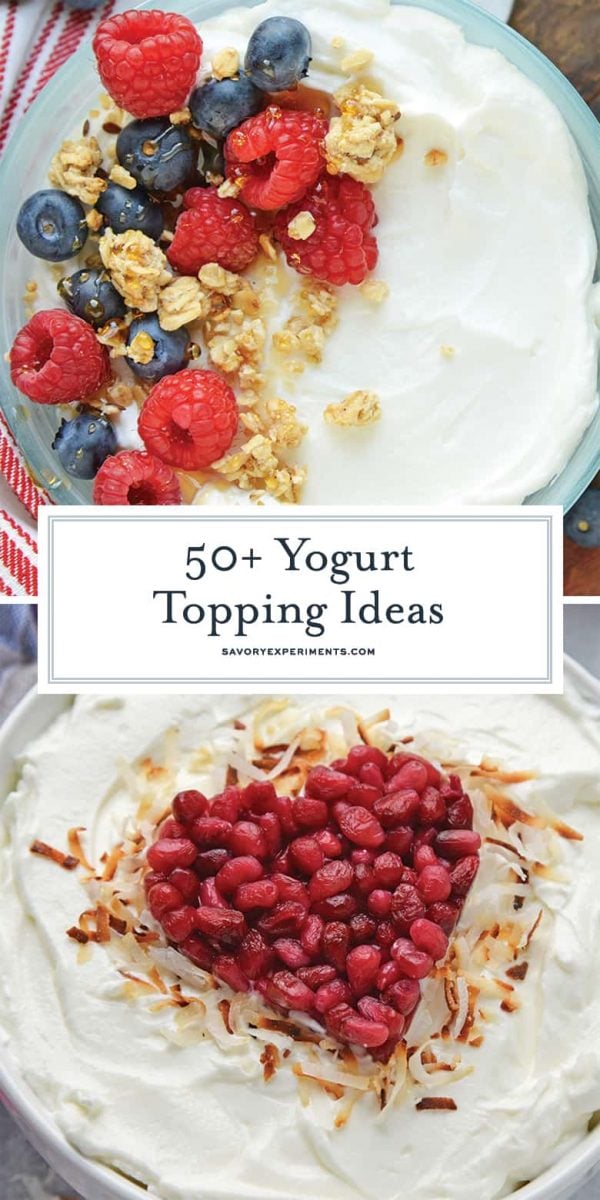 I am going to break these down into sections.
Fruit Yogurt Toppings:
Rhubarb
Blueberry
Strawberry
Blackberry
Raspberry
Boysenberry
Kiwi
Pineapple
Fresh Coconut or Toasted Coconut
Mango
Star Fruit
Passion Fruit
Pineapple
Peach
Orange or nectarines
Bananas
Cherry
Cranberry or Cranberry Syrup
Pomegranate Seeds
Apricots- dried or fresh
Dates
Plum
Pears
Apples
Nuts and Seeds for Greek Yogurt Toppings:
Almonds- whole or sliced
Peanuts- plain, salted or honey roasted
Pepitas or pumpkin seeds
Chia seeds
Nut butters blended into the yogurt
Walnuts
Pecans
Pistachios
Sweet Toppings for Yogurt:
Cacao Nibs
Honey, Agave Nectar, Date Syrup or Real Maple Syrup
Chocolate Chips
Peanut Butter Chips
Candied cherries
Chocolate sauce
Shaved Chocolate
White Chocolate
Brown Sugar
Other yogurt bowl toppings:
Granola- homemade granola or store bought
Graham Crackers
Muesli
Favorite Trail Mix
Crumbled Dry Cereal
Olive Oil
Tahini
Olives
Fresh Herbs
Spices like Cinnamon, Nutmeg or Cloves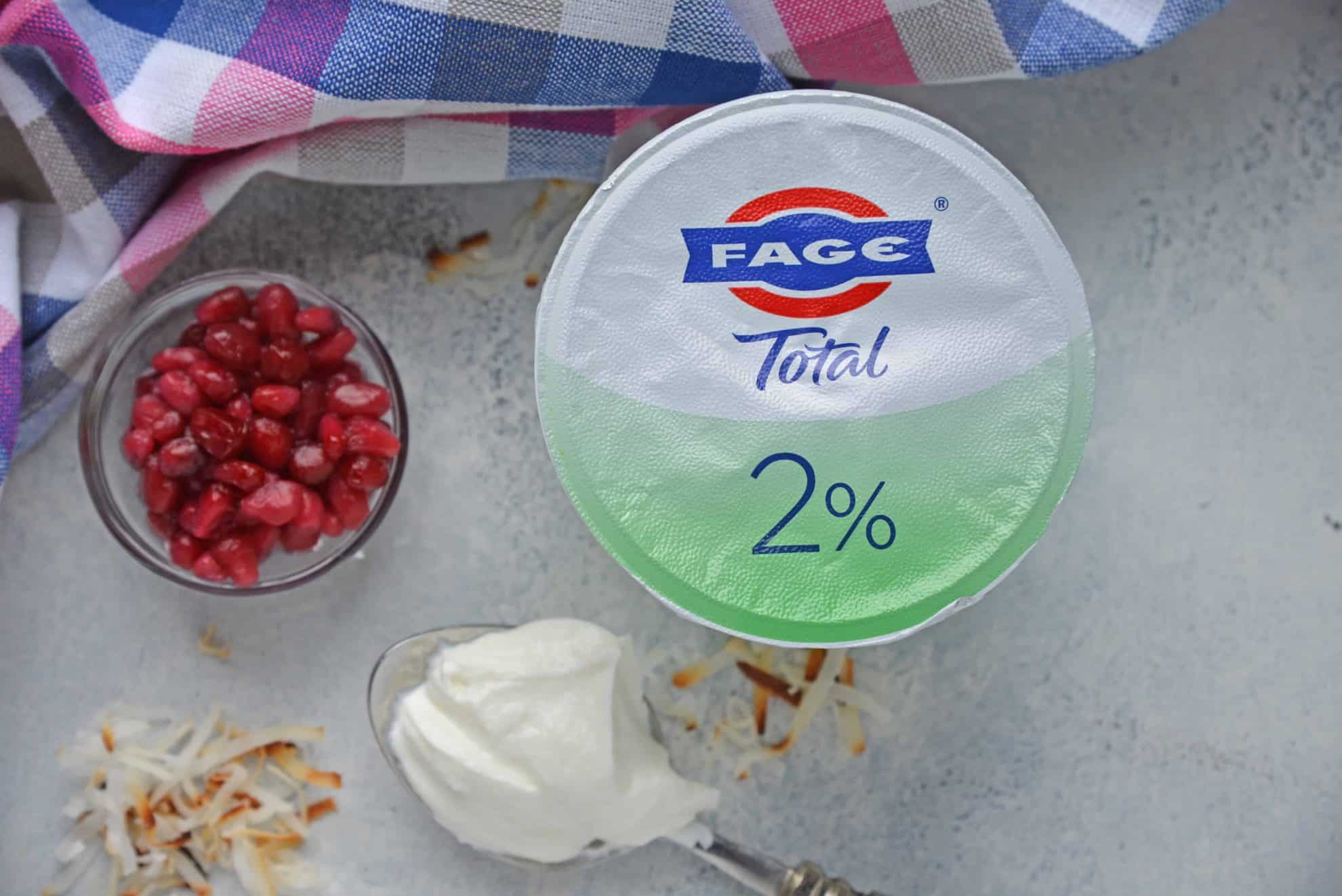 But not all yogurts are created equal, so don't just pick up some random yogurt. It might be too thin, flavorless or even watery. Not ideal for any of my purposes.
Here are a few of my favorite yogurt bowl topping combinations:
Raspberries + Blueberries + Strawberries + Granola
Fresh Orange Segments + Dark Chocolate Shavings + Pistachios + Honey
Fresh Pineapple Slices + Toasted Coconut + Chopped Candied Cherries
Pomegranate + Cacao Nibs + Fresh Mint
Get even more ideas HERE!
Only FAGE Total is an all-natural Greek yogurt that is distinctly rich, creamy and delicious. It is Non-GMO Project Verified with no added sugar and is a good source of calcium.
It is rich in protein with live active yogurt cultures, and made with real milk from cows that have been fed NON-GMO feed. What else could you ask for?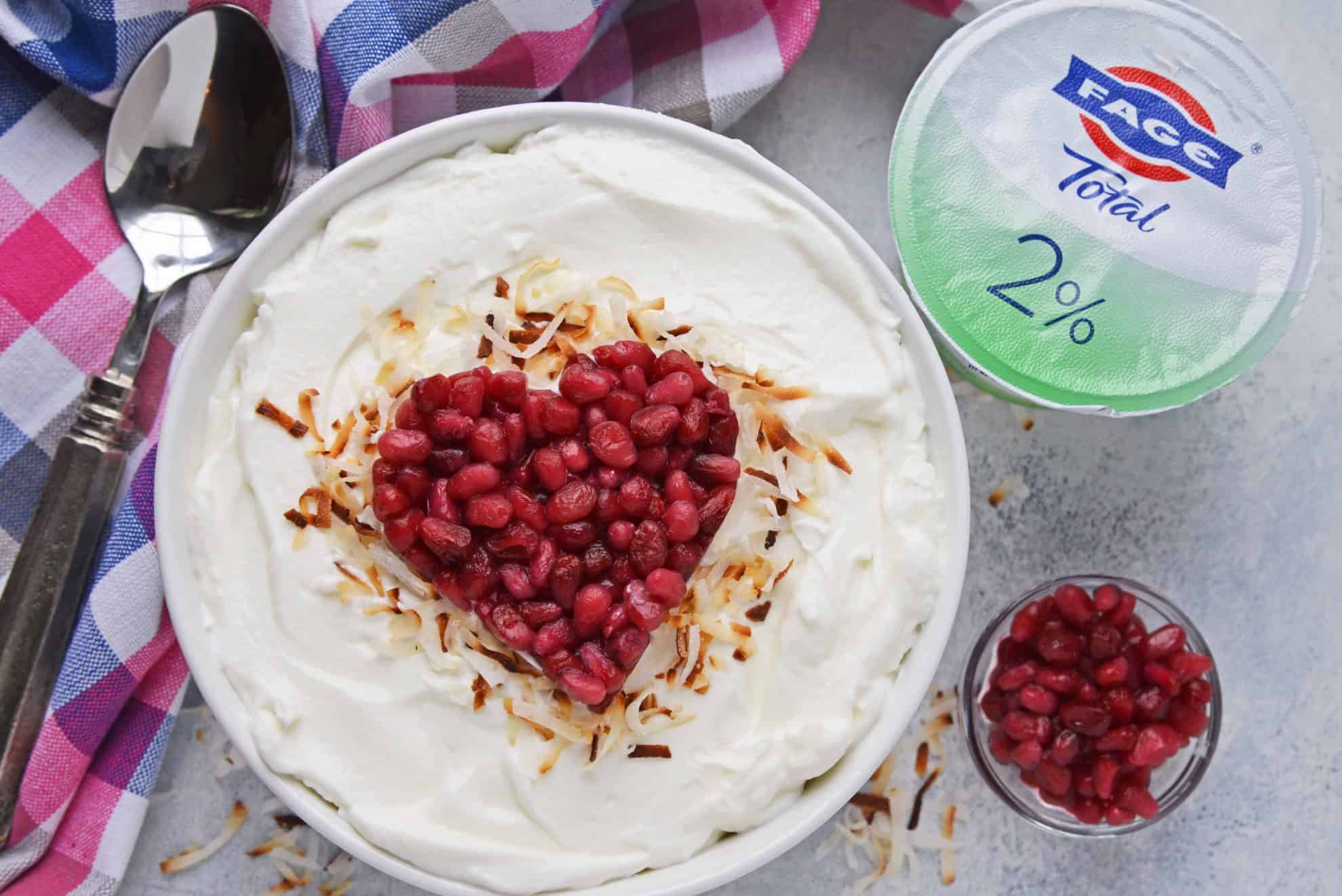 While I love using it in recipes, it only takes a few minutes to top this velvety, rich yogurt with a few of my favorite toppings to enjoy for breakfast, brunch or a snack.
If you are hosting a breakfast or brunch with a lot of people, making a yogurt topping bar is a fabulous idea, colorful and ready in a snap.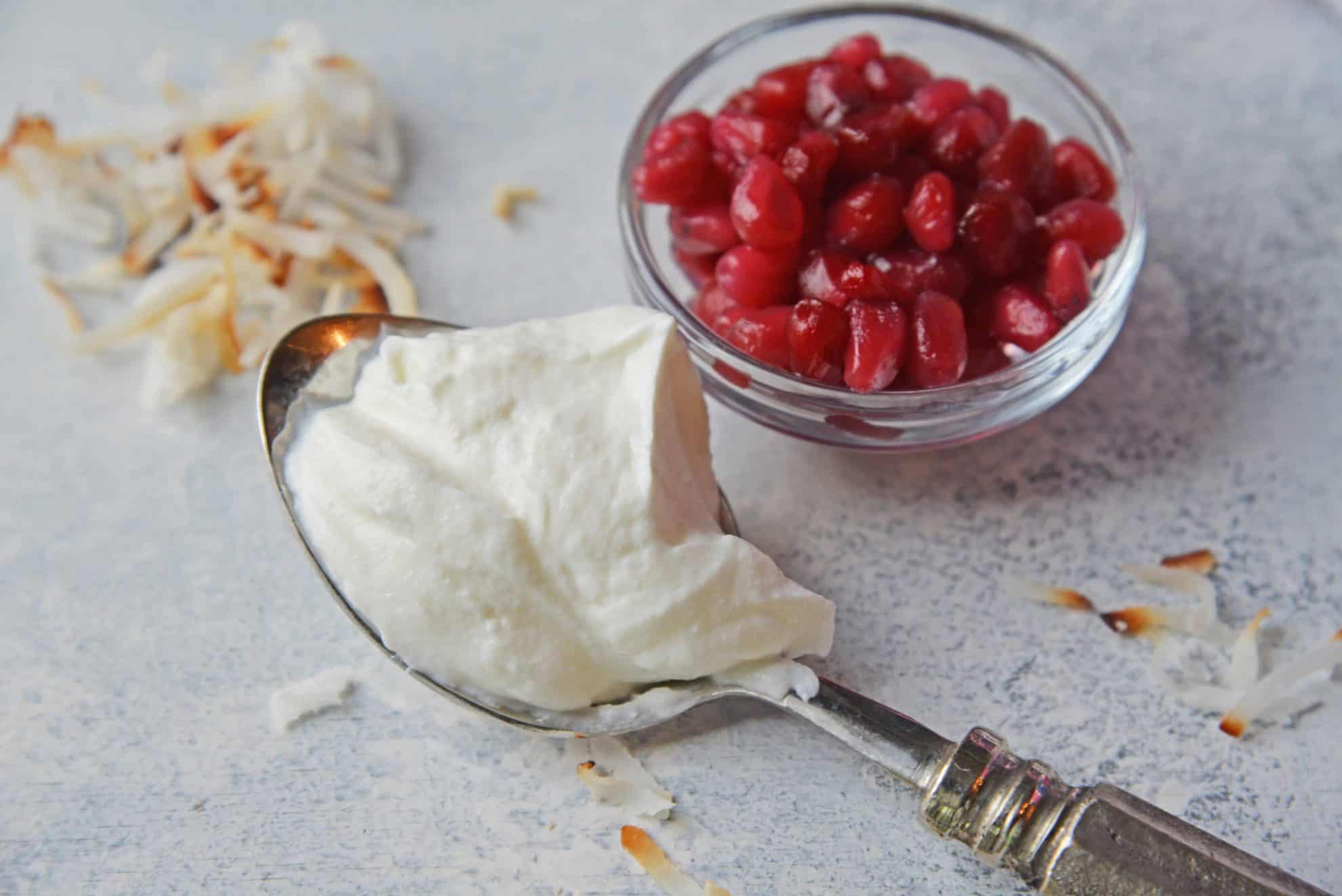 So there ya go folks… my ideal yogurt breakfast ideas. Who am I kidding? I also eat it for lunch and dinner!
FAGE Total is available in 0%, 2% and 5% milkfat, so you can pick up your perfect match at your local Grocer! Enjoy!
Check out even more delicious ways to use yogurt HERE!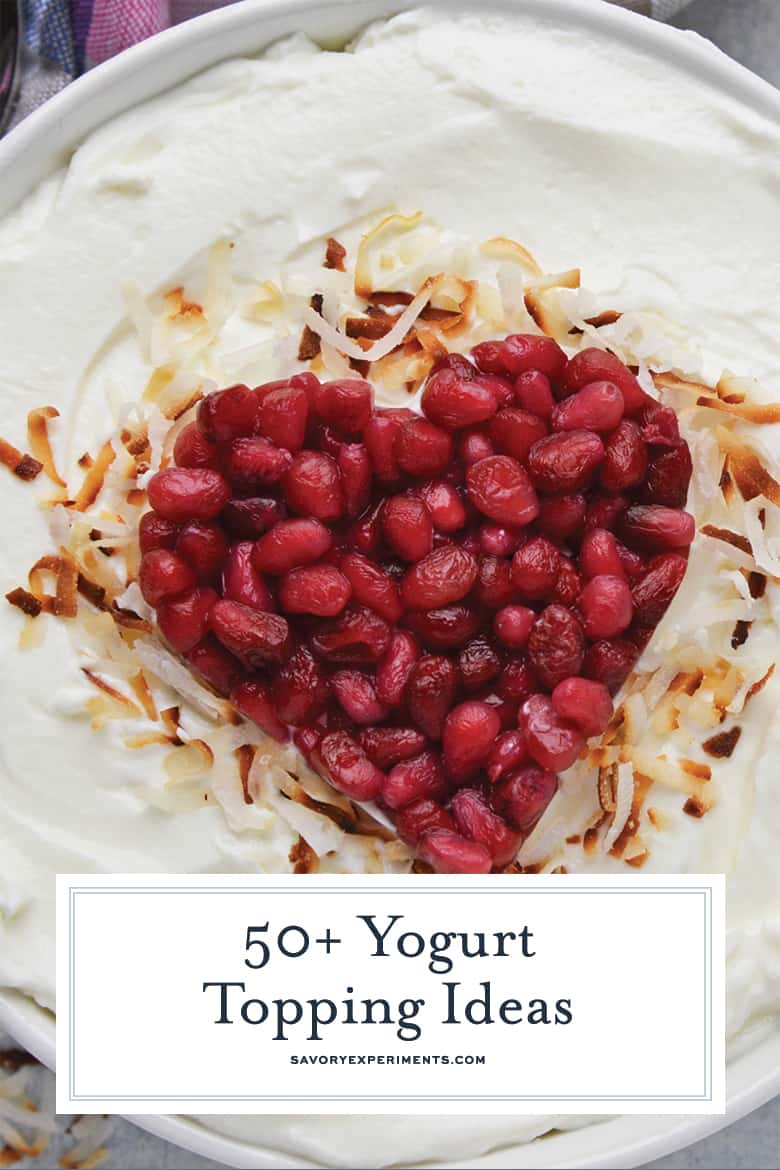 More questions you might have about topping your yogurt with deliciousness:
Do I have to use Greek yogurt? Can I use plain yogurt? Yes! You can use plain yogurt. I happen to prefer Greek because it is so creamy and thick.
What is the difference between plain yogurt and Greek yogurt? My Fearless Kitchen said it best…. "After fermentation, the liquid whey is strained off the solid yogurt. Regular yogurt is strained twice, so there is still some liquid left in the end product. Greek yogurt is strained three times, so most of the liquid is removed. … Because Greek yogurt is more "concentrated," it has more protein than regular yogurt.
Can I use these on frozen yogurt? Sure! Use any of these toppings, savory, sweet or someplace in the middle on fro-yo as well!
Can I make yogurt? Of course you can! And with today's Instant Pot's, it is even easier. I don't have a recipe for homemade yogurt on my site, but here is a great one that I have used.
Words for the wise though, homemade yogurt is actually kind of time consuming. I like to know how my food is made, so I tried it once and the yogurt was delicious, but from now on, I'm all about the store bought to save time.
You also need yogurt to start yogurt, much like a sourdough starter, so it seems little pointless.