Spaghetti Squash Stuffed Tomatoes are an easy-breezy, veggie-lover, low carb dream of a dish.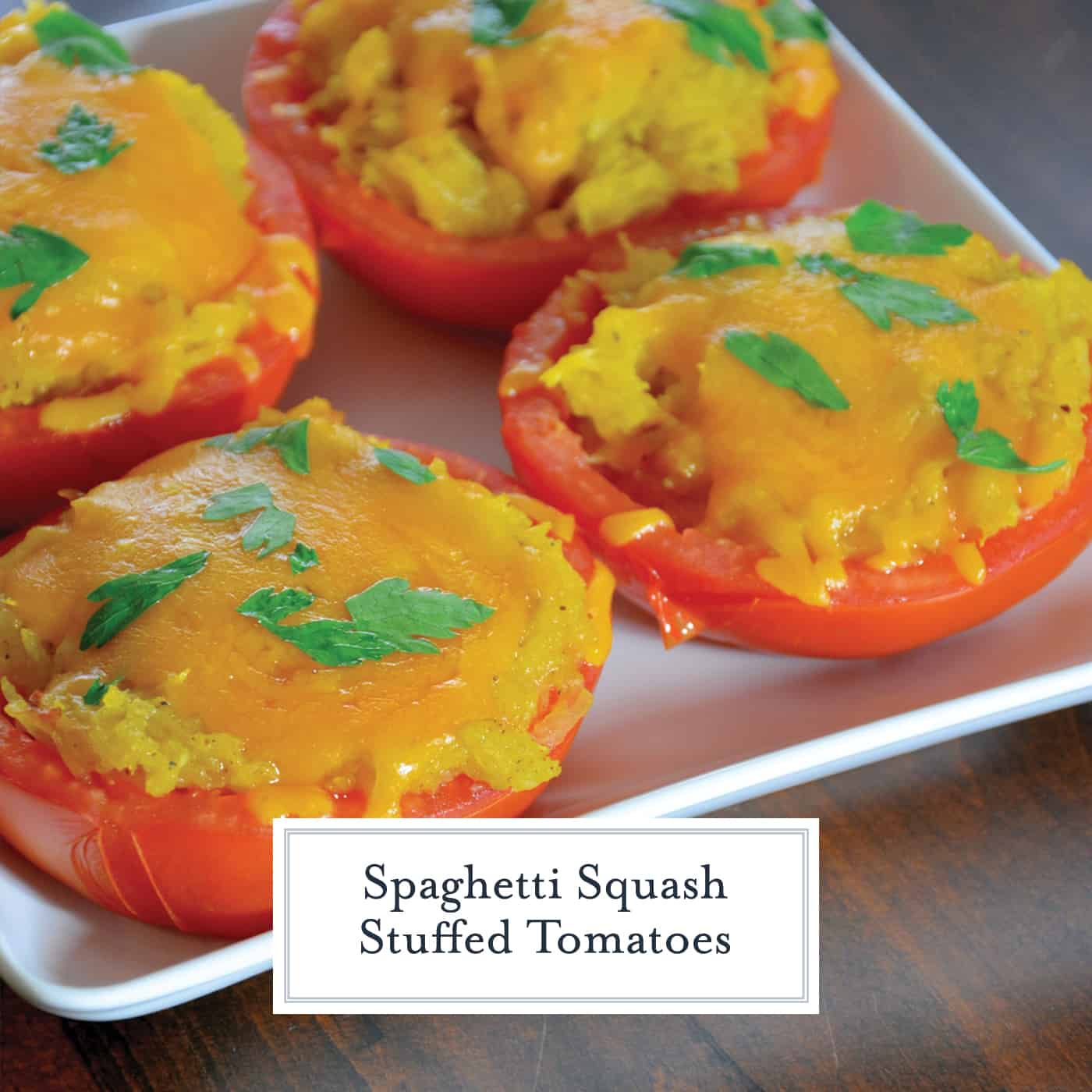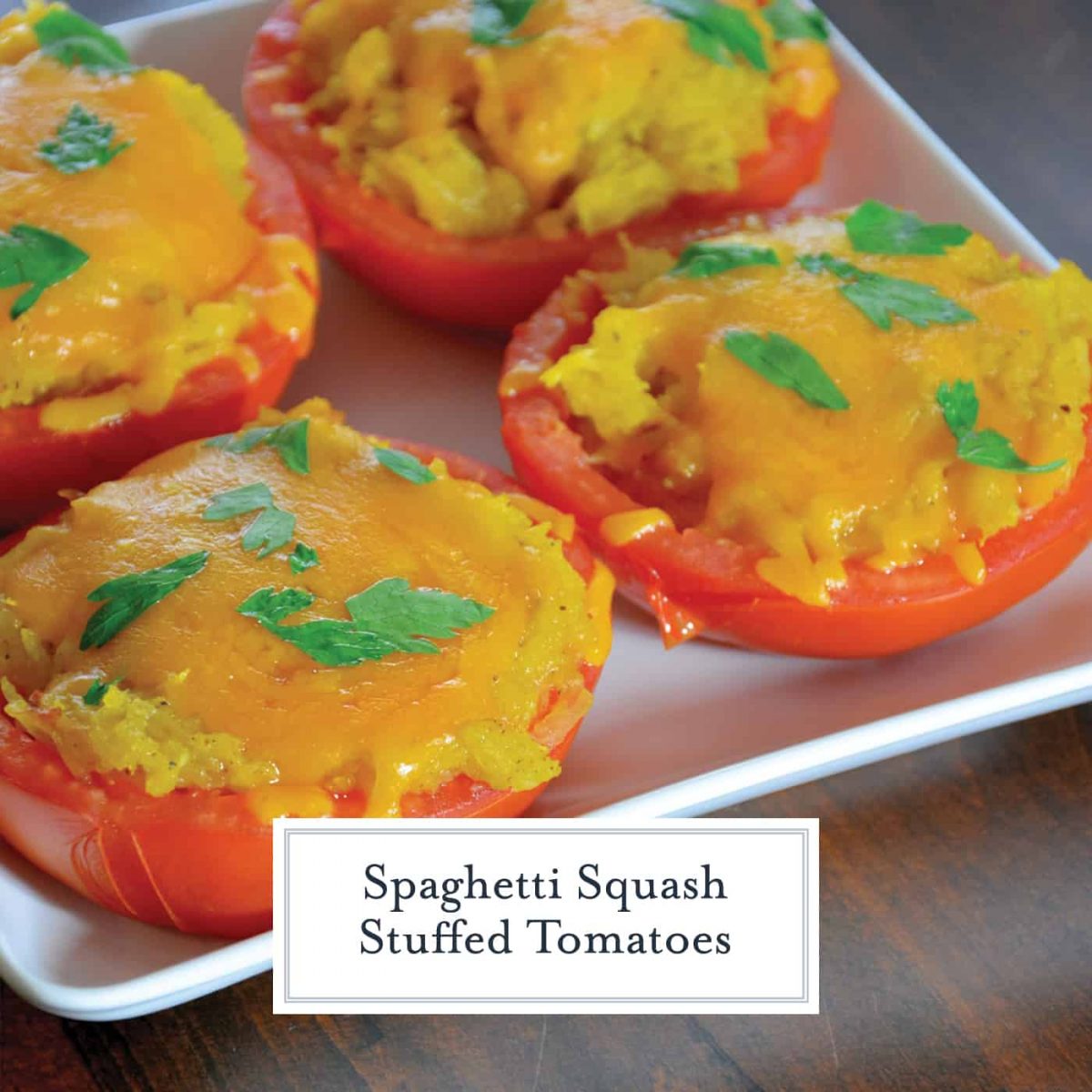 Spaghetti Squash Stuffed Tomatoes are juicy hollowed out tomatoes filled with spaghetti squash and topped with gooey cheddar cheese. The perfect low carb side dish!
Spaghetti squash is one of those food trends that have popped up in the past 10 years. Similar to cauliflower rice or zoodles, it started to gain its popularity when gluten-free and low carb diets swept through the nation. Anything to mimic those glorious carbs.
The name of this magical vegetable kind of gives it away. Cooked spaghetti squash looks like any old squash, but take a fork to it and voila!
After it bakes, it softens to reveal a stringy, pasta-like flesh with a mild, almost sweet flavor. It is perfect for pairing with almost anything.
Much like the two other trends I mentioned, the mild taste is almost like a blank slate. It lends itself well to whatever flavors you want to pair with it. One thing it goes particularly well with is tomatoes.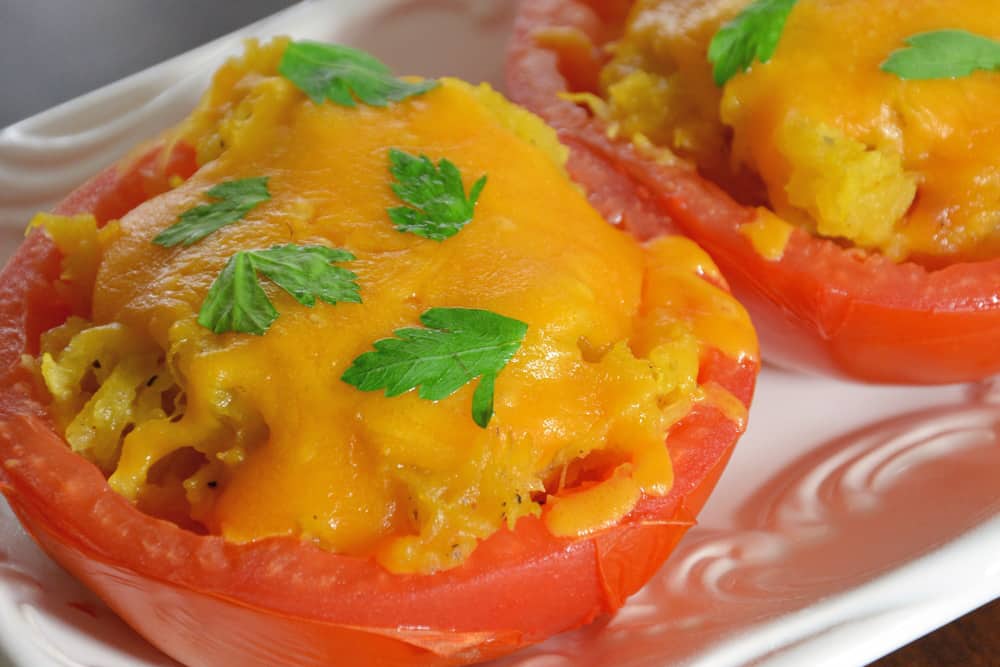 Spaghetti squash is low in calories and high in things like potassium, vitamin A, and folic acid. It is golden on the outside and vibrantly hued on the inside as well.
If you are new to spaghetti squash, here are a few tips. Look for the ones that have a bright yellow hue and a hard exterior. If your nail can penetrate the skin, step away from the squash and choose another one. If it has spots or is discolored, best to choose another one.
FUN FACT: You can buy your spaghetti squash and not use it right away. A ripe spaghetti squash can last for 1-3 months on your kitchen counter or in your fridge. Pretty impressive!
Spaghetti Squash Stuffed Tomatoes are another simple side dish that I learned from my buddy Chef Tony Biggs in the Certified Angus Beef Brand Test Kitchen.
He made it for a group of bloggers, but at that point in time, he didn't have the recipe written down. I thought it was genius, so when I got home, I doctored up my own version inspired by his.
I love the simplicity of the dish and how well it can pair with any protein from beef to chicken to seafood and more. You could even serve it as a main dish for meatless Monday or by itself for those in your house that may not eat meat.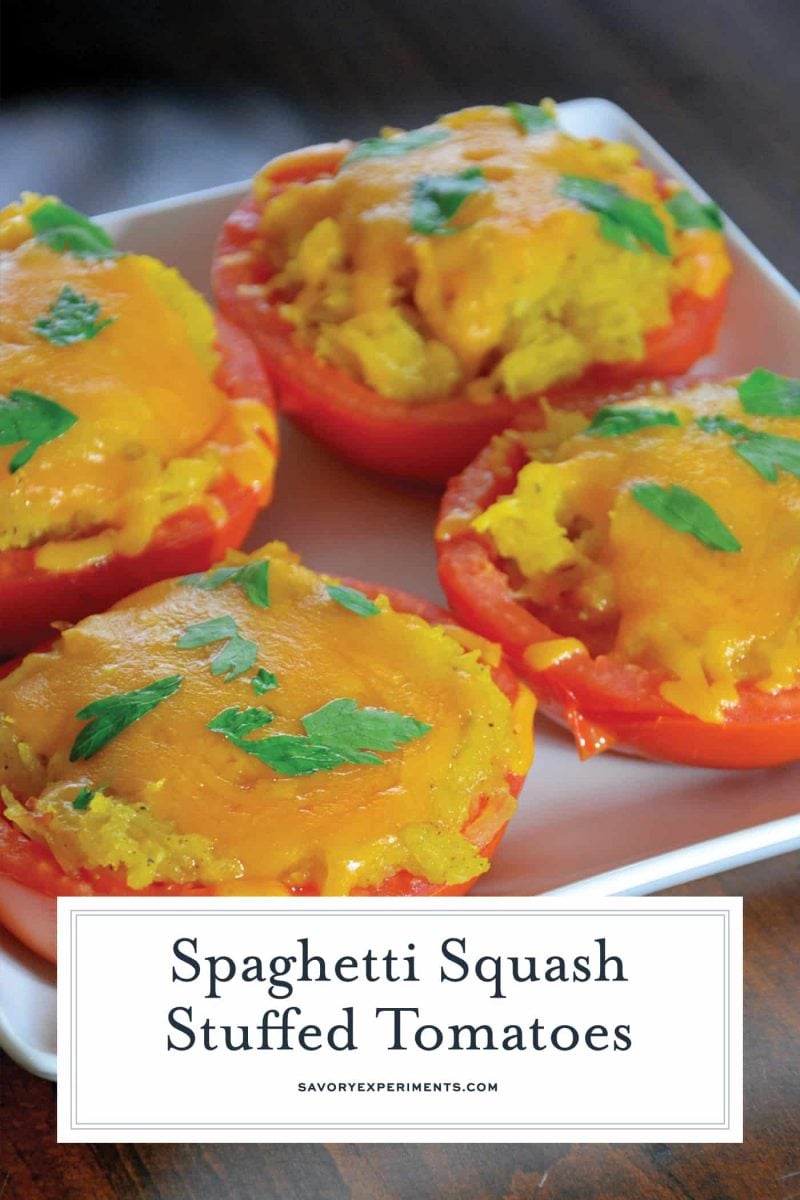 Whatever you do, it will be delicious. If you are looking to change things up or if you are missing cheddar in your fridge, try it with an Italian blend of cheeses or asiago on it's own.
This recipe will not use the entire spaghetti squash. You can either double the recipe OR use the other half for another dish, like Spaghetti Squash with Chunky Roasted Marinara.
If you need more low carb and or healthy side dishes, here are a few: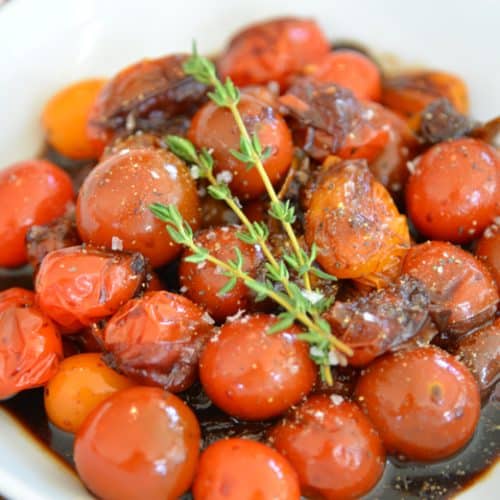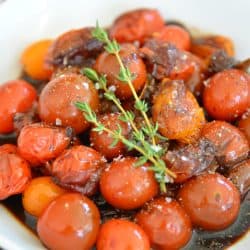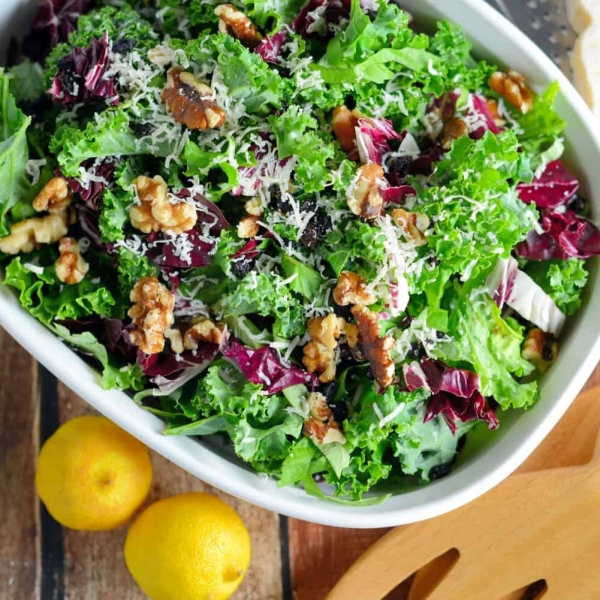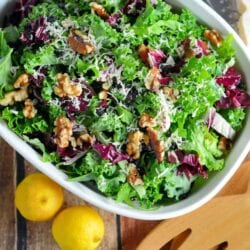 Kale Salad Recipe
Kale Salad with Lemon Dressing is tossed with currants, radicchio, walnuts and a lemon dressing. Learn how to massage kale salad and make a delicious salad!
See The Recipe!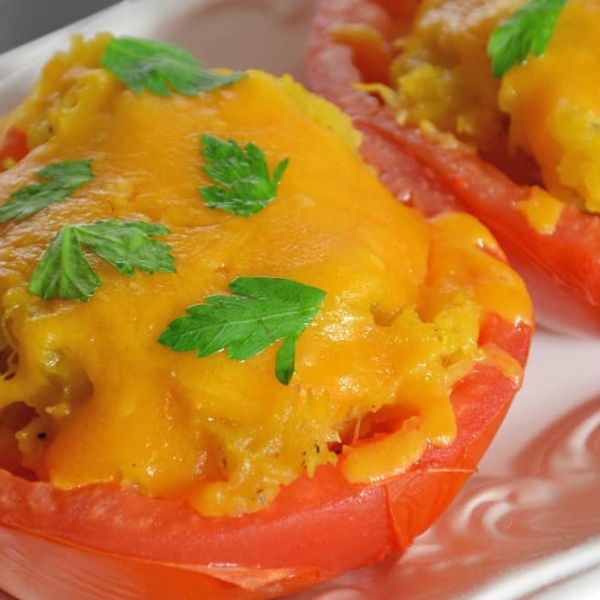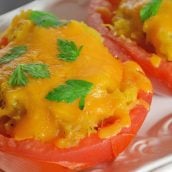 Spaghetti Squash Stuffed Tomatoes
Spaghetti Squash Stuffed Tomatoes are juicy hallowed out tomatoes filled with spaghetti squash and topped with gooey cheddar cheese. The perfect low carb side dish!
Instructions
Preheat oven to 350 degrees. Set spaghetti squash, cut side down, on a baking sheet. Roast for 30-40 minutes. Skin should pierce easily with a fork when done.

Remove from oven and allow to cool before flipping over. Using a fork, scrape the interior until spaghetti squash flesh easily comes out resembling long strands of pasta. Remove to a bowl and set side. Keep oven warm at 350 degrees.

In a medium skillet, melt butter and add spaghetti squash, tossing over medium-high heat. Continue until spaghetti squash has lost moisture and stops steaming, approximately 10 minutes. Toss in fine sea salt, freshly ground pepper and nutmeg. Remove from heat and set aside.

Cut tomatoes in half horizontally. Scoop out pulp. Fill tomato halves with spaghetti squash. Equally divide sharp cheddar cheese among tomatoes halves and place on a foil lined cookie sheet.

Bake until cheese has melted, approximately 10 minutes.

Remove and serve immediately.

If you tried this recipe, come back and let us know how it was!
Nutrition
Calories:
90
kcal
,
Carbohydrates:
10
g
,
Protein:
3
g
,
Fat:
4
g
,
Saturated Fat:
2
g
,
Cholesterol:
11
mg
,
Sodium:
220
mg
,
Potassium:
474
mg
,
Fiber:
2
g
,
Sugar:
6
g
,
Vitamin A:
1605
IU
,
Vitamin C:
24.8
mg
,
Calcium:
82
mg
,
Iron:
0.7
mg