This steak salad recipe will be your new favorite salad! You won't be able to get enough of the flavorful steak and leafy greens!

Skirt Steak Salad is an easy and healthy dinner solution that uses only 6 ingredients and a simple homemade miso ginger dressing!
Iceberg lettuce and the other usual salad suspects get boring. Whomp. Whomp. I'm on a mission to make salads that break the mold. That are, dare I say, crave-able! Well, I now crave my Skirt Steak Salad.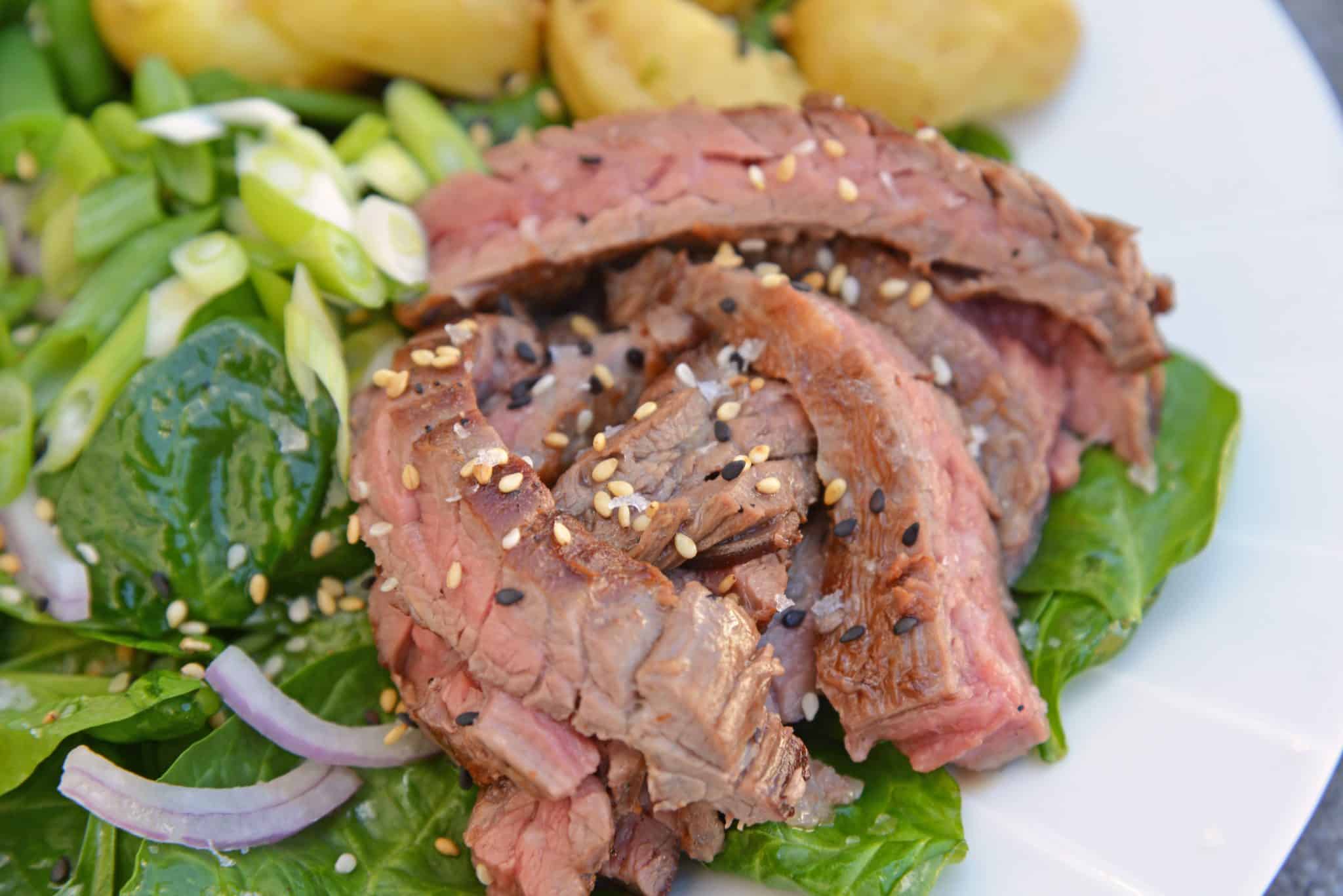 I prepare it for my family at least twice a month. Even though my meat-n-potatoes husband would generally tell you that a salad isn't "enough" for dinner, the potatoes and steak make it heartier enough for any heavy eater.
Hanger steak and skirt steak both come from the diaphragm and are both used interchangeably. If you don't see it, ask your butcher.
It is a thin piece of meat prized more for flavor than tenderness, which means it requires a few tricks to reduce the chewiness. It is commonly confused with flank steak.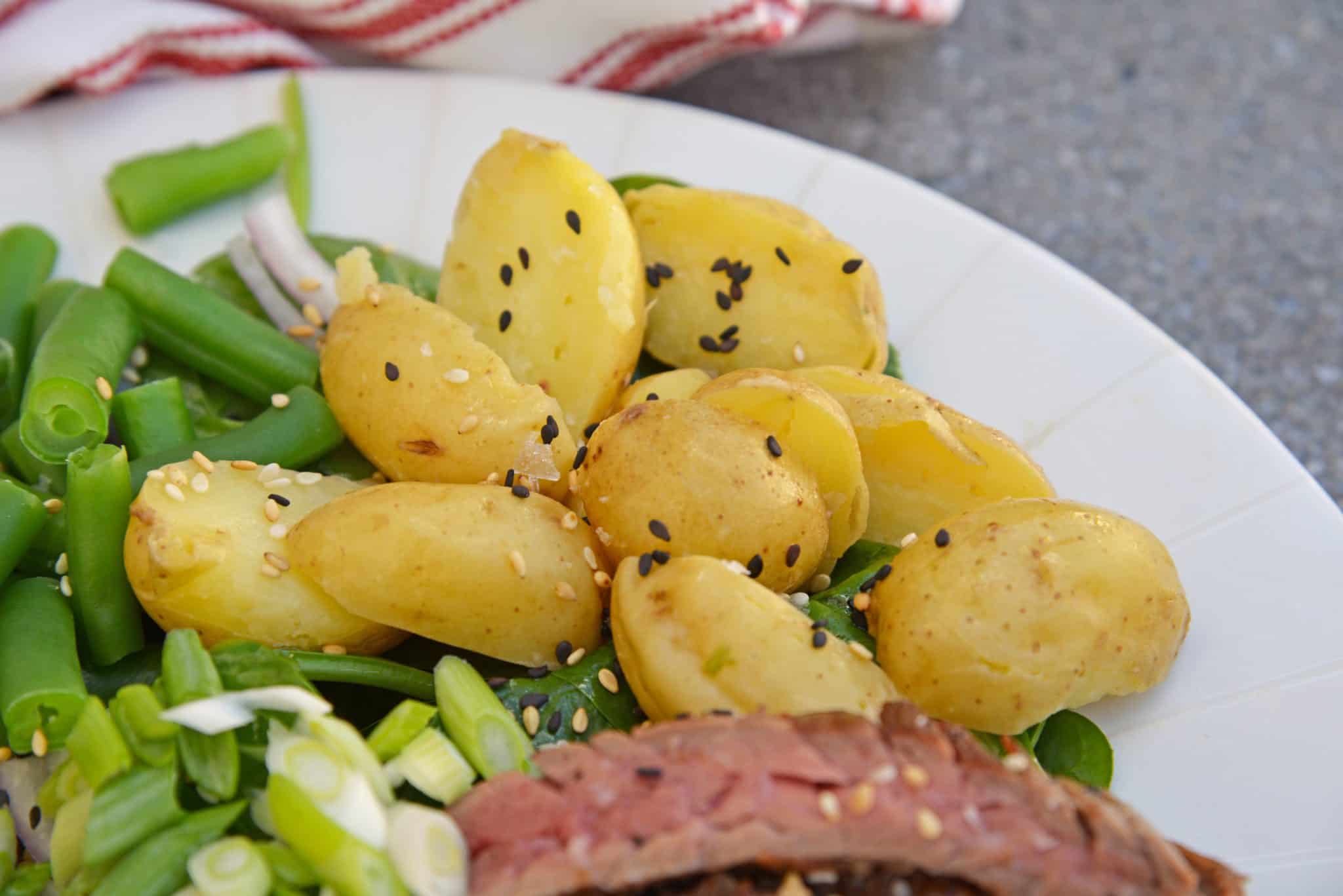 While they are similar, hanger steak has slightly better flavor and will be more expensive. For a long time hanger and skirt steak were known as the "butcher's cuts", much like the West Coast popular tri-tip.
It was a secret among beef lovers and those who didn't know how to prepare it thought it to be a throw away cut. Little did they know, it had a lot of benefits.
But for something like fajitas or a flavorful salad dressing, like my Miso Dressing, skirt steak is perfect!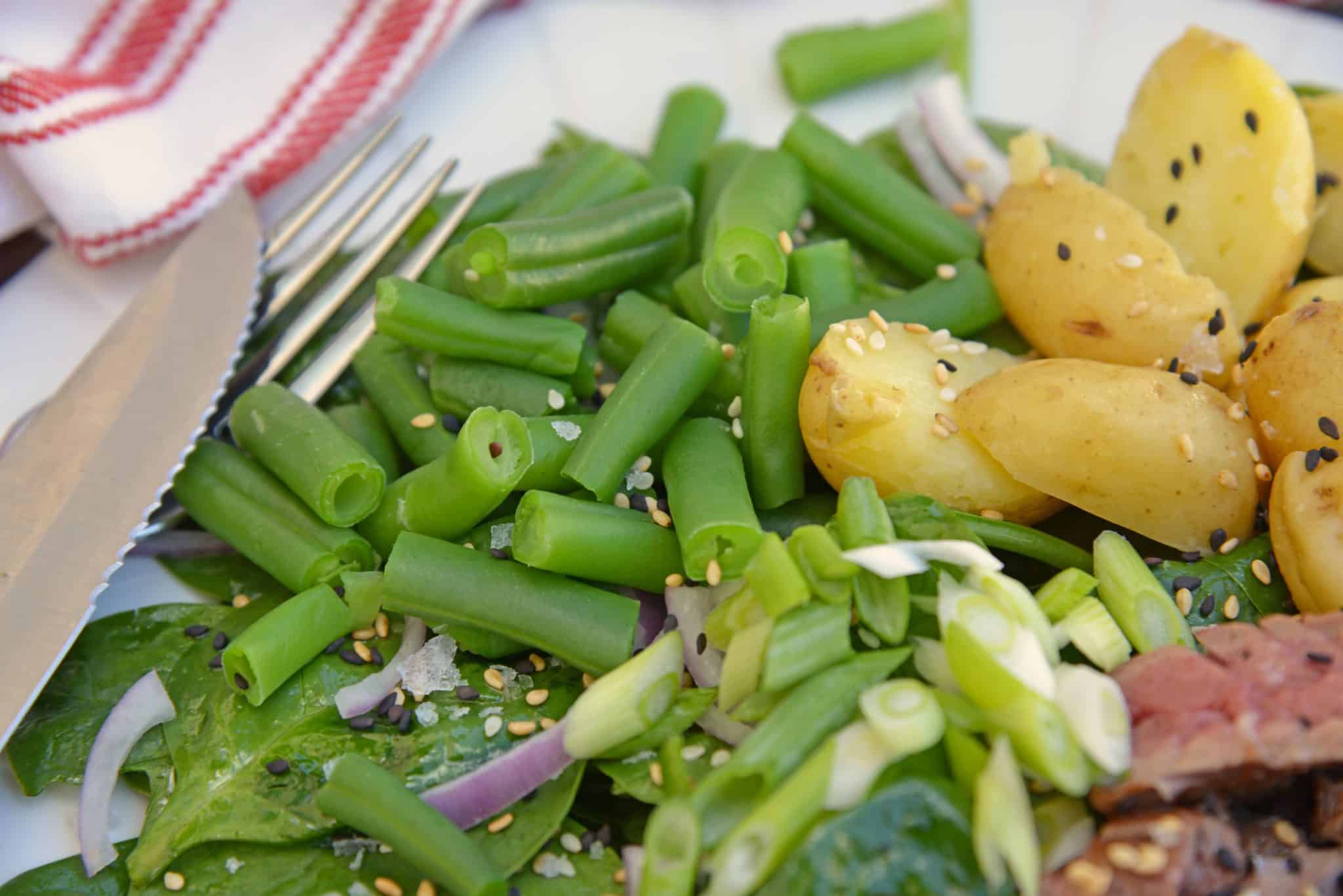 Chances are you will only get a medium sear due to it going from raw to cooked in just a matter of a few minutes. I still try to go as rare as I can, LOL. It cooks faster and it also rests faster!
To cut down on the chewy factor, make sure to cut against the grain, resulting in shorter fibers that aren't as difficult to chew.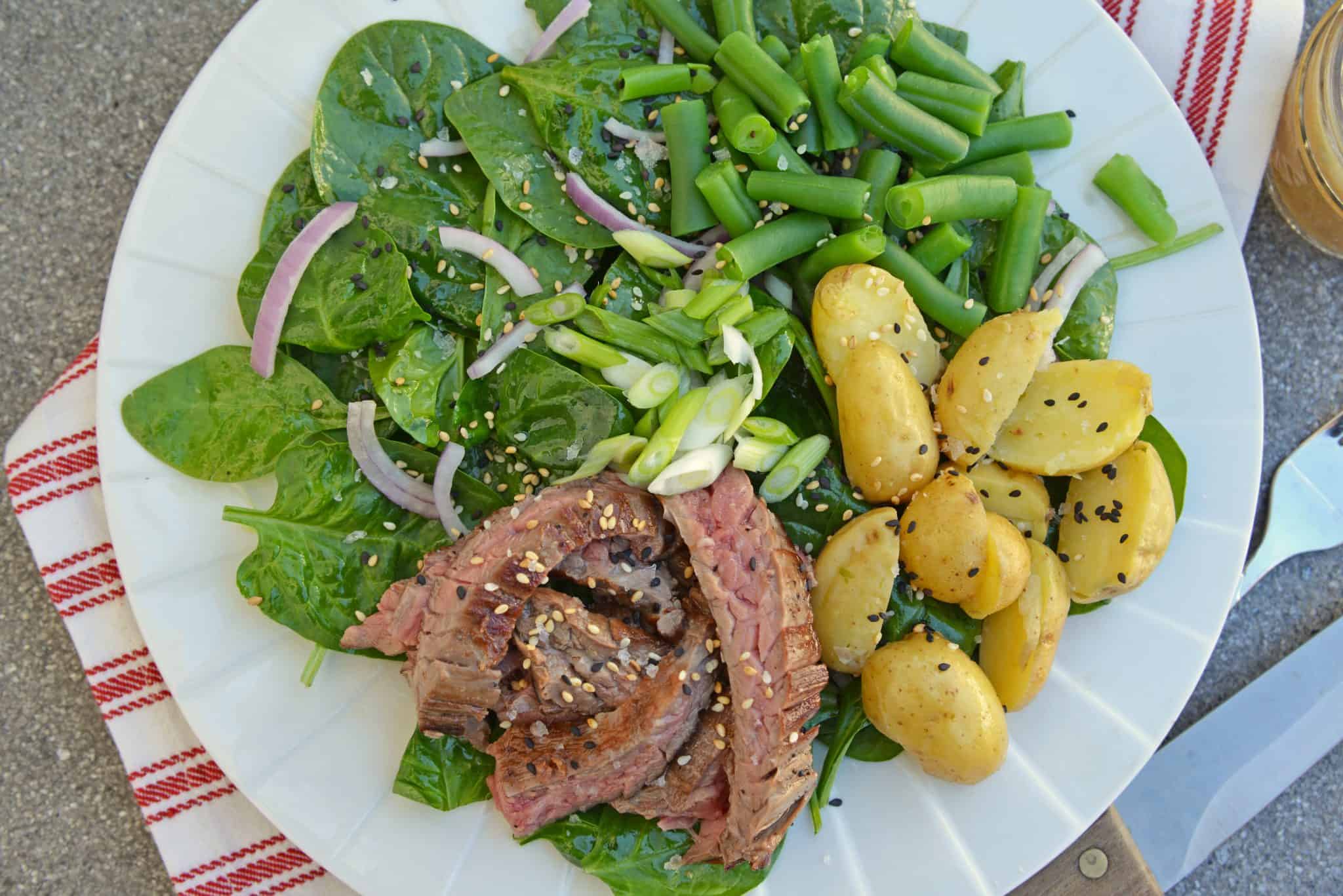 Now we make it into a steak and potato salad, Japanese style with my skirt steak salad. Spinach adds texture and leafy greens, warm green beans do the same and the potatoes had a silky starch that brings it all together.
Miso Ginger dressing drizzled over the top along with a little Maldon sea salt
and voila: the perfect Skirt Steak Salad!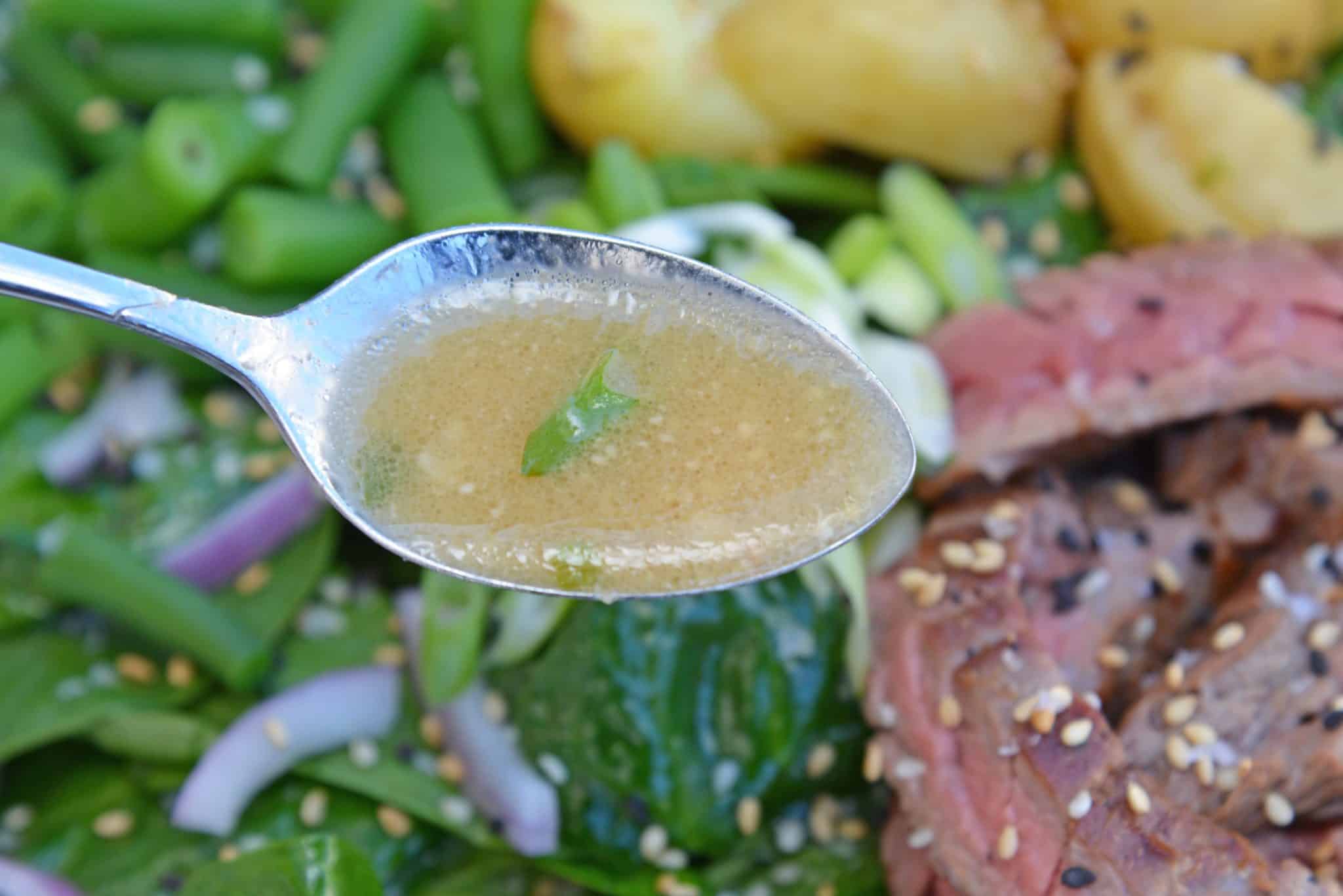 The best way to cook skirt steak is in a well seasoned cast iron skillet
, but you can throw it on the grill fast too.
Maldon sea salt
really takes this dish from excellent to stellar, one of my favorite accents and one I think every home cook should have. Make sure to read my tips on how to make salads more interesting
Green Curry Steak Salad
Green Curry Steak Salad uses a seared steak with a sweet and mildly spicy green curry sauce over Romaine lettuce and charred bell pepper and carrots. The perfect summer salad recipe!
See The Recipe!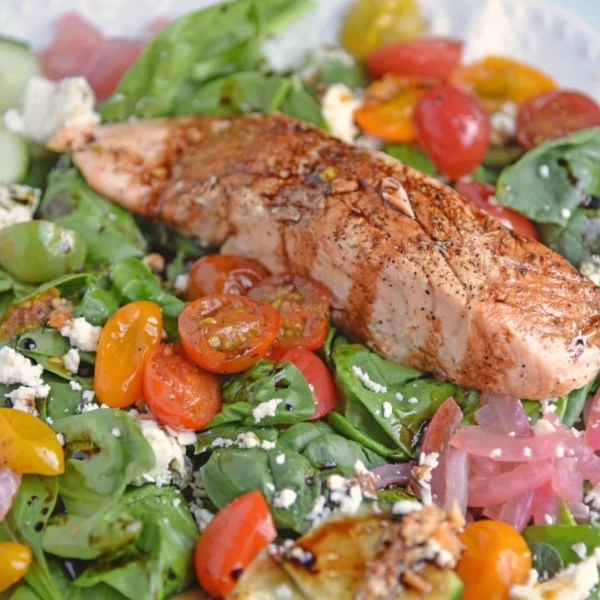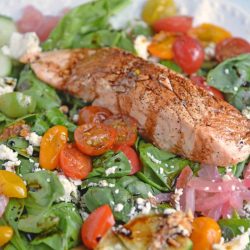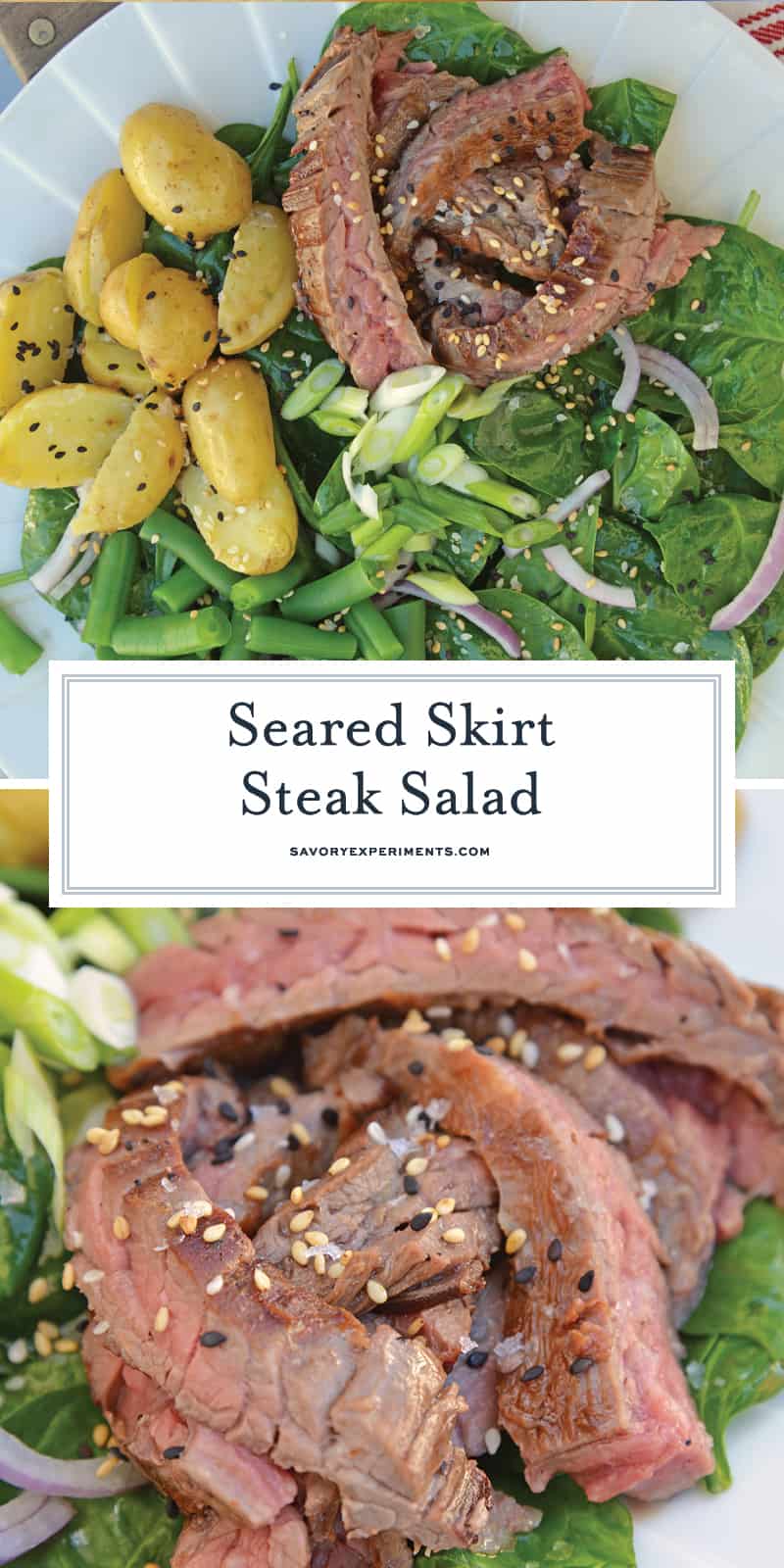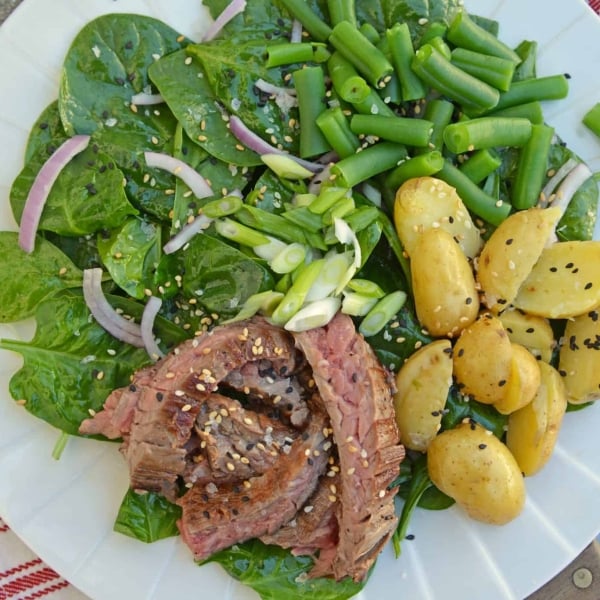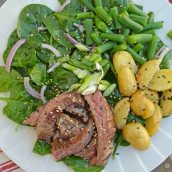 Hanger Steak Salad Recipe
Hanger Steak Salad is an easy and healthy dinner solution using only 6 ingredients and a simple homemade miso ginger dressing.
Instructions
Remove steak from the refrigerator. Trim excess fat and season both sides with fine sea salt and freshly ground pepper. Set aside at room temperature.

Pierce each potato 4-5 times with a fork. Potatoes will explode if you do not have a vent for the steam. Place in a microwave safe bowl with 1/2 cup water. Cover with plastic wrap and cook on high for 5-6 minutes or until potatoes are fork tender. Drain water, set aside.

Place frozen green beans in a microwave safe dish with 1/2 cup of water and cook on high for 2 minutes. Stir and cook for an additional 2 minutes or until warm and tender. Drain water, set aside.

Heat vegetable oil in a cast iron skillet or other frying pan over medium-high heat. Sear steak on both sides for 1-2 minute each. This is such a thin cut of meat that it takes nearly no time at all to achieve a nice medium-rare.

Remove to a cutting board. Allow to rest for 3-4 minutes. Slice against the grain into 1/2 inch strips.

Lay down a bed of spinach on serving dish. Divide greens beans, potatoes and steak evenly to both salads. Top with dressing, scallions and black sesame seeds. Enjoy!

If you've tried this recipe, come back and let us know how you liked it!
Nutrition
Calories:
268
kcal
,
Carbohydrates:
12
g
,
Protein:
27
g
,
Fat:
13
g
,
Saturated Fat:
6
g
,
Cholesterol:
71
mg
,
Sodium:
103
mg
,
Potassium:
769
mg
,
Fiber:
2
g
,
Vitamin A:
2895
IU
,
Vitamin C:
21.2
mg
,
Calcium:
69
mg
,
Iron:
3.7
mg