Have you heard of the Dirty Shirley cocktail yet? It's the hottest new drink of the summer.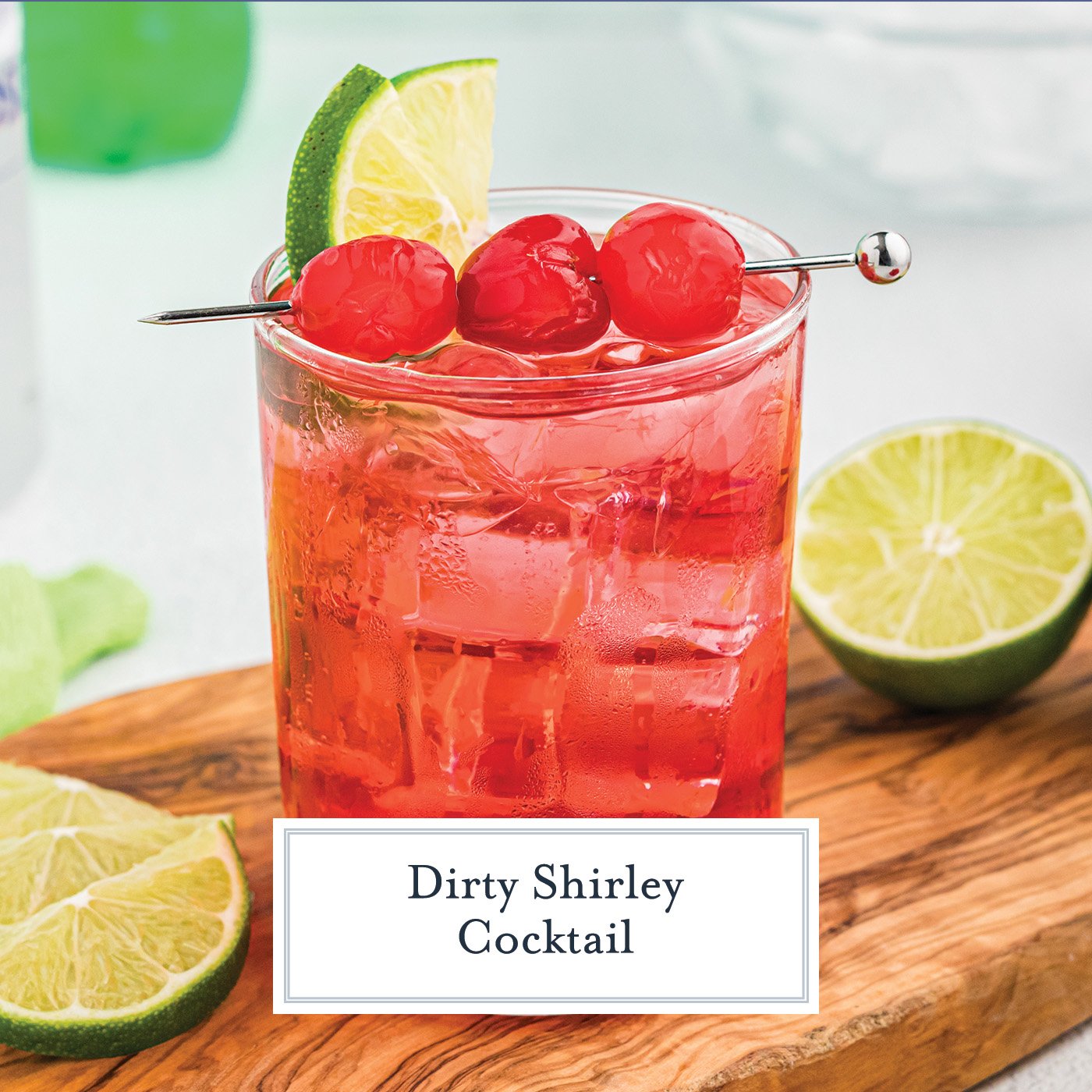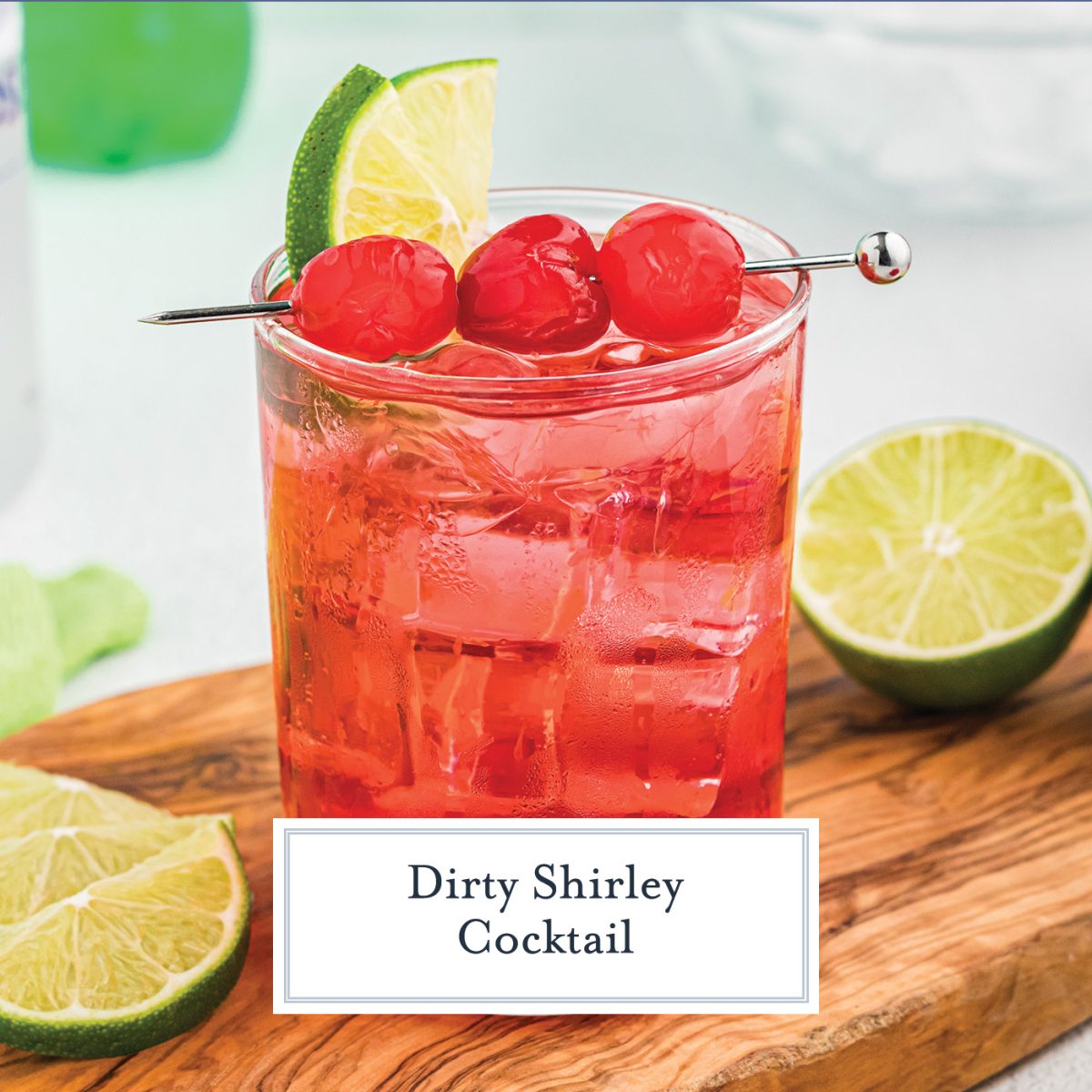 Surely (no pun intended) you remember the classic shirley temple. It's a non-alcoholic drink named after the child star herself, Shirley Temple. It's a classic mix of grenadine and Sprite. We are taking that classic mocktail up a notch with this Dirty Shirley.
It's all the rage! A simple cocktail derived from an innocent childhood drink, it's simple to make, festively bright and can easily be transferred into a mocktail for the kiddos and those not imbibing. Great for a special occasion but also perfect for any normal summer day.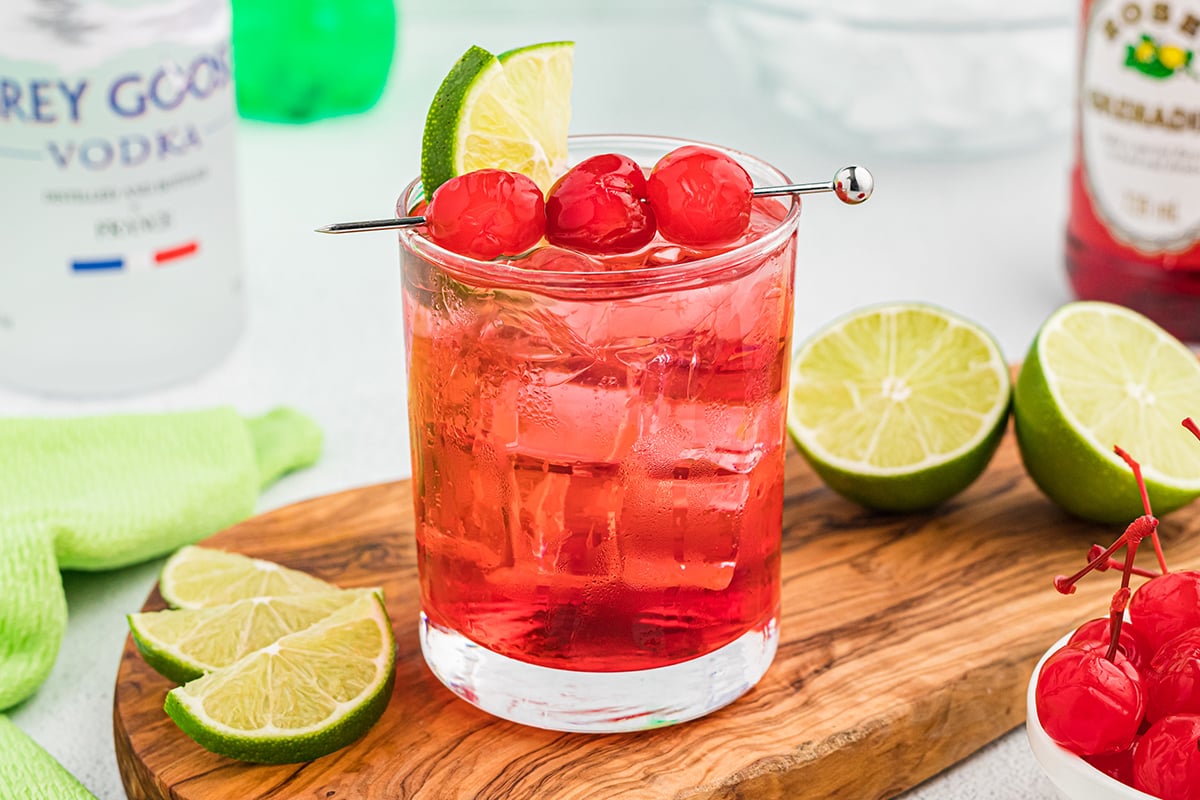 What is Dirty Shirley?
A dirty Shirley is a Shirley temple cocktail made with lemon-lime soda (sprite), grenadine syrup, vodka and maraschino cherries, my favorite part of the easy cocktail.
I'm sure folks have been spiking these favorite drinks for years, but after a few notable outlets like The New York Times, Popsugar, Buzzfeed and People published an article, it's all anyone can talk about.
I was literally writing this post at the pool and overhead another group ordering it at the tiki bar and a separate group discussing it poolside as this years trendy cocktail.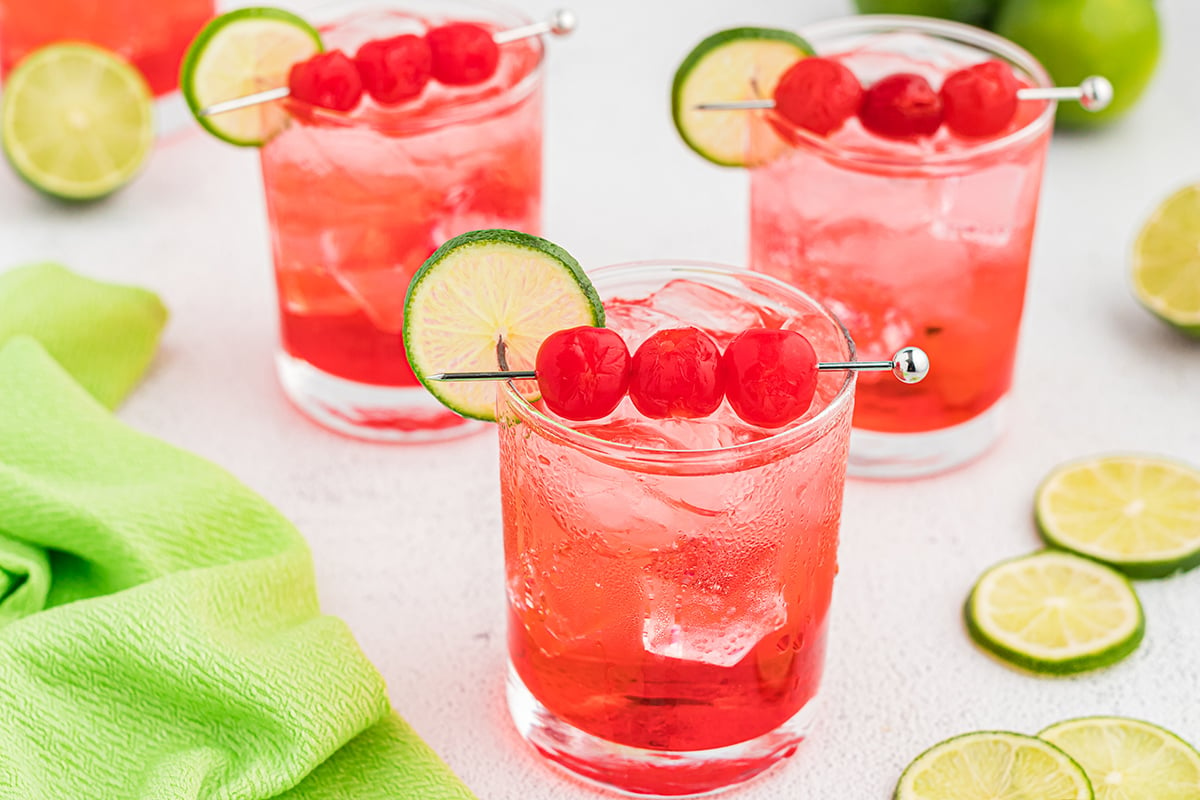 Dirty Shirley Ingredients
The list is made up of simple ingredients, but also has a lengthy list of variations to make your own custom dirty Shirley Temple cocktail.
Lemon Lime Soda– the most traditional you can also use any flavor of sparkling water. Cherry will provide a sweeter flavor or you can opt for all lemon or all lime. You could even use ginger ale if you'd like. All the options are equally refreshing.
Grenadine– This tropically hued, magenta syrup is alcohol free and flavored with cherry. In a pinch, just use the juice from the maraschino cherry jar.
Vodka– the most essential ingredient to transform this into a cocktail, flavored vodka is also an option to elevate the citrus or tropical flavors.
Garnishes– As a kid, I ordered extra cherries. Fruit is healthy, right? As an adult I like to thinly slice lemons or limes in addition to cherries. These sleek metal cocktail toothpicks add a flair of sophistication.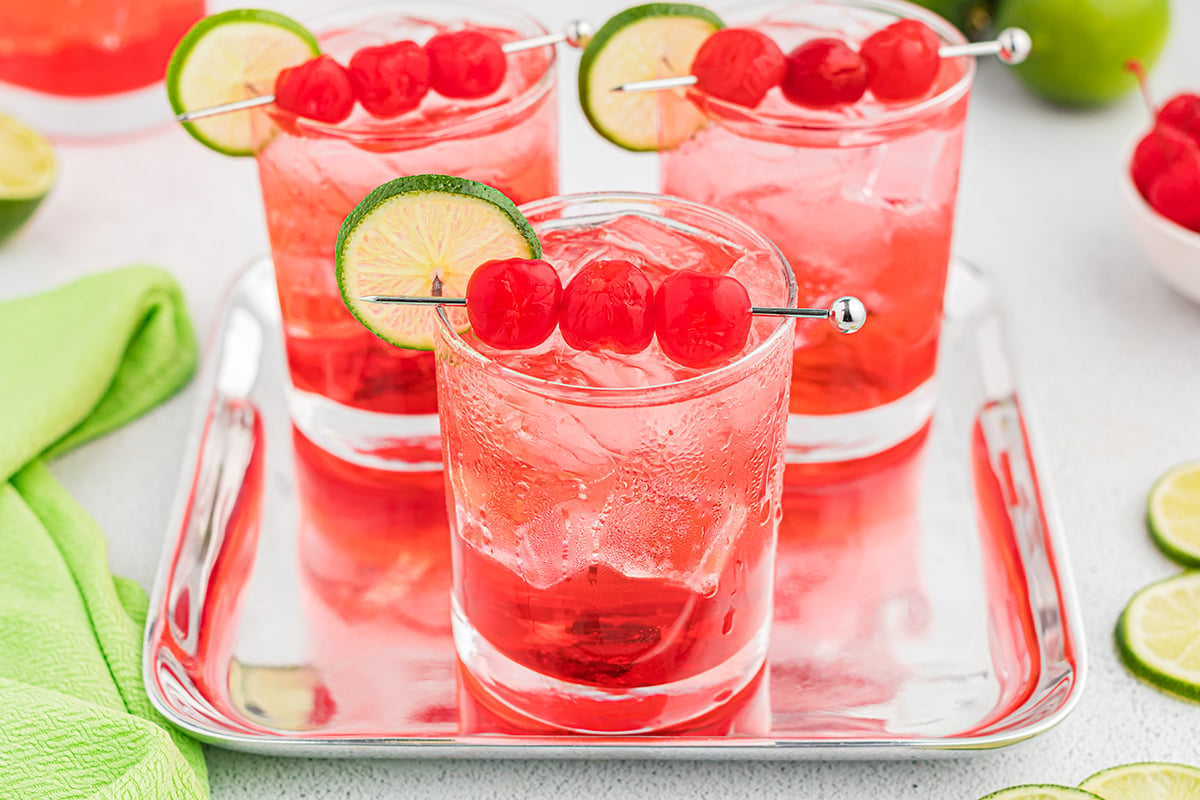 How to Make a Dirty Shirley Recipe
It's so simple that we really don't even need to write out the steps.
Simply grab your favorite highball glass (a skinny tall glass works well too,) and fill it with ice cubes. Next you will pour in a splash of grenadine, add a shot of vodka, then top with lemon lime soda.
Garnish your adult beverage with cherries, lime wedges or your favorite fruit and make cheerful memories while sipping on this shirley temple drink.

Variations
Fruit juice– Just a splash of other fruit juice takes the dirty Shirley temple to new levels. Orange juice, lime juice, cranberry juice or pineapple juice are my personal favorites.
Garnishes– fresh mint or basil add an herby essence.
Triple Sec– For an added kick and additional fruity flavor, add a splash of triple sec to this Dirty shirley drink recipe.
Vodka– Of course you can stick with plain vodka, but the mixture of grenadine and new dark cherry vodka would also be a tantalizing combo. Or perhaps a citrus flavor?
Soda- If you'd like to make this less of a sweet drink, you can sub out the lemon lime soda for club soda instead. Any type of soda you use to make this fizzy drink is great.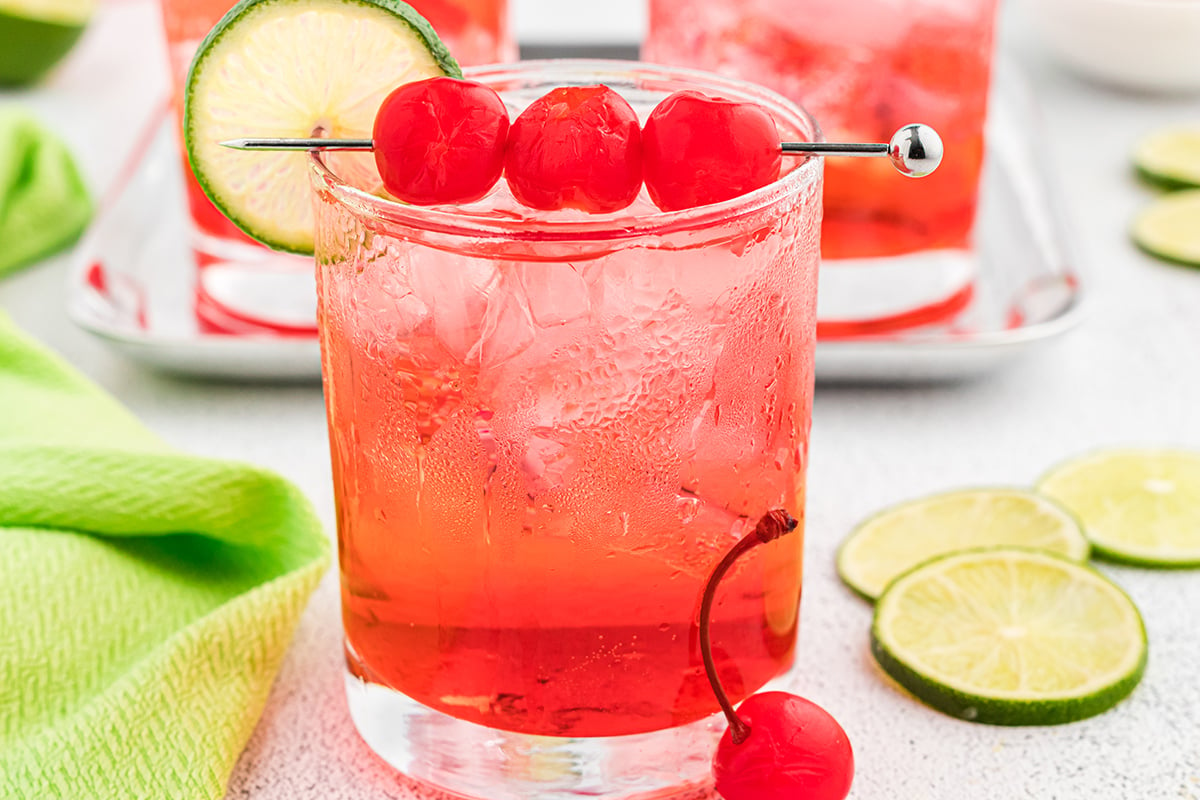 Making a Big Batch
Making a large batch of any cocktail is a great way to keep things simple for a backyard barbecue or party. Unlike fancy cocktails like espresso martinis, these dirty shirley cocktails can be made in large quantities and served out of a punch bowl.
Because the ingredients are so simple, it's the perfect drink to make ahead of time. Simply multiply the recipe by the number of guests (allowing enough for each guest to have a few) and add all the ingredients to your serving container.
I would recommend keeping the ice on the side and letting people add their own. This way the drink won't get watered down. To keep the adult version of this drink from going flat, you might also want to allow each person to add their own sprite as well.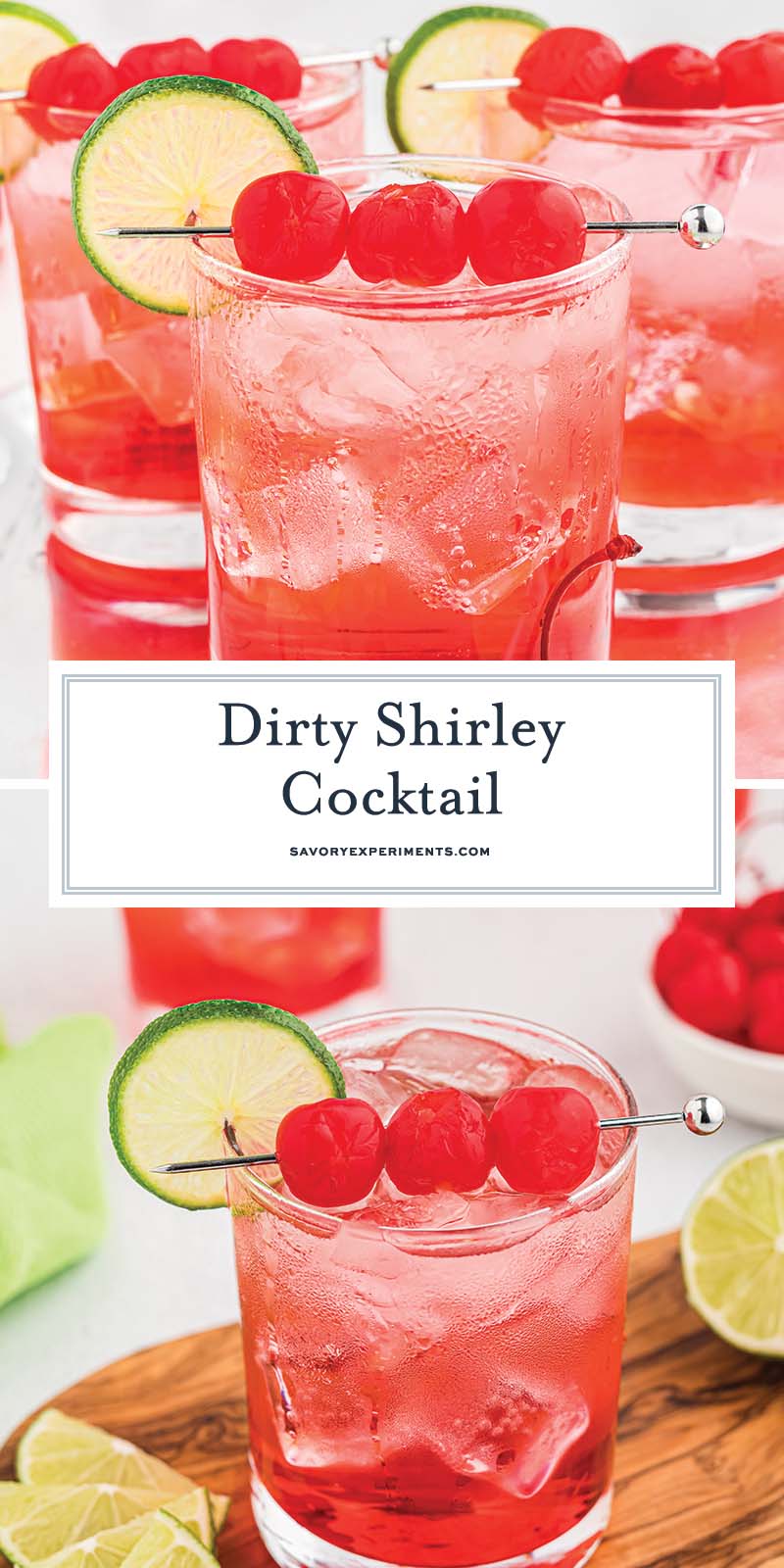 More Easy Cocktails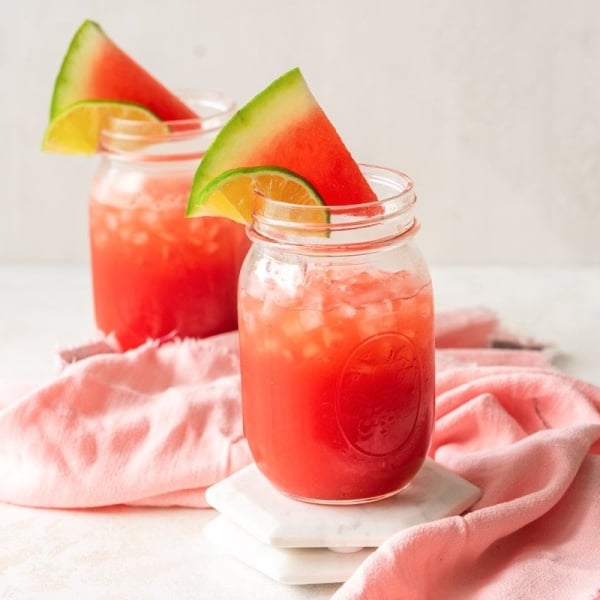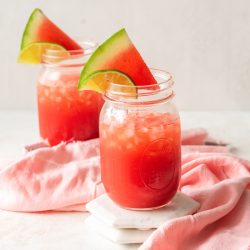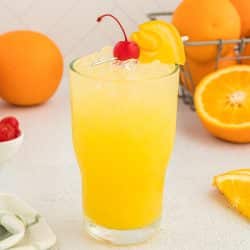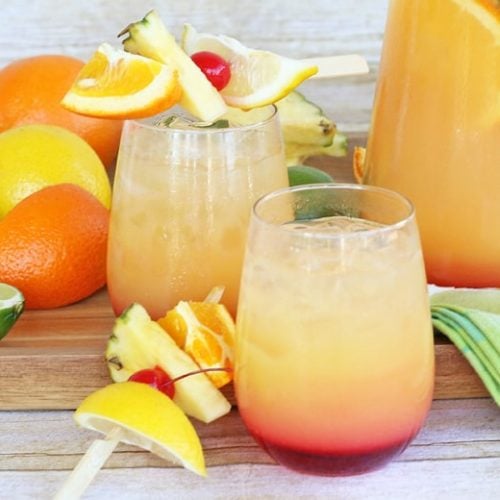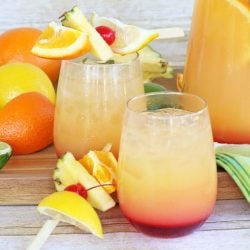 Tropical Rum Punch
If you've ever wondered how to make rum punch, look no further than this fruity Rum Punch recipe! The perfect cocktail for any occasion!
See The Recipe!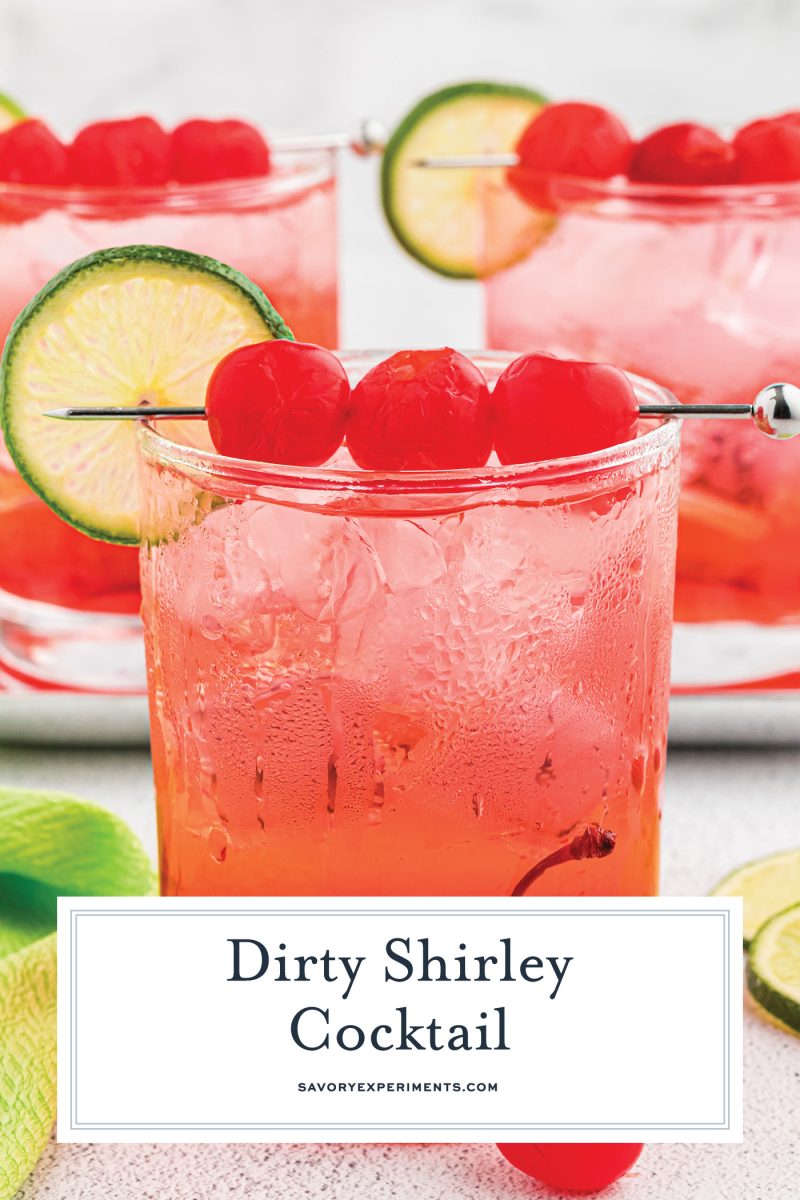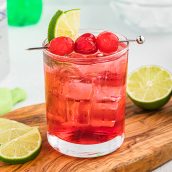 Dirty Shirley
The hottest new drink of summer, this Dirty Shirley cocktail transforms a classic shirley temple into the ultimate refreshing adult drink!
Instructions
Pour ingredients over ice.

Stir and garnish with fruit.

If you've tried this recipe, come back and let us know how it was!
Nutrition
Calories:
267
kcal
,
Carbohydrates:
43
g
,
Protein:
1
g
,
Sodium:
31
mg
,
Potassium:
11
mg
,
Sugar:
36
g
,
Calcium:
6
mg
,
Iron:
1
mg