Summer time for me means sipping chilled wine on the patio and munching on vibrant trays of foods with family and friends. Trays of crostini are fun to make and can offer a wide variety of flavors.
One of my favorite, and usually most unexpected, is Lemon Pea Mash Crostini.

Lemon Pea Mash uses vibrant green peas with garlic and lemon to make a crunchy crostini that varies in taste and texture.
Just look at the color, I know you want one! I can tell you exactly what will happen when you put Lemon Pea Mash Crostini on a platter. Everyone will avoid them. Or think they are just another platter of avocado toast.
I have nothing against avocado toast… in fact I love it!
Why? Cause no one knows what they are! But one brave soul (maybe even you to get the pea mash rush started) will take a bite, tell everyone else how fabulous they are and then you won't be able to keep the serving platter stocked.
PRO TIP: Make your own crostini to make sure they are fresh and not stale. Brush the bread with infused olive oil or garlic butter before toasting.
Mashed peas aren't really a thing here in the states, but in the UK mashed peas, especially with fresh mint, are a common side dish. I didn't use mint in mine but opted for a sweet and slightly spicy with the acidity of lemon instead. They are generally called mushy peas!
PRO TIP: Use a good quality olive oil for drizzling, it will make quite an impact for this recipe. See notes below on how to find a good olive oil!
The mashed pea element can be made days ahead of time. Then slather onto your crostini right before serving and you'll be ready to go! Plus, it is an easy way to get more veggies into your diet.
Serve chilled or room temperture, you can't really hurt them. I like to serve mine with a crisp, white wine. Make on large toast or small crostini based on your needs.

Make a beautiful crostini platter and pair them with: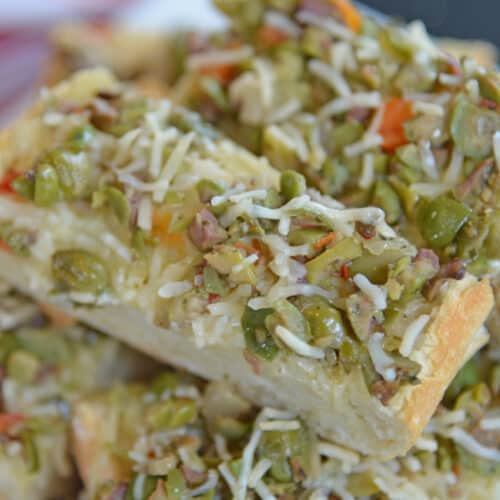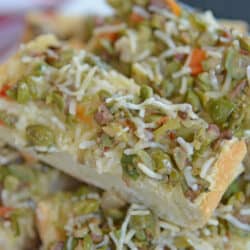 Olive Cheese Bread
Don't have time to make homemade olive bread? Check out my hack for making this easy Olive Cheese Bread recipe. It takes no more than 15 minutes from start to finish!
See The Recipe!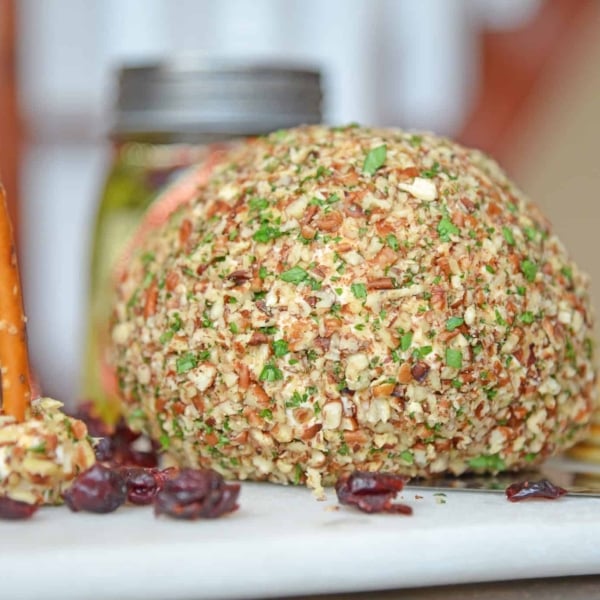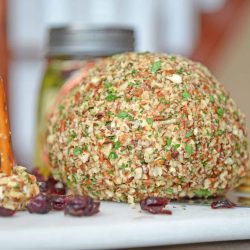 Party Cheese Ball
This cheese ball with cream cheese is a classic Party Cheese Ball recipe, made with simple ingredients. A must-make for any and all parties!
See The Recipe!
Tools for making Lemon Pea Mash Crostini:
Good Extra Virgin Olive Oil– A good olive oil will taste like, well, olives, while a poorly made one will taste like vegetable oil. Gross. While people tend to favor Italian and Greek olive oils, I prefer to buy mine domestically.
They are some great ones out there from all over the world, but the reporting of ingredients isn't always the same and you could find that your super expensive olive oil was actually cut with vegetable oil.
Heavy Bottom Sauce Pan– this will be one of your most used kitchen tools. Having something that is heavy bottom will distribute heat better and prevent burning whether you are using an electric or gas range.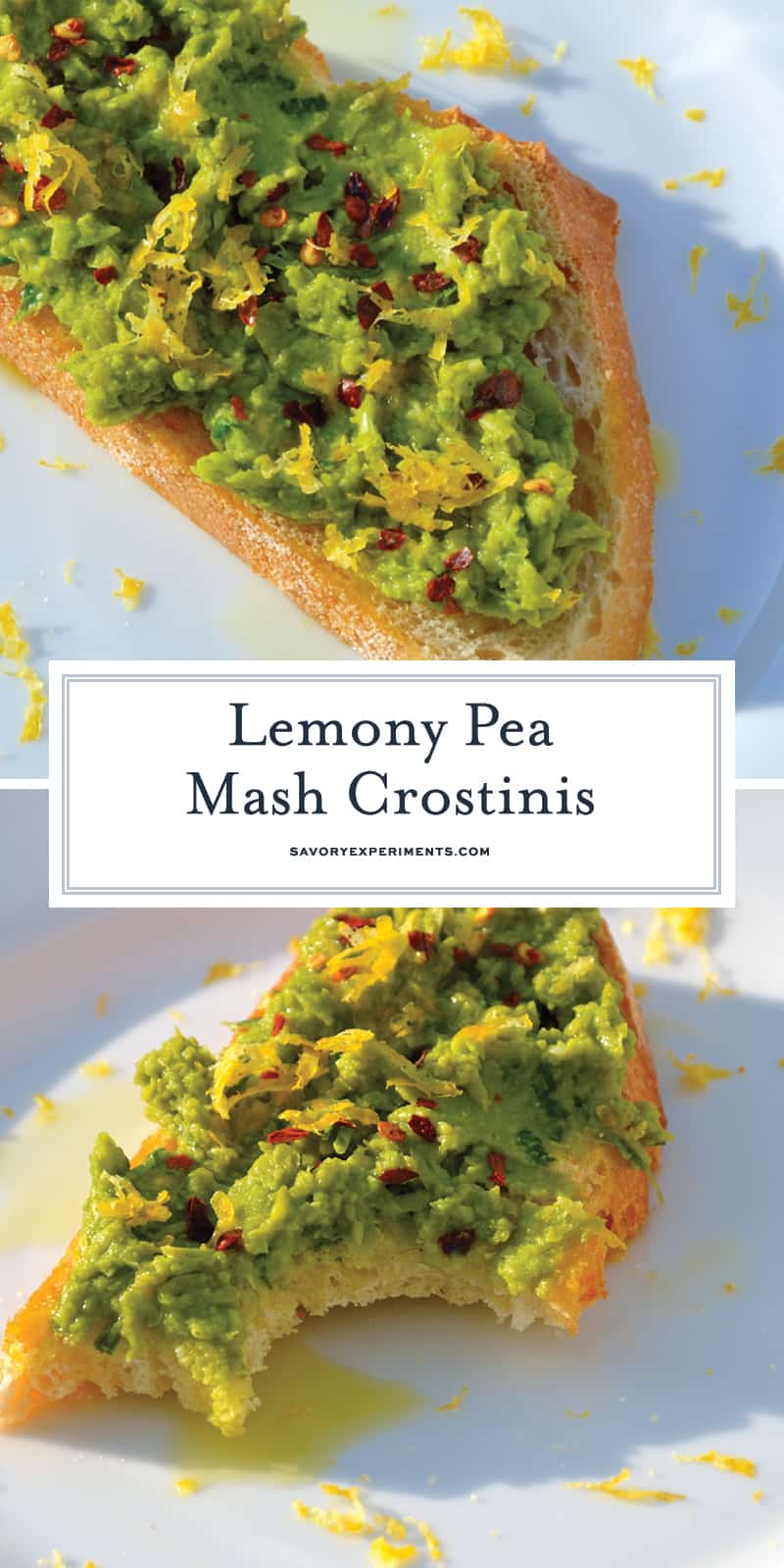 Questions you might have about how to make Lemon Pea Mash Crostini:
Can I use fresh peas or canned peas? Fresh peas, yes, but they might need a little more cook time. You can use canned peas, but it will require less cook time and will likely not be a beautiful vibrant green hue. Canned peas are a usually a muddy green.
Can I make the pea mash in advance? Yes! Make the pea mash up to 1 day ahead of time. If you decide to make your own crostini, you can make those ahead of time as well. Keep them in an airtight container at room temperature to keep them from getting stale.
Can I freeze the pea mash? You can! Pea mash can be frozen, but will be a little thinner and more watery when thawed. It is best served after the original preparation.
Is lemon pea mash gluten free? The mushy peas themselves are gluten free, however the bread is not. You can use a gluten free bread or you can serve the lemon pea mash as a dip with veggies on the side for dipping. Cucumbers, celery and carrots are all good choices.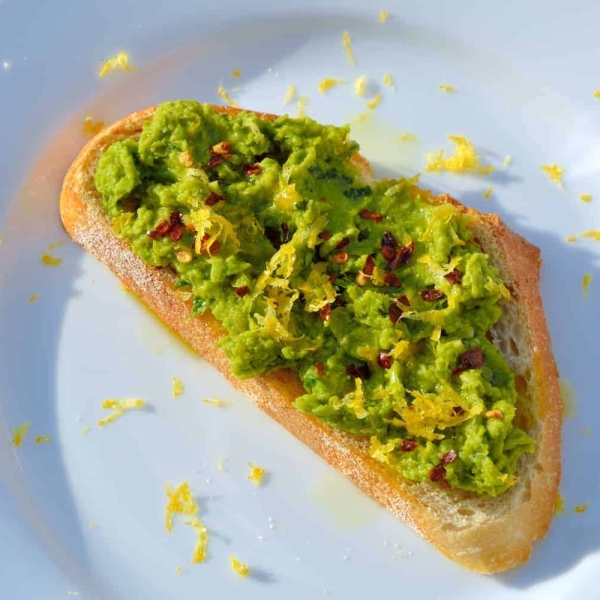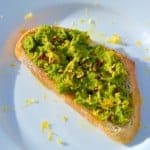 Lemony Pea Mash Crostini
Lemony Pea Mash uses vibrant green peas with garlic and lemon to make a crunchy crostini that varies in taste and texture.
Instructions
Combine peas, garlic, parsley, 1 tablespoon virgin olive oil, salt and water to a medium sauce pan. Bring to a simmer, stirring for 5-7 minutes or until parsley is wilted and garlic is starting to soften.

Strain, reserving liquid, and add solids to a food processor. Add zest of one lemon, lemon juice and remaining two tablespoons virgin olive oil to mixture and puree. Mixture will be a paste, add reserved liquid until it is a spreadable consistency.

Remove and refrigerate until ready to serve.

When ready to serve, spread generously on a crostinis. Sprinkle with crushed red pepper and remaining lemon zest. If desired, drizzle with additional virgin olive oil.

If you've tried this recipe, come back and let us know how it was!
Notes
Adapted from Bon Appetite.
Nutrition
Calories:
96
kcal
,
Carbohydrates:
14
g
,
Protein:
2
g
,
Fat:
3
g
,
Sodium:
196
mg
,
Potassium:
72
mg
,
Fiber:
1
g
,
Sugar:
1
g
,
Vitamin A:
230
IU
,
Vitamin C:
6.4
mg
,
Calcium:
32
mg
,
Iron:
1
mg