A Lemon Drop Martini is the perfect balance of sweet and tart. A classic cocktail that can be enjoyed any season. Refreshing with a lemon peel curl on the rim of the glass, it is my ultimate favorite cocktail.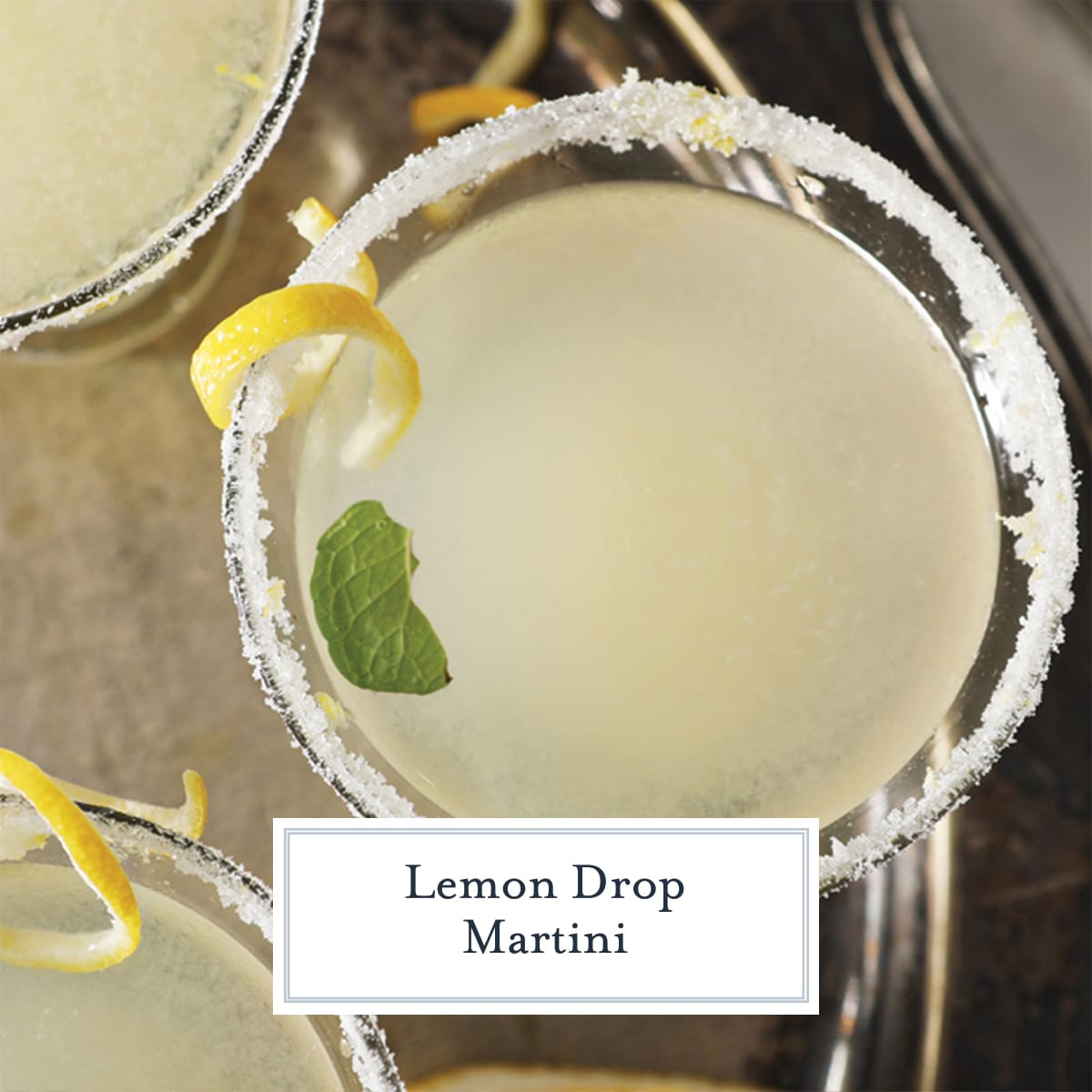 Calling for just four ingredients, these easy to make martinis are easy to sip and include a lemon sugar rim.
Lemon Martinis
I feel like ordering a Lemon Drop Martini at a bar is a rite of passage when you come of age… but it's not necessarily something I'd think of as a drink I wanted to make at home until last year, but now I crave the sweet and sour flavors.
This vodka martini recipe is beautifully balanced. It's smooth—there is no cloying punch from the alcohol in the vodka or the tartness of the lemon juice—and strikes a perfect balance between sweet and tart.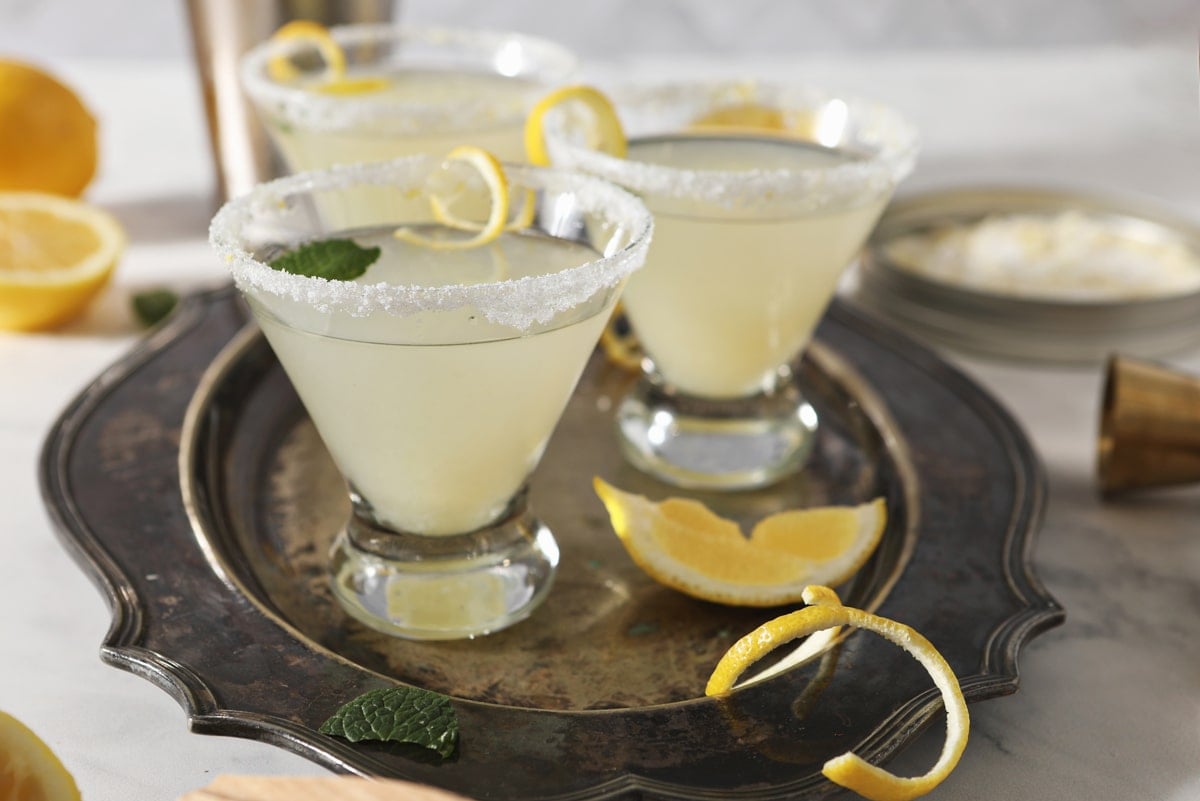 The key to the tastiest Lemon Drop Martini is using freshly squeezed lemon juice and taking the time to make the homemade lemon sugar rim, which makes it feel even fancier.
This cocktail is perfect for an at-home happy hour, girls' night in or any other time you want to pour a celebratory drink!
What's in a Lemon Drop Martini?
Simple ingredients make up this lemon drop martini recipe.
Vodka—high-quality, unflavored vodka is best. However, if you have citron vodka on hand and would like for your martini to be super lemony, give that a shot! A smooth vodka is the goal.
Fresh lemon juice—the shelf-stable stuff from the store simply will not work here. We want that lemony punch, and it's got to come from fresh juice. Alternately, you can purchase cold pressed lemon juice from the refrigerated section of your grocery—it'll be close to the pre-cut fruits and veggies, and this works like a charm if you don't want to squeeze your own. Meyer lemons are the best, but tricky to find. Regular lemons work too.
Simple syrup—you can make this at home or purchase it from the store. I tend to keep a jar of it in my refrigerator at all times for when happy hour rolls around.
Cointreau or triple sec—this orange liqueur adds a hint of smoothness to the lemon martini. Trust me on this because I found this cocktail a little potent without it.
Lemon zest—preferably from that lemon you plan to juice… just be sure to zest it before you squeeze it!
Granulated sugar—because a sugared rim needs sugar! If your store has a superfine sugar (a grain size between regular sugar and powdered sugar) this is the best.
Pro tip: After juicing your lemon(s), use a fine mesh strainer to strain out any pulp or seeds before pouring it into your cocktail shaker.
How to Make a Lemon Drop Martini
First, make the lemon sugar to rim your martini glasses or use other cocktail glasses. Measure out the granulated sugar into a bowl. Zest a lemon with a microplane zester directly into the sugar, and stir with a spoon.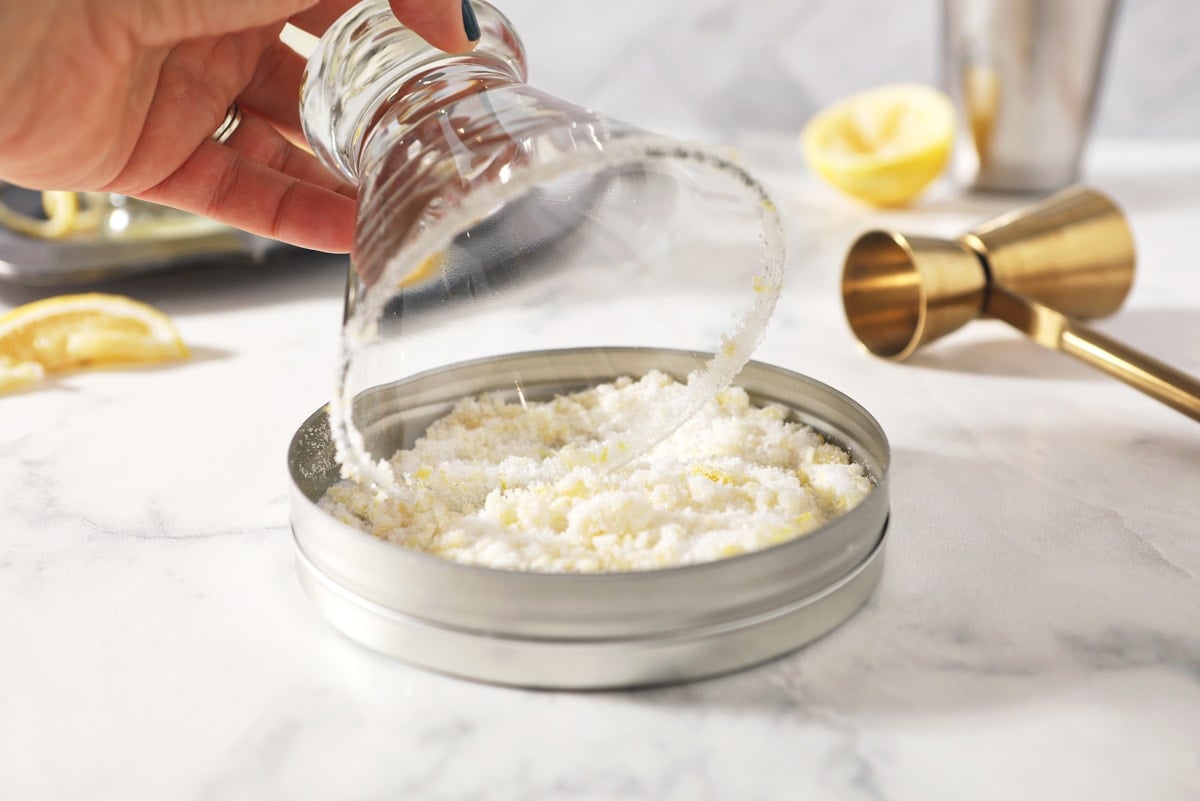 If using immediately, transfer to a small plate or a wide bowl to where a martini glass can be dipped into it. If not, transfer to an airtight container, and store in the fridge.
Pro tip: The lemon sugar keeps in the fridge and can be made 3-4 days in advance. Just be sure to store it in an airtight container in the refrigerator!
To rim your glasses with the lemon sugar, run a lemon wedge around the top of the glass. Don't fret if lemon juice drips down into the glass—this'll just add some more lemon goodness to the final drink. Dip the glasses into the prepared lemon sugar, circling the glass around until sugar sticks to the rim.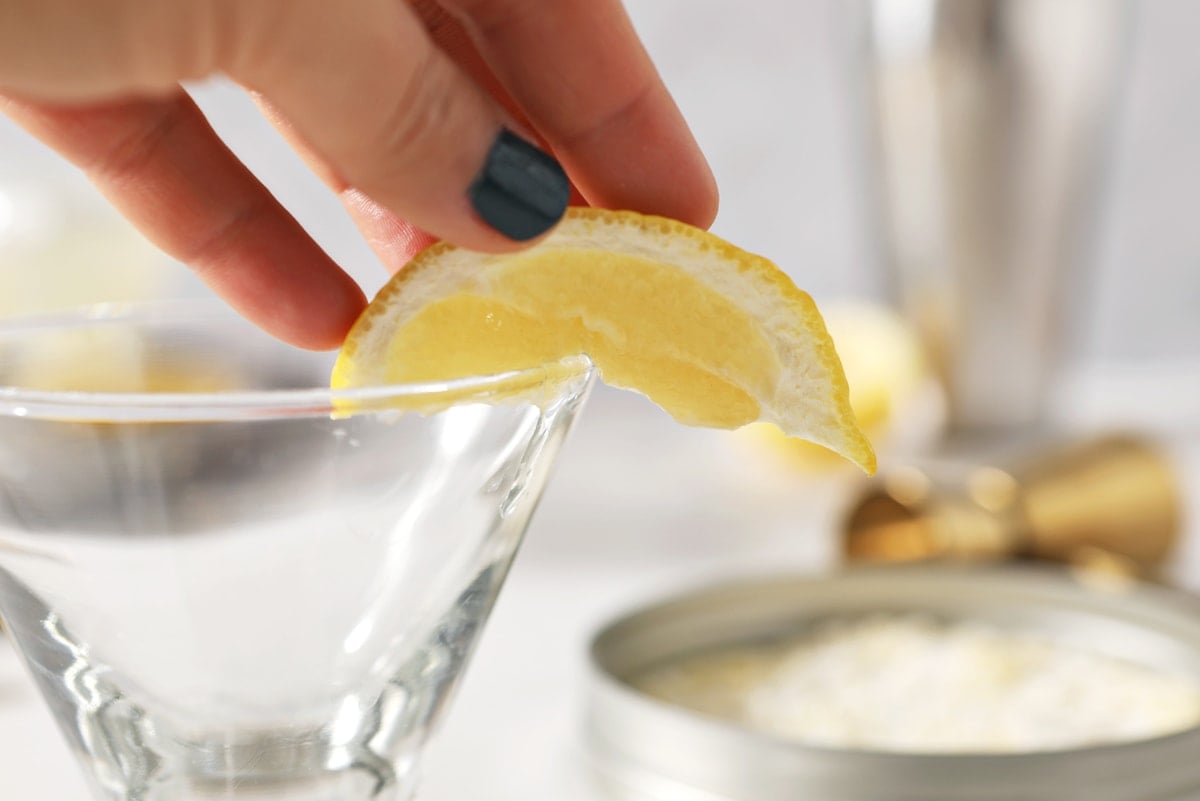 Mix the Lemon Drop Martini. Place ice cubes in your cocktail shaker, then pour in the vodka, freshly squeezed lemon juice, simple syrup and Cointreau (or triple sec.) Shake vigorously until chilled, then strain and pour into the prepared martini glass(es) or cocktail glass.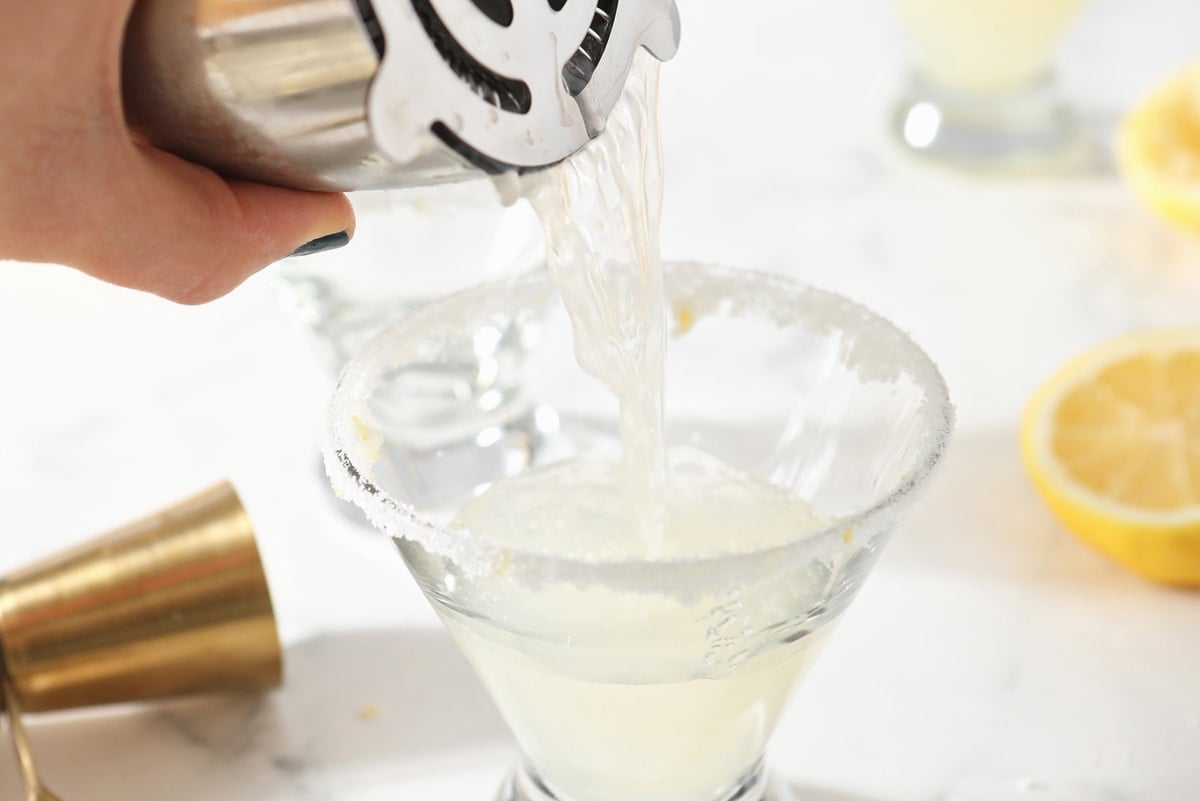 What Alcohol is in a Lemon Martini?
Some lemon martini recipes call for citron vodka. This one, however, calls for unflavored vodka because we're adding a lot of freshly squeezed lemon juice. Also, citron vodka isn't something we keep in our house, and I'd bet you don't, either.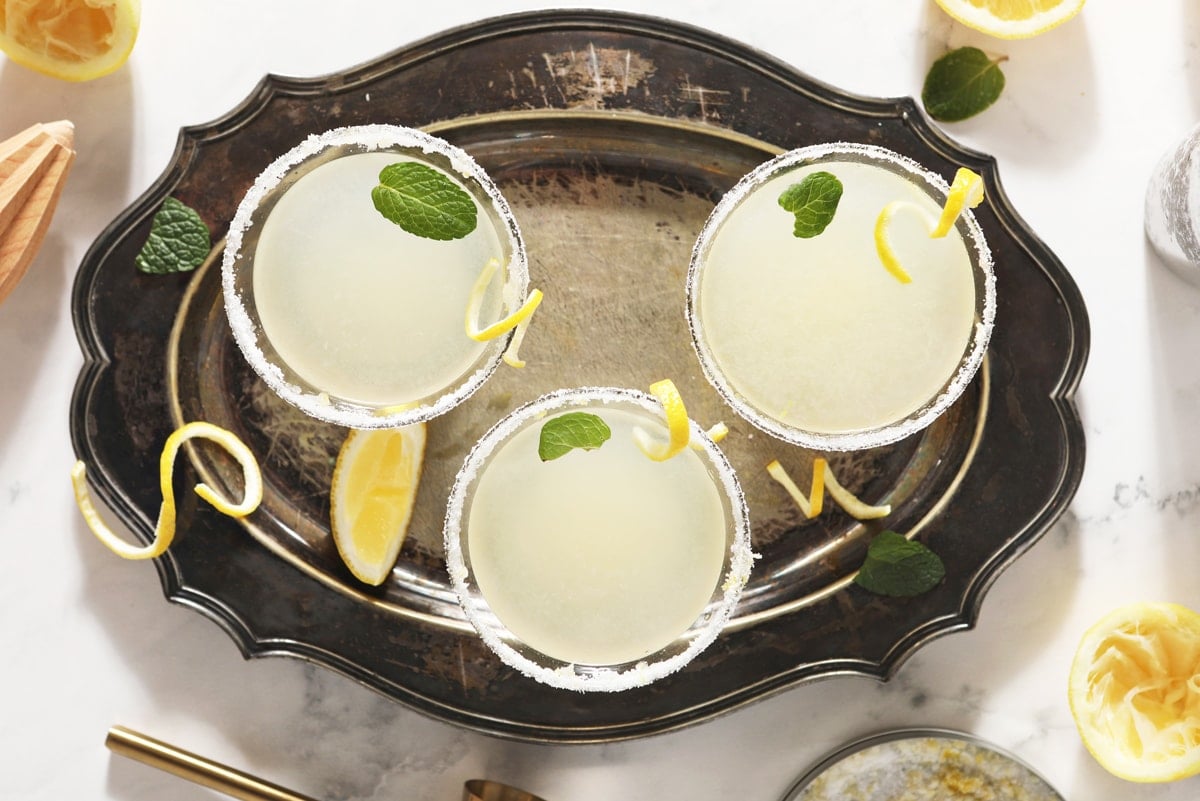 If you want your best lemon drop martini to be even more lemon-y, feel free to add the lemon vodka, but it's certainly not a requirement. I've also seen folks add lemon drop candy as a sugary floater for fun. Past that is is cointreau or triple sec and simple syrup, more on those below.
Vodka
Fresh Lemon Juice
Cointreau/Triple Sec
Simple Syrup
Cointreau vs Triple Sec?
Chances are you have heard of at least one, if not both of these before. They're both orange liqueurs, but Cointreau has a higher ABV, meaning it has more alcohol than a traditional triple sec.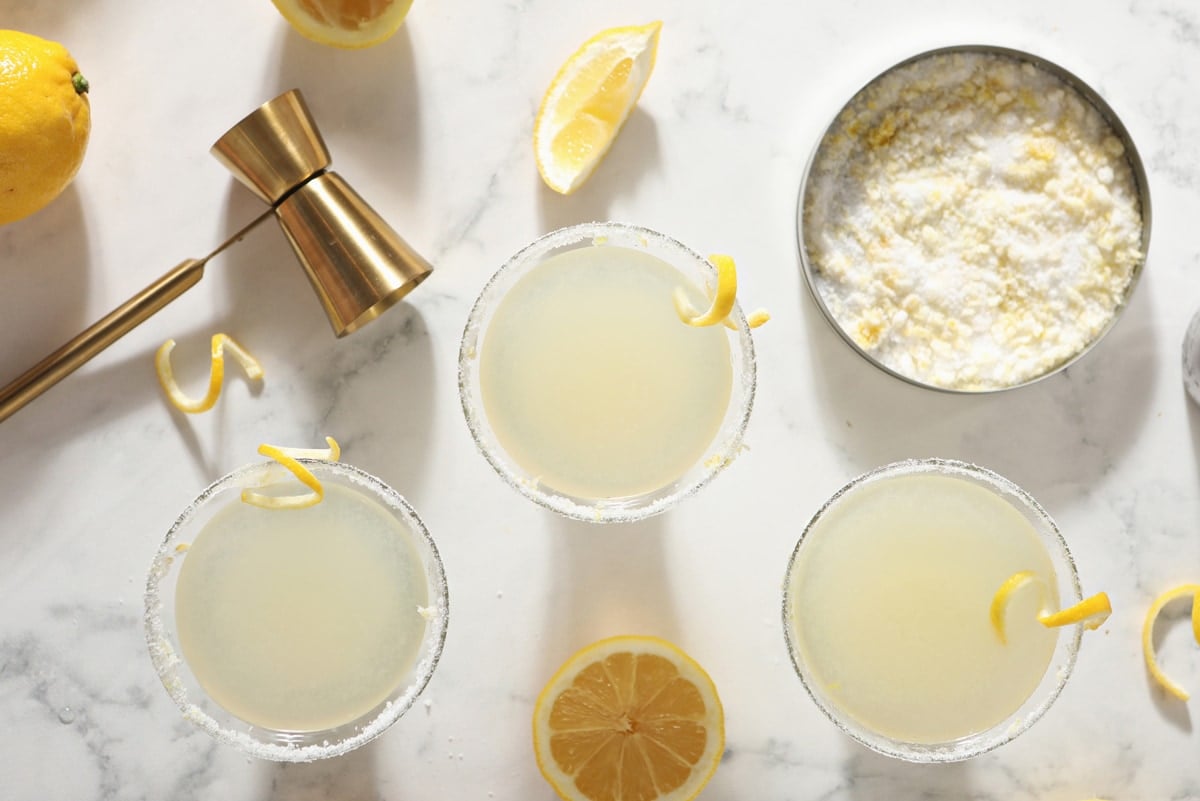 Both work in this Lemon Drop Martini recipe, but I'm partial to Cointreau. If you don't have it, feel free to use triple sec!
How to Make Simple Syrup
You can buy simple syrup or make your own. The ratio of a basic syrup is equal parts of water to sugar, or you can make what is called a rich simple syrup that is 1 part water to 2 parts sugar.
In a small saucepan, heat the water over medium heat.
Add the sugar, stirring to combine. Once the sugar is dissolved, remove from the heat.
Allow the syrup to cool.
Store it in a glass container in the refrigerator for two to three weeks or at room temperature for 1 week. The mixture will be quite thick if chilled, but will thin as it comes to room temperature.
How to Make a Lemon Twist
Lemon twists are always a fun garnish to serve with cocktails- especially one that's lemon flavored! They may look fancy, but they are actually really simple to make!
Cut a round of lemon, and slice through one side of the peel. Using your knife or your hands, gently pull the lemon flesh and pith away from the peel. If necessary, trim any additional white pith from the peel. Twist the peel, using a finger or a straw as a guide. It should hold its shape.
And of course, if you are just too thirty and want to enjoy your delicious drink, cut a lemon wheel or lemon slice instead.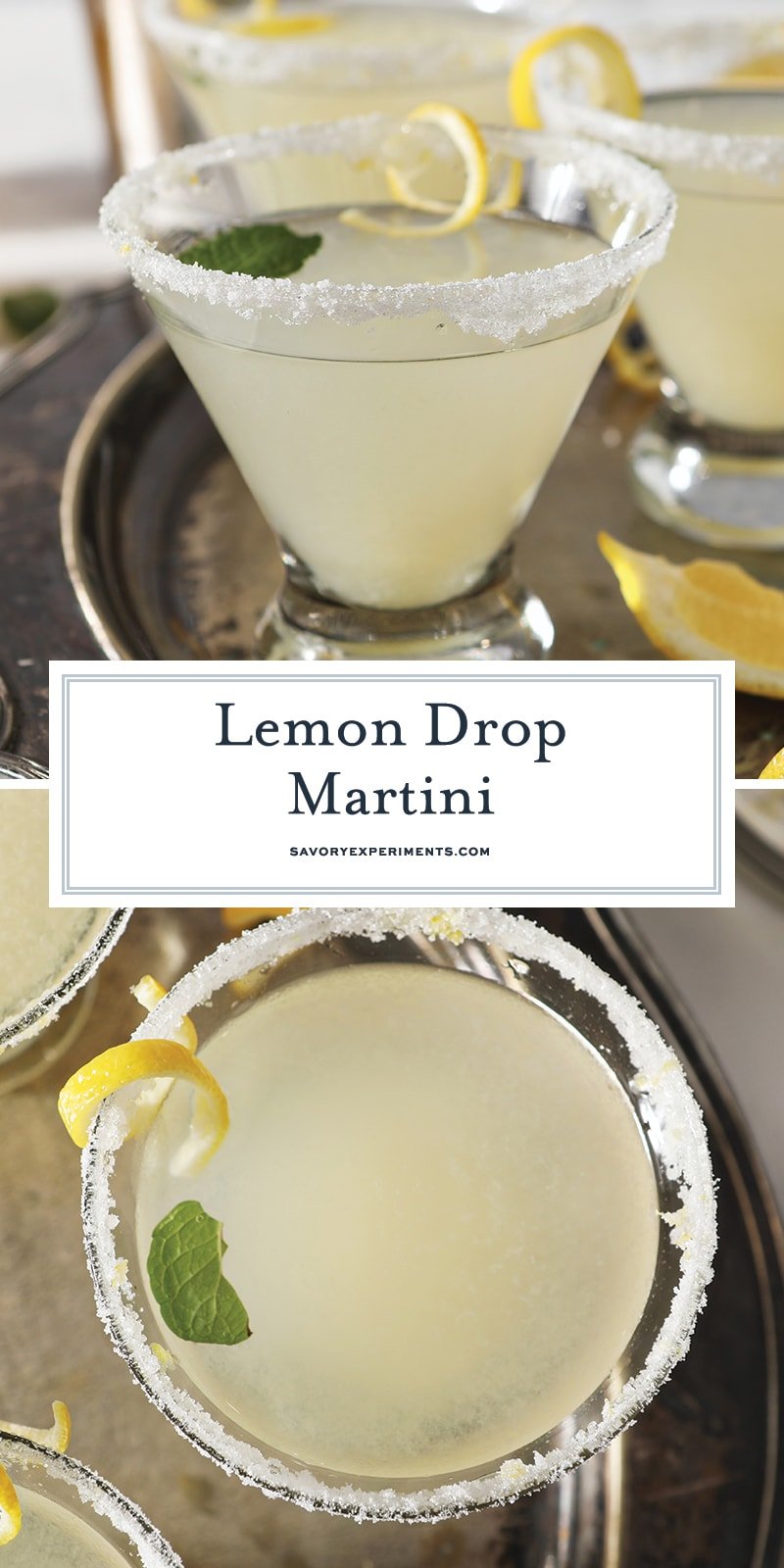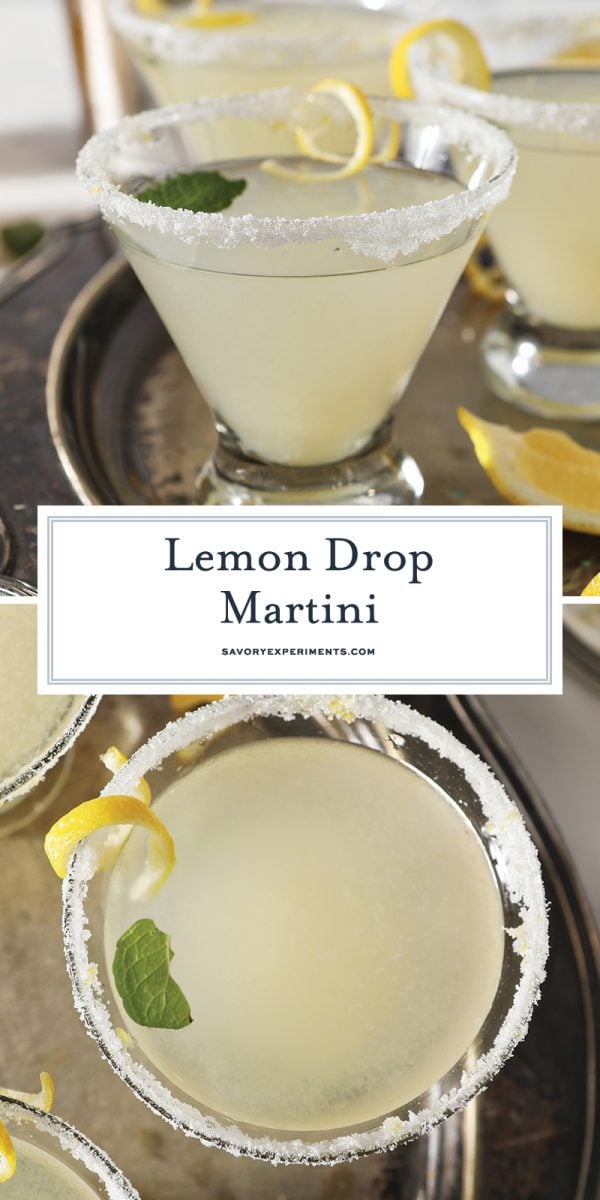 More Cocktail Recipes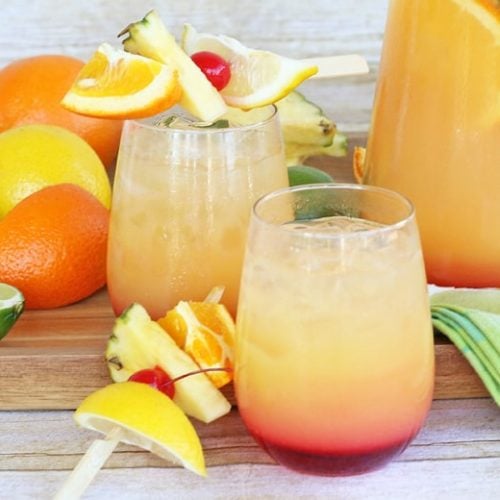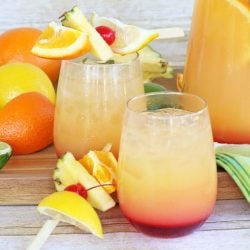 Tropical Rum Punch
If you've ever wondered how to make rum punch, look no further than this fruity Rum Punch recipe! The perfect cocktail for any occasion!
See The Recipe!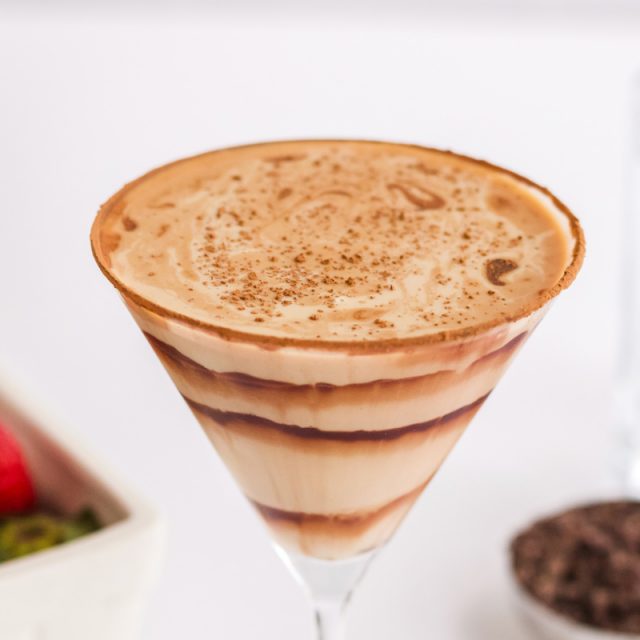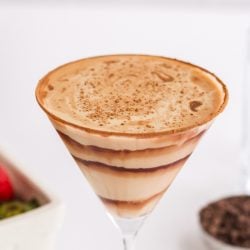 Chocolate Martini
This EASY Chocolate Martini recipe is the perfect after dinner drink! It's creamy, indulgent and only requires 5 ingredients to make!
See The Recipe!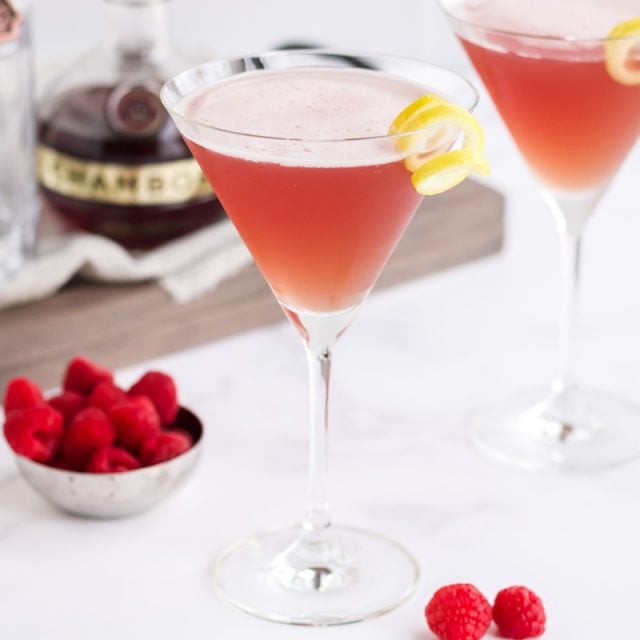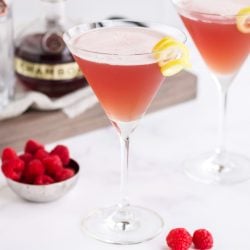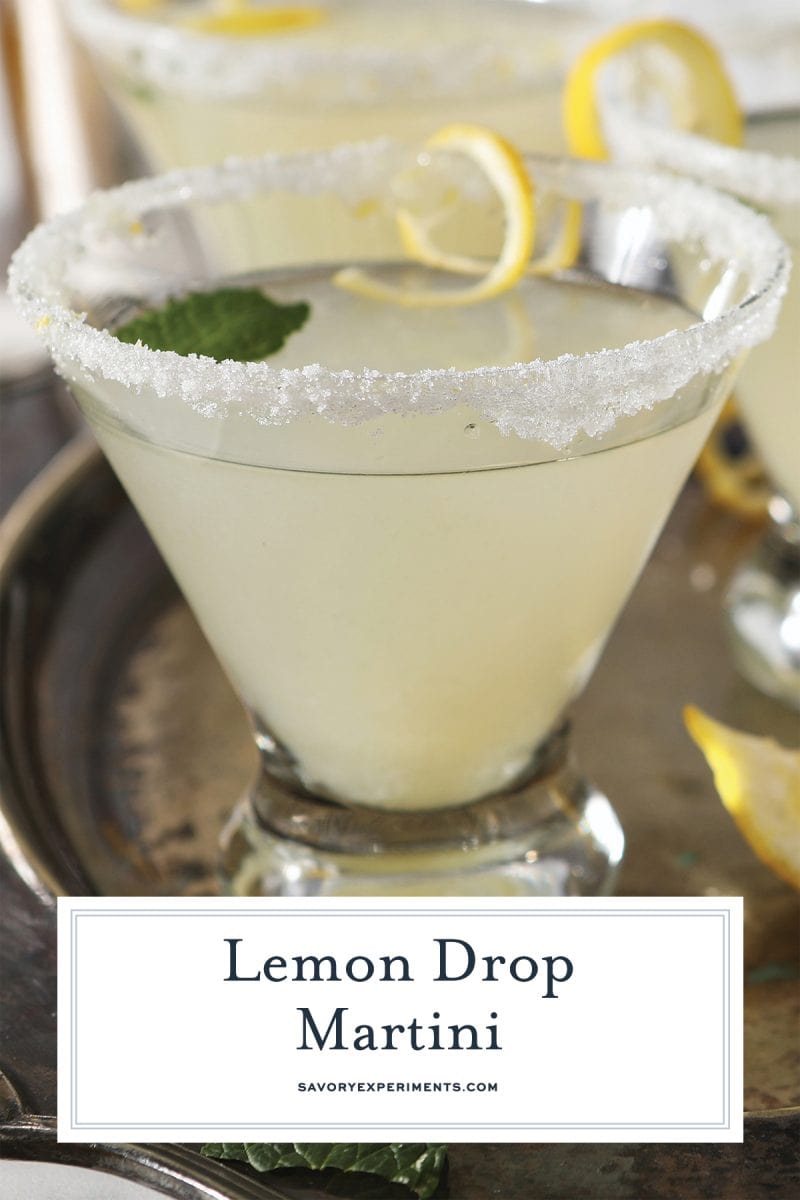 More Favorites from Savory Experiments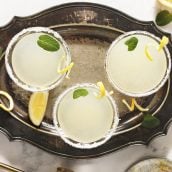 Lemon Drop Martini Recipe
A Lemon Drop Martini is the perfect balance of sweet and tart. Calling for just four ingredients, these easy to make martinis are easy to sip and include a lemon sugar rim.
Ingredients
Lemon Sugar
¼

cup

granulated sugar

Zest from 1 small lemon (about 1 teaspoon)
Lemon Drop Martini
2

ounces

vodka

1 ½

ounces

lemon juice

, freshly squeezed

¾

ounces

simple syrup

¾

ounces

Cointreau or triple sec

Ice for shaking

Lemon sugar

, for garnish

Lemon wedge or twist

, for garnish
Instructions
Make the lemon sugar:
Make the Lemon Drop Martini:
Place ice in a cocktail shaker.

Measure in the vodka, freshly squeezed lemon juice, simple syrup and Cointreau.

Shake until the liquid inside is chilled, then strain and pour into the lemon sugar-rimmed martini glass.

Garnish with a lemon twist or wedge, and enjoy immediately.

If you've tried this recipe, come back and let us know in the comments or ratings.
Nutrition
Calories:
157
kcal
,
Carbohydrates:
25
g
,
Protein:
1
g
,
Fat:
1
g
,
Saturated Fat:
1
g
,
Sodium:
16
mg
,
Potassium:
65
mg
,
Fiber:
1
g
,
Sugar:
13
g
,
Vitamin A:
3
IU
,
Vitamin C:
16
mg
,
Calcium:
6
mg
,
Iron:
1
mg