Initially the railways will look intimidating. A labyrinth of colorful lines with unreadable symbols. Take a deep breath and know that you've got this!

Navigating the Tokyo railways isn't nearly as hard as you might think and is the easiest way to get around. Here are easy tips to get you started!
Transportation by rail is be far the most economical way to get around Japan. While Uber and Taxi are reasonably priced, after a full week or more you'll be paying an additional $500.
For the same amount of time you can by a weekly tourist pass for $26 on the JR (Japan Railways Line).
The first thing to know is that there are two different companies that all make up the railways. They are the Tokyo Metro and Toei Subway. If you purchased an IC pass, this can be used interchangeably.
Take a few minutes to study the map in English. Here are printable versions, but you can also ask for one at the metro station. You can even take a few and have your concierge draw you maps depending on the destination. Figure out where the nearest stations are to your hotel and start exploring!
In Japan, the railways are the most popular form of transportation for locals and tourists. The top 6 busiest train stations in the whole world are located in Japan with Shinjuku being the busiest and seeing over 3.5 million people PER DAY. Crazy.
Here are a few things you should know before you venture out:
ONE. Trains run daily from 5:00 a.m.-1:00 a.m..
TWO. Automated ticket machines outside the station can be viewed in English. Simply match up the map to the station you are at and the station you want to exit at, look for a colored circle with a number.
The number symbolizes how much it will cost to go from point A to point B. There will be preset amounts on the ticket machine, select how many tickets you want to buy and then the cost per ticket. Deposit yen and your tickets will pop right out!
THREE. If you need assistance, look for individuals around the ticket machine wearing a blue jacket and hat with a lower care "i" on them. These are English speaking individuals who are there for one purpose, to help YOU!
FOUR. Place your ticket in the slot at the turnstile and walk in through, picking it up again on the other end. Hold onto this, you will need do the same thing to exit. If your card is tapped out, it will keep the ticket.
FIVE. Etiquette on the trains is very important. There is no talking on your cell phone. If you are having a conversation, keep the volume low.
Blue seats are considered priority, if anyone who needs additional assistance gets on the train, you are required to give up your seat. The trains are HOT!
And lastly, if you are hanging onto a straphanger, there is piece of metal in the top that can cause major scratching on jewelry (I was devastated seeing the damage it did to my wedding band).
SIX. Plan for 10 minutes to 1 hour for any trips in the central Tokyo area.
After one or two trips, you'll have the hang of it and will be riding like the locals.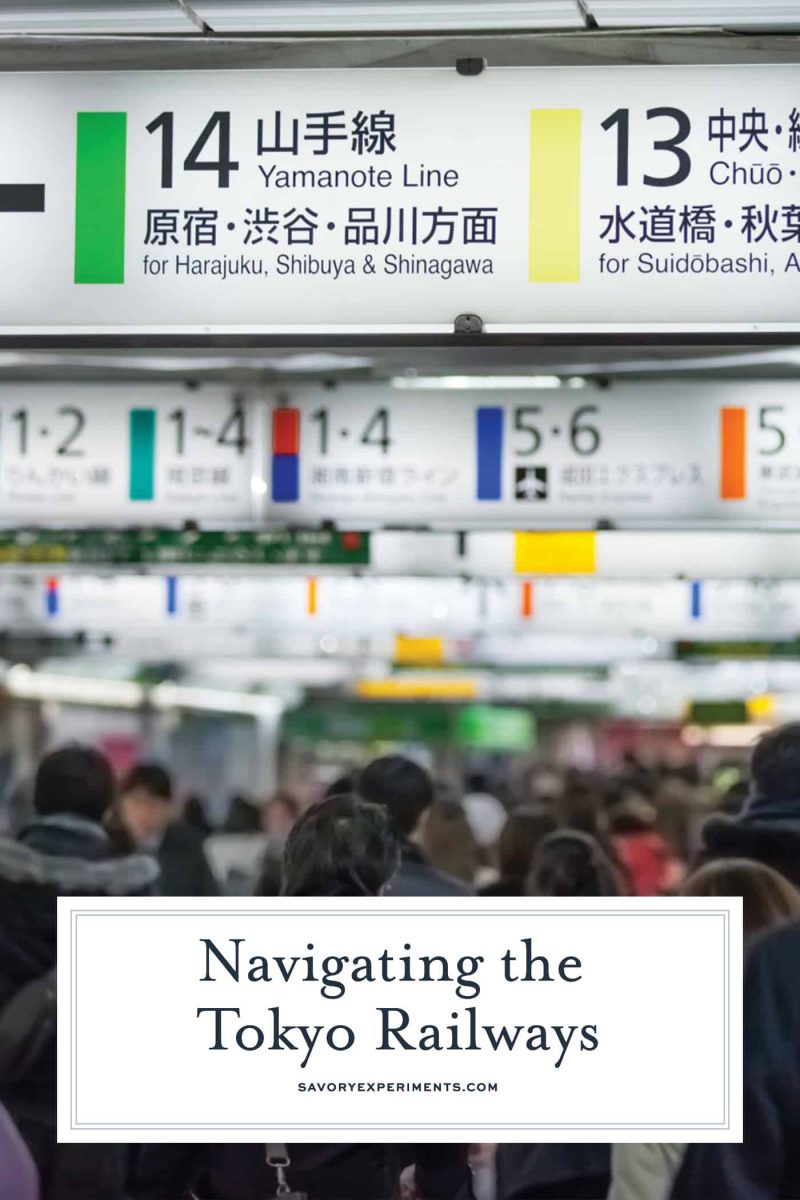 If you want more information about how to navigate the railways of Tokyo and plan your entire trip, check out our travel section!