When you first arrive in Tokyo, transportation might seem intimidating. The majority of information is written in foreign characters, for many the flow is in the opposite direction and with so many people, it seems like utter chaos.

Your easy guide to transportation in Tokyo, Japan from walking, to buses, cabs, Uber, bike and the rails.
However, as a person who has navigated very large, bustling metropolitan cities, Tokyo is by far the most orderly, organized and considerate cultures.
From either Tokyo Narita Airport (90 mins) and Tokyo Haneda Airport (30 mins), your choices are limited to a private car (price tag can run you up to $600), bus (listed as a airport limousine bus) or railway. Bus or rail are the most economical options, clearly, and both are easy.
The limousine bus might be your best bet until you get your bearings with the railways. After leaving baggage claim, there will be a desk to buy tickets and the agents will assist you with purchasing the correct ticket.
After you arrive at your hotel, your options are foot, bike, Uber, taxi, railway or car rental. All have pros and cons.
Tokyo by FOOT– Tokyo is a large city, 5x the size of Manhattan in fact. Walking is a preferred mode of transportation after you reach your home base destination, but you will need something supplemental if you wish to venture outside the immediate area.
Tokyo by BIKE- You will see many locals riding bikes and bike racks are plentiful, however finding a place to rent a bike as a visitor can be challenging. If you do, however, this can save you lots of time and money, weather permitting.
Tokyo by TAXI– Taxis in some cities are downright scary, but in Tokyo your experience will be vastly different. Most are Crowns, a model not found in the States, but a luxury vehicle in Japan. Seats are covered with clean white doilies and drivers are courteous and wear white gloves.
Hail a taxi the same you would in other cities, they are plentiful and it shouldn't take you long. The best advice I can give you about using a taxi service is to plan your destinations before leaving your hotel visit the concierge and have them write down each name and address in Japanese.
Most individuals speak limited or no English, so having these destinations cards to hand to your driver are invaluable. Also grab a few hotel business cards to navigate your driver back.
Tipping is not customary and taxi drivers are helpful with sorting out all of your change to make the exact payment.
Credit cards are also accepted. Also of note, taxi doors are operated by the driver, so no need to open or close your door, they are automatic.
Tokyo by UBER– Download the Uber app to your phone and set up an account before arriving in Tokyo. Since Uber is in English, it will be your new best friend.
However, just to be safe, follow the same instructions of having your destinations written down on a business card.
Tokyo by RAILWAY- If you are staying any substantial amount of time in Tokyo, learning the railway will be necessary. I wrote an entire article on how to become comfortable with the system, hop on over and check it out!
Tokyo by CAR RENTAL– There are car rentals in Tokyo and perhaps renting a car isn't as scary now with GPS, but you will still have to be comfortable with driving on the opposite side of the road.
Parking can also be expensive and hard to find in the city. Parking garages are not large structures, instead it is a driveway with a turntable inside. All parking is done automatically, like a giant car vending machine. It is pretty cool to watch!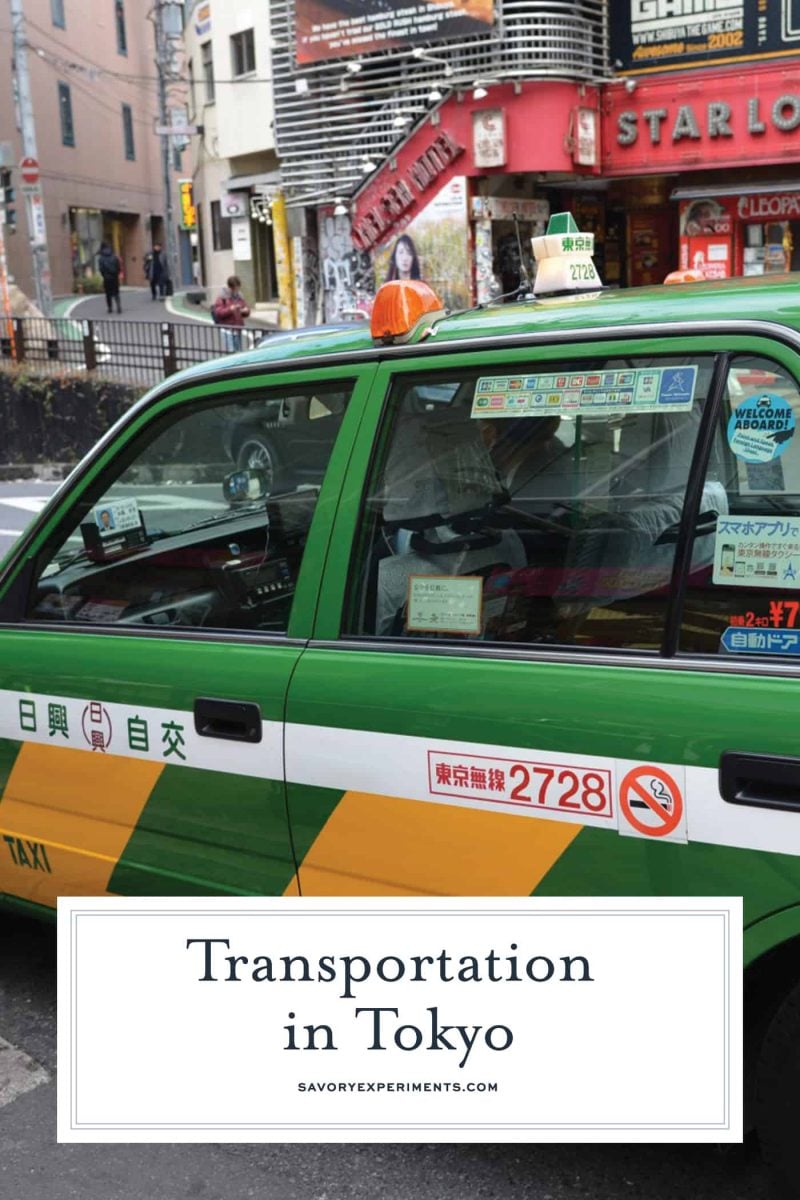 Good luck and have so much fun on your trip to Tokyo! For even more information on planning your dream vacation, check out our other articles on traveling Asia!