Whether you serve them at a dinner party or just need a pick me up after dinner at home, these best martini recipes are for you! From fruity to creamy and everything in between, you're sure to find something you love for any occasion.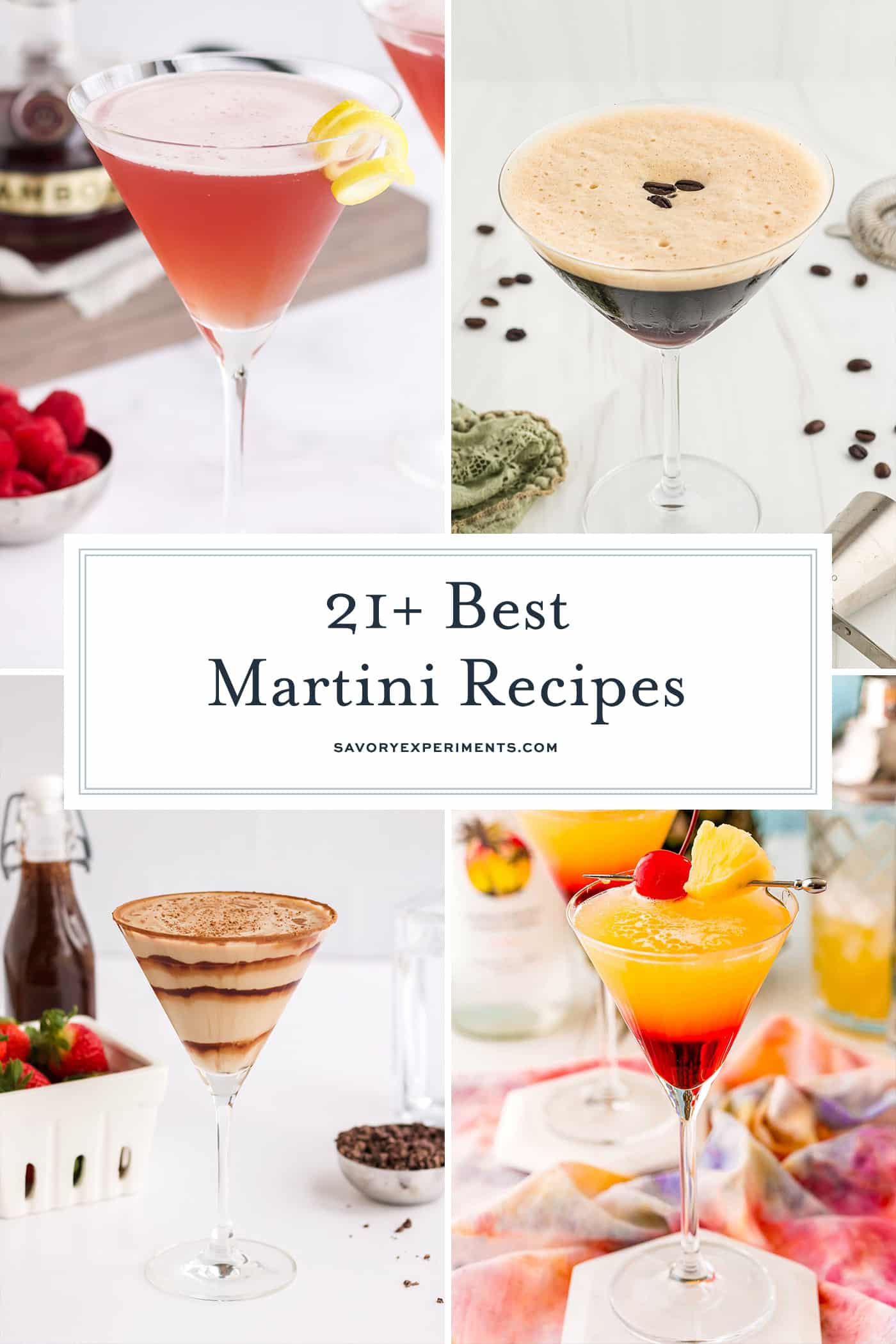 I don't know about you, but every time I think about a martini, I think of good old James Bond saying, "Shaken, not stirred." Just me?
A good classic martini recipe is something that every home entertainer should have up their sleeve. It can be as simple as a plain vodka martini, or something that requires a few more ingredients.
Popular Martini Recipe Ingredients
Looking to fully stock your home bar for whatever occasion may arise? Here are some helpful ingredients to have on hand for any martini order that is thrown at you.
A nice vodka – Many classic cocktail recipes use a high quality vodka. Of course, you can always use your favorite, but Belvedere or Grey Goose are great.
Dry gin – A classic gin martini really only has gin and dry vermouth, so use a high quality gin here too. Hendrick's and Bombay Sapphire are my favorites.
Sweet vermouth – This is what's used in what's known as "The Original Martini" or "Traditional Martini" along with orange bitters. Not ordered much anymore, but still a classic. Plus you can also use this to make Manhattans.
Orange liqueur – I prefer Cointreau or Gran Marnier, but you can go as simple or as basic as Triple Sec if you'd like to.
Flavored vodka – Something like pear vodka might not be used but a few times, but vanilla vodka is used in many martinis and other cocktails for that matter.
Fun liqueur – It's always nice to have something fun and unique to be able to throw into a martini. A great example would be elderflower liqueur or creme de cacao.
Juice – I always prefer to make my cocktails with fresh juices. Fresh lemon juice, cranberry juice, orange juice, olive juice and lime juice are all great to have on hand.
Garnishes – Of course having wedges of citrus is great, but take it up a notch by making a lemon twist from a lemon peel or some green olives stuffed with blue cheese.
Besides ingredients, here are a few other things that are helpful to have on hand when making martinis for special occasions: cocktail shaker, mixing glass, chilled martini glass, rocks glass and a large ice cube mold.
More Fun Cocktails