With cheese and spices and a ricotta cheese topping, the LAVO One Pound Meatball is a MUST HAVE for any Italian meal!

LAVO One Pound Meatball is a visual showstopper for any meal. It also happens to be the best giant meatball you will ever eat.
Have you ever had the type of meal that sticks with you for years? About 3 years ago, I was in Las Vegas for my birthday and ate at LAVO in the Venetian Hotel.
Our party ordered a couple of the famous "LAVO ONE POUND MEATBALLS" as appetizers. I was instantly disappointed when they hit the table because I hadn't ordered one as my entree.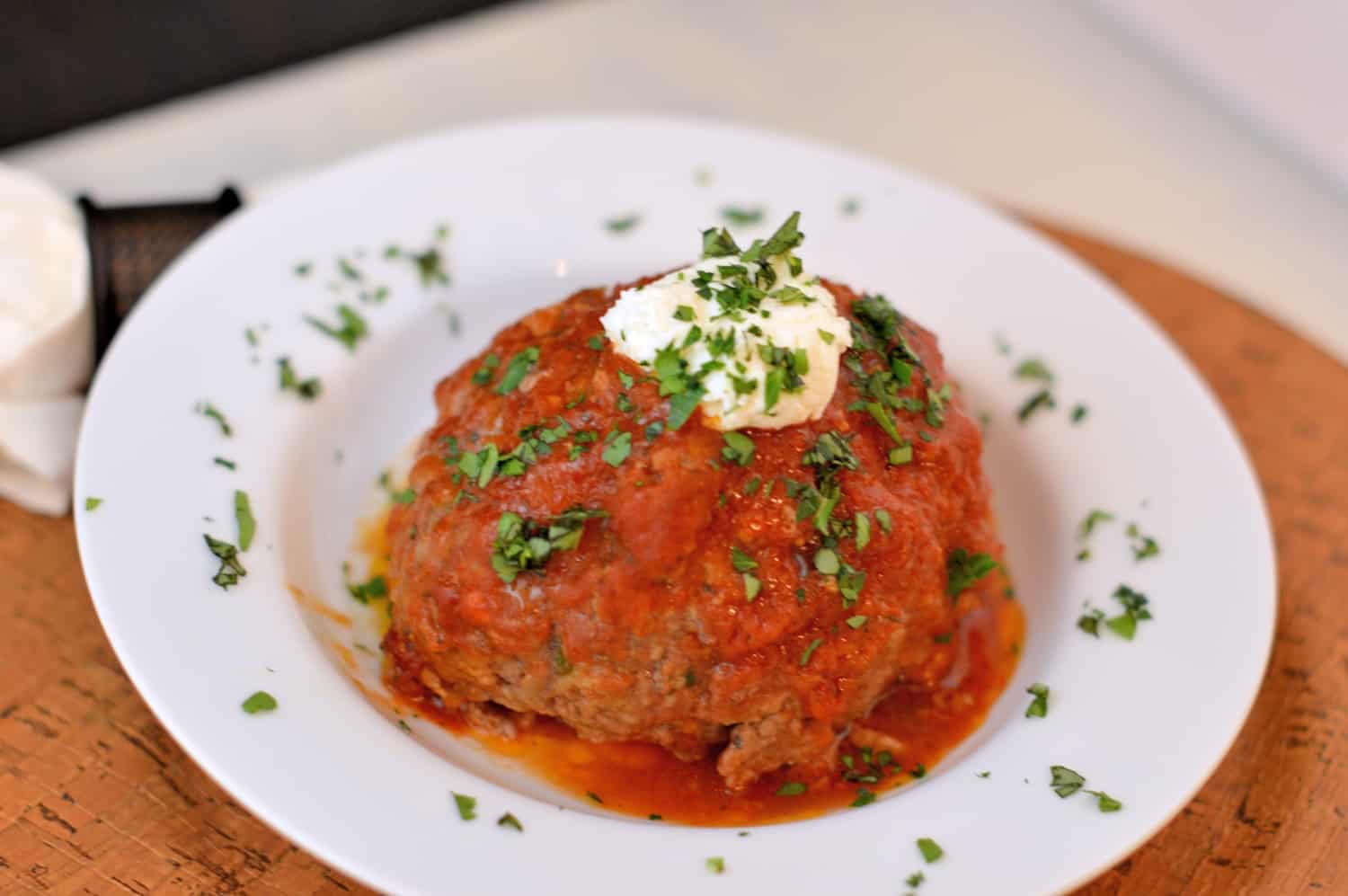 The name is no joke. Yes, the LAVO One Pound Meatball is nothing but one pound of meat, some sauce, and a dollop of cool, fresh ricotta cheese. Pure heaven for this Italian girl.
That dish was seared into my memory. So much so that I had it written on my to-do list when I came across an article from FOX news with the exact recipe straight from the chef!
Here is what I learned from Chef John Deloach of LAVO New York's about making the infamous LAVO One Pound Meatballs:
Do not overwork the meat. Many cooks unintentionally overwork meatballs, meatloaf, and even hamburgers. Allow yourself to mix until just combined and then toss and pat to firm together instead of mixing and kneading.
If the meat feels loose, add more breadcrumbs. Because of the massive size of this thing, you might need more than you'd usually add to hold it together.
Since you can't really slice one open, make sure you take the internal temperature to ensure the meatball is done. It should read 160 degrees.
I took the liberty of making a few changes to the original recipe for LAVO One Pound Meatballs. I hope you like them!
If you thought the LAVO One Pound Meatballs were tasty, check out these other delicious recipes: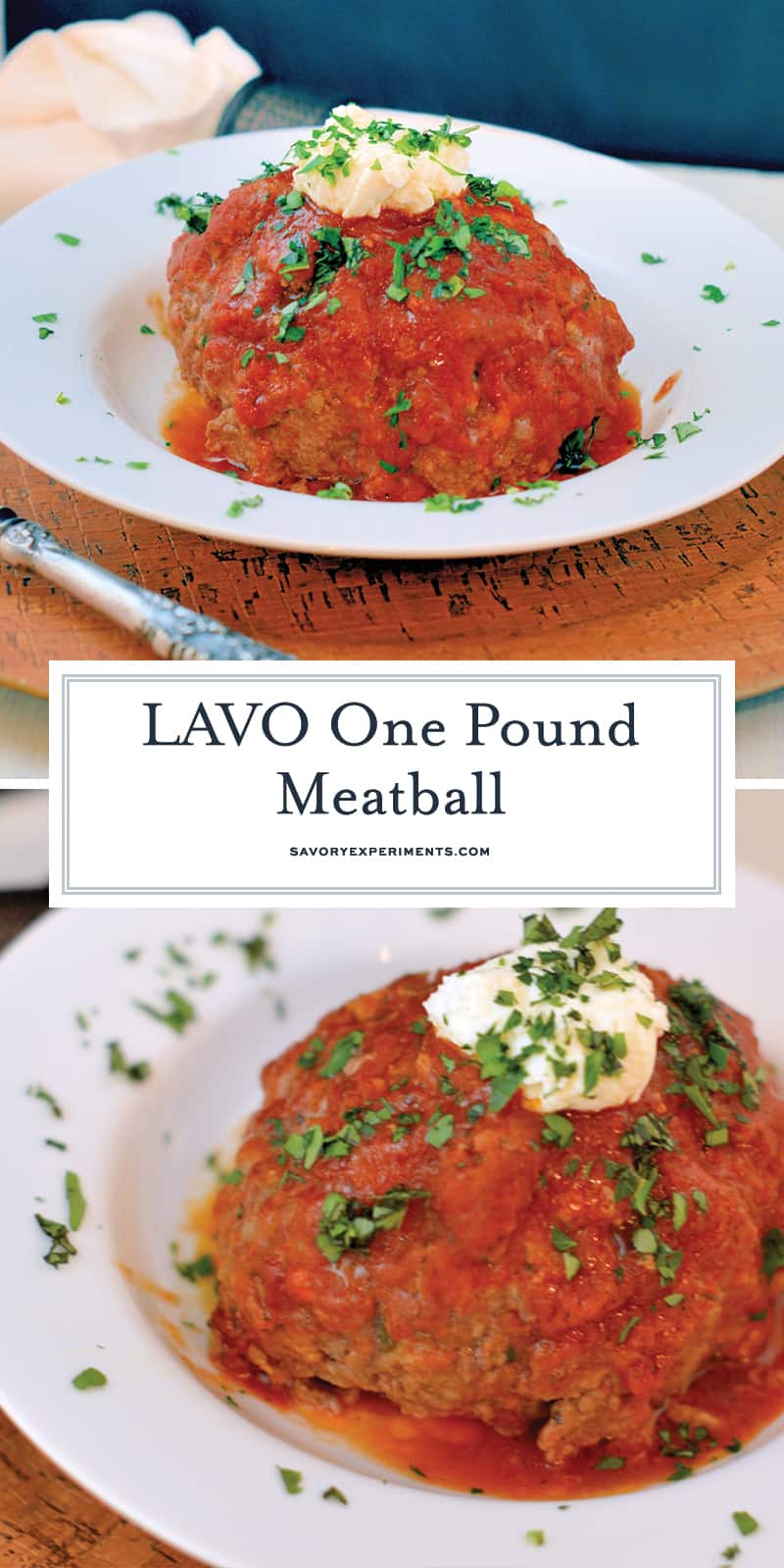 If you are looking for even more fabulous appetizers, snag a copy of my Easy Appetizers Beyond Dips Mini-Cookbook. Available here for only $0.99, one of these fun and festive appetizers sure to be the hit of any gathering!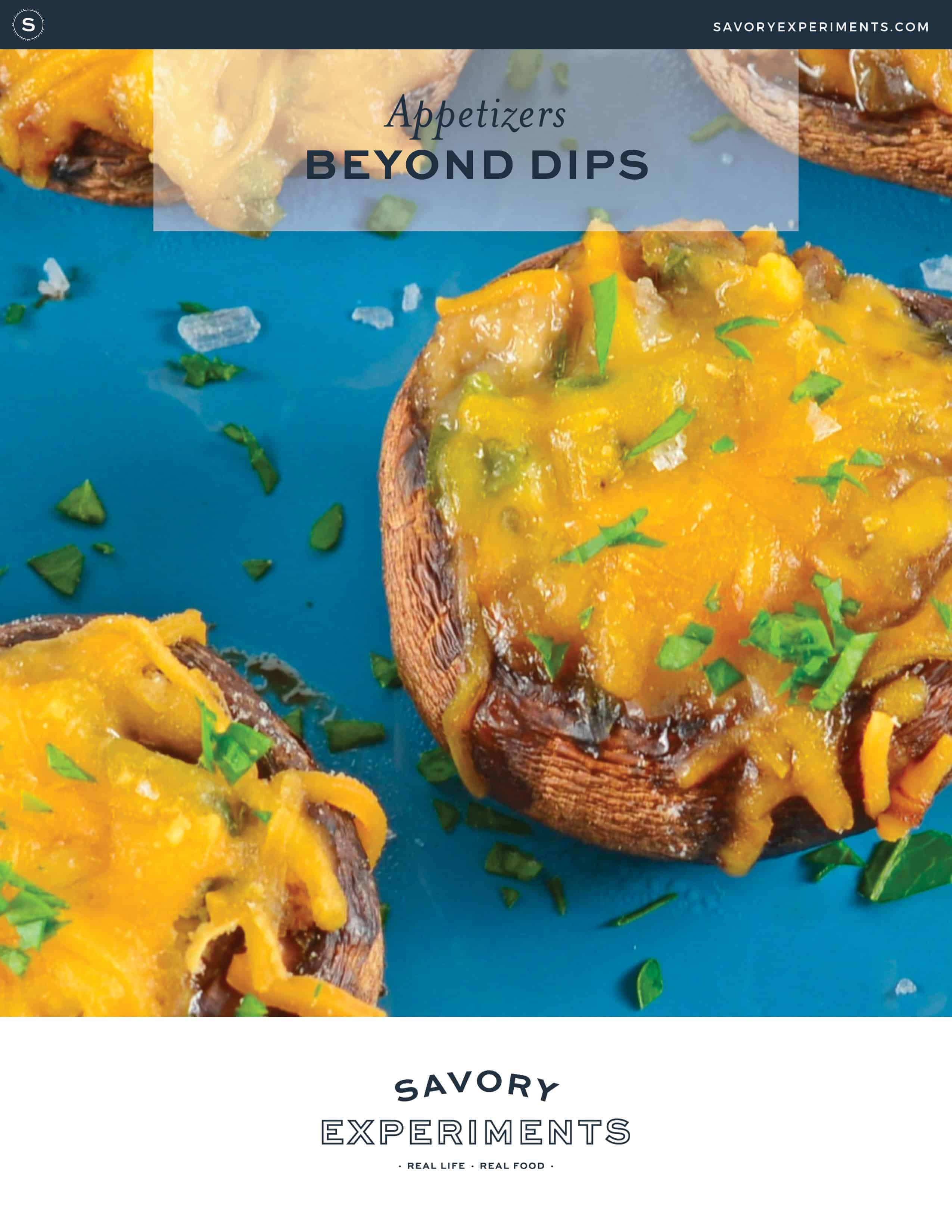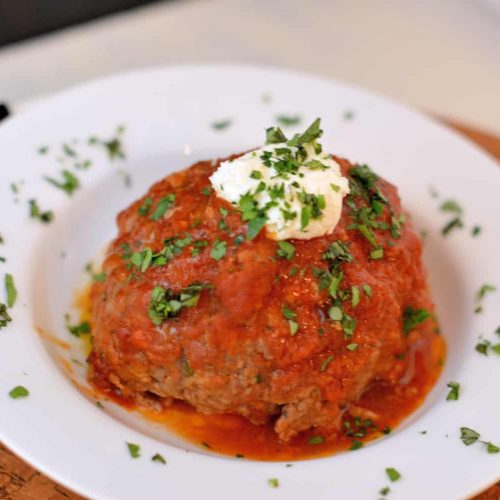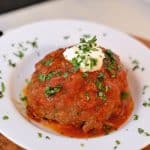 Print Recipe
LAVO One Pound Meatballs
The best GIANT meatball you will ever eat.
Ingredients
2

pounds

ground meatloaf mix

(veal, pork, and beef)

3

large eggs

1/4

cup

whole milk

1

cup

fresh Italian bread

no crust, cut into 1-inch cubes

1/2

cup

dry Italian seasoned breadcrumbs

1/2

cup

Romano cheese

grated

1/2

cup

Parmigiano Reggiano cheese

grated

2

tablespoons

fresh parsley

finely chopped, plus more for garnish

2

tablespoons

fresh basil

finely chopped

1

teaspoon

fine sea salt

1/2

teaspoon

ground black pepper

1/2

cup

yellow onion

minced

4

large garlic cloves

crushed

1

cup

extra virgin olive oil

divided

4

cups

of your favorite marinara sauce

homemade or bottled

1/2

cup

ricotta cheese
Instructions
Soak fresh Italian bread cubes in milk for 10 minutes. Squeeze and drain milk, reserving the bread. Set aside.

In a sauté pan, heat ½ cup of extra virgin olive oil. Saute down garlic and onions until soft. Season with fine sea salt and black pepper and set aside to cool.

When onions and garlic are cool, squeeze out the excess liquid and combine with meat mixture and remaining ingredients except the additional virgin olive oil, marinara sauce, and ricotta cheese. Do not overwork mixture.

Divide meat mixture into thirds. From each third, form meatballs into meatballs by tossing from hand to hand.

Refrigerate meatballs for a minimum of one hour, but as much as overnight. This helps the flavors and meat to congeal.

In an oven-safe sauté pan, brown meatballs in the remaining ½ extra virgin olive oil, rolling so all sides are browned. Remove from skillet to paper towel lined plate and discard extra fat and oil. Clean the skillet and return meatballs.

Preheat oven to 350 degrees. Cover meatballs with marinara sauce. Bring the skillet back up to a boil on your stove top and then immediately transfer to the hot oven. Continue to bake for 1 hour, or until centers reach an internal temperature of 160 degrees.

Let cool for 10-15 minutes before serving. Top each meatball with ricotta cheese and freshly chopped parsley.

Enjoy your GIANT LAVO One Pound Meatballs!

If you've tried this recipe, come back and let us know how it was!
Nutrition
Calories:
1334
kcal
|
Carbohydrates:
44
g
|
Protein:
82
g
|
Fat:
91
g
|
Saturated Fat:
37
g
|
Cholesterol:
430
mg
|
Sodium:
3567
mg
|
Potassium:
2194
mg
|
Fiber:
6
g
|
Sugar:
20
g
|
Vitamin A:
2400
IU
|
Vitamin C:
30.2
mg
|
Calcium:
657
mg
|
Iron:
11.8
mg