This video was recorded as part of a Facebook LIVE session. Visit us on Facebook for the entire video including Instant Pot question and answer!
Looking for quick and easy instant pot chicken recipes? This easy Instant Pot Chicken Paella is for you!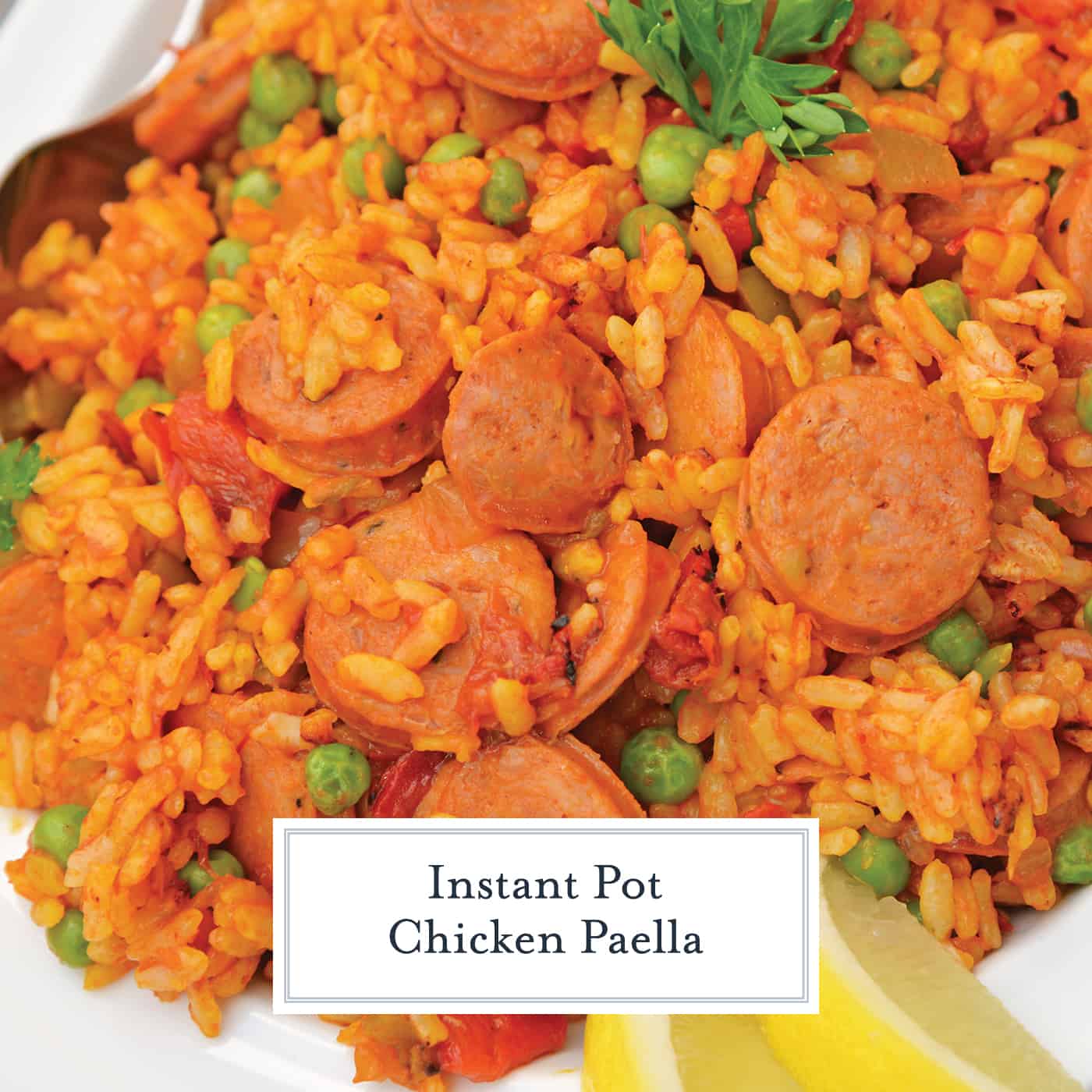 Instant Pot Chicken Paella is one of the best instant pot recipes! Made using a few shortcuts and simple ingredients, this chicken paella is ready in no time!
My Instant Pot is my new favorite kitchen accessory. I'm having so much fun on my search for the best instant pot recipes!
This Instant Pot Chicken Paella is definitely one of my favorites so far as it's so easy but packed with flavor. I've never made a chicken and rice recipe this easy.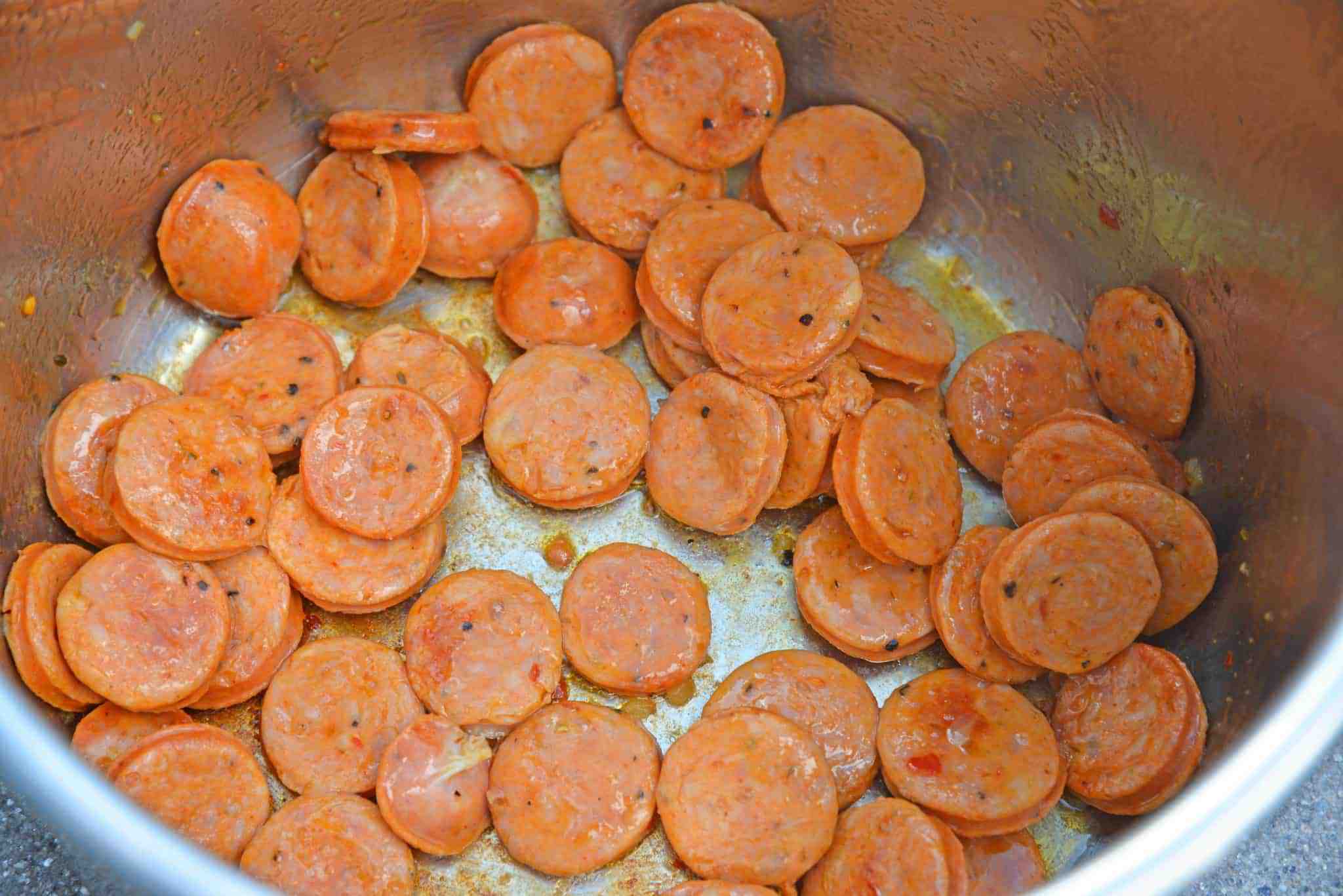 Paella
So, first, what is paella?
Paella is a Spanish rice dish, typically served in a large pan and topped with chicken or seafood. To make this Instant Pot Chicken Paella, I took a few shortcuts to make this quick and easy dish.
Seafood Paella isn't actually classic. Paella was first cooked over wood fires in the fields of Spain and made with rabbit, chicken and snails. In the states, these flavors probably wouldn't go over too well.
In the states, the most commonly used proteins are clams and mussels, as well as chicken thighs. Seafood stock or chicken broth is used for the rice regardless of the other proteins being added.
PRO TIP: Rinse you rice well to remove any sediment and prevent it from being clumpy and overly starchy.
Small amounts of saffron were used for fragrance and color, but not necessarily for flavor.
Afterall, saffron was expensive and the hue of your rice could symbolize your stature in society. The more you used, the wealthier your family!
Am I the only weirdo that smells their fingers after handling saffron? I love the smell!
Bomba rice is the traditional rice for paella, but you can use any short grained rice. I like to use arborio, which is typically used for risotto.
It is typically easier to find and cheaper than bomba.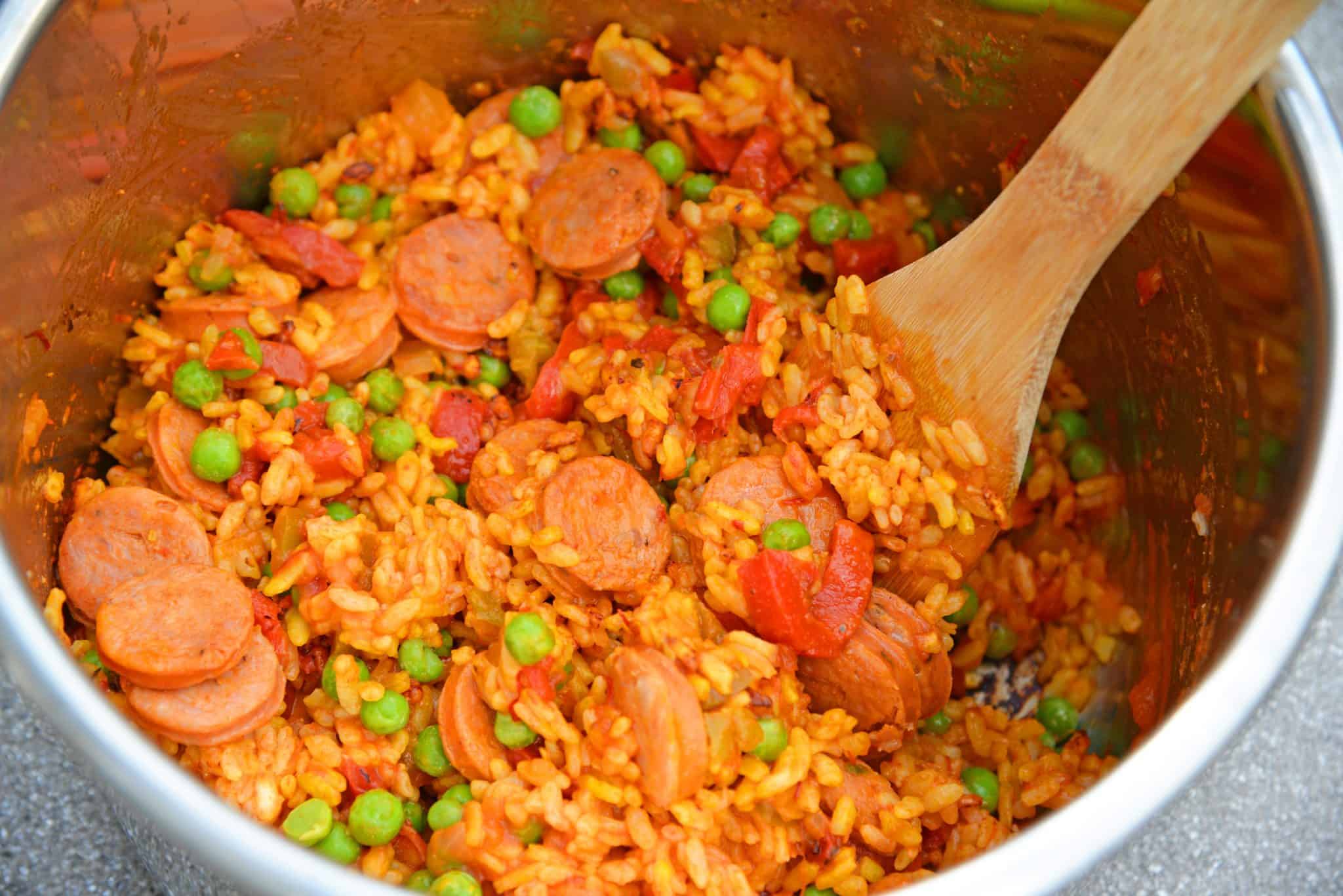 Salsa functions as a makeshift sofrito. With a base of tomato, garlic and onion it is only missing the bell pepper, which we will add at the end. I like using a thick and chunky salsa so it has plenty of depth.
The liquid absorbs into the rice itself giving it flavor and adds to the beautiful hue along with saffron. Chicken stock also gives more flavor than water alone.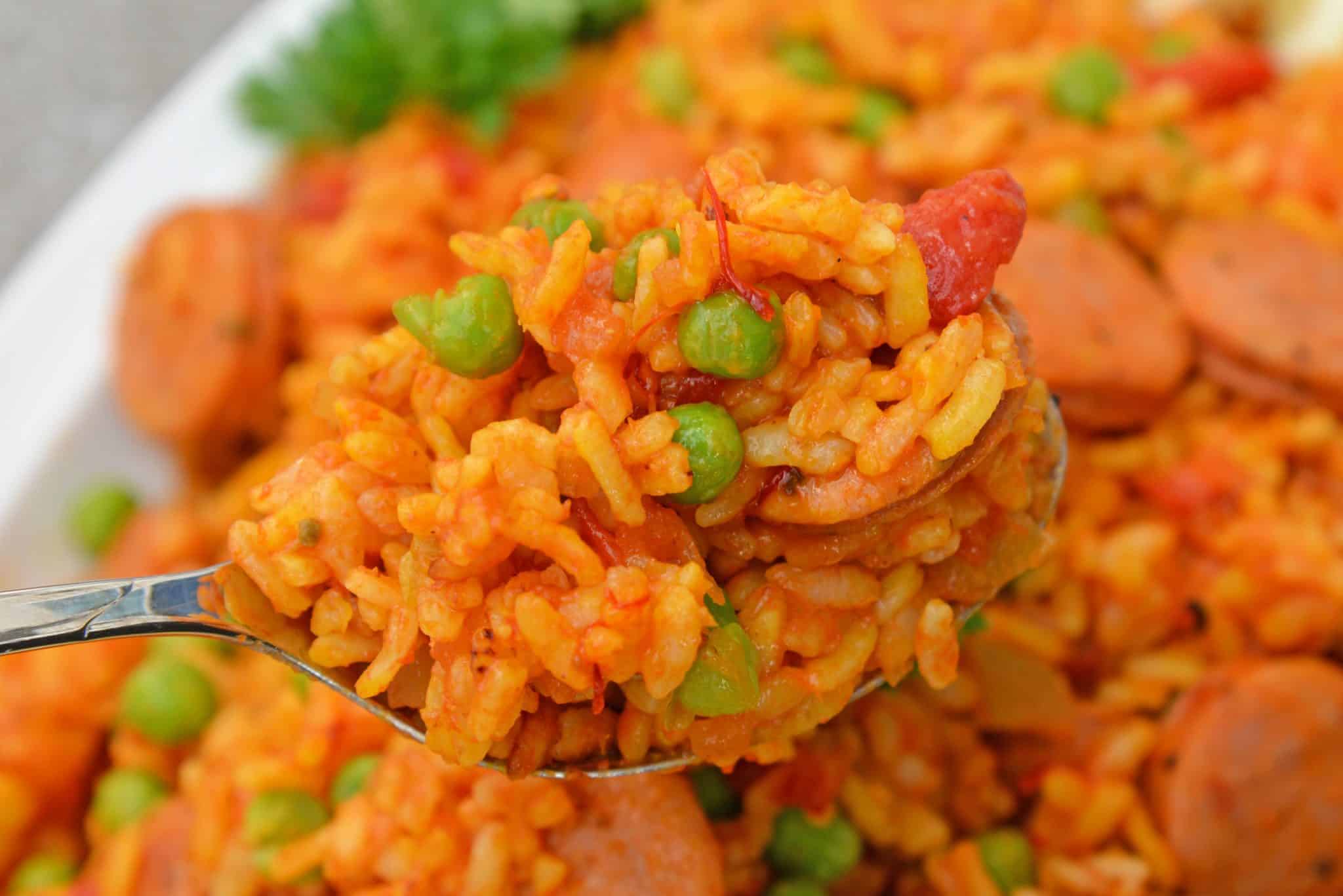 If you are so inclined, you can also add a pound of cooked and shelled shrimp at the same time as the roasted red pepper and frozen peas. All are good paella ingredients.
Really any additional cooked seafood or meat can be added at this time. Seafood is traditionally found in paella along with chicken, so I do like to add it sometimes, especially if I'm serving guests.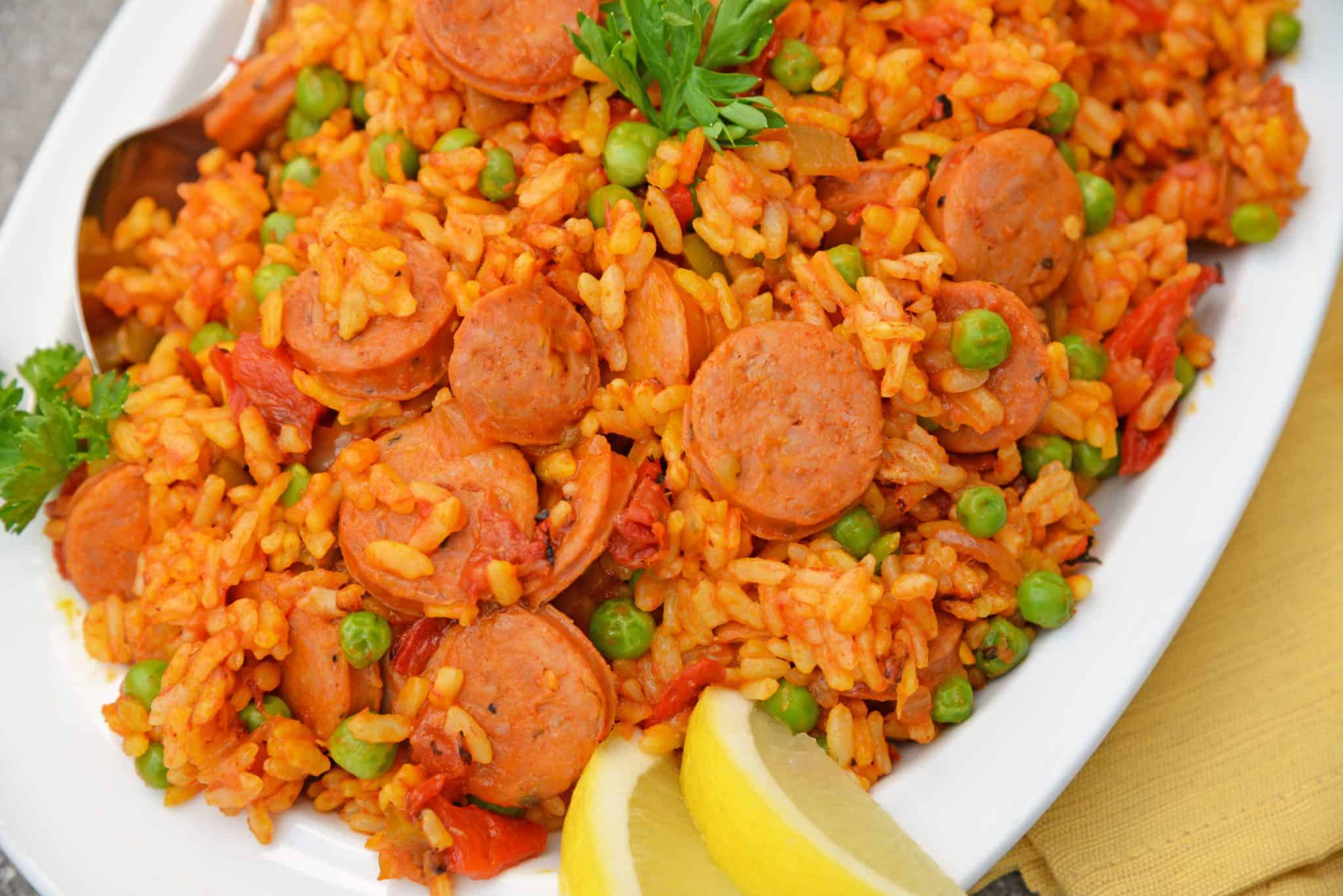 Traditional paella can take a while to cook but yet another reason to love my instant pot is that this easy paella recipe is ready in just minutes! Never before has flavorful paella been just a 30 minute meal.
If you do want to use an old school paella pan, check out my seafood paella recipe. Make sure to cook it on an open flame (no electric burners for this one!)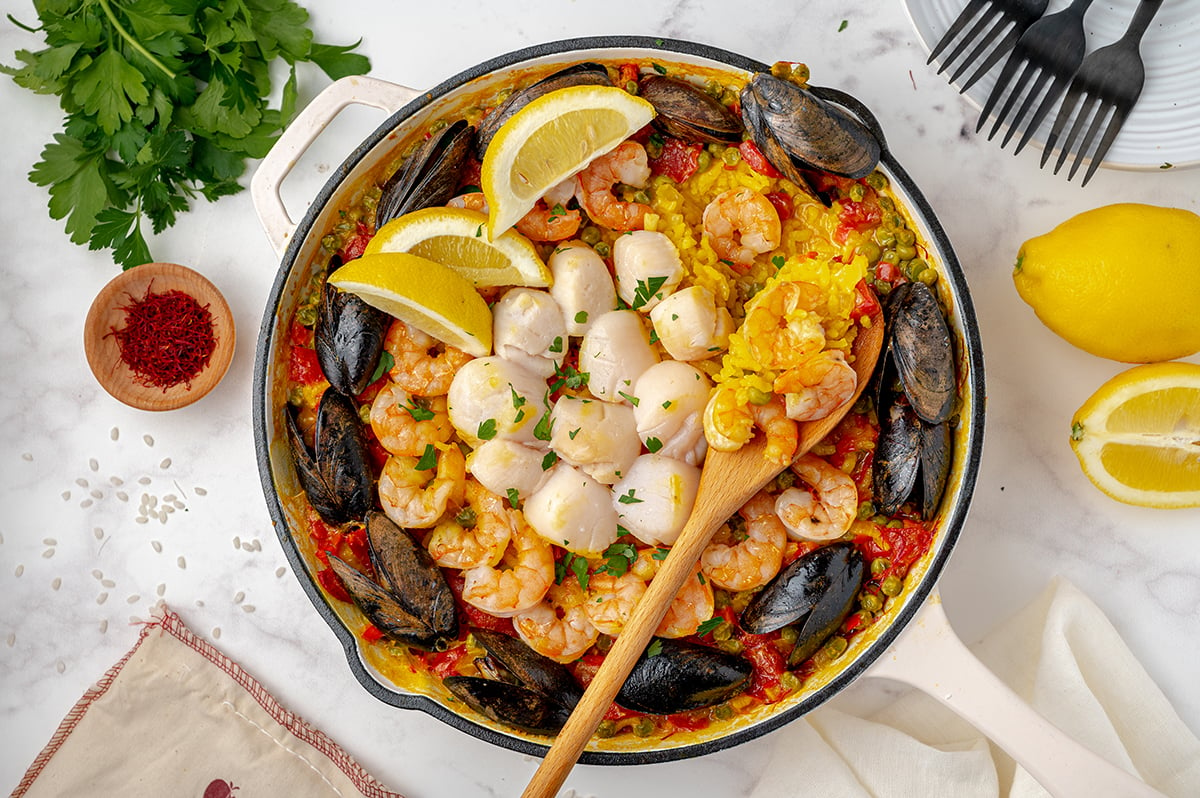 Or my super easy, stovetop Shrimp Paella!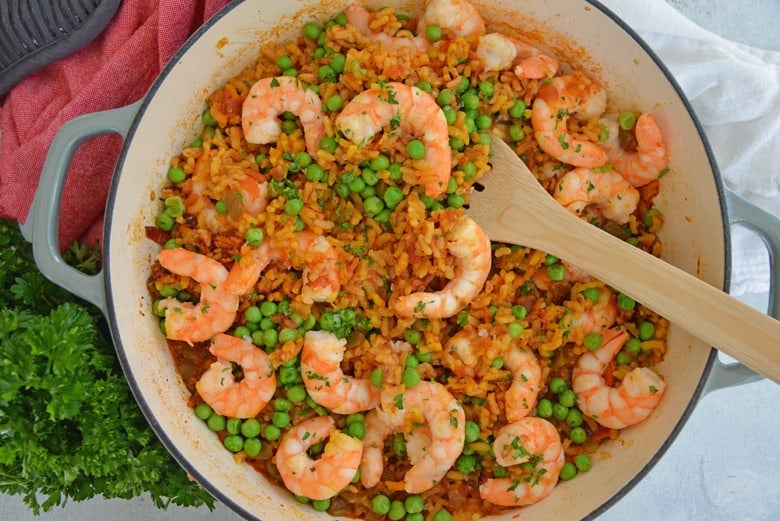 This chicken and rice recipe is a great comfort food recipe for the cooler months too. Sometimes I just want something hearty and warming that's not classic comfort food, which this definitely is.
Also check out our Instant Pot Basics and also altitude calculator if you need it!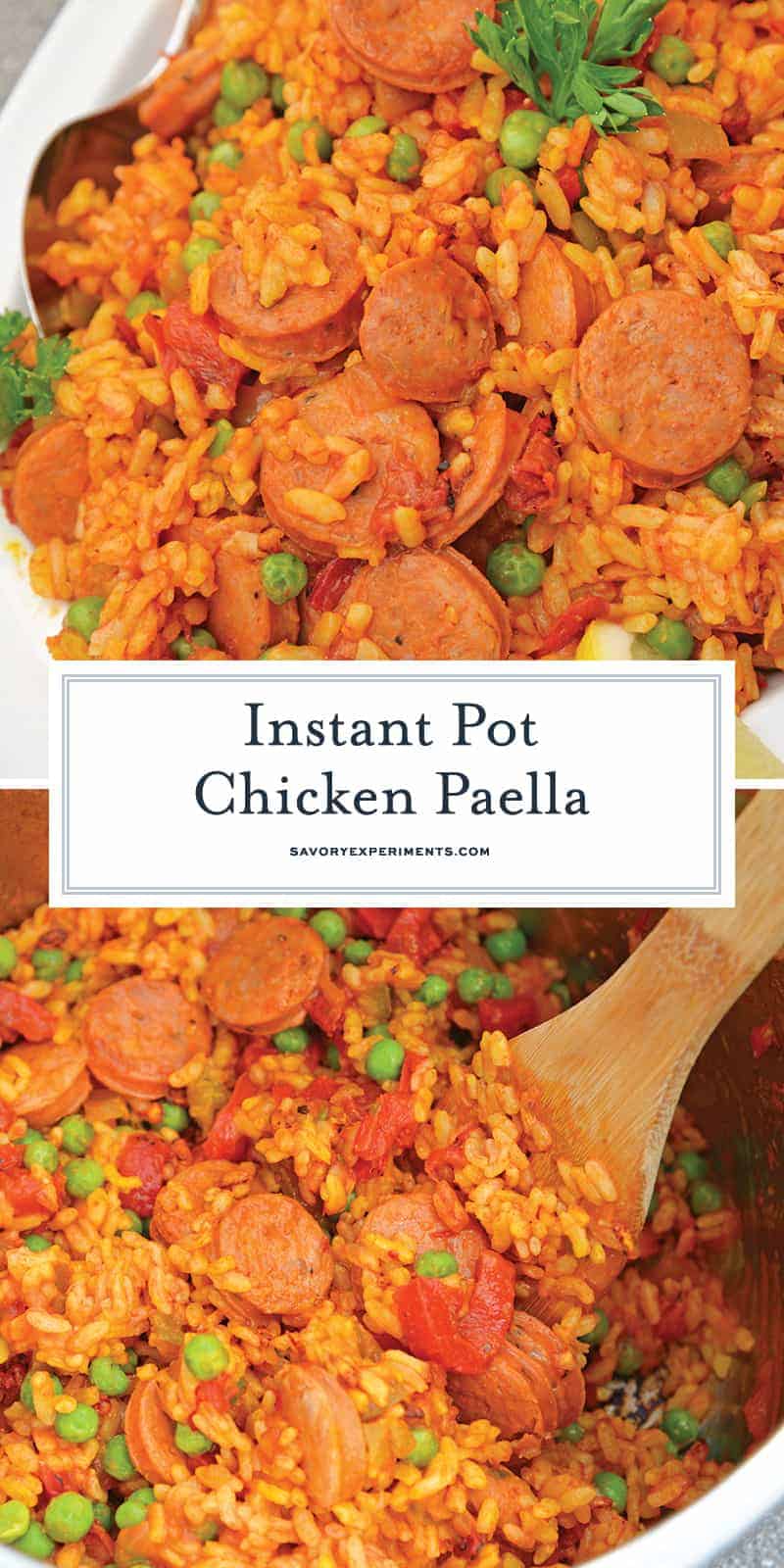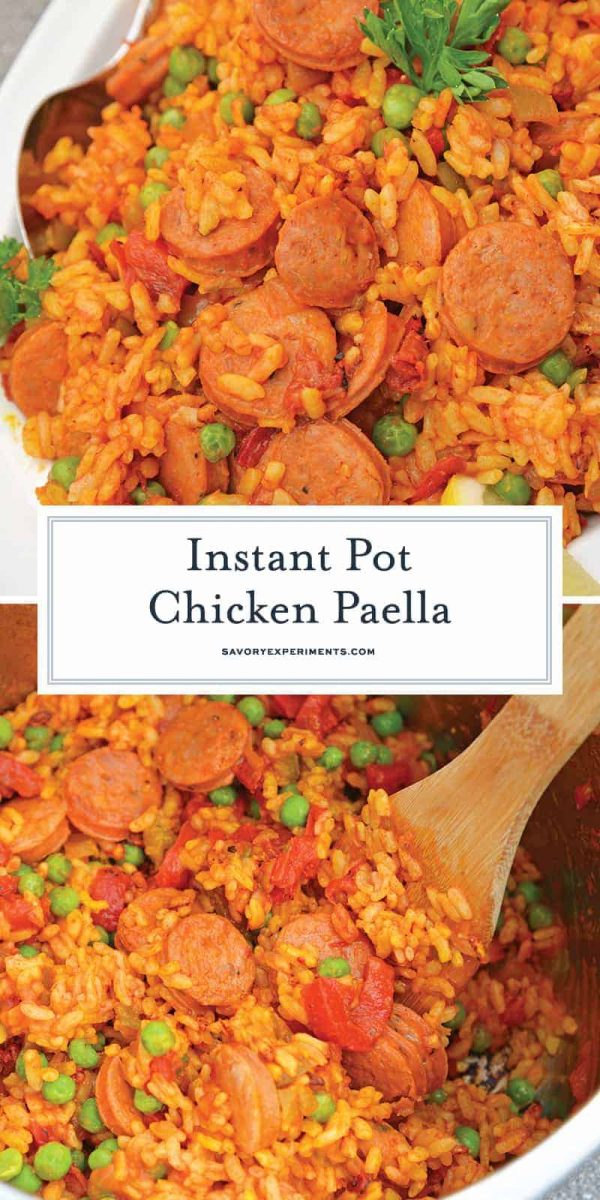 Easy instant pot recipes:
Questions you might have about how to make paella:
Can I make paella ahead of time? You sure can, but with such a simple and quick recipe, you might not need to.
Can I freeze chicken paella? Sure! Follow my tips for best freezing practices. Freeze in individual airtight containers for your own, healthy TV dinners.
Do I have to use chicken sausage? Use whatever type of chicken or sausage you'd like! Just make sure whatever you add to the pot is cooked before adding it.
Is this Instant Pot Paella gluten free? My version is gluten free, however, check your individual ingredients to make sure yours is as well.
What does saffron taste like? It is hard taste to describe. Doesn't help ya, huh? I think it is floral and I love the scent and flavor. Really any additional cooked seafood or meat can be added at this time. Seafood is traditionally found in paella along with chicken, so I do like to add it sometimes, especially if I'm serving guests.
Do I have to use saffron? You can omit it, but the flavor and hue of saffron are one of the defining elements of paella.
Tools for making this easy paella recipe:
Instant Pot– You will need an Instant Pot or other electric pressure cooker.
Wood cutting board – wood won't dull your knives like plastic and if treated properly, has natural antimicrobial properties.
Good knife – Global is my favorite! They are worth the price, I promise. I am kind of obsessed with them and store them tucked away so no one else can use them. Including hubby. Hands off my good stuff!
Good Extra Virgin Olive Oil– A good olive oil will taste like, well, olives, while a poorly made one will taste like vegetable oil. Gross. While people tend to favor Italian and Greek olive oils, I prefer to buy mine domestically.
There are some great ones out there from all over the world, but the reporting of ingredients isn't always the same and you could find that your super expensive olive oil was actually cut with vegetable oil.