Beer Buttered Shrimp Recipe
Beer Buttered Shrimp is a quick dish featuring smoky shrimp in a butter, beer, and tomato sauce. Serve it as an appetizer or over rice for dinner in just 15 minutes!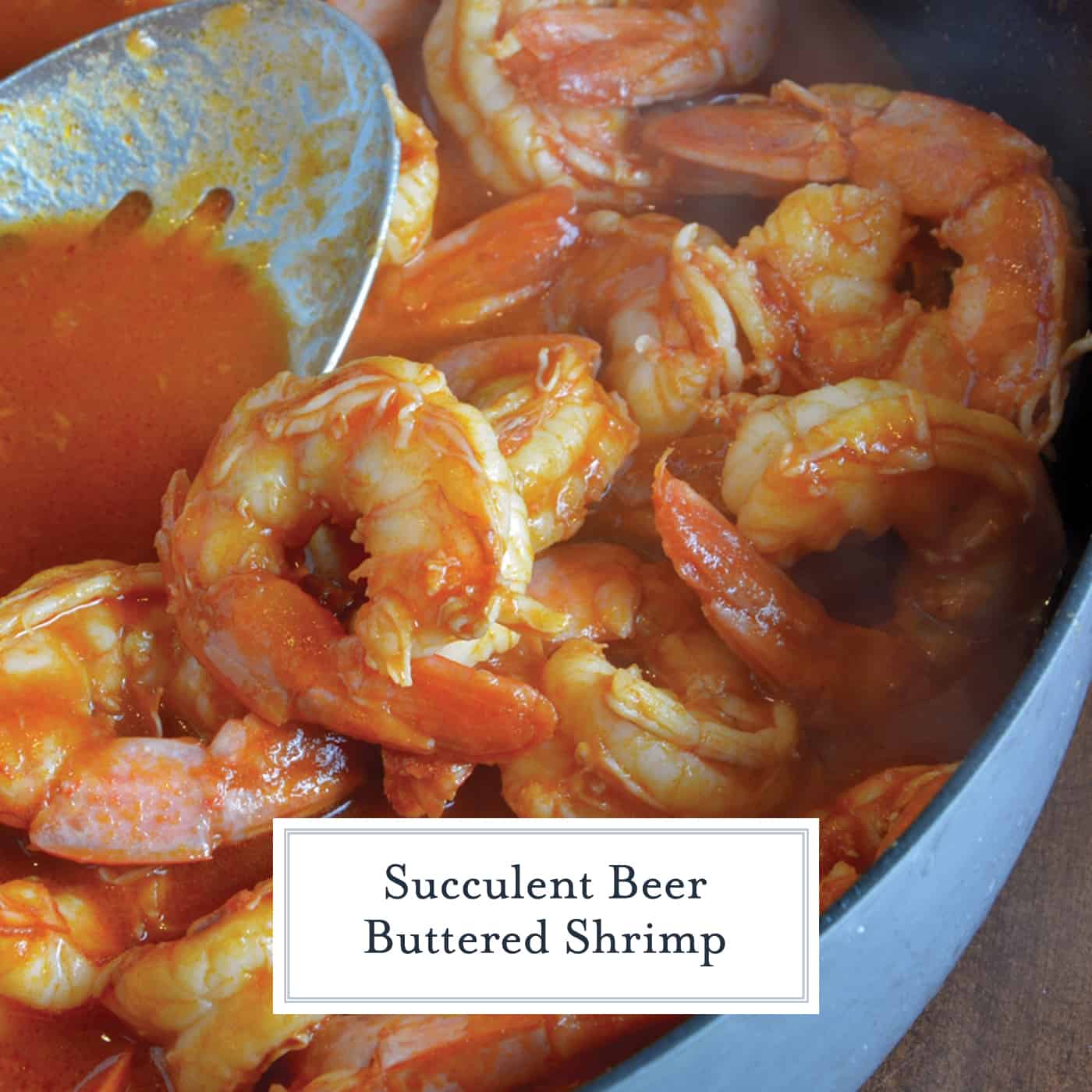 Beer Buttered Shrimp is a tomato based sauce infused with your choice of beer and spices and simmered with shrimp. Serve as an appetizer or over rice as an entree.
In the words of George Takei… Oh Myyy…. Beer + Butter +Shrimp. This can only mean one thing to me. It is that time of the year: FOOTBALL SEASON!
I love to watch football and don't want to be stuck in the kitchen during the game. Therefore many of the tasty treats I prepare need to be done ahead of time or require minimal to no hands-on time. This means prepping and cooking during commercials breaks sometimes.
Buttered Beer Shrimp is exactly that: a tomato-based sauce, infused with your choice of beer, some spices then simmer with shrimp.
This recipe got me wondering, how long have shrimp been used in recipes? Well evidence has been found that shrimping was taking place around 600 AD off the coast of the southeastern coast of North America. Evidence has also been found in clay vessels discovered in the ruins of Pompeii.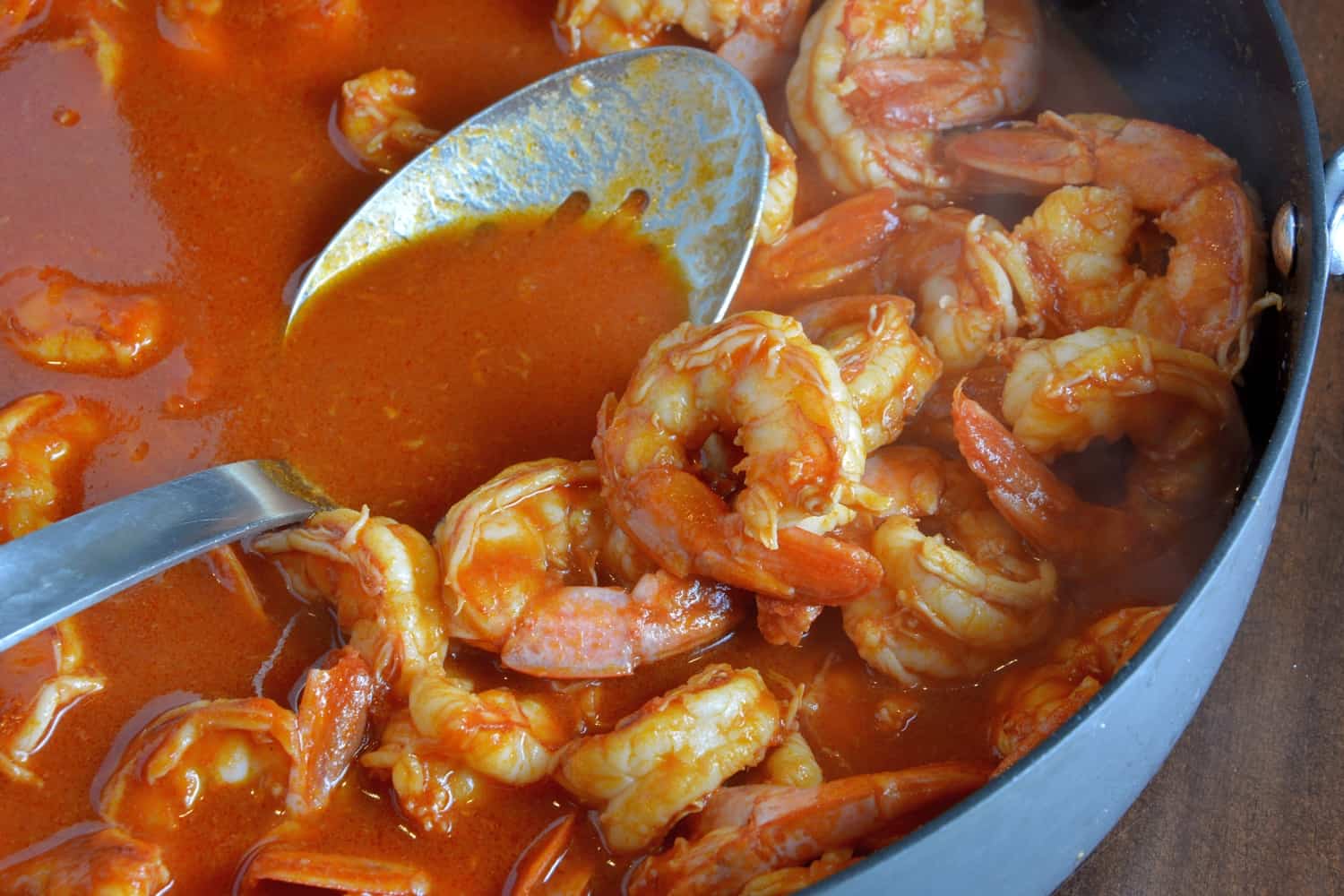 Throughout the time of shrimping, shrimp were sun-dried as a means of preservation. This still takes place in Louisiana where shrimping has been going on since 1735 and in many Asian countries. Dried shrimp and shrimp pastes are a delicious and flavorful addition to many dishes and sauces there.
Shrimping in the U.S. is relegated mainly to the Gulf of Mexico and the coasts of the South Atlantic states. Think Georgia, Florida, and the Carolinas. As a whole, our country alone consumes roughly 1 billion pounds of shrimp a year. Crazy, right?!
These little crustaceans are made mostly of water and protein. They are low in carbs and calories and have a lot of nutritional value.
Shrimp come in different sizes as you may have seen in the store. You may have also seen numbers next to them. This is known as their U-count.
If you see "16/20" next to the shrimp you are looking at, they are likely considered "extra-large." The numbers designate that there will most likely be 16-20 shrimp per pound. If you see "U/10" they are probably considered "colossal" and there will be "under 10" in every pound you order.
It is really simple once you get the hang of it, and lets you really know your stuff when you head to your local seafood market or to the seafood counter at your local supermarket.
There are more than 300 types of shrimp in the world that we consume. Most commonly you are eating brown, pink, or white shrimp. This name refers to the color of the shrimp before you cook it.
If you liked this
buttered shrimp recipe, make sure you check out some of these other easy shrimp recipes:
Lemon Garlic Shrimp Salad
Lemon Garlic Shrimp Salad is a healthier version of classic comfort food using plain yogurt, celery, carrots, chives, dill and spices on a buttery brioche roll.
Shrimp Pasta Salad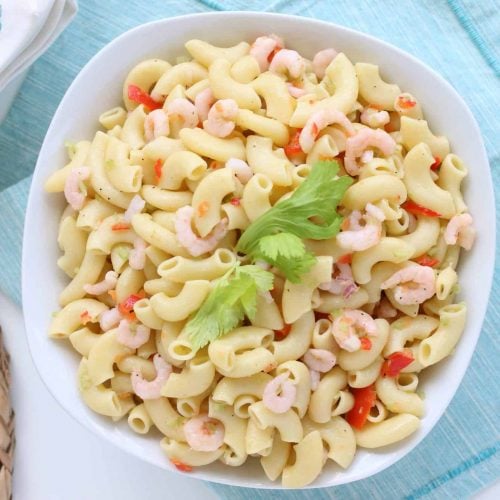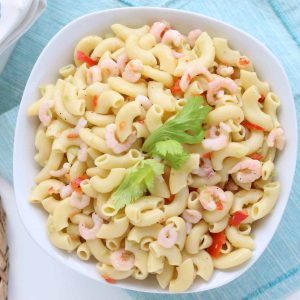 Shrimp Pasta Salad is the best dish to bring to any party. This dish is has a zing to it that will help bring those family gatherings and neighborhood potlucks to life.
Beer Battered Onion Rings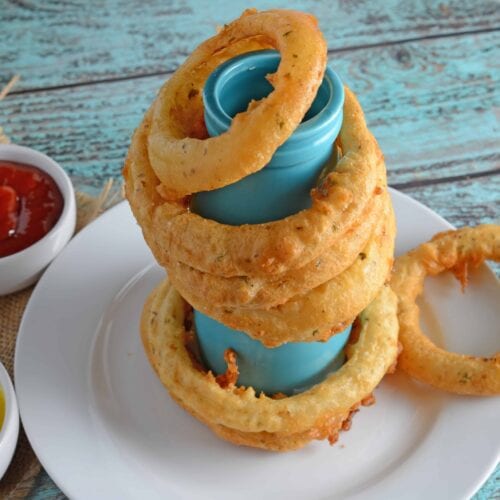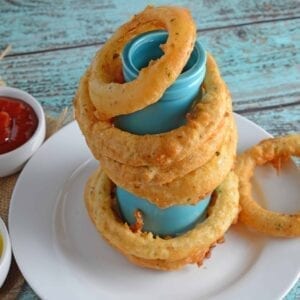 Beer Battered Onion Rings Recipe – Crunchy and crispy homemade beer battered onion rings. Dip in a spicy chipotle remoulade or eat alone.
Voodoo Shrimp Creole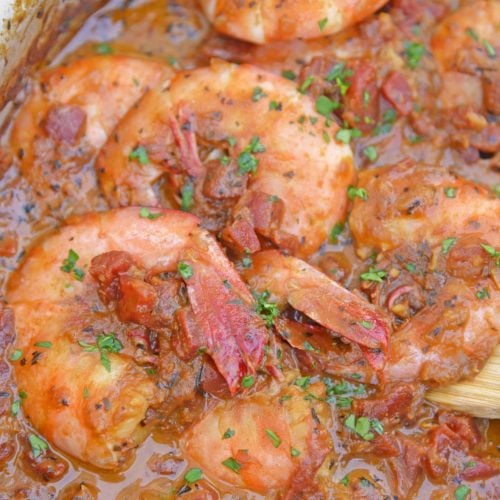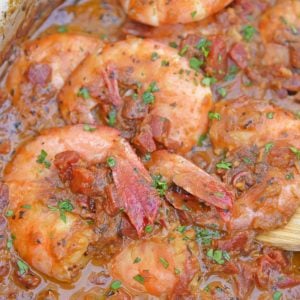 Voodoo Shrimp Creole is a tomato-based dish using shrimp and beer to make a sweet and spicy broth. Serve over rice or grits for a full meal.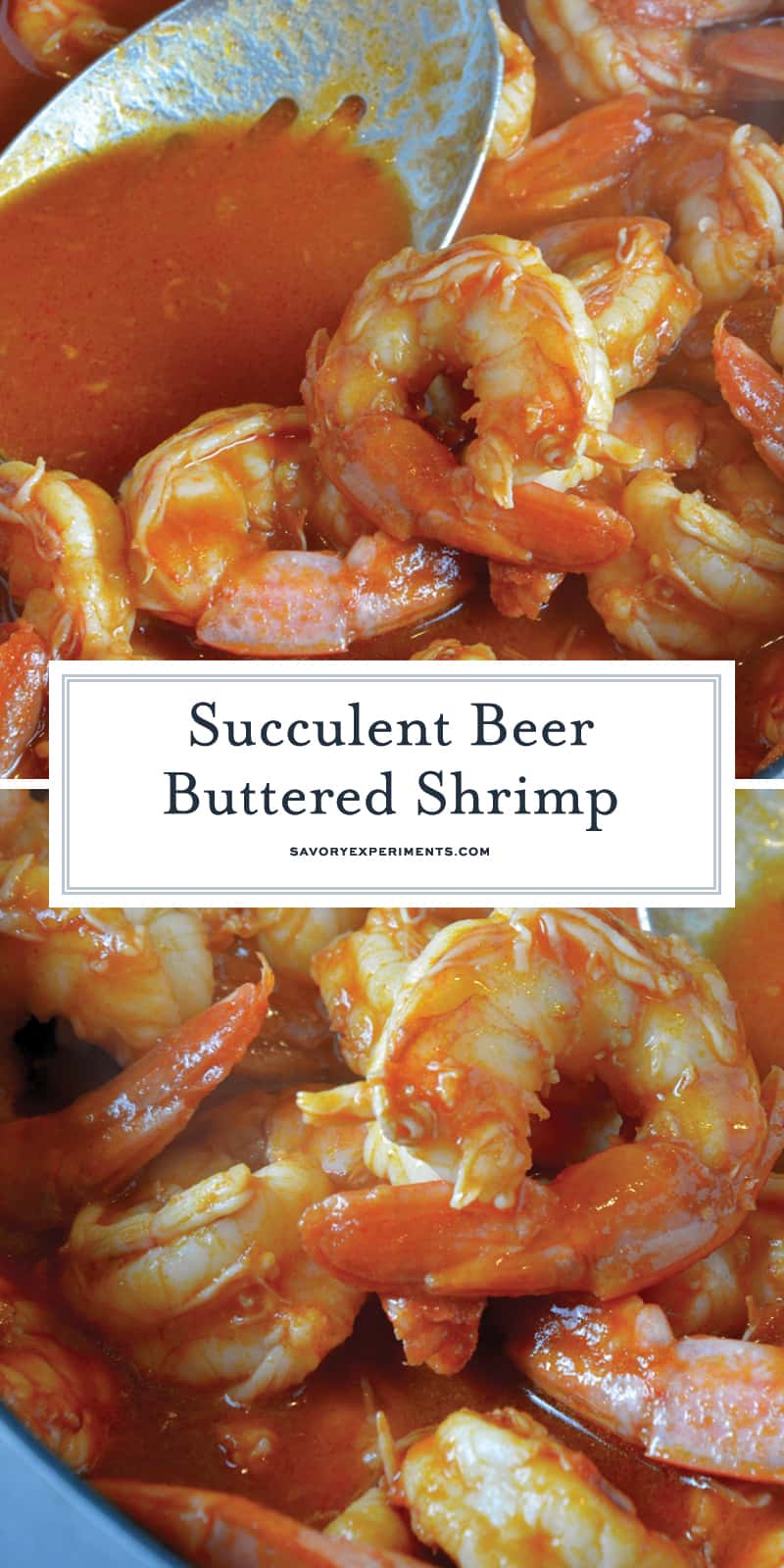 CONNECT WITH SAVORY EXPERIMENTS!

Be sure to follow me on social media, so you never miss a post!

Facebook | Twitter | Youtube
Pinterest | Instagram
Get our FREE 8 Day E-Course on How to Be a Better Home Cook. Sign up HERE!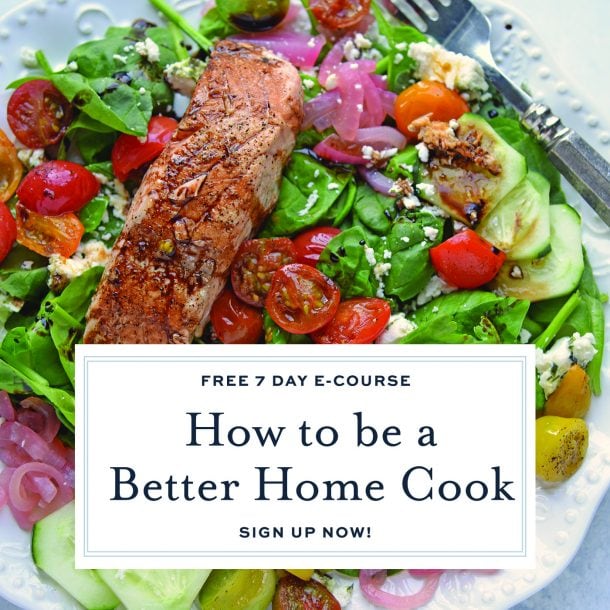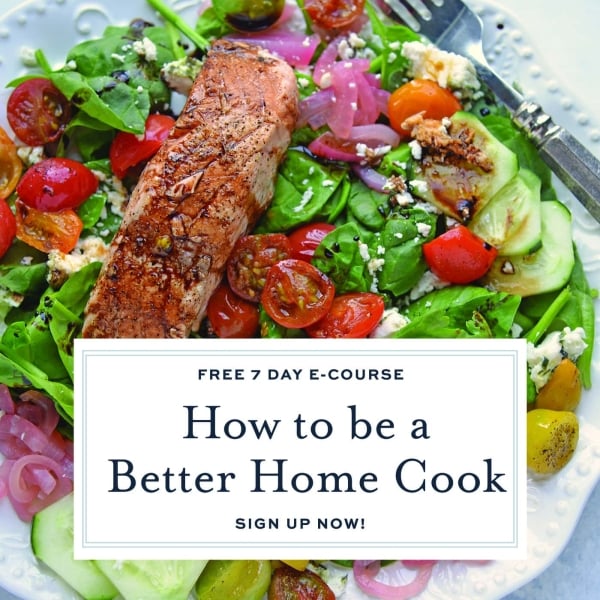 Buttered Beer Shrimp
Beer Buttered Shrimp is a tomato based sauce infused with your choice of beer, spices and simmered with shrimp. Serve as an appetizer or over rice as an entree.
Instructions
Melt butter in a large skillet over medium heat. Using a micro grater, grate garlic directly into the butter. Add paprika and stir until fragrant, about 5 minutes.

Whisk in tomato paste until smooth. Add beer, honey and sea salt. Bring to a low simmer. Continue to simmer until mixture reduces by half and thickens.

Add shrimp and salt. Allow to cook for an additional 5-7 minutes. Since you can't see the color of the shrimp deepen to a pink, look for them to curl.

Serve immediately and enjoy your Buttered Beer Shrimp! You can serve just this or on top of a crusty slice of bread or rice.

If you've tried this recipe, come back and let us know how it was!
Nutrition
Calories:
604
kcal
|
Carbohydrates:
37
g
|
Protein:
49
g
|
Fat:
26
g
|
Saturated Fat:
15
g
|
Cholesterol:
632
mg
|
Sodium:
2599
mg
|
Potassium:
748
mg
|
Fiber:
3
g
|
Sugar:
28
g
|
Vitamin A:
3080
IU
|
Vitamin C:
20
mg
|
Calcium:
371
mg
|
Iron:
7
mg