These easy Champagne Jello Shots are the only thing you need to celebrate New Year's Eve! Super festive and delicious, too!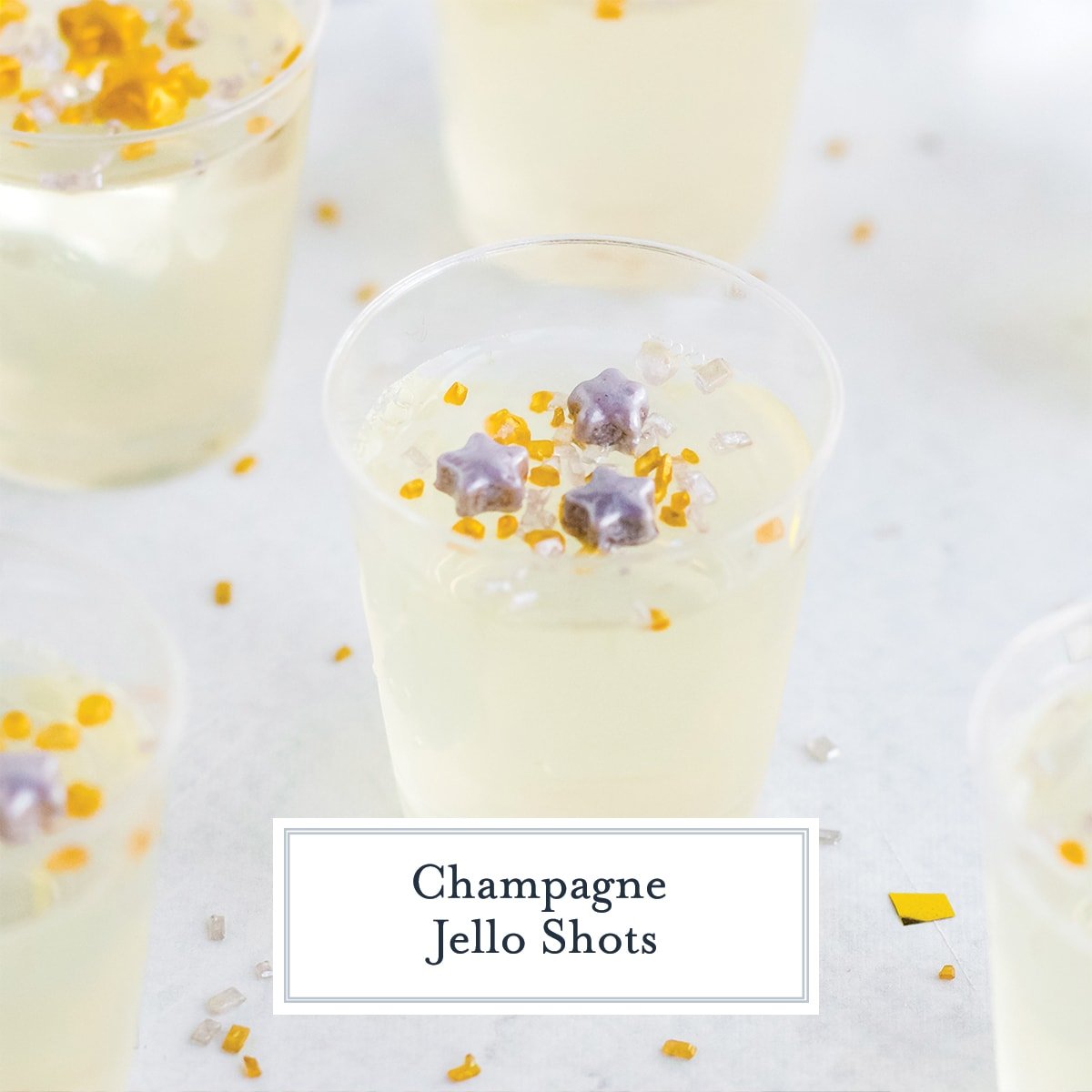 This might not be the year for parties, but it doesn't mean you can celebrate New Year's (or any other holiday or special occasion) with your nearest and dearest. This post was written in 2020, in case you happen to be reading in subsequent years when the world goes back to normal.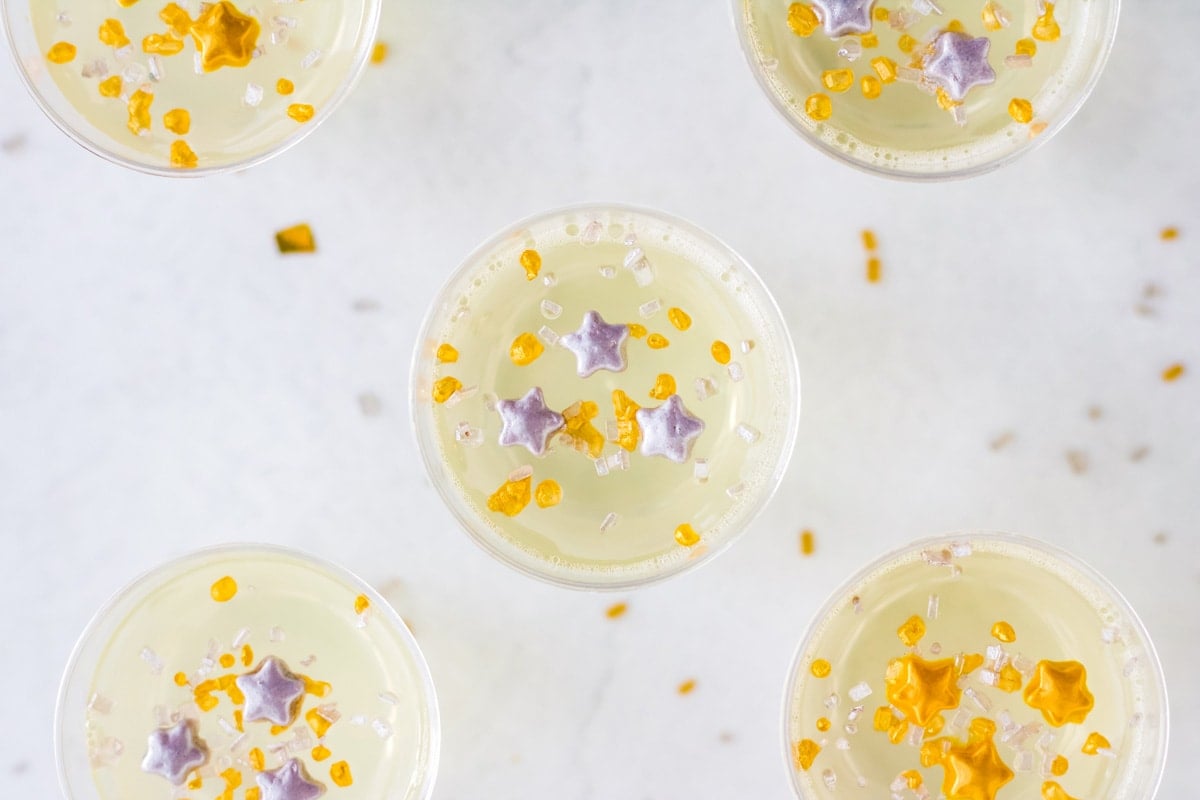 And Champagne Jello Shots happen to be one of the best ways to accomplish this. I don't care how old you are (as long as you are 21+), Jello shots are fun and festive. These bubbly shots are no exception.
How to Make Champagne Jello Shots
The process is easy and much like making regular Jello shots, if you've done that before. The trick is to make the base of the shot with gelatin so it gels, but not allow the alcohol to get hot enough to burn off.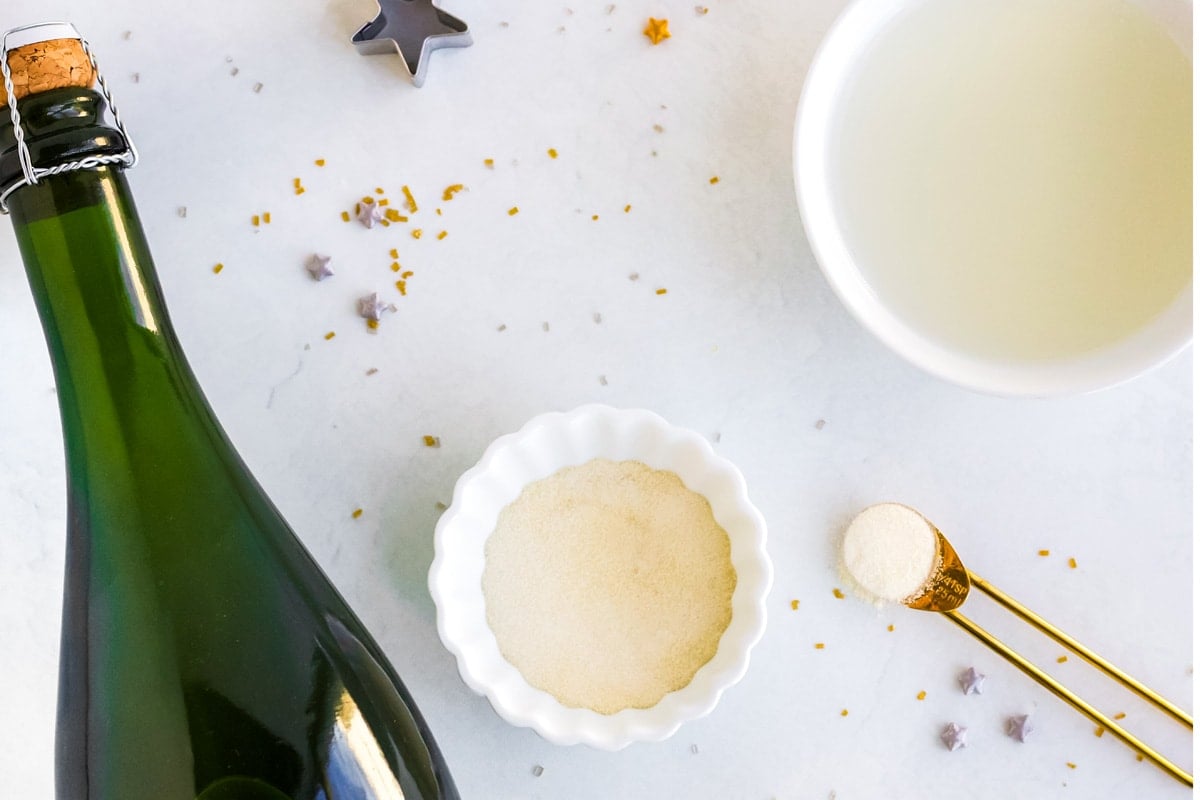 Getting the flavors right to not produce an extreme pucker is a science and not all liquid bases work as well. Read on below about flavors for more on this.
Heat lemon sparkling water, sugar, tap water and gelatin over low heat. Sugar is used to balance the "OMG- this is a shot" taste. But if that is what you are going for and want to omit the sugar, this is optional. Mixture will be bubbly.
Remove from heat and stir in sparkling wine and vodka. Adding while still on heat will reduce the alcohol and not have the intended effect if you are making these to imbibe. Do not add more alcohol than recommended or they will not set and will become soupy.
Champagne Jello Shots are a science, please use correct measurements to ensure they turn out correctly.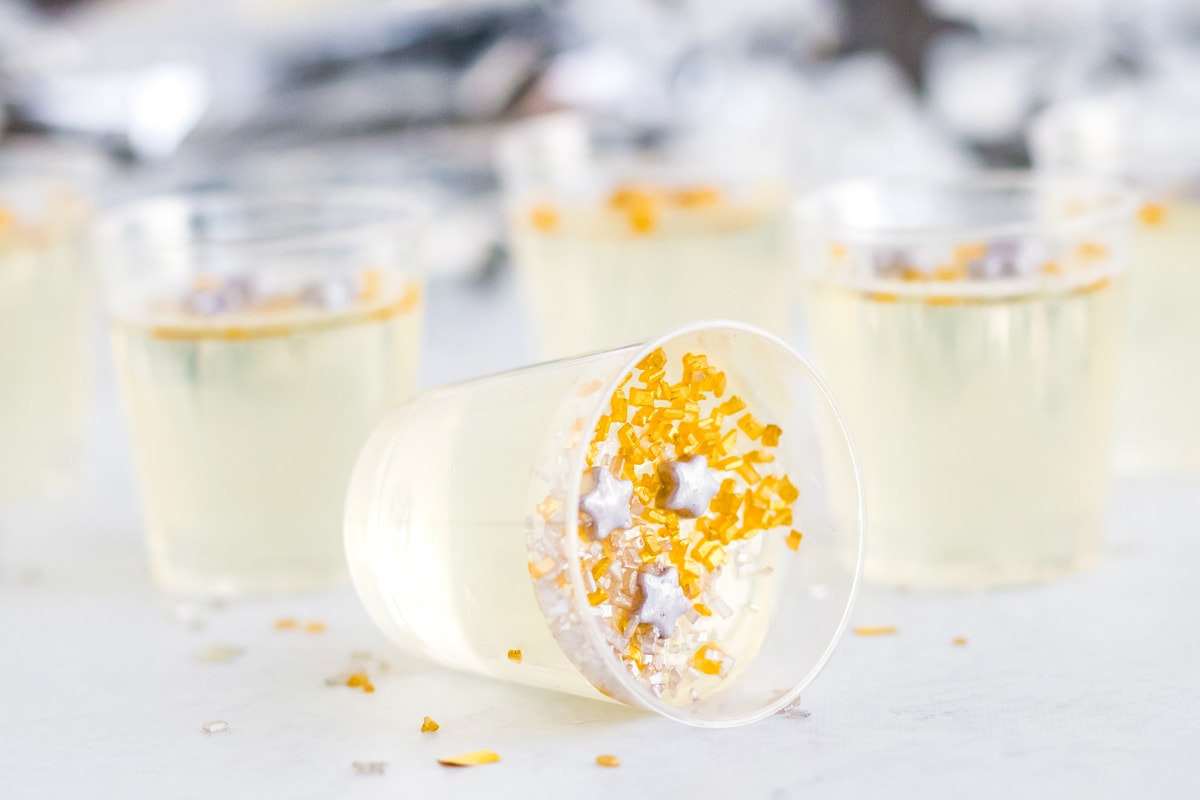 For shots:
Distribute the liquid evenly to serving glasses. You can use disposable shots glasses (these gold glitter ones are fun) or fancy glass ones. Small parfait cups are also an option for upscale events. Serve these with a spoon. For parfait cups, you'll only yield about 8.
Place in the refrigerator for 3 hours to set.
After they have set, the tops will still be tacky, top with festive sprinkles.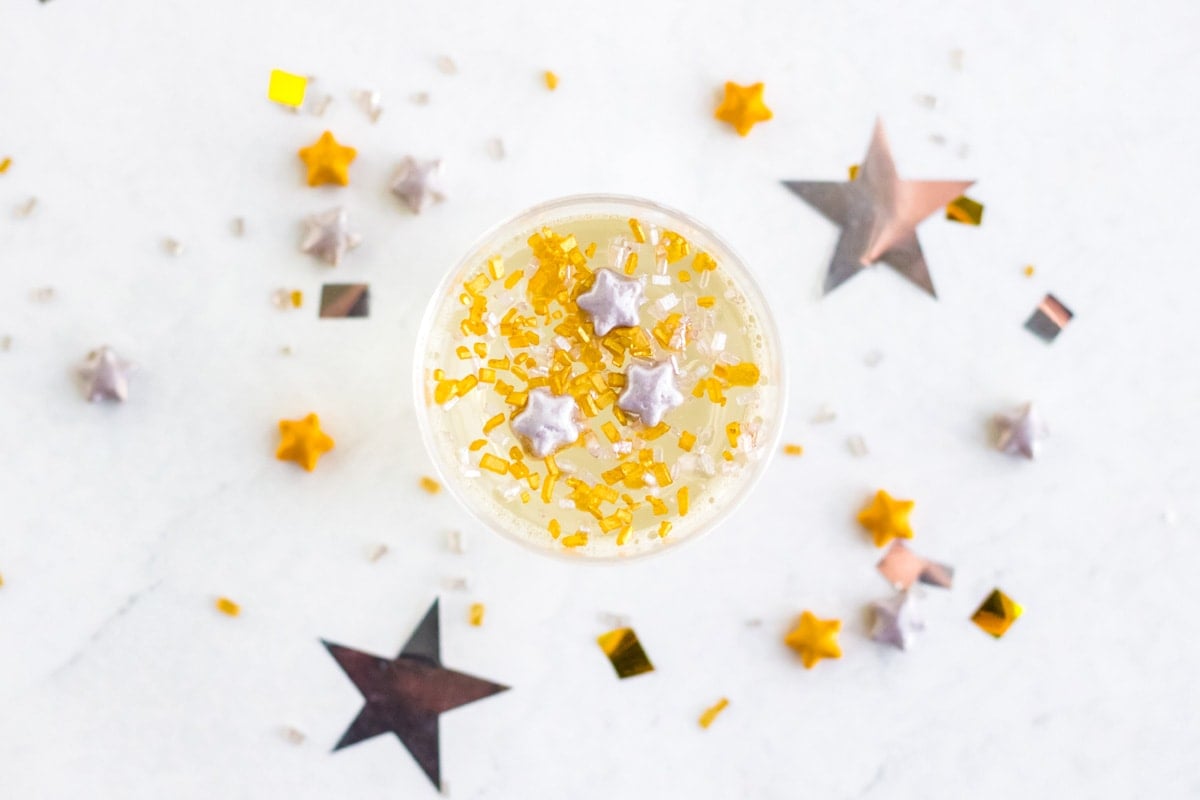 For cutouts:
Coat an 8×8 or 9×9 baking dish with cooking spray.
Pour liquid into baking dish and chill for 3 hours or until set.
When ready to make cutouts, gently release edges using a butter knife. Invert onto a cutting board lined with parchment to prevent sticking.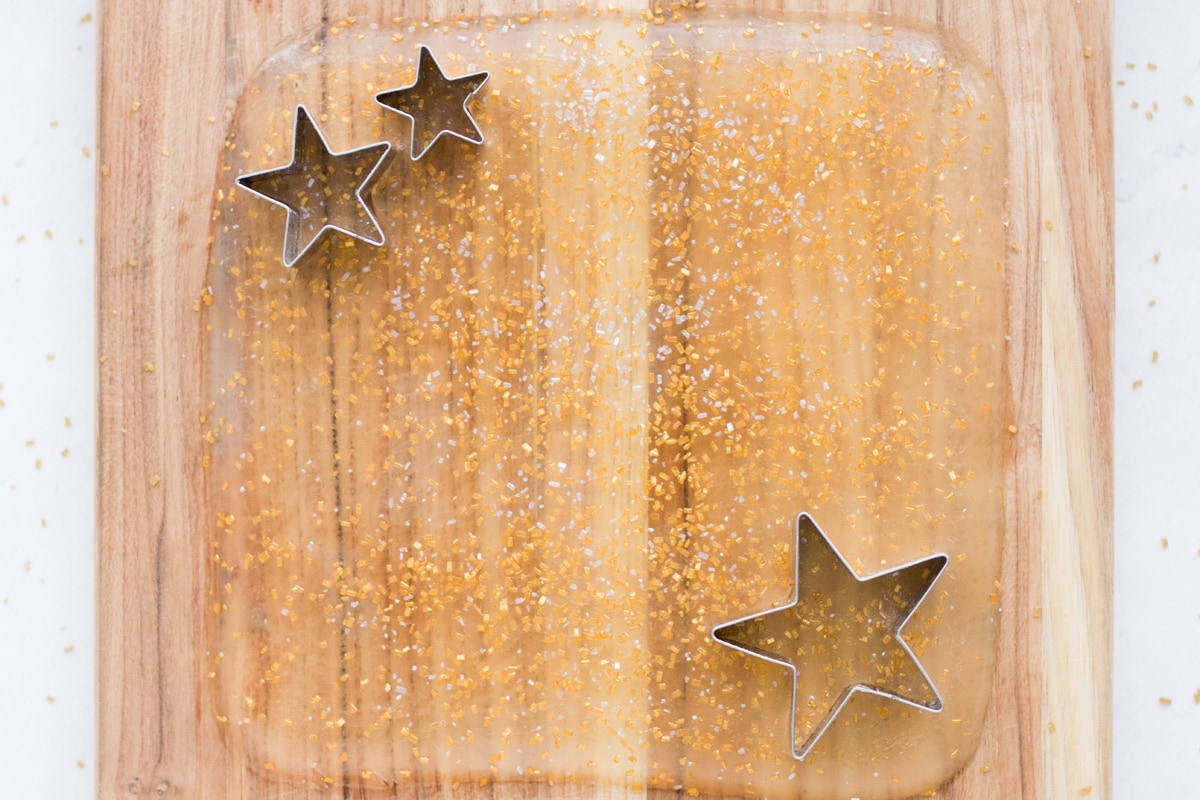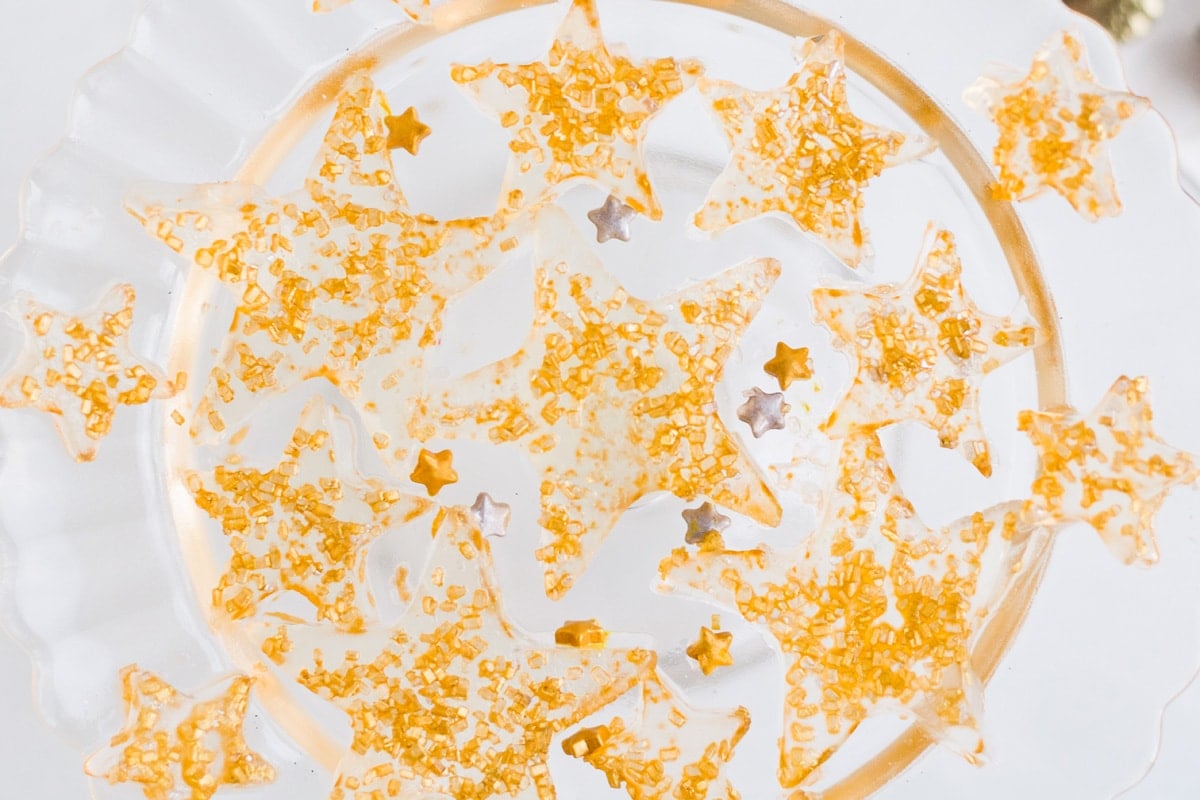 Champagne, Vodka & Sparkling Water
We found that the best way for these champagne Jello shots to actually taste like champagne was to use lemon flavored sparkling water and even lemon vodka. The sugar helps to balance out bitter flavors and avoid the dreaded "pucker shot face".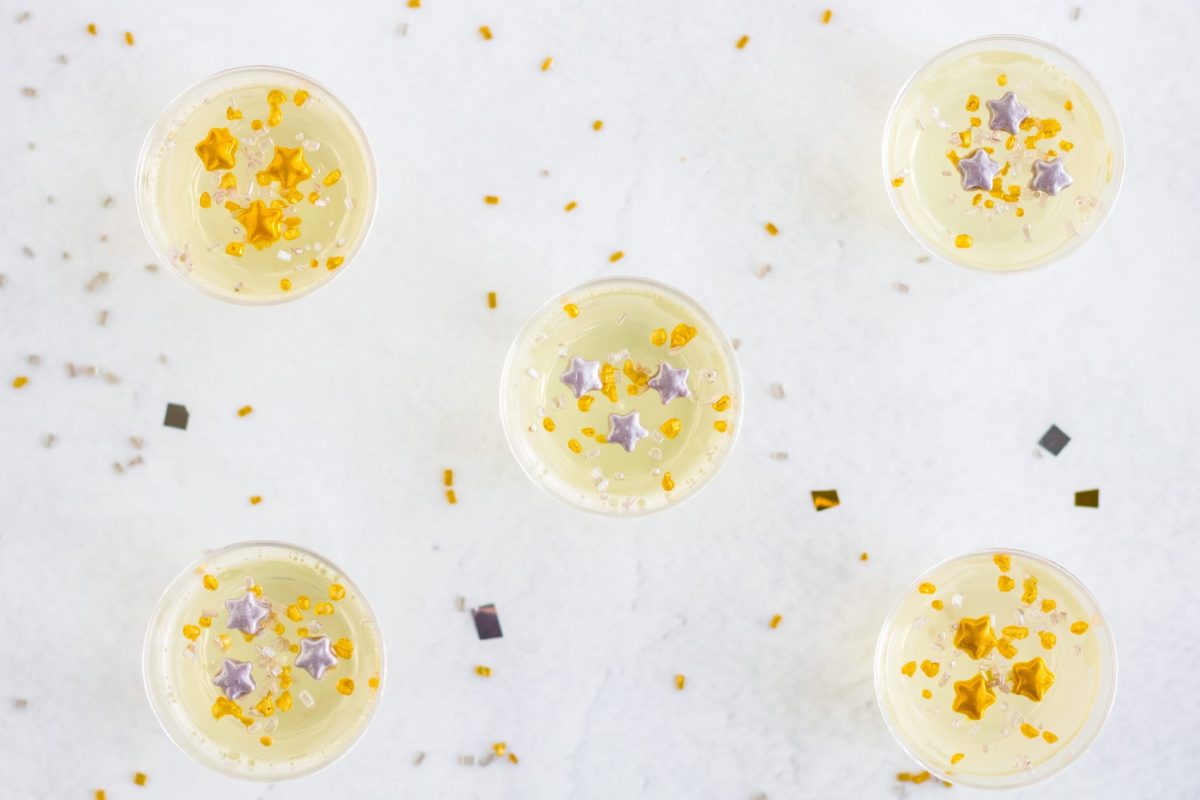 But you can also customize with other flavors, they just want be as champagne forward. Coordinate flavored sparkling water with flavored vodka.
Champagne is only champagne if it comes from the Champagne region of France, so we labeled ours sparkling wine. Don't buy the cheap stuff, but also don't waste your reserve.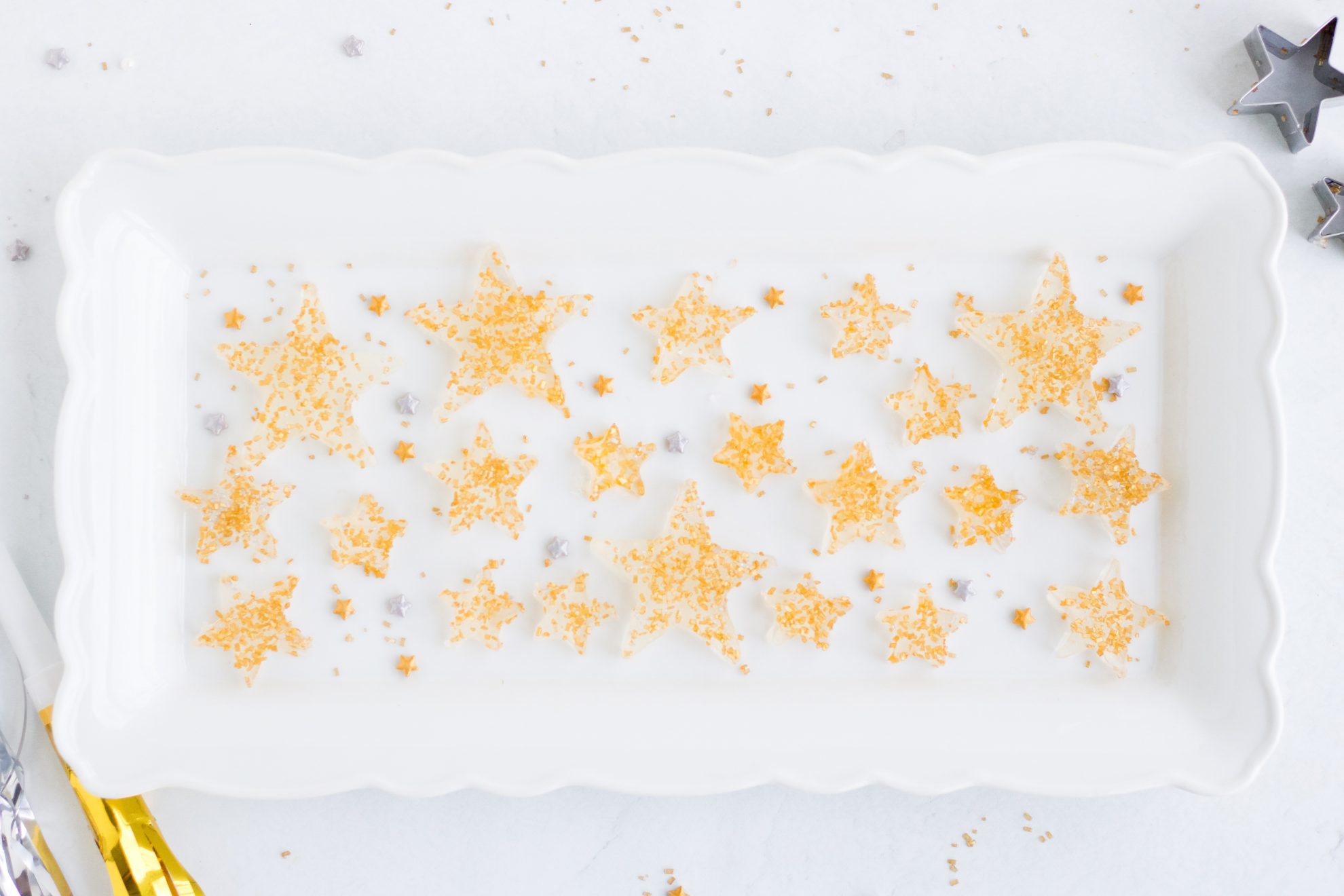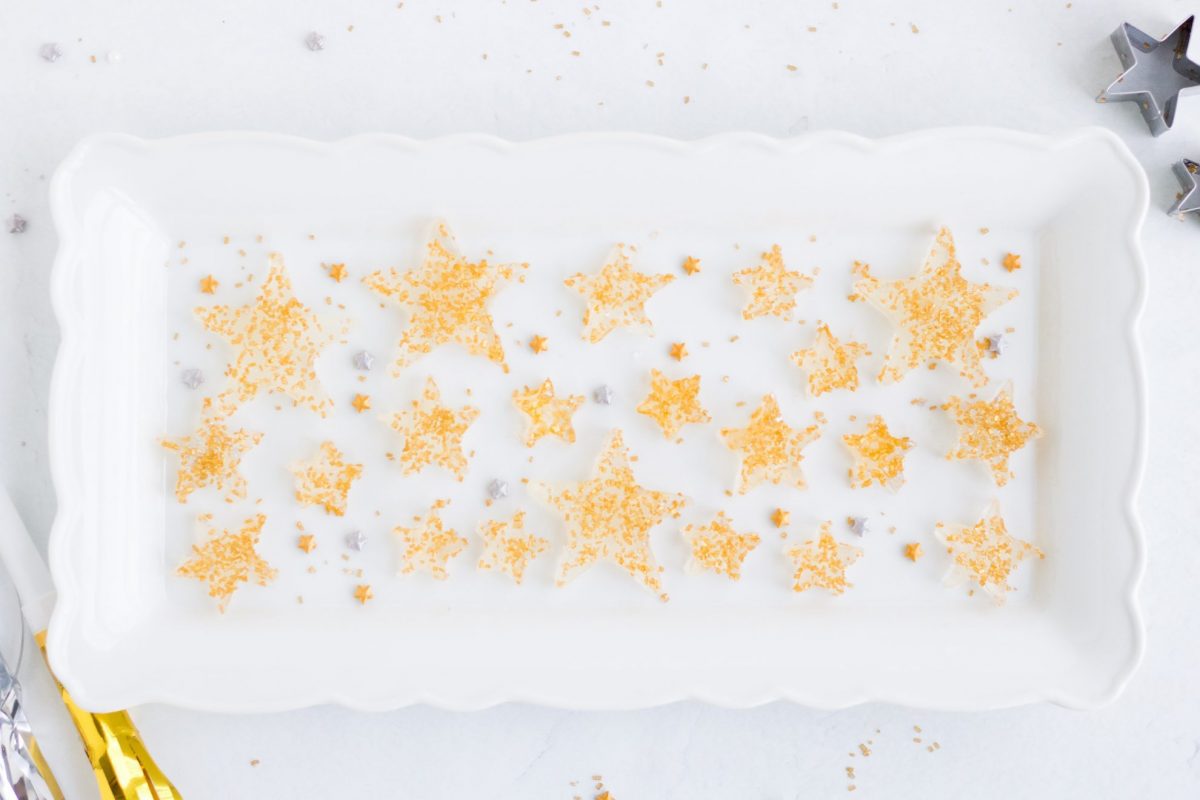 Prosecco, champagne or Cava all work, but "brut" or "dry" tends to do best.
Making Champagne Jello Shots in Advance
Jello shots can be made up to a day in advance. Just be sure to keep them chilled until ready to serve.
Definitely do not freeze them though. It will not thaw correctly and you will have some very sad Jello shots!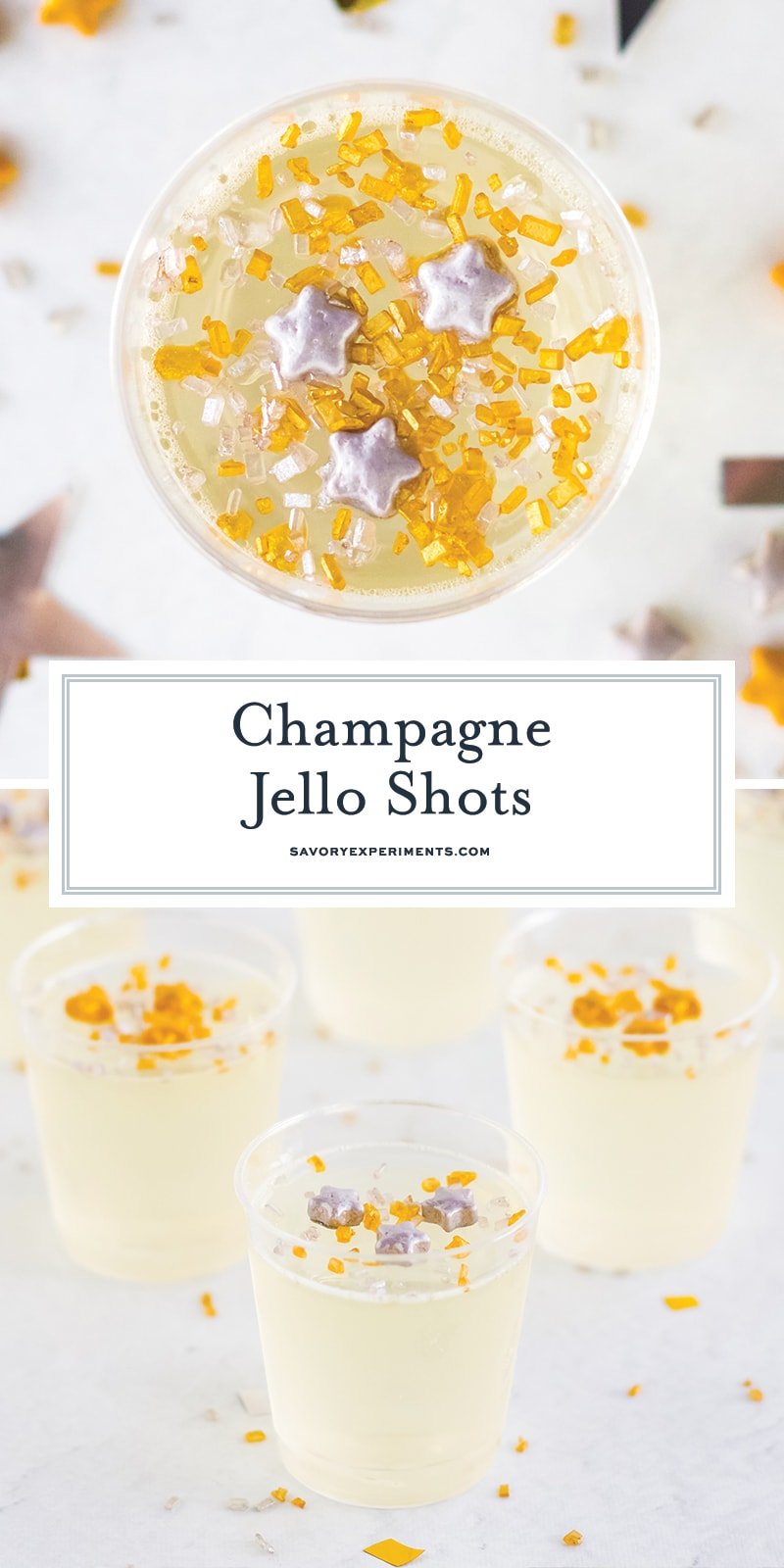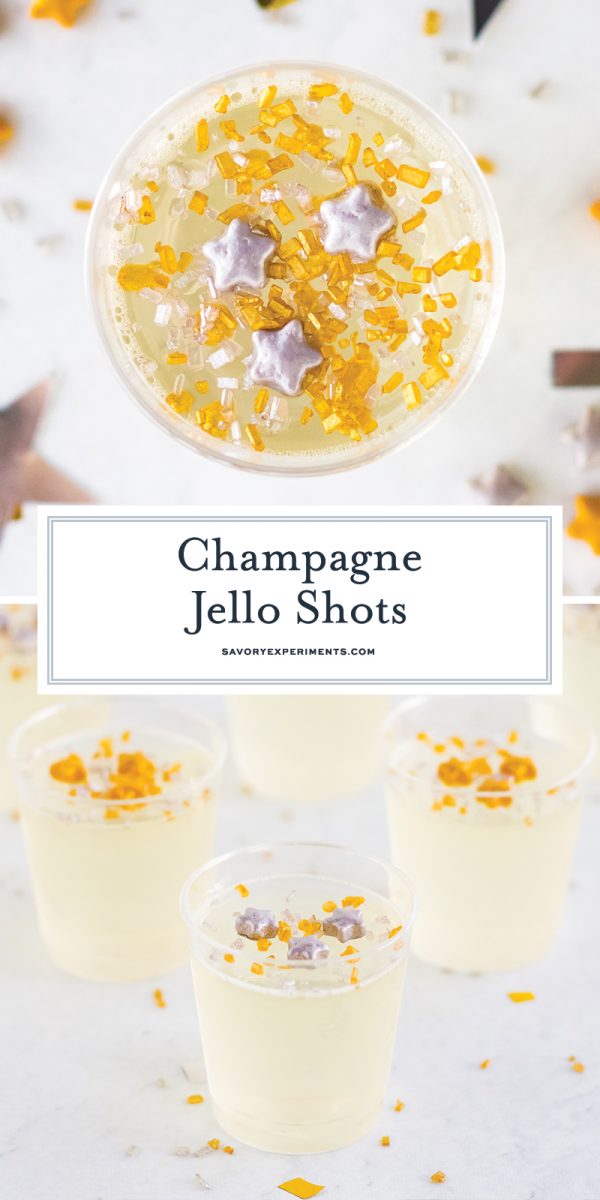 More cocktails to cheers to: