Perfect hard boiled eggs, one of the most basic of cooking skills, remains a challenge for many home chefs.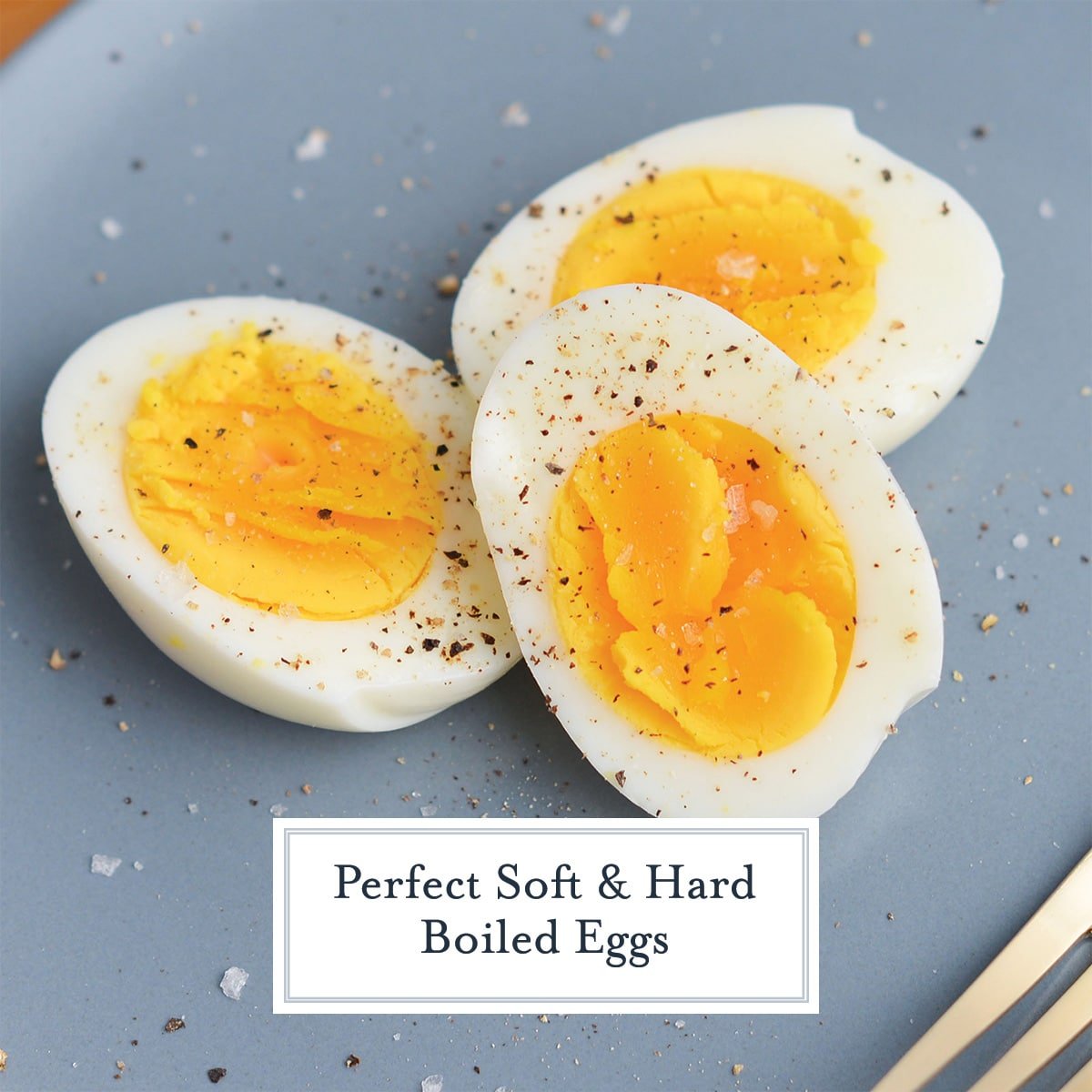 How Long Do You Boil Eggs?
How long do you boil eggs? How to hard boil eggs should be a basic, but for many of us, remains a mystery! The yolk comes out a grayish-green, they aren't fully cooked, the shells are hard to peel; a whole host of problems.
Since spring and Easter seem to be the time that hard boiled eggs make their seasonal come back for everything from egg salad , deviled eggs, or just eating them plain, I want to share a few quick tips and tricks on how to make hard boiled eggs.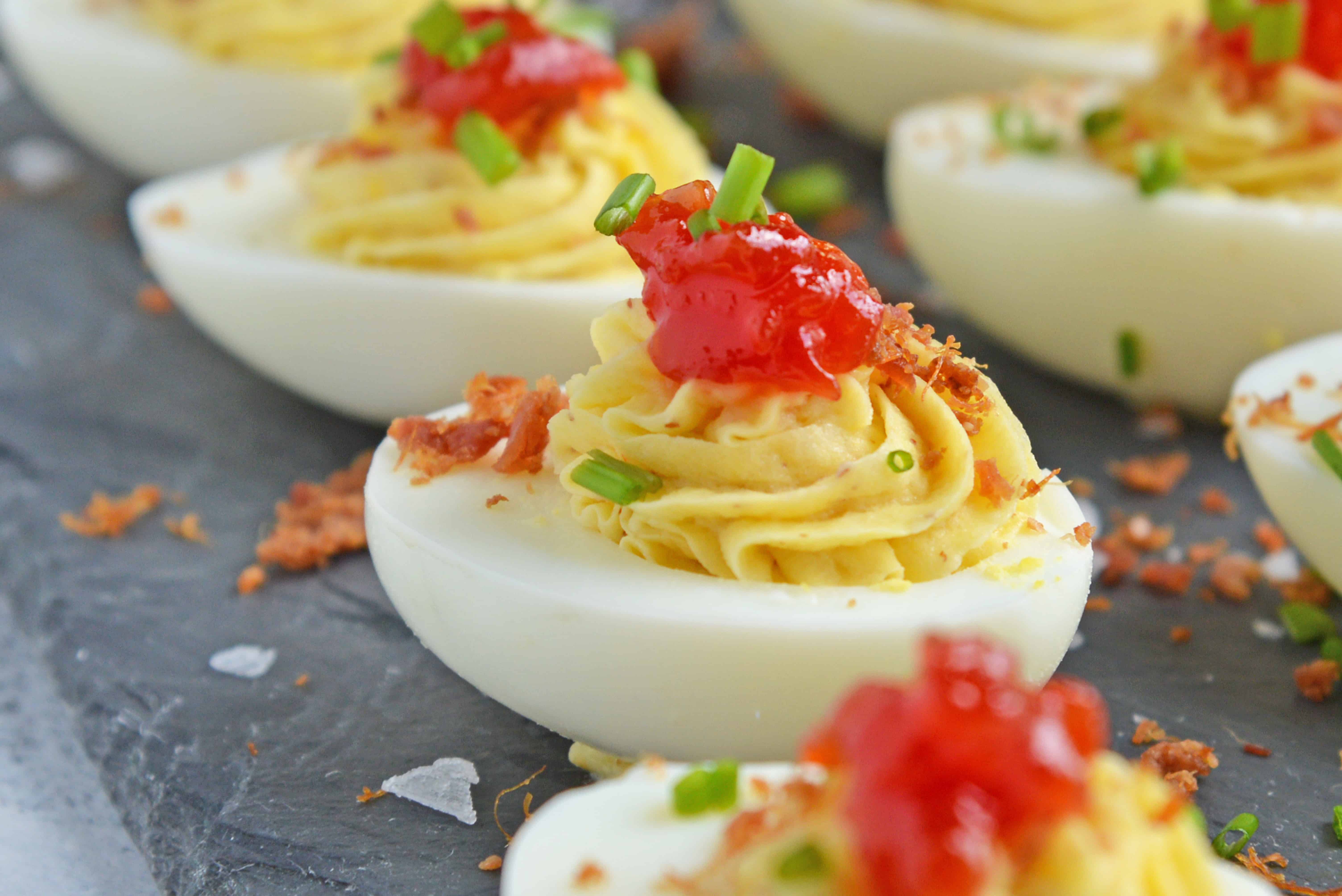 I am going to say that these are tips and tricks I have personally found work, as have many others, but this doesn't mean that there isn't room for failure.
You will come across that stubborn egg that just doesn't want to play nice and there are many variables preventing you from perfectly cooked hard boiled eggs.
What you'll need for Perfect Hard Boiled Eggs (Easy Peel)
Eggs – Work in batches of 6. Aim for older eggs in this case. The membrane separating the egg from the shell starts to separate as the egg ages, making it easier to peel. All of these times are based on large eggs.
Baking Soda or Vinegar- You don't need both, just pick one of the other. Both will help to break down the shell a bit, making them easier to peel.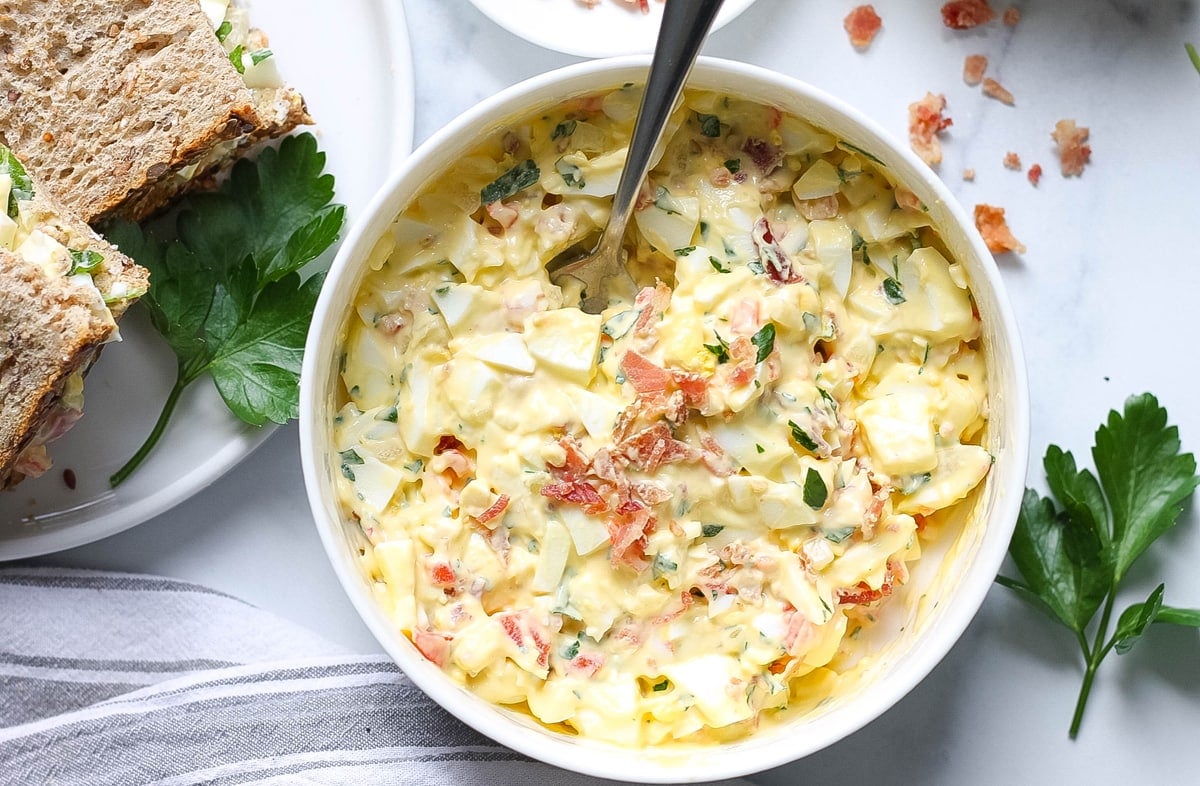 How To Make Perfect Hard-Boiled Eggs
Older eggs (but not expired old) as opposed to fresh eggs, actually make the best hard boiled eggs. The taste will be the same, but the shell will peel with ease. This is probably the most critical piece of whether or not your egg will peel well and might take some planning ahead. Grab the eggs in the front of the case, as most grocers will have the oldest stock up front.
Why do old eggs peel better? In fresh eggs, the albumen (egg white) tends to stick to the inner shell membrane due to the less acidic environment of the egg. After the shell's protective coat slowly wears off, the egg becomes porous, absorbs more air, and releases some of its carbon dioxide.

Pop Sugar
Adding 2 teaspoons of baking soda to cold water before boiling water will assist in peeling. Some folks swear by adding vinegar for the same purpose, but I've always had luck with baking soda, so I stick with what I know.
Place eggs in a single layer in the pot, being careful not to crowd the pot. The water needs to circulate around the entire egg. You may need to do them in batches.

Also make sure you are using the correct size pot, too. For 6 or less eggs, a heavy bottom saucepan will work. If you are making more, use a large Dutch oven or pot. As with most items, overcrowding the pot does not help the cooking process.
Cover eggs with cold water and bring up to a boil. This way the eggs will come up to temperature with the water instead of being shocked when dropped into boiling water causing the shell to shatter and raw egg to leak. Do not fill with hot water either. Cool water is fine. Boil over high heat for the rest of the cook time.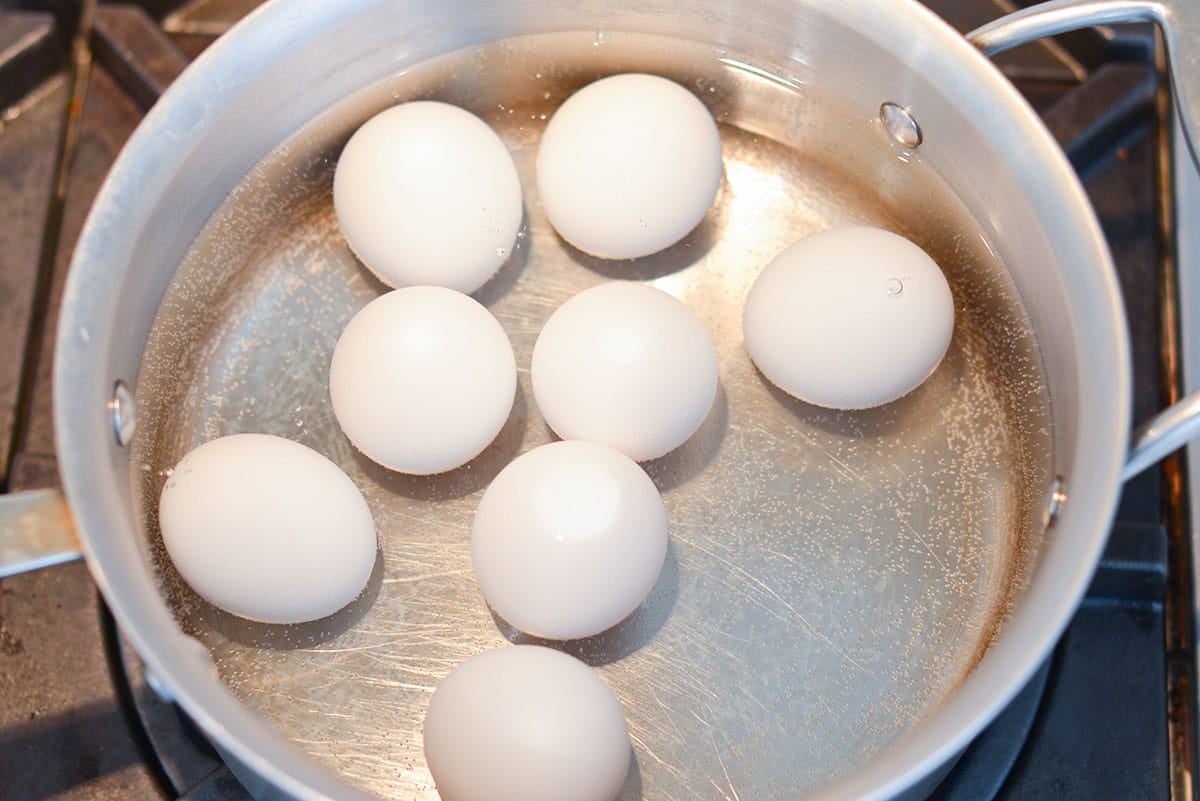 There are many wives tales for centered yolks. Some tricks that I have heard are to sit the egg carton on its side the night before boiling and stirring the eggs while the water comes to a boil, alternating the direction every minute so the egg whites will be perfect around the egg yolk.

I have also never had success with any of these working. I like to live on the edge and take my chances.
Remove from the heat as soon as the water comes to a boil, cover and let sit for 10-12 minutes. Many people are worried they will undercook eggs and therefore over boil.

Bringing them to a full rolling boil is a sure way to get gray yolks! You are even better with a low simmer than a full boil. Overcooking will result in the yucky colored gray hued yolk. The color comes from iron in the yolk reacting with hydrogen sulfide in the white.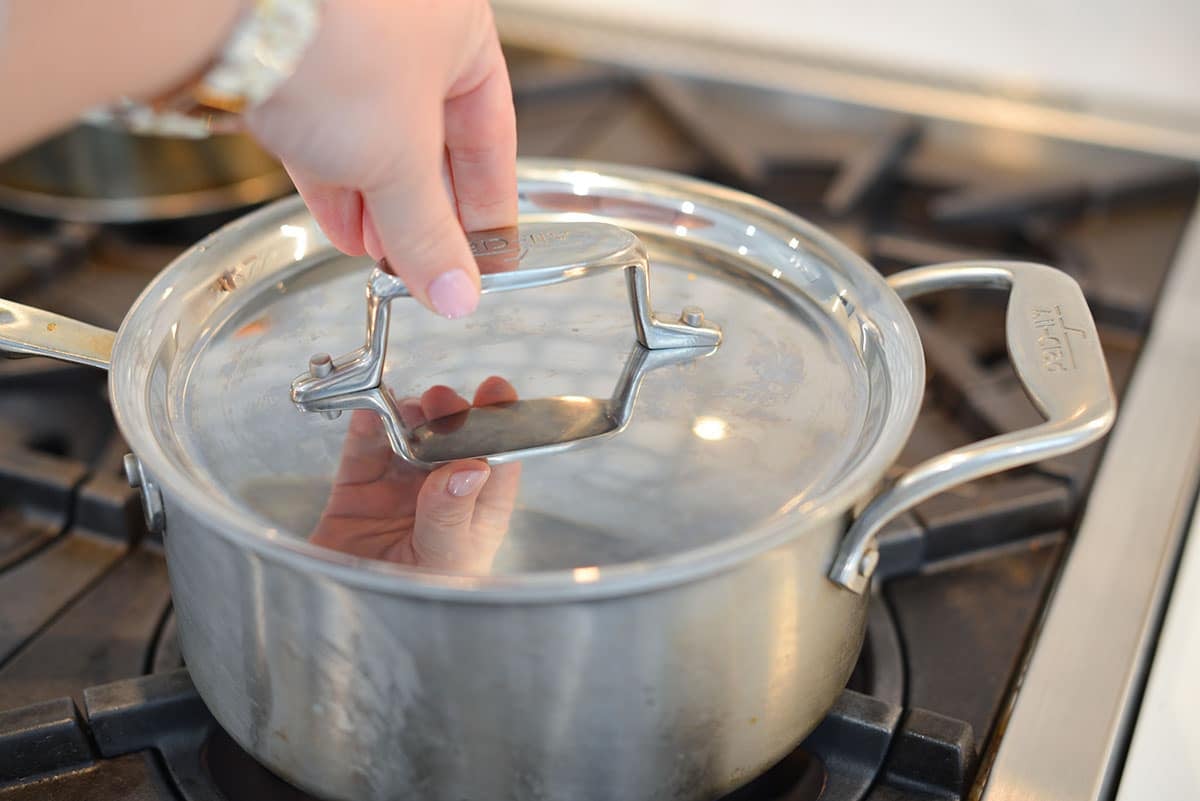 Immediately immerse in a bowl of ice water to stop the cooking process and also loosen the shells. Shock the eggs!

Fill a large mixing bowl with cold water and ice cubes (ice water bath), but make sure to leave enough space for the eggs. Transfer from boiling water to ice bath using a large slotted spoon.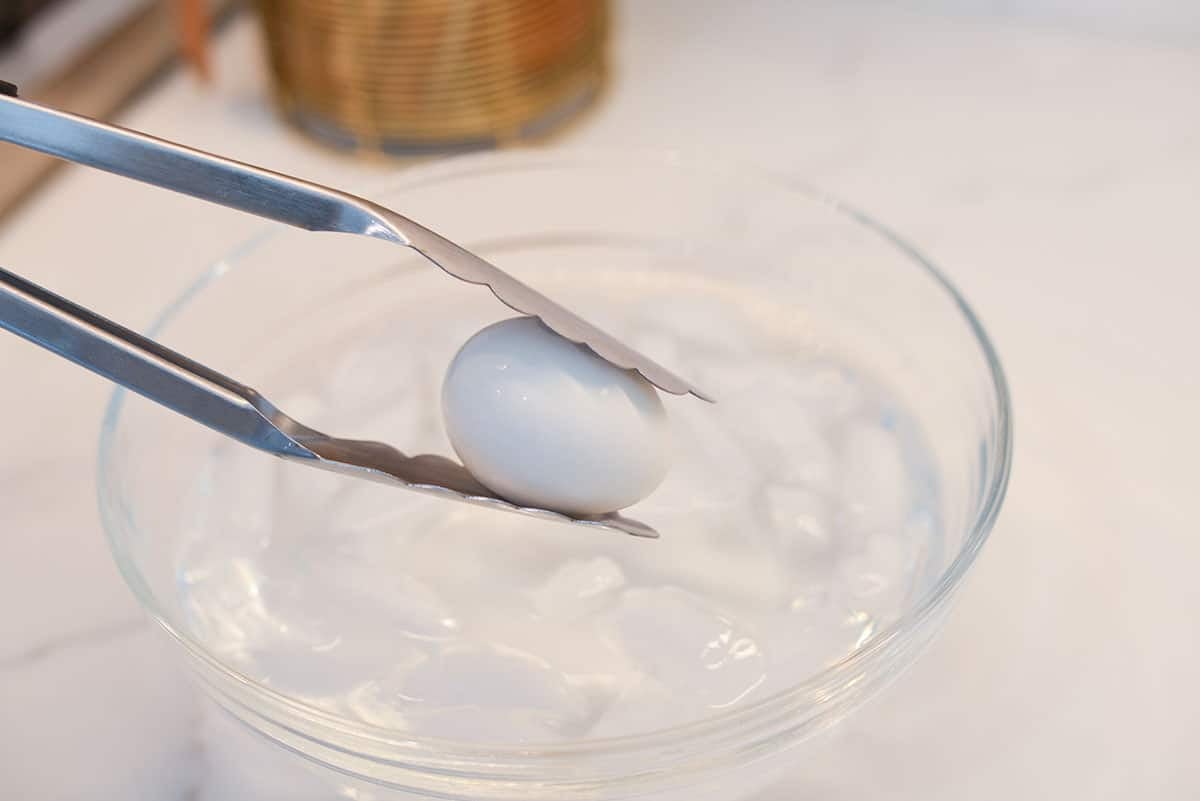 Shells will be the easiest to remove while they are still warm. Peeling under cold running water will also assist in separating the shell from the egg and prevent you from burning yourself.
If you have any additional ideas or tips for easier to peel eggs, I'd love to hear them in the comments section!
If you own an Instant Pot, it is also super easy to make Pressure Cooker Hard Boiled Eggs or even Air Fryer Eggs! Electric pressure cookers use high pressure to cook them efficiently and fast.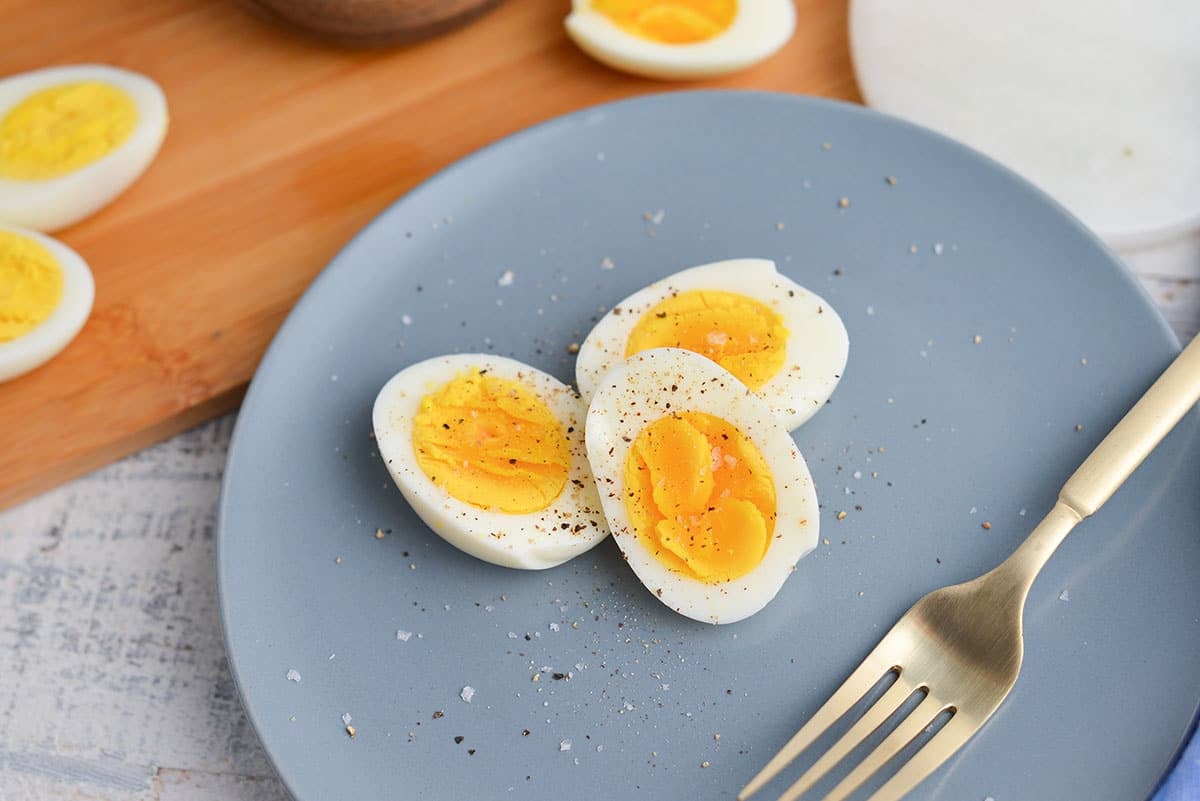 How long do you boil eggs for hard boiled eggs?
Cooking time really depends on the size of your eggs. Generally speaking…10-12 minutes is for a large egg.
Extra large or jumbo eggs may need to boil for 1-2 minutes before removing from heat and conversely, smaller eggs may need closer to 8-10 minutes. Here is what they look and taste like at each stage.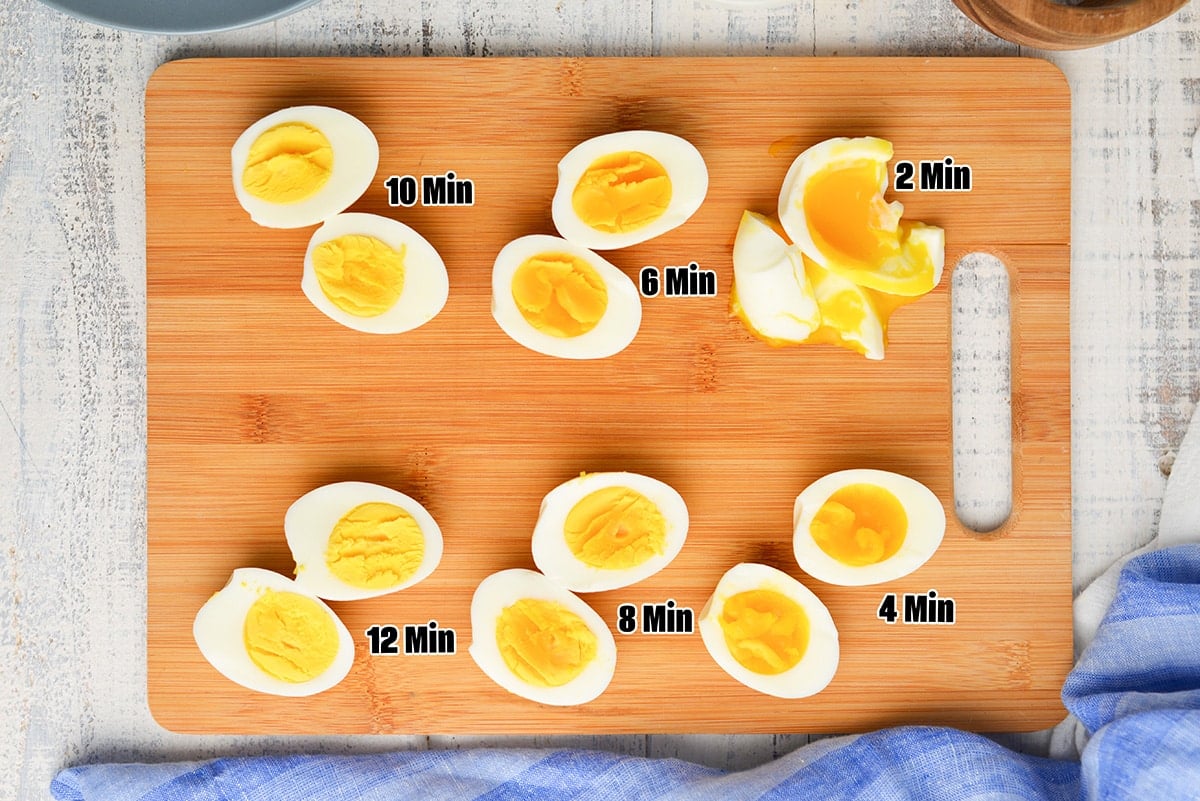 Two Minute Egg
These were common in the Victorian period and served on a little egg stand with the top of the shell missing. People would remove the top white and dip their toast into the runny yolk. As you can see, these are very runny and hard to peel because they lack shape and structure.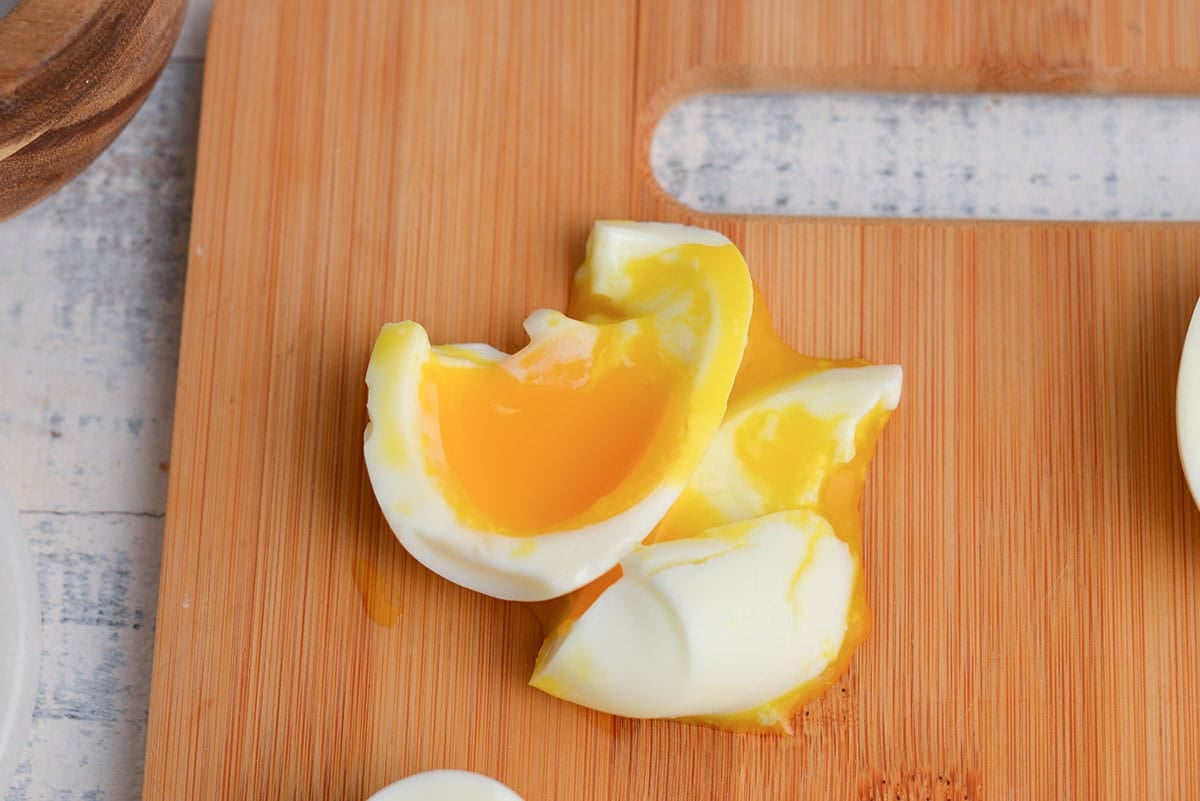 Four Minute Egg
A little more set than a two-minute egg, these are still going to provide a soft yolk, but will be more set. These are ideal for things like Ramen and salads, but aren't set enough to slice into thin strips.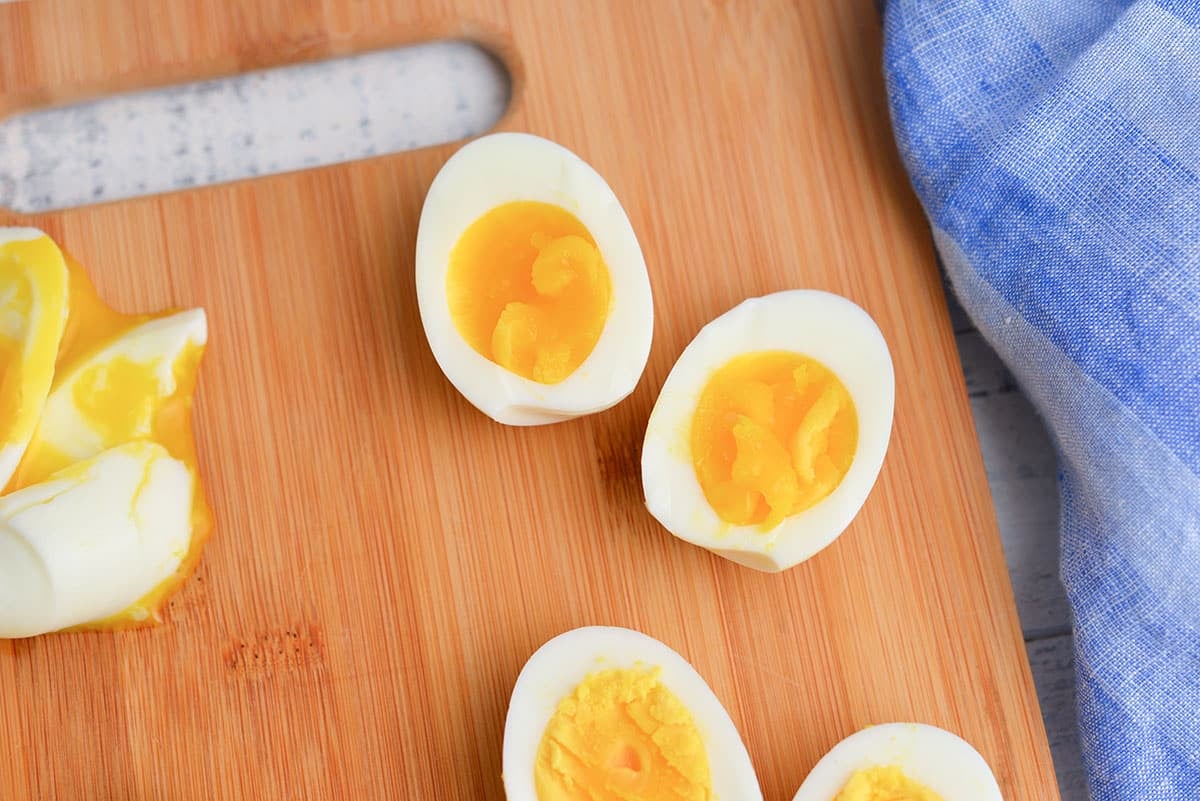 Six Minute Egg
Considered to be the perfect "soft boiled egg", these are also used in Ramen dishes, but also as a side for breakfasts, crushed with a fork they can be smeared onto a tortilla or tossed with your favorite greens or on a niçoise salad.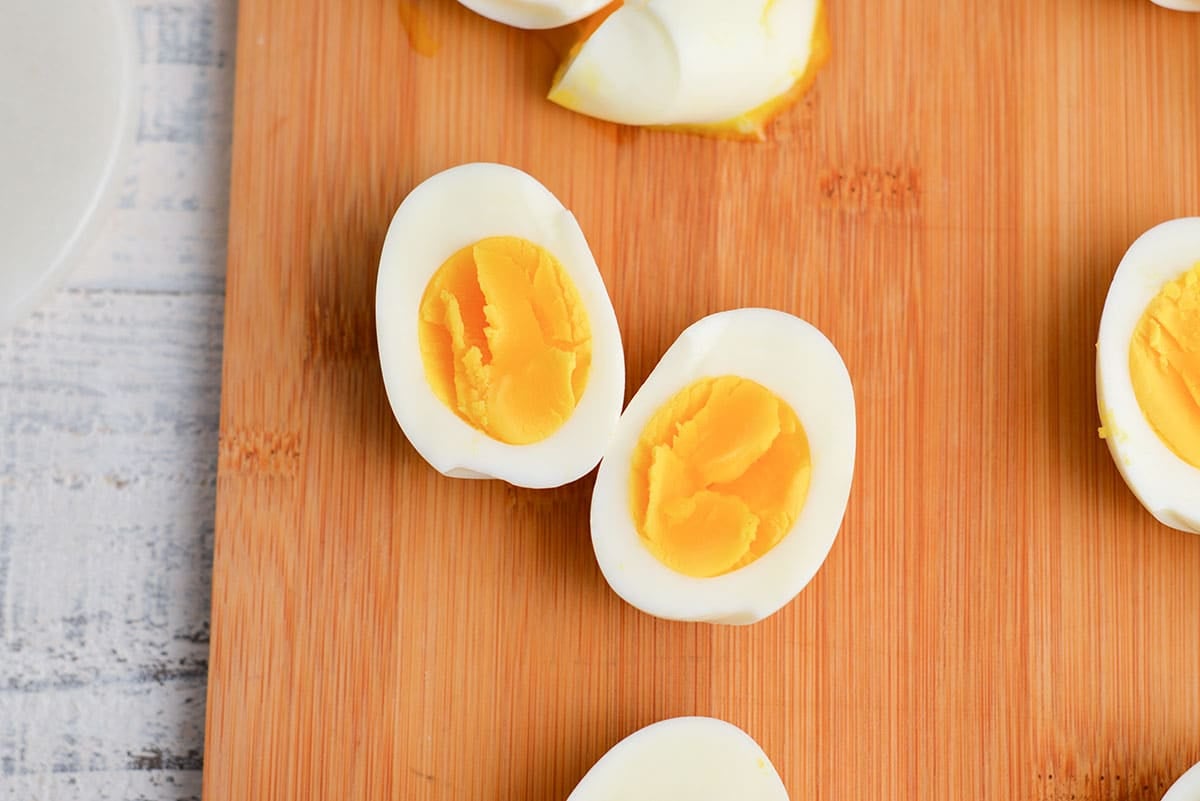 Eight Minute Eggs
Now we are running into hard boiled eggs. Eight minute eggs are at the lower end of that and will be more of a preference and used for salads and other dishes that require a soft, but set yolk. This is my preference of egg to sprinkle with flaky salt and fresh pepper as a snack.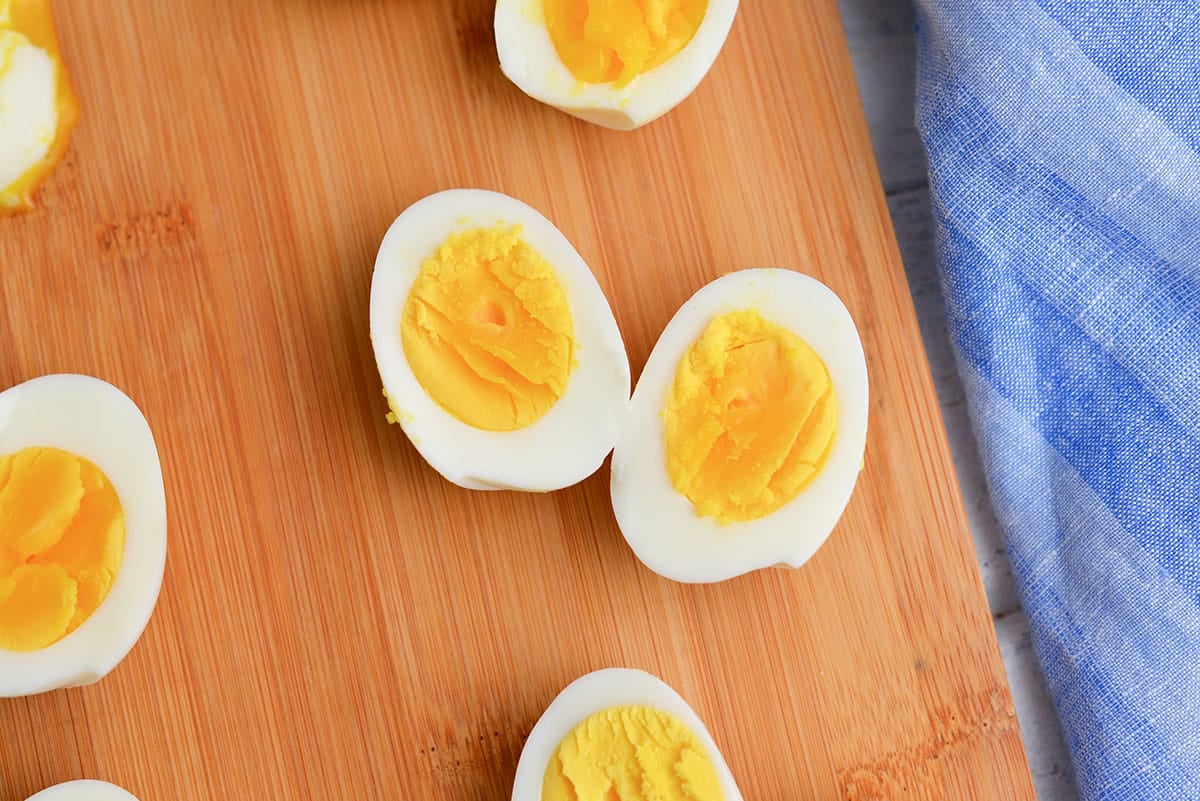 Ten Minute Eggs
A more solid yolk, but still creamy and velvety, these are hearty eggs used for egg salad, quartered and put on top of salads or used as a garnish for other dishes.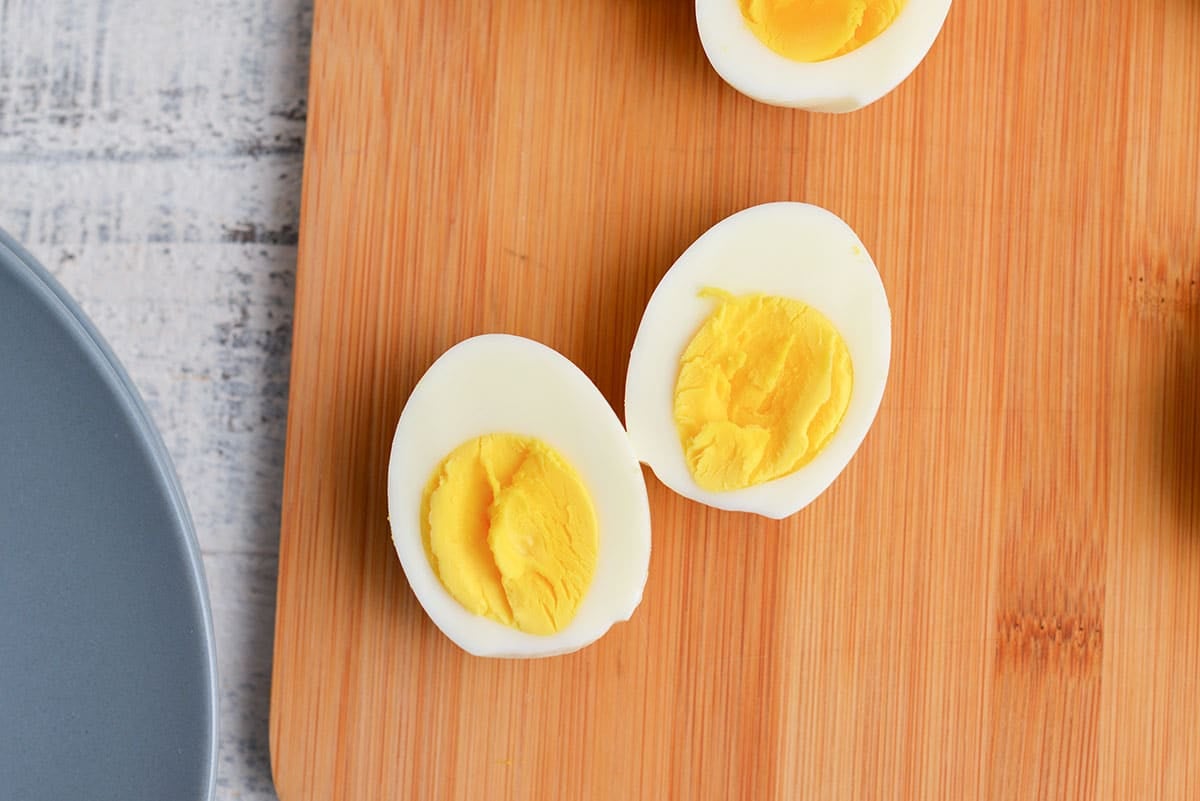 Twelve Minute Eggs
These are the most solid before heading into the mealy, dry and gray zone. These are great for deviled eggs and using to dye Easter eggs.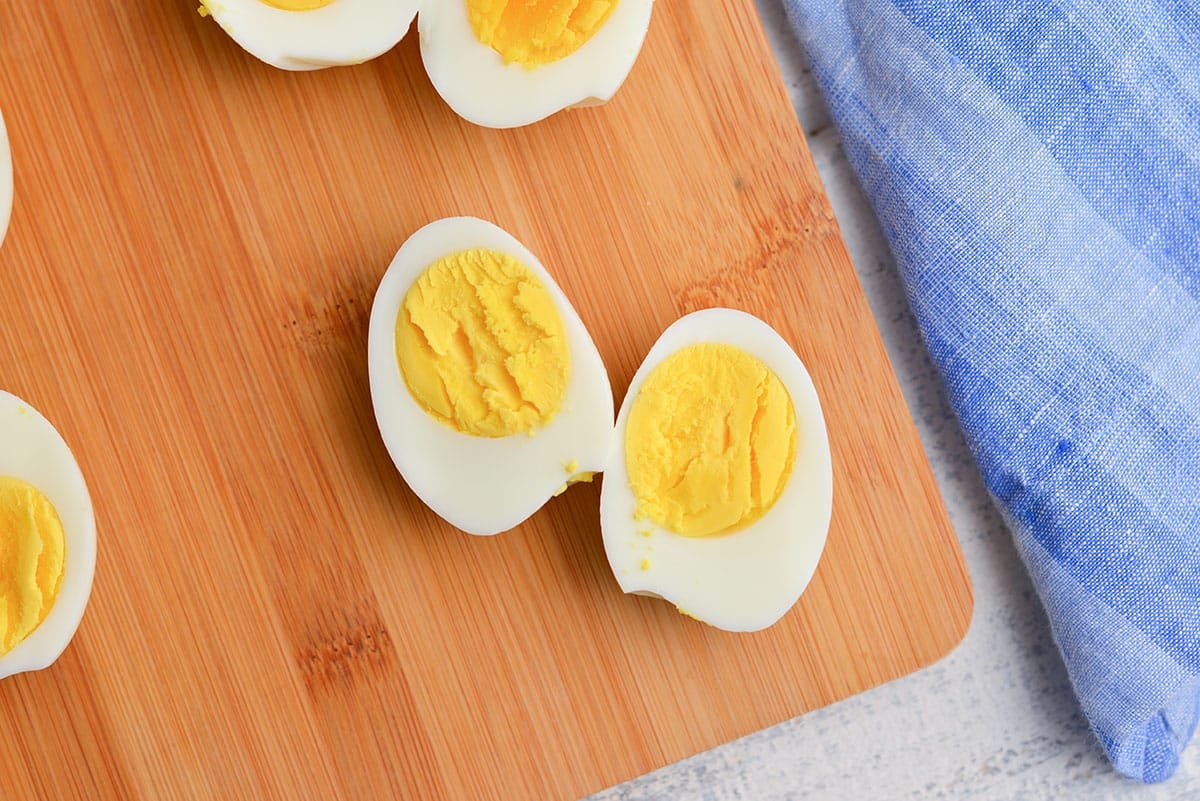 Perfect Boiled Egg Time
The perfect time depends on on two things, the size of the egg and how you like your yolk, which might be a demand of the recipe or a personal preference. All of these times are based on large eggs. Add 1 minute for extra large eggs, subtract one minute for medium eggs.

Soft boiled eggs– For best results, cover for 2-5 minutes, depending on how you like your yolk. Soft-boiled eggs are sometimes called dippy eggs or runny eggs because the yolk can range from runny to semi-set and jammy.
Hard boiled eggs– Cover for 9-12 minutes, depending on how you like you yolk. These eggs have a set yolk. Go all the way to 12 minutes for things like Easter eggs. Anything past that the yolk starts to get chalky, dry and can develop a grey-ish ring which is edible and won't hurt you, but is unsightly.
You can also pick any time between depending on how you like you yolks or the purpose of the recipe. Here is a quick guide for how long to let the eggs sit covered for the optimal yolk.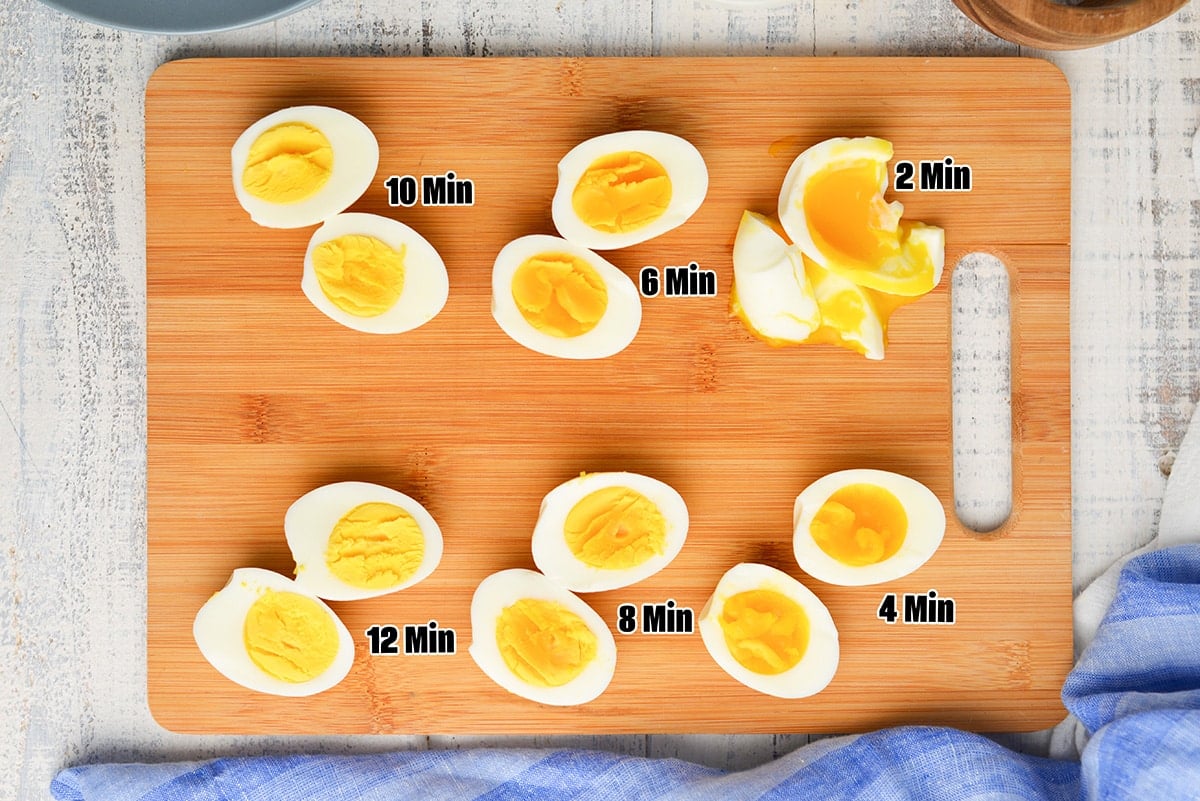 Best Way to Peel Hard Boiled Eggs
Hopefully using older eggs and using baking soda or vinegar will loosen up the shell a bit. From there, gently crack the egg and roll it on a hard surface to break up the shell and dislodge the membrane.
Start peeling at the large end. If the shell is temperamental, you can place it under running water, the force will help to separate the two.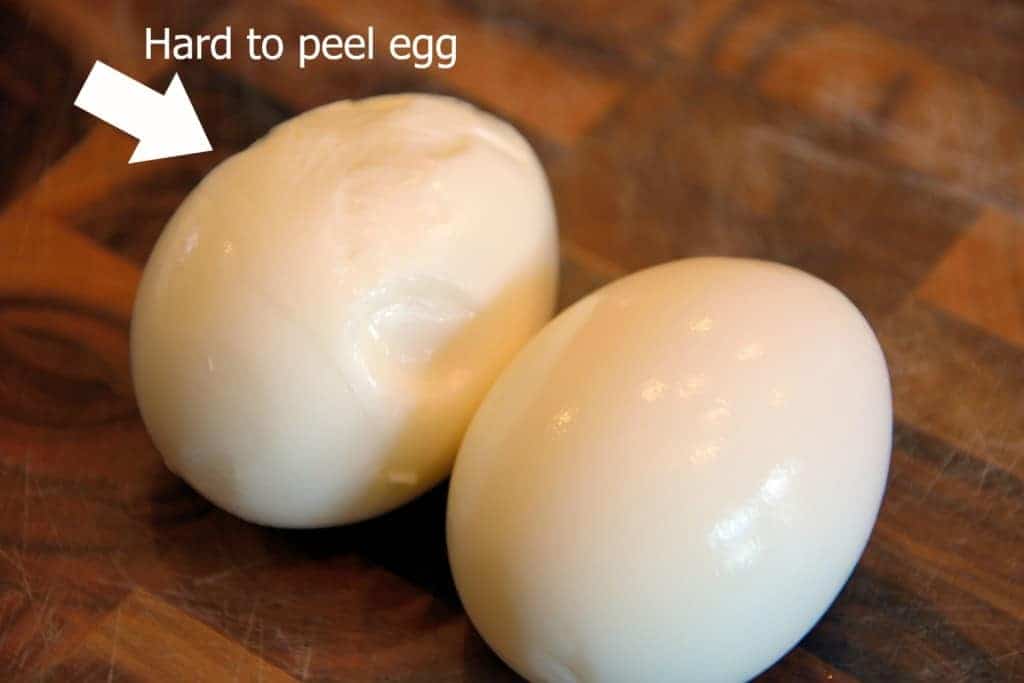 How to store Perfect Hard Boiled Eggs
Can you freeze hard boiled eggs?
Yes and no. Whites do not freeze well and become gross and rubbery. The yolks, however, will freeze decently, but not great.
How long can hard boiled eggs be kept at room temperature?
This is a great questions and eggs are commonly left at room temperature for long periods of time.
Think of egg hunts, egg salad sandwiches on the potluck table or even deviled eggs, which I prefer to be more toward room temp than chilled.
According to the CDC, hard boiled eggs are good at room temperature for up to 2 hours.
Do hard boiled eggs need to be refrigerated?
Yes! After cooking, if you aren't eating them immediately, hard boiled eggs should be kept refrigerated in a sealed container.
How long do hard boiled eggs last?
If kept in an airtight container in the refrigerator, they will last up to 7 days.
Why Does My Egg Look Gray Or Green?
Eggs that have a gray or green ring were cooked took long. Rest assured they are safe to eat and will taste fine, but they might be a touch dry or mealy and look a little unsightly. These will also tint egg salad or deviled egg filling a tad gray.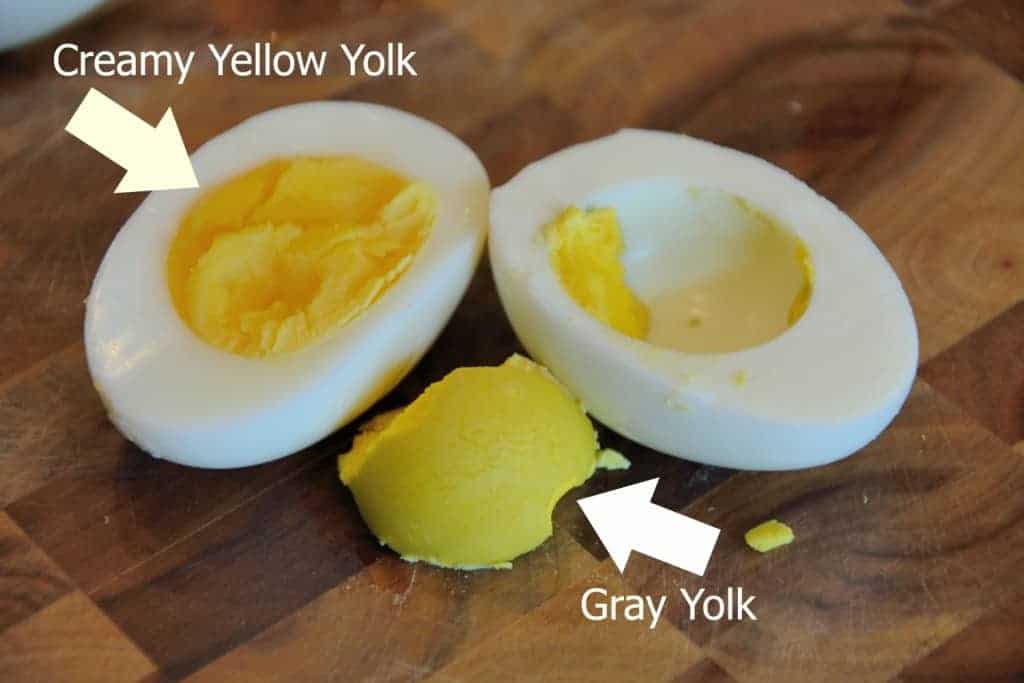 Perfect Hard Boiled Egg FAQs
Are hard boiled eggs healthy?
This is always a loaded question and depends mostly on your definition of healthy. Please consult a physician for the best diet for you.

What I will say is that a hard boiled egg is the most natural and organic of egg you can get with zero added sugar or fat.

Consult the nutritional value on your egg carton for the best calorie, fat and cholesterol information.
Are hard boiled eggs gluten free?
Yes, hard boiled eggs are naturally gluten free.
Are hard boiled eggs keto friendly?
Yes! As far as I understand keto (I am in no means an expert), perfect hard boiled eggs are keto friendly.
Can you reheat hard boiled eggs?
You can, but they will get rubbery, just like an overcooked egg. I don't recommend microwaving, they can explode and the texture will be off.

If you really want to reheat a hard boiled egg, bring water to a boil in a saucepan and heat the egg in for 1-2 minutes.
Why are my hard boiled eggs grey inside?
They were cooked a little too long, but they aren't bad, just a little unsightly.
What is the best way to cook hard boiled eggs?
Hard boiled eggs, hence the name, are best in the boiling water, but you can also make them with more modern appliance like an Air Fryer or Instant pot.
Do you put hard boiled eggs in before or after water boils?
Place the eggs in the water before it boils so the internal temperature rises along with the water. This prevents them being shocked and the shell breaking.
Should you peel a hard-boiled egg when it's hot or when it's cold?
Cold, peeling is much easier after the egg has been in an ice bath. It is also safer for you fingers!
Should you peel hard-boiled eggs right away?
You don't have to, but I hate doing it, so I try to get it done and out of the way so when I want an egg, I can just grab one from the fridge and go.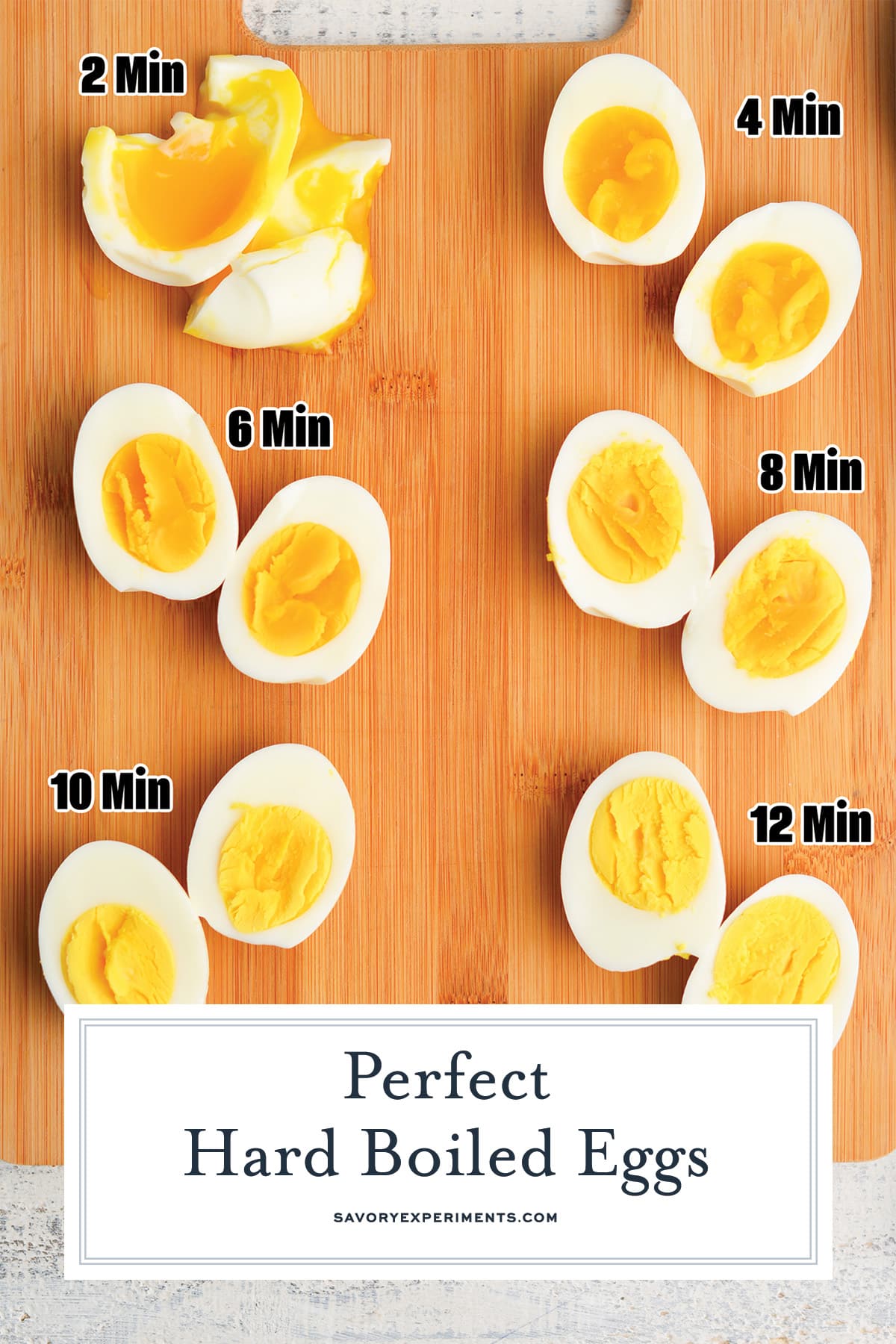 What To Do With Hard Boiled Eggs
There are so many ways recipes that use hard boiled eggs or soft boiled eggs, but my favorite way to enjoy them has to be with just a little salt and pepper.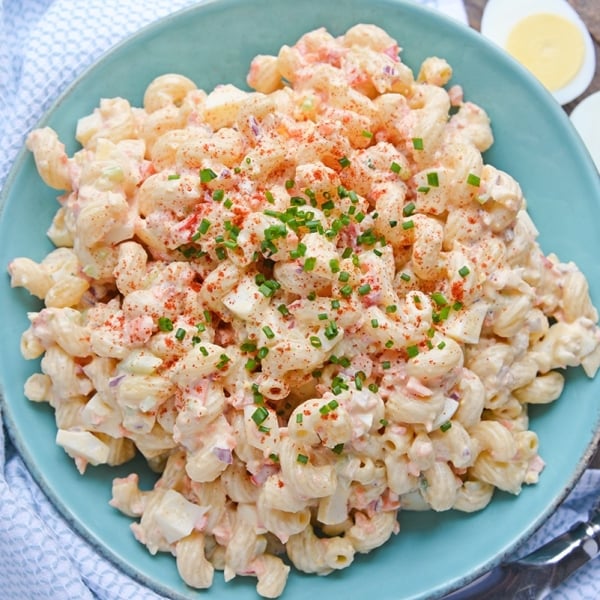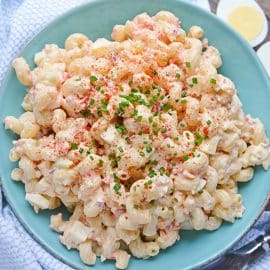 Deviled Egg Macaroni Salad
Deviled Egg Macaroni Salad is a cold macaroni salad using deviled egg filling, pasta and finely minced vegetables. The perfect make ahead side dish for parties and potlucks!
See The Recipe!
Cobb Salad
With egg, bacon, tomato, onion, avocado and blue cheese, a Classic Cobb Salad recipe can't be beat! This recipe also has the BEST homemade dressing!
See The Recipe!
You can also make easy Poached Eggs! Or even fund some fun Easter Egg Ideas!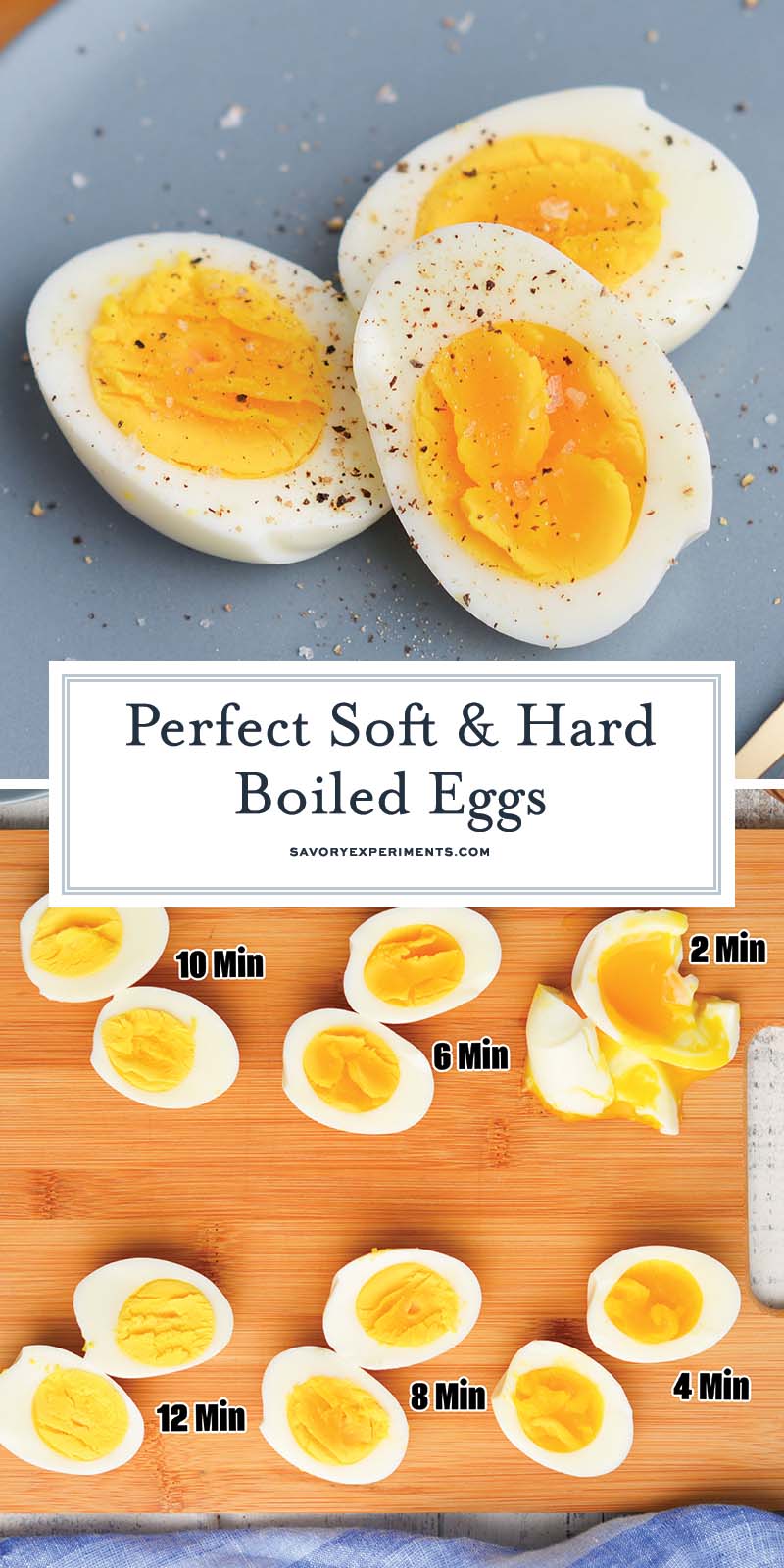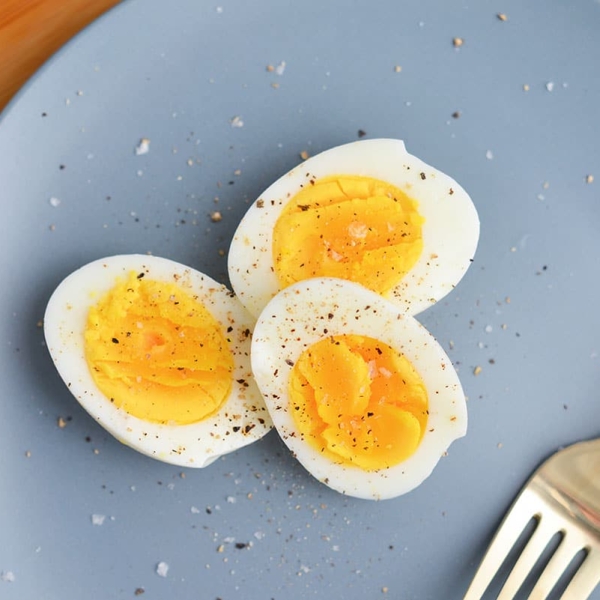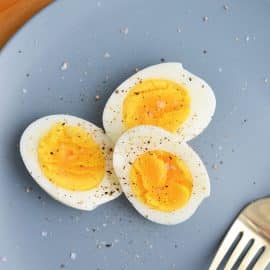 Perfect Hard Boiled Eggs on Stove
Perfect Hard Boiled Eggs with creamy yellow yolks and easy to peel shells. How to hard boil eggs the easy way!
Ingredients
12

eggs

1

tablespoon

vinegar or baking soda

, pick one
Instructions
Place the eggs in a large saucepan or Dutch oven. Do not over crowd the pot, make sure there is enough room for water to circulate around each egg. If there isn't, work in batches of 6.

Add the baking soda or vinegar.

Fill pot with cold water to about 1/2 inch above egg tops.

Bring the water to a boil.

When the water reaches a full, rolling boil (not just a simmer), then remove from heat and cover.

For jammy yolks (soft boiled), cover for 4-5 minutes, for hard boiled (solid, cooked yellow yolk), cover for 10-12 minutes. You can also pick any time between based on preference.

Immediately remove eggs using a metal slotted spoon or tongs and submerse in an ice bath to stop the cooking process.

Run under cold water and gently break and remove the shells.

If you've tried this technique, come back and let us know how it was in the comments or star ratings.
Nutrition
Calories:
62
kcal
,
Protein:
5
g
,
Fat:
4
g
,
Saturated Fat:
1
g
,
Cholesterol:
163
mg
,
Sodium:
62
mg
,
Potassium:
60
mg
,
Vitamin A:
240
IU
,
Calcium:
25
mg
,
Iron:
0.8
mg
** Please note, these are just tips and tricks. I am not claiming that these will work ALL THE TIME or that this is THE ONLY way. They are simply suggestions. I'd love to hear your own and if these tips worked for you!