So you are at the store and you see something that resembles a dinosaur egg and you think to yourself, "What in the world?" Chances are high that it is a jackfruit.
Lean into that curiosity, grab that thing (remember – lift with your legs!), put it in your cart, and get a little adventurous.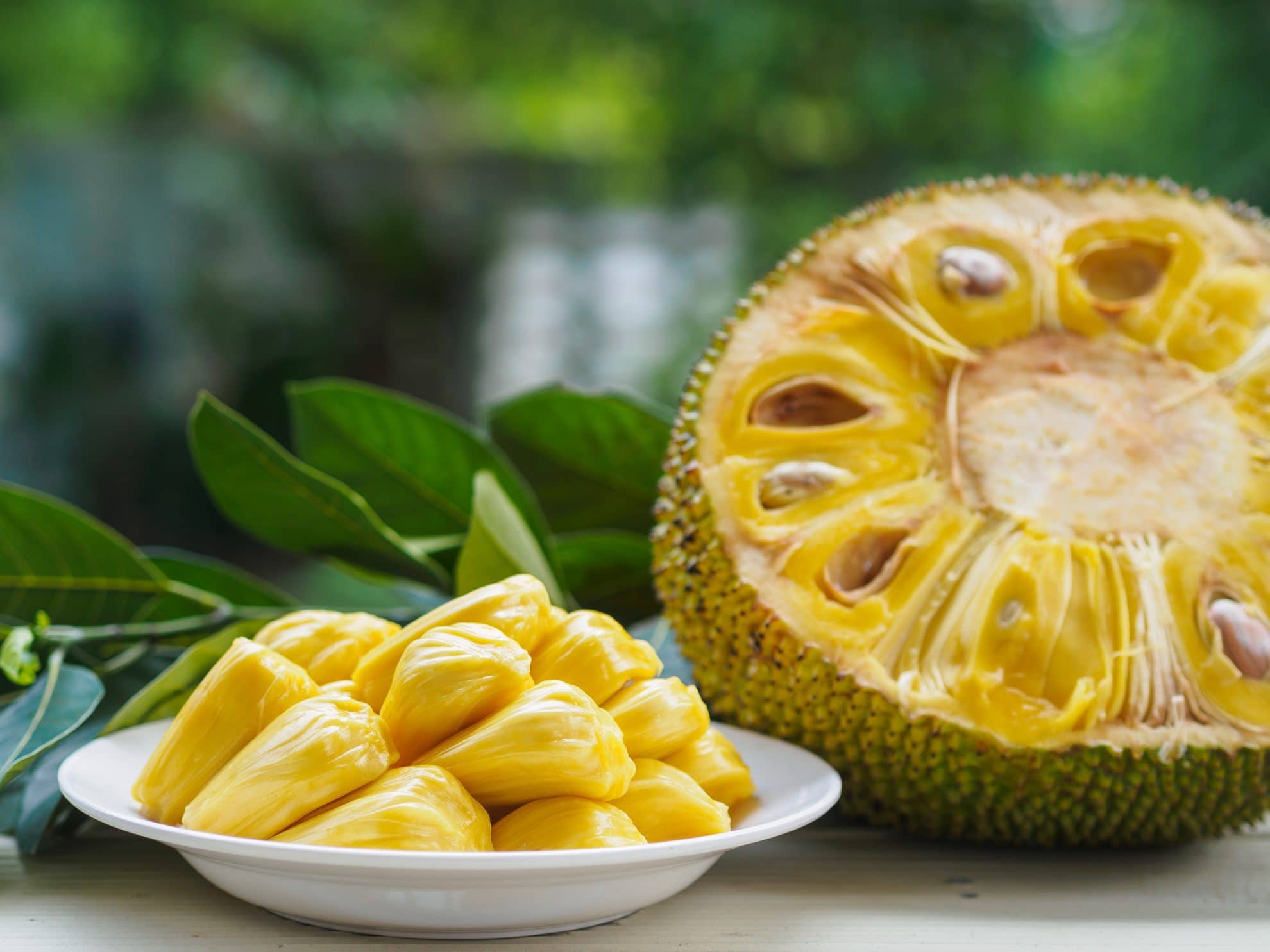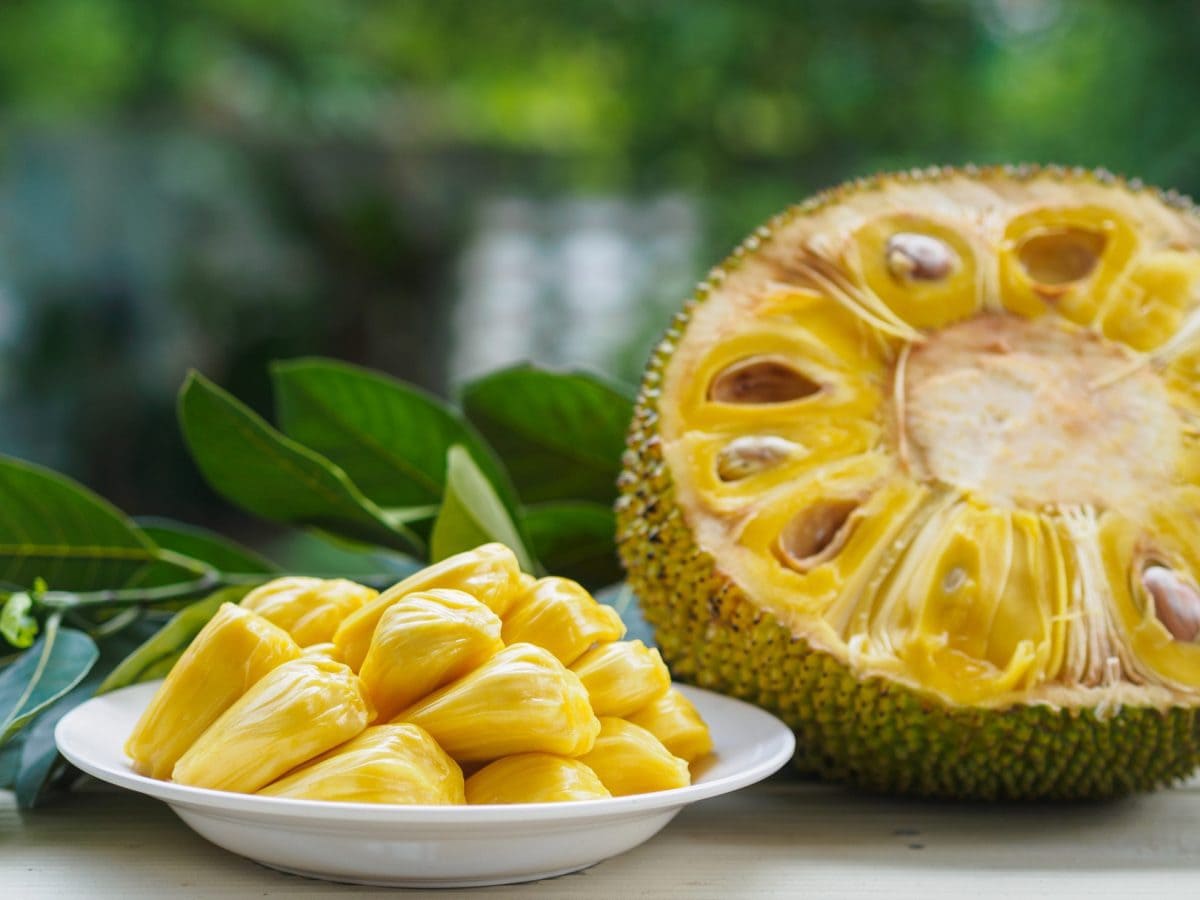 What Is Jackfruit?
This behemoth in the produce section is a relative of breadfruit (another large and delicious fruit) and the humble and decidedly smaller, fig. They range in size from 10-40 inches long and in weight from 20-55+ pounds! The outside is a bumpy green color and the inside is a whitish yellow flesh.
Fun fact: It is considered a sustainable food. Not only is it drought resistant and pest resistant, but a single tree can produce nearly 200 fruits per year.
It is a tropical fruit that can often be found in Thailand, India, Sri Lanka, and Indonesia among other places. It is used in recipes ranging from sweet to savory.
What Does Jackfruit Taste Like?
The next commonly asked question is what does it taste like and what is the texture.
Jackfruit has a pretty mild flavor in most cases. Some describe it as a mix between hearts of palm and pineapple.
This mild flavored tropical fruit soaks up flavors really well, but what is truly unique about this fruit is it's texture which is akin to pulled pork. It makes it a great meat substitute for those of us who are walking the vegetarian path. It can be used in anything from mock meat dishes to crab dip.
It should be noted that jackfruit has an unusual smell for those who haven't worked with it before. This is a sign that it is ripe!
Where to Buy Jackfruit
When purchasing jackfruit, first determine what kind you need. The fresh stuff will most likely be found in the produce section of a high end market or at a specialty market. Find it near other more exotic fruits and vegetables like pomelo, kiwi, dragon fruit, ube, rambutan, longan and lychee.
It is often sold whole so you can break it down yourself as well as already broken down if you are short on time. If you are buying the latter, make sure the flesh is even in color and doesn't have any dark spots.
Alternatively, you can buy both boxes and canned jackfruit as well.
How to Eat Jackfruit
A few tips for breaking down a whole jackfruit:
Get on youtube and watch a few videos first. Visuals are always helpful when it comes to new produce like this.
Try to split it in two pieces lengthwise and then again into quarters. Use a large knife to do this and be careful!
Grab a smaller knife or paring knife and use it to help you extract the pods.
Health Benefits of Jackfruit
The fruit itself is super high in fiber which is great to aid in digestion. It is also low in calories, fat-free, sodium-free, and packed with potassium, Vitamin A, and Vitamin C. Talk about a winner on so many fronts.
One thing to keep in mind: While it is often thought of as a great meat substitute, it is falls more into the lean starch category than it does the protein category. A typical serving of jackfruit only has 2 grams of protein.
Jackfruit Substitutions
The next most commonly asked questions is what can I substitute for jackfruit?
Sadly, this one is going to be a bit tricky to substitute. If you are trying to make a starch heavy dish, you can try plantains or a starchy potato. If you are making a sweet dish, try some ripe papaya. If you are making a savory meat dish, try the canned or the heat and eat packaged products.