Looking for a fun and colorful cookie recipe? Tie dye sugar cookies are a great recipe for you and your crew!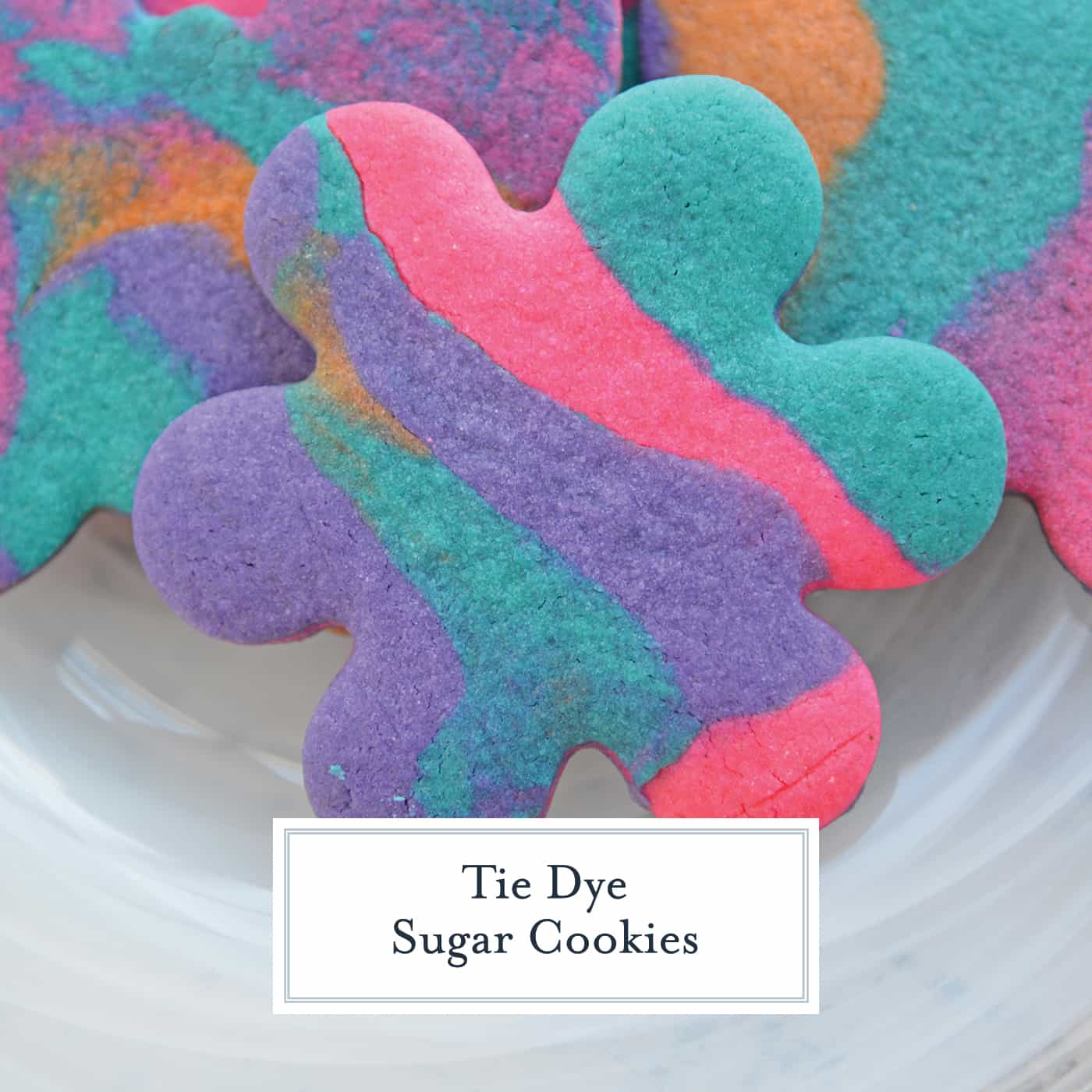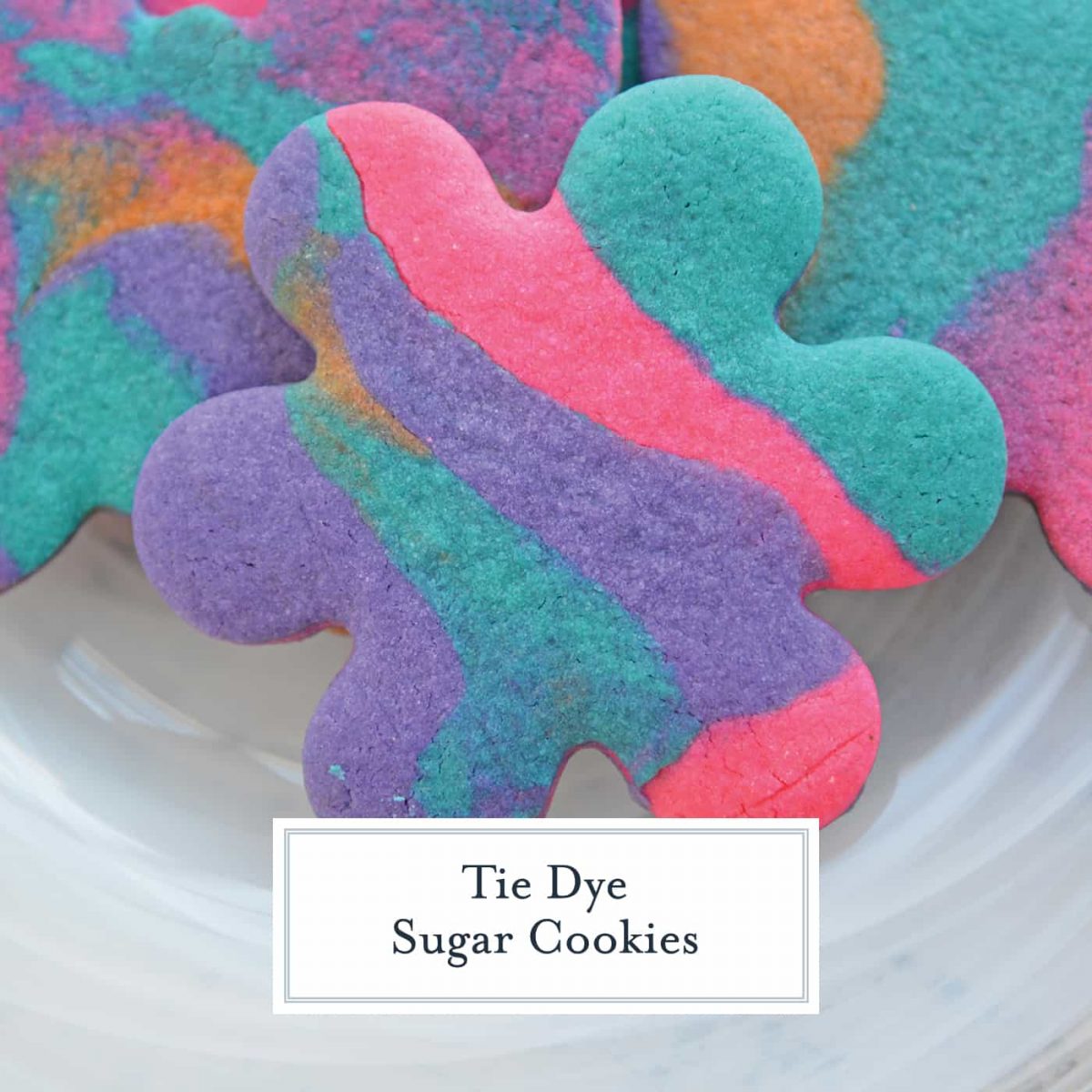 Learn how to make these Tie Dye Sugar Cookies. Easy to make rolled sugar cookie recipe that are already decorated straight from the oven!
I suck at decorating cookies. Really any desserts. I saw this concept in a magazine last fall. The photo showcased beautiful fall leaves using jewel tones and this tye effect.
They were embellished with royal icing to show the veins of the leaves.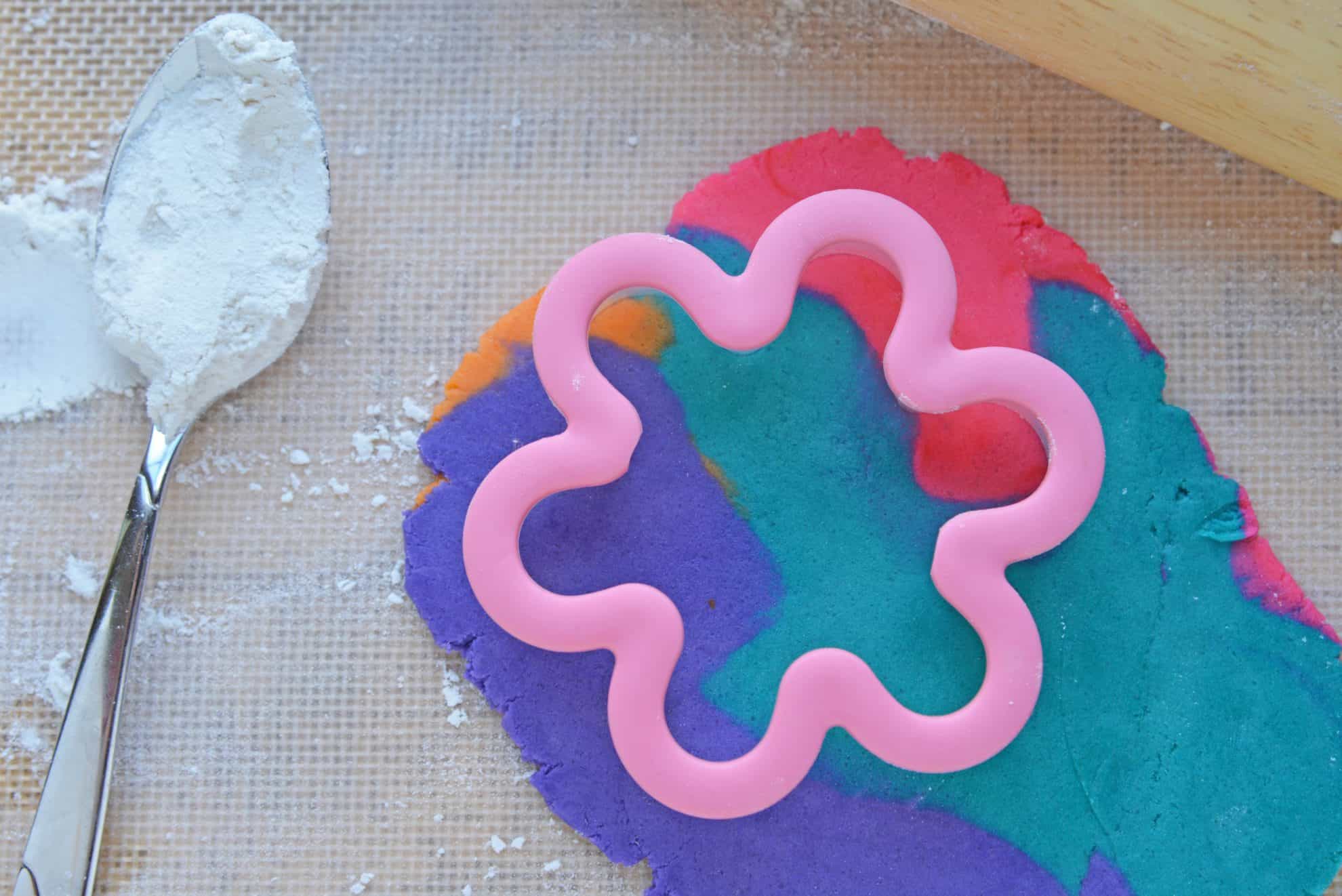 For someone like me that is really, really bad at cookie decorating, this was a lightbulb moment! I figured the joyous colors of spring would be the perfect time to try this rolled sugar cookie techinque out.
Making tie dye shirts was one of my favorite crafts as a kid. I wasn't that great of a girl scout… I am just not that outdoorsy, but things like crafting was totally up my alley. Tying all those rubber bands and then gingerly dipping in coordinating colors.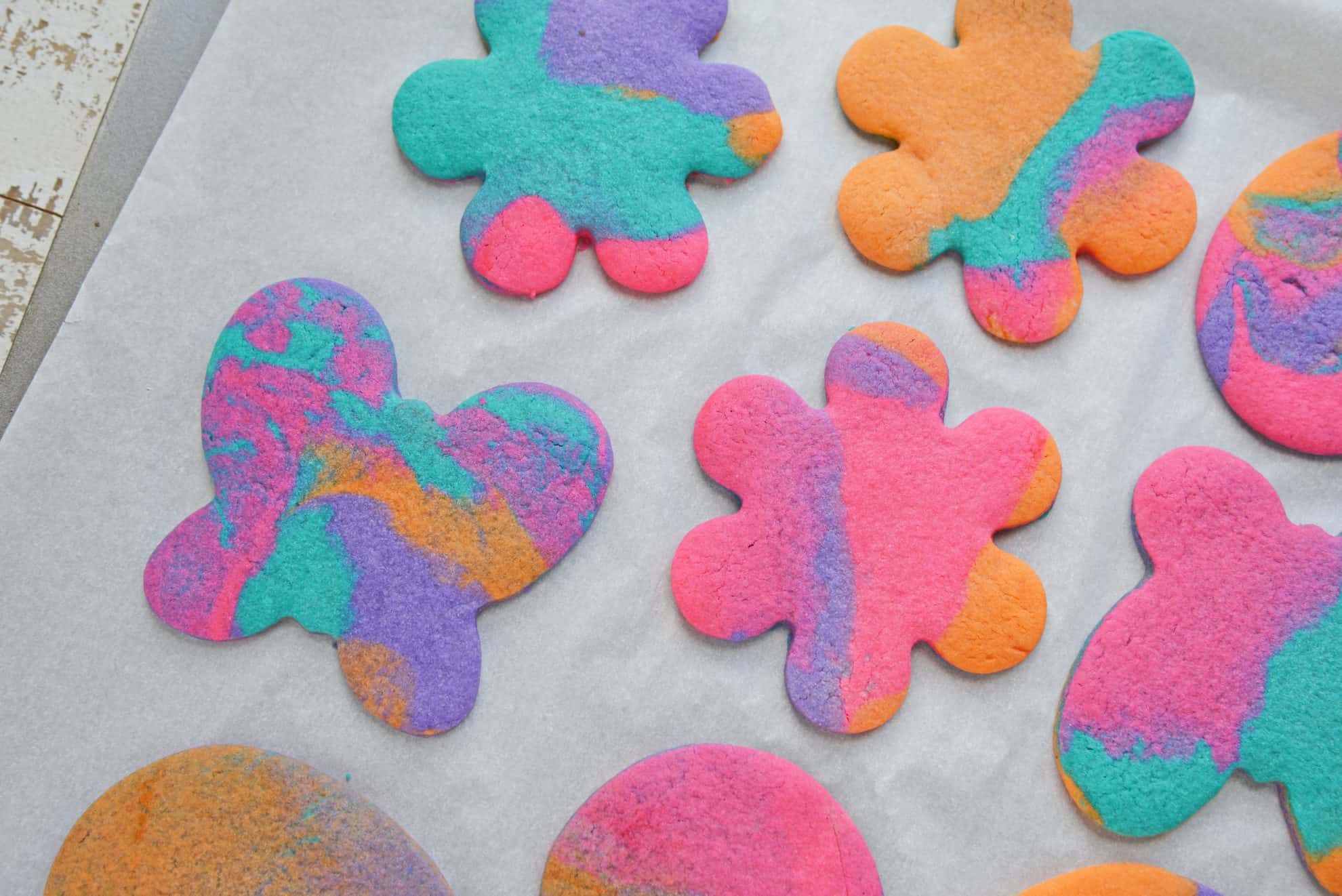 I even liked the smell of the dye. That is weird, I know. But hey, some folks like the smell of paint or gasoline. I prefer tie dye.
I was more of the Troop Beverly Hills style of scout. I even faked being sick to get out of camp and other nature-focused events.
PRO TIP: Use a pastry brush to remove any excess flour after rolling and cutting your cookies. The flour will burn and it different to remove after baking. If you aren't planning on using cookie icing, this could ruin the look of your cookies.
For the sugar cookie cutouts, I used me tried and true sugar cookie rollout recipe. The perfect recipe for sugar cookies that you want to hold their shape when cooked. Why?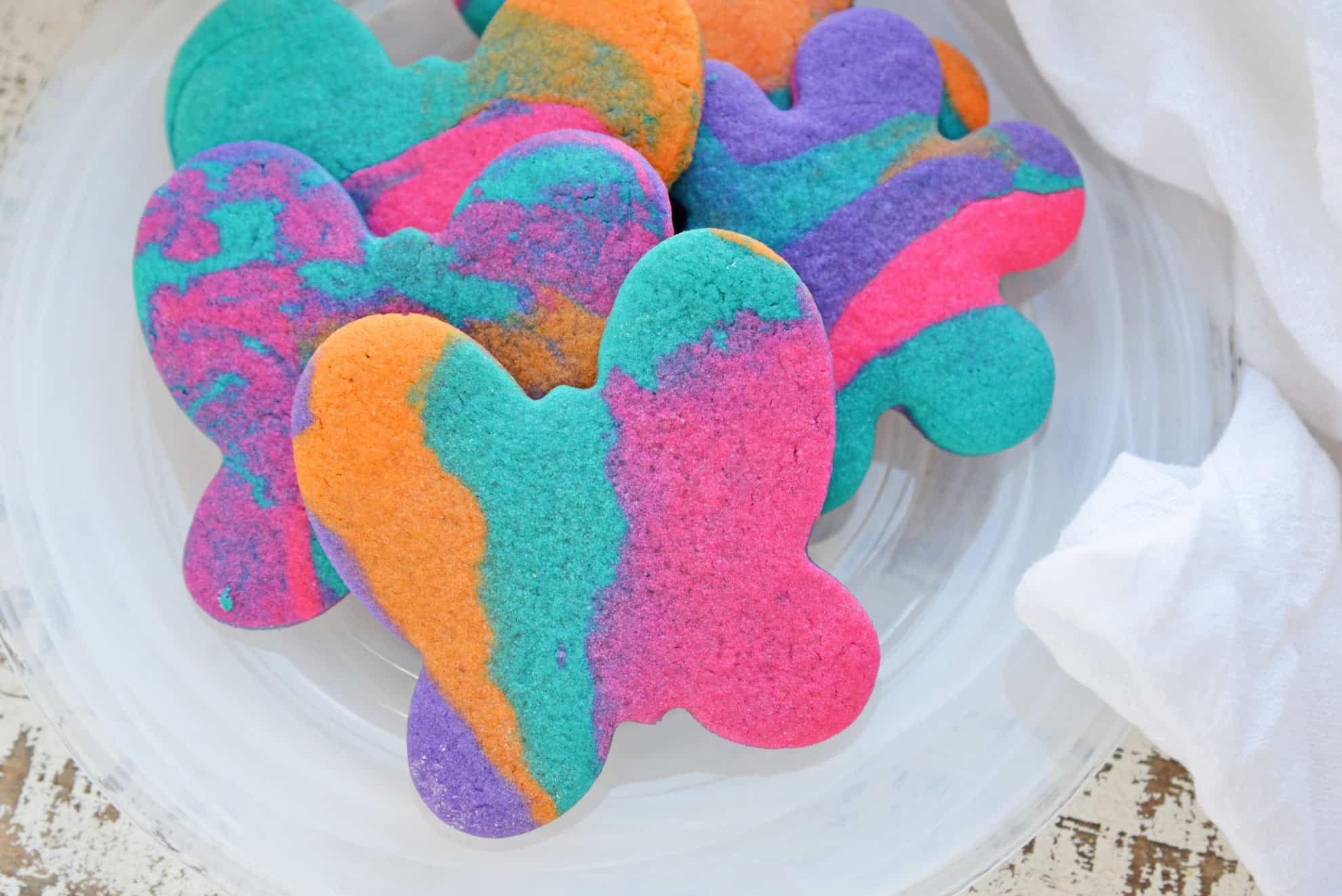 It uses shortening instead of butter. Butter just melts and go all meh. Shortening, however is better at holding shape so your cookies are the shape you intended them to be.
Chilling the dough is imperative before baking. It needs to be the correct temperature to not spread when baked. It also helps to cut into shapes more easily.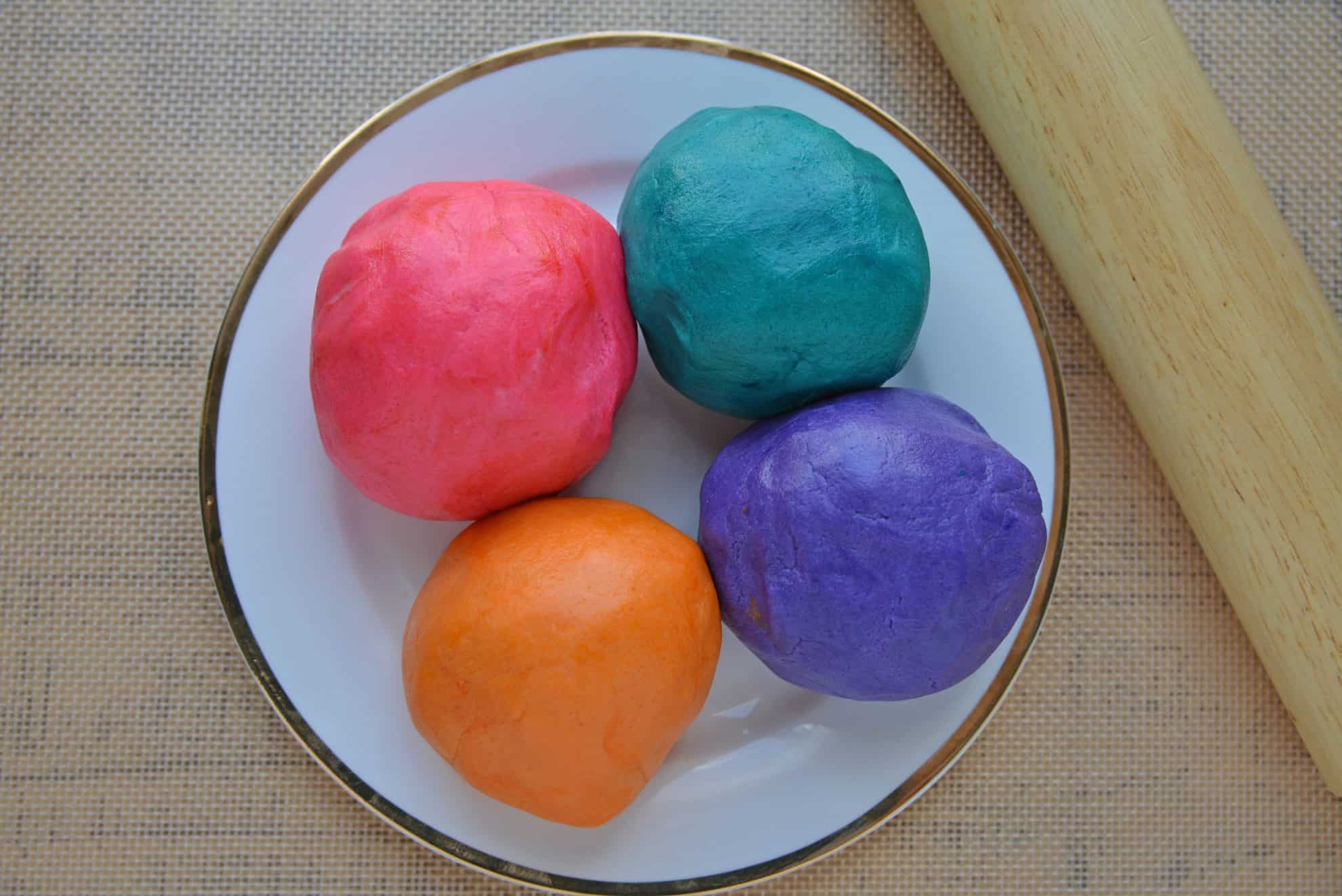 Divide dough and work in batches to make sure none of the dough gets too warm.
PRO TIP: Substitute almond extract, lemon extract or any other flavoring for vanilla to add your own unique spin!
Next, I used these vibrant, almost neon, spring colors. I used four colors, but you can use however many you desire. I wouldn't go past 6. Even with only 4 it was challenging to get elements of all colors in regular 2-inch cookie cutters.
Another to note is that the melding of colors and tye dye effect intensifies with each roll. As you can see here, the colors change dramatically. Do not overwork the dough and stop at around the third roll for best results.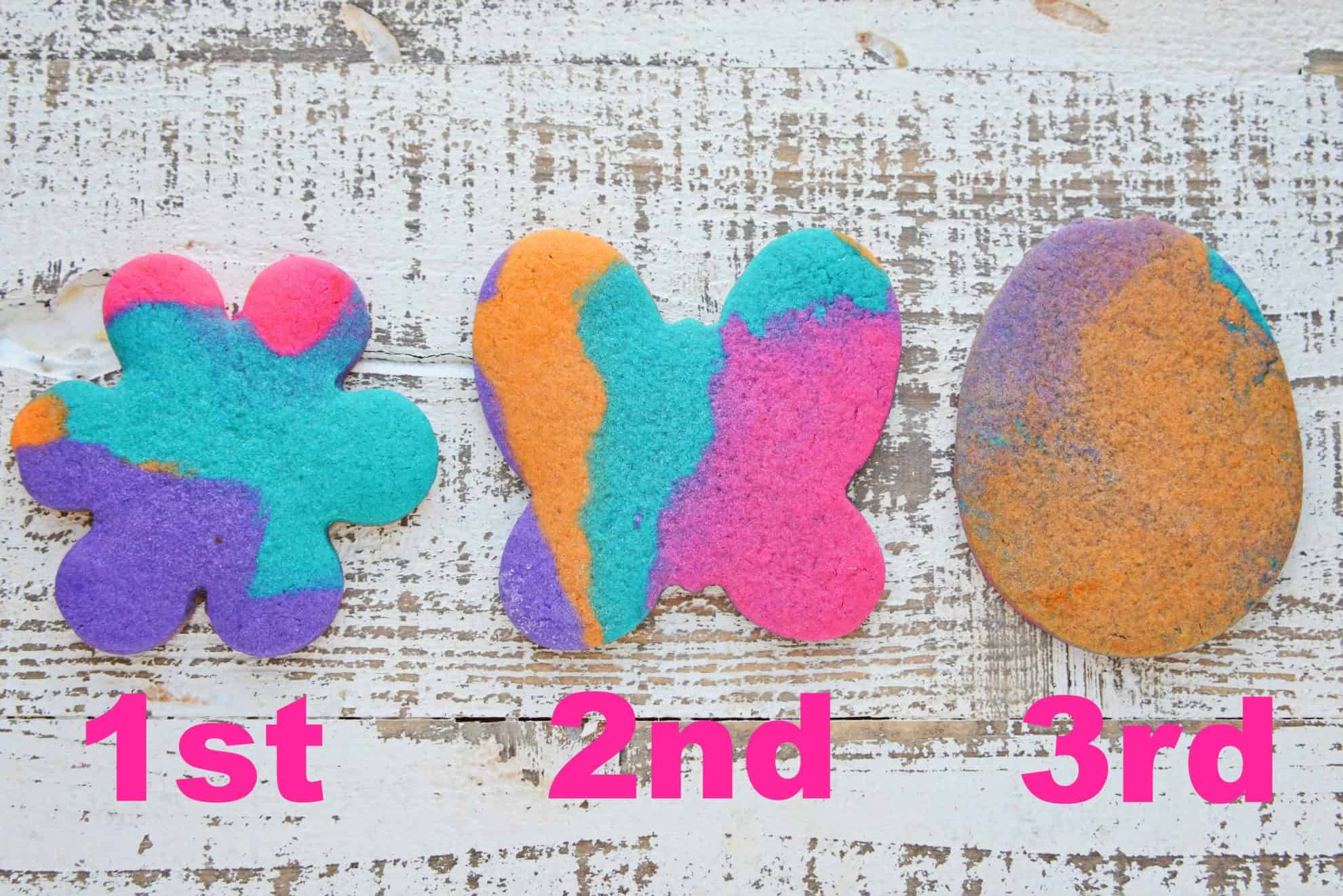 Switch up the colors you use for any holiday or event. Valentine's Day, Christmas cookies or even show school spirit using your school colors.
Lastly, after baking, perfect sugar cookies need to be transferred to a wire rack to cool. Leaving them on a hot baking sheet will let them continue to cook slightly.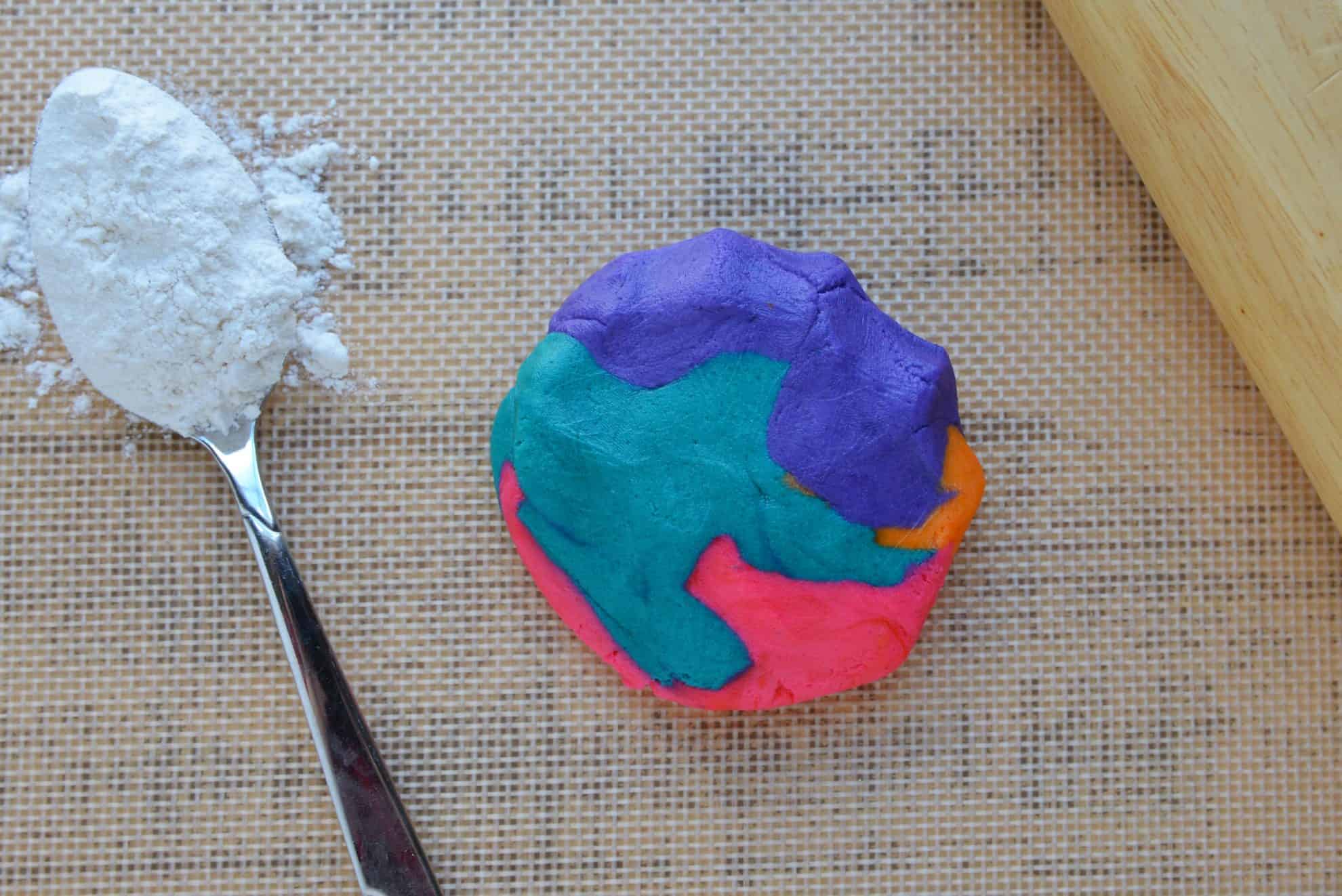 If you enjoy little bites of dough like I do, you might also like my Edible Sugar Cookie Dough. Cookie without eggs and safe for a very indulgent snack.
Because the dough itself is so colorful, I only use this royal icing recipe to outline and add some definition.
If you are looking for even more fun spring recipes, check these out: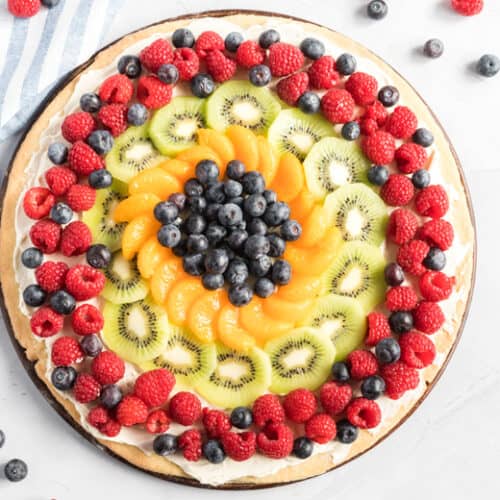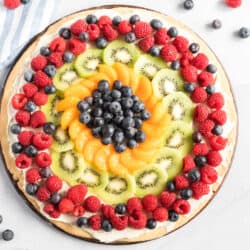 EASY Fruit Pizza
This Dessert Pizza with fresh fruit, cream cheese frosting and a crispy cookie base is a fun and tasty treat the whole family will go crazy for!
See The Recipe!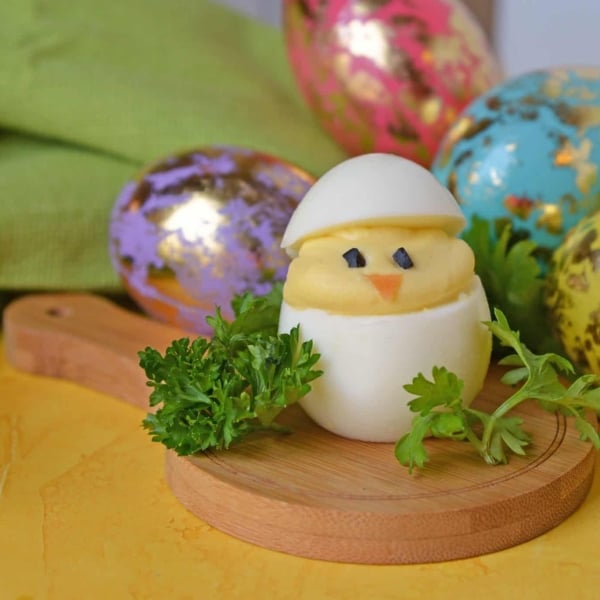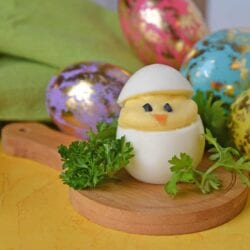 Deviled Egg Chicks
Deviled Egg Chicks take a classic deviled egg recipe and make them into Easter deviled eggs! Perfect as an Easter brunch recipe or appetizer.
See The Recipe!
Tools for making tie dye sugar cookie rollouts:
Rolling Mat– For rolling out any dough or cookies or just protecting your counters and work space!
Stand Mixer– I lived for a long time without one. My life was changed when I finally bit the bullet and bought one. Just do it and thank yourself later.
Insulated Cookie Sheet– Insulated cookie sheets allow hot air to circulate around the entire cookie, resulting in even baking.
Rolling Pin– you can get creative and use a pint glass or wine bottle… or you can just buy a rolling pin.
Cookie Cutters – It is great to have a basic set around with a variety of shapes. You never know when you'll need them for baking or other fun DIY projects and crafts!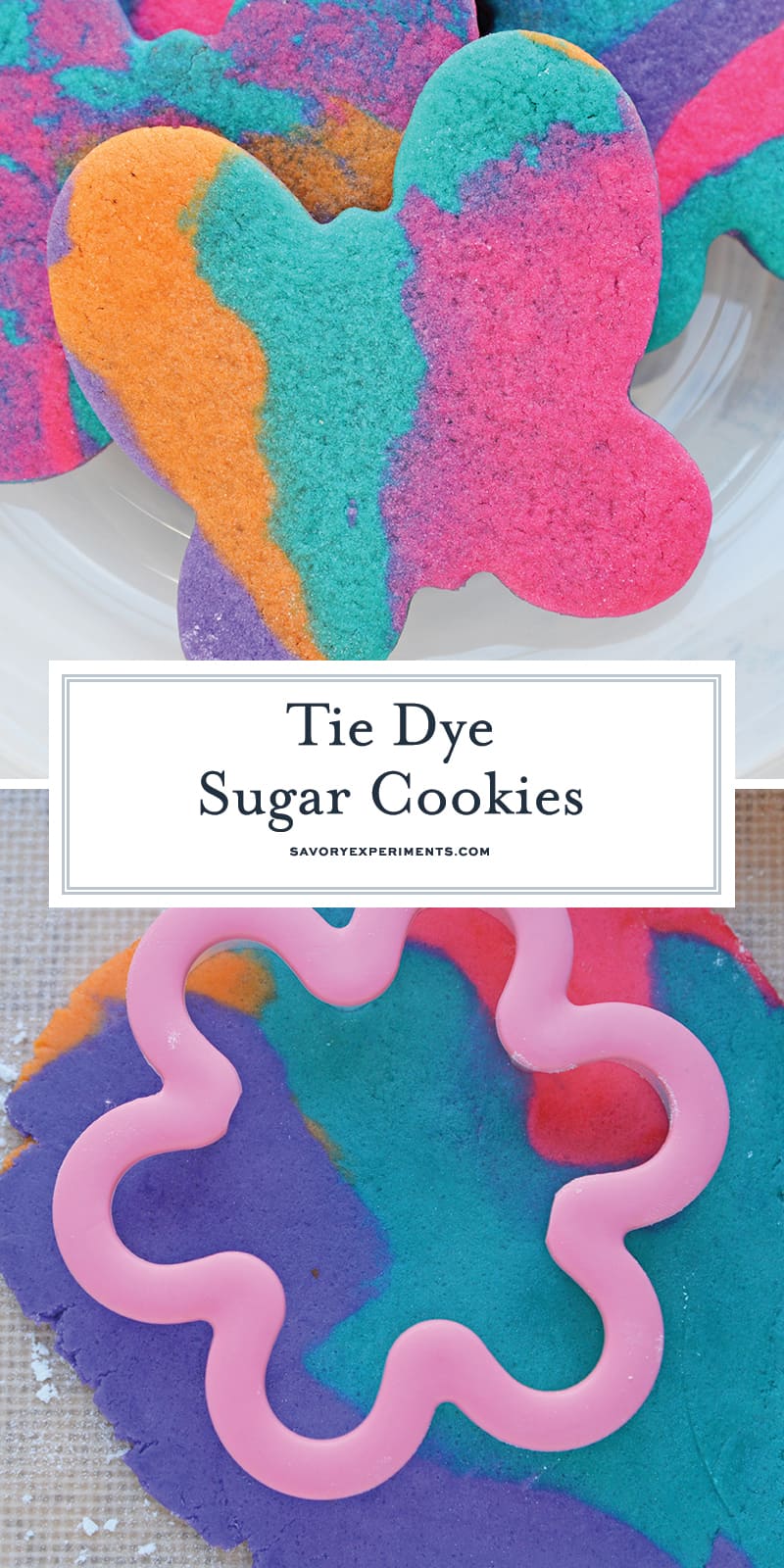 Questions you might have about how to make sugar cookies:
Can I freeze sugar cookies? You should not freeze raw sugar cookie dough because it contains raw eggs, however you can freeze baked sugar cookies. They will stay good for up to 4 months if packaged properly.
After baking, allow cookies to cool completely. Place them in a single layer on a parchment-lined baking sheet to freeze them, then transfer them in a freezer-safe zip-top storage bag labeled with the name and date.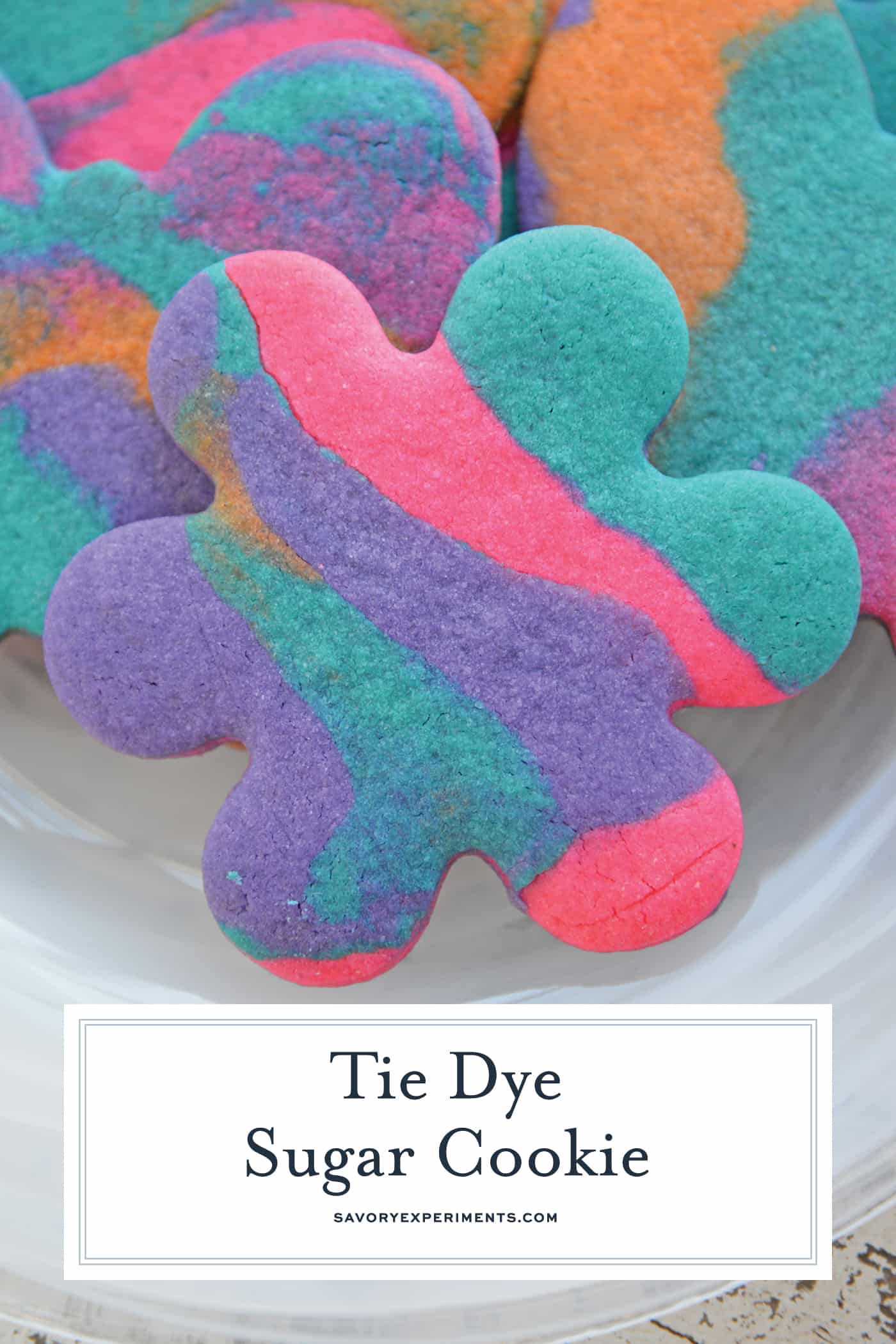 Can sugar cookie go bad? Yes, they are a perishable food item and when stored in an airtight container even the small amount of moisture can result in mold.
They will stay soft and good for 5-7 days, but it is highly unlikely that they will last that long.
Do sugar cookies need to be refrigerated? This recipe for sugar cookies does not need to be refrigerated after baking.
What is the best food color to use? I like to use a gel food coloring. I can use less with more vibrant color. You can use any type you'd like. Be careful with using red or pink, as those hues generally have a funny after taste.
Tie Dye Cookies
Learn how to make these Tie Dye Sugar Cookies. Easy to make rolled sugar cookie recipe that are already decorated straight from the oven!
Instructions
Cream together shortening and sugar. Add eggs and vanilla, blend well.

Sift flour, baking powder and salt. Slowly blend dry mix into wet until a dough forms.

Divide dough into thirds or quarters and add one color to each batch. Work food coloring in well.

Refrigerate for 30 minutes to 24 hours.

Preheat oven to 400 degrees.

On a lightly floured surface, combine two or three colors and lightly work together- just mash lightly so they don't blend too much. Roll out cookie dough to 1/4 inch thickness.

Cut out desired shapes using a 2-inch cookie cutter. Transfer cut-outs to a cookie sheet. Continue until sheet is full. This recipe only makes 20-24 cookies, if you need more double the cookie dough.

Bake for 6-7 minutes or until very lightly browned. remove from oven and transfer to a cooking rack. Repeat with the remaining dough.

If you've tried this recipe, come back and let us know how it was!
Nutrition
Calories:
142
kcal
,
Carbohydrates:
18
g
,
Protein:
1
g
,
Fat:
6
g
,
Saturated Fat:
1
g
,
Cholesterol:
13
mg
,
Sodium:
102
mg
,
Potassium:
35
mg
,
Sugar:
8
g
,
Vitamin A:
20
IU
,
Calcium:
11
mg
,
Iron:
0.7
mg