Before you get started cooking, you want to make sure you have the right equipment to do so. You wouldn't paint with a golf club and you wouldn't golf with a paint brush. I suppose you could try both, but you wouldn't get very far.

Before you get started cooking, make sure you have all the basics. This list of Kitchen Essentials is great for registries, new home gifts and even perfect for college grads!
While I am labeling these as kitchen essentials, they aren't all necessary to jumpstart your kitchen creations. They all make excellent gifts or perfect items for your registry.
Before we get started, let's talk about the only 3 books that are always on my kitchen counter. I also hate clutter, but I use these enough that I can justify them needing to be handy and close-by. None of them are actual cookbooks, but read more like textbooks or references.
The Flavor Bible – A dictionary of ingredients. Give you the background information, common preparations as well as good flavor pairings.
What's a Cook To Do– basic "how to" in the kitchen.
The Food Lab – I higher level look at kitchen techinque, but given in layman's terms. Not only teaches how to do something, but why you are doing it, which will ultimately allow you to become a better home cook and apply the same knowledge to other recipes.
Now that you've got the know-how, you need the tools! These are in no specific order and I keep adding to the list, so read all the way to the bottom.
And after you get ordering, get organizing. It includes everything from how to have the right decluttering plan in place, to how to practice kitchen and cooking safety measures to ensure a healthy, happy home.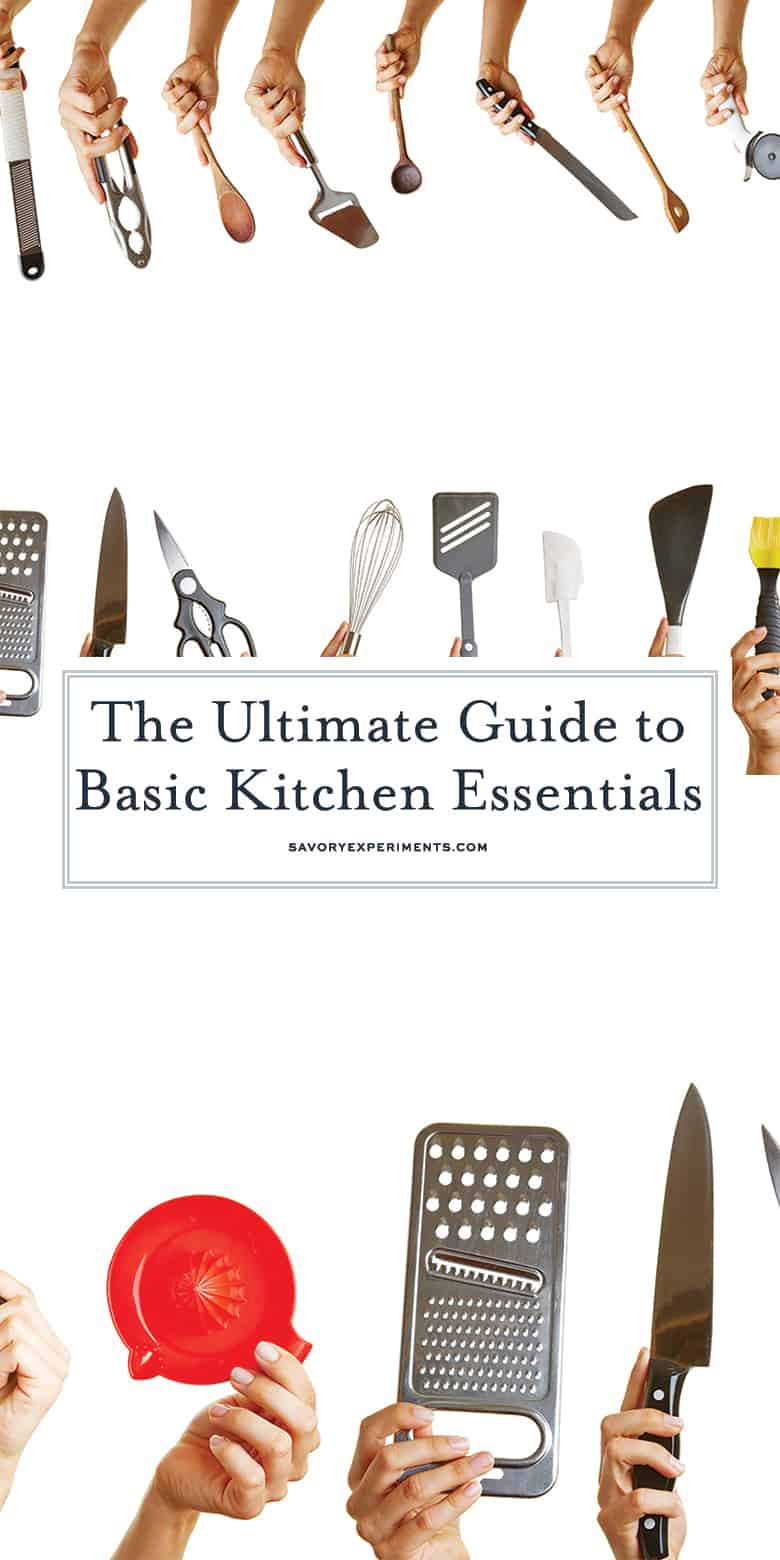 Chef's Knife– If you are only going to invest in one piece of equipment, I highly recommend it being a quality knife. An 8-inch chef's knife can the work of many other types of knives. Global is by far my favorite brand and what I use personally. They are lightweight, have a good grip, look pretty and are easy to clean. If you are looking for a gift, you can even get this one engraved!
PRO TIP: Never put your knives in the dishwasher. Always hand wash them (carefully). The dishwasher can dull the blade.
Knife Sharpener- Any chef will tell you that the most dangerous thing in the kitchen is a dull knife. They are more likely to slip and result in injury than a sharp knife. You can easily sharpen your own or find a local knife sharpening shop. This is the same knife, but with a sharpener.
Cutting Boards– A nice wood cutting board is the way to go. Heavy duty, they are less likely to slip and won't warp when washed, however they are also bulky and require a little more TLC to keep them nice. Always buy one slightly larger than what you think you'll need. While I use my wood board a lot, for small tasks I do have three sizes of plastic cutting boards that are dishwasher safe.
PRO TIP: Place a kitchen towel or damp paper towel under your plastic cutting boards to prevent slipping.
Cherry Pitter– I used to think this was an excessive gadget I didn't need. I was wrong. When you are making a cherry pie, or really anything that requires more than 4-5 cherries, a pitter is essential for your sanity.

9 x 13 Glass Baking Dish– An absolute essential for any kitchen! Use it for baking, marinating or storing. Get one with a lid, you'll thank me later.
Heavy Bottom Frying Pan/Skillet- This will be one of your most used kitchen tools. Having something that is heavy bottom will distribute heat better and prevent burning whether you are using an electric or gas range. A like tri-ply because it conducts heat the best, but these also are more expensive. The good news is that if you treat it properly, you'll never buy a new one again.
PRO TIP: Don't use metal tools in a metal pan, you can scratch it and also release small bits of metal into your food. Good quality cookware should always be hand washed.
Mini Food Processor– I use this thing daily! It is by far my most used kitchen appliance, it is small and I throw all the parts into the dishwasher, well except the base and cord, of course.
I generally replace it about once a year, but at such a reasonable cost and for the amount of work it does, I am perfectly fine with that. Use it for smoothing sauces, minced vegetables, making salad dressings and much more!
Pie Plates- I think every kitchen should have at least three shallow dishes or pie plates for the process of breading and frying. You can also bake pies in them! Hehe. Also great for marinating.

Heavy Bottom Sauce Pan– Just like having a heavy bottom skillet, this will be one of your most used kitchen tools. Having something that is heavy bottom will distribute heat better and prevent burning whether you are using an electric or gas range.
Ramekins- I like giving folks their own individual sauce cups. Then you don't have to worry about double dipping! Ramekins are also great for ingredient preparation and baking mini soufflés.
Non Powdered Latex Gloves – Say what? Non powdered latex gloves are another one of my kitchen essentials. Anytime I chop a hot pepper (jalapeno, serrano, habanero), you risk the oils permeating your skin and it BURNS! Touch anything else, God forbid your eyes, and you will be in some real pain!
Avoid all of this by throwing on some latex gloves without powder. Unless you are allergic to latex, of course. And if you don't follow my advice and do end up with the burning skin, soak them in milk, the higher fat content the better!
They are also good for prepping meat, seafood and fish you might not want to touch. Really, any food prep.
Mixing Bowls– make sure to check out my article on Using the Right Mixing Bowl, you'd be surprised how many people aren't! Learn why you need metal, glass and plastic bowls!
Blender- Don't skimp on a blender, especially if you plan to make frozen drinks. You need something high powered to get ice into slush. You can use it for other things as well like making sauces and salad dressings, smoothie bowls, mayonnaise, hollandaise sauce and much more!
Cast Iron Skillet- Yes they are heavy, yes they take a little extra TLC. Are using cast iron pans worth it? YES!!! Just buy one and you'll thank me later! I have both pre-seasoned and unseasoned. I like them both for different reasons.
I even have tutorials on how to season your cast iron skillet and how to clean your cast iron skillet.
Box Cheese Grater: Freshly shredded cheese will melt and taste better than pre shredded store bought cheese. It is also cheaper!
Hard Cheese Grater- Another item I didn't think I needed, but love. Parmesan cheese lasts longer and tastes better when freshly grated. Use for any hard cheese.
Dutch Oven- Every kitchen should have one! Use yours for making soups and stews, braising, baking whole chickens, boiling large pots of pasta and more. You can get one in cast iron, but I like the enamel ones… merely because they look pretty!
Micrograter– A small kitchen utensil you find you use a lot more than you expected. You can zest citrus, grate garlic, onion or whole spices. Also dishwasher safe and this one comes in fun colors to match your kitchen.
Rolling Mat– For rolling out any dough or cookies or just protecting your counters and work space!
Rimmed Baking Sheet– another kitchen staple! You'll use this for prep work, roasting and much more. I have 7 at my house.
Whisks– I buy whisks in multiple sizes. You never know which one you will need.
Fleur de Sel– The perfect light and delicate salt for making desserts. Goes perfectly in sauces, on cookies, brownies, cakes and more!
Square Glass Baking Dish– I prefer glass to metal any day of the week. It looks nicer longer and usually comes with a lid.
Wooden Spoons– for sticky sauces, wooden spoons work best, but they tend to splinter and split, so I order them in bulk and just toss them when they start to get gross. You also don't want to nick or scratch your metal cookware, using wood or plastic is your best bet to prevent this.
Meat Thermometer– Ever look at the lapel of the chef in the kitchen? It might look like a pen, but I guarantee you it is a digital thermometer. Every home kitchen should have a meat thermometer. Never take a guess as to if something is done again.
Mandolin Slicer– This is the easiest way to finely shredded anything without pulling out all of the accessories to your stand mixer.
Kitchen Scale– Another one of those gadgets I didn't think I needed, but use all the time to make sure my breads and cakes are even.
Offset Spatula – The best way to spread melted chocolate and frosting.
Double Boiler- A kitchen essential, use a double boiler to make velvety melted chocolate, superb sauces and more.
Insulated Cookie Sheet– Insulated cookie sheets allow hot air to circulate around the entire cookie, resulting in even baking.
Stand Mixer– While this is an investment, I can guarantee you will use it more than you realize and will never regret the decision.
Juicer- Fresh citrus juice will make or break a recipe. Fresh citrus has so much more flavor than the bottled kind. Juice right into your recipe with one of these bad boys.
Check out even more reviews on kitchen gadgets here!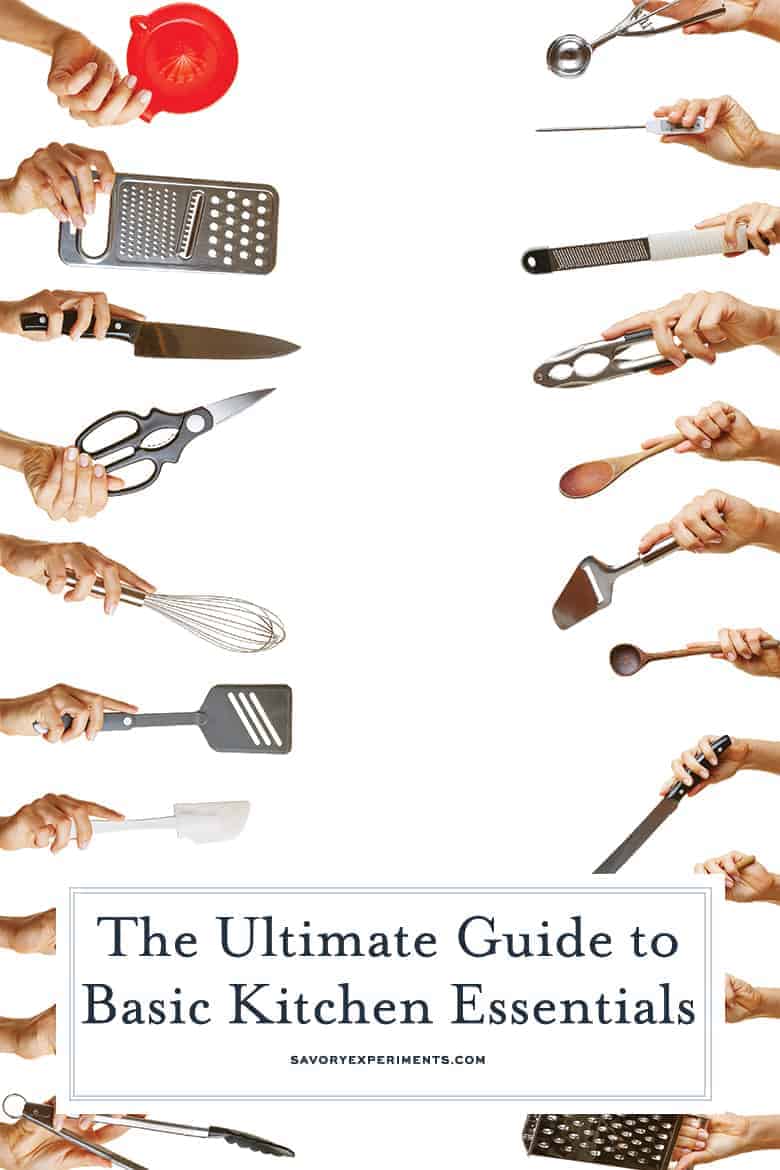 [