These Prosciutto, Pear, and Brie Crostinis are simple, yet elegant and make for the perfect entertaining appetizers. Pass them around to guests and watch their faces light up.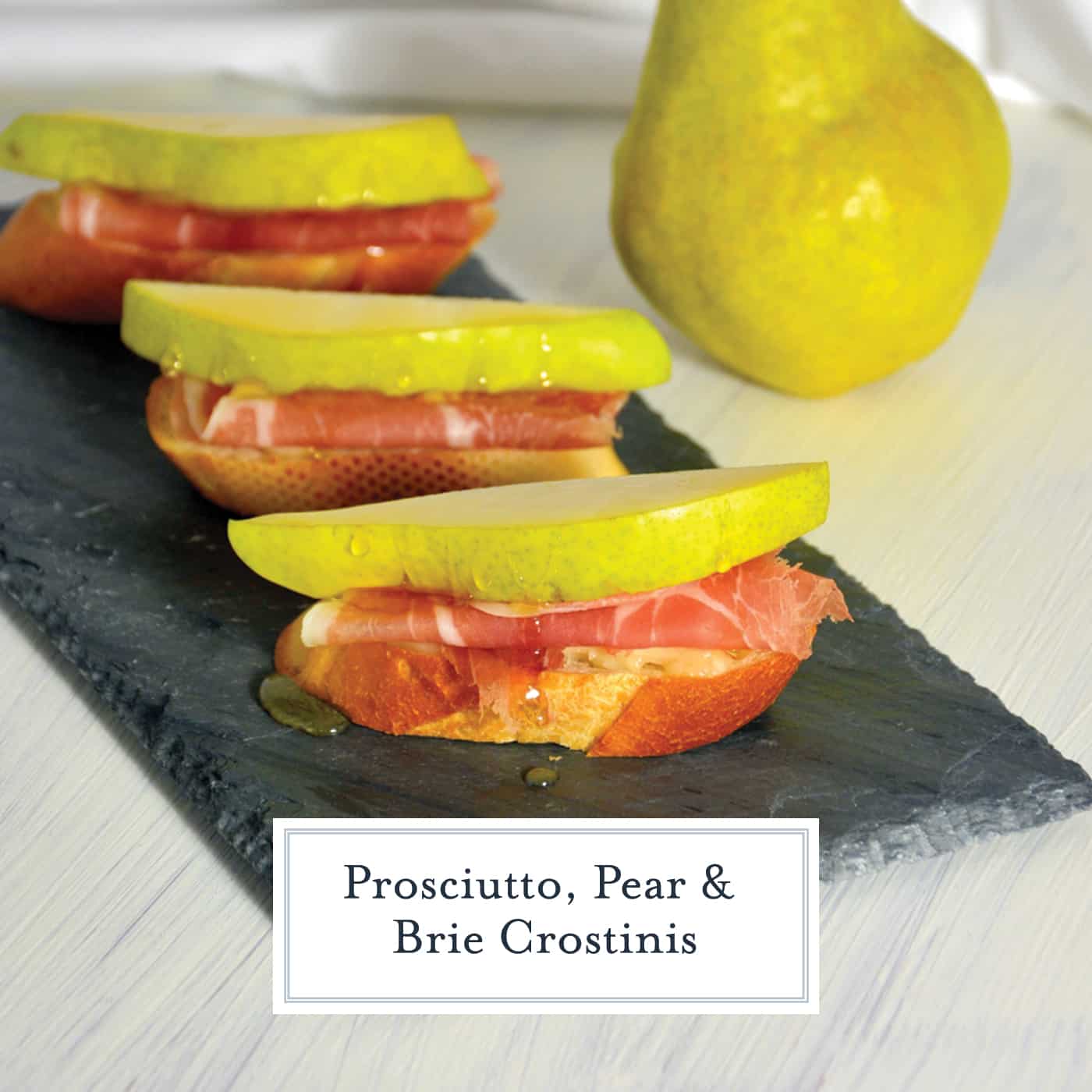 Prosciutto, Pear, and Brie Crostinis fit the bill for any party with tender prosciutto draped over warm brie and topped with a slice of pear and honey.
A crostini not only has to taste delicious, but it also has to look delicious. We eat with our eyes first after all.
These crostini are visually stimulating and palate pleasing with color and texture to spare. Even the aroma will grab your attention.
This is a trick that I learned from some of my favorite mixologists. Our sense of taste and smell are linked, so getting a whiff of fresh sweet pear before taking a bite will only elevate the flavor profile.
Remember that you need to layer your flavors. When done well, it creates quite the bite. My crostinis are a mix of sweet and savory with some saltiness thrown in.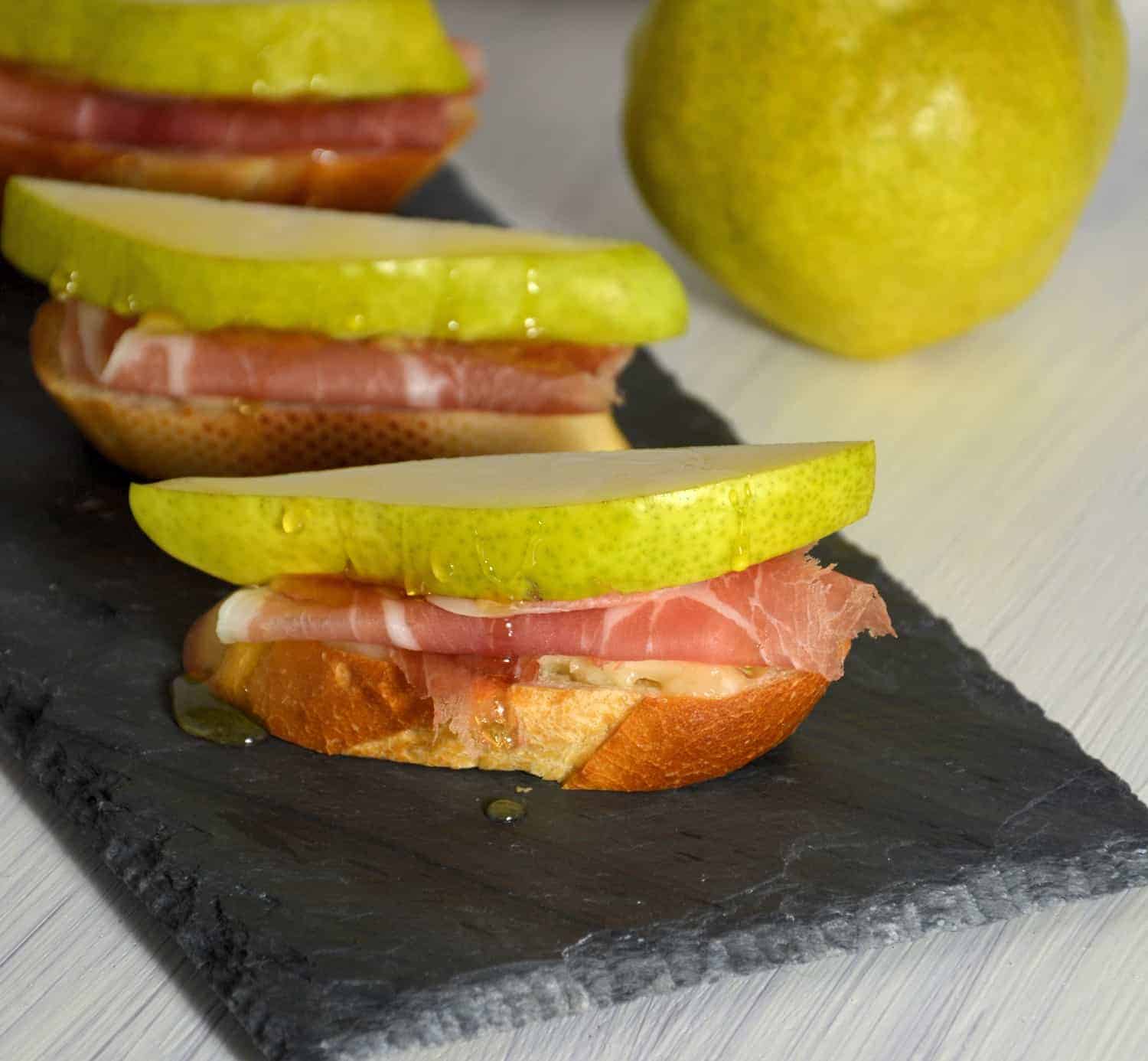 These Prosciutto, Pear, and Brie Crostinis pair salty slices of prosciutto, with the creaminess of warm brie, the nuttiness of toasted baguettes, the crisp floral notes of pear, and a touch of honey to create the balance the bite.
Great news! Pears are in season from September all the way through July. I generally receive a few boxes of them around the holidays. I am always looking for a great pear recipe to help me use them all.
FACT: The plural of crostini is crostini— there is no S! However, I frequently make this mistake like many others…
Here are two quickie hacks if you need them: Toast your bread ahead of time if you want a jump start. The brie can be served warm and bubbly or it can come straight from the fridge if you are short on time.
Some people prefer to take the rind off of brie, but it was actually made to be edible. You don't have to worry about cutting it off.
If you want a decadent bite, opt for the triple creme brie for extra spread-ability and luxurious mouthfeel.
Honey is optional, but I like the extra added sweetness it adds to the salty and savory aspects of the dish. If you are feeling really saucy, also give it a drizzle of olive oil and a bit of salt and pepper.
If you like this Prosciutto, Pear, and Brie Crostini recipe, check out some of my other recipes with pears: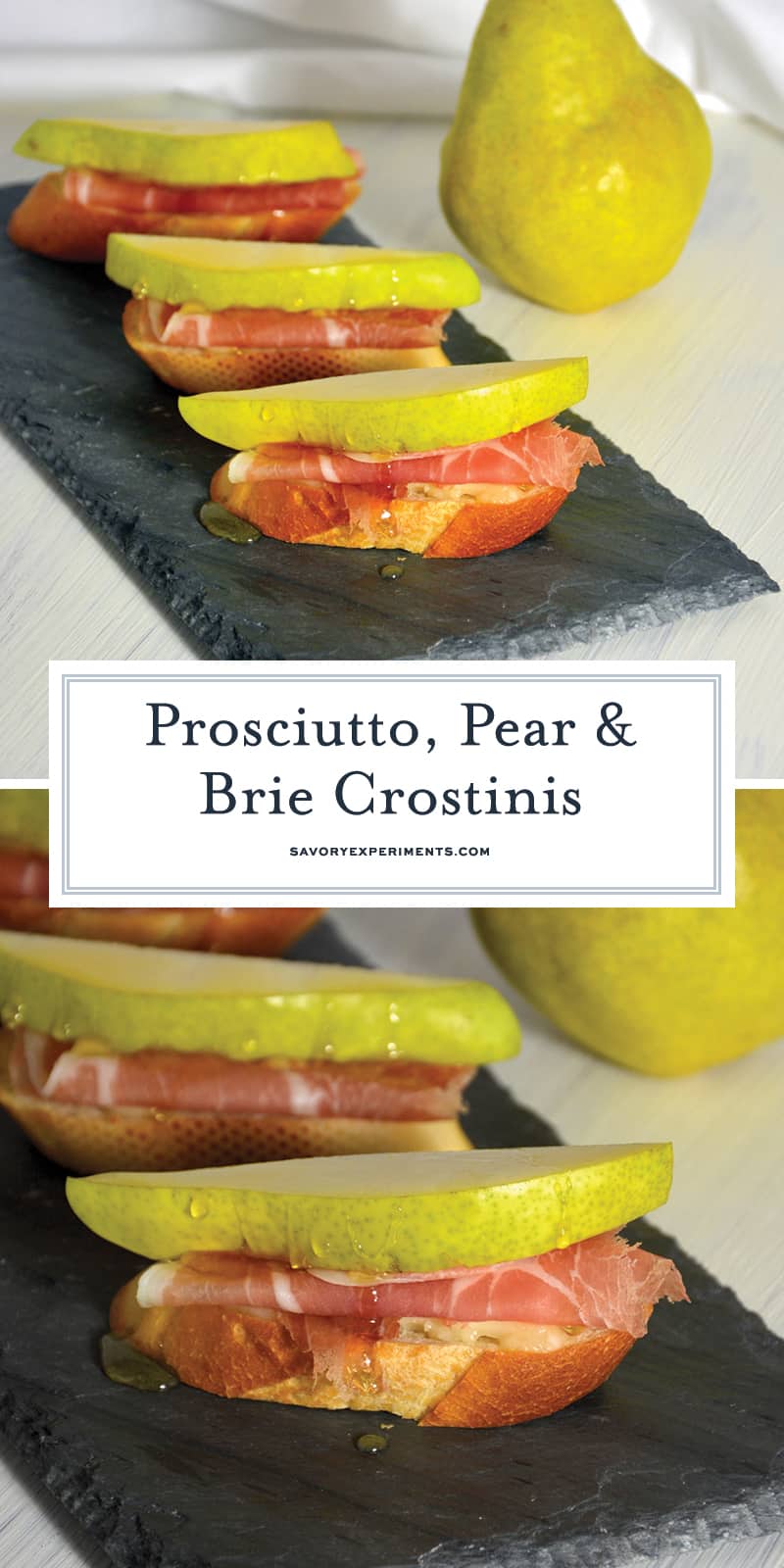 Questions you might have about how to make pear and prosciutto crostini:
What cheese can I substitute for brie? Camembert is probably the closest, but anything that is soft and spreadable will do. Goat cheese or softened cream cheese can work as well.
Can I make these ahead of time? You can, but I wouldn't make them too far in advance. Putting toasted bread crostini in the fridge will make them soggy and the cheese shouldn't be left out for longer than 2 hours.
What you can do is prepare all of the elements ahead of time and then quickly assemble when you are ready.
What other fruit can I use instead of pear? I would suggest using anything that is easily sliceable and also juicy. Peaches, citrus and berries are also good choices. Remember you want something sweet to pair with the saltiness of prosciutto.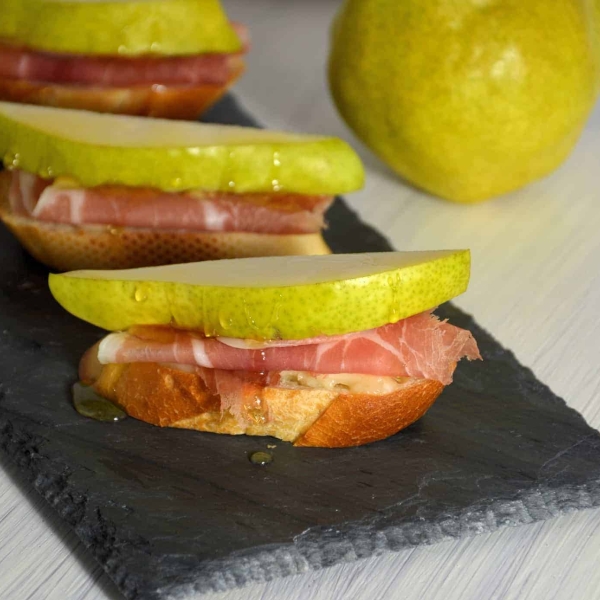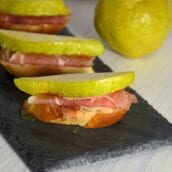 Prosciutto, Pear, and Brie Crostinis
Prosciutto, Pear, and Brie Crostinis fit the bill for any party with tender prosciutto draped over warm brie and topped with a slice of pear and honey.
Instructions
Preheat oven to 350 degrees. Divide brie evenly over 12 slices of bread and place on a baking sheet.

Heat for approximately 5 minutes, or until brie is bubbly, remove.

Drape a ribbon of prosciutto over each slice, top with a slice of pear. Drizzle with honey. Enjoy!

If you've tried this recipe, come back and let us know how it was!
Nutrition
Calories:
229
kcal
,
Carbohydrates:
38
g
,
Protein:
9
g
,
Fat:
4
g
,
Saturated Fat:
2
g
,
Cholesterol:
10
mg
,
Sodium:
394
mg
,
Potassium:
113
mg
,
Fiber:
1
g
,
Sugar:
3
g
,
Vitamin A:
55
IU
,
Vitamin C:
0.7
mg
,
Calcium:
47
mg
,
Iron:
2.4
mg