This is part of a first part series documenting the renovation of our kitchen, mudroom and laundry room. For daily updates, check out our Instagram and Facebook stories showing behind the scenes footage of the process! We are excited to have partnered with BlueStar for this project.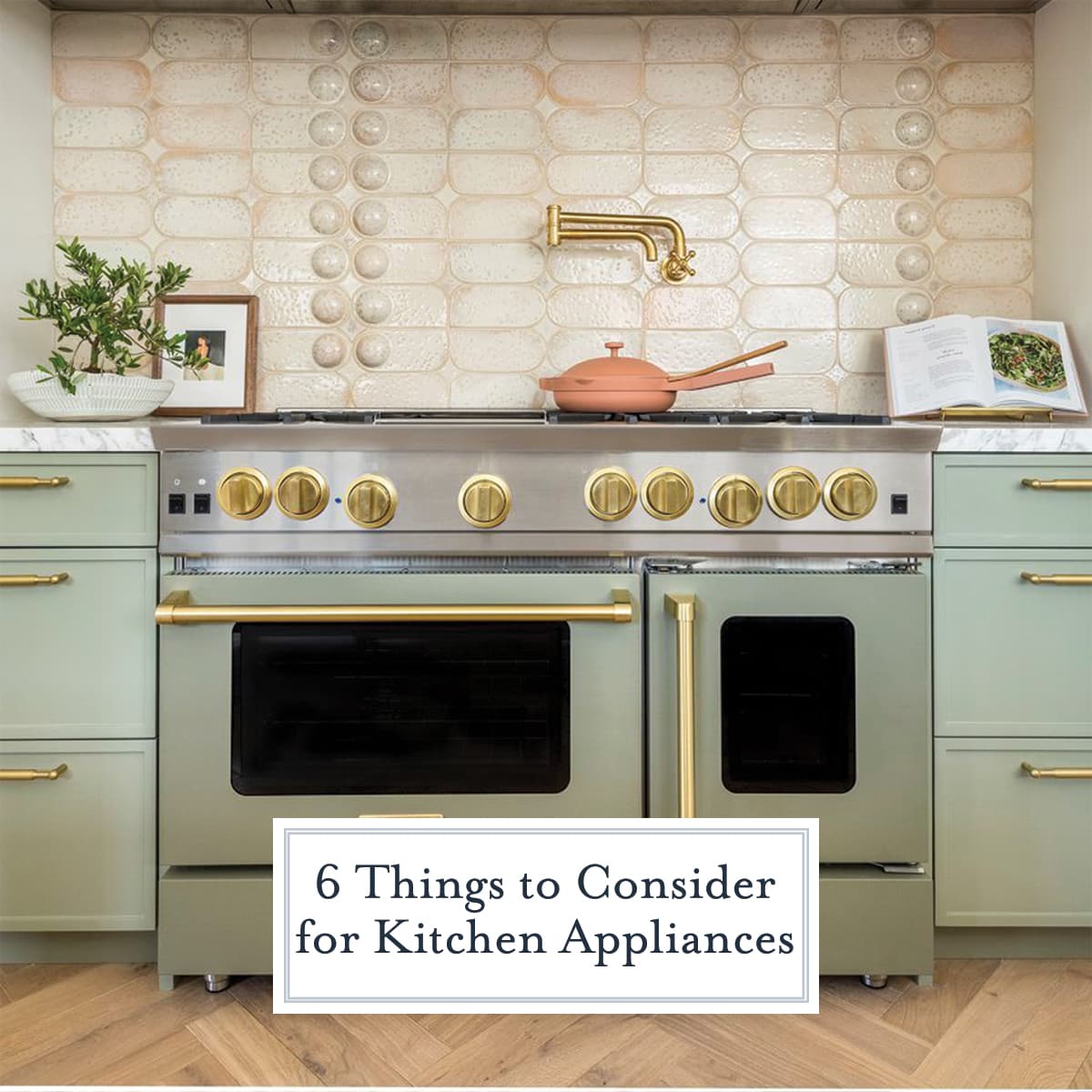 When we first started our kitchen renovation project I figured I'd start with the cabinets and then plugin appliances. I had it totally backwards. I will go into items each in more detail, but here is the summary:
Size & Space
Style
Budget
Availability
Features
Servicing
Size, Space and Scale
I hadn't built a kitchen before, in fact every house we've lived in already had appliances and when we built a house I only had about 10 to pick from in a catalog provided by the builder. I assumed they came in standard sizes so that they could be easily interchanged. I was wrong.
Appliances come in all shapes and sizes and even if you get one with a standard width like 36" range or 48" refrigeration unit, there will still be some variances in amount of room needed to install it, height and other aspects. For this reason, it is important to choose your appliances before you start planning the cabinets. In order to get the snuggest fit and most custom look, your cabinet designer will need appliance dimensions before creating the rest of your layout.
Before you get your heart set on the biggest most beautiful 60" range, consider the size of your space and the scale of the appliance. While having an appliance as a focal point is great, you don't want it to the take over the space while looking at priorities.
If you have a large family, maybe a double size fridge is in order, but you only need 4 burners. Or perhaps you entertain a lot or bake, so you need 2-3 ovens, but not as much fridge space. The needs of each home cook will be different.
For ranges, remember to take into account ventilation needed for the appliance you choose. Some larger, professional models might require a stronger blower and vent that exceeds the size of the actual range. And for refrigeration, keep in mind that built-in models are more shallow. Look at total square foot capacity, not simply the width.
Style
While this one seems obvious, people get hung up here. There are some folks who would prefer a sleek and understated appliance with no branding or even paneled to match the cabinetry and there are others who want something bold. Decide if you want to go contemporary and modern or traditional, maybe even bordering on antique.
Stainless is a timeless option, but now days you don't need to be glued to either white, black and stainless. They can be built in a myriad of custom color options, but not all brands offer this.
I wanted a real show piece, something to model the rest of the kitchen around and that is how I decided to go with BlueStar for my range. The actual appliance is a deep blue (you can pick from 1000+ colors) with gold trim. I carried the gold throughout the rest of the kitchen and blues in accent pieces. It can best be described as transitional… or the range of my dreams!
Don't feel obligated to pick the same brand for all of your appliances either. Matchy-matchy went out the door a long time ago.
Here are a few other things to ask yourself:
For refrigeration:
Ice Maker
In-door water/ ice dispenser
Sabbath mode
Stand-alone, single unit built-in or separate towers
Shelving in freezer (solid versus wire rack)
For Ranges:
Quantity of burners and BTUs (if gas)
Other features: griddle, French cook top, grill
Ventilation
Cook top or unit with ovens
If propane, does the model convert?
For dishwashers:
Specialized jets
Wine glass stem holders
Third rack
Volume
Budget
Whether you like it or not, that ugly 6-letter word just keeps coming up. Appliances are one of "The Big 3" when it comes to budget and chance are this is the area you'll want to allocate the largest chunk to, so have a (realistic) budget in mind.
Unfortunately, HGTV hasn't done us any good in understanding the actual cost of appliances. Stainless steel will cost you more, paneling to match cabinets even more and the larger the appliance, the higher the cost. Also take into consideration taxes, installation and delivery charges.
Availability
One of the biggest roadblocks I encountered was availability. Some appliances will take months to get, others will be ready for delivery tomorrow. Keep this in mind with your own timeline.
Custom appliances can take up to 6 months to build and ship, while other more mass-produced options might be immediately available from a warehouse.
Features
Just how fancy do you want to go? This can mean a lot of things. Here are the top contenders:
Electric, natural gas or propane

Convection or conventional (ovens)

Energy efficiency

Cleaning options
Nearly every brand is offering their own swanky new bells and whistles, so make sure to ask what they are!
Servicing
At this stage you likely aren't thinking about your shiny new appliance needing assistance, but assure you that you might want to consider this now instead of a few years from now. Things break- whether your kid kicked a soccer ball into it or there was a malfunction from the builder, things happen. Life happens.
Make sure you can get your appliances easily serviced in your area. Many of the upscale brands require a specialist or someone from their company to look at the issue. If your brand is made and manufactured in another country, how challenging is it to get replacement parts?
And my last few tips before purchasing appliances:
Measure– have your contractor or designer measure
Read reviews cautiously– appliance reviews are like food reviews, the many of the people who come to read them are upset for some reason. People who LOVED their appliance rarely come back to leave a comment. Read them, but with a grain of salt.
See it in person– Go to a retailer and see the appliance, put your hands on it and touch all the buttons.
Read the warranties and return policies– this is a big purchase, make sure you read the fine print.
Check out the other articles in this series: