So you've decided to rent an RV for your family vacation. You've done the research, made a pile of all the things you'll need and now you are deciding where to go.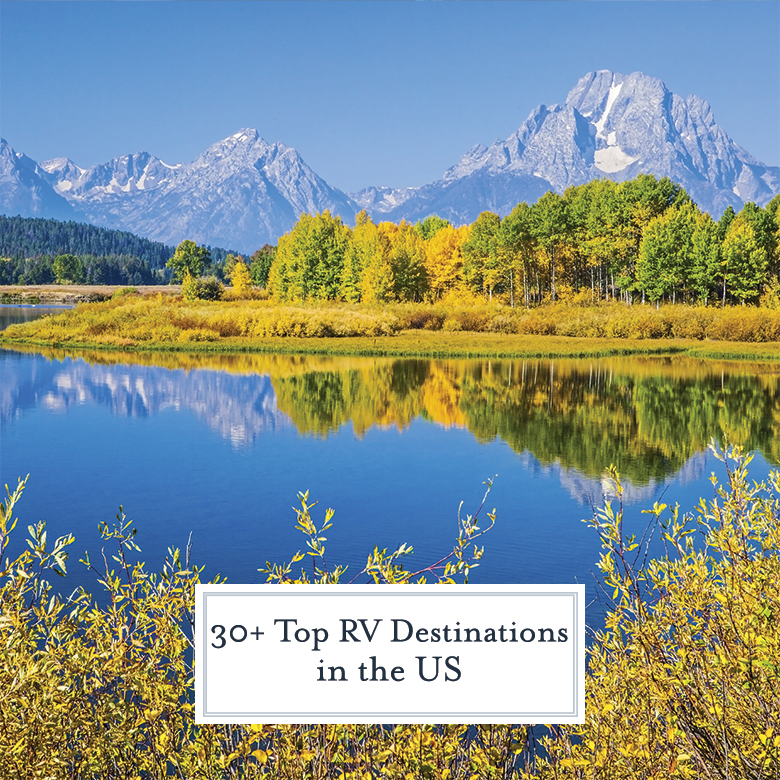 This is a list of the top US destinations to travel to by RV. The list is not in any order.
Joshua Tree National Park – The two deserts of Mojave and Colorado come together with unique and stunning rock formations, interesting plants and sweeping views.
Lake Tahoe – Known for the ski slopes in the water, Lake Tahoe in the Sierra Nevada mountains of Utah, is a fabulous summer destination too. Enjoy water sports surrounded by amazing scenery.
Olympic National Park & Forest – With sights like Hoh Rain Forest, Hurricane Ridge, Lake Crescent and Ruby Beach, this state park is just an hour outside of Seattle but provides a true nature getaway.
Grand Teton National Park – A 310,000 acre park in Wyoming, this park is known for spectacular mountains and wildlife. It is also a destination for stargazers.
Yellowstone National Park – Perhaps the most famous park in the US, it is known for its natural hot springs and geysers including Old Faithful. You might also see bison, grizzly bears, elk and wolves. It located in Wyoming, Montana and Idaho.
Zion National Park- Canyons and rock structures like sandstone cliffs draw thousands of locals and tourists every year. Tons of swimming, rappelling, rock climbing and hiking in this Utah located park.
Blue Ridge Parkway – This one is more about the drive and small stops, although there are plenty of campsites. Watch for the Natural Bridge, Mabry Mill, Blowing Rock, Linville Falls, The Biltmore and Chimney Rock State Park.
Rocky Mountain National Park – Rocky Mountain State Park doesn't have a lot of RV camping inside the park and the narrow roadways on jutting cliffs might be why, but you can drive through and stay on either side in Grand Lake or Estes Park. You'll need nerves of steel to drive Ridge Road, but the wheel clenching is totally worth it.
Grand Canyon – With an average depth of 4,000 feet spanning 277 miles, this geologic site has much more to offer. Hiking, rock climbing, helicopter rides, rafting, horseback riding a more! Don't forget to check out the Hoover Dam, which is a short drive and also close to Las Vegas.
Sequoia National Park – The Giant Forest, Kings Canyon Byway, General Sherman Tree, Moro Rock and the Tunnel Log are all among the top things to do in Sequoia Park of California.
Route 1/Big Sur– A small two-lane road will give you some of the most spectacular views of California coastline ever. Drive-offs are mostly for smaller cars, so be mindful that you might not be able to stop and take a lot of pictures. Big Sur is a popular camping destination, as is Monterey. Take a night off the camper and stay at the Madonna Inn, an institution of the area.
Acadia National Park – A kid-friendly park with beaches, ponds and mountains with panoramic views. Located in Maine.
Glacier National Park– Located in Montana, you'll see alpine meadows, rocky mountains and amazing glacial lakes. Perfect for hiking and camping.
Florida Keys – Most of our parks are in cold or mild weather climates. Take a different type of RV trip down to the Florida Keys. They are super RV friendly and offer many walkable destinations, restaurants and are generally happy people touched by the sun.
Moab– There are many scenic adventures in Utah, but Moab is a don't miss! It is an area that hosts 5 major parks including the Canyonlands and Arches State Park.
Hill City– Located in South Dakota, you can mine for gold, visit one of the many museums or even ride an old train.
Red Bluff– A smallish town in California, but well known for its hospitality to the RV community.
Oregon Coast – Much like traveling Route 1, but a little rockier. Not too many stop off locations for big RVs, but known for welcoming campsites and breathtaking views.
Denali Highway – You'll need to drive to the National Park, located in Alaska, and then hop off to a private bus tour to actually drive the Denali Highway.
Cape Cod – Located in Massachusetts, being on the cape is what the rich of Boston do in the summer months. Beautiful, but cold waters, and lots of lobster!
Route 66 – Travel from Chicago to California and see ALL of the sights along the way.
Big Bend – Located in Texas and bordering Mexico, this is another desert location offering classic campgrounds and lots of adventure. Dress for the heat and make sure you have air conditioning!
Albuquerque, New Mexico– while scenic on an average day, this place lights up during the annual hot air balloon festival.
Napa Valley & Sonoma– Hello, wine tasters. Do your research ahead of time to find out what vineyards allow camper parking. You can also park the camper and hire a private tour company to do the driving and planning. Of course, do NOT drink and drive.
Smoky Mountains – Bordering Tennessee and North Carolina, the drive is spectacular. Make sure to stop for some BBQ along the way!
Jackson Hole– Wyoming is known for many things, among it the number of outdoor activities and wildlife.
White Sands National Park – Perhaps one of the most unique parks in the US, this is made up of white sandy dunes that resembles waves.
Do you have a favorite destination or camp site? We want to know all about it in the comments!