Nosara is a village and a district on Costa Rica's Nicoya Peninsula. Most visitors come for yoga, turtle watching, sport fishing and of course, surfing.
Accommodations range from minimalist to luxurious, but regardless of where you stay, you'll still need to pack these basics to make the best out of your surfing vacation in Nosara.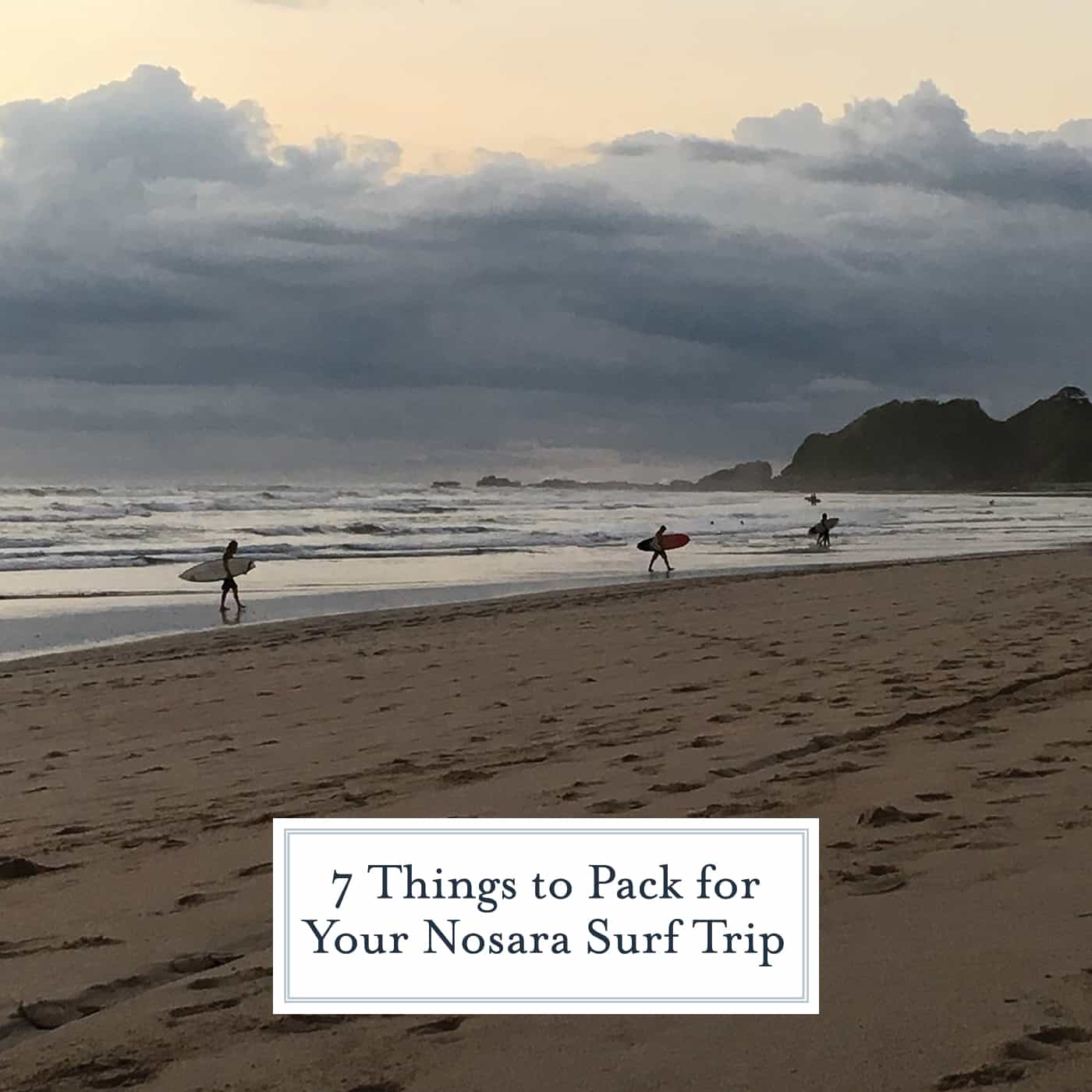 7 Things to Pack for your surf trip to Nosata, Costa Rica to be well prepared and ready for the trip of a lifetime!
Here are the 7 Things to Pack For Your Surf Trip to Nosara, Costa Rica!
ONE. Bug Spray: You are most likely staying in the jungle or near the beach. This translates to absolutely stunning vistas, lush greenery, and you guessed it: bugs!
The best way to keep them at bay is bug spray. Natural bug spray like Green Goo
will do less harm to the environment and you while keeping the insects at bay and giving you a lovely essential oil aroma.
TWO. Natural Sunscreen: The sun is no joke down there. You are much closer to the equator which means the sun's rays are far more intense per minute of exposure than at home.
Try buying a 50+ SPF mineral-based sunscreen. It will protect your skin and the delicate ecosystem in the ocean that can be harmed greatly by traditional sunscreens as they wash off.
THREE. Rashguard and/or Surf Leggings with UPF Protection: The waves down here are so fun that you will want to maximize your time in the water.
Sometimes paddling in to reapply sunscreen can be a chore so it's good to have a long sleeve rash guard or surf leggings (or both!) to keep you safe. Be sure they are equipped UPF (or ultraviolet protection factor) which will help to keep you safe and catching waves all day.
FOUR. Sneakers: Keep your fancy shoes at home because this is the jungle, most roads are not paved and with the high amounts of rain in the wet season and the little amount of rain in the dry season, you are dealing with wet mud or dusty dirt respectively.
Sneakers will be great from walking from one place to the next or taking a bike ride to a local restaurant without having to worry about mucking up a nice pair of shoes.
FIVE. Surf Leash: Always bring your own leash even if you aren't bringing your own board. You have no idea what your rental board has been through and could get stuck outside with no board if the leash breaks.
SIX. Good Book: You will undoubtedly find yourself surfed out at some point with your arms feeling like absolute jello. This is where a good read comes in. It's the perfect way to spend some downtime while your body recoups for the next paddle out.
SEVEN. Local Currency: Do yourself a favor and either order the local currency through your local banking institution so you have it when you arrive or grab some from an ATM when you are in the airport.
This will make tipping transfers, stopping at the incredible fruit stands along the way, and taking the tuk-tuk taxis in town a whole lot easier.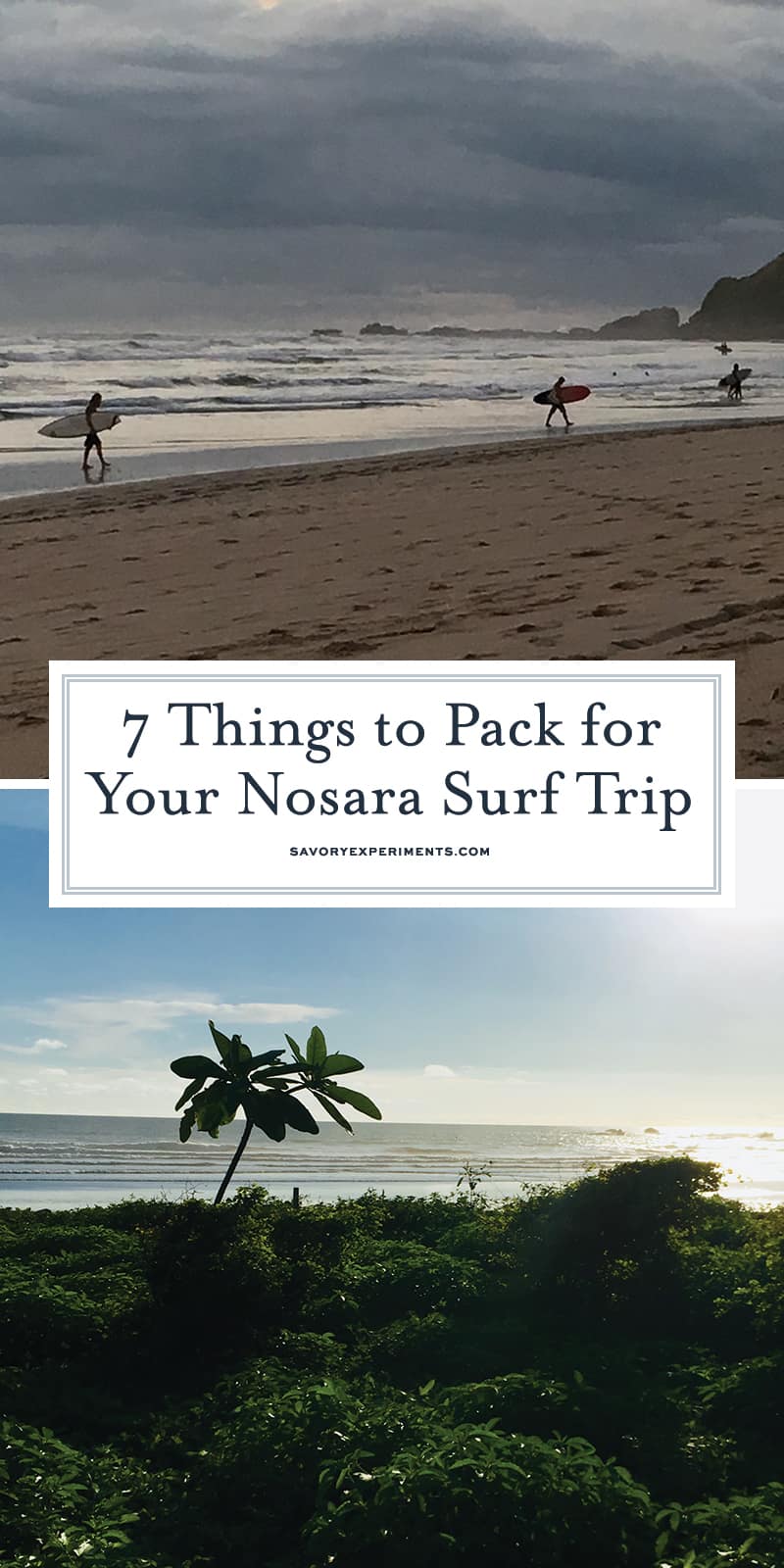 Enjoy your vacation in Nosara and let us know if you have tips you learned on your own trip!
Content and images provided by Savory Experiment travel contributor, Jaclyn Fasano.