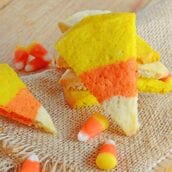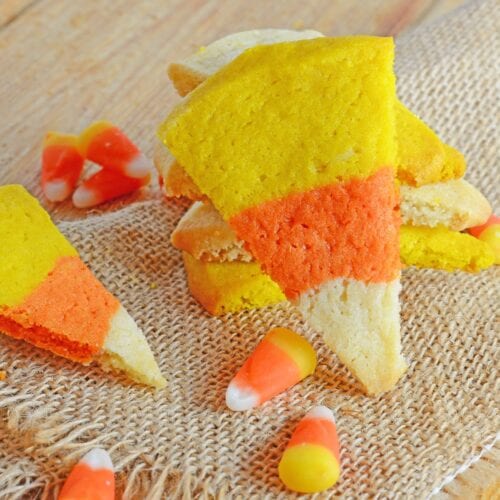 Candy Corn Sugar Cookies
Total Time:
2
hours
27
minutes
Candy Corn Sugar Cookies are the perfect Halloween Cookie! These festive and easy to make Halloween treats are perfect for any costume party!
Print Recipe
2

cups

unsalted butter

, softened

2 1/2

cups

sugar

2

eggs

, room temperature

3

teaspoons

vanilla

1

teaspoon

salt

5 1/2

cups

flour

1

teaspoon

baking soda

Red Food Coloring

Yellow Food Coloring
Using an electric mixer and a large mixing bowl or a stand mixer fitted with a paddle attachment, cream butter and sugar until light and fluffy.

Add egg and vanilla, mixing well.

Sift together flour, salt and baking soda. Slowly (to avoid a flour bomb) add to cookie dough until fully blended. Dough will be dense. Your mixer might have a hard time mixing by the time you have added all of the flour.

Divide dough into three separate bowls. Return one bowl to the bowl of the stand mixer or to the large mixing bowl. Add 14 drops of yellow food coloring and 6 drops of red food coloring. Mix well to avoid streaking. All food colors are different; you might tweak the amount of drops to achieve the perfect candy corn orange coloring. Remove orange dough and set aside.

Rinse the bowl and mixing element. Add second bowl of plain dough with 14 drops of yellow food coloring. Mix well. As before, add more if the coloring is slightly off or not bright enough. The last bowl will be plain or "white".

Line an 8 or 9 inch bread pan with heavy duty plastic wrap or parchment paper. Now you will layer the dough. Mash the yellow dough down into the bottom of the pan, pressing it into the corners and spreading it evenly. Next add the orange dough and repeat. Lastly, add the white dough. Press dough down firmly with your fingers to ensure that there are no air bubbles in between layers. Cover and refrigerate a minimum of 2 hours to set the dough.

Preheat oven to 375 degrees. Remove dough from refrigerator and gently pull the lining, with dough, out from the bread pan. You will have a cookie dough loaf. Slice the loaf into 1/4 inch slices.

Cut the slice into wedges, the shape of candy corn. You will most likely discard (or sample) a small amount of dough from either end.

Arrange on a baking sheet lined with parchment paper about 2 inches apart. The dough will expand slightly and you don't want your corn sticking together!

Bake for 7-10 minutes or until cookies look slightly under cooked. Do not allow them to brown. Remove and allow to cool for several minutes on the baking sheet. If needed, trim the edges of the cookies before transferring to a cooling rack.
Calories:
218
kcal
|
Carbohydrates:
28
g
|
Protein:
2
g
|
Fat:
10
g
|
Saturated Fat:
6
g
|
Cholesterol:
36
mg
|
Sodium:
100
mg
|
Potassium:
26
mg
|
Sugar:
13
g
|
Vitamin A:
330
IU
|
Calcium:
7
mg
|
Iron:
0.9
mg