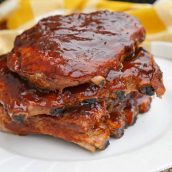 Best BBQ Ribs
Create fall-off-the-bone tender ribs in an award winning BBQ Sauce!
Print Recipe
Start by cutting ribs into 3-4 ribs portions using a sharp meat cleaver. Be careful!

Preheat oven to 200 degrees. Place ribs in a large aluminum pan.

In a small bowl, combine all dry ingredients, chili powder through celery salt, mix well.

Wash your hands well. Using your hands, massage dry rub into the meaty side of each rib segment. Ribs do not have to be in a single layer, but should be positioned so that there is a small amount of space for air to circulate between each segment.

Place ribs on the center rack. Fill a high rimmed baking dish (I used a 9x13 rectangular baking pan) with water. Place on the lowest level of the oven. The water will create steam in the oven, preventing ribs from drying out. If you place the liquid directly into the aluminum pan it will take off the dry rub. If you do want to put liquid straight into the pan, substitute water with apple juice to add flavor.

Allow to bake for 3 hours. Meanwhile make BBQ sauce.

Remove ribs and heat the grill to medium-high heat. Spray with cooking spray or baste with vegetable oil.

Place ribs on the grill, meaty side down initially. Allow to cook for 5-7 minutes. Rotate so the meaty side is up and baste homemade BBQ sauce onto each segment. Continue to cook for 15 minutes, basting with light layers every 2-3 minutes.

Right before removing, give each segment a good, hearty basting. Remove and serve hot. Enjoy your Best BBQ Ribs!
Calories:
1096
kcal
|
Carbohydrates:
36
g
|
Protein:
54
g
|
Fat:
81
g
|
Saturated Fat:
25
g
|
Cholesterol:
272
mg
|
Sodium:
3096
mg
|
Potassium:
1102
mg
|
Fiber:
4
g
|
Sugar:
27
g
|
Vitamin A:
3560
IU
|
Calcium:
113
mg
|
Iron:
5.4
mg