I love goat cheese recipes. Who doesn't? Pairing creamy, tangy goat cheese with roasted red peppers inside of thinly sliced zucchini, is a dangerously delicious combination.
These Zucchini Roll Ups are the perfect party recipe!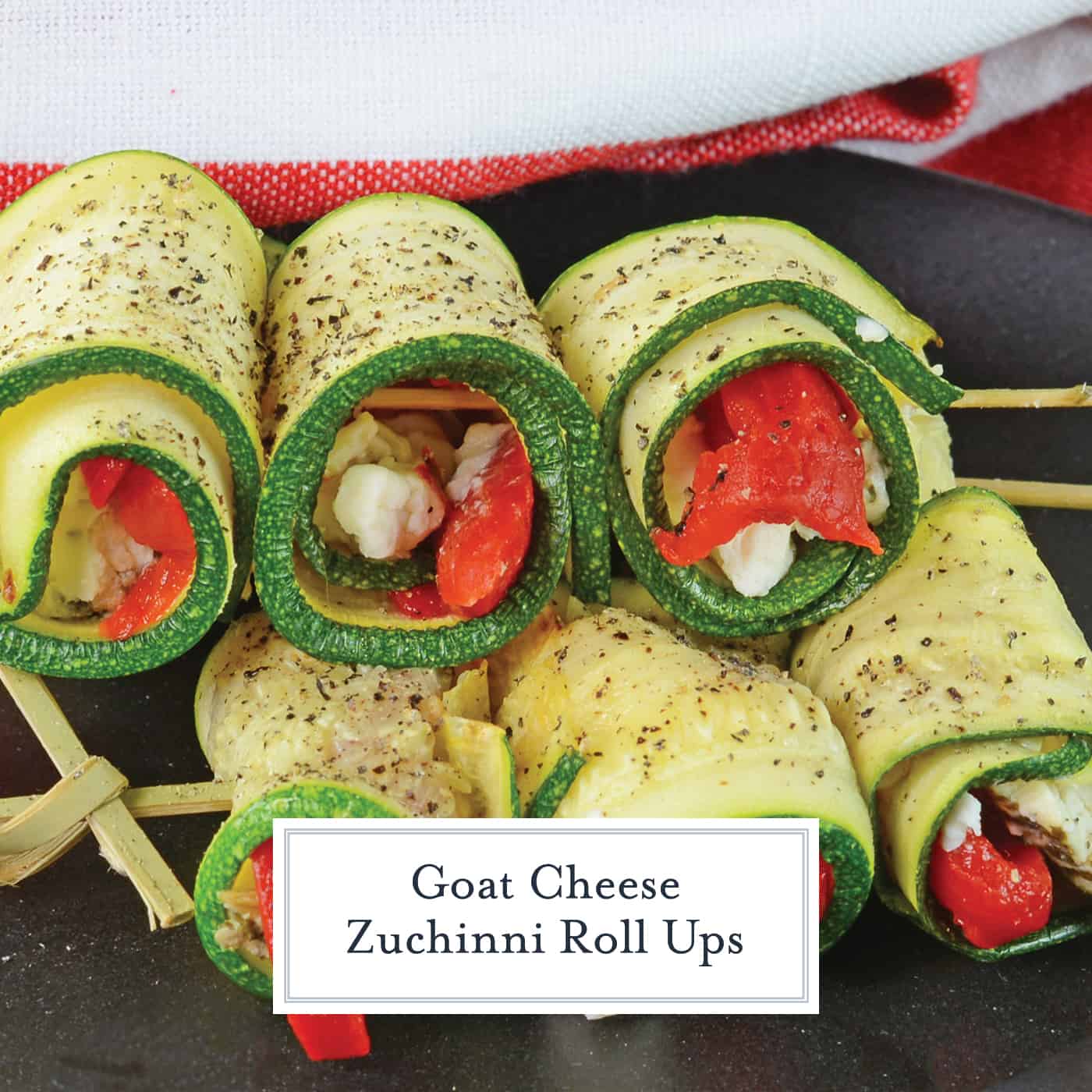 Goat Cheese Zucchini Roll Ups are a tasty toothpick appetizer made with roasted red peppers and creamy goat cheese, all wrapped up in thin layer of zucchini!
Goat Cheese Zucchini Roll Ups are wonderfully deliciously moist, but still crunchy zucchini and get a hit of tang from the creamy goat cheese.
I like making these part of a sample platter of various appetizers for parties. They are veggie-heavy, give the tray great color, are light so your guests don't get too full too fast, and because they are easy to prepare.
Talk about an amazing, multi-dimensional vegetable, well squash to be exact. Zucchini is great raw as an afternoon snack. It can be cut into ribbons to emulate pasta.
It can be breaded and fried. And it can even be sliced thin, baked a touch and used as a gluten-free roll up like this recipe.
Fun fact: zucchini is a low calorie, low fat, high fiber vegetable that studies have shown can be good for your heart health.
Another fun fact, it is not always green. It also comes in a golden variety that is not to be confused with yellow squash.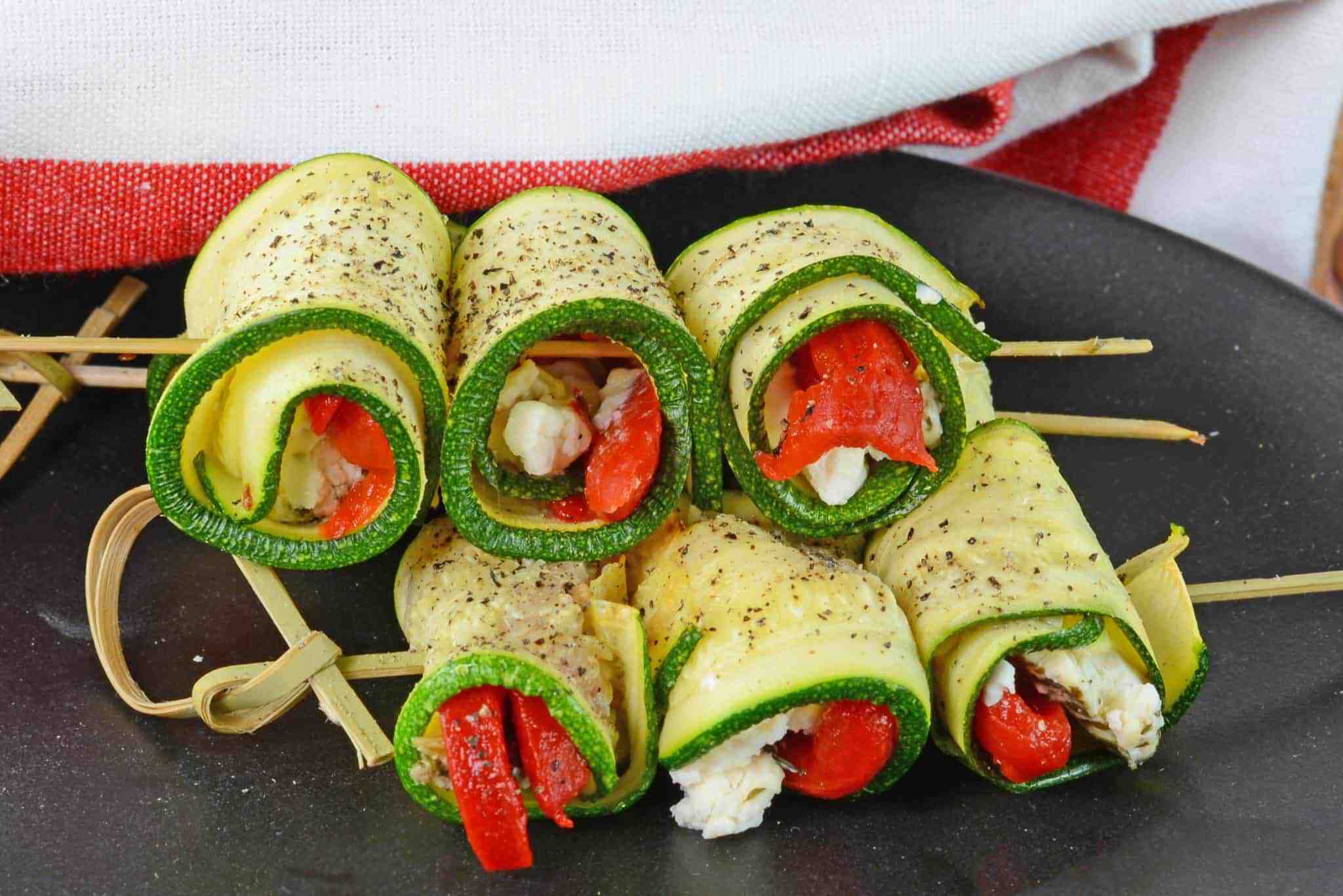 You'll be thanking me once you see how easy these are to make and how much your guests will enjoy them! They're honestly the perfect one or two-bite starter.
The most challenging part of the whole recipe is getting the zucchini planks thin enough to be able to easily roll them. The best way to do this is by using a mandolin slicer.
A few words on mandolins. They are one of the best inventions the kitchen has ever seen. Just my humble opinion. They make quick work of anything that needs to be sliced, but you must watch your fingers!
One quick look away or at something else and it is a trip to the first aid drawer.
My best advice to avoid this situation is to always be paying close attention. Work a touch slower than you normally would. Always use the hand gaurd. They put it in the box for a reason.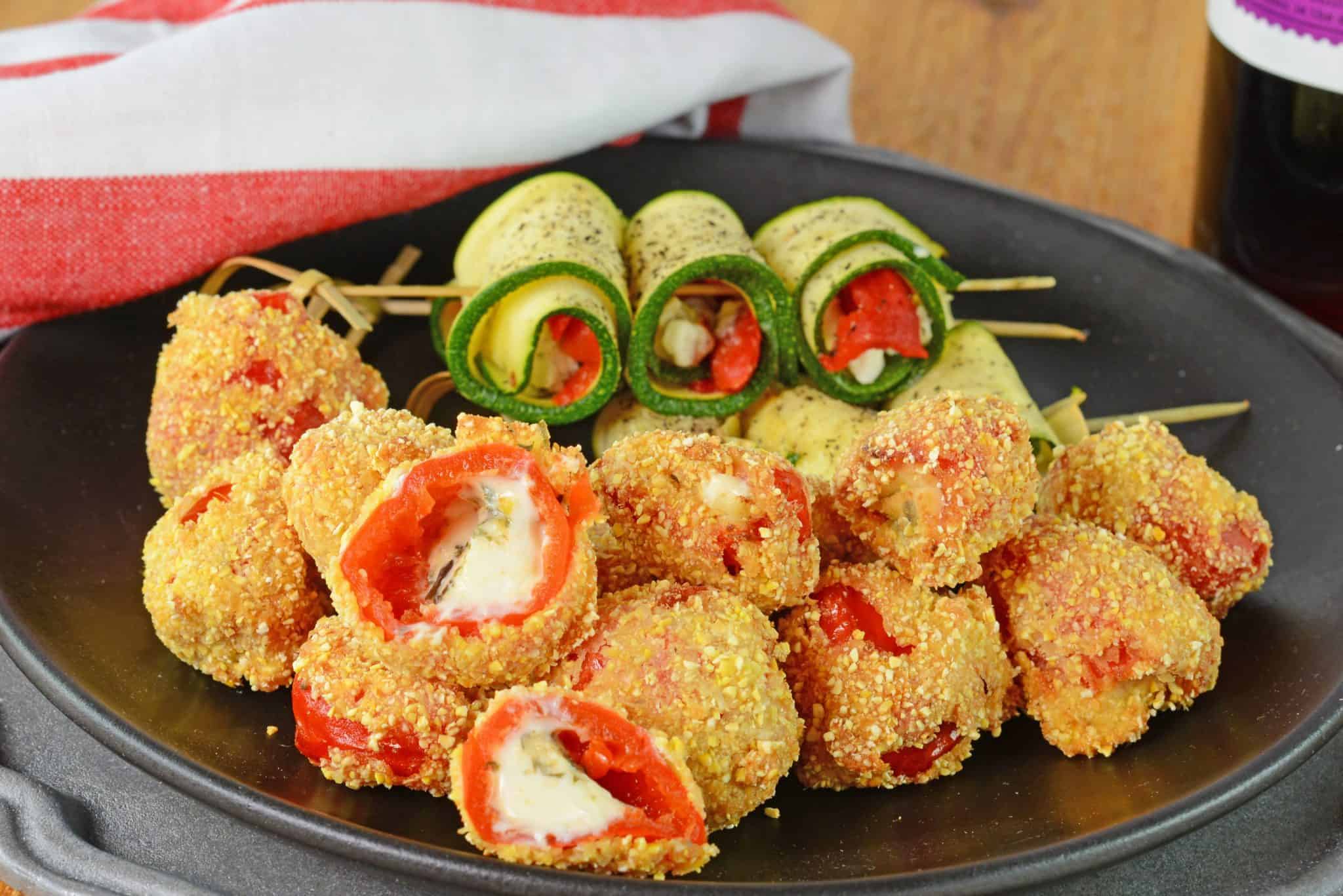 If you don't own a mandolin and do not want to purchase one, you can use a very sharp knife. Use the same care with this method as you would with the mandolin.
The zucchini slices have to be sliced and cooked just right to ensure that they will be thin enough to roll, but hardy enough to hold in the stuffing without tearing.
Toothpick appetizers are ideal for a variety of occasions. Zucchini Goat Cheese Rolls can be made year-round for any parties or occasion.
You can even add your leftover Roll Ups to the top of a salad. I should note here though that leftovers are highly unusual.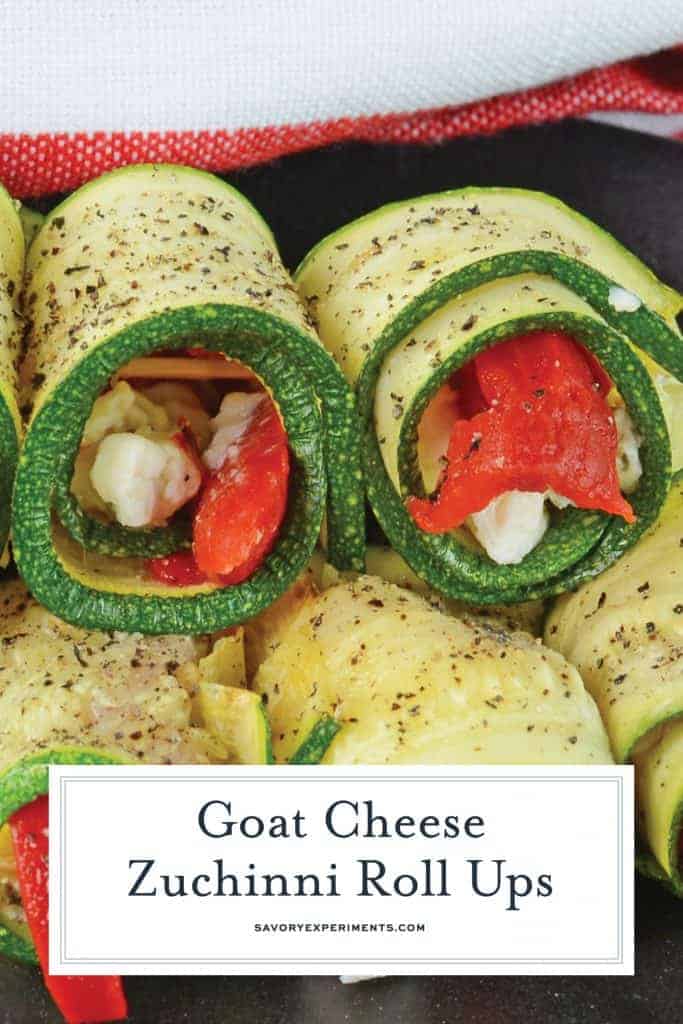 If you loved this Vegetarian Roll Up recipe, be sure to check out these other easy appetizer recipes: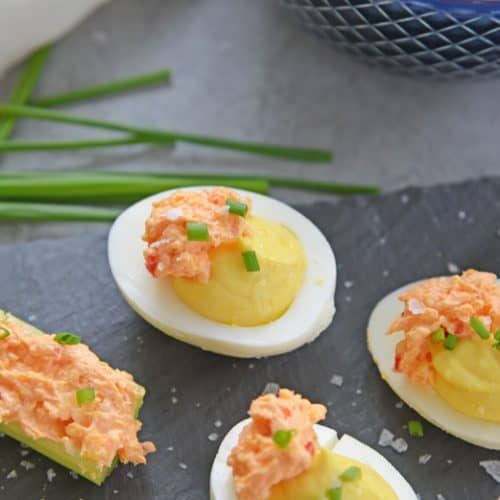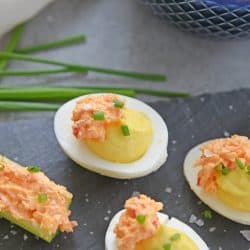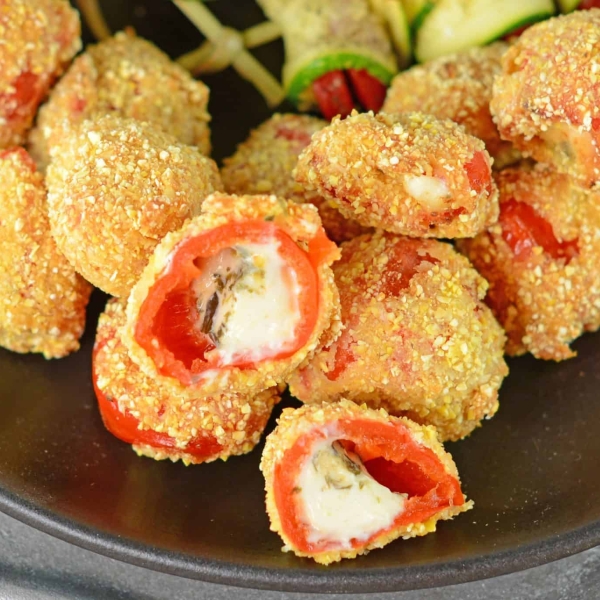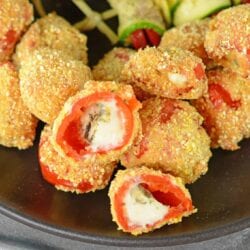 Peppadew Popper Recipe
Sweet peppadew peppers stuffed with tangy goat cheese, tossed in cornmeal and then lightly fried. Dip in a chipotle aioli, green goddess or honey mustard sauce.
See The Recipe!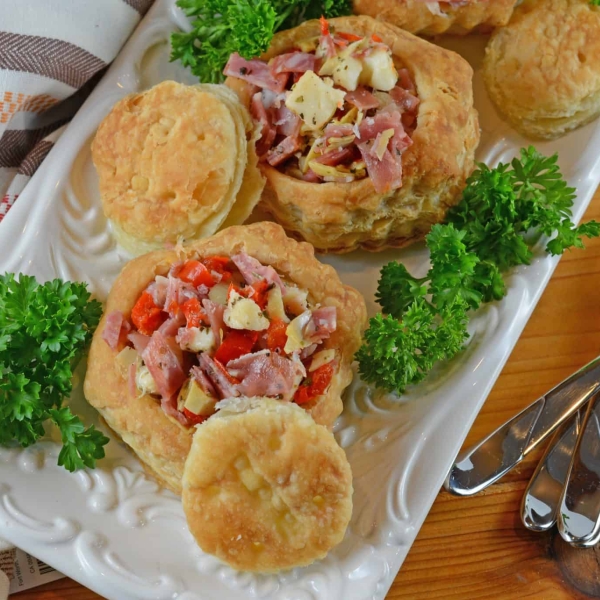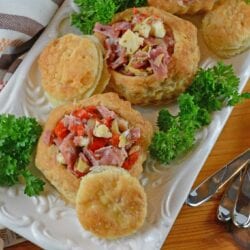 Antipasto Salad Cups
Antipasto Salad Cups are made of chopped salami, prosciutto, sopressata, mozzarella cheese, peppadews and artichokes. The best way to eat salad with your fingers!
See The Recipe!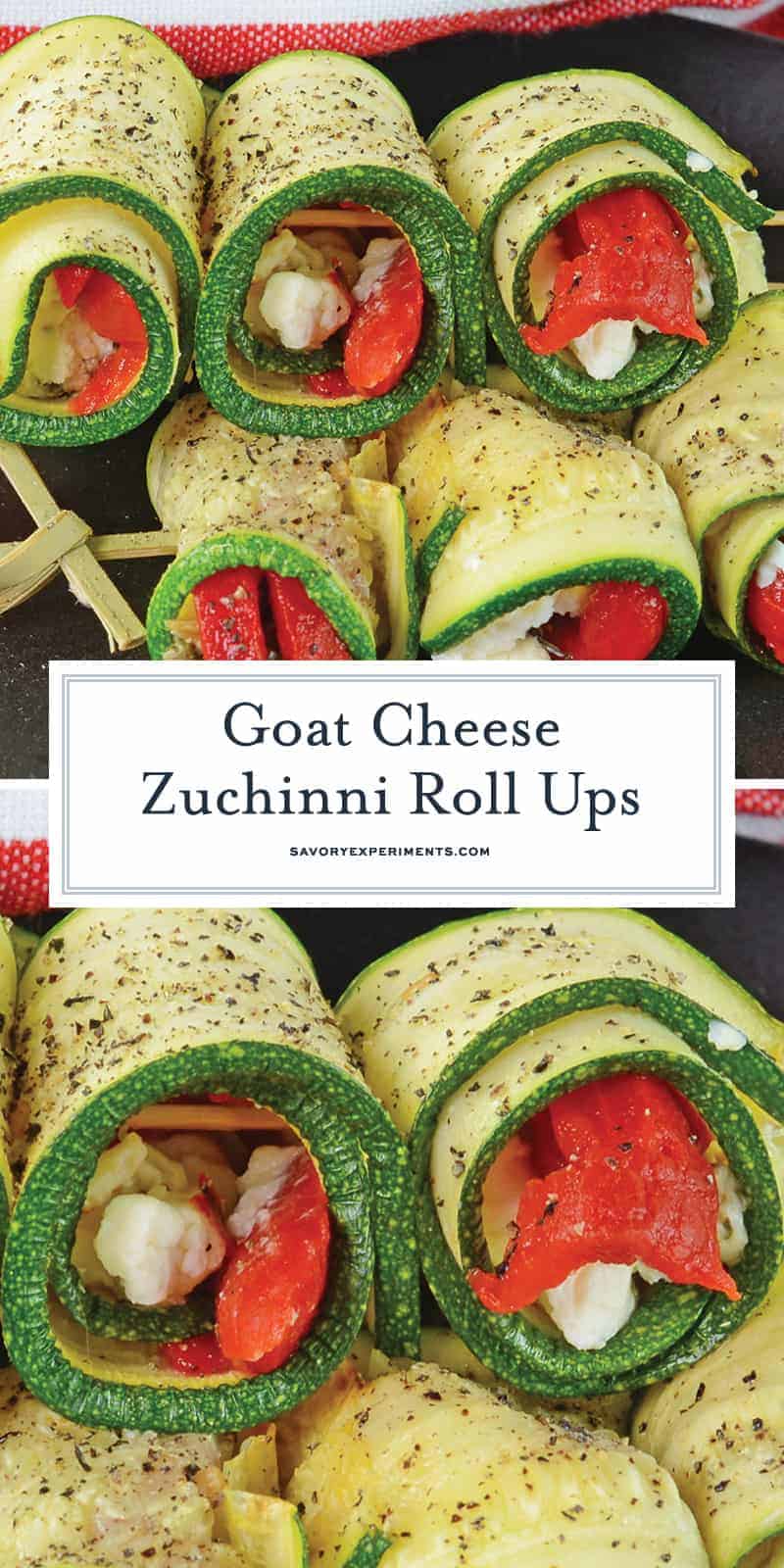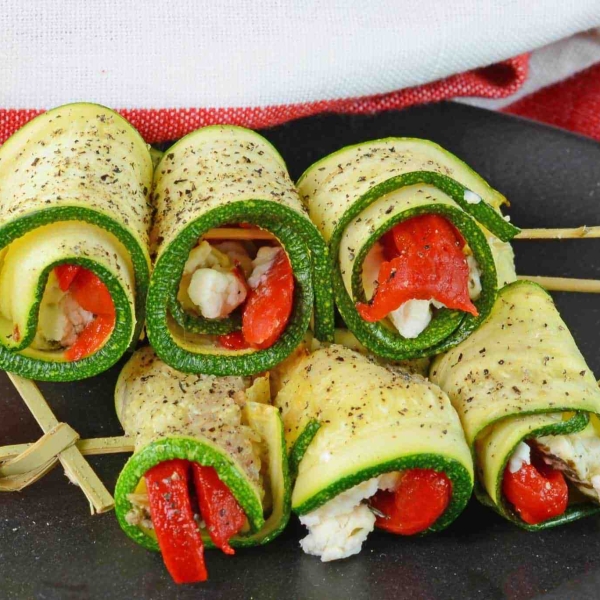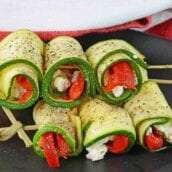 Zucchini Goat Cheese Rolls
Zucchini Goat Cheese Rolls are tasty toothpick appetizers made with roasted red peppers, seasonings and creamy goat cheese. Make them ahead for an easy appetizer!
Instructions
Preheat oven to 400 degrees. Cover a baking sheet with aluminum foil and coat with cooking spray.

This is the tricky part. Cut each zucchini lengthwise into 4 mm (a little less than 1/4 inch) wide planks using a mandolin slicer or very sharp knife.

Baste tops with extra virgin olive oil. Season with salt and pepper. Bake for 10 minutes, or until soft and malleable. Zucchini will be slightly soft to the touch. Remove from the oven.

Spread goat cheese down each plank and then line with roasted red pepper strips. Roll up and secure with a toothpick.
Nutrition
Calories:
44
kcal
,
Carbohydrates:
1
g
,
Protein:
1
g
,
Fat:
4
g
,
Saturated Fat:
1
g
,
Cholesterol:
2
mg
,
Sodium:
100
mg
,
Potassium:
81
mg
,
Vitamin A:
135
IU
,
Vitamin C:
6.9
mg
,
Calcium:
14
mg
,
Iron:
0.3
mg