Cheese spreads are amazing! And cheese goes hand-in-hand with wine, so why not add wine to your cheese?
This Red Wine Cheese Spread is an appetizer dip that blends flavors of caramelized onions, rosemary, red wine, honey and cream cheese. The perfect cream cheese spread for crackers!
I got this cream cheese spread idea from my recent visit to taste the new Fleming's Steakhouse and Wine Bar menu. Wine and Cheese Spread has a unique flavor combination that can only be described as dry and cheesy.
So skip the store bought cheese ball and give this a whirl!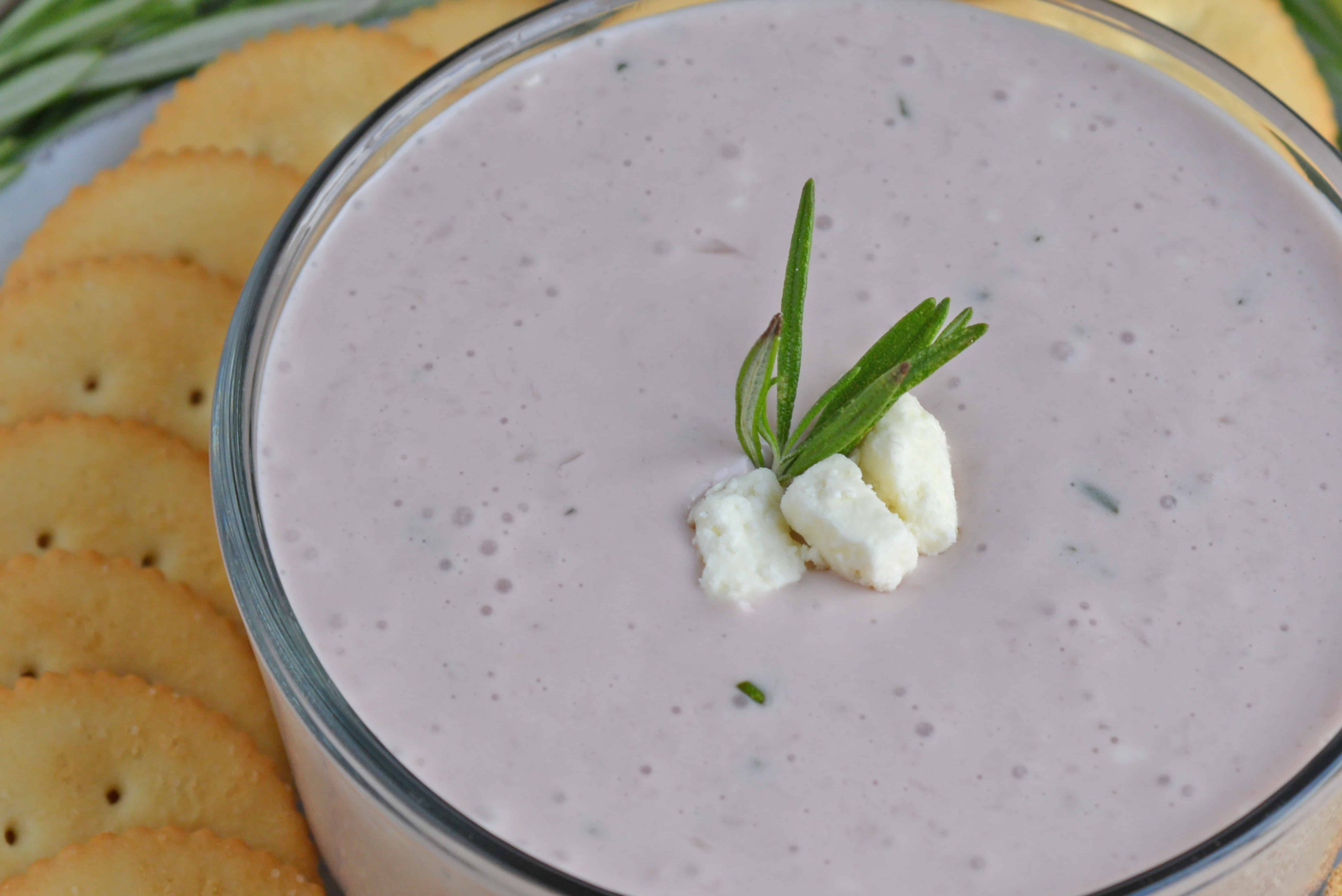 Dry like drinking a dry red wine, full bodied and tannic. The original recipe used blue cheese, but the taste and smell is too much for so many people that I changed my version to use feta cheese.
Similar in texture, dry and crumbly, but without the pungent flavor. You can still revert back to the blue, if you choose.
To cut the acidity, I added pureed caramelized onions and honey. Rosemary adds an earthy undertone and whipped cream cheese is the base.
Any type of dry red wine can be used to make this spread. Some of my favorites include cabernet, merlot and pinot noir. You can also use a cooking wine which has a much lower alcohol content.
This cream cheese spread not cooked, so it does contain alcohol. Do not feed to children or women who are expecting.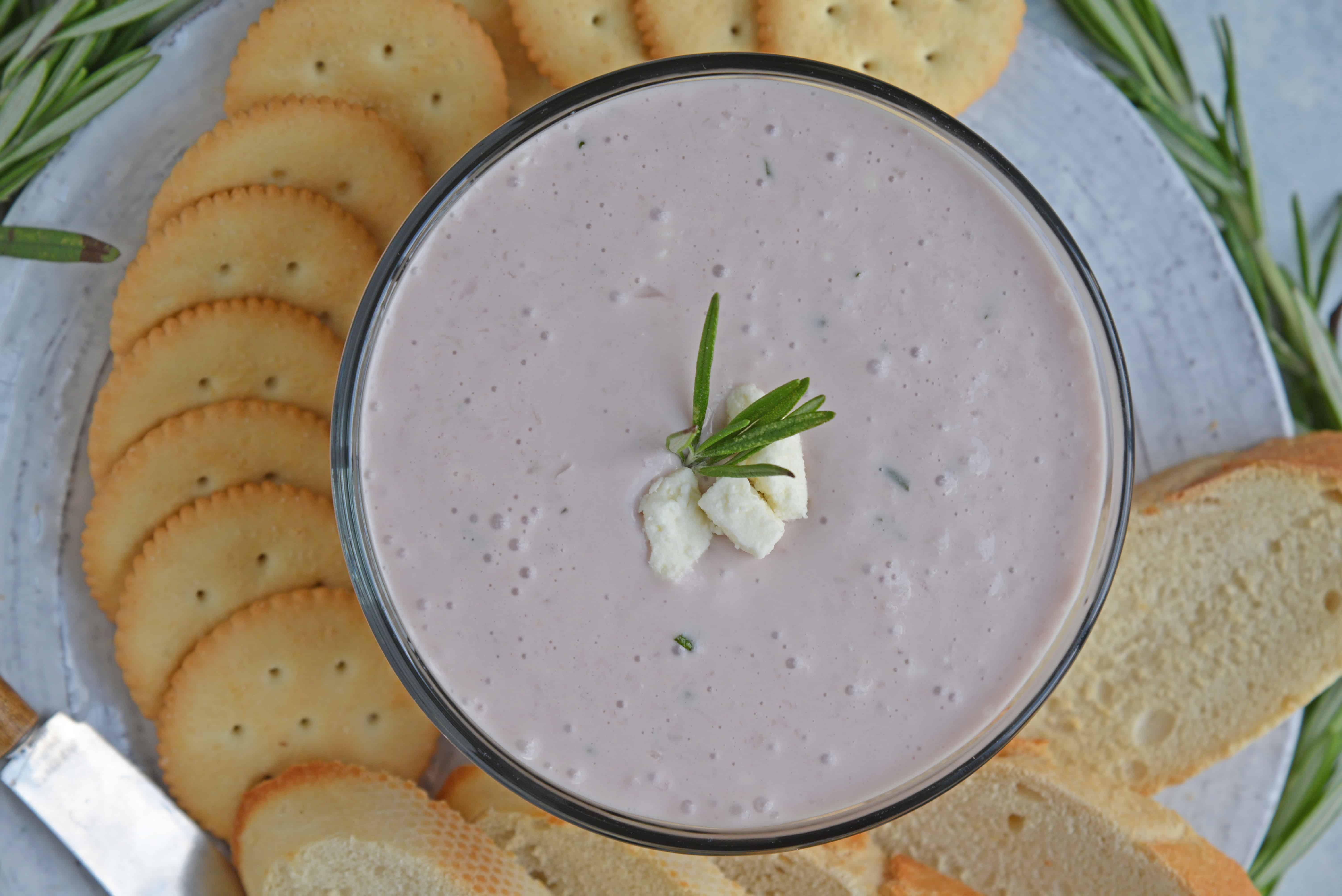 I recommend pairing Wine and Cheese Spread with a sweeter red wine, grapes and Rosemary Focaccia Bread or salty, buttery crackers.
What to serve with wine? Well depending on the type of wine you are drinking you can serve wine with shrimp, cheese, olives, fruits and fresh baked breads. You can also check out my post on creating the perfect Cheese Platter.
Check out my Wine Pairing 101 to learn how to pair your wines and a few party tricks that will have folks thinking you are a true wino.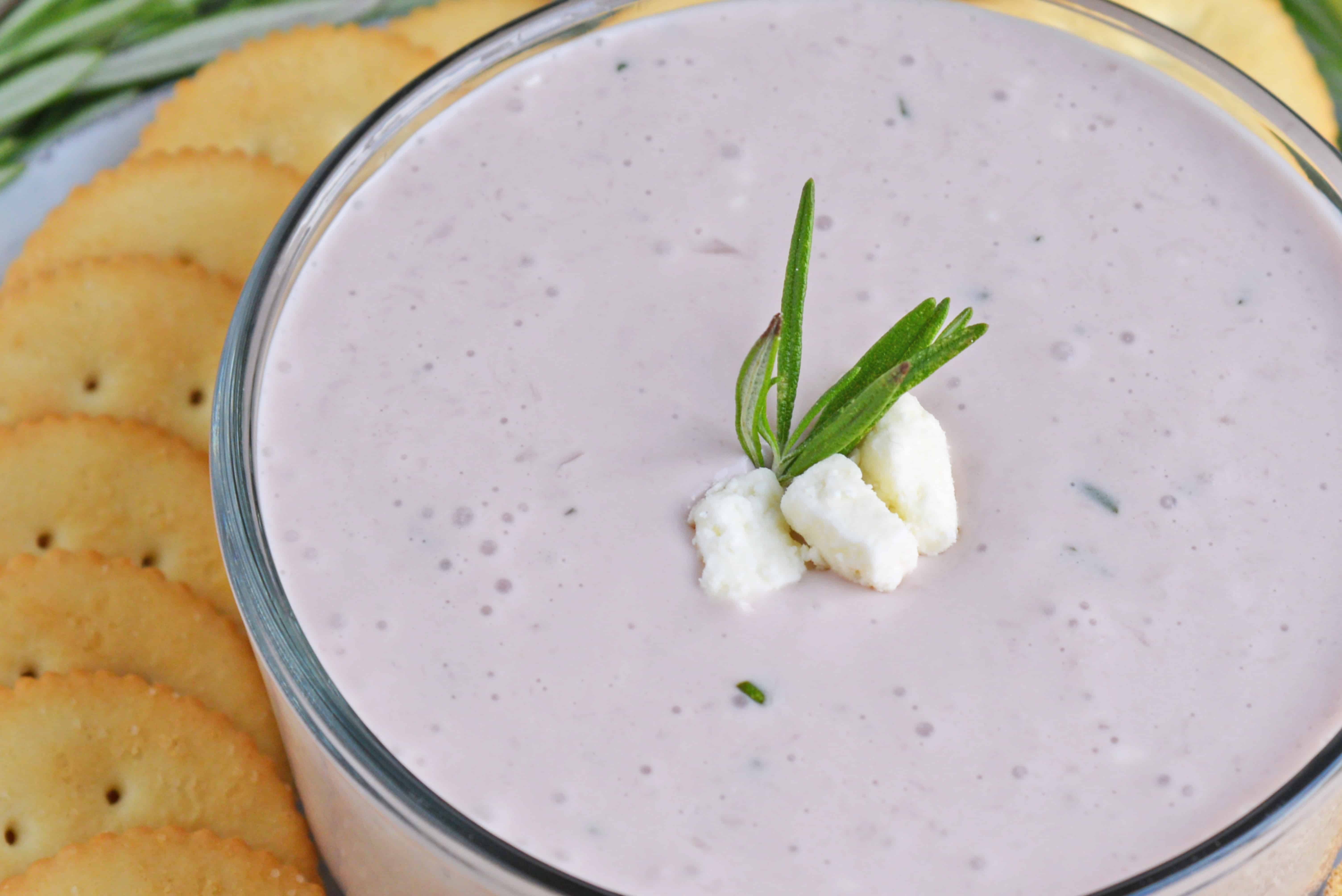 This cheese spread recipe can be garnished with fresh rosemary, although that isn't so pleasant to chew, parsley and chives. Green onions work, too!
Tools for making Red Wine Cheese Spread:
Food Processor
– while I love my mini food processor, this is a job for the full size appliance.
Spatulas
– You'll need one to get all the wonderful cream cheese dip out of the food processor!
Commonly asked questions about how to make red wine cheese spread:
Can you make it without alcohol? While most of my recipes do have a substitution for cooking alcohol, this one is characterized by the dry red wine. If you are looking for a fabulous dip using caramelized onions, check out my Caramelized Onion Dip.
Can you make red wine cheese spread ahead of time? You sure can! Make it up to one day ahead of time, keep it in the fridge and take it out when you are ready to serve.
Can you freeze red wine cheese dip? You can freeze this cream cheese spread for 3-4 months if packaged correctly for the freezer.