If you're craving something sweet AND salty, then theis White Chocolate Brownies recipe is for you. With a crisp, salty crust and a caramel drizzle, you can't help but go back for seconds. Or thirds. Ok… fourths.

My White Chocolate Brownies are blonde brownies with a pretzel crust, a caramel drizzle, and a pinch of fleur de sel to make them even more decadent.
I'm an absolute nut for anything sweet and salty. Recently, my obsession has yogurt covered pretzels. I stash them all over the house. Coffee table, check. Bedside table, check. Pantry, check. Office, check.
The rationalization is as follows: because they are covered in yogurt, they must be "healthy." When I turned over my beloved treat to check out the calorie count, let's just say my jaw dropped. Might as well just eat a brownie!
PRO TIP: TO prevent dry or brittle brownies, do not overmix the batter and do not overcook. Remove from oven a few minutes before you think they are fully done. Using a sifter to evenly distribute the baking powder and salt while breaking up clumps of flour is also beneficial.
The point is the obsession with those led me to think about other ways to use pretzels. I decided brownies would be a great pairing with all the sweet and salty goodness of my beloved pretzels. After all, pretzel strawberry bars also a fun combination so many people love.
To make it interesting, I decided to go with white chocolate. I loved the idea of a stark white brownie. After many attempts, I learned no matter hard you try, they will come out cream colored, not an actual white brownie.
PRO TIP: White chocolate isn't technically chocolate at all. It is a derivative of chocolate. It lacks the cocoa powder that gives milk and dark chocolates their signature color.
Not nearly as pretty as I had originally envisioned. Fear not! To doll them up a bit, I gave them a decadent caramel drizzle and added whole pretzels on top. These can both be easily omitted, but add sophistication to your homemade brownies.
To give the brownies a bit more pop, I sprinkled them with fleur de sel. This salt has a more subtle flavor than table salt and really makes the sweetness sing.
PRO TIP: Bake your white chocolate brownies, but wait to drizzle with caramel sauce until right before serving. Otherwise, the caramel sauce absorbs into the brownie.
What makes these white chocolate homemade brownies different than blondies? Well, they use actual white chocolate. Blondies are created from browned butter and brown sugar, more of a molasses flavor.
Melted white chocolate is easily made in either the microwave or a double boiler. I don't suggest using a saucepan on direct heat, as they can easily scratch.
Flourless Avocado Brownies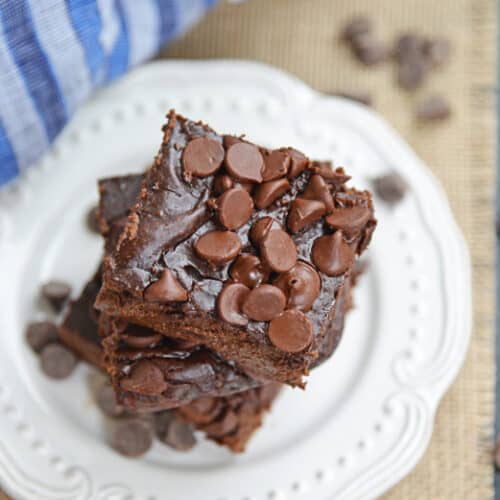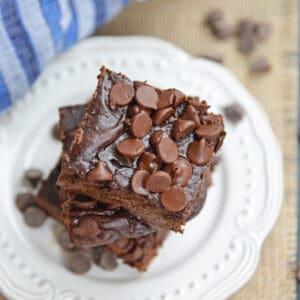 Easy Avocado Brownies are made in the blender and ready in just 30 minutes. No flour and honey instead of sugar!
Nutella Brownies
Homemade Nutella brownies are made in one bowl. With 7 simple ingredients and in less than 1 hour you can enjoy a piece of this delicious brownie recipe!
Tools for making white brownies:
9 x 13 Glass Baking Dish– an absolute essential for any kitchen! Use it for baking, marinating or storing. Get one with a lid, you'll thank me later.
Stand Mixer– I lived for a long time without one. My life was changed when I finally bit the bullet and bought one. Just do it and thank yourself later.
Sifter-
Don't skimp on the sifting! Skipping this step often leads to overmixing to get a smooth batter. Overmixing results in tough and rubbery brownies. I prefer the ones with a crank handle.
Questions about how to make white chocolate brownies:
Can brownies be frozen? They sure can! Package them well, even in single serving sitright plastic bags, and keep them frozen for 3-4 months.
Can I make this brownie recipe with gluten free flour? I have not tested making this recipe with gluten free flour and commonly there needs to be a few adjustments made to convert, so I do not suggest it. However if you have tried this and it worked, come back and let us know how it was and how you did it!
Is white chocolate dairy free? No! White chocolate is not very allergy friendly. It comes with a tree nut warning and contains dairy.
Can I make these homemade brownies with milk chocolate or dark chocolate? I have not tried this recipe with either, but there is no apparent reason why it wouldn't work. If you do, come back and let us know how it was! The measurements should translate equally.
How long are brownies good for? Typically and if stored in a cool, dry place, brownies are good for up to 5 days, but best eaten on the day they are baked.
How do I keep my brownies moist? When I moved out of the house my mother made a comment that there wasn't anyone around to make her brownies on her birthday or Mother's day, I started to ship her homemade brownies.
I would use a disposable pan and line the top with white bread slices. The moisture will help keep brownies moist. However, keep in mind if they are in there for too long, this moisture can become moldy.
Can brownies be shipped? See my answer above about sending brownies to my mom. However, for these, I would just send the brownies and not top with caramel sauce. It will get pretty yucky during shipping.
Should you refrigerate brownies? You can surely refrigerate brownies to keep them from getting mold, but it will also dry them out. If you do this, try putting them in the microwave for a few seconds to loosen them back up.
Can I make this recipe in a 8×8 pan instead of 9×13? I am sure it is possible, but I have not done it and can't tell you what the cooking time would be.
Can I substitute coffee for the water? Sure! Just be mindful that coffee, albeit a small amount, is dark and will make your white brownies just a little more brown.
Are white chocolate chips and vanilla chips the same thing? Yes and no, they typically have a little more flavor, vanilla extract, but are made from white cocoa butter. They are sometimes a little sweeter as well since they have corn syrup.
Can I add nuts to this brownie recipe? You sure can! I would add 1/2 – 3/4 cup chopped pecans or walnuts. Cooking times shouldn't need to be adjusted.
Are white chocolate brownies healthier than regular chocolate brownies? Um, no. They are both a decadent dessert that should be consumed in moderation. Please keep in mind that I am not a dietitian, nor a physician, this is just my personal opinion. For any dietary advice, please consult a professional.
My White Chocolate Brownies are blonde brownies with a pretzel crust, a caramel drizzle, and a pinch of fleur de sel to make them even more decadent. Click to Tweet
CONNECT WITH SAVORY EXPERIMENTS!

Be sure to follow me on social media, so you never miss a post!

Facebook | Twitter | Youtube
Pinterest | Instagram

Get our FREE 8 Day E-Course on How to Be a Better Home Cook. Sign up HERE!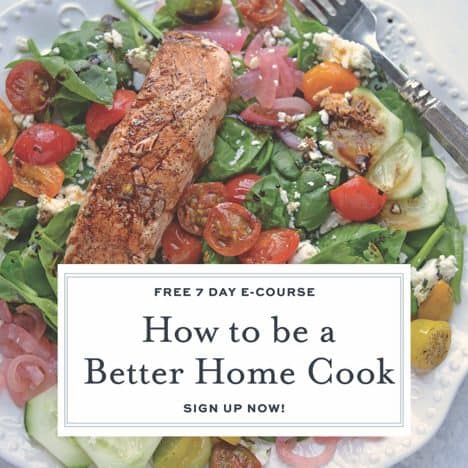 White Chocolate Brownies with Pretzel Crust and Caramel Drizzle
My White Chocolate Brownies are blonde brownies with a pretzel crust, a caramel drizzle, and a pinch of fleur de sel to make them even more addictive.
Ingredients
Pretzel Crust:
White Chocolate Brownies:
Instructions
Preheat oven to 350 degrees. Coat a 9×13 baking dish with cooking spray.

In a food processor, blend 3 cups pretzels and 3 tablespoons sugar until fine.

Add 3/4 cup melted butter and pulse a few times until blended. Press pretzel crust into the bottom of a 9×13 glass baking dish. Set aside.

Sift together flour, baking soda and salt. Set aside.

In a medium saucepan, melt shortening, 1/2 cup sugar and water over low heat. Blend until sugar dissolves.

Add white chocolate chips and stir until blended and smooth. Remove from heat and allow to cool for 10-15 minutes.

Transfer mixture to a large mixing bowl or bowl of a stand mixer fitted with a paddle attachment.

Add egg whites and vanilla, beating to combine. Slowly incorporate dry ingredients until fully blended. Do not over mix.

Pour white chocolate brownie batter over pretzel crust, spreading to even.

Bake for 40 minutes, or until it passes the toothpick test. Remove and allow to cool.

After brownies have cooled, drizzle with caramel sauce, sprinkle generously with fleur de sel and top with a whole pretzel.
Video
Notes
*You can use regular vanilla extract, the white brownies will just be a little darker. 
Nutrition
Calories:
447
kcal
|
Carbohydrates:
53
g
|
Protein:
6
g
|
Fat:
23
g
|
Saturated Fat:
13
g
|
Cholesterol:
35
mg
|
Sodium:
514
mg
|
Potassium:
137
mg
|
Fiber:
1
g
|
Sugar:
25
g
|
Vitamin A:
360
IU
|
Vitamin C:
0.2
mg
|
Calcium:
61
mg
|
Iron:
1.8
mg
This is an award-winning brownie recipe!