Crispy, spicy potstickers at home: Wasabi Chicken Dumplings!
Wasabi Chicken Potstickers are homemade dumplings packed with ground chicken, nose flaring wasabi, ginger and seasonings. Dip in my famous potsticker sauce!
I love dumplings! Do you? I'm far from a dumpling master, but I'm learning (like in my Authentic Chinese Dumplings) and continuing to work on my "folding" technique.
Not being a master folder doesn't stop me from coming up with fun, new dumpling ideas, like Wasabi Chicken Potstickers.
A long, long time ago, there was a fabulous sushi restaurant in the Inner Harbor of Baltimore. When hubby and I used to live in a high rise, we would go and my favorite dish was the wasabi shumai.
The heat made your eyes water and nose burn. It was that type of short-term burn that only horseradish products can create. Shumai is a steamed dumpling and they were good, but I prefer a nice crispy potsticker on any other occasion.
All potstickers are dumplings, but not all dumplings are potstickers.
On a whim, I decided to make my own nose-burning Wasabi Chicken Dumpling, combining my two favorites dumpling elements: wasabi and crunch. The amount of wasabi you use can vary from family to family, but also by what brand you are using.
Remember that when you cook the potstickers, the heat will reduce slightly, so over compensate just a pinch to make sure they still taste like something. Typically (but not always) powdered wasabi isn't as powerful or pungent as prepared, wet wasabi.
The last question you might be asking is "what is the difference between a potsticker and a dumpling?" The two are used interchangeably.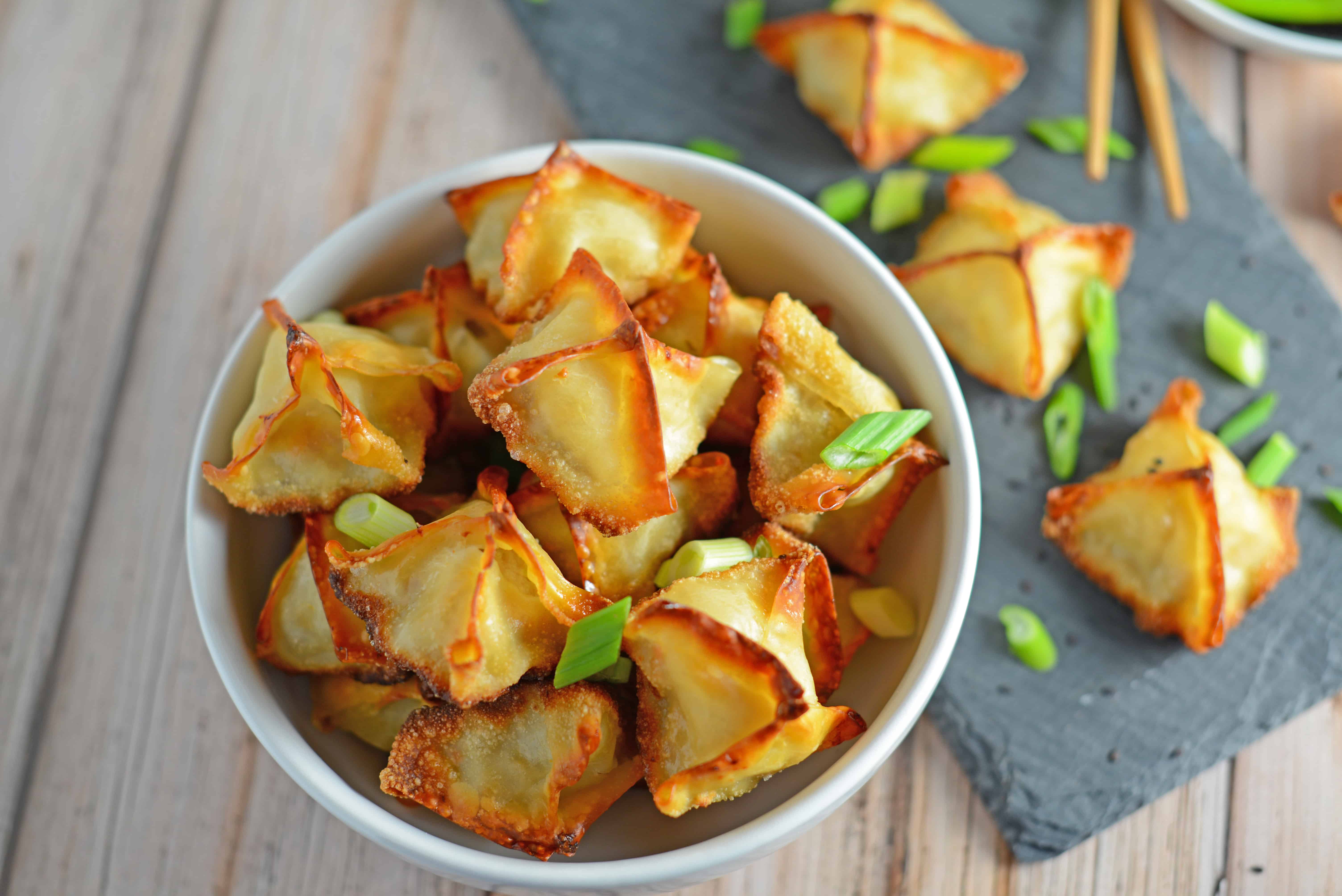 Dumplings typically feature a dough made most commonly with wheat flour that is stuffed with minced meat or vegetables.
Pot stickers earn their name because as they cook, they stick to the sides of the wok or pan, which can happen with dumplings as well, so basically they are the same thing.
The word dumpling is a broader term, referring to many types of doughy filled pockets. Other cultures may call them perogies, wontons, samosas, and even gnocchi… and some just call them dumplings.
Sticking to the side of the pot is what defines a pot sticker and this sticking makes them a little more crispy than just doughy. Frying and baking these potstickers makes them super crispy!
I often think of potstickers having a thin wrapper and dumplings using the thick, doughy one, but apparently I am wrong. One a personal note, I do prefer the thinner wrapper. Just putting it out there.
I like dipping them in a simple sauce- my potsticker dipping sauce and egg roll dipping sauce are tremendous!
If you enjoyed this fun Asian appetizer recipe, check these out:
Tools for making Wasabi Chicken Dumplings:
Heavy Bottom Frying Pan– this will be one of your most used kitchen tools. Having something that is heavy bottom will distribute heat better and prevent burning whether you are using an electric or gas range.
Mixing Bowls– make sure to check out my article on Using the Right Mixing Bowl, you'd be surprised how many people aren't!
Rolling Mat– For rolling out any dough or cookies or just protecting your counters and work space!
Wasabi Chicken Potstickers
Wasabi Chicken Potstickers are homemade dumplings packed with ground chicken, nose flaring wasabi, ginger and seasonings. Dip in my famous potsticker sauce!
Instructions
In a medium mixing bowl, break up ground chicken with fingers.

Lightly toss with carrot through white pepper until evenly blended. Make sure to toss and not over work, otherwise the chicken filling will be tough.

Create a flat workspace, like a cutting board or plate. Place wonton wrappers on one side and lightly beaten eggs with 2 tablespoons water.

Place approximately 1 tablespoon chicken mix in the center of each wrappers. Dip your fingers in the egg wash and rub onto the edges of wonton wrapper. Grab alternating corners, pulling up and pinching together. Finish with remaining two corners, pinching all four together into a pyramid shape. Set onto a wax or parchment paper lined baking sheet. Repeat with remaining chicken mixture.

When ready to prepare, preheat oven to 350 degrees. Cover bottom of a large frying pan with vegetable oil, bring to a medium-high heat.

When hot, place several dumplings in the pan, flat side down, covering to steam the top. Fry until bottoms are lightly browned. Remove to a baking sheet. Continue with remaining wontons.

Place into the oven for 5-10 minutes to heat all the way through and crisp up tops.

Meanwhile, the same large frying pan, combine all dipping sauce ingredients. Stir and bring to a low simmer, immediately remove to a serving bowl.

Serve hot chicken wasabi dumplings with dipping sauce and enjoy!

If you've tried this recipe, come back and let us know how it was!
Notes
A pre-made paste can often have more flavor than powder. If you do use a powder, allow it to sit for a few minutes to develop the flavor.
Nutrition
Calories:
66
kcal
,
Carbohydrates:
5
g
,
Protein:
4
g
,
Fat:
2
g
,
Cholesterol:
22
mg
,
Sodium:
553
mg
,
Potassium:
65
mg
,
Vitamin A:
385
IU
,
Vitamin C:
0.4
mg
,
Calcium:
10
mg
,
Iron:
0.6
mg