A Clamato Michelada is the perfect party beverage blending Clamato juice with beer, hot sauce and spices to create a refreshing drink for brunches and celebrations everywhere!
This shop has been compensated by Collective Bias, Inc. and its advertiser. All opinions are mine alone. The following content is intended for readers who are 21 or older. #MyMicheladaMatch
What is a Clamato Michelada you might ask!? It is a a very popular drink in Mexico using Clamato® juice, tomato juice blended with clam broth and spices, with beer, hot sauce and most typically lime juice and worcestershire sauce. They are tart, slightly sweet and also salty, which in my world is the best of everything shaken into one beautiful, ruby red beverage!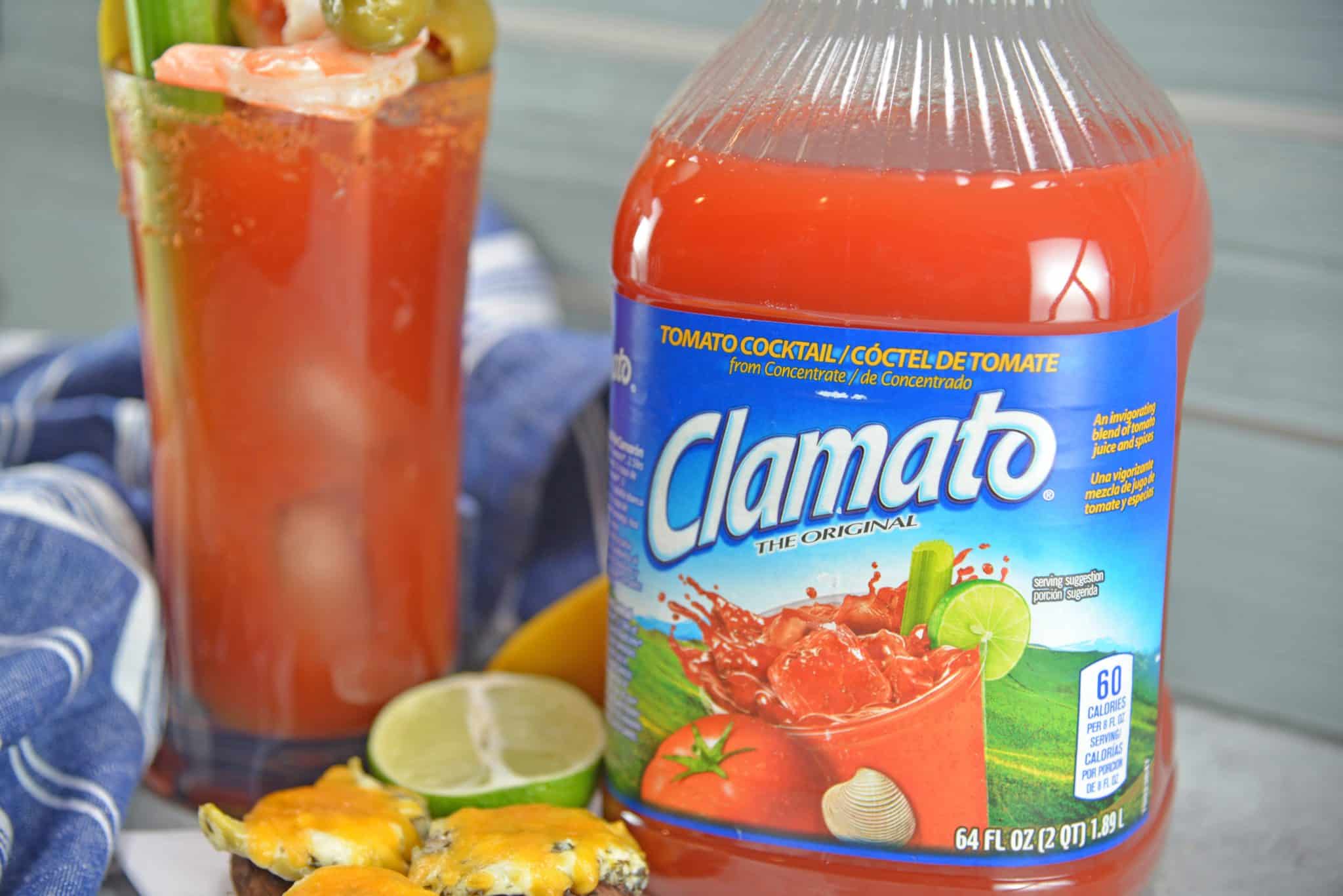 Clamato Micheladas are the perfect beverage for entertaining year round, but are particularly refreshing during the hot summer months. Shaken or stirred with ice, they pair perfectly with meal, breakfast, lunch or dinner or an afternoon snack (don't judge, there are veggies in this drink!)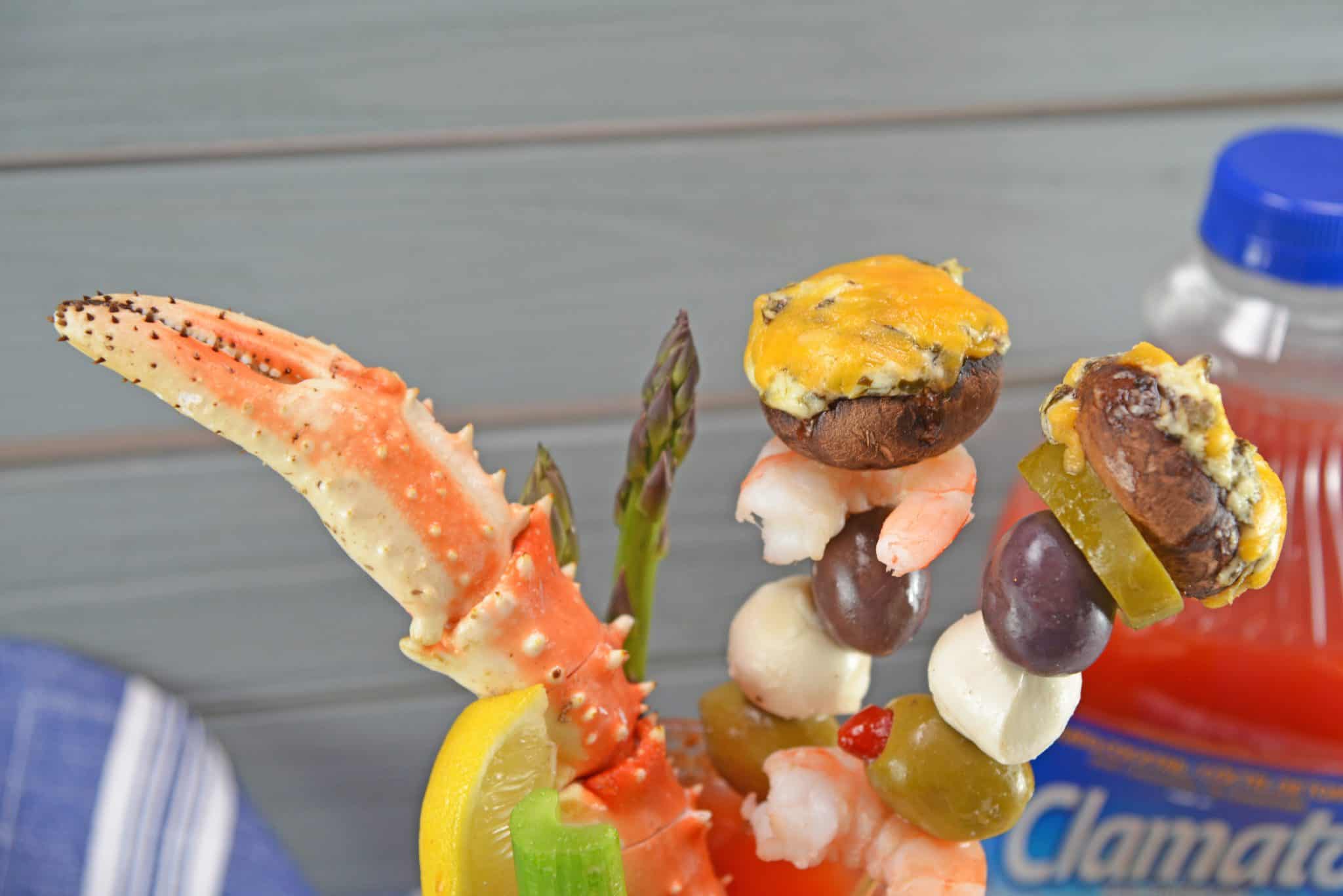 We do a lot of entertaining at our home, whether it be for a random impromptu hamburger grilling on a Wednesday night, a full on Saturday afternoon BBQ and bocce ball tournament or traditional Sunday supper, so I am always serving up drinks. It gets challenging to stay stalked on the flavors of all my friends, but I know if I have a bottle Clamato, the rest will be right in my pantry and fridge ready to go!

While a hearty Clamato Michelada alone goes a long way, you can also easily vamp them up with garnishes and rims. Yep, you heard me right! One of my favorites is salty seafood seasoning, but you can use regular salt or a mix of spicy chile powder with salt, if you prefer. Dig deep into your cheese and vegetable drawer and pantry to find little tidbits to make a showstopping garnish. Just thread them all through a grill skewer and voila, the ultimate Clamato Michelada!
For my Clamato Michelada, I had up the olive bar a few days before and had a variety of olives and mozzarella balls leftover from my antipasto platter, combined with a few shrimp and a crab claw (all in my freezer), a celery stalk from last week's jambalaya and a blanched asparagus spear, I was ready to go!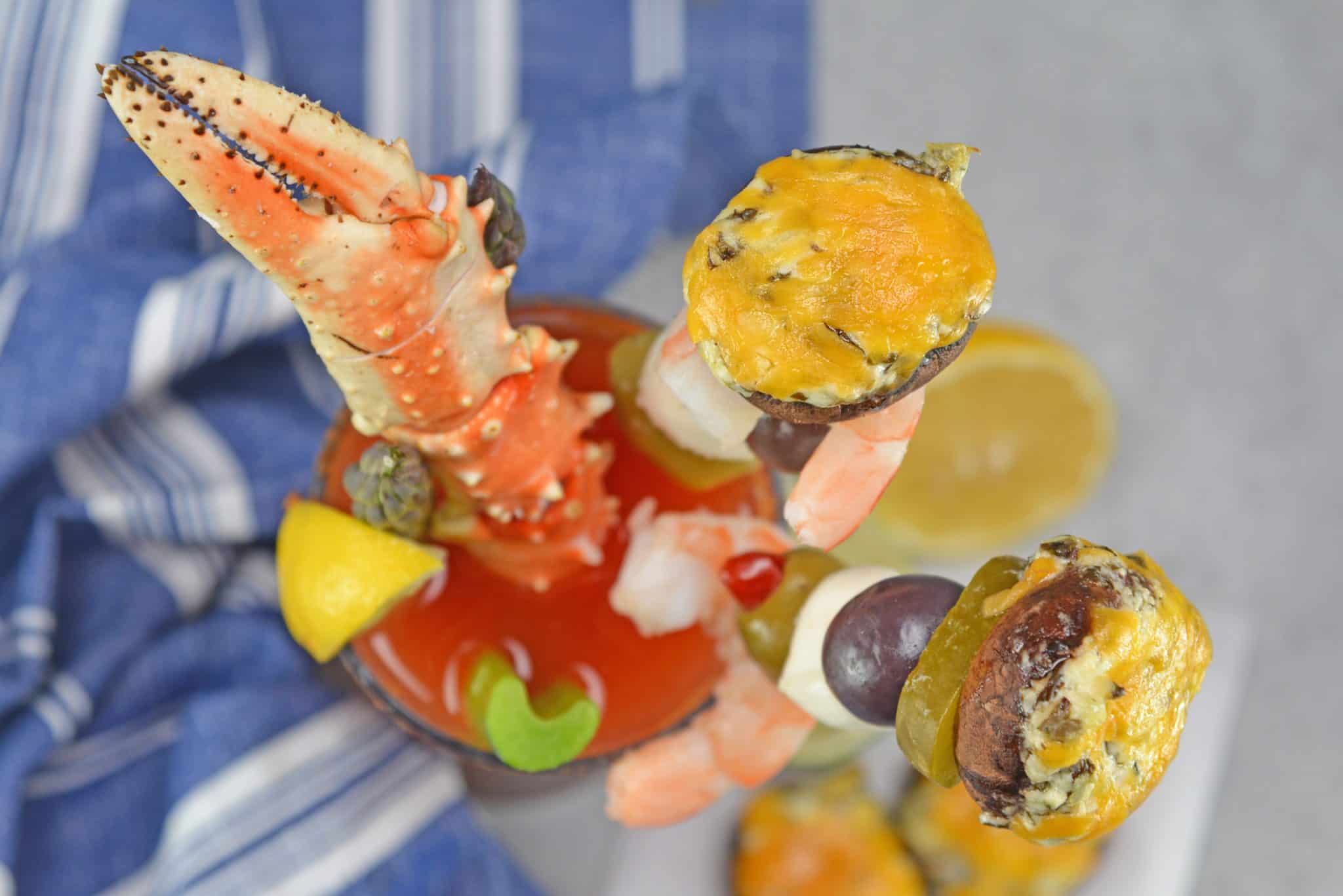 The only thing that took these over the edge was topping the skewers with Spinach Dip Stuffed Mushrooms. You heard me right! I had some Spinach Dip leftover over my latest trip to the Wal-Mart Deli, but not enough to serve to my guests, so I made the most of it by stuffing into mushrooms caps, topping them with grated cheddar cheese and in just 10 minutes at 350 degrees, I had the ultimate garnish finisher, with a few left to spare for munching.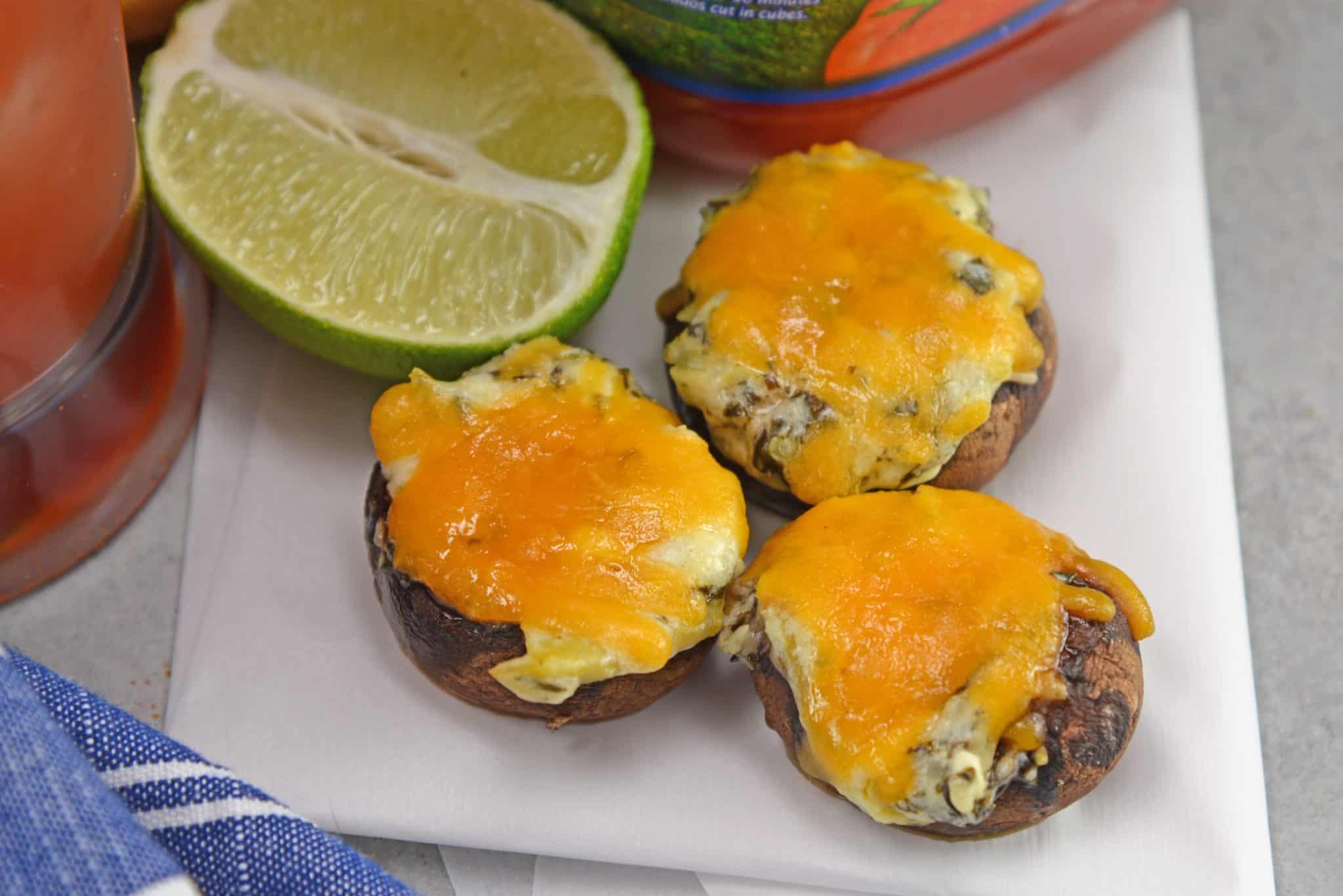 Set up a bar with instructions on how to make a base Clamato Michelada and allow guests to make their own masterpiece. Kids can even get involved, sans the beer, to make one of their own! Here are more garnish ideas for your Clamato Michelada:
Pepperoni Slices
Cubed Cheese
Pepperoncini
Peppadews
Grape Tomatoes
Cubed Beef
Bacon Strips
Rolled Prosciutto
Marinated Mushrooms
Carrot Sticks
Steak Fries
Cocktail Onions
Make sure you PIN The Ultimate Clamato Michelada!
Print Recipe
The Ultimate Clamato Michelada
Yum
A Clamato Michelada is the perfect party beverage blending Clamato juice with beer, hot sauce and spices to create a refreshing drink for brunches and celebrations.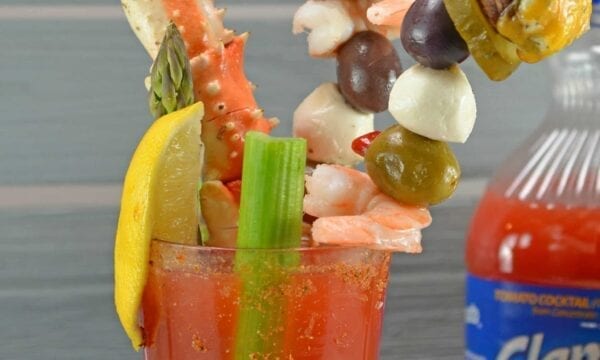 | | |
| --- | --- |
| | |
Cut fresh lime and slide around lip of serving glass. Place seafood seasoning in a shallow plate or bowl, dip the rim of your glass in the seafood seasoning to stick.

In the same glass or a shaker, combine Clamato original juice, Worcestershire sauce, lime juice, hot sauce and your favorite beer. Stir or shake. Transfer to serving glass, if needed, then add ice to fill.

Garnish as desired. Be creative!
Start planning your party for National Michelada Day on July 12! For more information and recipes, visit mymicheladamatch.com !
If you like this recipe, make sure to follow me on Pinterest for even more! 
Visit Savory Experiments's profile on Pinterest.
If you liked this recipe, you'll love these!