Let me start you off with a few statistics about the Carnival Pride:
The Carnival Pride is the 1st and only year round cruise ship sailing out of Baltimore.
It is expected to carry 120,000 passengers annually.
It adds 500 jobs to the Port of Baltimore.
Cruise goers spending time in Charm City on the front and back end of their trip will bring in an estimated 90 million dollars to the local economy.
It takes the ship 12 hours to chug out of the Chesapeake Bay.
The Carnival Pride has the capacity to hold 2,124 passengers and sells out for near every cruise.
There are 920 staff members board, nearly 1 for every 2 passengers.
It takes 32 minutes to get from my doorstep in Greektown to the deck of the Carnival Pride, complete with "Welcome Aboard" Drink.
"The Pride is back in Baltimore" exclaims Christine Duffy, Carnival Cruise Line president, as she addresses state and local dignitaries, media and Carnival staff. While Charm City has never lacked pride, we were missing the Carnival Pride for a few months.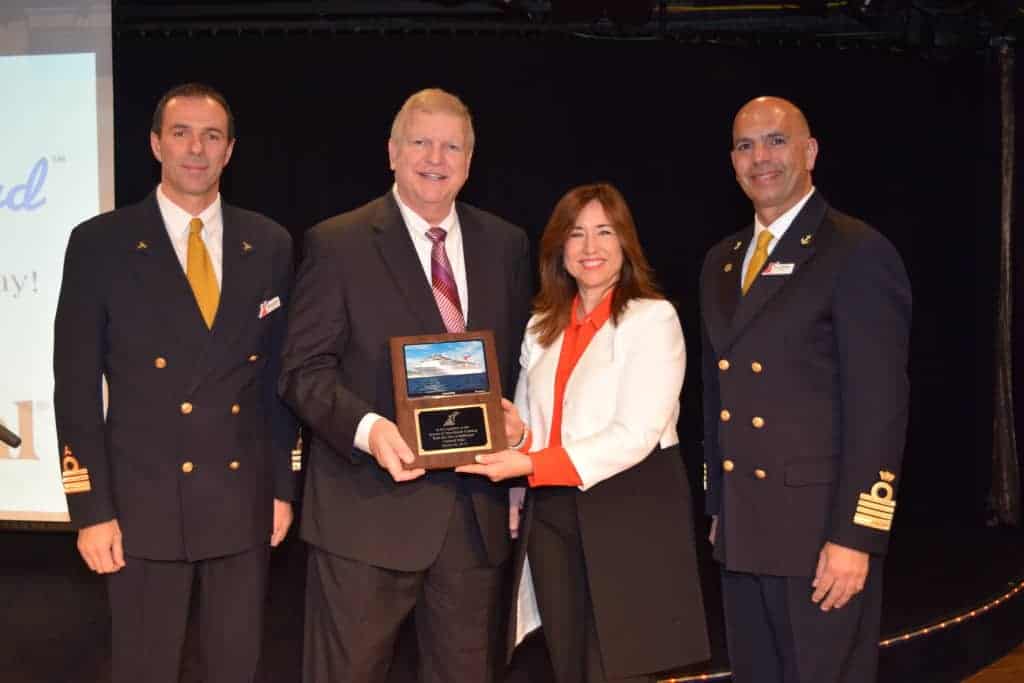 On Sunday mornings I looked forward to emerging from the Ft. McHenry tunnel to see its familiar smoke stack and throngs of people at the port, some returning with golden skin and others giddy with anticipation of the week ahead. At 4:30 p.m., I hear the horn blow from my Greektown home and I, without fail, have a moment of envy.
Last October the Pride moved to Tampa, Florida after new air standards were imposed for ships sailing near land. Due to the long coastal trek through the Chesapeake Bay, the Pride would require significant upgrades to remain in Baltimore.
Carnival Cruise Lines ultimately decided to bring the ship home on Sunday, March 29th after making necessary changes to the smokestacks and revamping interior spaces and the main pool. Locals couldn't be more happy to see it return, myself included.
Three years ago, my husband and I decided to take a last minute vacation and hopped on the Carnival Pride. Parking was a cinch, bags were taken upon stepping through the port doors, we received our ID cards and boarded immediately.
Our steward (who would ultimately become a fast friend and teach us how to make towel animals) greeted us at our state room door, which was spacious compared to past cruises, especially the extended balcony complete with a cocktail table and two full size lounge chairs.
The dining options were limited in comparison with some mega ships, but the food exceeded our expectations in regards to quality and the service was impeccable. Overall, it was a pleasurable and stress free experience from booking to disembarkation that we agreed we would do again.
Now that the new and improved Pride is back, I can't wait to make that happen! Here is what to expect aboard the massively overhauled floating paradise.
Food: Of those who cruised the Pride in the past, the #1 recommendation was expanding dining options. The addition of five new eateries and a candy bar, A Cherry on Top, should satisfy those requests.
All included, the Normandie dining room offers varied seating preferences and rotating menus, build your own burrito at BlueIguana Cantina, grab a taste of the Caribbean at the Red Frog Pub or nosh on a Chilius Maximus burger at Guy Fieri's Burger Joint.
For a small upcharge, slow you roll with appetizers ($4), sushi ($5-$7/roll), sashimi ($2) and bento boxes ($10) at Bonsai Sushi or celebrate a special occasion with escargot, beef carpaccio and an impressive surf and turf collection at David's Steakhouse ($35/pp). A wide variety of flavors and price points ensures that every guest will find something they love while at sea.
Drinks: Adult beverages, specialty drinks and soda are not included, but all-inclusive packages are available. New to the Pride (or at least since I cruised), Carnival is offering the Cheers! Program, an all-inclusive adult drink option for $49.95/pp per day in addition to basic, deluxe and premium wine packages.
Make sure you enjoy the Carnival signature cocktail, the Fun Ship, a rosy hued tropical drink hiding vodka, rum, amaretto and brandy in fruit juice and sip on Red Thirsty, Carnival's exclusive micro brew. The Alchemy Bar also offers hand crafted cocktails in a fancy new electronic menu.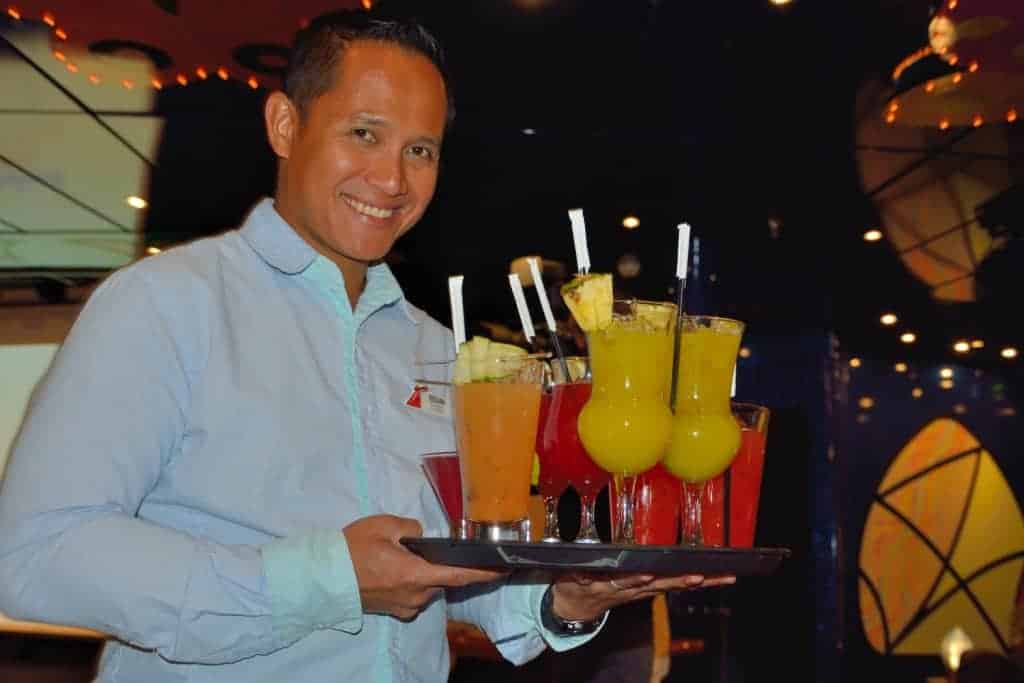 Activities: The Pride has an average of 42 daily entertainment options ranging from bingo and miniature golf to scavenger hunts. Part of the renovation included upgrading the onboard water park, Waterworks, with two additional slides and a Seaside Theater.
The interior theater has nightly shows including the interactive group Playlist Productions, stage and comedy shows as well as live music. There are three pools: the first is a quiet zone, the center a maximum energy pool with a DJ and games and lastly, the Serenity Retreat, a 21 and over sanctuary.
If you happen to be aboard during inclement weather or departing on a chilly Baltimore day, the center pool has a retractable sunroof.
Nightlife: Enjoy a drink and socialize at a number of bars onboard the Pride. Don't miss out on any mainland sporting events by checking in at the EA Sports Bar, you can be the entertainment at the karaoke bar or sing along with performers at the Piano Bar.
Additionally, you can dance the night away with a DJ at Beauties nightclub.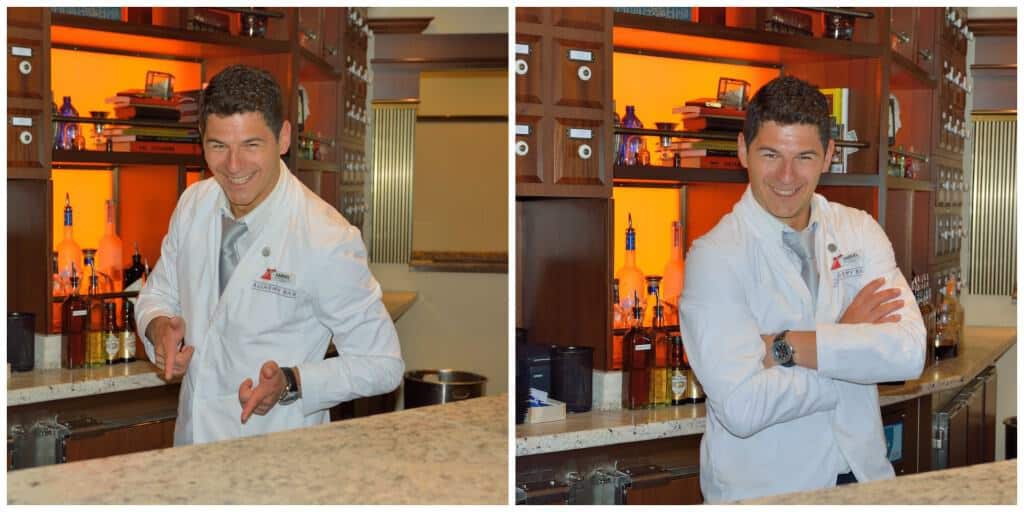 Kids: A Kid's Club is available daily, complimentary Dr. Seuss activities are scheduled throughout the week and babysitting is offered for an additional fee.
Where & Cost: The Pride has expanded its itineraries with cruises ranging from 5-14 nights, reaching from Bermuda to the Eastern and Southern Caribbean for as little as $419pp.
If you are planning on cruising the Pride, tell my favorite staff members, Jase and Luis, "hi" from Jessica. Carnival also offers many other itineraries leaving from ports throughout the U.S., be sure to visit their website and follow their Senior Cruise Director, John Heald, on his hilarious blog.
Other domestic travel destinations:
Have you ever been on a cruise? Tell me about your experience.
Photos used with permission from Carnival Cruise Lines.