Don't you just love easy appetizer recipes? I know I do. Especially the ones that my guests just can't get enough of. This Soppressata Rolls recipe is so delectable and packed full of flavor.
Brace yourself for an influx of major requests after serving this dish!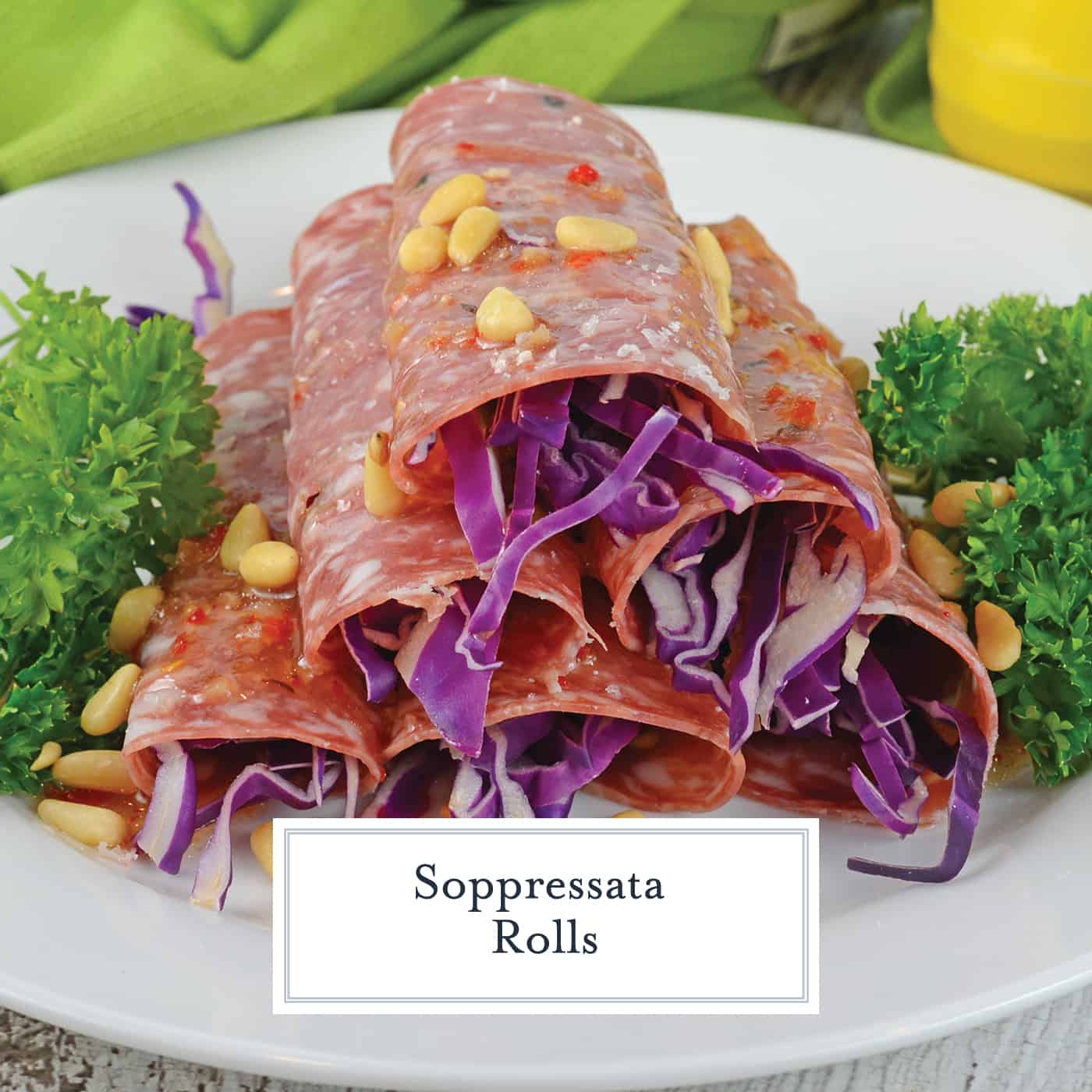 Soppressata Rolls are an easy, no cook appetizer filled with shredded red cabbage, pepperoncini, goat cheese, and a zesty Italian dressing!
This recipe was adapted from an article in Food and Wine magazine highlighting the newest trends: finger foods at 5-star restaurants. Imagine?! Chef Dante de Magistris describes these handheld rolls as wonderful party appetizers.
My guests could not have agreed more. I made the mistake of assembling my Soppressata Finger Salads after my guests had arrived. Take note: this is not the way to do it.
Make more than you think you need and make them ahead of time. They were being eaten as fast as I could roll them!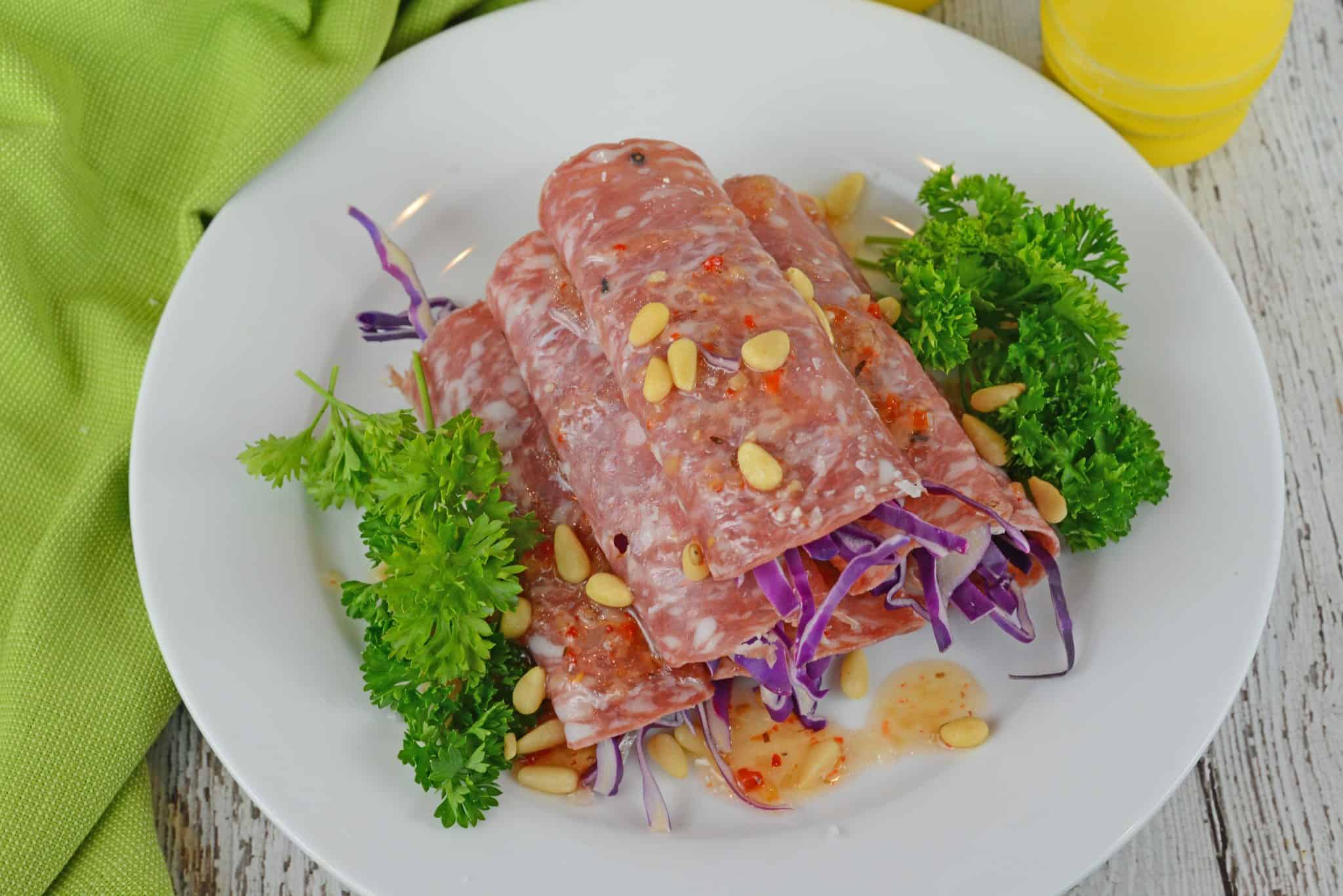 If you don't want to make your own simple Italian dressing from olive oil and red wine vinegar, you can use a bottled pre-made Italian dressing. Either will be delicious, but with the homemade dressing you can doctor it up as you see fit and can cater to your guest's taste buds.
Pine nuts, also known as pignolias, are the seeds of the pine tree. They are best toasted in my opinion and while this simple extra step takes about 5 minutes, the flavor it produces will take your Soppressata rolls to the next flavor level.
You can do this in the oven, but because it is such a small amount, on the stove in a pan over medium heat is your best bet. Do not add oil to the pan.
Their natural oils will warm and toast them on their own. Keep the pan moving so you don't burn them. In five or so minutes, you will start to smell them and see them browning.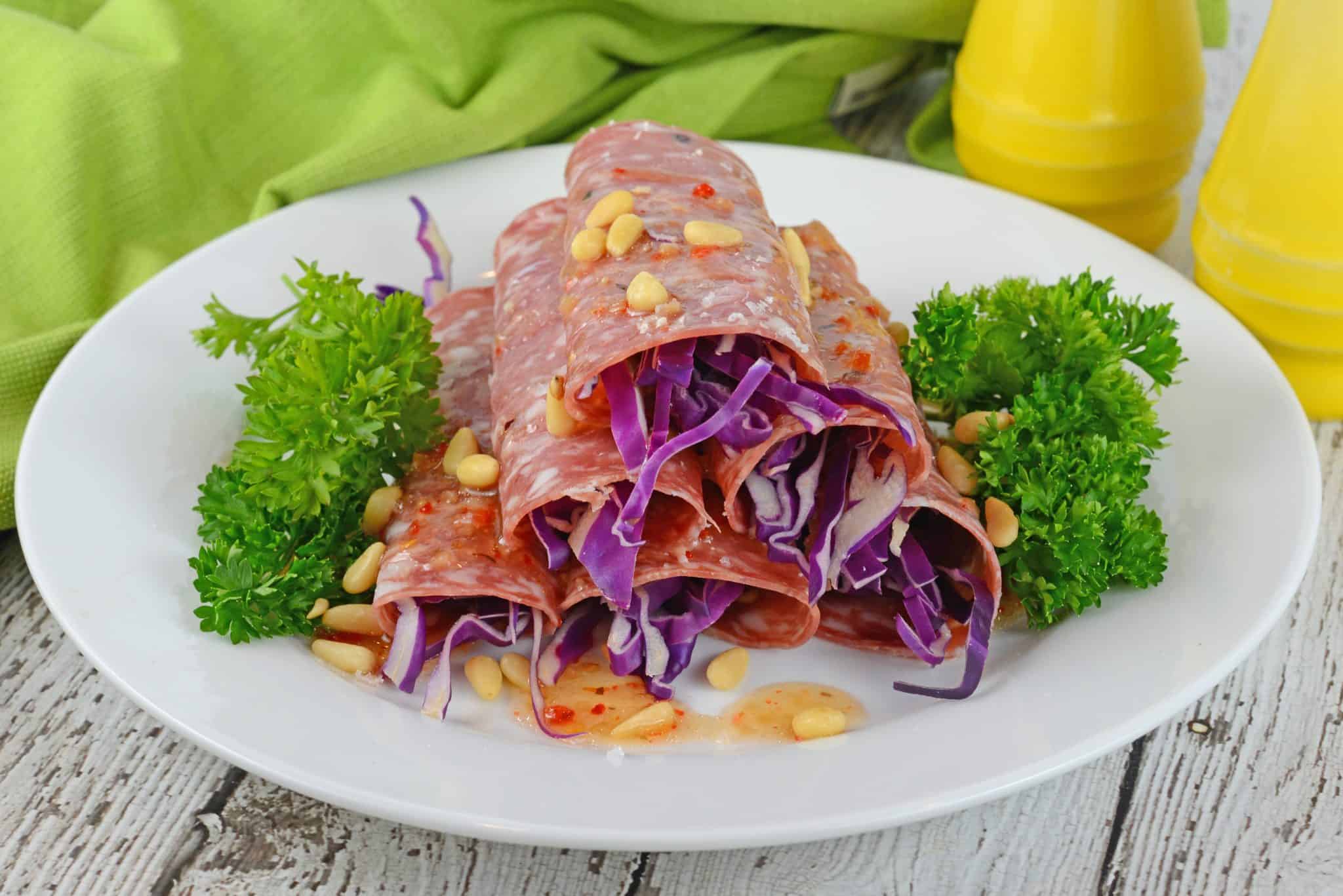 If you haven't heard of pepperoncini, they are small, green peppers that are typically sold pickled. They are light and crunchy and have a mild heat. If you are looking for a bit more bite, leave their seeds in.
You often see them on the side of a salad at your pizza place. You can also find them in the salad bar or the olive bar area of the store. The international aisle near the Italian foods is another great place to spot them.
Soppressata
What is soppressata?
Soppressata is an Italian dry salami that is usually made from fresh ham coarsely pressed with garlic and spicy peppers. It's hung to dry for three to twelve weeks depending on the width.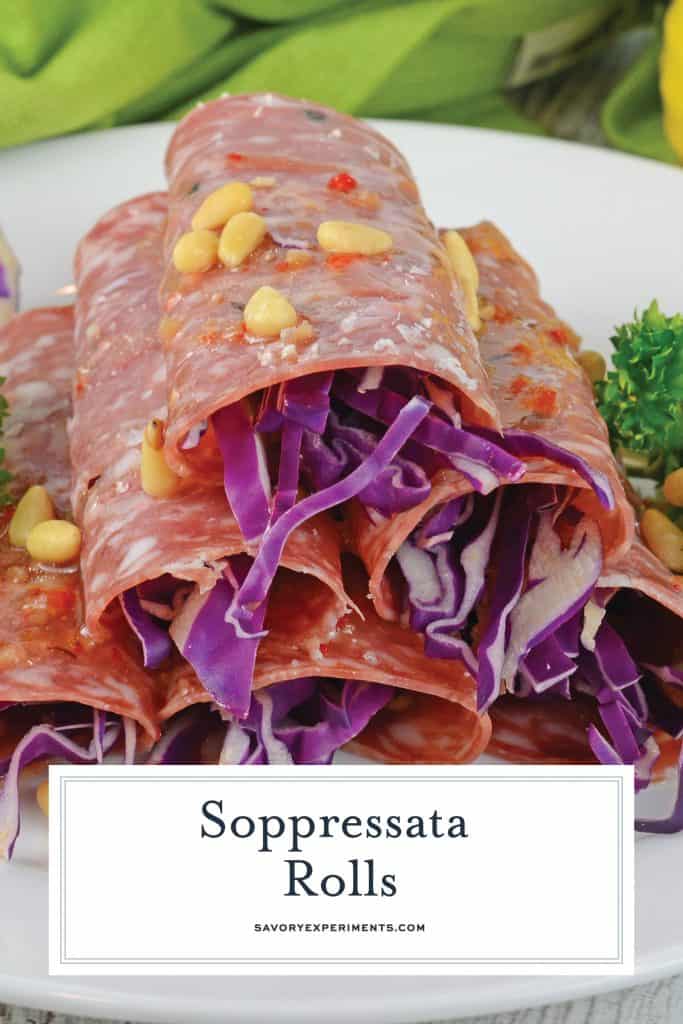 If you like cold appetizer recipes, check out some of these other
no cook appetizers: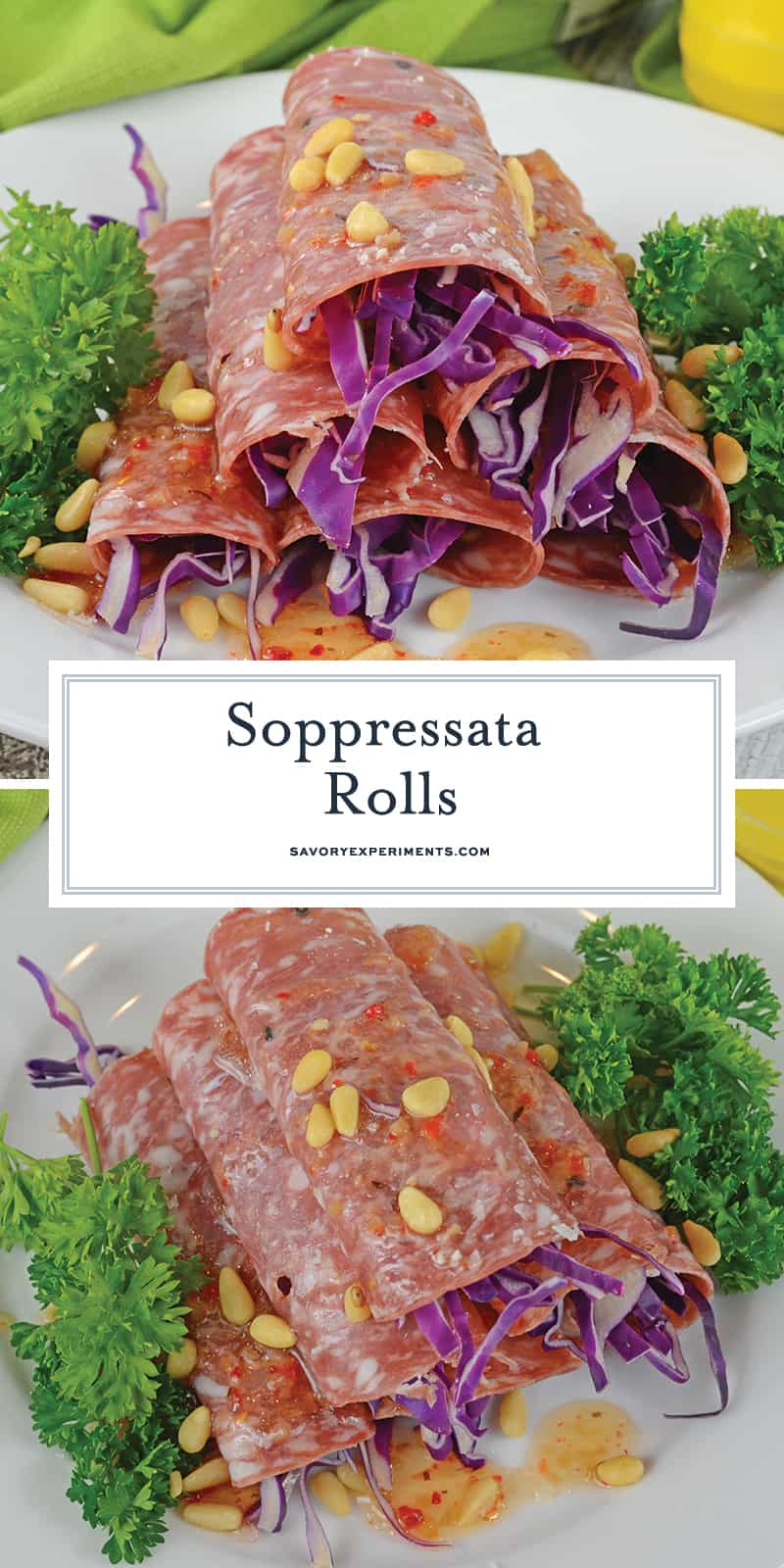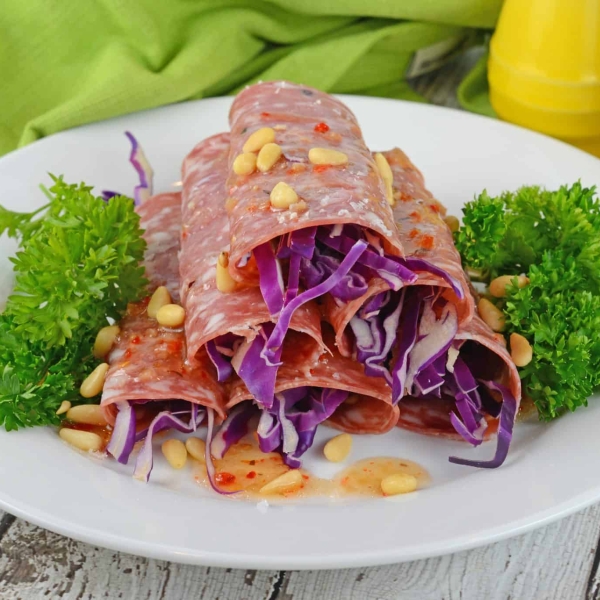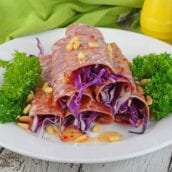 Soppressata Finger Salads
Soppressata Finger Salads are an easy, no cook appetizer filled with shredded red cabbage, pepperoncinis, goat cheese and zesty Italian dressing!
Instructions
Combine cabbage through goat cheese in a bowl. Season lightly with sea salt and fresh ground pepper. Toss.

Spoon a small amount of cabbage mixture to the center of each soppressata slice. Roll up from either side and plate seam down.

If you've tried this recipe, please come back and let us know how it was!
Nutrition
Calories:
55
kcal
,
Protein:
2
g
,
Fat:
4
g
,
Saturated Fat:
1
g
,
Cholesterol:
8
mg
,
Sodium:
213
mg
,
Potassium:
59
mg
,
Vitamin A:
75
IU
,
Vitamin C:
4.9
mg
,
Calcium:
7
mg
,
Iron:
0.3
mg