Slow Cooker Honey Balsamic Pulled Pork is a sweet pulled pork recipe that pulls apart easily with forks. Perfect for salads or sandwiches!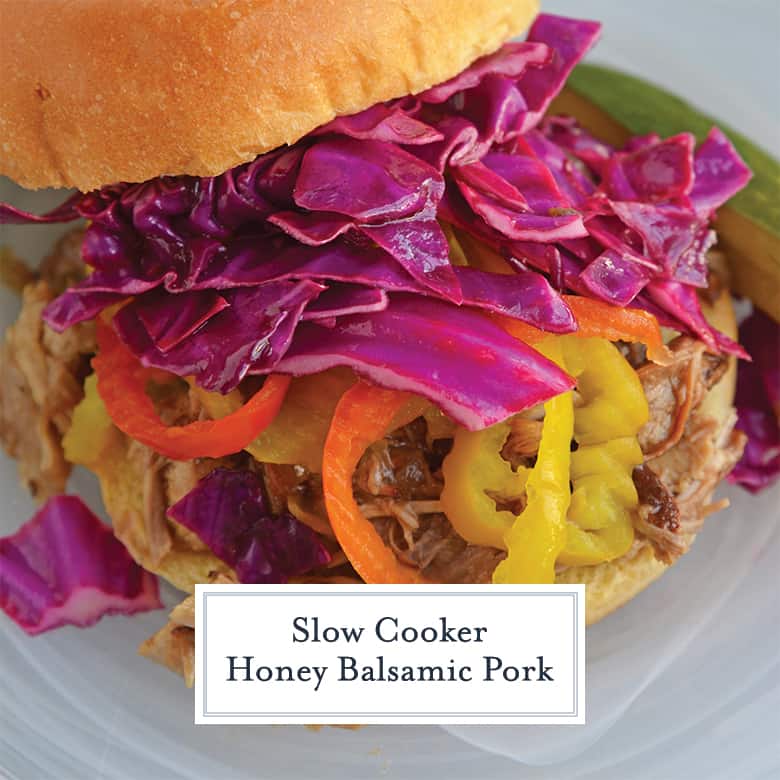 Slow Cooker Honey Balsamic Pulled Pork is a pulled pork recipe using sweet and Asian flavors resulting in a super delicious sandwich.
Pulled pork is easily one of my favorite ways to eat pork. It's usually cooked slow, so the flavors and juices really soak in, creating a super flavorful meat.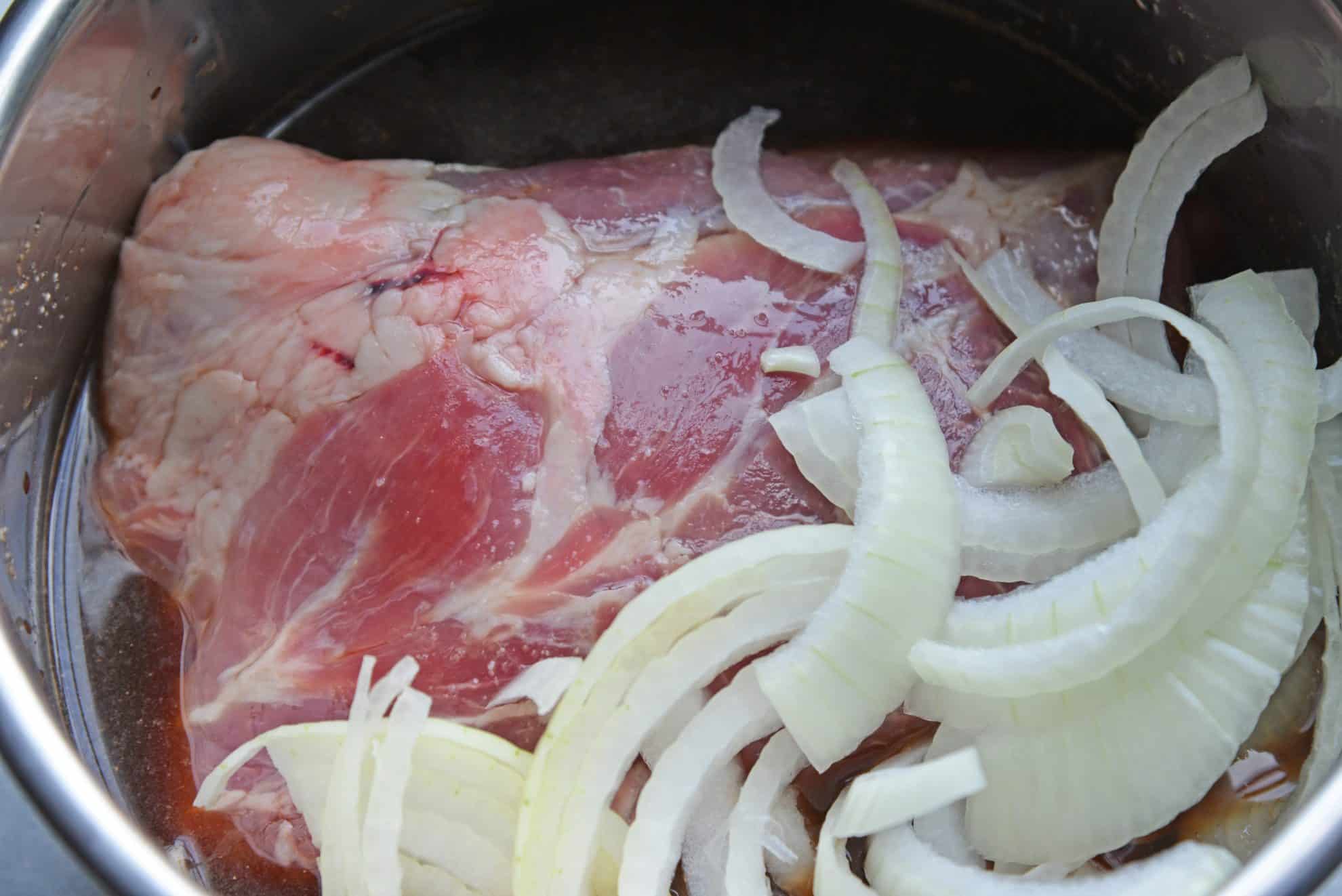 I also love how versatile it is. The most common way to use crock pot pulled pork is on sandwiches or sliders. However, the options are really endless!
I like using mine to top nachos. If you like the carnitas at Chipotle, you might even like to add your pulled pork to a burrito for your next Mexican night.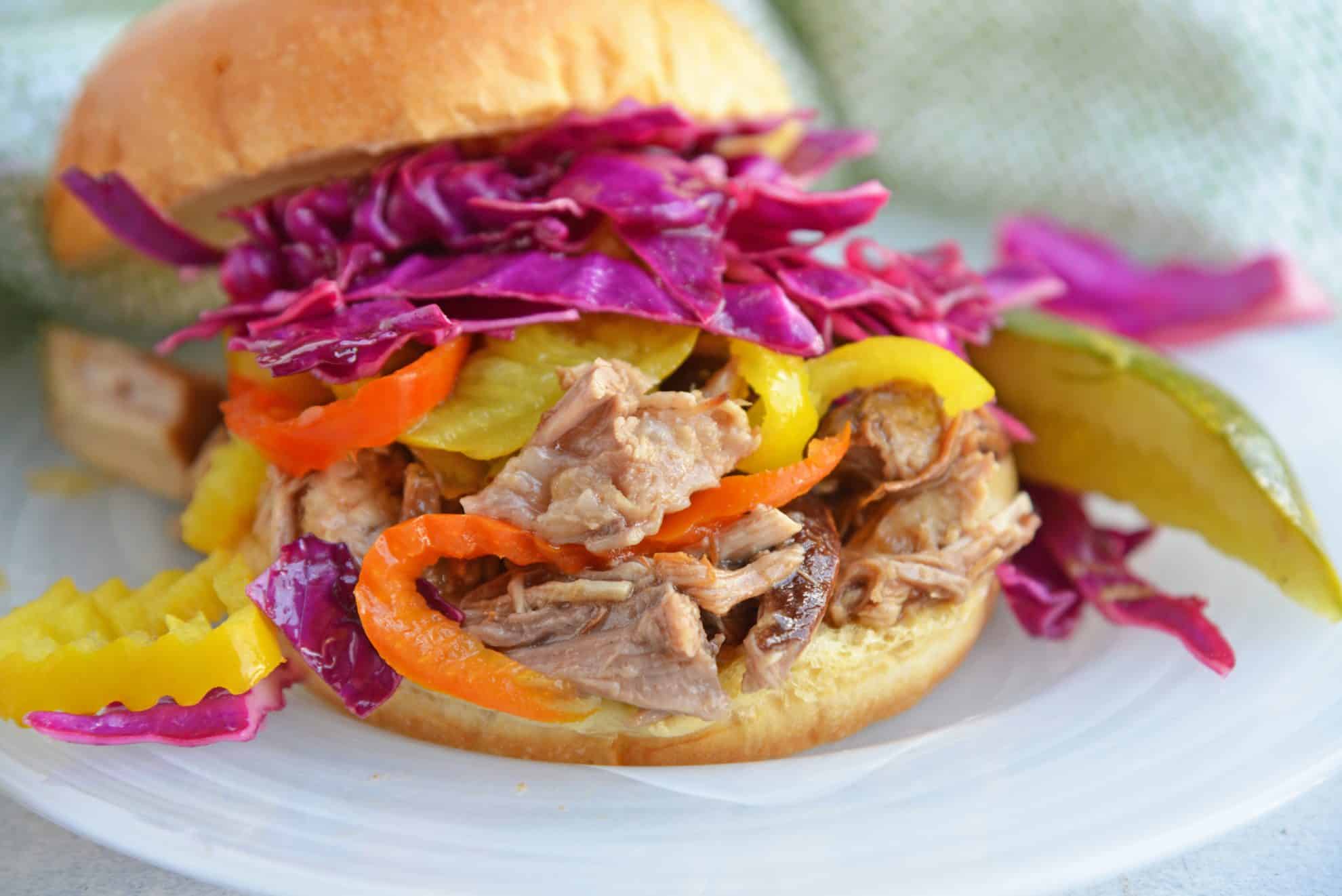 If you are looking for more of a comfort food type dinner, this Honey Balsamic Pulled pork tastes amazing on top of a bowl of mac and cheese. Seriously, SO good!
This pulled pork recipe uses a sweet Asian sauce that is still fairly mild. Balsamic vinegar reduces and turns a little sweet caramelizing with the onions and molasses flavored brown sugar. A delicious blend of sweet and tangy.
PRO TIP: Typically, pork shoulder needs about 12 hours of very low heat to break down the tough fibers.
The most common cut of meat used for shredded pork is pork shoulder, but sometimes labeled pork butt or Boston butts. I know, it is confusing. It comes from the upper part of the shoulder from the front leg and may contain the blade bone.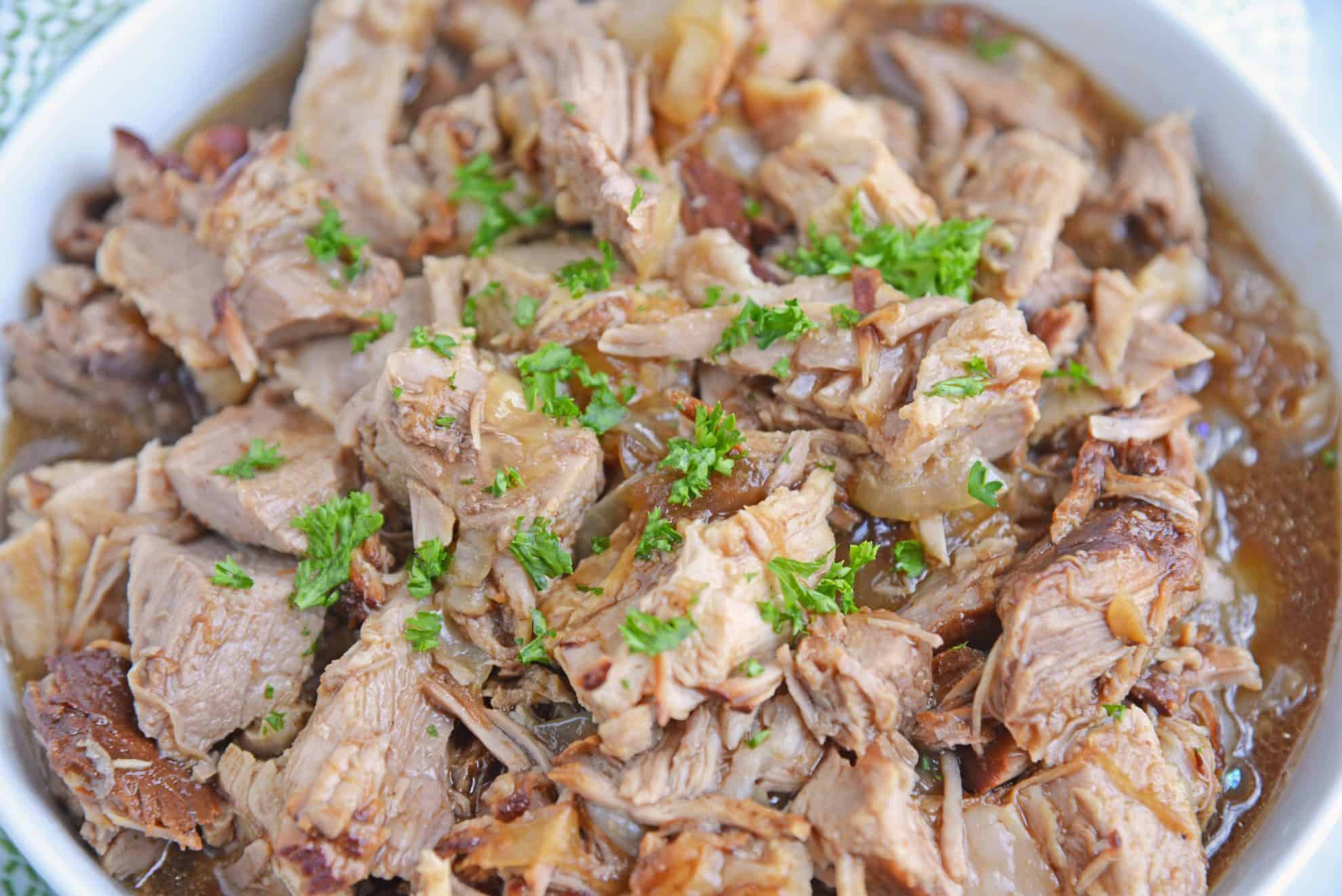 Why is it sometimes called Boston Butt? According to Mental Floss "The barrels the pork went into were called butts. This particular shoulder cut became known around the country as a New England specialty, and hence it became the "Boston butt." So there you have it.
Hoisin Sauce
What is hoisin sauce?
Hoisin sauce is a frequently used Chinese condiment made from soybeans, vinegar, sugar, garlic, and various spices. It is sweet and a little salty and found in some of your favorite dishes like Mu Shu Pork, Chinese BBQ Spare Ribs and more.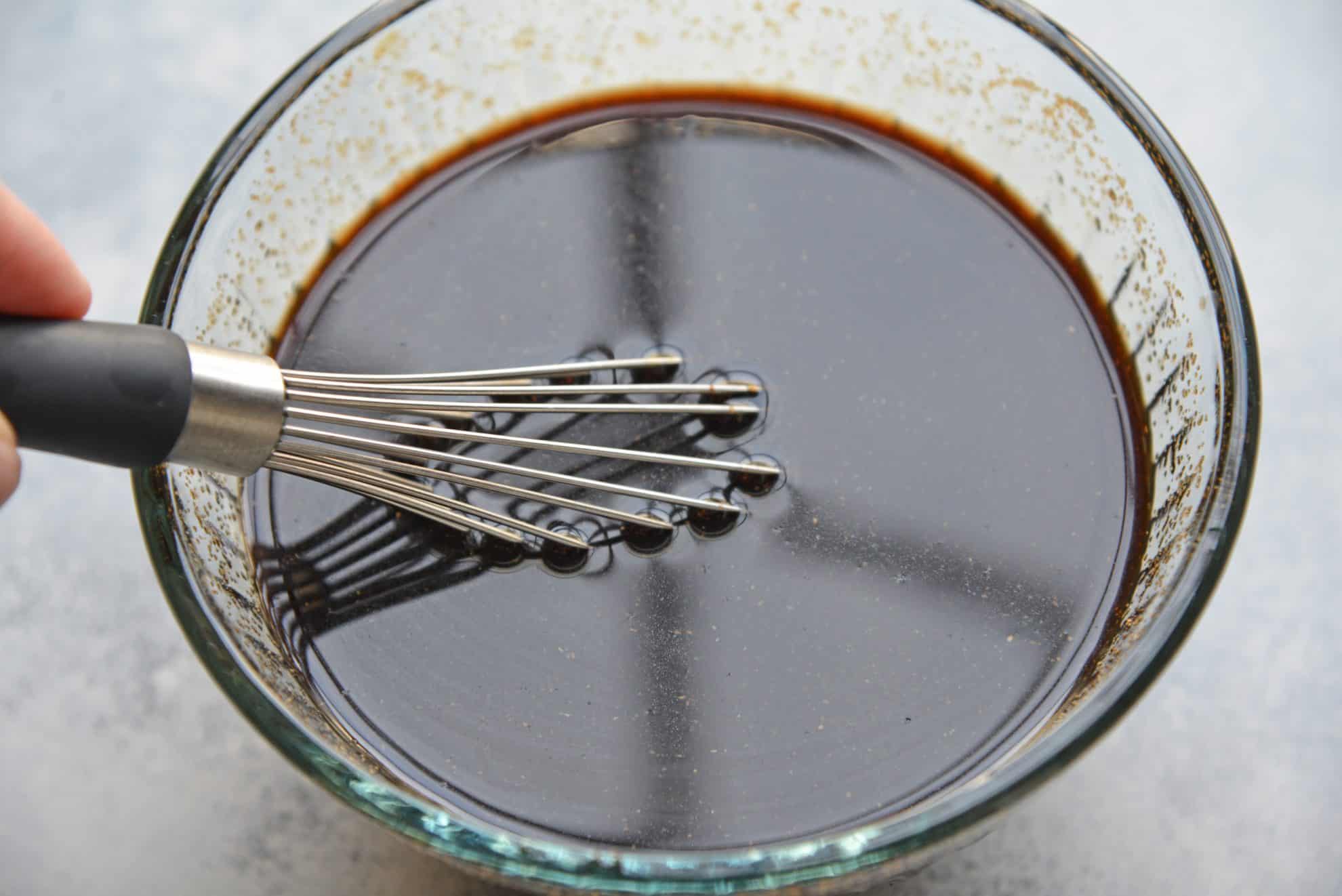 To make this Honey Balsamic Pulled Pork, you will start by whisking the honey, balsamic vinegar (apple cider vinegar will give it a totally different flavor,) Hoisin sauce, vegetable broth, brown sugar, salt and pepper, and garlic powder together in a bowl.
What is a banana pepper? A banana pepper is a medium-sized member of the chili pepper family that has a mild, tangy taste and comes in a variety of colors including yellow, red and green. It makes an excellent sandwich condiment.
Next, you will rinse off the pork roast with cold water and place in the slow cooker. Cover the pork with the prepared sauce and onions (you can add onion powder too if you'd like.)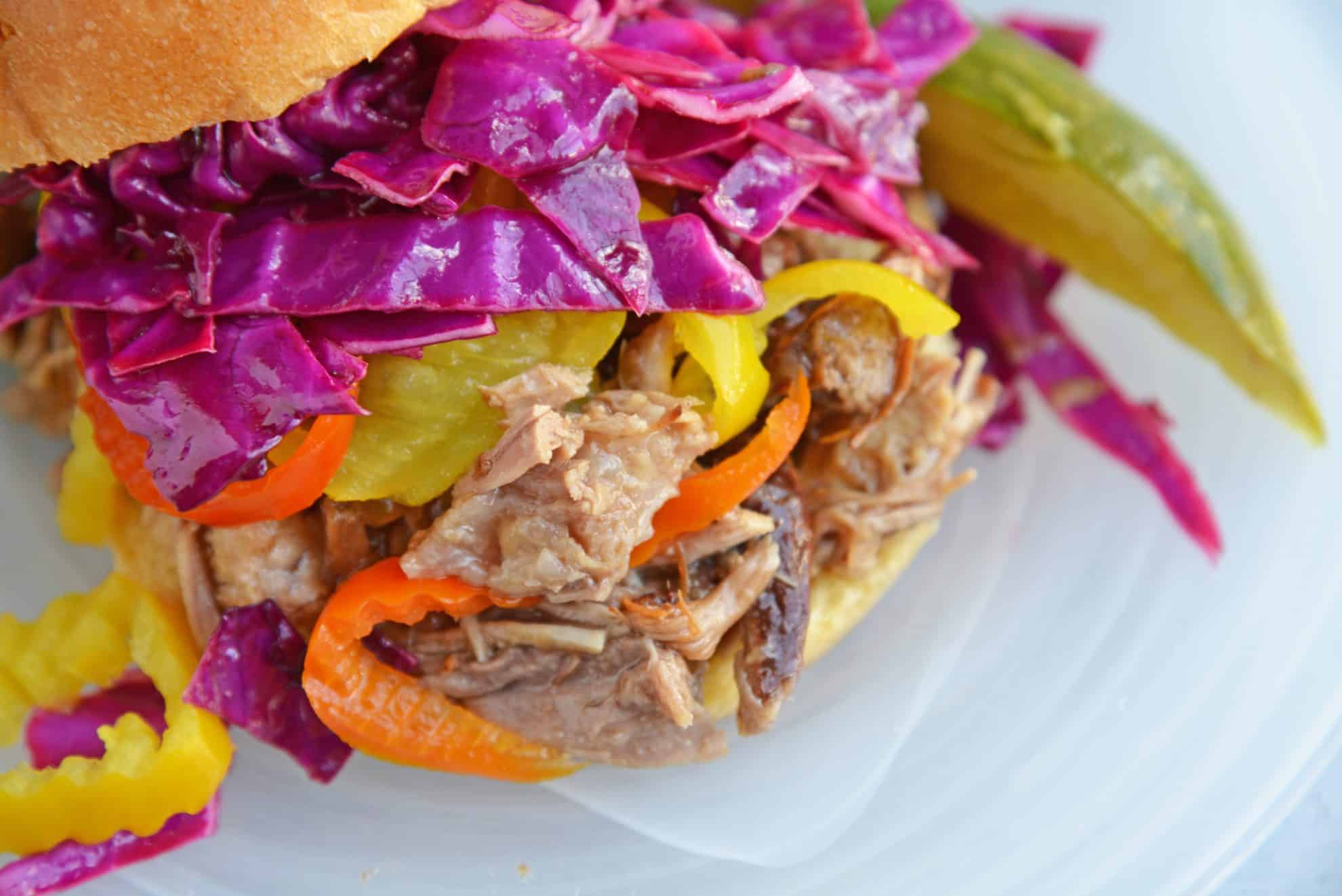 Depending on the time you have, you will cook this for 7 hours on low, or 4 hours on high. After cooking, remove pork and shred with two forks.
Because the excess fat tends to make the sauce that remains in the pot extra liquidy, you'll want to thicken it up. To do this, simply remove a small amount of the sauce, whisk with cornstarch, then whisk that mixture back into the crock pot.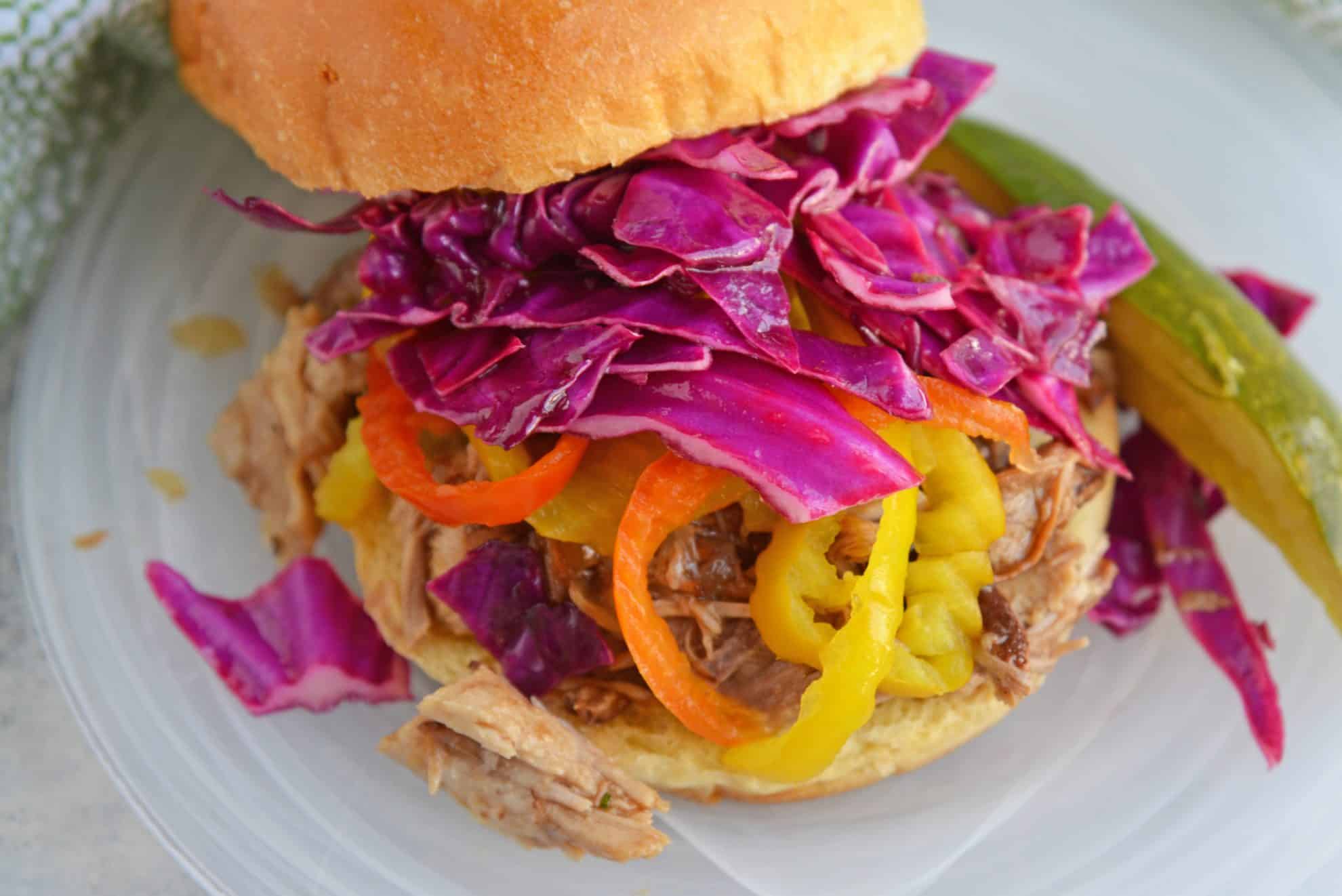 Put the shredded pork back into the sauce mixture and toss until fully coated. And you are done! You can season with a little extra black pepper if desired, and serve any way you'd like.
I served my slow cooker pulled pork on buttery brioche rolls with banana peppers and Red Cabbage Slaw. (See below for more ideas on how to serve your pulled pork.) My arms were feeling like jelly (thanks yoga!) on this day, so I ended up chopping the pork instead of actually pulling it.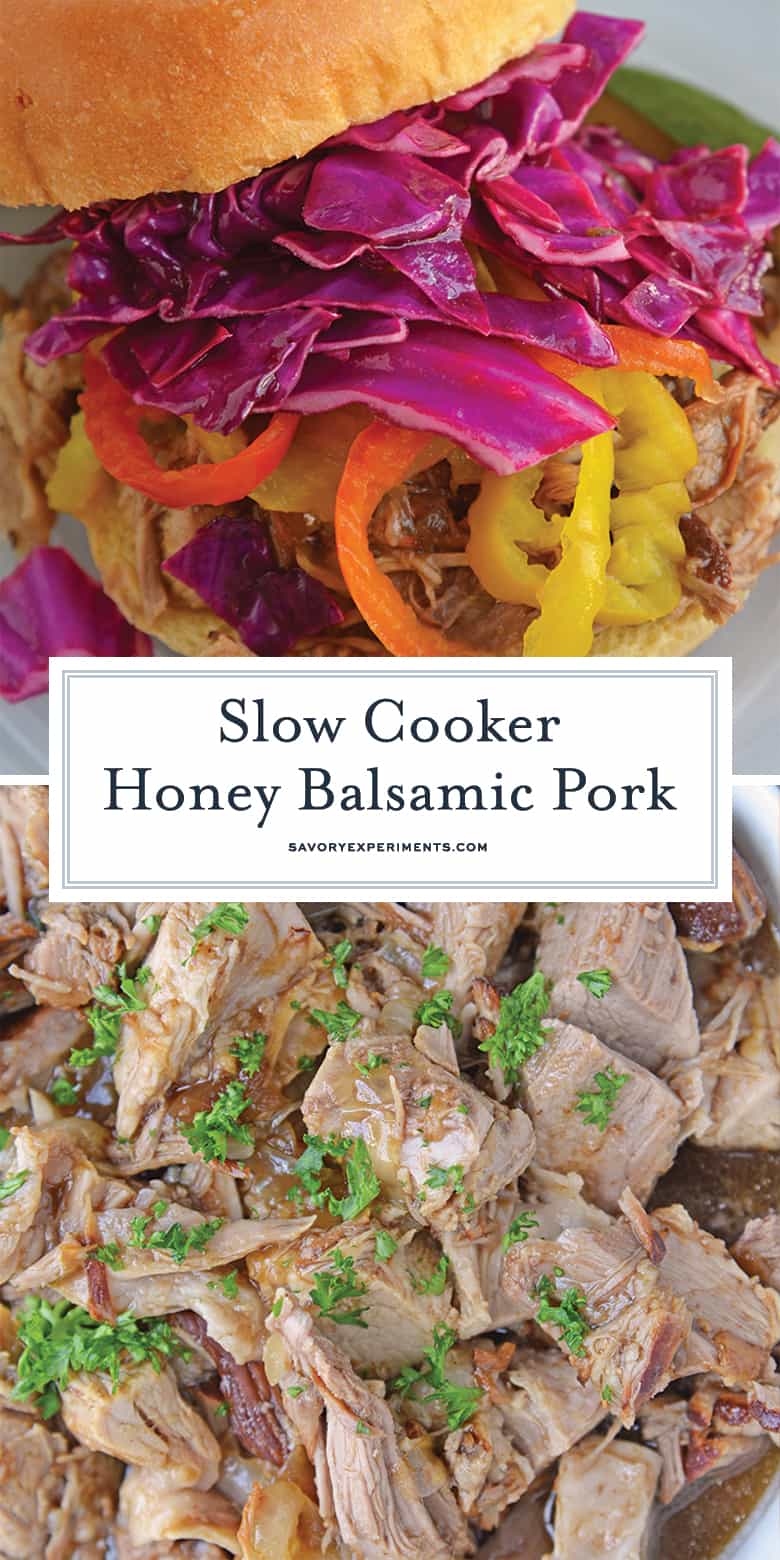 Questions about how to make pulled pork in the crockpot?
Can I use a different cut of pork? Sure you can, but they won't all break down the same as pork shoulder. I've even tossed boneless pork chops or a whole pork loin in the slow cooker.
You will need to adjust cooking times based on the weight and cuts you are using, as they won't need nearly as long as a huge chunk of meat.
Can I make pulled pork ahead of time? Yes, you can make pulled pork ahead of time. You can reheat it or keep it warm in the slow cooker or the microwave. If you are serving it at a party, set the slow cooker to the "warm" function and let people make their own sandwiches.
Can I freeze pulled pork? Yes, you can freeze pulled pork. Transfer it to an airtight plastic bag expelling as much air as possible, and then freeze for 3-4 months.
Instead of sandwiches, what else can I do with pulled pork? You can make into pulled pork sliders, it is great in a grilled cheese sandwich, on top of a salad, nachos, breakfast hash or even just as a bowl with Crispy Onion Strings, cheddar cheese and chives. I've also put them into egg rolls with gouda.
Can pulled pork be served cold? As long as you cooked it properly before re-chilling it, then yes, you can safely eat it cold. Follow proper food safety handling.
What temperature does pork shoulder need to be? The CDC recommends 145 for most pork, but since pork shoulder has so much connective tissue to break down, it actually needs to come to a higher temperature to become tender. The optimal temperature is around 190 degrees.
Use a meat thermometer
to check it and remember that every cut is going to be a slightly different shape and size from the one I used. These instructions should work for most roasts around the same size, but always check the temp for safety.
Does this pulled pork need BBQ sauce? This recipe shouldn't need a hugely flavorful BBQ sauce, but you are welcome to add your favorite. Here are my favorite barbecue sauce recipes for pulled pork:
Do I need to brine pulled pork? Brining is popular with this cut of pork because it has to cook for so long, that breaking down some of the connective tissues before hand and infusing it with moisture is beneficial to keep it tender. However, when using the slow cooker, this step isn't necessary since all of the moisture is kept inside of the cooking element.
If you do want to brine pork for another recipe, here is my quick tutorial on brining pork!
How long will pulled pork last in the fridge? Like most foods, if kept properly, about 5 days.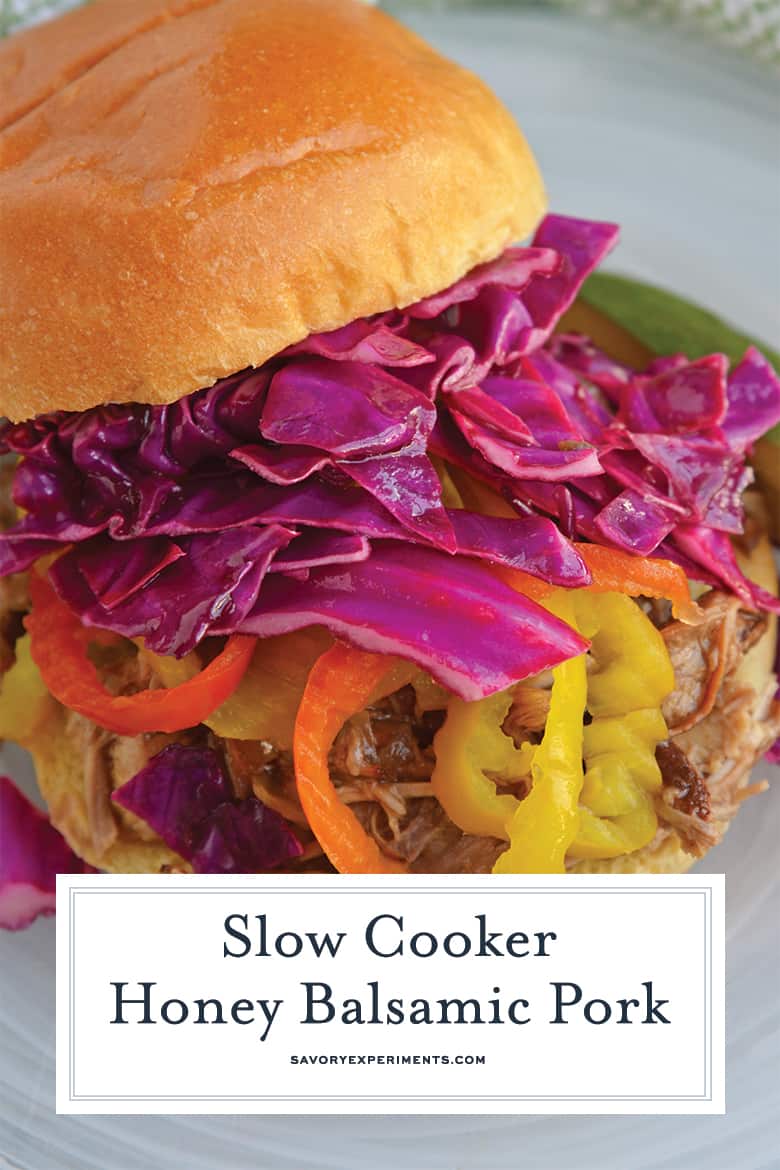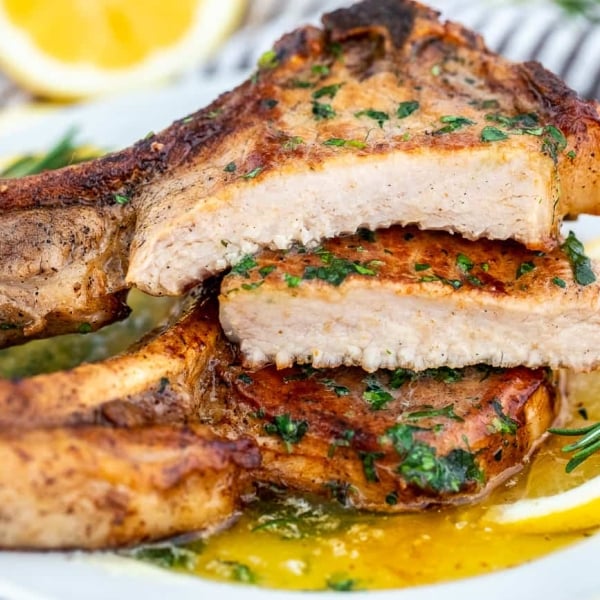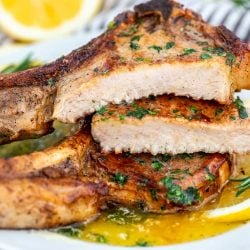 Best Pork Chop Brine
This step-by-step guide will show you how to brine pork chops, tips for a juicy pork and the best pork brine recipe!
View this recipe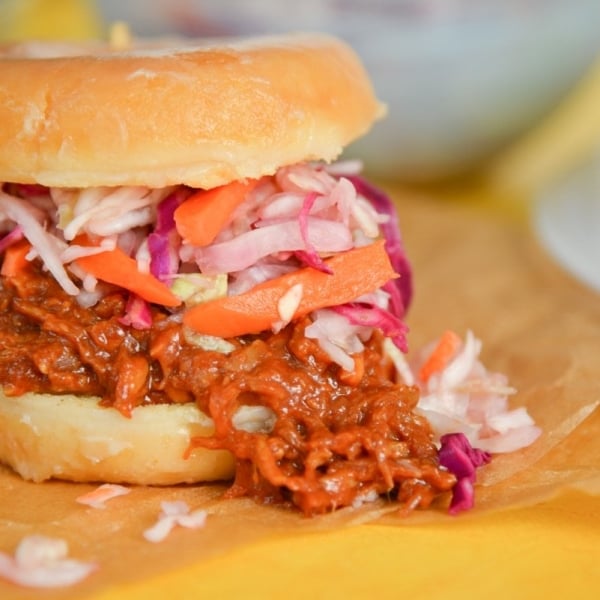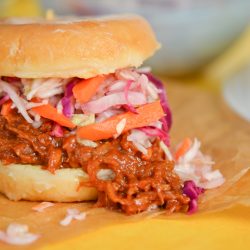 Pulled Pork Donut Sandwich
BBQ pulled pork topped with coleslaw and sandwiches between a glazed yeast donut.
View this recipe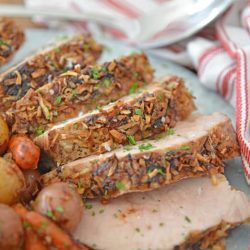 French Onion Pork Loin
This French Onion Pork Loin with potatoes, carrots, parsnip and onion is the perfect one-dish weeknight meal!
View this recipe
Tools for making crockpot pork:
Slow Cooker
– You'll need a slow cooker for this recipe. Many people use the word "crock pot," but that is actually just a brand name, like Kleenex is to tissue. There are many other reputable brands out there than just Crockpot. I actually like my Hamilton Beach better!
Instant Pots
also have this function, if you own one or need another reason to buy one!
Wood cutting board – wood won't dull your knives like plastic and if treated properly, has natural antimicrobial properties.
Good knife – Global is my favorite! They are worth the price, I promise. I am kind of obsessed with them and store them tucked away so no one else can use them. Including hubby. Hands off my good stuff!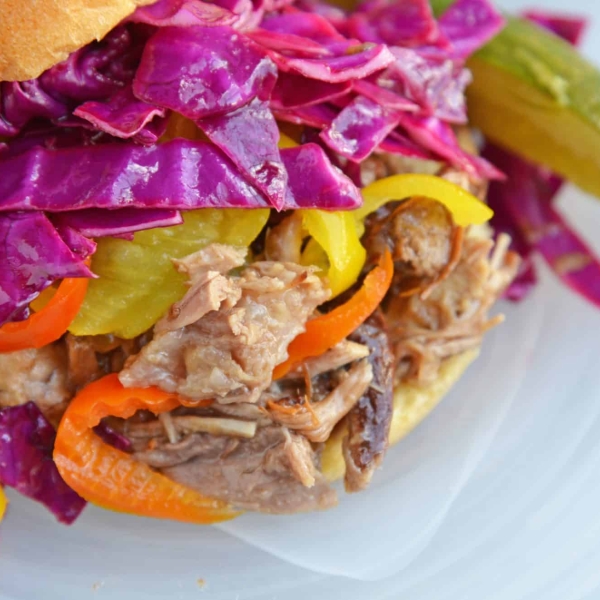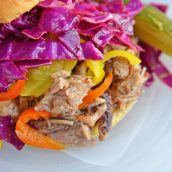 Slow Cooker Balsamic Honey Pulled Pork
Slow Cooker Honey Balsamic Pulled Pork is a pulled pork recipe using sweet and Asian flavors resulting in a super delicious sandwich.
Instructions
In a small mixing bowl, whisk together honey, balsamic vinegar, Hoisin sauce, vegetable broth, brown sugar, Kosher salt, black pepper and garlic powder.

Rinse pork butter with cold water and place into slow cooker.

Cover with prepared sauce and top with sliced onions.

Set for 7 hours on low or 4 hours on high. Keep pot on high while pulling pork to cook and thicken sauce. Instructions are below.

Remove pork, shredded with two forks and discarding bone.

Remove a small amount of remaining liquid from the pot and whisk with cornstarch. Whisk to the larger batch.

Return pulled pork to the pot, tossing well with thickening sauce.

Turn pot to "keep warm" or off.

If you've tried this recipe, come back and let us know how it was!
Nutrition
Calories:
556
kcal
,
Carbohydrates:
44
g
,
Protein:
54
g
,
Fat:
17
g
,
Saturated Fat:
6
g
,
Cholesterol:
171
mg
,
Sodium:
822
mg
,
Potassium:
1086
mg
,
Fiber:
1
g
,
Sugar:
37
g
,
Vitamin A:
30
IU
,
Vitamin C:
2.1
mg
,
Calcium:
62
mg
,
Iron:
4.1
mg