We didn't go out to eat much as a child, but when we did, I ordered a kiddie cocktail; a Shirley Temple drink. Lemon lime with a hint of greadine. And as an adult, I realize I probably just like the marshinaco cherries the best. I'd ask for extra.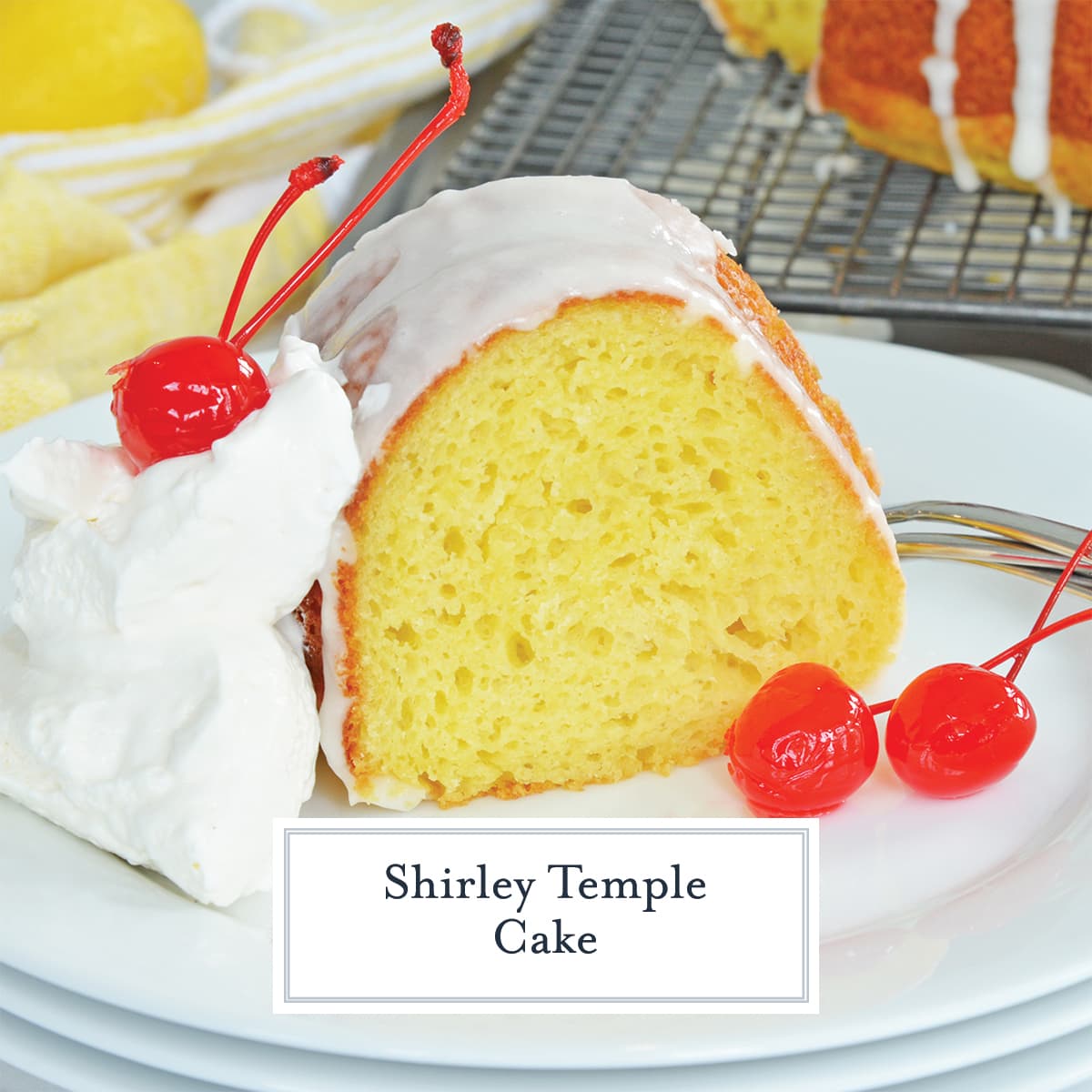 I've made several lemon and lime cakes through the years, and oodles of cherry recipes, so I decided to try and make them into one nostalgic childhood cake. A Shirley Temple Cake.
Bundt Cake
I did make this particular cake in a bundt cake. I would assume it would work with loaf pans as well (two of them) but honestly, I haven't tried it in actual cakes pans and not sure how it would work.
I like using a classic bundt pan or tube pan. The more nooks, crannies and crevices, the higher probability that the cake will stick and break when removing. Make sure to spray well to prevent sticking.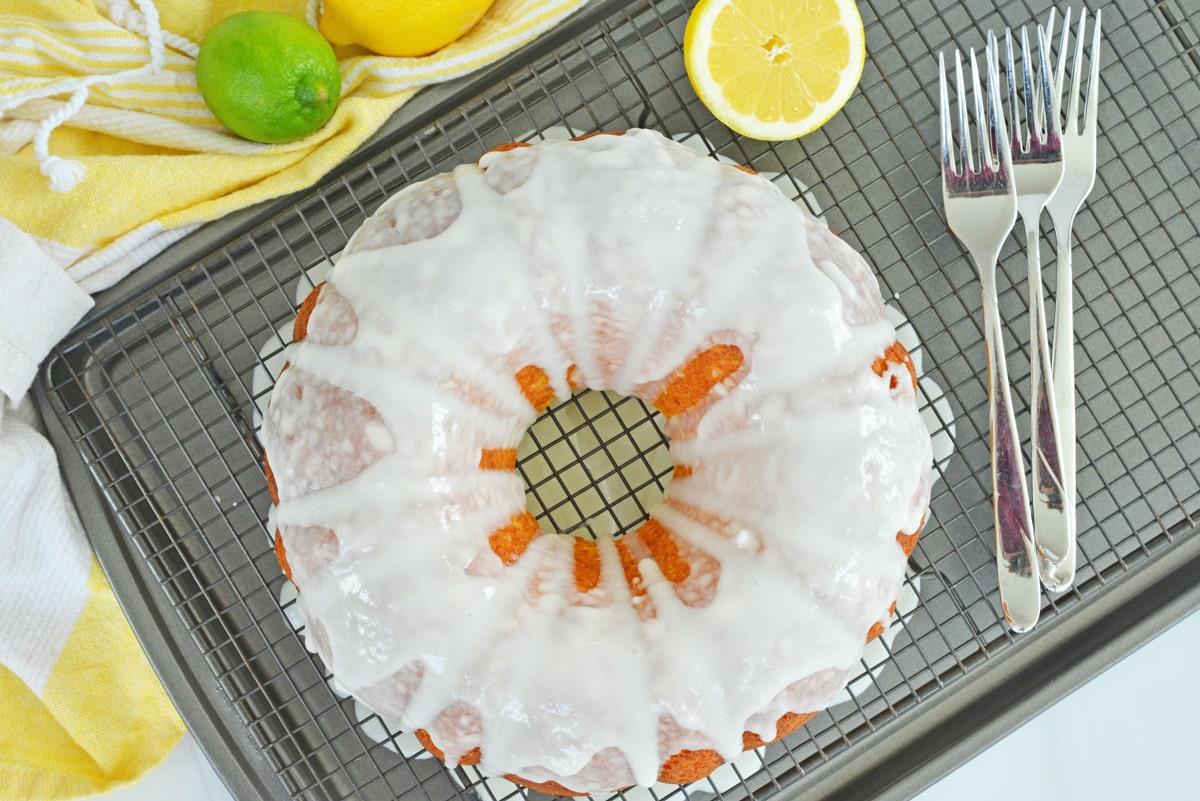 What You'll Need
The usual ingredients, but a few outliers too.
Cake Mix– vanilla or yellow work best, angel food is also an option
Greek yogurt- which ever flavor you want to be the most forward is the flavor of yogurt you want to use; lemon, lime, vanilla or plain. Greek yogurt has been strained further and is thicker, so it provides the most structure for the cake batter.
Vegetable Oil– or any neutral oil
Eggs– for structure and loft
Citrus– I use lemon and lime just and zest. Fresh is always better than bottled which is often muted and dull. See below why we add both juice and zest and feel free to just use one or the other if you prefer a flavor.
For the Cake Icing, also a glaze…
Butter– melted butter is often not seen in glazes, but when it starts to set, this will help it cling to the cake and stay put inside of just dripping off.
Lemon-Lime Soda– such as Sprite or another off brand. Any carbonated citrus beverage will work, as will swapping this out for milk only.
Milk or Water– this helps to get the right consistency to pour and drizzle, add small and sparingly. Whole milk provides the most body.
Extract– Again to add more citrusy flavor, but if you want a milder crumb, omit this and stick with just the other liquids.
Maraschino cherries– no Shirley Temple is complete without cherries!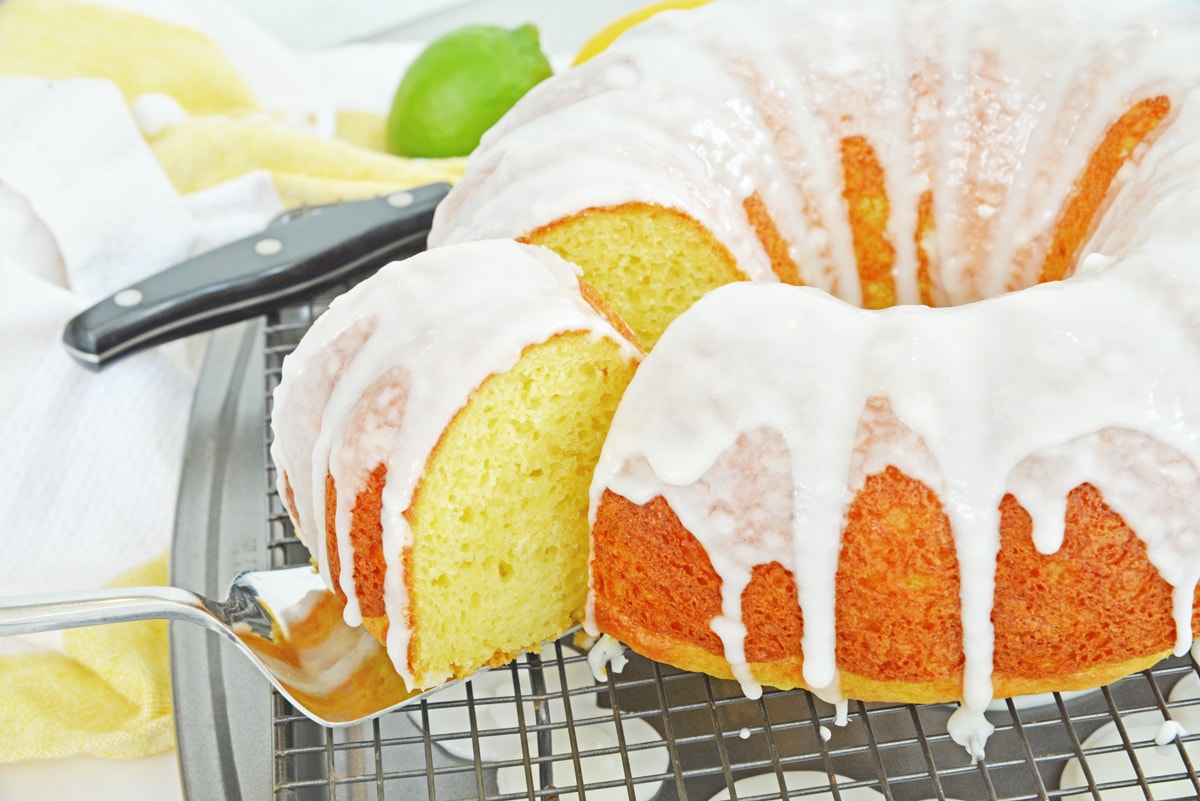 Make it, Bake it
Add all of the cake ingredients to a mixing bowl and mix until well combined. This might take 2 minutes so using a stand mixer or electric hand mixer is your best bet.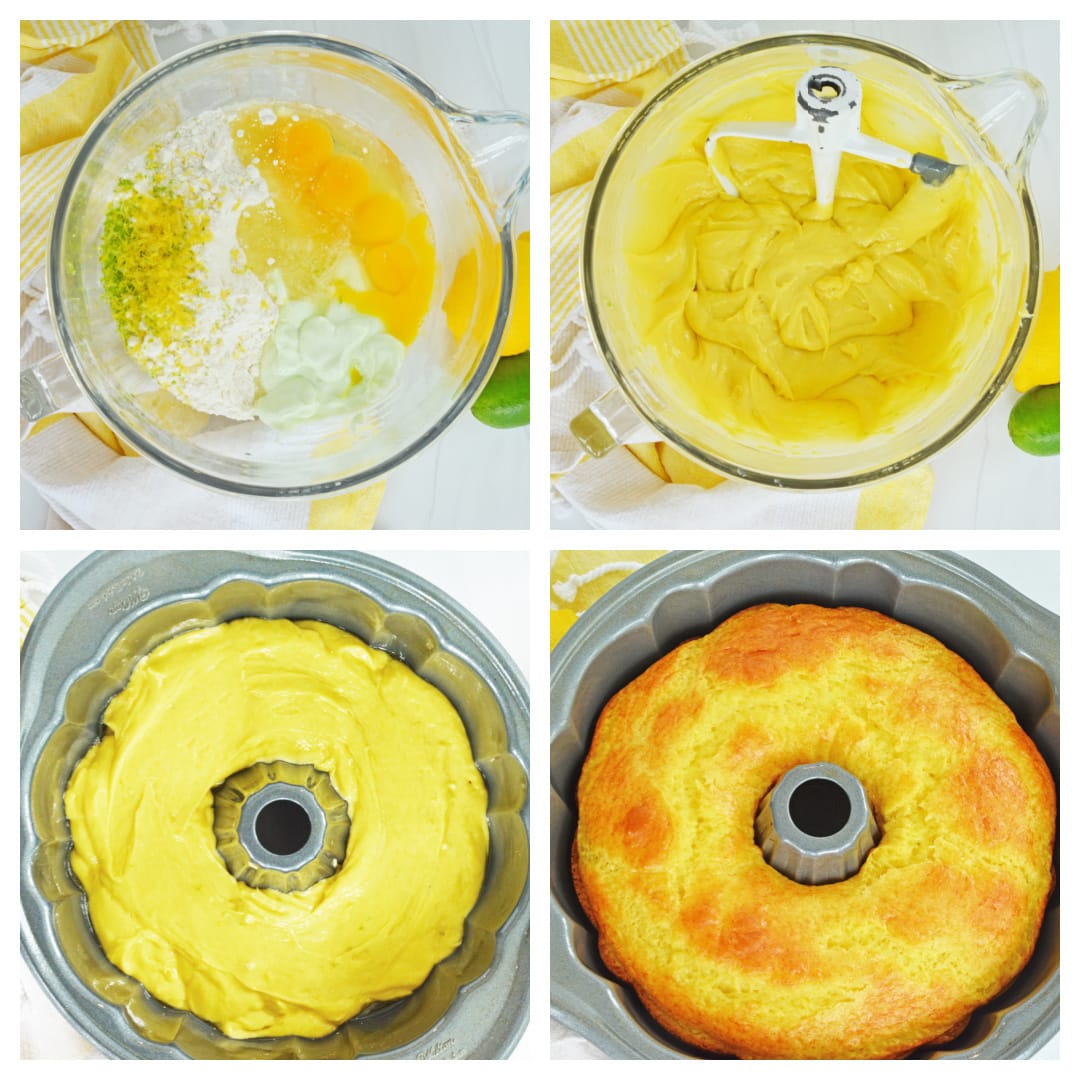 Pour it in to a prepared bundt or tube pan and bake. This cakes does bake at a lower temperature than many, this is because testing higher temps browned the outside too fast, but left the interior soft. So please don't ask, this is not a typo.
Cool and invert.
Make the icing and drizzle!

Juice vs Zest
What is the difference between citrus juice and zest? I would call citrus zests the purest. They give a clean, robust flavor without being bitter (as long as you don't get pith, the white part). Juice is acidic and has flavor, but can be sour and works as a balance to the sweetness of the cake.
The short story is they serve different purposes, but they can be swapped. You can omit the zest if you are opting for using a bottled juice, but I also recommend not using a bottled juice.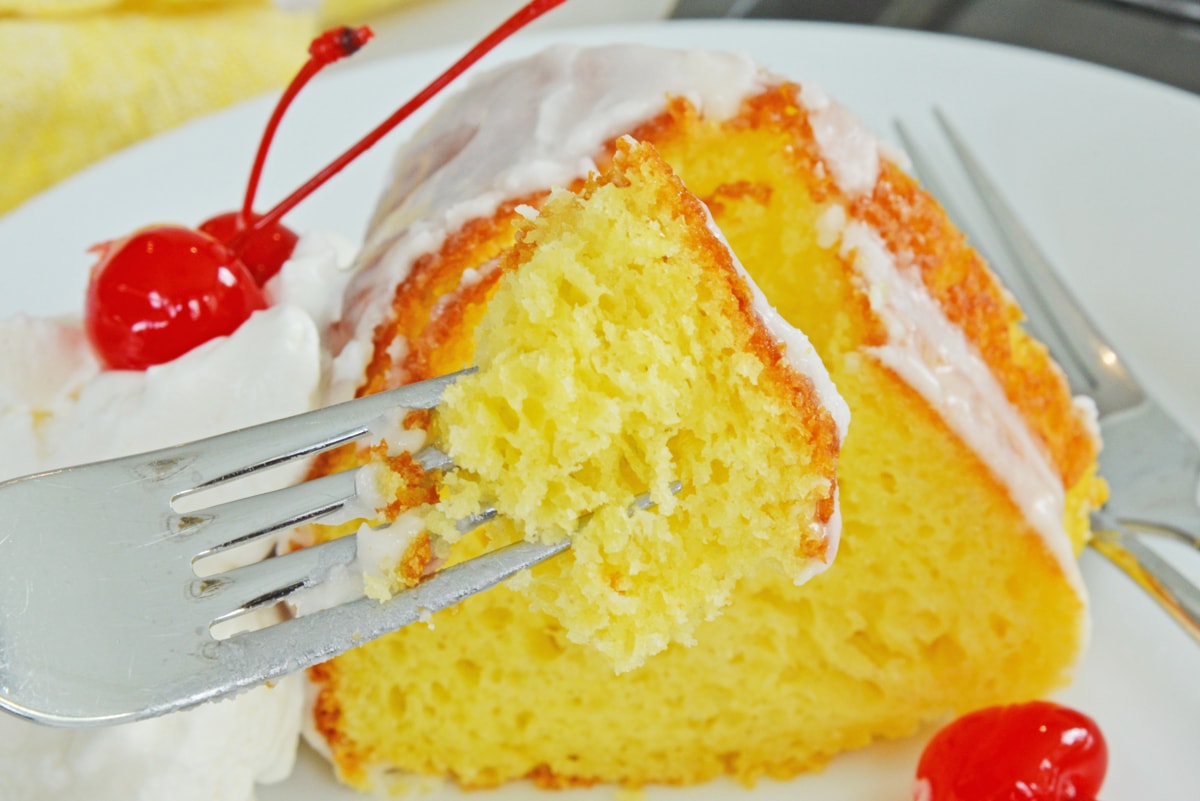 Citrus, including oranges, start to lose flavor potency the moment they are pressed. If you do use one, shake well to mix back the liquids as they tend to separate.
Tips for Making a Bundt Cake
Do not overmix the batter. The most commonly made mistake in making any cakes is overworking the batter. This is actually made easier when you are using a stand mixer because we overestimate how long the batter has been beaten. Pay attention and even set a timer.
Eggs. Eggs make a cake moist and yolks make them even more moist. Try adding one or two extra yolks to your favorite cake recipe and watch the crumb get even crumblier. Yes, I made that word up!
Don't over bake your cake! This might seem like it is super apparent, but many folks wait too long before taking the cake out of the oven and presto, dry cake. Whomp, whomp. They shouldn't jiggle in the middle, but spring back when lightly touched. This cake is cooked at a lower temperature for a longer time since it is so thick and denese.
Measure your flour. You might think you measure your flour, but are you doing it correct? Scoop flour into the measuring cup and level it off with a flat spatula or butter knife. Don't pack it down, just let is sit how it did when you scooped it. Additional flour makes cake dry and even have a slight heap on your measuring cup could be the culprit.
Place it in the pan on a wire rack to cool. This allows air to circulate around the whole cake and cool evenly.
Don't wait until it is fully cooled to turn it out. The cake needs to cool slightly to keep its shape, but will get even more challenging to turn out the cooler it gets.
Don't Overmix The Dry Ingredients– People usually say don't overmix the batter, but in reality it is fine to mix well up until the flour is added. Overmixing flour activates the gluten and can create a dry crumb.
Measure flour properly– Do you dig the measuring cup into the flour canister? I do sometimes too even though I know better, but doing this gives you more than you need. Instead, gently spoon flour into your measuring cup and then level with a flat surface.
Sift- Sift dry ingredients even when a recipe doesn't specifically call for it. This helps to evenly distribute the dry ingredients without having to overmix.
Preheat the oven– Make sure the oven is preheated before you put the cupcakes in and then resist the urge to open the door. That blast of cold air changes the oven temp drastically.
Cook one tray at a time- Muffin tins needs to be in the center of the oven- both the oven cavity and the rack, so putting in too many and on different heights can impact baking.
Don't Over Bake– This seems like a no brainer, but people do it all the time. Cupcakes should lightly spring back when touched or pass the toothpick test.
Allow to Cool- Remove cupcakes from the muffin tins to cool. The muffin tins are hot and this just keeps them cooking leading to unintentional overcooking.
Storage
This cake should be stored covered at room temperature for up to 5 days. If freezing, freeze tightly wrapped without glaze for up to 3 months. Allow to thaw at room temperature, then ice and serve.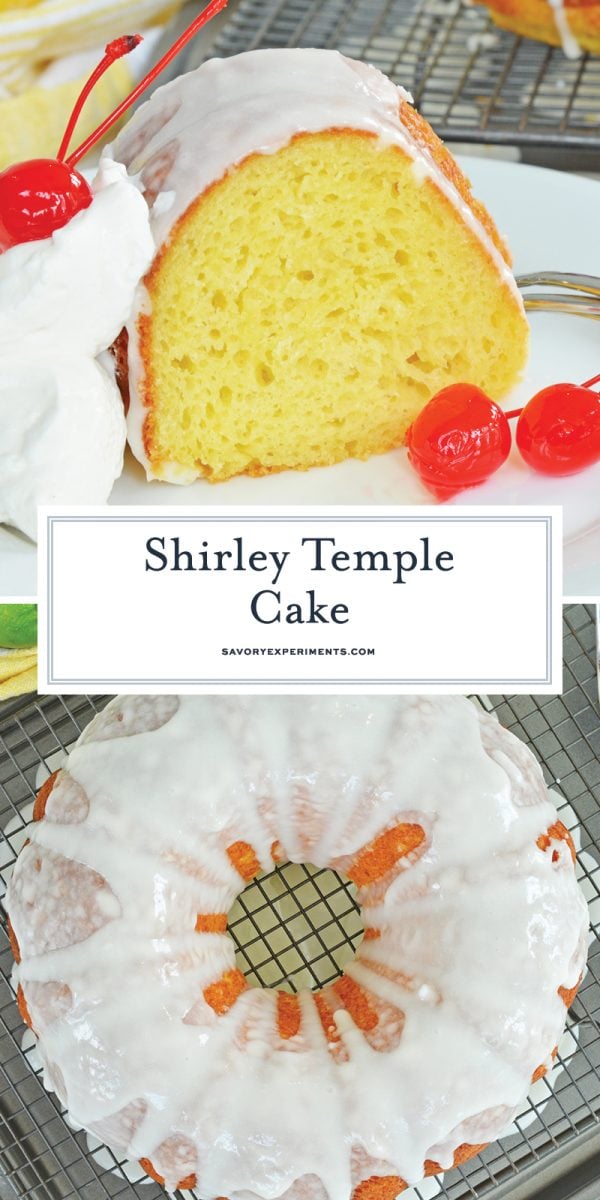 More Cake Recipes: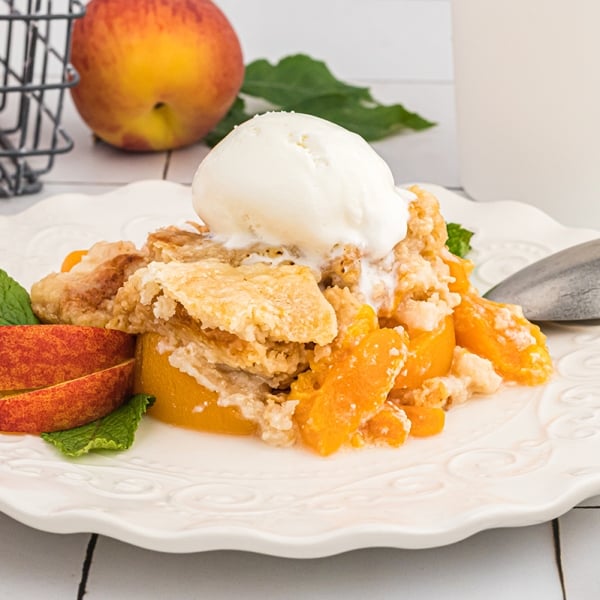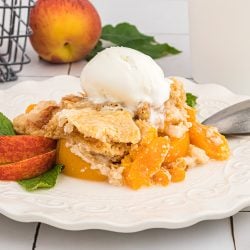 Peach Dump Cake
Quick and easy, this peach dump cake recipe uses only 4 ingredients and is ready in 40 minutes using zero mixing bowls.
See The Recipe!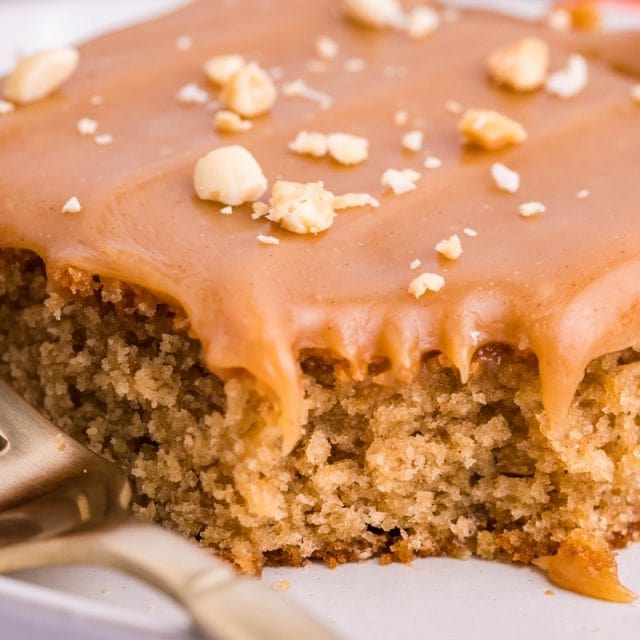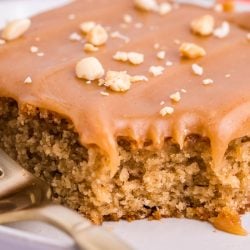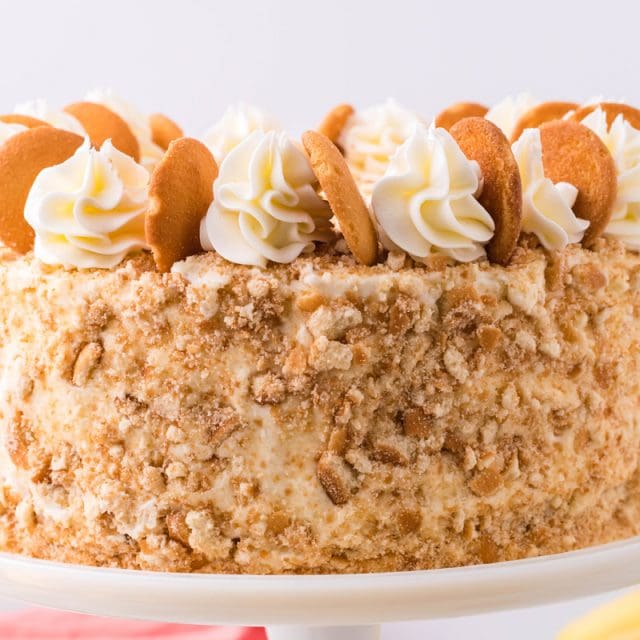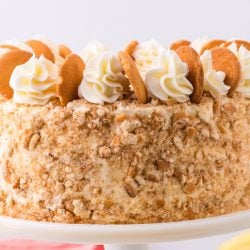 Banana Pudding Cake
This Banana Pudding Layer Cake has all of the classic banana pudding flavor you know and love baked into a delightfully elegant and delicious dessert!
See The Recipe!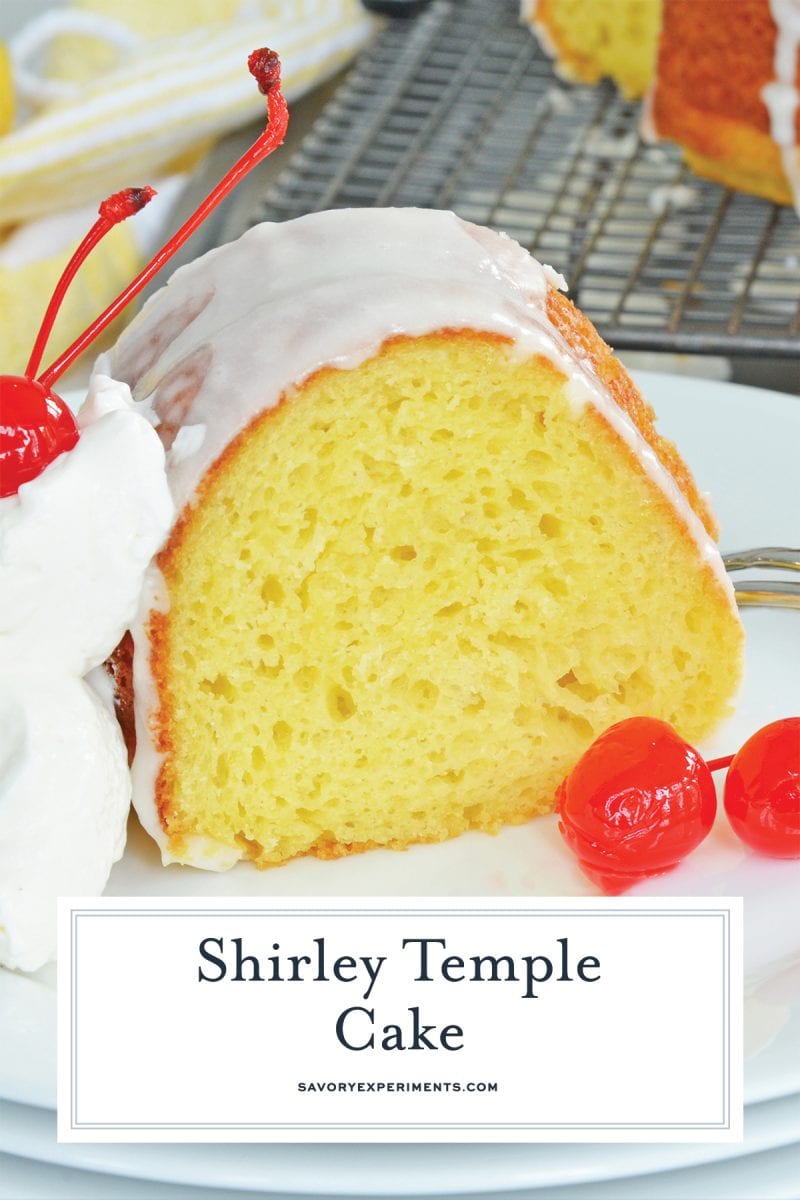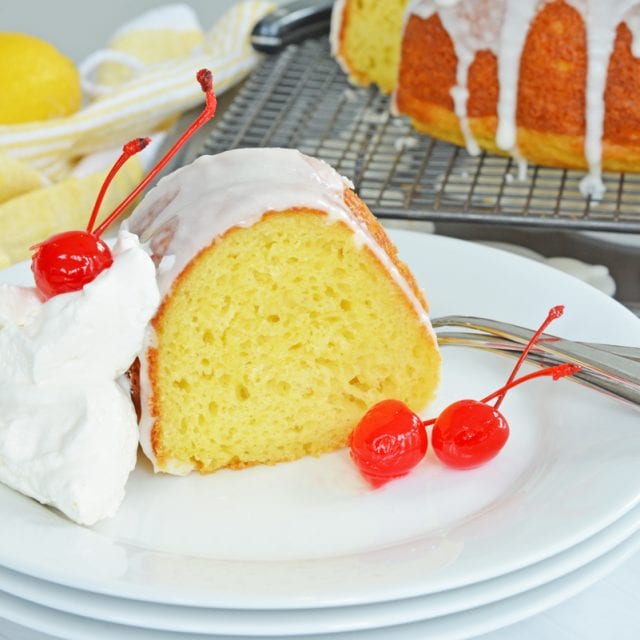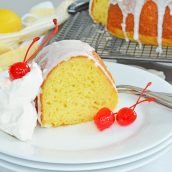 Shirley Temple Cake
Your favorite kiddie cocktail in cake form- a simple cake mix elevated with lemon-lime flavors, a bubbly icing and dotted with cherries.
Ingredients
Icing:
2

cups

powdered sugar

3

tablespoons

butter

, melted

3

tablespoons

lemon-lime soda

1

tablespoon

milk or water

1

teaspoon

vanilla or lemon extract
Instructions
Cake:
Preheat oven to 325°F and coat a 12 cup bundt or tube pan with cooking spray. Set aside.

In the bowl of a stand mixer or a large mixing bowl, mix together the dry cake mix with the yogurt, oil, eggs and citrus juices and zests, mix well, scraping down sides as you go.

Pour into prepared baking dish.

Bake for 40 minutes or until top (bottom) is lightly browned, springs back to the touch and passes the toothpick test.

Remove and allow to cool on a wire rack for 15 minutes. Gently tap the top of the baking pan and then invert onto a serving platter. Allow to cool fully before drizzling with icing.
Icing:
To make icing, whisk together the powdered sugar, melted butter, soda, milk (or water) and extract until no lumps remain, approximately 2-3 minutes. If the icing isn't a pourable consistency, add more powdered sugar or milk until it reaches a smooth white texture that will coat the back of a spoon.

Top of maraschino cherries and serve.

If you've tried this recipe, come back and let us know how it was in the comments or ratings.
Nutrition
Calories:
342
kcal
,
Carbohydrates:
51
g
,
Protein:
4
g
,
Fat:
15
g
,
Saturated Fat:
10
g
,
Polyunsaturated Fat:
1
g
,
Monounsaturated Fat:
3
g
,
Trans Fat:
1
g
,
Cholesterol:
62
mg
,
Sodium:
297
mg
,
Potassium:
64
mg
,
Fiber:
1
g
,
Sugar:
36
g
,
Vitamin A:
172
IU
,
Vitamin C:
7
mg
,
Calcium:
93
mg
,
Iron:
1
mg