This Sheet Pan Honey Garlic Chicken is a flavorful sheet pan dinner ready in just 30 minutes. Great for any busy weeknight or even a dinner with friends – your guests will never know how easy it was to make!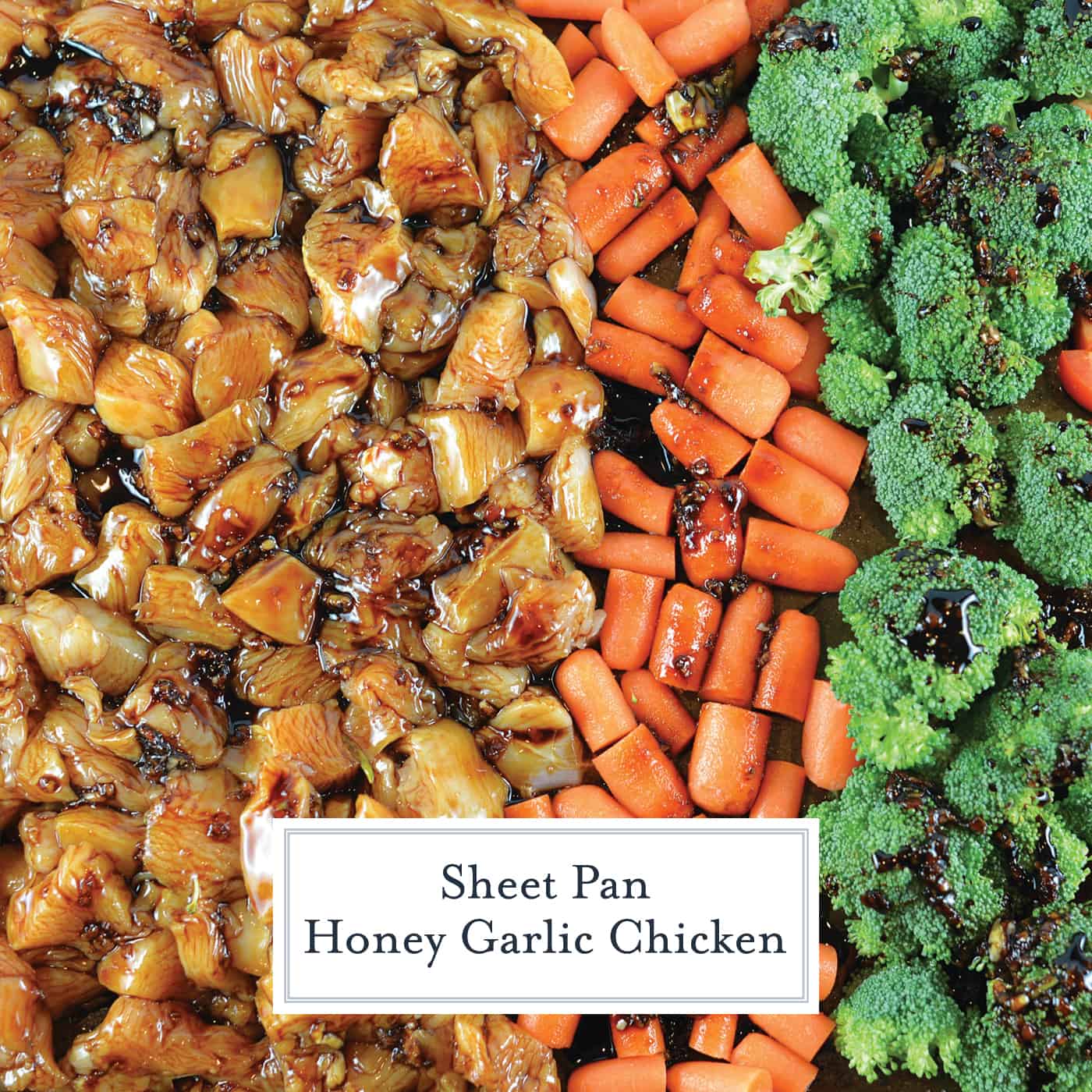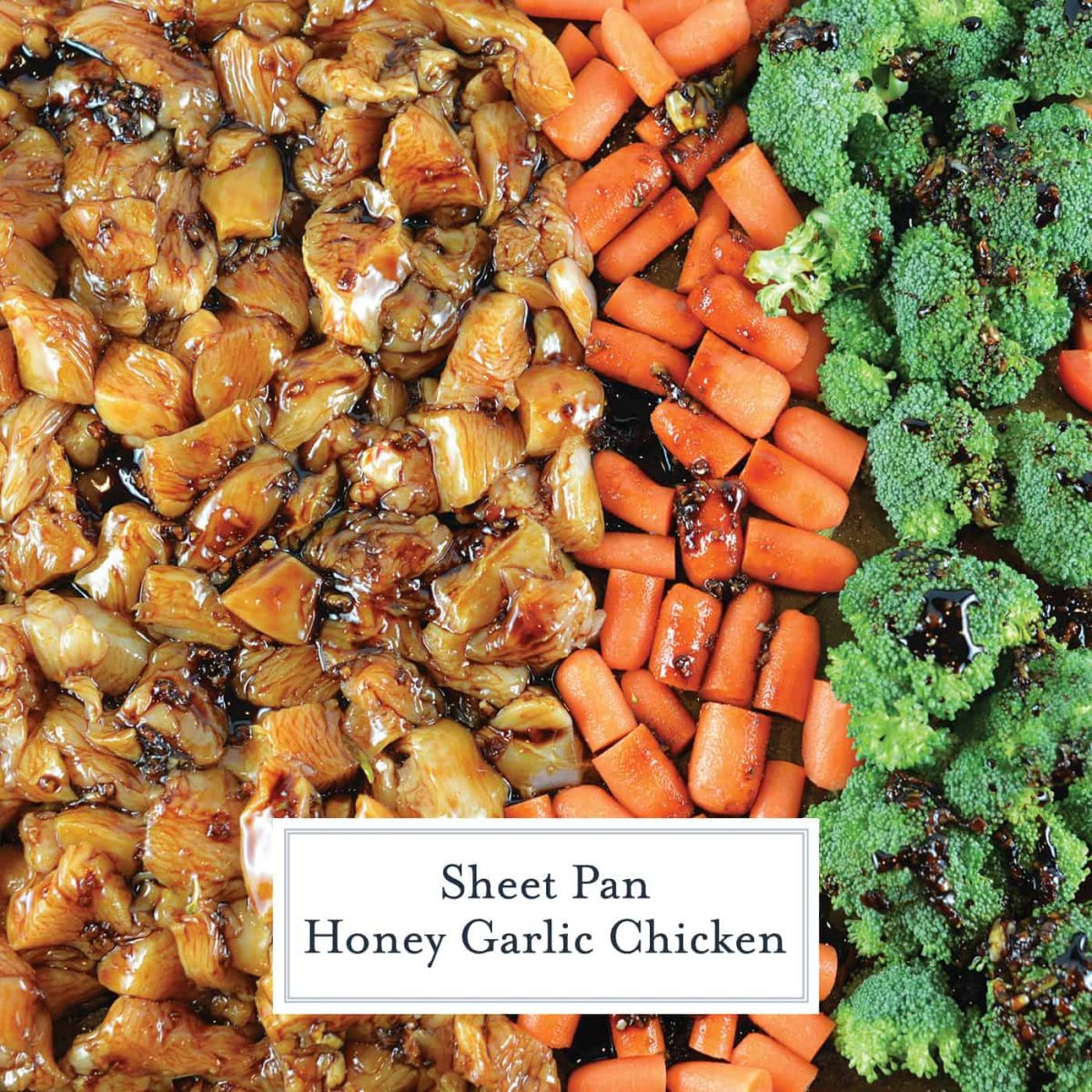 Sheet Pan Honey Garlic Chicken is an easy and family-friendly sheet pan dinner. You'll want to keep this 30 minute honey chicken recipe on hand for busy weeknights.
Sheet pan dinners are one of my favorite methods of making a delicious and complete meal, fast. Sheet pan dinners typically consist of tossing a handful of ingredients on one pan, putting them in the oven, and pulling out a complete meal.
Sometimes I'll make an extra side to go with it, such as the rice in this honey chicken recipe, but for the most part, sheet pan dinners are as easy as spreading ingredients on a pan, seasoning them, and then doing something productive while dinner cooks.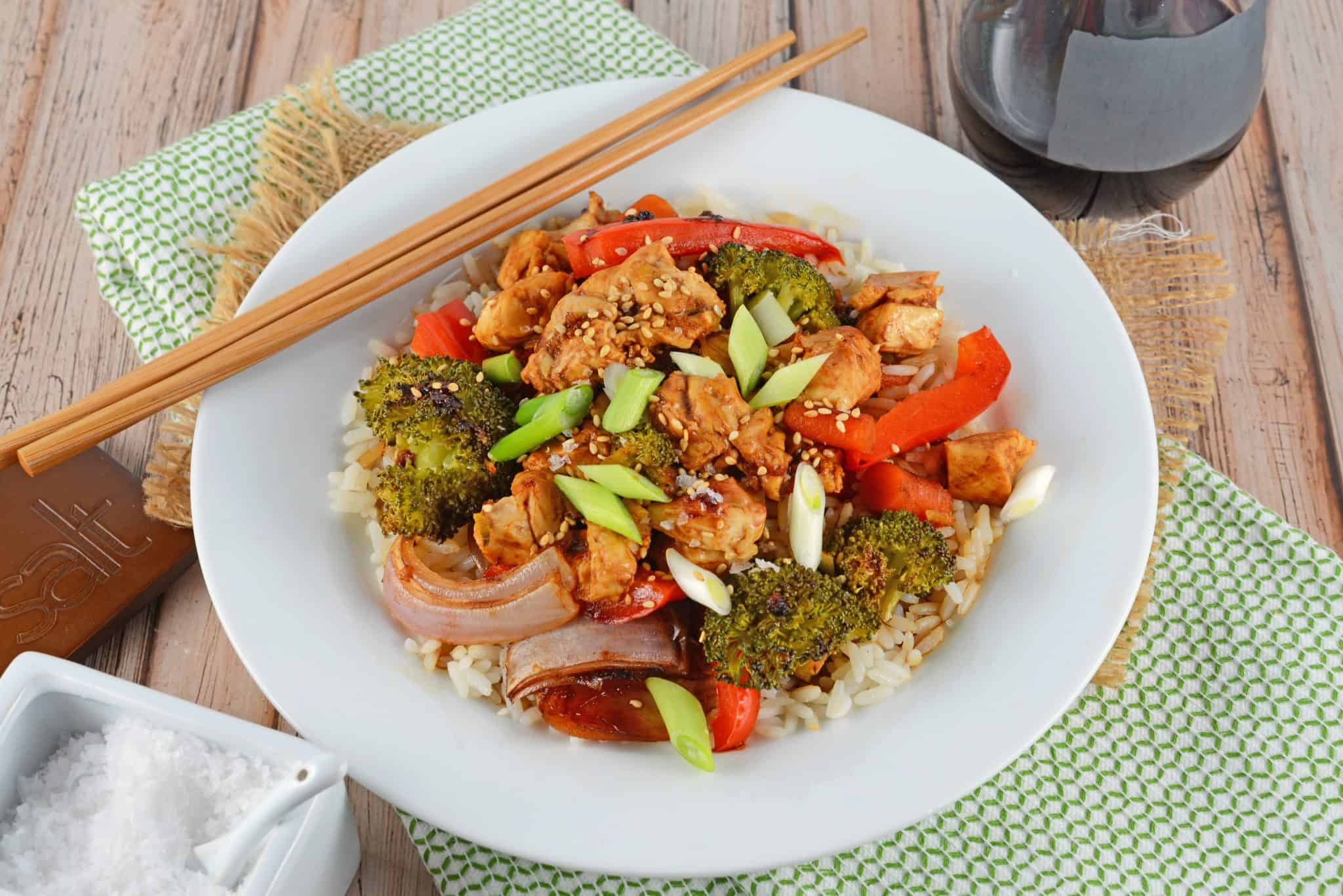 Something productive like binging your newest Netflix obsession or scrolling through Facebook without actually reading anything….or cleaning the house or washing the dishes, I guess.
This Sheet Pan Honey Garlic Chicken is no exception. It's an easy chicken recipe that is made in 30 minutes with very little hands-on time. In fact, it's so easy that you might not even have time to catch up on your Netflix while you wait for dinner to be done.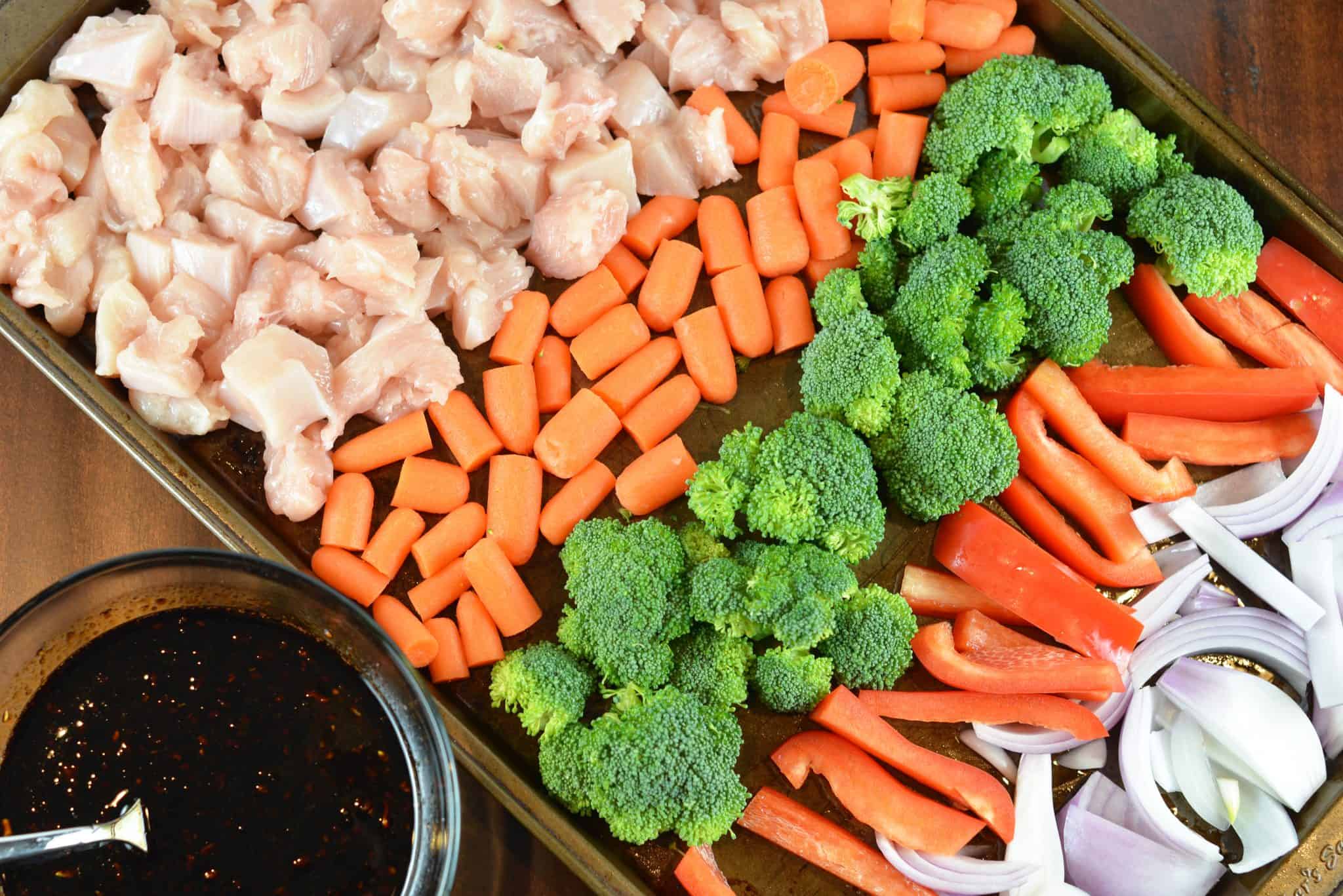 Honey and garlic might seem like an interesting flavor combination, especially including the soy sauce, but the honey garlic chicken sauce is my favorite part of this easy chicken dinner recipe. It also provides a great flavor to the vegetables as well.
Every recipe needs an acid and in this sheet pan meal, one of the acids is actually honey! The pH scale ranges from 1-14 and honey ranges around 4 depending on the floral sources it was created from.
This recipe also pairs it with vinegar and soy sauce, so the garlic and sweetness of honey help to balance it out.
I also love that this is a complete meal on its own, with the carrots, broccoli, and peppers providing a serving of veggies.
As I mentioned above, I do typically serve this Sheet Pan Honey Garlic Chicken over rice to make it even more filling but if you were avoiding carbs or just didn't feel like making the rice, the chicken and veggies would make a very healthy and light dinner on their own.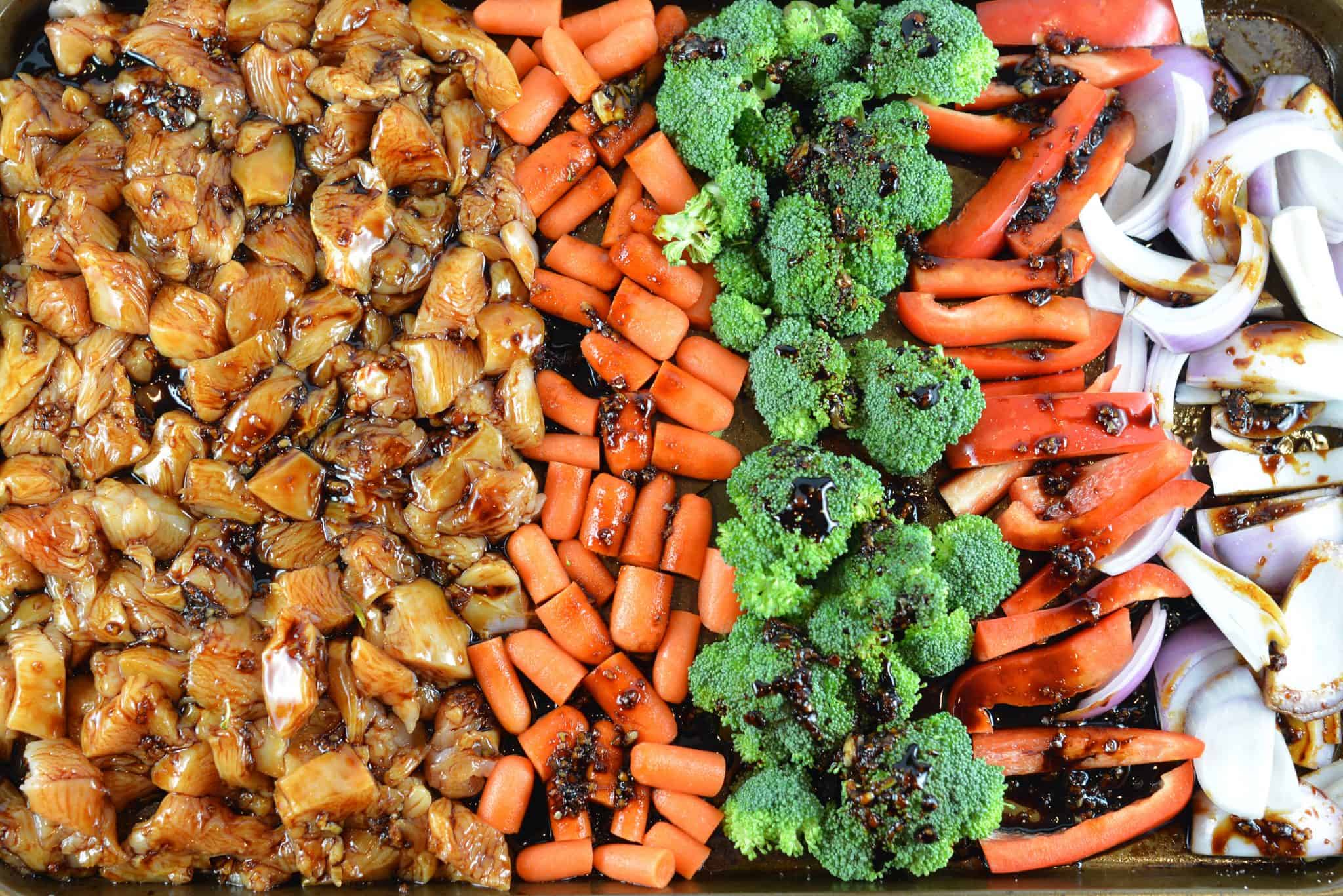 Honey Garlic Chicken is now one of my go-to easy chicken recipes for dinners, especially if I'm having guests over and I'm crunched on time.
The bright and colorful presentation combined with the delicious garlic chicken flavor impresses my guests every time!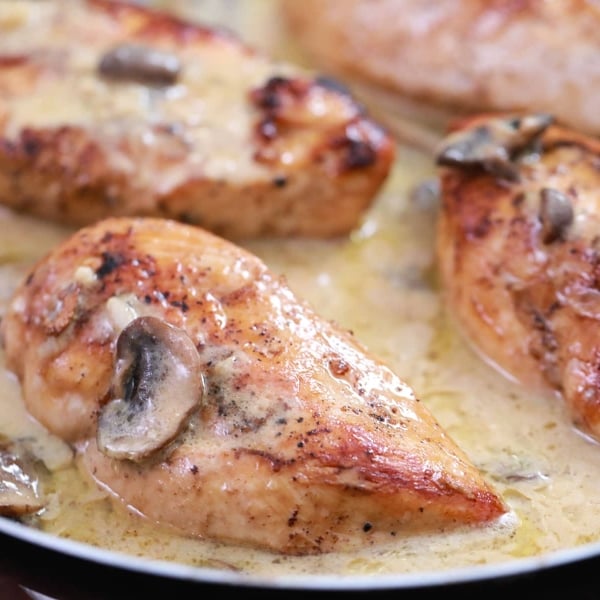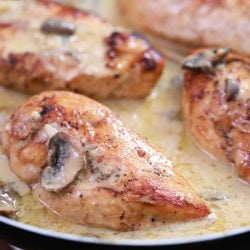 Chicken Marsala Recipe
This Chicken Marsala recipe is made in 1 pan in less than 30 minutes! Whip up this EASY dish with a rich creamy mushroom sauce on top of juicy chicken.
View this recipe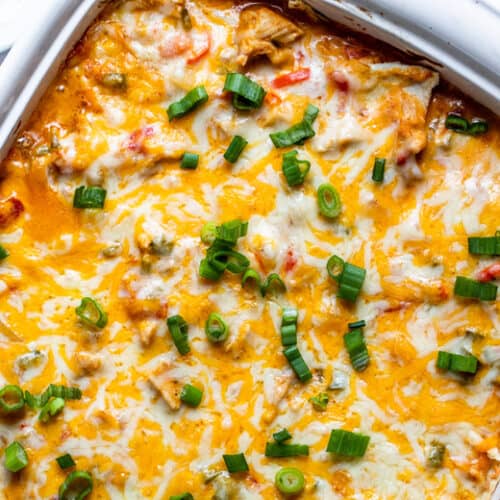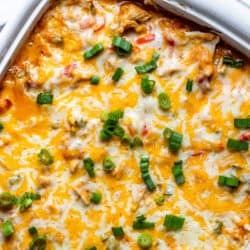 King Ranch Chicken Casserole
This King Ranch Chicken Casserole is packed with incredible Tex-Mex flavors and of course loads of cheesy goodness. This simple recipe is perfect for a family dinner and can be made ahead of time.
View this recipe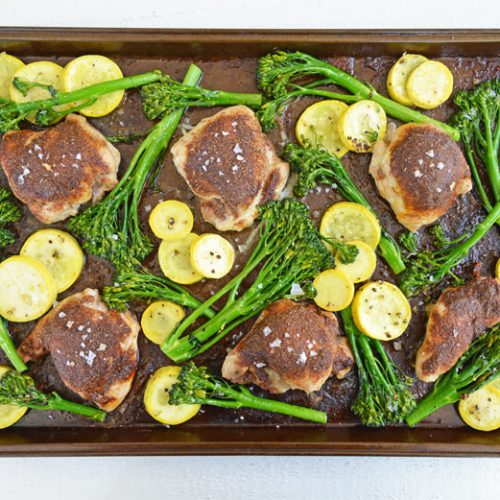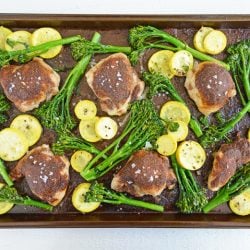 Blackened Sheet Pan Chicken Thighs
I am all for saving time on meals, and one pan meals are the best. This EASY Blackened Sheet Pan Chicken Thigh recipe is about to be your new favorite!
View this recipe
Tools for making Sheet Pan Honey Garlic Chicken:
Rimmed Baking Sheet– another kitchen staple! You'll use this for prep work, roasting and much more. I have 7 at my house.
Wood cutting board – wood won't dull your knives like plastic and if treated properly, has natural antimicrobial properties.
Good knife – Global is my favorite! They are worth the price, I promise. I am kind of obsessed with them and store them tucked away so no one else can use them. Including hubby. Hands off my good stuff!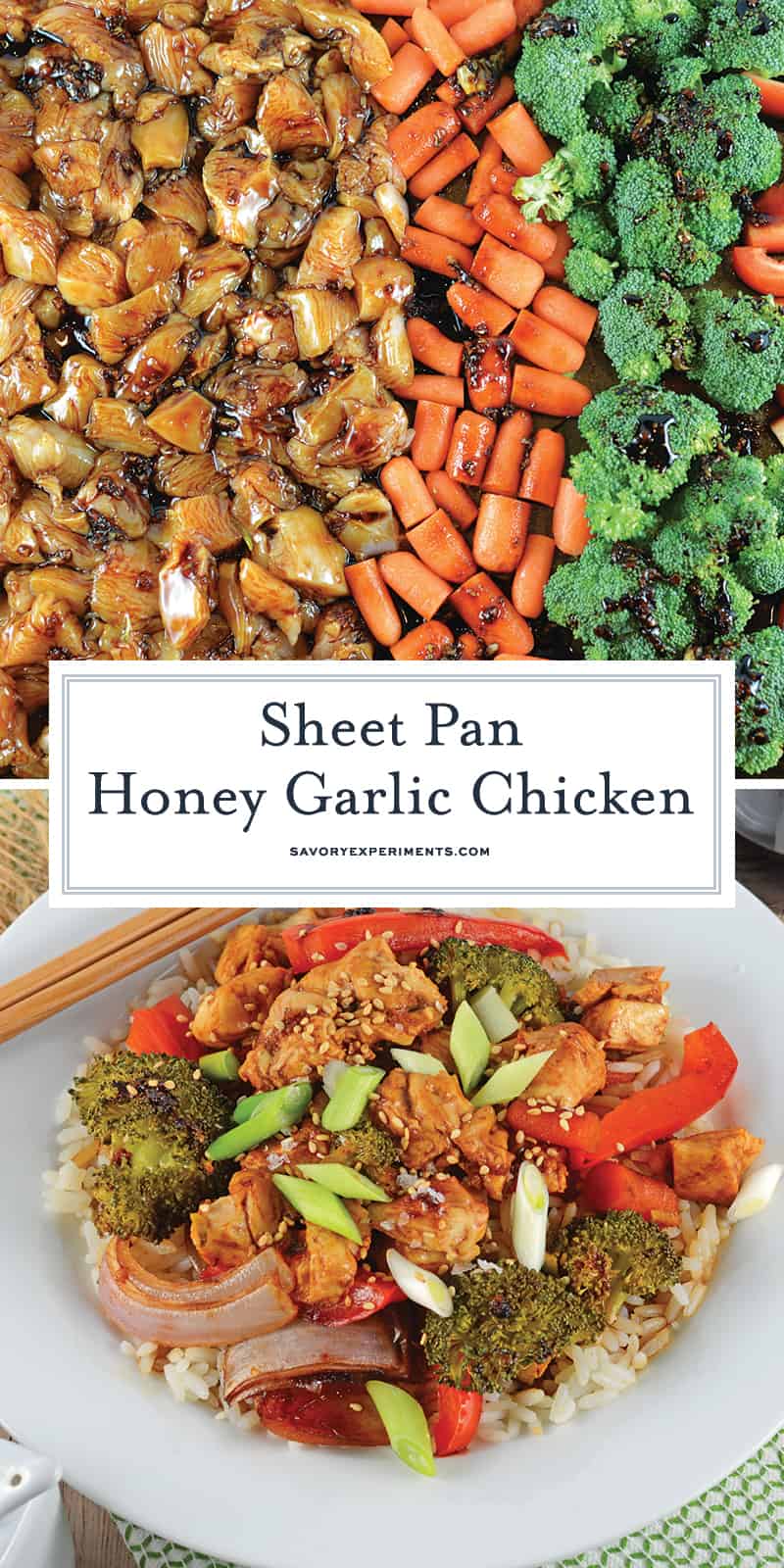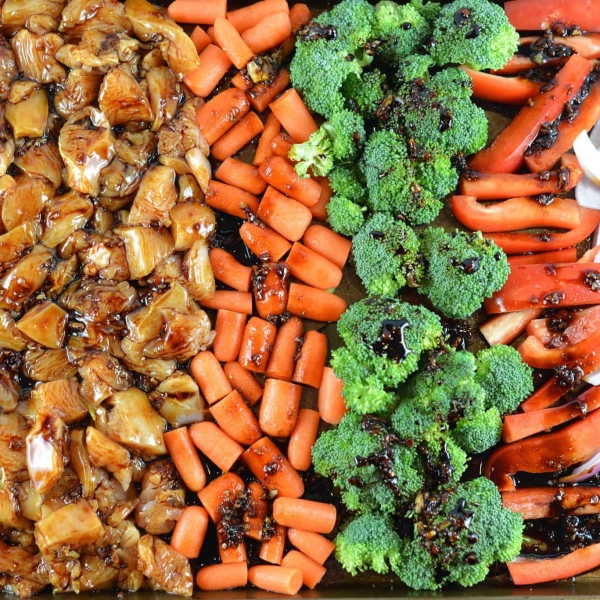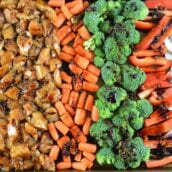 Sheet Pan Honey Garlic Chicken
Sheet Pan Honey Garlic Chicken is an easy sheet pan dinner that's packed with flavor. A complete meal in just 30 minutes!
Instructions
Preheat oven to 350 degrees. Lightly coat a rimmed baking sheet with cooking spray or line with aluminum foil.

Spread all ingredients onto the baking sheet in a single layer (or as close as you can get it).

In a small bowl, whisk together garlic powder, minced garlic, honey, rice wine vinegar, soy sauce and sesame oil.

Drizzle it over all ingredients on the sheet pan, tossing to coat.

Bake for 15-20 minutes, or until chicken is cooked thoroughly and vegetables are soft, but still crispy.

Remove and serve over rice. Garnish with scallions and sesame seeds.

If you've tried this recipe, make sure to come back and let us know how it was!
Nutrition
Calories:
1059
kcal
,
Carbohydrates:
188
g
,
Protein:
54
g
,
Fat:
8
g
,
Saturated Fat:
1
g
,
Cholesterol:
108
mg
,
Sodium:
1080
mg
,
Potassium:
1382
mg
,
Fiber:
7
g
,
Sugar:
30
g
,
Vitamin A:
11990
IU
,
Vitamin C:
88.4
mg
,
Calcium:
140
mg
,
Iron:
3.7
mg