These are perfect for leftover sausage and sauerkraut. You can make them full or slider size, like I did here. You can even serve them open face like a crostini and melt cheese all over like a crab melt!
Pork and Sauerkraut to Polish people is kind of like Spaghetti and Sauce to Italians. Everyone's grandmother had their way of making it, every family recipe is different, but they all have one thing in common: they are delicious.
I've heard of it being prepared with apple chunks and slices, others claim the secret ingredient is pork lard. And my best friend's family insists it be made one week ahead of time to sit until it really builds flavor.
Sliders
With that said you can use the bones of my slider recipe with your own favorite family pork and sauerkraut recipe.
I used Dutch rolls from our local grocery store, but feel free to use whatever bread you enjoy. Some of my favorites to pair are:
Sourdough
Whole Wheat
Roasted Garlic
I also topped mine with cheese, which isn't customary in this dish, but what is a sandwich without cheese? Cheddar, smoked gouda, provolone, you really can't go wrong with your cheese choice.
Slider Ingredients
While it is technically a pork and sausage recipe, I use kielbasa because I like that it is precooked and has a smoky flavor. Many traditional recipes wuse a pork shoulder or even a loin roast. But kielbasa is pork, so it technically counts.
This recipe for kielbasa and sauerkraut is pretty basic and uses:
Kielbasa
Sauerkraut
Onions
Potatoes
Brown Sugar
Liquid
I use apple juice for the liquid, but you can also use chicken stock, plain water or even dry white wine.
The trick to transforming it from a skillet (or slow cooker recipe) to sliders is to have it be fairly dry, draining out excess liquid, and chopping it up into smaller pieces.
Sauerkraut
What is sauerkraut?
Sauerkraut is simply fermented cabbage, basically pickled. It is best to be rinsed and drained before cooking otherwise you might get a super vinegary flavor. It would be like using pickles and not draining them… which some pickle fanatics probably would do!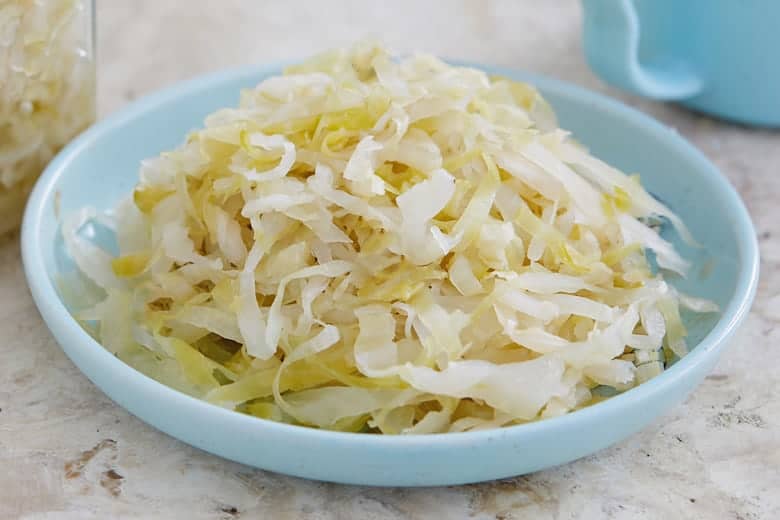 In Maryland, where I live, sauerkraut and sausage is eaten all the time, but mostly for celebratory events. It might sound odd to others, but you'll see it at Thanksgiving and also Christmas, but most notably, New Year's.
Good Fortune
Pork and Sauerkraut is rumored to bring good fortune to those who eat it. Some Pennsylvania Dutch claim the pork is to "always root forward" as a pig does with its nose.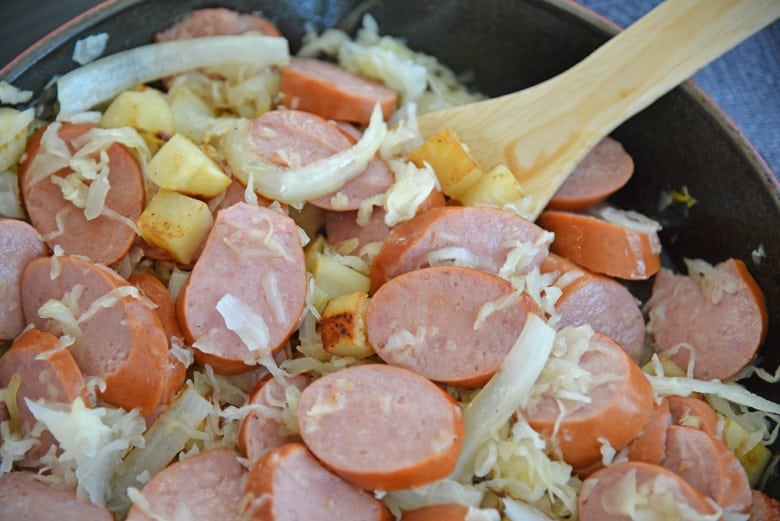 Others claim this is all a bunch of nonsense and just like a good pork with sauerkraut.
So make these super lucky sandwiches for your next party!
Make Sliders
First you'll need to make the pork and sauerkraut. You can use your favorite recipe or one of mine either in a skillet or slow cooker.
Next, you'll want your mix to be fairly dry so the bread doesn't get soggy. Drain the mix and even blot it with paper towels to reduce moisture.
Chop it up into bite-size pieces so it is easily to eat on a bun.
Toast your slider rolls and add cheese, melting, before topping the bread with pork and sauerkraut.
Freezing
Pork and sauerkraut can be made ahead of time, in fact some insist it is better after it sits for several hours.
I would recommend waiting to assemble the sliders until you are ready to serve otherwise you run the risk of them getting mushy and no wants a mushy sandwich.
You can freeze the pork and sauerkraut mixture, but I don't recommend freezing the whole sandwich.
CONNECT WITH SAVORY EXPERIMENTS!

Be sure to follow me on social media, so you never miss a post!

Facebook | Twitter | Youtube
Pinterest | Instagram

Get our FREE 8 Day E-Course on How to Be a Better Home Cook. Sign up HERE!