If you have been looking for a new cream cheese dip recipe to try, you are in the right place! This is Roasted Red Pepper Dip is loaded with flavor, easy to make and perfect for parties.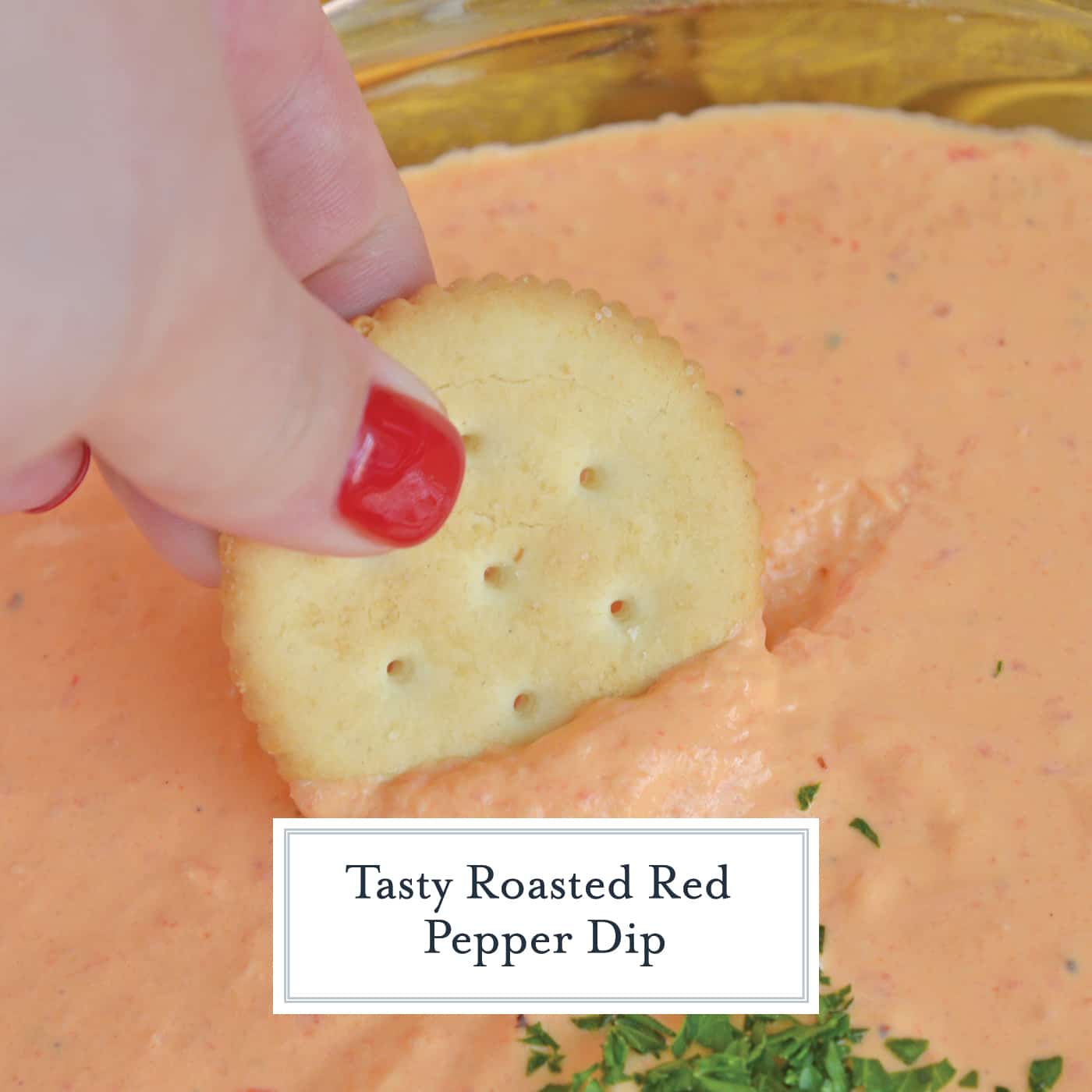 Roasted Red Pepper Dip is tangy, light, and irresistibly delicious. Served warm or cold, it is perfect for parties or an afternoon snack.
I love using roasted red peppers in my recipes and this dip is amazing because it is sweet, tangy, light, and best of all, easy to whip up.
You can buy roasted red pepper, but it couldn't be easier to roast your own. Get started by preheating your oven to 450 degrees. While it's heating, wash your red bell peppers.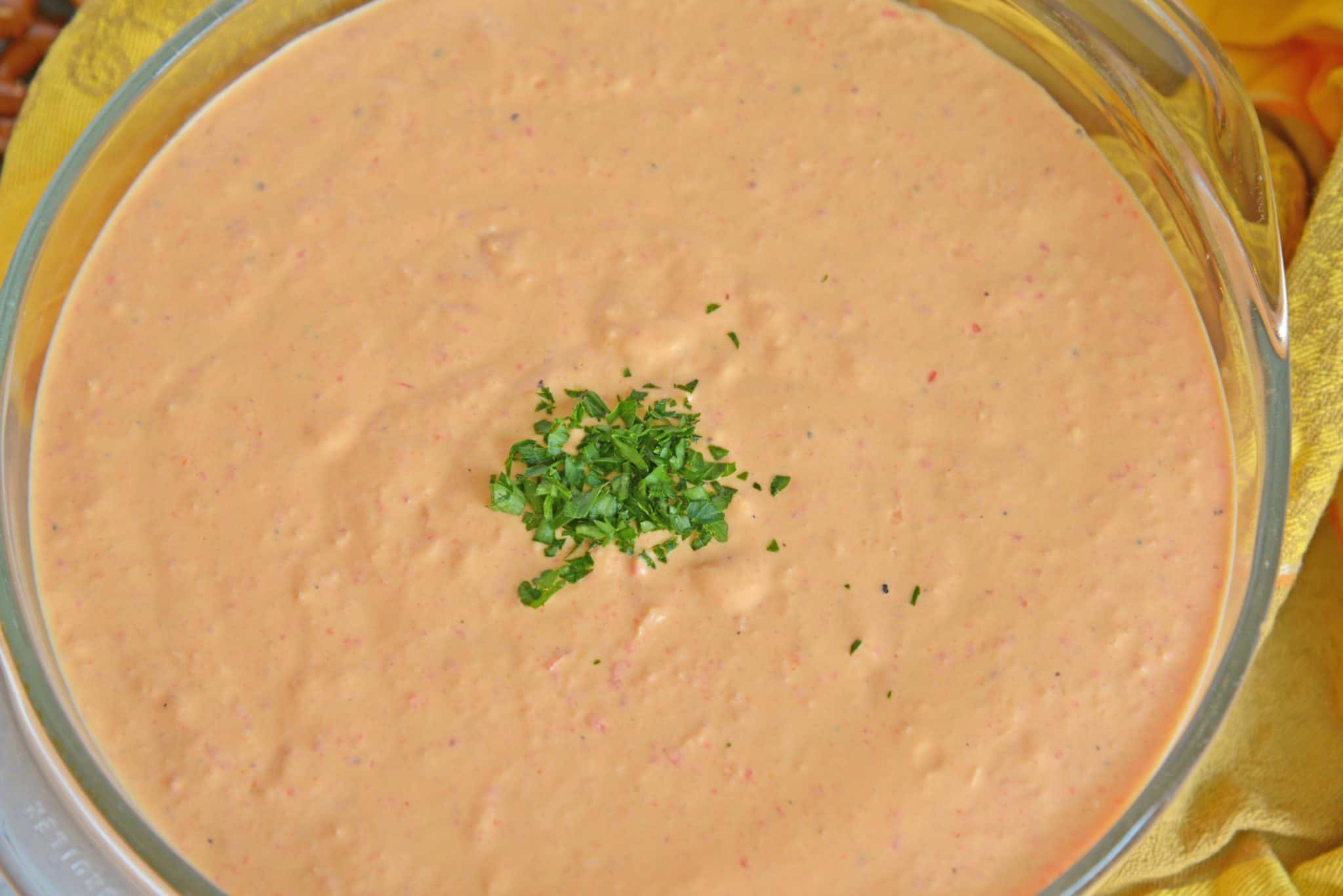 Once washed and dried, cut them in half lengthwise. Cut off the stems and scoop out the seeds. Place your red peppers cut side down on a baking sheet lined with aluminum foil.
PRO TIP: If you do use jarred roasted red peppers, make sure to drain and dry them well before adding to the recipe.
Then pop those peppers in the oven and let them roast for 25 minutes, or until they look wrinkly and charred. Take them out of the oven and place them into a bowl.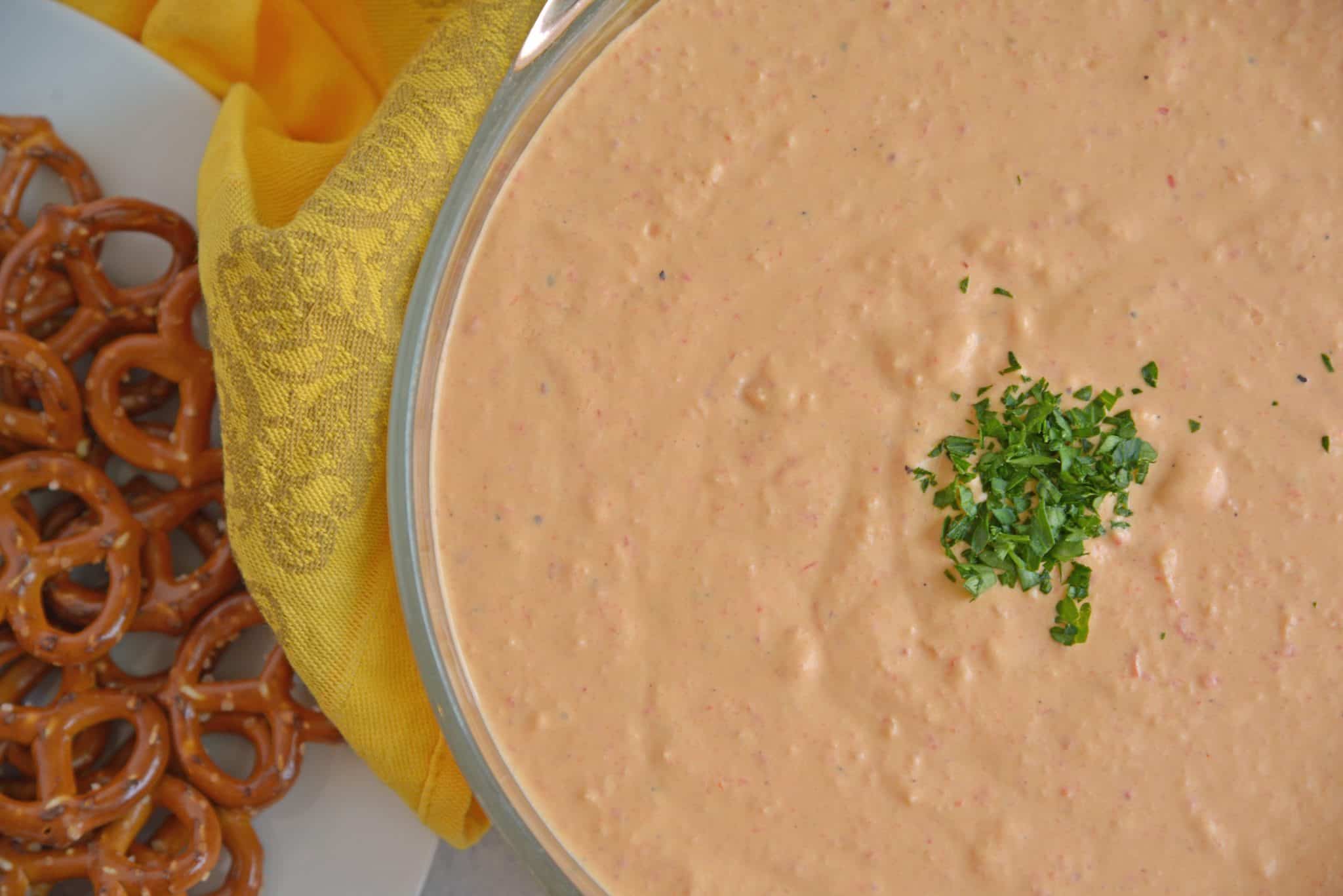 This next step is important! Cover the bowl with a plate or plastic wrap for 20 minutes. This will create steam that loosens the skins from the meat of the pepper.
Gently remove the skin from each pepper and store in an airtight container until you are ready to use them. If you come across some tough skin, use a paring knife to scrape it off.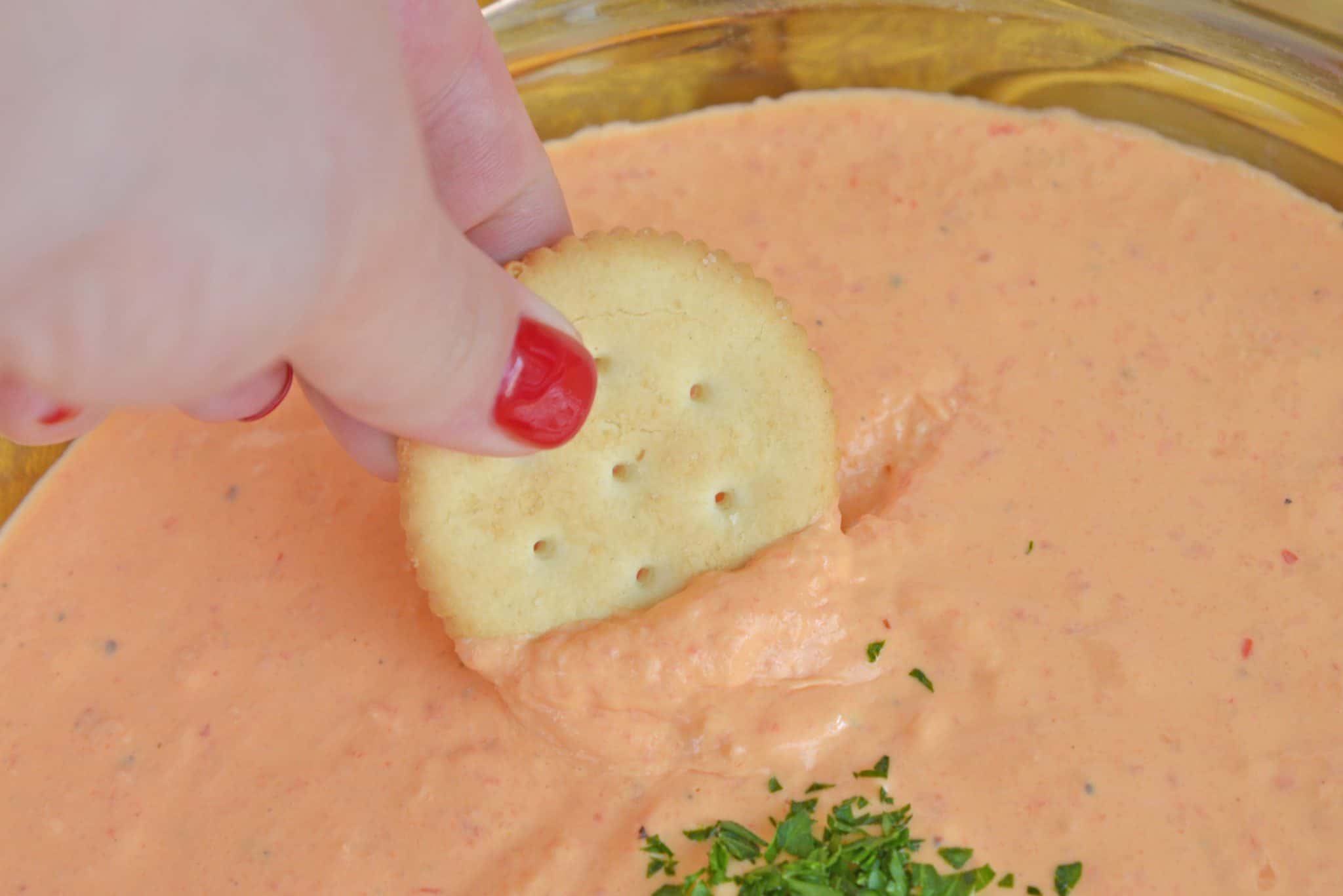 Roasted Red Pepper Dip is super versatile and can be used as so much more than a dip. Slather it on a sandwich or burger, mix it into a salad dressing, toast a bagel and give it a schmear.
PRO TIP: This cream cheese dip tastes fabulous with buttery crackers, but you can also serve it with pretzels, crostini or carrot and celery sticks.
The possibilities are really endless with this recipe. One thing is for sure, it is so good that you won't have any leftovers.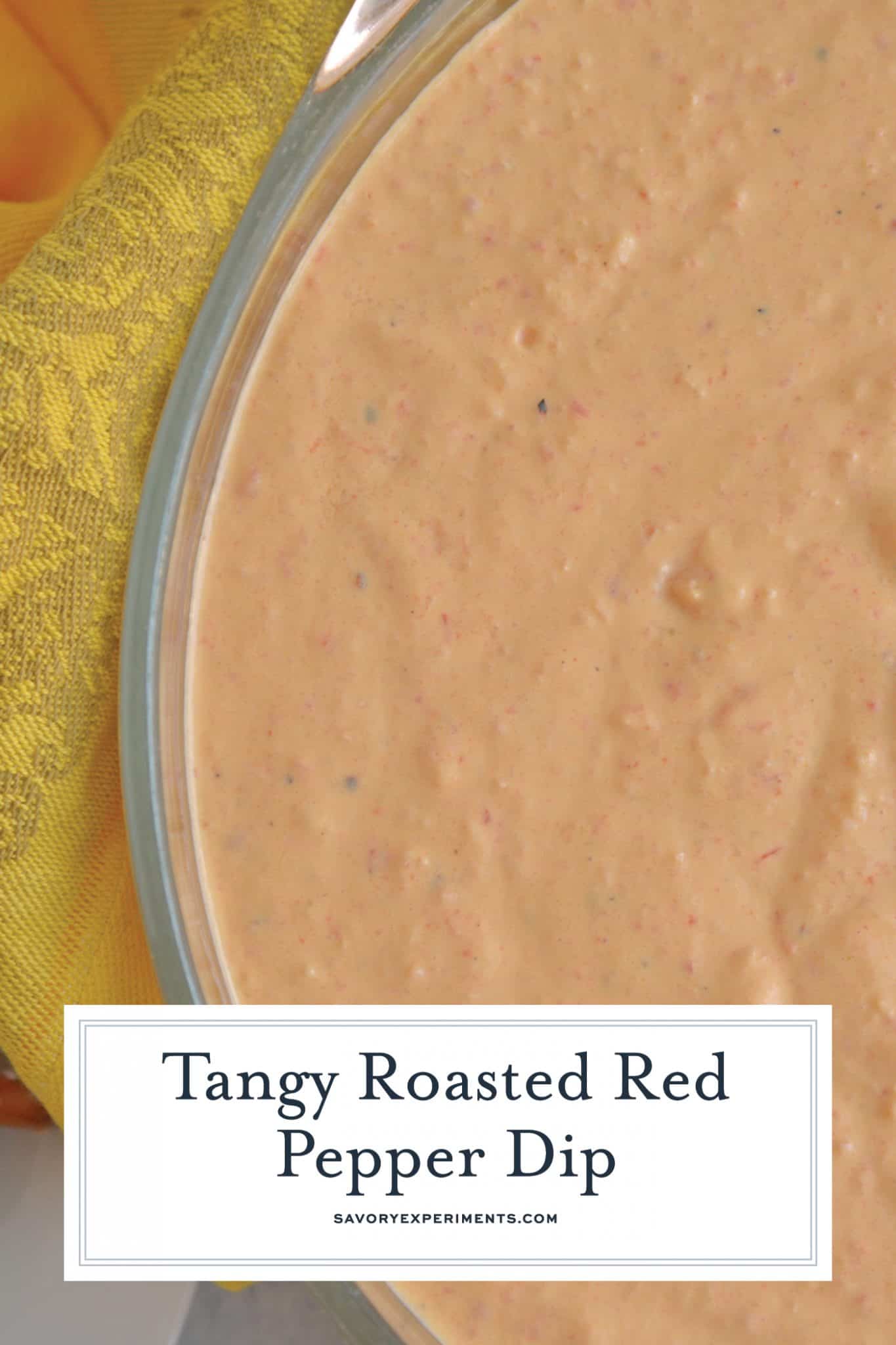 If you liked this Roasted Red Pepper Dip
, make sure you check out these other easy dip recipes:
Tools for making Roasted Red Pepper Dip:
Wood cutting board – wood won't dull your knives like plastic and if treated properly, has natural antimicrobial properties.
Good knife – Global is my favorite! They are worth the price, I promise. I am kind of obsessed with them and store them tucked away so no one else can use them. Including hubby. Hands off my good stuff!
Good Extra Virgin Olive Oil– A good olive oil will taste like, well, olives, while a poorly made one will taste like vegetable oil. Gross. While people tend to favor Italian and Greek olive oils, I prefer to buy mine domestically.
They are some great ones out there from all over the world, but the reporting of ingredients isn't always the same and you could find that your super expensive olive oil was actually cut with vegetable oil.
Rimmed Baking Sheet– another kitchen staple! You'll use this for prep work, roasting and much more. I have 7 at my house.
Food Processor– You'll need a full size food processor for this project. You can try to use an immersion blender, but a food processor is really the ticket.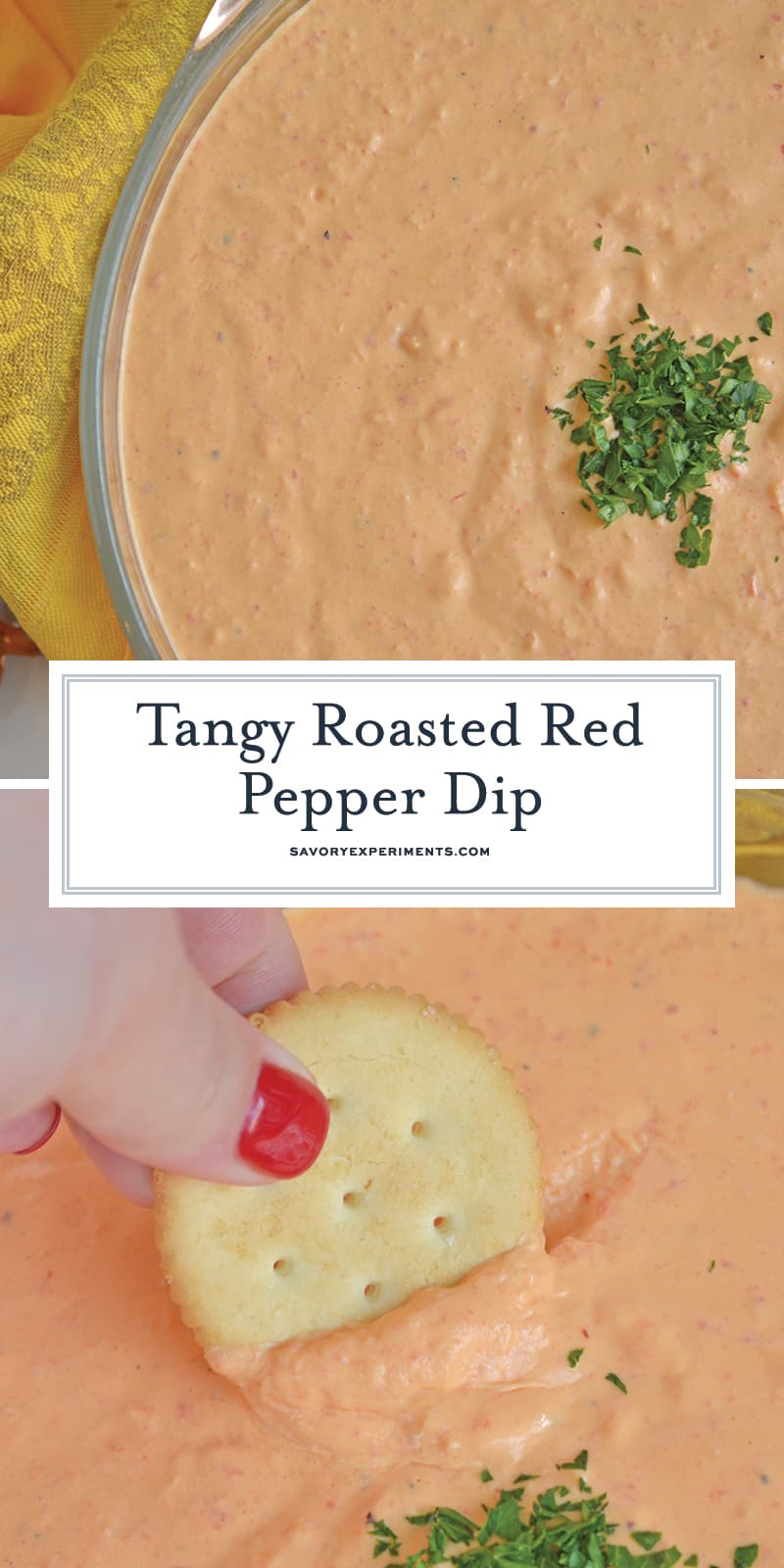 Questions you might have about how to make roasted red pepper dip:
Can I make this dip ahead of time? You can surely make it in advance and since it is served chilled, you don't even need to reheat it. I would, however, make sure you check it for seasoning. Chilled soups and dips can often become muted. It might need a little salt and a quick stir to be revived.
How long can I leave it out? The CDC recommends no longer than 2 hours. If you are in moderate temperatures or indoors, you can set the serving bowl in an ice bowl to make it last a little longer.
Do I have to serve it with crackers? Nope! You can serve it with vegetables like carrots, celery or even cucumber slices.
What can I substitute for Greek yogurt? You can substitute sour cream or Greek yogurt.
Can I freeze this dip? This is one of the few recipes I don't recommend freezing.
Can I find roast garlic at the store? Most grocers now carry a roasted garlic suspended in oil. You can use this instead of roasting your own if you are low on time.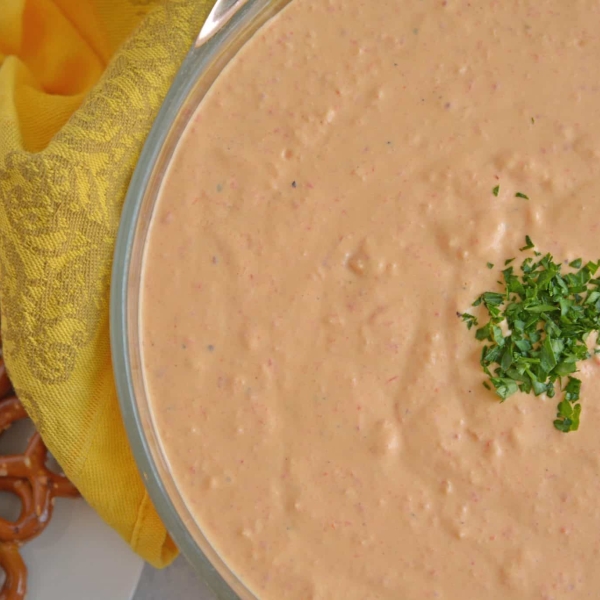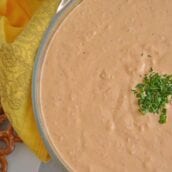 Roasted Red Pepper Dip Recipe
Roasted veggies blended with smooth cream cheese and herbs for an irresistible dip!
Instructions
Preheat oven to 300 degrees.

Toss onion quarters in light olive oil and place on rimmed baking sheet. Roast for 20 minutes or until lightly browned and soft.

Add roast onion, roasted red pepper, roasted garlic, plain Greek yogurt, cream cheese, cumin, cayenne and fine sea salt to a food processor. Blend until smooth.

Top with minced parsley. Cover and refrigerate for 1-24 hours. Serve chilled with carrots, celery sticks, pretzels or crackers.
Notes
Can be made up to 48 hours ahead of time.
Nutrition
Calories:
113
kcal
,
Carbohydrates:
4
g
,
Protein:
3
g
,
Fat:
9
g
,
Saturated Fat:
4
g
,
Cholesterol:
25
mg
,
Sodium:
505
mg
,
Potassium:
107
mg
,
Sugar:
1
g
,
Vitamin A:
390
IU
,
Vitamin C:
8.2
mg
,
Calcium:
58
mg
,
Iron:
0.3
mg