This is a quick and easy pan-fried pork chop recipe that always turns out delicious! Not only does this Fruit Smothered Pork Chops recipe taste great, it's quick to prepare.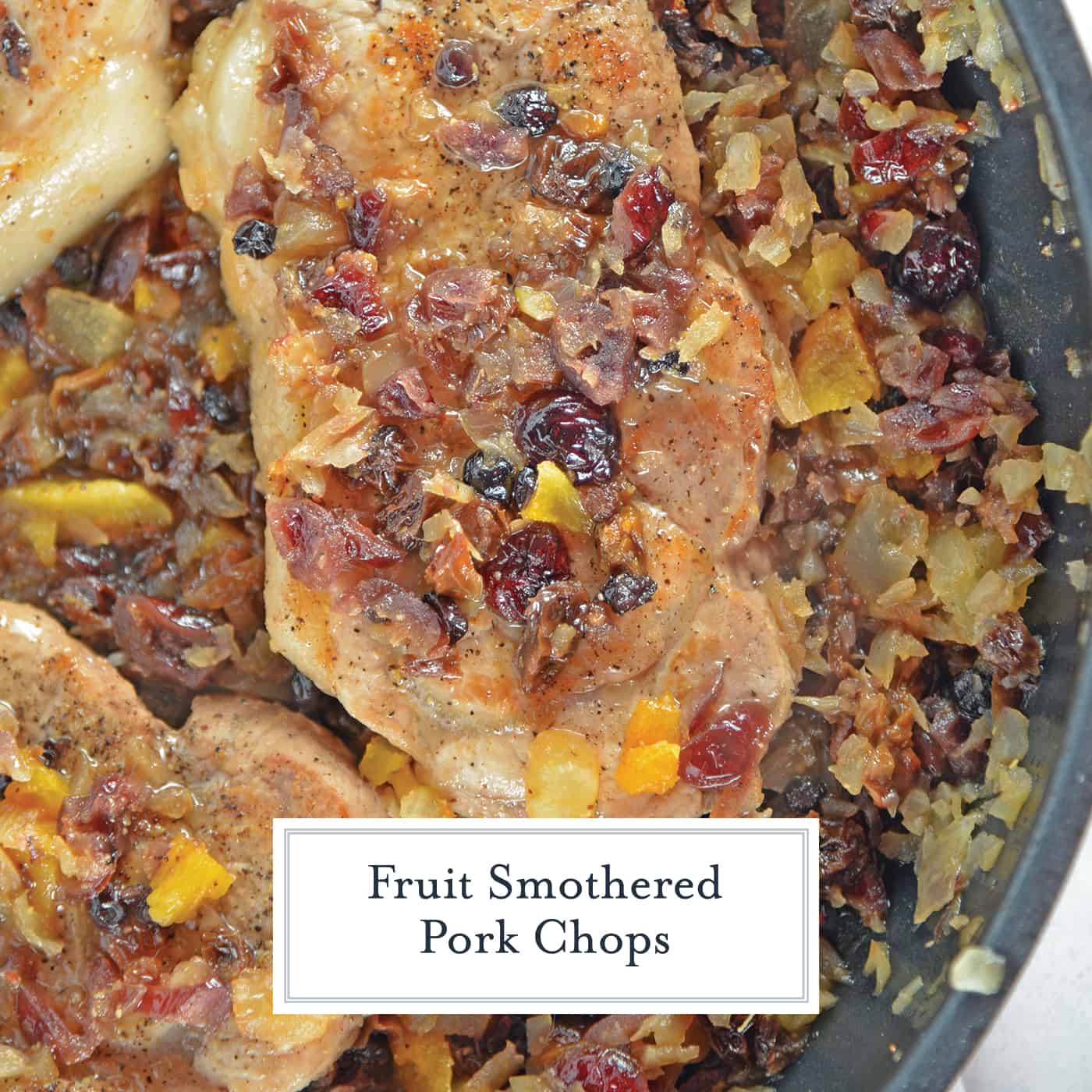 Fruit Smothered Pork Chops are pan fried pork chops with a zesty dried fruit sauce, taking 30 minutes from start to finish!
If you have been looking for an easy pork chop recipe, then look no further! This recipe is easy peasy! Dinner will be ready in less than 30 minutes tonight.
Okay, okay, maybe a little more with prep time. But seriously, only like 5 minutes of prep.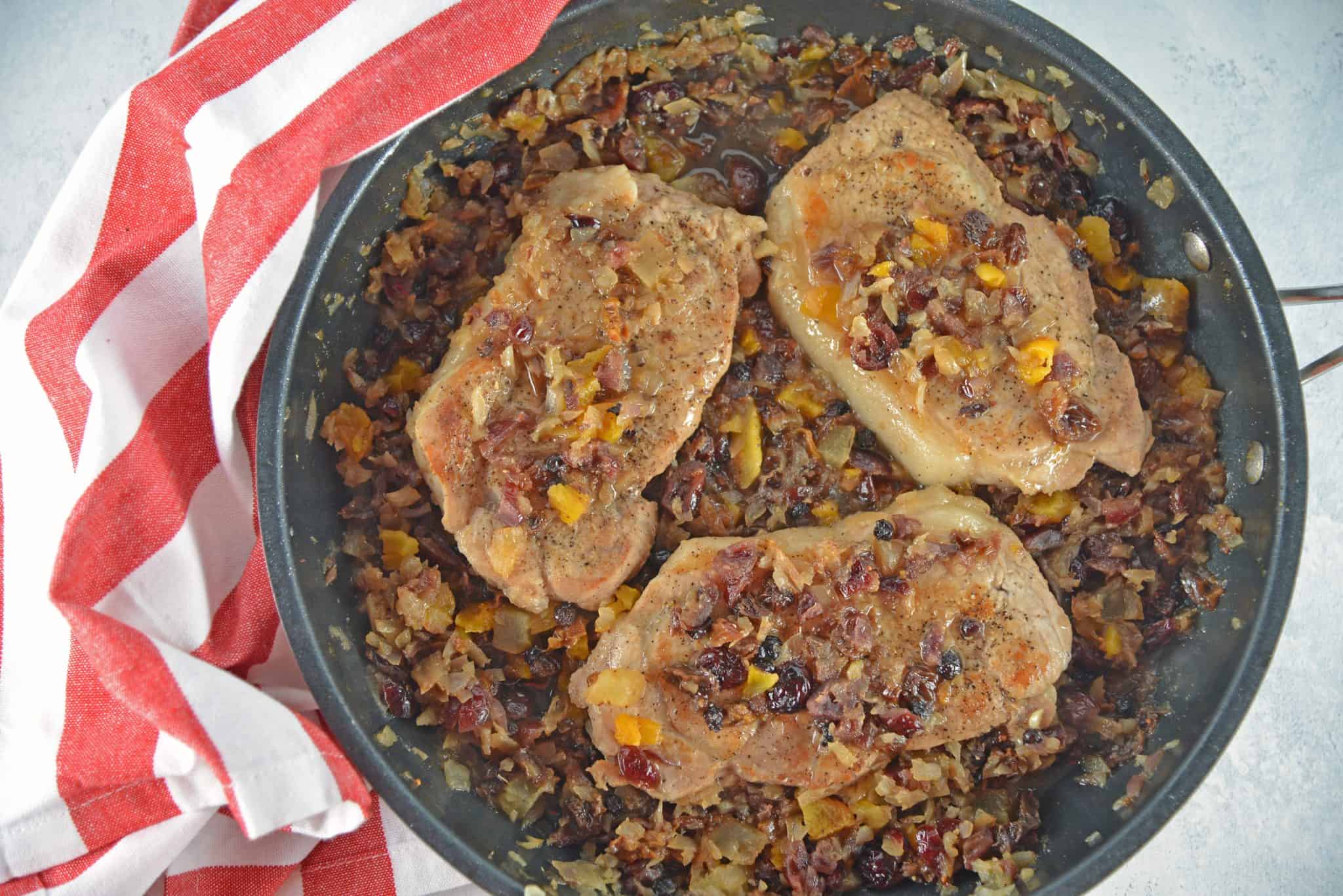 These pan-fried pork chops pack a lot of flavor in a single bite. With lots of color, they brighten up any evening at the family dinner table in a flash. The secret? Using reconstituted dried fruit helps speed up this process.
This is the perfect weeknight recipe with its quick cook time!
It might sound like an odd combination to a lot of you, but in all honesty pork chops work wonderfully with fruit. Think about all those pork chops you have seen paired with apples or apple sauce. Fruit, no?
I thought about moving outside the apple crate and trying some other fruit on for size. This may have been slightly overboard, but it is worth it from a flavor perspective. I add so much fruit you can barely see the pork chops under the mountain of delicious fruit!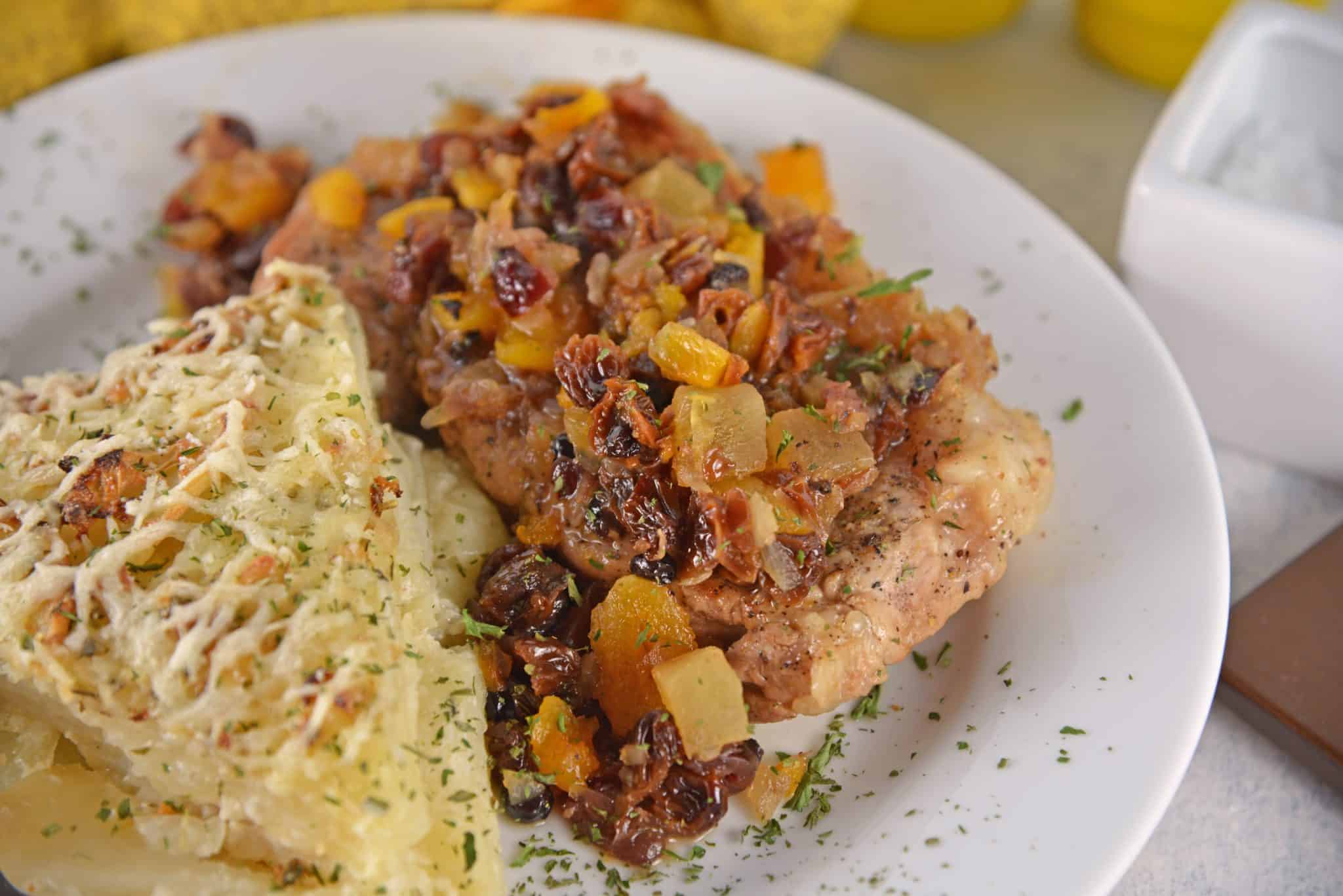 If you want some tips when it comes to panfried pork chops I have got you. First off, you want to take your pork out of the fridge 30 minutes prior to cooking. To get a good crust and good color in the pan, you need them to be a little warmer than fridge cold.
If they go in that cold, that coolness will immediately cool down your pan. What's so bad about that? Well, you end up with a grey piece of meat and no one wants that.
Second, season them well. A good dose of great kosher salt and fresh ground black pepper goes a long way.
When placing the pork chops into the pan make sure you lay them down facing away from you, this will help prevent you getting burned by any splattering oil!
Last but not least, don't futz with them. Once they go into the pan, do not check to see the color until the time comes. When they are ready, the pan will let them go and you know it's time to flip.
If you start messing with them too early or because you are impatient, you risk that grey meat again. Be smart and let those babies brown!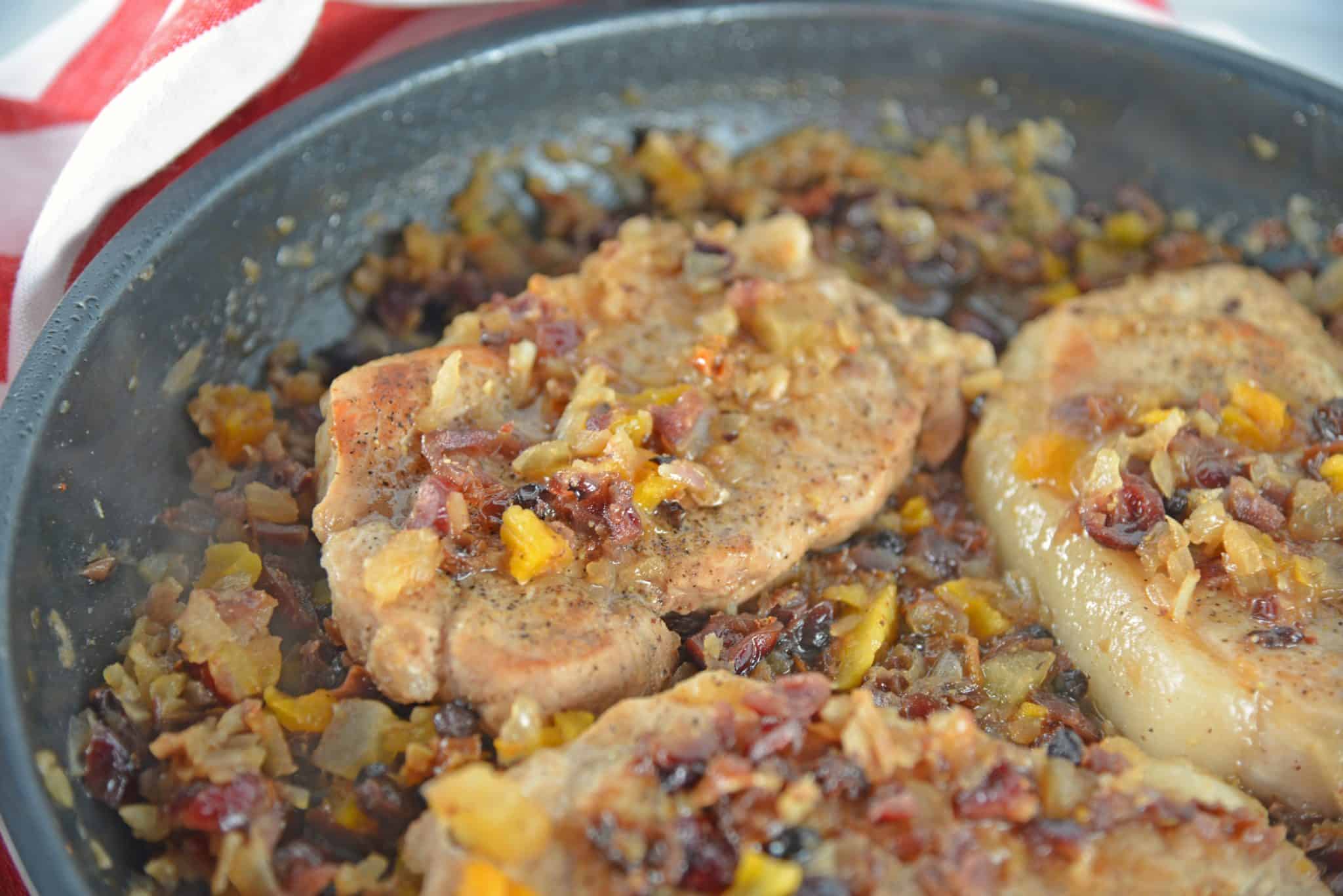 Check out these other easy easy pork chop recipes: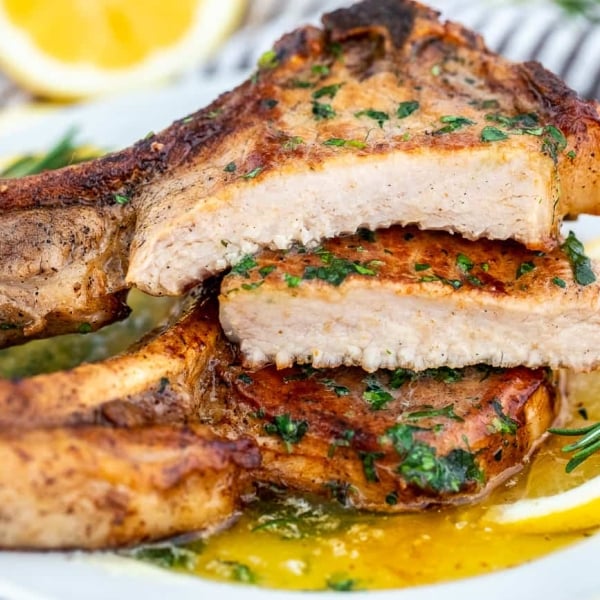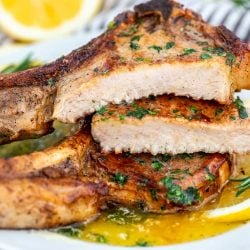 Best Pork Chop Brine
This step-by-step guide will show you how to brine pork chops, tips for a juicy pork and the best pork brine recipe!
View this recipe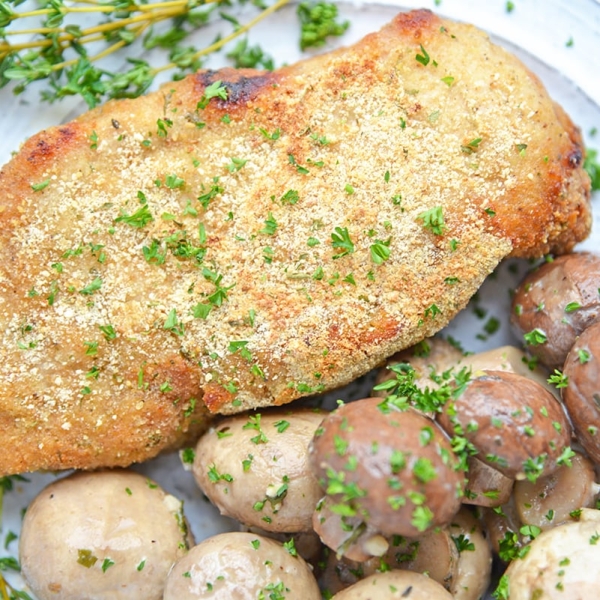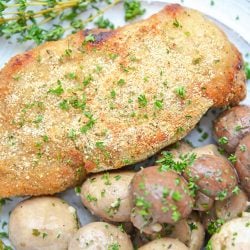 Crispy Baked Pork Chops
If you've never made pork chops in the oven, this shake and bake Crispy Baked Pork Chop recipe is the best! It's even better than shake and bake!
View this recipe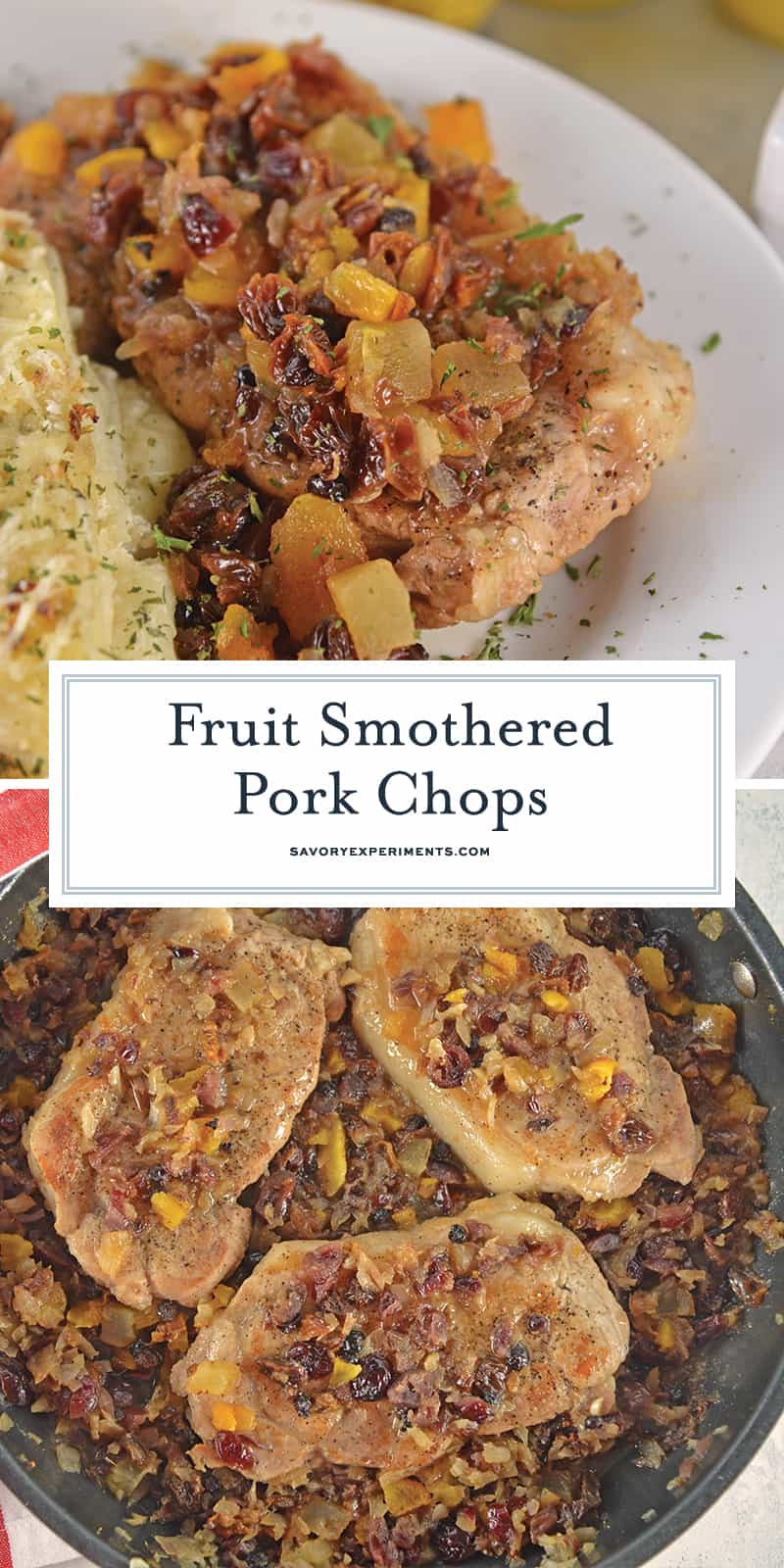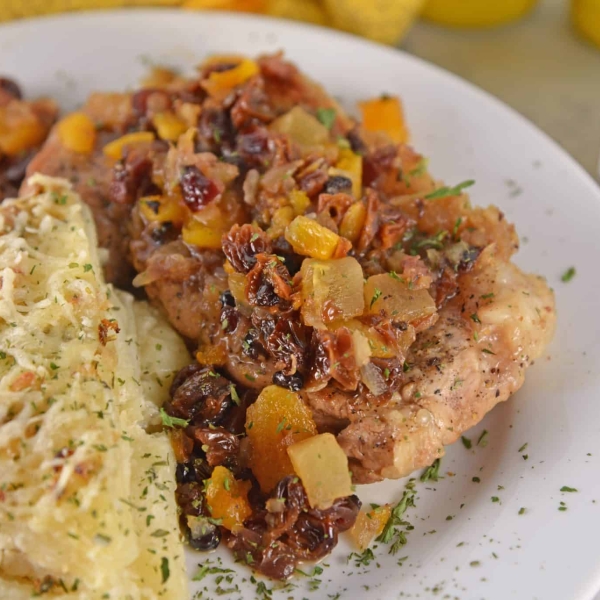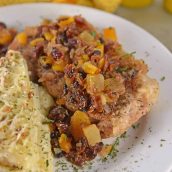 Fruit Smothered Pork Chop Recipe
Fruit Smothered Pork Chops are pan fried pork chops with a zesty dried fruit sauce, taking 30 minutes from start to finish!
Instructions
Heat a large skillet over medium heat, coat with cooking spray. Season pork chops with salt and pepper.

Cook pork chops for 4 minutes on each side, then remove to a plate. You will be returning them to the pan, so if they are a little underdone it is okay.

In the same pan, re-coat with cooking spray and add shallots. Saute until soft and opaque, approximately 5 minutes.

Add fruit bits and chicken broth, stir over medium heat for 2 minutes. Add pork chops back to the skillet. Cover and cook for 3 minutes.

Turn pork chops and cover and cook for an additional 3 minutes. By this time the majority of the liquid should have evaporated. It will be a little saucy, but not soupy. If it has not, continue to cook a little longer.

Remove from heat, serve pork chops with fruit over top. Enjoy!

If you've tried this recipe, come back to let us know how it was!
Notes
*You can use any combination of dried fruit you'd like. Seven ounces is a scant 1 cup.
Nutrition
Calories:
382
kcal
,
Carbohydrates:
43
g
,
Protein:
29
g
,
Fat:
9
g
,
Saturated Fat:
3
g
,
Cholesterol:
89
mg
,
Sodium:
544
mg
,
Potassium:
663
mg
,
Fiber:
1
g
,
Sugar:
41
g
,
Vitamin C:
9.2
mg
,
Calcium:
30
mg
,
Iron:
1.1
mg