When one thinks of holiday cookies it is rarely of Thanksgiving and if they do, it is the cute little Thanksgiving turkey cookies. Thanksgiving is reserved for pies!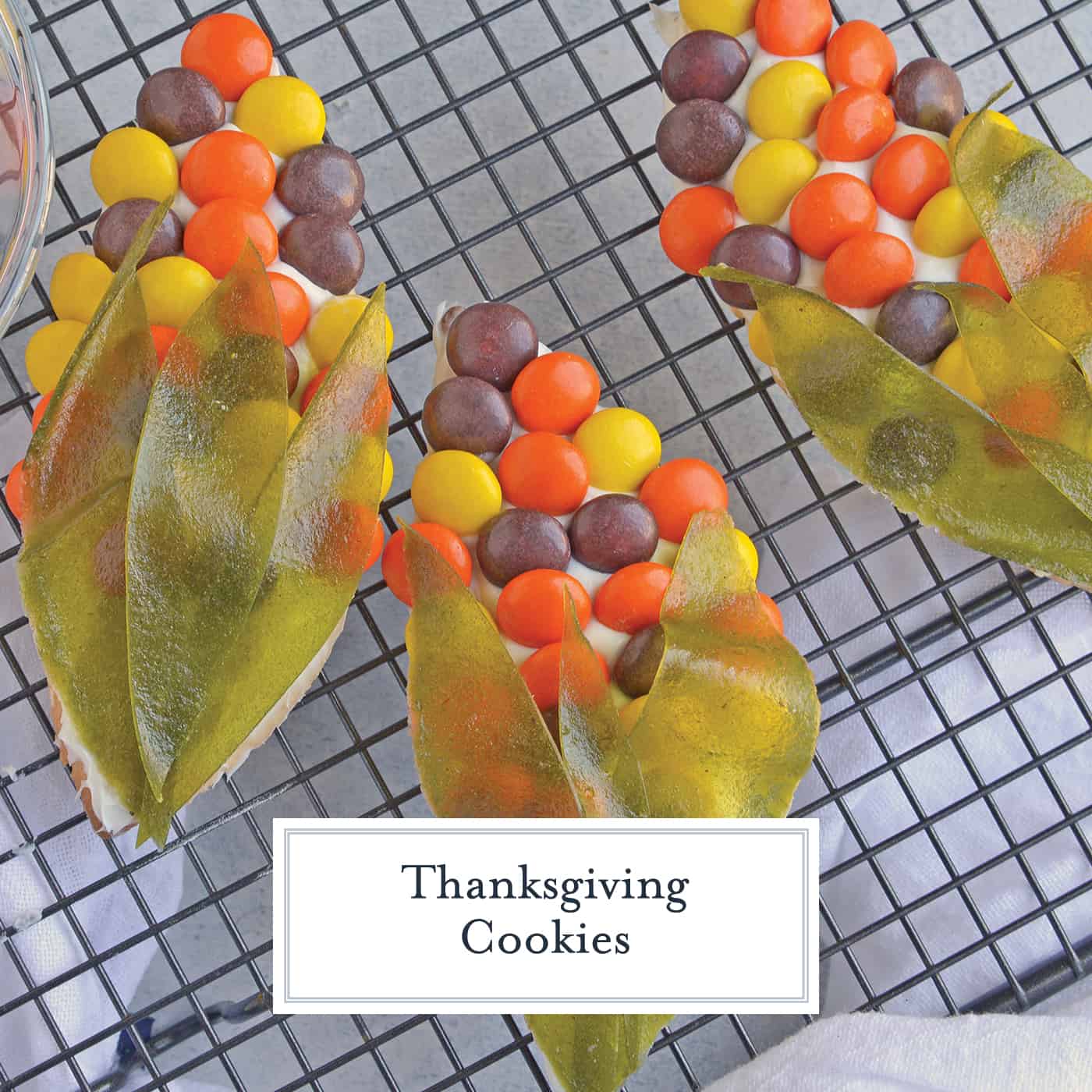 Thanksgiving Cookies
I'm going to make Thanksgiving into a cookie holiday too. I had trouble naming these fun and festive cookies.
When I first made them, they were maize cookies, then corn cookies, but really, who would even think they wanted a "corn cookie," it sound way too much like cornbread. Pass.
So I went with the super sarcastic name of Corny Thanksgiving Cookies. And I laughed out loud when I wrote it too. HA!
Thanksgiving Desserts
I entertain up to 14 people on Thanksgiving and therefore like to have grazing items available; usually something sweet and something salty. This keeps people out of the kitchen and out of my way!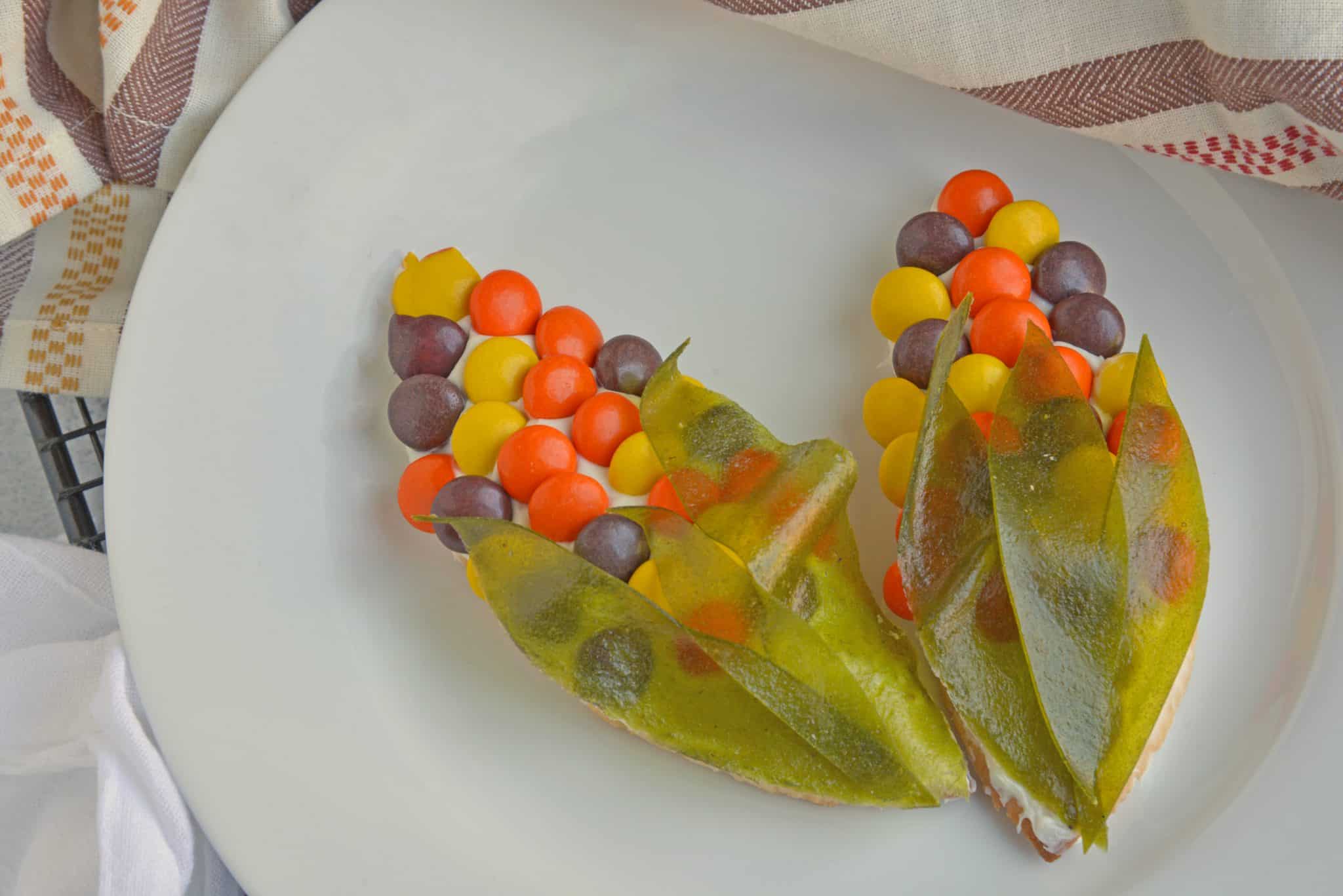 Thanksgiving cookies are colorful, easy to eat (no mess with more utensils and plates) and they are just too darn cute! These satisfy the sweet and salty factors.
They share a tray with my no-bake Pilgrim hat cookies and some years I'll make Turkey Cookies, but they require more effort than I'm usually willing to give.
These can also be a way to keep kids occupied on Thanksgiving Day. Set them down at the table and get them to help decorate!
Sugar Cookie Cut Outs
I highly suggest using this specific sugar cookie cutout recipe for the cookie dough and not using pre-made refrigerated dough as a time saver. While good for many things, it does not hold its shape well for cut-outs.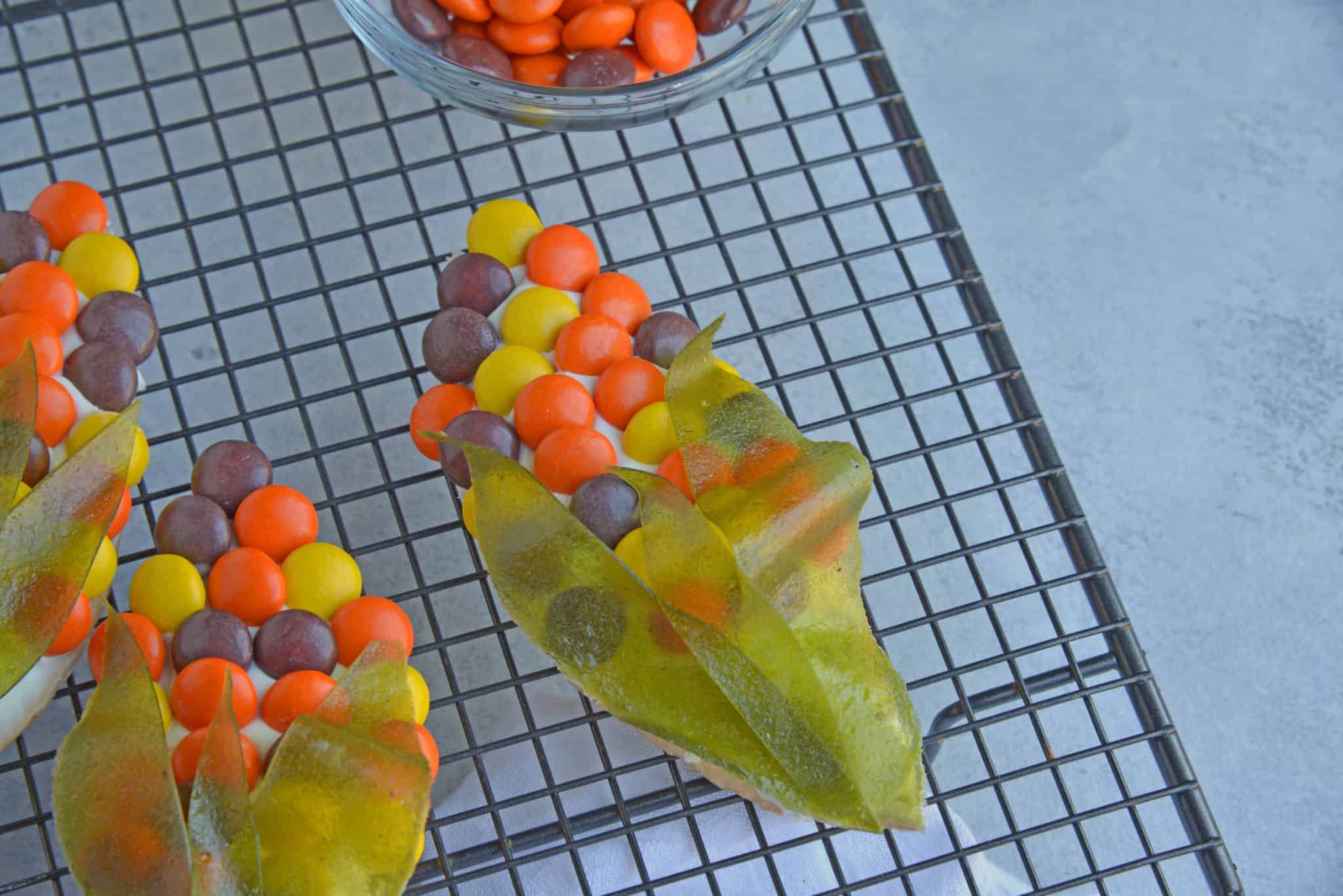 I also had a hard time finding green colored fruit roll-ups. Apparently the craze is wearing off and people don't eat them as frequently.
I ultimately bought a variety pack that featured one that was 1/2 green, 1/2 purple and just discarded the purple side. I had to buy 2 boxes to have enough for the recipe. You can also order them through Amazon.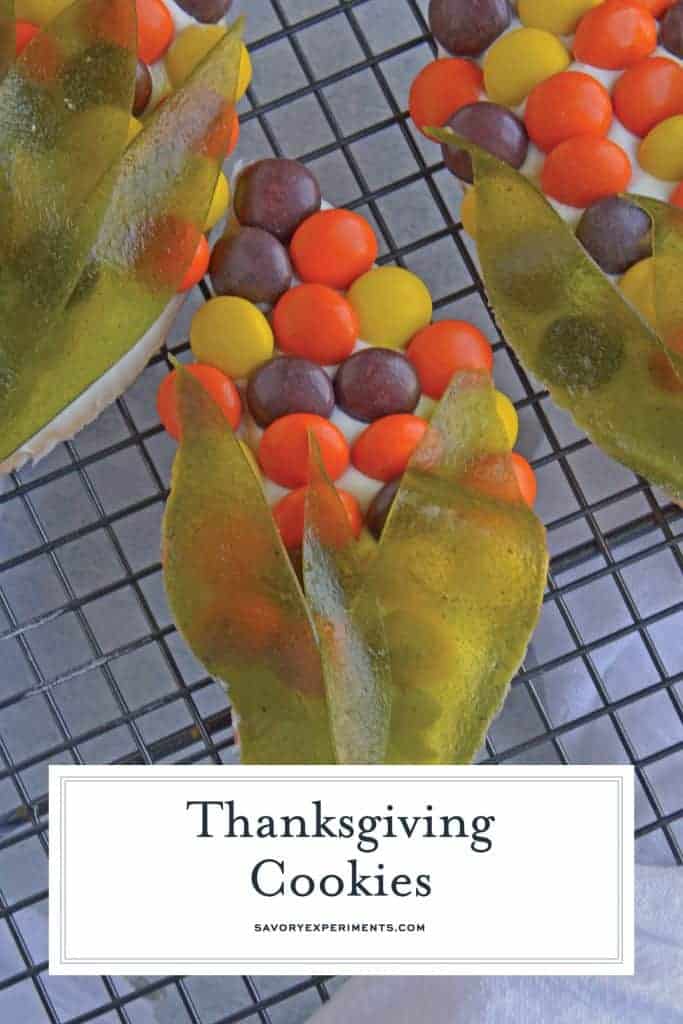 Tools for making Thanksgiving Cookies:
Rolling Mat– For rolling out any dough or cookies or just protecting your counters and work space!
Insulated Cookie Sheet– Insulated cookie sheets allow hot air to circulate around the entire cookie, resulting in even baking.
Kitchen Shears– Use these for snipping herbs, cutting meats and poultry, opening packaging and more!
Here are even more Thanksgiving recipes!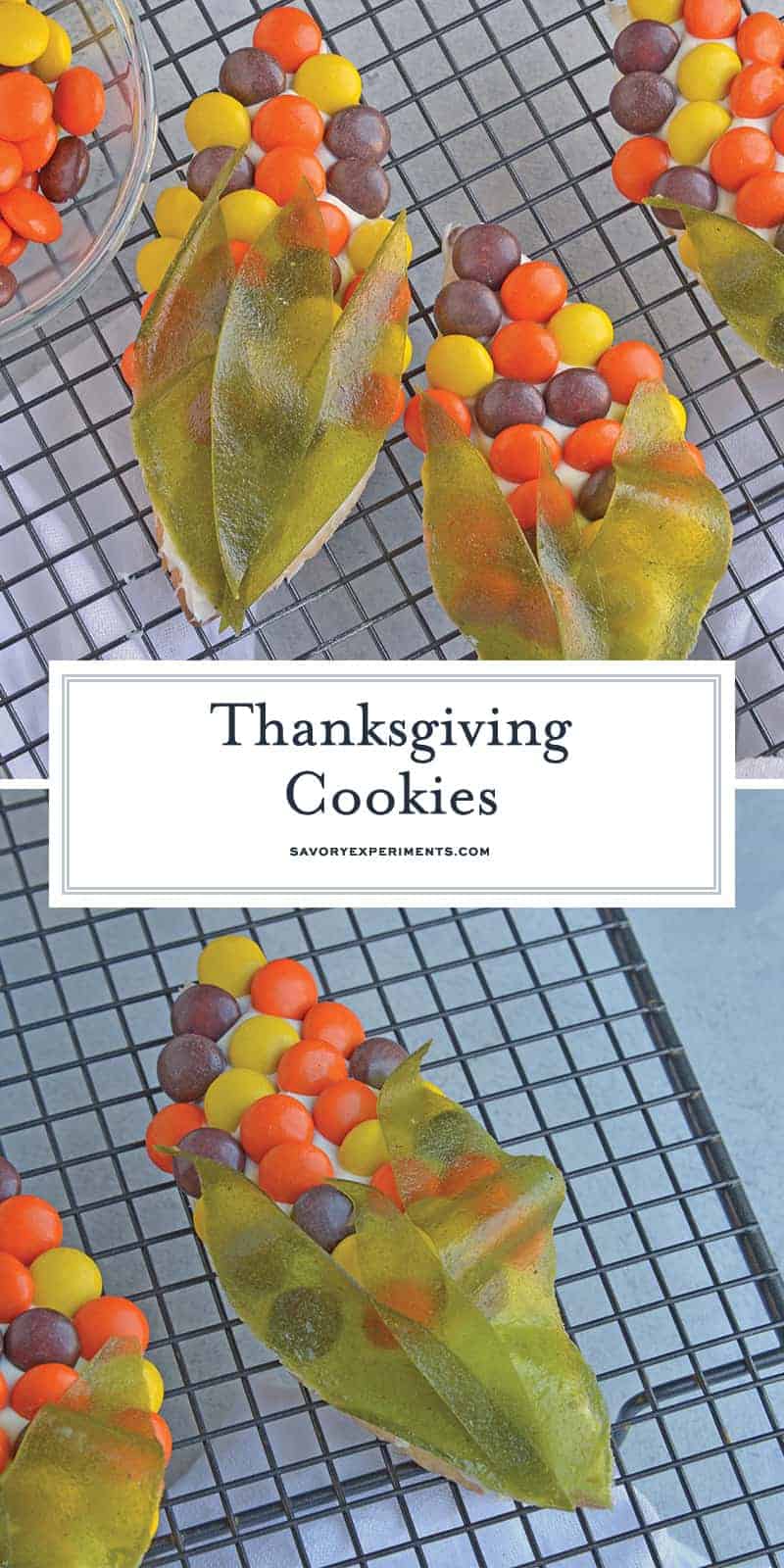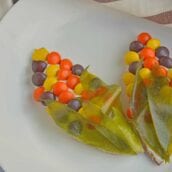 Corny Thanksgiving Cookies
Thanksgiving Cookies are super cute sugar cookie cutouts that can be made alongside your Thanksgiving Turkey Cookies!
Instructions
Follow instructions on making sugar cookie cutout dough. Roll out to about 1/8 inch.

Using a sharp knife. freehand cut dough into the shape of a surfboard, about 3-4 inches high and 2 inches wide. Not all ears of corn look the same, so don't obsess over the shape and size. Transfer cut-outs to a cookie sheet. Continue until sheet is full.

Preheat oven to 400 degrees.

Bake for 6-7 minutes or until very lightly browned. remove from oven and transfer to a cooking rack. Repeat with the remaining dough.

Allow sugar cookie cutouts cookies to fully cool before decorating. Slather a good 1/8 inch of vanilla buttercream frosting onto a cookie. It will need to be deep enough to sink and anchor a Reese's Pieces bit. Starting at the top, randomly anchor in Reece's Pieces at an angle (slanted), so they are not directly facing up and create a texture and ridges, much like a real ear of corn. Continue 3/4 of the way.

Using kitchen shears cut 2 smaller cat eye shapes out of a fruit roll-up. Lightly press into the frosting at the bottom to make the husk. You can even fold it over like you are in the middle of removing the husk.

Repeat with remaining cookies. Store in a cool, dry place. The fruit-roll-ups tend to get sticky if they are too hot or humid. Enjoy!
Nutrition
Calories:
953
kcal
,
Carbohydrates:
154
g
,
Fat:
37
g
,
Saturated Fat:
6
g
,
Sodium:
420
mg
,
Potassium:
76
mg
,
Sugar:
143
g
,
Iron:
0.4
mg