Eating healthier has never been easier than with this healthy Low Carb Chicken Salad! Serve it on a lettuce wrap or even tomato halves!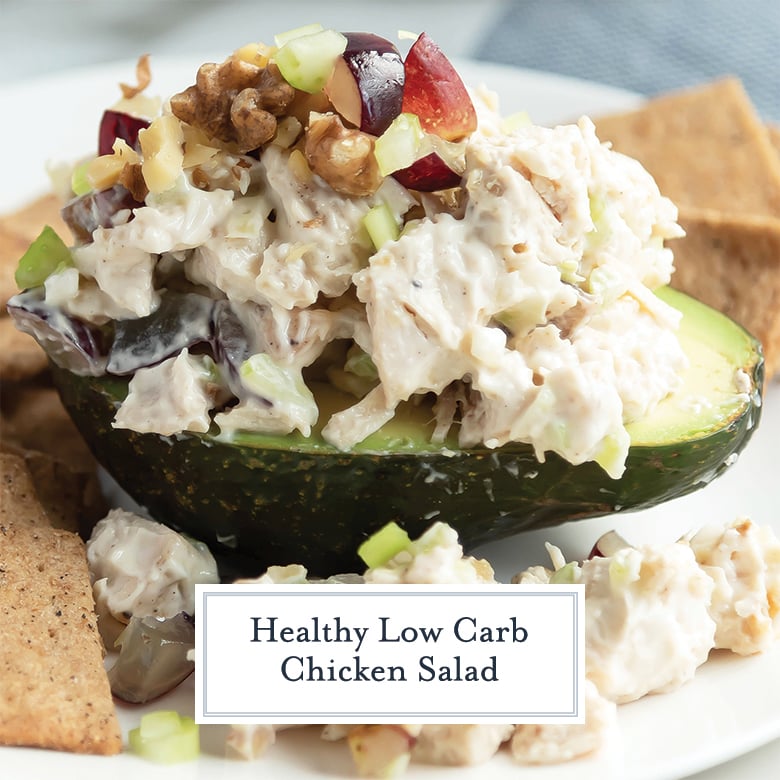 Healthy Chicken Salad Recipe
We love chicken salad around here! Especially this time of year when the weather is warm and sunny. If you've been around for awhile, you've seen my: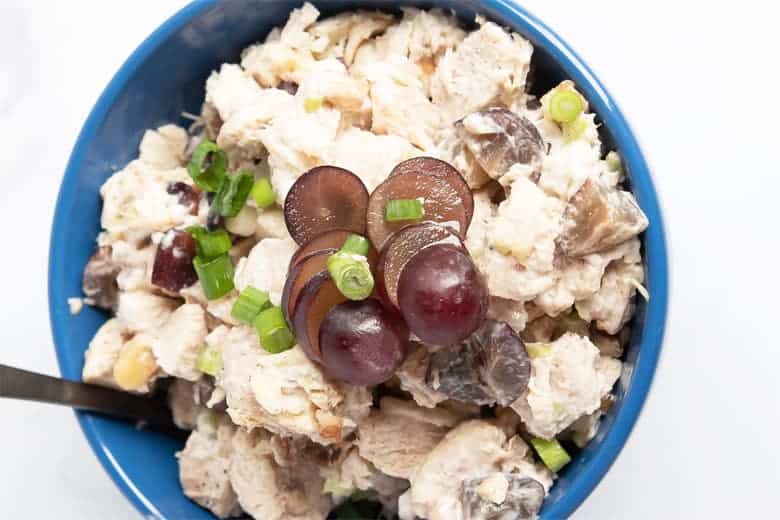 Traditional chicken salad uses mayonnaise, which tastes great but has a lot of fat and calories. And because no one wants those extra fat and calories when they can help it, I have a solution for you!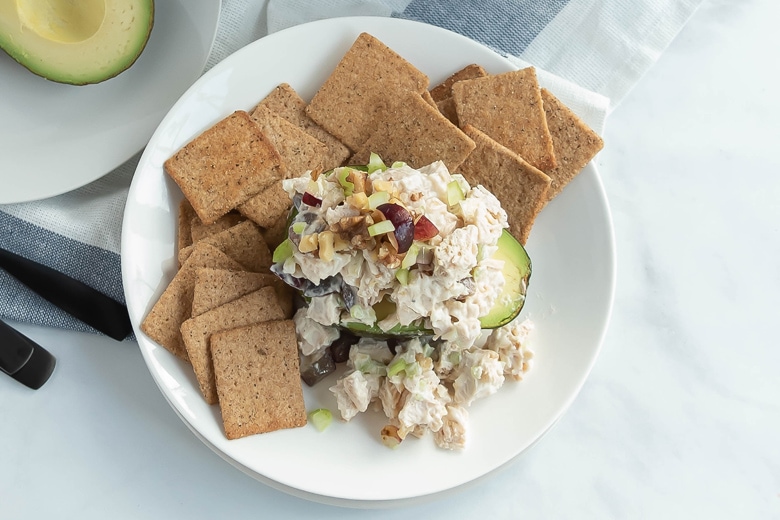 Ingredients
This easy low carb chicken salad is a way for you to still enjoy your favorite summer sandwich while watching your figure at the same time. These are the ingredients I use in mine: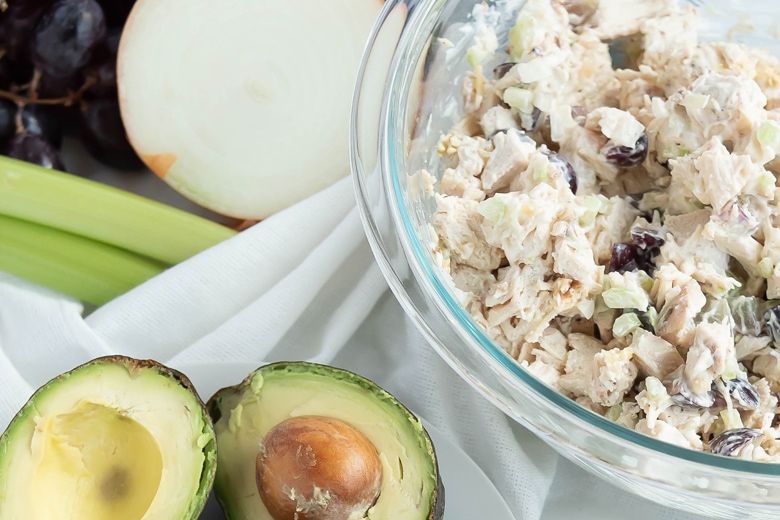 Plain Greek yogurt – plain Greek yogurt is an excellent (and healthier!) sub for the mayo in traditional chicken salad. You can also use super ripe and mashed avocados or a mix of the two.
Cooked chicken – you can use leftover chicken chopped up, canned chicken, store bought rotisserie chicken or even deli chicken. Some people have subbed in canned tuna or even salmon.
Celery – this is a good way to get a serving of veggies in. It also provides a nice "crunch" to your low carb chicken salad.
Sweet onion – not only do onions provide flavor, but they add another texture, much like the celery, as well.
Red grapes – I always like to add an element of "sweet" to my chicken salad. If you don't have grapes on hand, you could also substitute raisins.
Walnuts – I love the flavor and texture that walnut bring to low carb chicken salad!
Lemon juice – this is one of my secret ingredients! It helps to provide a light, fresh and slightly acidic flavor.
Dijon mustard – and this is my other secret ingredient! It totally brightens up the mix.
Salt and pepper – you can add these to taste.
How to Serve Low Carb Chicken Salad
Obviously you could serve this chicken salad between two slices of bread or in a pita pocket. But chances are if you're reading this recipe, you are looking for something lower in carbs.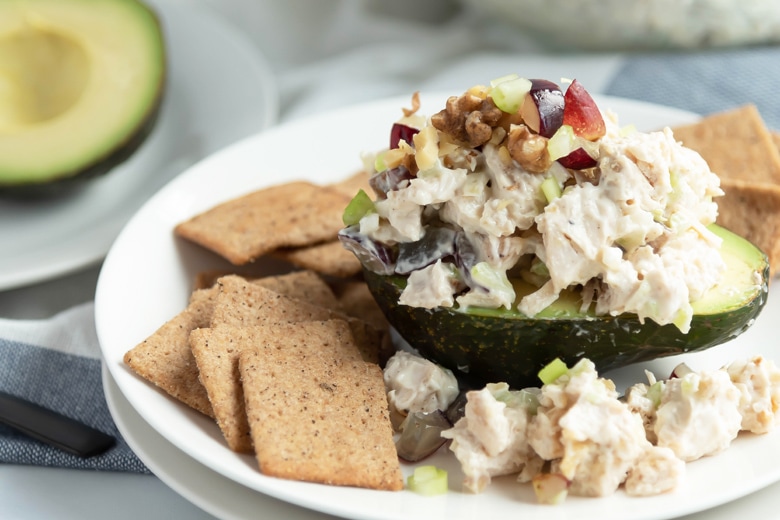 Lucky for you, there are several options that are both lower in carbs and totally delicious!
I like to serve my Low Carb Chicken Salad recipe in tomato halves, but you can also eat it like a dip with carrot and celery sticks or wrapped in a large piece of Bibb or romaine lettuce like a wrap.
Here, I made it in avocado halves. Creamy, tasty and totally low carb!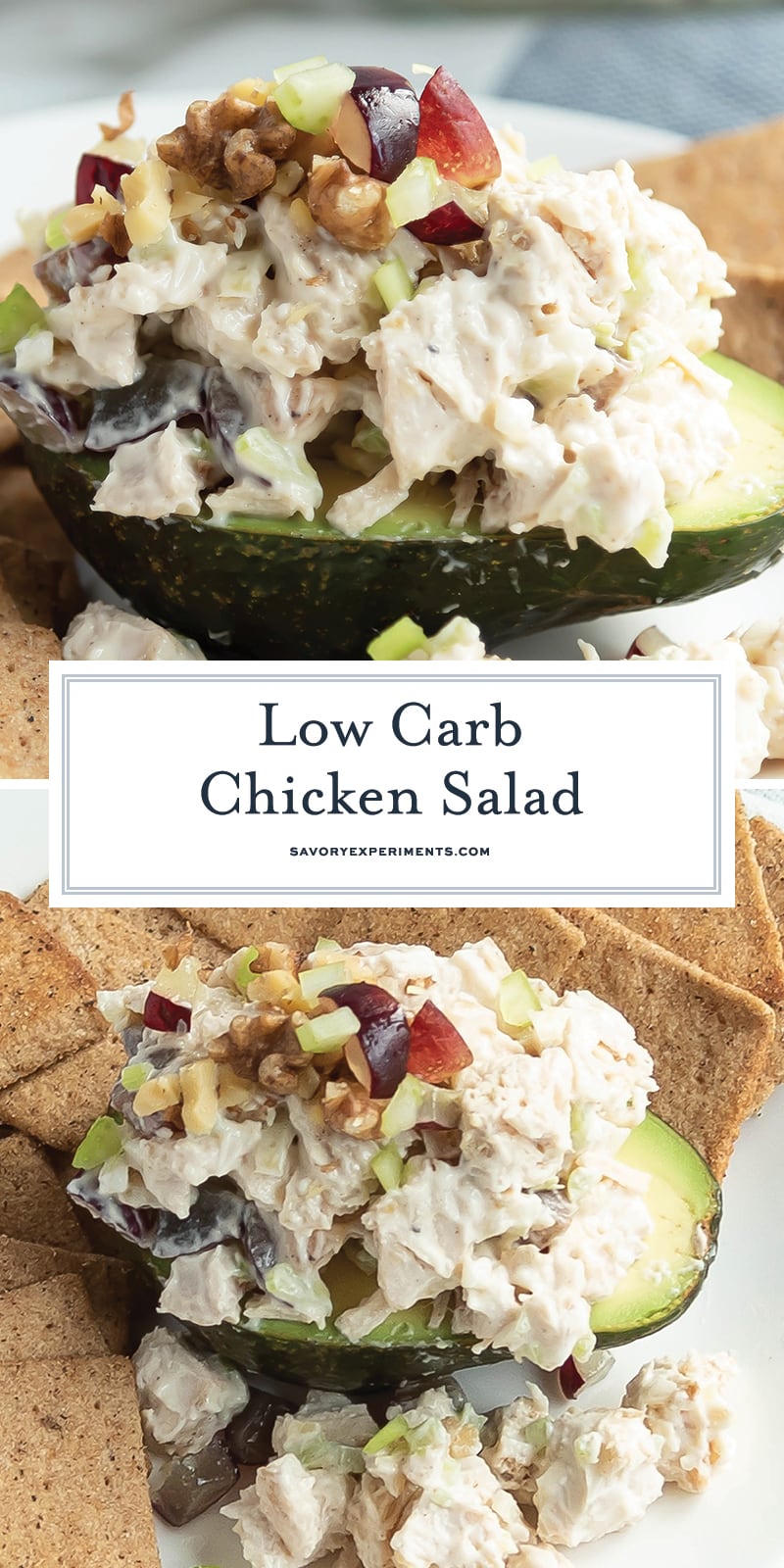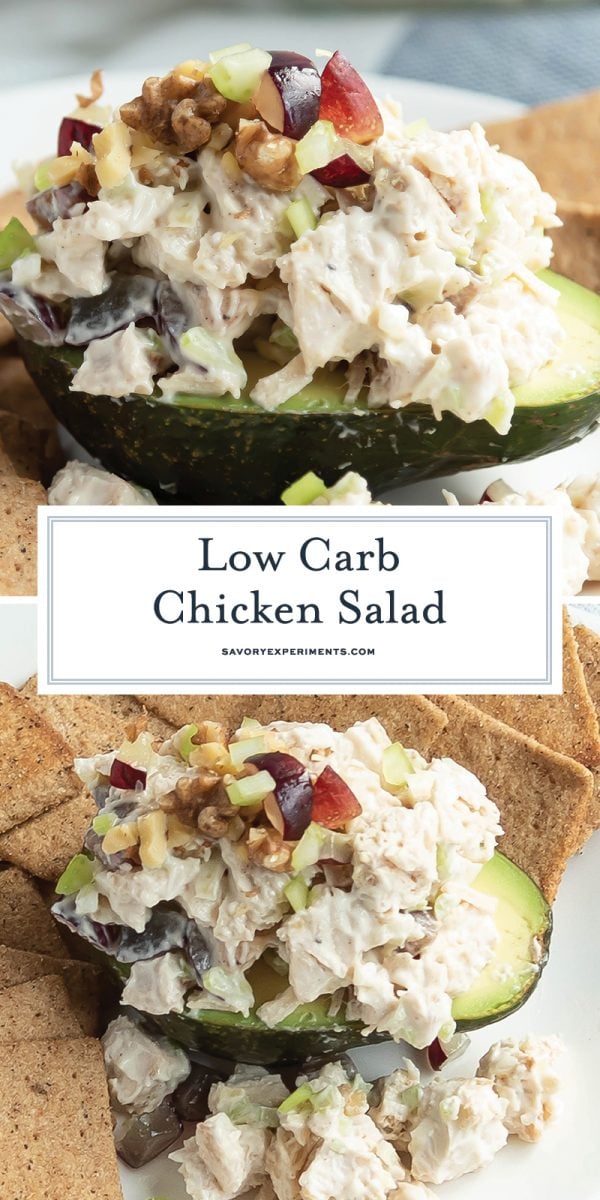 Tools
Wood cutting board – wood won't dull your knives like plastic and if treated properly, has natural antimicrobial properties.
Good knife – Global is my favorite! They are worth the price, I promise. I am kind of obsessed with them and store them tucked away so no one else can use them. Including hubby. Hands off my good stuff!
Large Mixing Bowl– Use a mixing bowl a little larger than you think you'll need. There is less pressure to keep it in the bowl. You can always transfer it to a smaller serving bowl later. I personally look for ones with lids so I can cut down on plastic wrap and aluminum foil waste.
Mixing Spoon– Use a large spoon or even fork to do the tossing!
More salad recipes:
Shrimp Salad Avocados
Zesty Shrimp Salad Avocados are an easy, no-cook recipe for your next BBQ. Shrimp, corn, tomatoes and bell pepper with a zesty yogurt sauce served in creamy avocado halves.
View this recipe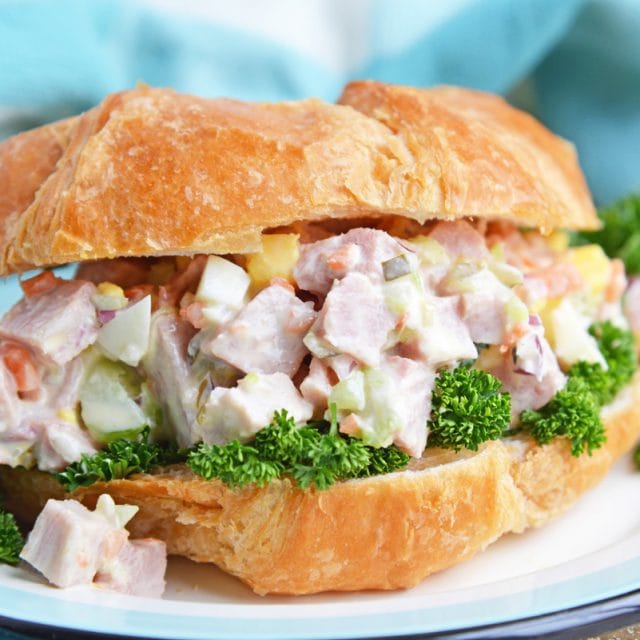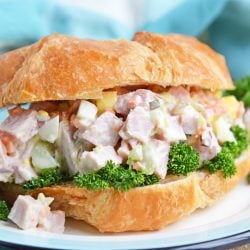 Best Ham Salad
The best Ham Salad Recipe using leftover ham, minced vegetables, hard boiled egg and a lightly seasoned creamy mayonnaise base. Serve with crackers or as a sandwich.
View this recipe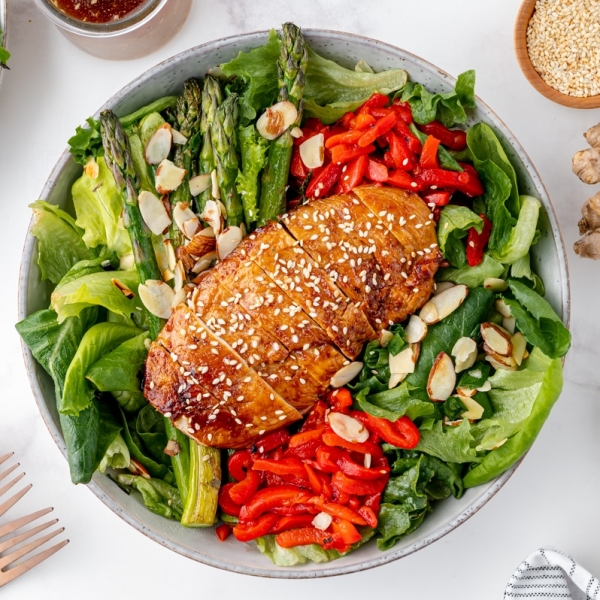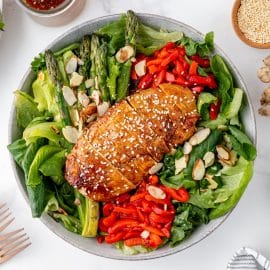 Sticky Chicken Salad
Sticky Chicken Salad is a flavorful, Asian inspired meal ready in just 30 minutes!
View this recipe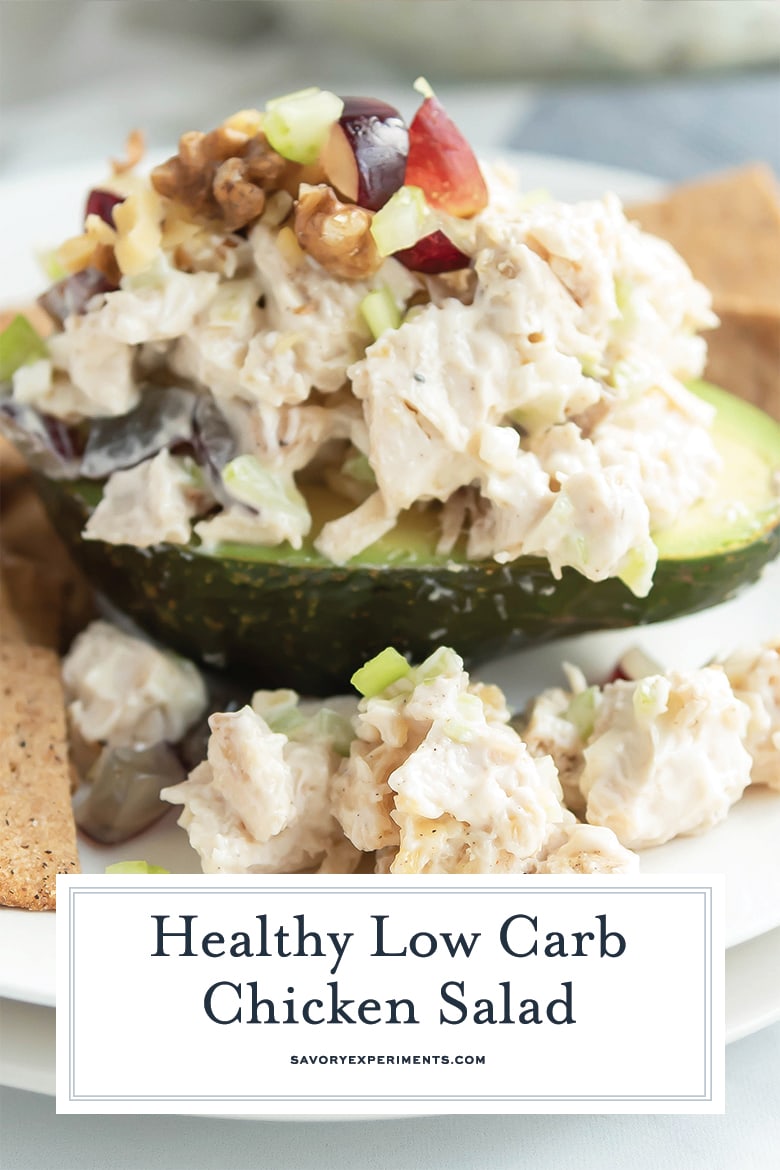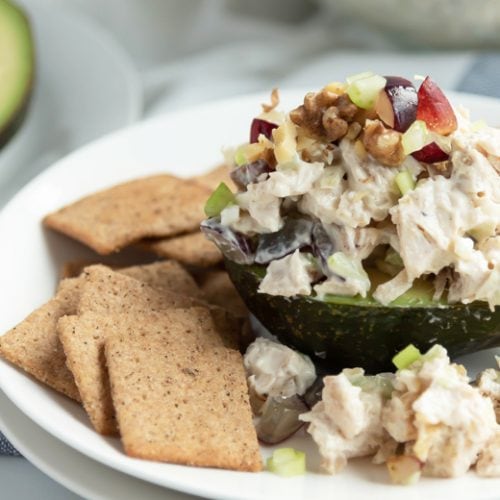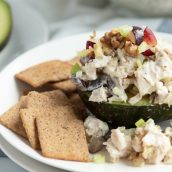 Low Carb Chicken Salad
Eating healthier has never been easier than with this EASY healthy Low Carb Chicken Salad recipe! Serve it on a lettuce wrap or even tomato halves!
Instructions
Combine plain Greek yogurt, cooked chicken, celery, sweet onion, grapes, walnuts, lemon juice, Dijon mustard, fine sea salt and white pepper in a large mixing bowl. Stir to combine.

Serve as a wrap on Bibb lettuce or spooned into tomato halves

If you've tried this recipe, please come back and let us know how it was!
Notes
This can also be served with carrot and celery sticks.
Nutrition
Calories:
73
kcal
,
Carbohydrates:
4
g
,
Protein:
4
g
,
Fat:
5
g
,
Saturated Fat:
1
g
,
Cholesterol:
1
mg
,
Sodium:
174
mg
,
Potassium:
102
mg
,
Fiber:
1
g
,
Sugar:
3
g
,
Vitamin A:
28
IU
,
Vitamin C:
1
mg
,
Calcium:
37
mg
,
Iron:
1
mg