If you are on Facebook, Pinterest, Twitter – really any social media, you have seen "Crack Bread." Well, here is Individual Garlic Cheese Crack Bread!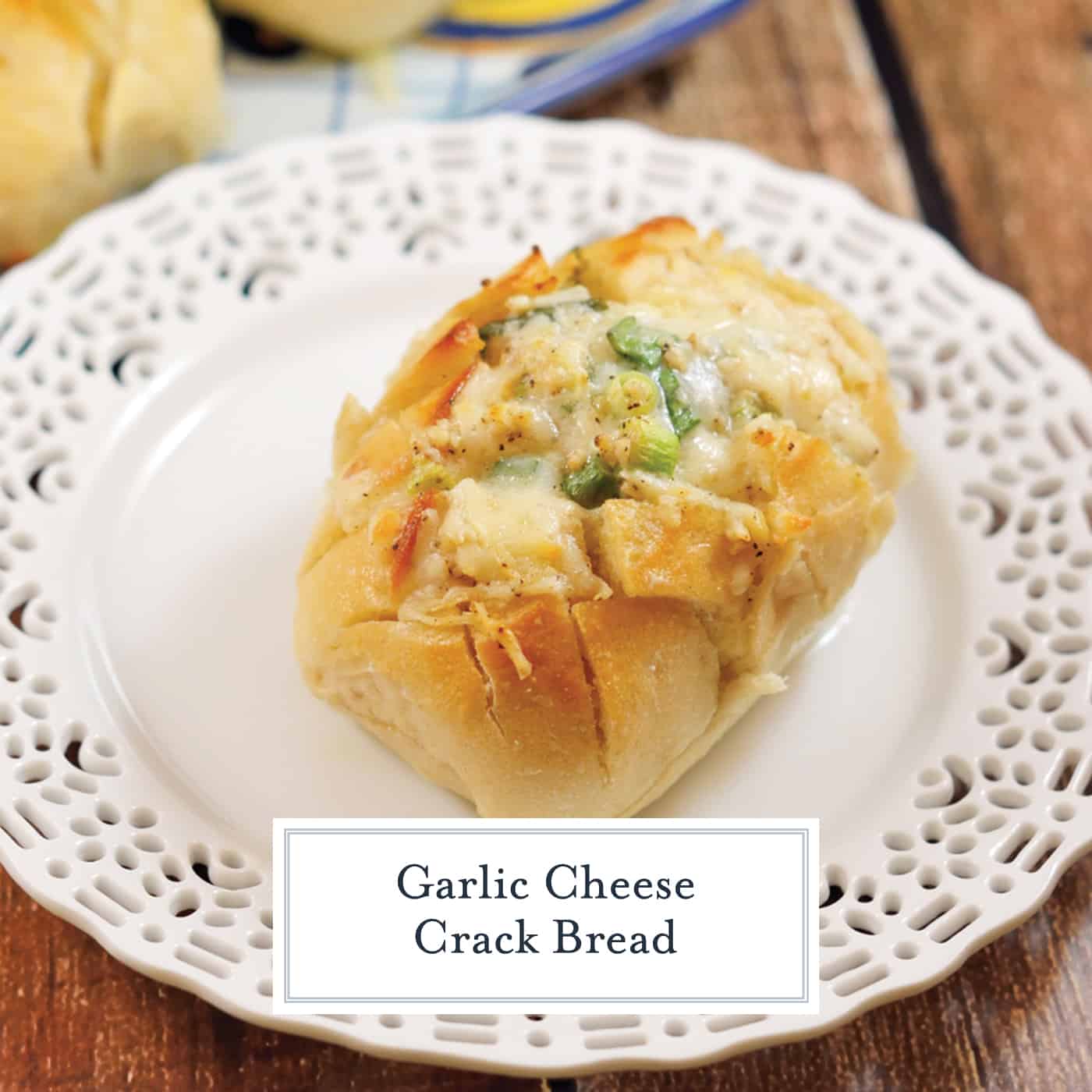 Individual Garlic Cheese Crack Bread is bread cut in a crisscross pattern, stuffed with cheese, drenched in garlic butter, and baked to golden perfection.
Easy to pull apart and positively addictive, it is obvious as to why Garlic Cheese Crack Bread became an internet sensation. The jury is out as to why people refer to it as crack bread.
Is it because of the distinctive cracks that allow this beautiful bread to be stuffed or because it is just as addictive as the drug it could possibly be named after? My hope is that it is the former as the latter is sometimes considered offensive.
I, like many of you I'm sure, was not immune to this craze. I made multiple recipes like Garlic and Cheese Pull Apart Bread and Jalapeno Popper Pull Apart Bread and trying even more. It's just so darn fun.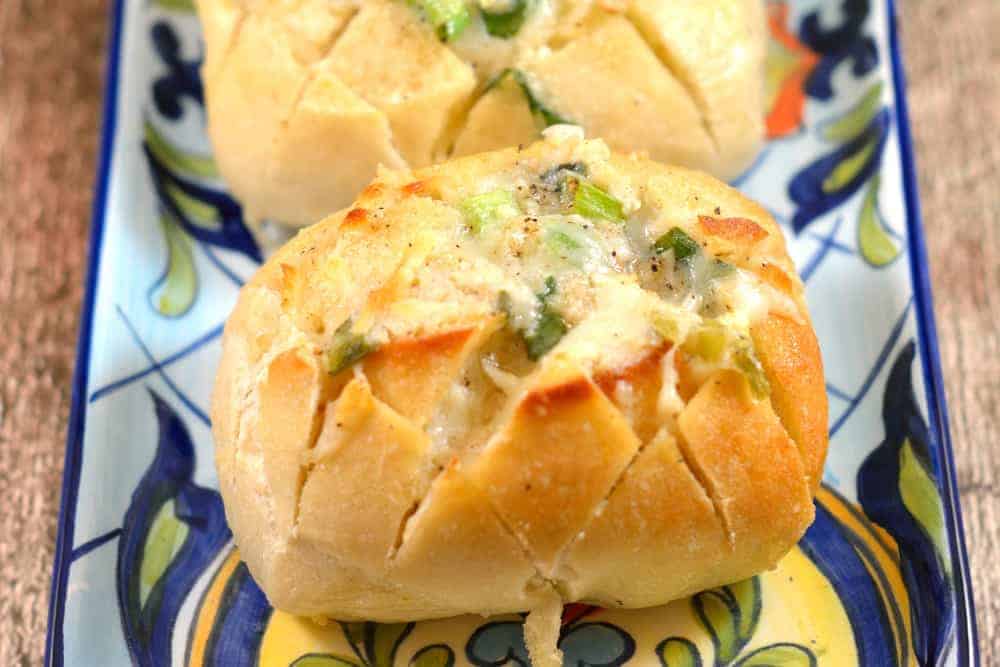 It got to the point that I even experimented with a crab dip and Mexican version. The sky was the limit and it was requested so frequently at my house and the star of any meal, no matter how grand the entree, that people would fight over the last pieces.
To stop the squabbles, I thought, "What if I make them individually?" It was a revelation. No more leaning over the table to snag another bite.
No more feeling guilty for taking the last piece. No more spending the entire meal passing the tray.
My Individual Garlic Cheese Crack Bread is certainly one of my finer lightbulb moments if I do say so myself. If you are making this recipe and aren't sure what to do in terms of portions these are my rules of thumb: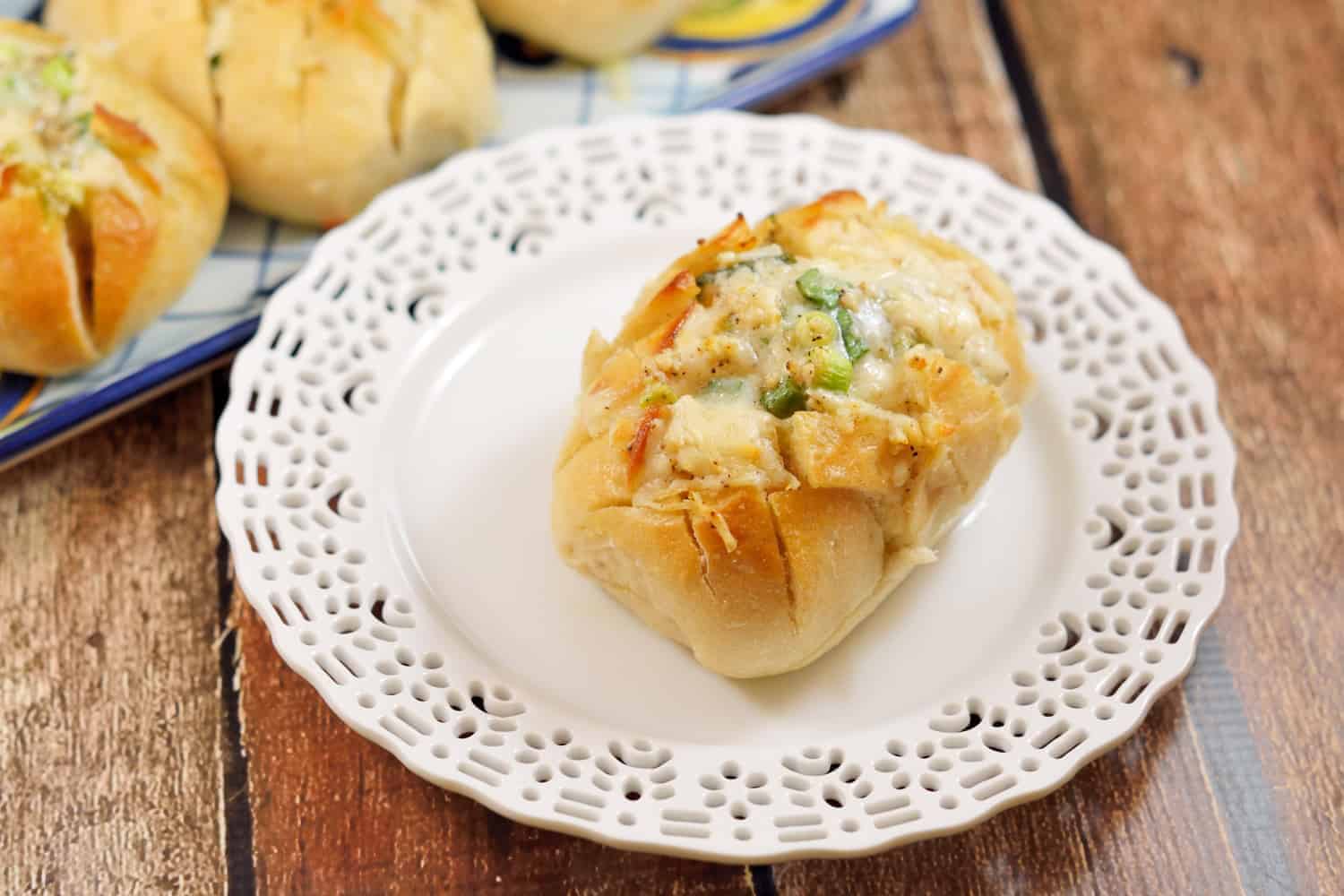 I generally make at least two for each person. If I know the crowd I'm feeding can really eat, I will make three for each person. No matter how many you make they somehow always disappear.
In the odd event that you do have some leftover, wrap them up individually in aluminum foil and put them in the fridge. When you are ready to enjoy it, pop it into a 300F oven for 10 minutes or until it is warm and toasty and the cheese is melty and gooey.
In terms of the dinner rolls you buy, you want something with a sturdy crust. A Hawaiian or potato roll won't hold up to all the deliciousness you are putting inside.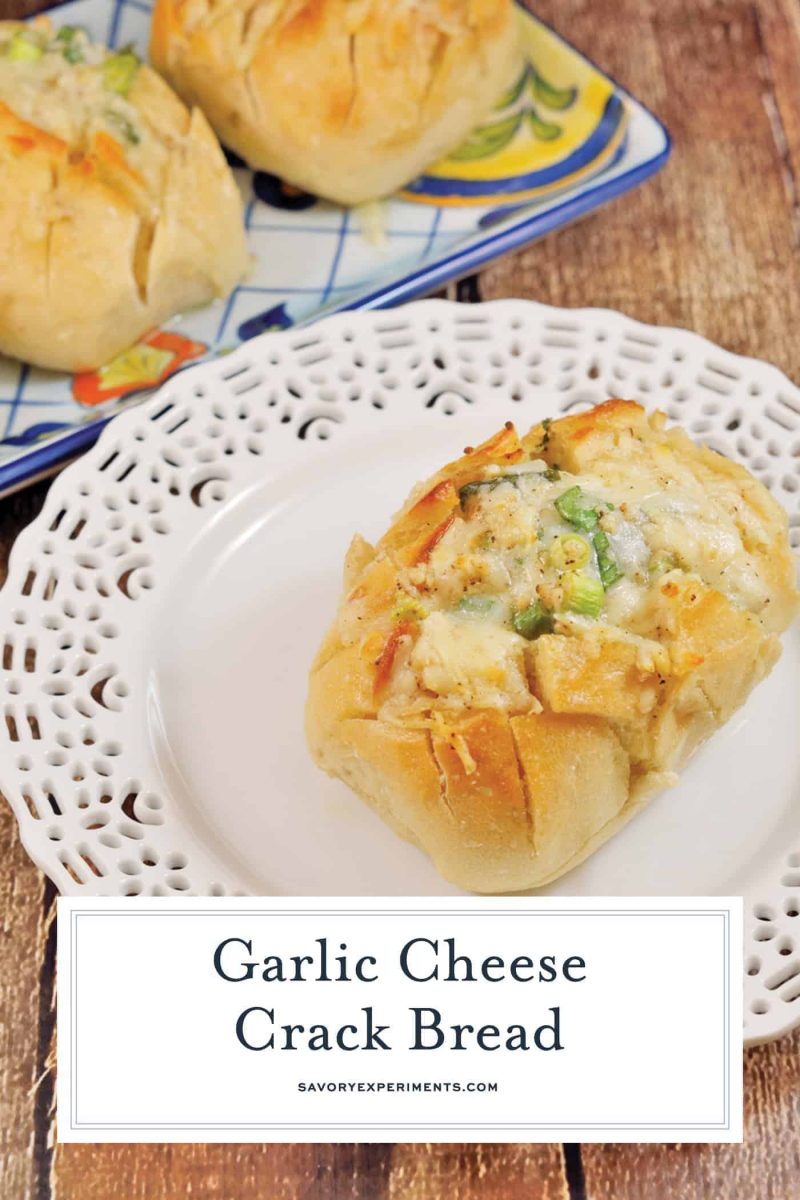 If you aren't sure how many folks are coming over, assemble as many of these as you want. The ones you don't bake, pop into some foil and a zip top bag and throw them in the freezer. When you are ready to eat them, defrost fully and bake as instructed below.
One thing is for sure, your family is sure to love these cheesy garlic bombs just as much as mine!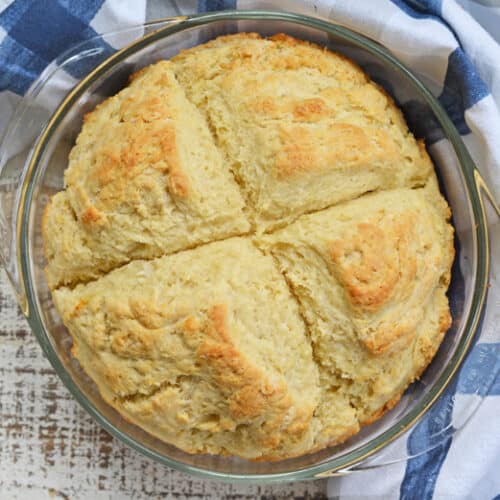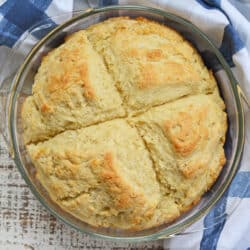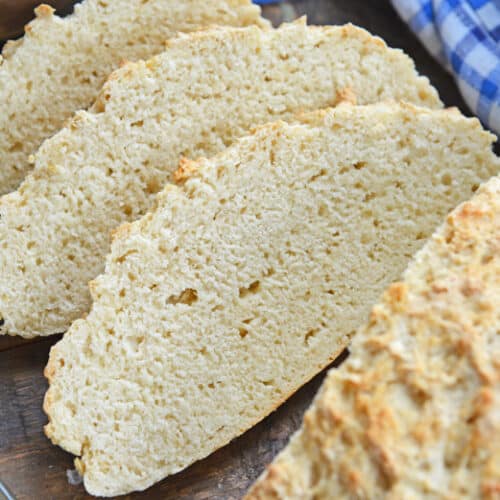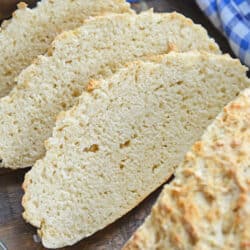 No Yeast Bread Recipe
This 2-Ingredient No Rise No Yeast Bread is perfect for those days when you need a loaf and can't get to the store. Just a few ingredients and 40 minutes to delicious homemade bread!
See The Recipe!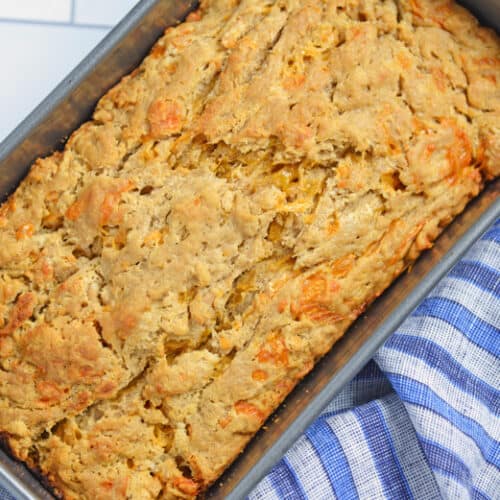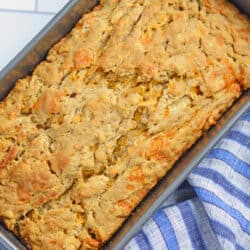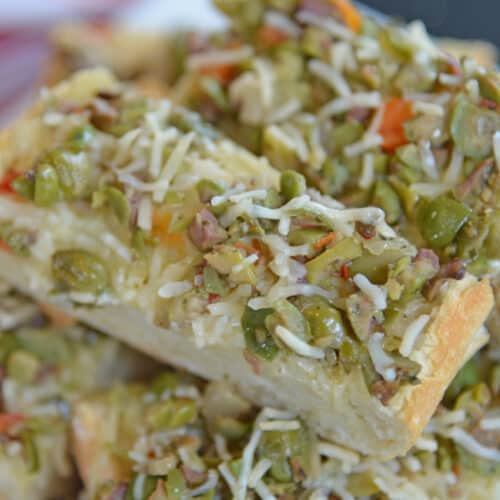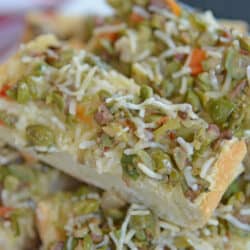 Olive Cheese Bread
Don't have time to make homemade olive bread? Check out my hack for making this easy Olive Cheese Bread recipe. It takes no more than 15 minutes from start to finish!
See The Recipe!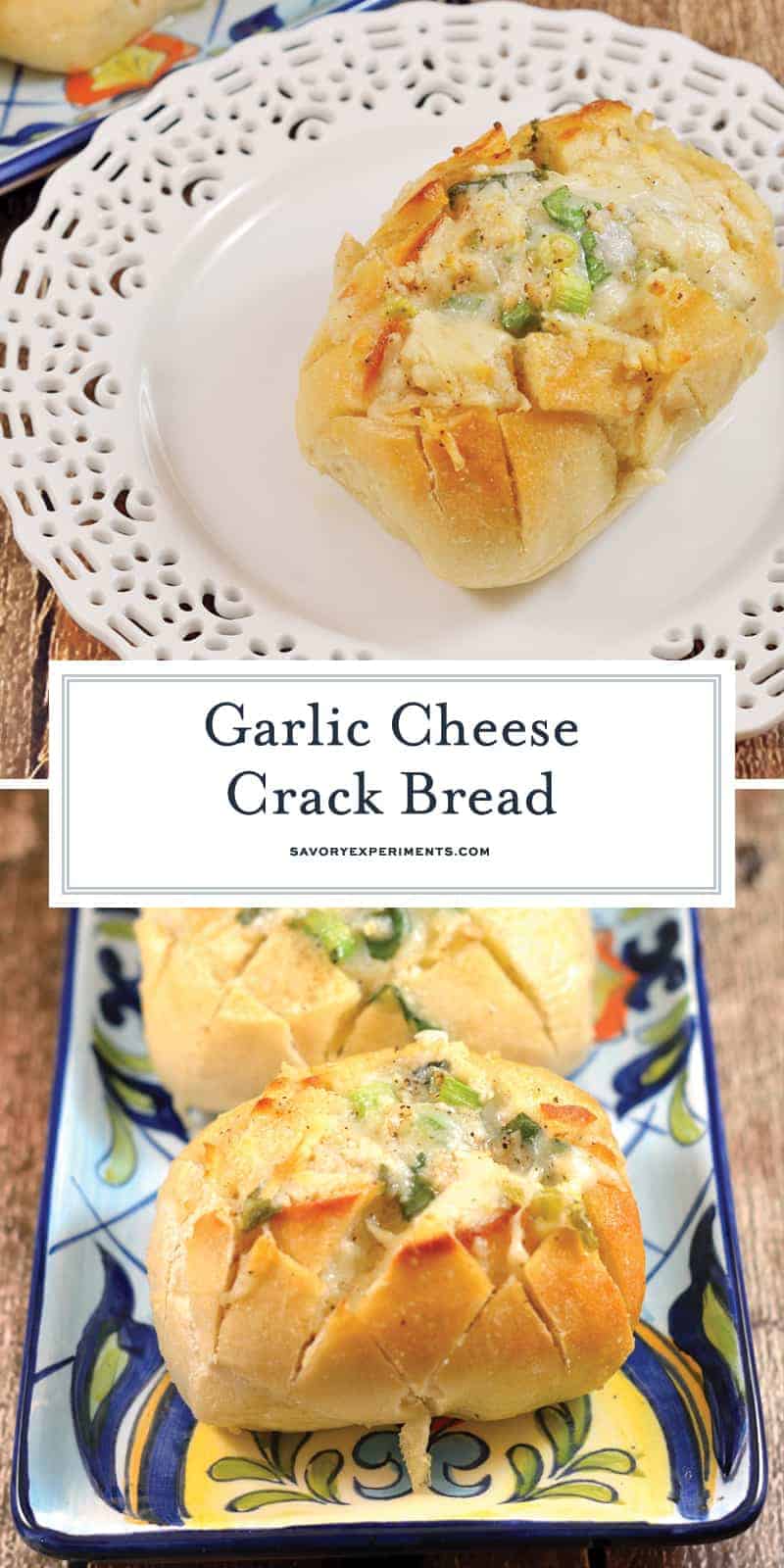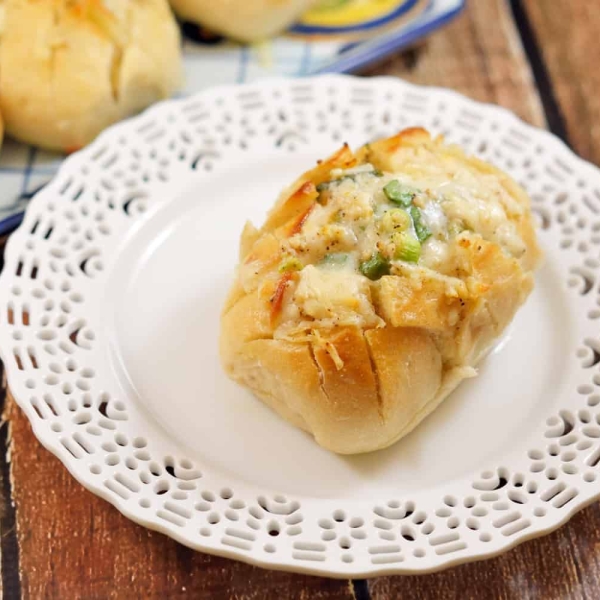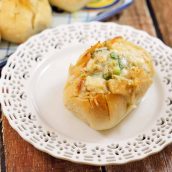 Individual Garlic Cheese Crack Bread
Individual Garlic Cheese Crack Bread is bread cut in a crisscross pattern, stuffed with cheese, drenched in garlic butter and baked to golden perfection.
Instructions
Preheat your oven to 350 degrees.

Score each roll crosswise and lengthwise 3-4 times, cutting almost through to the bottom, but leaving it intact. The goal is to spread apart the bread pieces to "bloom", but be able to pass it around and gently pull a piece off.

In a small bowl combine cheeses, green onions and garlic, mix. Stuff cheese blend evenly into all of the slits, nooks and crannies. After stuffing all of the cheese it should be coming out the top- keep stuffing!

In another small bowl combine melted butter and remaining ingredients, whisk together. Spoon or pour mixture evenly over stuffed cheese slits.

Place rolls on a baking sheet and place in the oven for 15 minutes, or until cheese is melted and tops are nicely brown and crisp.

Remove from oven, allow to cool for several minutes before serving, you don't want your diners to burn their finger tips trying to get at this delicious bread! No serving utensils required. Enjoy your Pull Apart Cheesy Garlic Bread!

If you've tried this recipe, come back and let us know how it was!
Nutrition
Calories:
240
kcal
,
Carbohydrates:
20
g
,
Protein:
7
g
,
Fat:
14
g
,
Saturated Fat:
7
g
,
Cholesterol:
31
mg
,
Sodium:
614
mg
,
Potassium:
76
mg
,
Fiber:
1
g
,
Vitamin A:
375
IU
,
Vitamin C:
0.8
mg
,
Calcium:
206
mg
,
Iron:
1.8
mg